Greetings and salutations everyone and welcome to another blog here on BlueCollarBlueShirts.com. I expect no one under the age of fifty-years-old to understand tonight's header photo!
But for everyone else?
LOUIE, LOUIE put down as many shots as John Belushi once sucked down in "Animal House" tonight.
And by the time the final horn went off on Thursday night?

The Minnesota Wild were singing, "Louie, Louie, oh baby, we gotta go, ay, ay, ay, ay, ay!
Totally unrelated to what happened on the ice tonight?
My favorite cover song of all-time, the Motorhead version of The Kingsmen 1963 hit:
---
Where else are going to find such talk like this?
I'll let the plebeians, simpletons and uneducated birdbrain beat reporters talk about spicy pork roll and broccoli while I talk about "The Kingsmen" and "Animal House!"
But aside from my BOOMER references, tonight's game!
---
At 10-2-1 and with a healthy hold over first-place in the Metropolitan Division – I still remain leery about "LAVY'S LOT."
In a way, and this is my glass half-empty perspective – I'm waiting for the other shoe to drop.
However, what we can say with full confidence is that the Rangers are playing well, and outside of that fourth game of the season, and in what's now an anomaly, the loss to Nashville – the effort has been there in every other game played.
While I don't think that losing Filip Chytil (zero goals, can't win a faceoff, can't stay healthy, etc) is that big of a deal; obviously the opposite is true about both Adam Fox and CZAR IGOR.
Despite being without both their Norris and Vezina trophy winners, the Blueshirts have "found-a-way," and have also embodied the "NEXT MAN UP" war cry.
So why do I remain glass half-empty?
Maybe it's my status as a historian of this team. Maybe it's because I've seen it all before. Or maybe it's because of my season-long daily disclaimer on this site, you know, this one:
"WHATEVER THE RANGERS DO IN THE REGULAR SEASON DOESN'T MATTER. THEY CAN ONLY BE JUDGED BY WHATEVER THEY DO IN THE 2024 STANLEY CUP PLAYOFFS!"
---
That all said, when I look at the team, who just completed their bakers' dozen contest (Game 13 of 82) – for all of the well-deserved and earned positivity – I'm also looking at everything else.
Mika Zibanejad can't score. Kaapo Kakko has been rendered as completely useless. Blake Wheeler is slow as molasses.
That's half of your top six by the way.
Furthermore?
The majority of the Rangers' wins this season are against non-playoff teams, and where more times than not – they are also prone to these god-awful brain-fart periods – and as we saw tonight.
But to be fair, the Blueshirts are supposed to beat bad teams – and overcome their dreadful periods too – so you ultimately can't knock them for doing their jobs.
In fact, you should praise them for doing so.
At the same time, and as I continue to speak out from both sides of my mouth – I wonder how the Rangers will match up against the Boston's, Vegas' and Dallas' of the league – the other three NHL division leaders.
(And you can include Colorado too, as they are one point-back and with a game in-hand on the Stars as I write these words.)
Perhaps my Rangers' inspired paranoia is just that – paranoia – illogical fears.
But then again, this team has given us plenty of reasons to have PTSD too – and I don't have to remind you of what happened at the end of last season either.
---
I guess what I'm getting at is that I really want to enjoy this excellent start, but after last year – what does it mean if you can't get out of the first-round?
As I watch these games, I feel justified in my "LATERALETTE" stuff from over the summer – and stuff that can only be debunked and proven incorrect in the Spring. (And let's hope that happens!)
The club remains as strong as their goaltender and special teams.
While yes, Artemi Panarin is having a bounce-back season, as the greatest free agent signing in franchise history now has 22 points in 13 games played; conversely, Zibanejad looks like the same player from the 2023 Stanley Cup Playoffs.
And while yes, every Stanley Cup champion have their unsung heroes; at the same time, you need your first line $8.5M center to show up too.
We all knew the slow start was inevitable for ZibaneDAD, but enough already.
It's time to earn your money – and if these scoreless performances continue – then perhaps Panarin should shave the Swedish-Iranian dee-jay from head-to-toe!
Kakko?
The Rangers should throw him into a vat of NAIR.
---
Okay, I'm done purging my negativity – for now – as we still have to talk about the Rangers' second period – and as we'll get into during tonight's GAME REVIEW.
But aside from those middle twenty minutes?
There was a whole lot of good.
Put it this way: Your third string goalie, and much like the team's regular third-pair defenseman (Gustafsson) and third line winger (Cuylle), was an absolute stud tonight.
Your brightest star?
Panarin set-up the game-winning goal – and then closed the game with an empty-netter too.
The player that everyone is on their hands-and-knees and just begging to get going on a consistent basis?
Lafreniere set-up the opening tally, scored the game-winner and then assisted on the lone power-play strike of the match, as arguably, tonight marked the best game of his career.
And really, shouldn't that be the case for the 22-year-old?
He should get better with time, even if his past has largely been disappointing.
But at least he's not Kakko, where I have to wonder – is a side effect of Celiac disease no goals, no assists, no shots on goal and no presence?
Trust me, I get it – athletes slump. It's part of the game.
But thirteen games in and he only has one goal and one assist to his name?
I better stop here, as I just said I was done with the negativity for now!
What a hypocrite, but I do write with a stream-of-consciousness style!
---
If you recall a few weeks back, then you'll remember that I was laughing at the birdbrain beat reporters, such as Wince, when they tried to give the Panarin/Chytil/Lafreniere line a cute nickname.
(I think they settled on French Baguette? But who cares! Much like Mollie – I don't give a shit!)
But of course, Chytil suffered another concussion, so he's out of the mix right now.
I've been sitting on this idea for a while, and similar to Wince and company, this is all silly, dumb and way-too-early as well; but with Trocheck, now returned to the second line centering Panarin and Lafreniere – perhaps the first nicknamed line in franchise history is appropriate?
You know, "THE BREAD LINE."
You can read my books and the archives of this site for more, but for now, here's the quick-and-dirty history lesson:
— The first BREAD LINE in franchise history was Bill Cook, Frank Boucher and Bun Cook, a trio who led the club to their first two Stanley Cup victories (1928 and 1933).
— The second BREAD LINE in franchise history also included a pair of brothers, Mac and Neil Colville, who were joined by their close-and-personal friend, Alex Shibicky. This trio won the Stanley Cup in 1940 – and if it weren't for World War II – they arguably could've won another.
— Fast-forward 83-years later, the Rangers have "THE BREADMAN," who without a doubt, is the best player in the league right now.
— While I don't want to take anything away from Trocheck and Lafreniere – let's face it – Panarin is propping up these two players.
Heck, I feel like that I could score some of these goals that #10 has set-up this season.
(At the very least, and for all of the Buffalo Trace whisky that I consumed tonight be damned – I do think that I could score more goals than Kakko and Chytil have combined for this season. All I would need to do is park my fat ass in front of the opposing net – and then let Panarin shoot the puck at my blade! THAT'S HOW AMAZING AND PERFECT HE'S BEEN.)
Whatever you want to call this new line of Panarin/Trocheck/Lafreniere, I think they deserve another moniker – FIRST LINE – as this line is now equaling/averaging as many full-strength minutes as Kreider/Mika/Dead Weight are these days.
However, I do wonder, had it been Kakko, and not Lafreniere, with Panarin – then would their current roles and production been reversed?
However, you can't fix what's not broken, so Panarin and Lafreniere will remain together – the right call.
The same should also apply to Trocheck, in the event that Chytil is able to return.
(I do worry about Chytil. Five concussions in seven-years, three concussions in two-years and now two concussions in one month? I think he's flirting into Michael Sauer territory – and where I do also believe that you have to put his health above his hockey career – unless you want to see him as a drooling vegetable at the age of 40-years-old – the sad and realistic reality of his current situation.)
---
I know that I'm all over the place tonight (perhaps too much Buffalo Trace – but all of these drinks chugged down this season have led to a 10-2-1 record, so like this 10/16/13 line – I don't want to fix what's not broken – and better than that – I'm off from work tomorrow); so at this time, let's get into all of the pregame news and notes and then march into tonight's GAME REVIEW.
Up first, LAVY'S LOUNGE.
---
On Wednesday, a day removed from the Rangers' 5-3 victory over the Red Wings, the team held an optional practice at their training facility in Tarrytown, NY.
The only news of note from the well-attended skate was that CZAR IGOR was on the ice.
Following the light pump, Laviolette spoke for six-hours to the Blueshirt beat reporters.
Here was Wednesday's edition of "LAVY'S LOUNGE" for you below:
---
Despite talking as long as a POTUS giving his State of the Union address – really, not much from the head coach.
The only real things of note was that CZAR IGOR is practicing, Chytil is not and that Laviolette is happy with his team.
And at 9-2-1, coupled with a healthy and firm control of first-place in the Metropolitan Division – why should the head coach feel any other way?
Funny enough, and despite not being at the practice – not one question was asked in regards to Jonathan Quick – as once again, the Rangers' beat reporters were a step behind.
---
On Tuesday night, and as I was working on my Rangers/Red Wings review (https://bluecollarblueshirts.com/11723/ ), the Blueshirts tweeted out the following:
UPDATE: Jonny Brodzinski, Louis Domingue and Connor Mackey have been assigned to the Hartford Wolf Pack.

— NY Rangers PR (@NYR_PR) November 8, 2023
---
Again, and say it with me in the Jan Brady voice, "cap accrual, cap accrual, cap accrual!"
However, while Domingue and Mackey were paper transactions, Brodzinski, captain of the 'Pack, was not.
After all, JONNY HOCKEY was only called-up because Barclay Goodrow was away from the team to be there for the birth of his son.
Come Wednesday at 5PM, and once the cap accrual process was complete, the Blueshirts announced the following:
UPDATE: The Rangers have recalled Louis Domingue, Dylan Garand and Connor Mackey from the Hartford Wolf Pack.

— NY Rangers PR (@NYR_PR) November 8, 2023
---
While the names of Domingue and Mackey didn't surprise anyone, Garand's name sure did.
Obviously, the recall of Garand told you that not only was CZAR IGOR still day-to-day – but so was his back-up, the second goalie on the organization's depth chart, Jonathan Quick.
Following the Rangers' announcement, the news was confirmed – the 37-year-old and three-time Stanley Cup champion, and like CZAR IGOR, was "day-to-day" too.
As you may have heard – I am not a doctor, nor am I around these players every day.
But as an outsider-looking-in, and yes, this is speculation – I think CZAR IGOR and Quick could play if they were forced into it.
However, it's November – and not the warm months when playoff hockey is in full swing.
In other words, there's no reason to take any chances right now.
And really, the Rangers are somewhat fortunate, as these two day-to-day statuses took place with only two games remaining prior to the team's five-day break.
Furthermore?
The next two opponents on the docket, Minnesota and Columbus (and being at home also helps the Rangers), aren't in playoff contention.
And oh yeah – LAVY'S LOT are in first-place too!
While of course, you always want full health for your team (and don't lose sight of the fact that not one beat reporter will bring up the name of the man who shall not be named, former Rangers' trainer Jim Ramsay, as the club hasn't had a rash of injuries like this in years); injuries are also part of the game.
Shit happens – but not for nothing – the Rangers have been able to turn all of this chicken shit (injuries) into chicken salad.
As they say, you gotta roll with the punches.
Another cliche?
NEXT MAN UP!
---
Come Thursday, game day, and with the great Vinni Lettieri practicing on M$G ice with the Wild, Laviolette spoke again.
Here was the pregame edition of "LAVY'S LOUNGE" for you below:
---
The head coach confirmed that both CZAR IGOR and Jonathan Quick were "day-to-day," and while the situation wasn't ideal, he had faith in Mr. Domingue to shoulder the load.
Lavy also said the obvious.
The upcoming five-day break was perfect timing.
---
Here was Laviolette's line-up for the thirteenth game of this 2023-24 season:
FIRST LINE: Kreider/Zibanejad/Wheeler
SECOND LINE: Panarin/Trocheck/Lafreniere
THIRD LINE: Cuylle/Bonino/Kakko
FOURTH LINE: Vesey/Goodrow/Pitlick
FIRST PAIR: Miller/Trouba
SECOND PAIR: Lindgren/Gustafsson
THIRD PAIR: Jones/Schneider
STARTER: Domingue
BACK-UP: Garand
HEALTHY SCRATCH: Mackey
DAY-TO-DAY: CZAR IGOR and Quick
INJURED RESERVE: Chytil
LONG TERM INJURED RESERVE: Fox
---
BOX SCORE time.
The following graphics and information come from ESPN.com:
SCORING:
PENALTIES: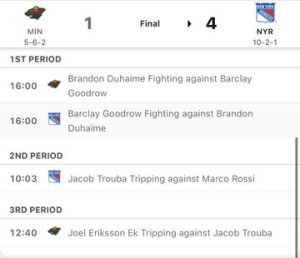 TEAM STATS:
GOALIES:
| | | | | | | | | | | |
| --- | --- | --- | --- | --- | --- | --- | --- | --- | --- | --- |
| SA | GA | SV | SV% | ESSV | PPSV | SHSV | SOSA | SOS | TOI | PIM |
| 27 | 3 | 24 | .889 | 22 | 1 | 1 | 0 | 0 | 57:44 | 0 |
| | | | | | | | | | | |
| --- | --- | --- | --- | --- | --- | --- | --- | --- | --- | --- |
| SA | GA | SV | SV% | ESSV | PPSV | SHSV | SOSA | SOS | TOI | PIM |
| 26 | 1 | 25 | .962 | 22 | 2 | 1 | 0 | 0 | 60:00 | 0 |
---
Prior to tuning into tonight's game on the M$GN, I tweeted out the following:
Looking forward to Sam and Joe saying this no less than 8282929393939 times tonight.

"Oh Joe, spicy brisket and cabbage Joe!" #nyr https://t.co/3rO0BGbXAN

— BlueCollarBlueShirts (@NYCTheMiC) November 9, 2023
---
I bring this up because this wasn't the case – an absolute shock.
Domingue's diet and previous time with the Penguins was only brought up once by Sam and Joe, so with the same amount of energy as my original tweet, I want to thank them for not going on-and-on with the elementary-level commentary that you saw elsewhere.
In other LOUIE, LOUIE news, the Rangers also shared this "FUN FACT" with us:
Louis Domingue is set to become the first Rangers right-handed catching goaltender to play in a game for the team since Glen Hanlon (1982-83 – 1985-86).
Good to know.
However, and since no one else will come up with such useless information besides yours truly; I have this "FUN FACT" for you, one that I dug up on my own:
Louis Domingue, who wears number seventy, became the 70th player in NHL history to have played for both the Rangers and the Devils.
And at only 31-years-old, the career journeyman also has the potential to become the 12th player in history to play for the Rangers, Devils and Islanders.
The more you know!
---
Come 6:30PM, I tuned into the M$GN, where I was greeted by the smug jackass, Sieve Vagistat.
Henrik Lundqvist wasn't there tonight, as I'm to assume that he's currently in Toronto, in anticipation of his upcoming Hall of Fame induction.
(M$GN, while mentioning Lundqvist's HOF induction, didn't say if they'd be airing it this Monday. I'm sure that it's a television rights issue, but you'd think they'd fight for the right to air this.)
Come 6:30:01PM, I returned to the NHL Network, as there was no way I was watching Vagistat, who I was told, brought up his shitty little analytical company no less than five times within the first ten-minutes of the broadcast – you know, "CLEAR SIGHTED ASSHOLES" – where NO ONE, and I mean NO ONE, in the hockey world ever talks about his company outside of the M$GN.
(The analytic company that's often prominently featured on NHL broadcasts? Sportlogiq – and yes, they spell it that way. Apparently making up numbers is their thing, spelling is not.)
And go figure.
For a M$GN that continues to pollute the hockey world with career third-string goalie Sieve Vagistat, who a Hall of Fame goalie, Henrik Lundqvist is saddled with – tonight's goalie match-up featured a third-stringer (Domingue) versus a future Hall of Famer, Marc-Andre Fleury.
Isn't that amazing Suzyn?
---
While I didn't see it, I was told that at 6:55PM, M$GN ran a BUD LIGHT BAR studio segment where Lundqvist talked about being inducted into the HOF.
For those who don't know, this was a pretape and not a live segment.
---
Come 7PM, I returned to the M$GN, where Sam & Joe said the obvious stuff about Domingue and then left it at that, and where I was also left wondering the following:
Why does Sam always say, "we'll later be joined by John Giannone."
After all, and assuming that you can stomach these Vagistat solo and self-masturbatory pregame shows, then you already saw JOHN GIANNONE FROM THE PROJECTS IN BOONTON (that's an old-time site callback) for the past half-hour.
Rosen, the king of unintentional comedy, had me cracking up big-time when introducing the TACO BELL TAKE segment tonight.
While he didn't say the following verbatim, the tone in his voice was deathly serious, as he said something like, "Oh Joe, please and kindly, what is your Taco Bell Take and thank you kind sir."
It's the little things!
Since tonight was MILITARY APPRECIATION NIGHT, which I'm sure had Mollie Walker, Wince, ESPN and other crybaby liberals like them (but not all) in tears ("WE NEED MORE PRIDE NIGHTS! WHY DO THEY HONOR THE MILITARY WHO RISK THEIR LIVES INSTEAD OF THE BRAVE PEOPLE WHO RISK THEIR GENITALS BY HAVING SEX CHANGE OPERATIONS!?!?!?! THIS IS BULLSHIT! BY THE WAY, WHAT'S AN ICING?"); we then were treated to a live presentation of the national anthem.
(Ben Hightower, a military man, but with a great name for a defenseman, sang it.)
GAME REVIEW time.
---
FIRST PERIOD
For a Rangers' core that's been accused of being "Jekyll and Hyde" over the years, we saw the Jekyll this period, while the team's offense (and defense sans Domingue) would then Hyde in the second period.
Put it this way: The Rangers out-shot the Wild to a tune of 14-2 in the first period. The Wild then out-shot the Rangers to a tune of 15-3 in the second period – and where two of these three shots took place with just 33-seconds remaining.
Fortunately, for a team full of adages, the Blueshirts "saved their best for the last" when it mattered most – the third-and-final period.
---
Laviolette relied on his fourth line all game, where the head coach even started this trio at the start of all three periods.
(Trocheck subbed in for Goodrow at the start of the second, as #21 was in the penalty box at the time.)
Goodrow lost the opening draw and a minute later, Domingue then made his first save of the contest – and where as noted – he'd only have to make one more save in this period.
KING LOUIE, LOUIE, who finished with 25-saves tonight, heard Garden patrons belt out his name after each and every single one of his saves, as "LOOOOOOOOOUUUUUUUU" was chanted all night.
Talk about support.
And while I'll share it with you at the end of this, I did feel bad for him, but not because of his performance, but because of what he said after the game – he just wished that his kids could have been there to experience it.
I got all the respect and time in the world for a family man.
And really, since both CZAR IGOR and Quick are "day-to-day" – why not let Domingue get one more start this Sunday prior to the team's five-day break?
While nothing against Domingue – I hope to never see him again in the Rangers' net this season – but I also desire to see him have his moment with his kids too.
---
At the 1:58 mark, Lafreniere, from three feet away and with nothing but net in front of him, went wide. Thankfully, this wasn't a harbinger of what was to come – and as we've seen before.
Rosen's call?
"Kreider misses the net. Pardon me Joe, that was Lafreniere."
Bless Sam's heart!
With 16:23 remaining, Goodrow, who must be irritated as hell with the lack of sleep these days (new baby at home), was hitting anything that moved and soon extended a Rangers' forecheck.
Twenty-seconds later, and following a change?
This:
Gustafsson sets up Trocheck for the opener! 🔥

(via @NYRangers) pic.twitter.com/L0CNoc4Bjd

— Rangers Videos (@SNYRangers) November 10, 2023
---
1-0, GOOD GUYS – another assist, and another point, for the GUS BUS!
On this early scoring play, Gustafsson made a hell of a keep at the blue line. He then fed Lafreniere from the boards by the benches to the boards by the penalty box. Lafreniere, and this isn't me picking on him – it's the truth – does telegraph his passes at a frequent rate. However, this time, the Wild couldn't break this up, as Lafreniere found his center in the slot and that's all she wrote, as Trocheck then sniped the puck past The Flower.
By the end of the game, both Trocheck and Lafreniere finished with Reggie Miller games – three-pointers.
Of note?
This assist was Gustafsson's 200th NHL point. Congrats!
Down to 13:00 remaining, MAF robbed Schneider from making this a 2-0 game.
Fifty-seconds later, Panarin, while 1 x 2, forced MAF into making a tough save. The Panarin from last season would have turned over the puck on this play or just dumped it. Instead, Artemi History X is putting everything on net.
As the fourth line continued to play in Minnesota's zone with 11:00 to go, this game did feel like deja vu from last Saturday, when these two teams last played against each other.
At the half-way mark of the period, and as it was obvious that the Rangers were going to go balls-to-the-wall for Domingue, K'Andre Miller broke up a scoring play – and really – the lone real threat from the opponent in this period.
As the game progressed, and as Bonino kept on winning faceoffs, Rosen mentioned how the former Stanley Cup champion is teaching his fellow centers his trick of holding his stick backwards to win draws.
In a sign of the apocalypse – the Rangers are presently top five in the league in faceoff success.
Their success rate at the dots should only increase with Chytil out of the mix.
Down to 6:30 remaining, Domingue made his second – and final – save of the frame.
Afterwards, we saw a play that was reminiscent from the win against Detroit, as Lafreniere and Trocheck had a 2 x 1 odd-man rush, but the center couldn't get all of the pass, and as a result, overskated the net and couldn't get a SOG off.
Had Lafreniere made this pass a few seconds earlier, then this probably would have went for a goal.
Micheletti thought as much too.
Come 5:45 remaining, Zibanejad, while wide open, somehow shot a puck right into Brock Faber, a Wild d-man.
Seriously Panarin, bust out those razors and clippers.
Those black and flowing locks on Mika's head need to go – and PRONTO at that.
With 4:02 left to play, and with both fourth lines on the ice, Middleton hit Goodrow from behind after MAF prevented Rangers' goal #2.
This led to our first scrum of the game – and a TV timeout too.
Once returned to the game, and with a faceoff to the circle right of MAF – the best fight thus far of the season:
21's, can you do something for me?

Barclay Goodrow and Brandon Duhaime with an old fashioned scrap off the draw pic.twitter.com/IH78aJEMMn

— Jonny Lazarus (@JLazzy23) November 10, 2023
---
Goodrow, who again, must be on edge these days, absolutely kicked the ever-living shit out of Brandon Duhaime.
In fact, Goody trashed Duhaime so bad (HOW BAD WAS IT), that I'm surprised that he didn't take one of his son's diapers and smear it all over the face of the Wild's right-winger.
With Goodrow and Duhaime now in the locker room (since these two fighting majors took place with less than five-minutes remaining), we had a Kaapo Kakko sighting.
As there was just 3:30 left to be played, Kakko, from two feet away from MAF, decided to pass the puck all the way to the blue line – another turnover.
Come a minute remaining, Jones, in a similar situation as Kakko, deferred from shooting and then forced a pass to Kreider – another turnover.
Kakko's play was one of the brain-dead variety.
Jones you could understand somewhat, as he was trying to set up the longest-tenured veteran on the club – and one of the league's best goal scorers.
And while I have no way of knowing this, I wouldn't be surprised to hear that Kreider told Jones to shoot next time, assuming should this opportunity arise in the future.
Rookie mistake – but you can understand the respect being displayed.
To close the period, and for the third time this season, Trouba tried a wraparound for a goal but MAF had it scouted.
I'm sure that the captain will eventually score in this manner soon enough.
1-0, GOOD GUYS, after a kick-ass twenty-minutes – but where at the same time and once again – just one shot the other way would have pissed all over the hard work.
Here's what I said at the time:
1-0, GOOD GUYS, after 20, 1P thoughts:
— SOG are 14-3, Rangers. Pregame prediction is looking strong – they are playing up for Domingue.
— But we've seen this script before – including against these Wild just a few days ago.
— Keep it going and avoid that penalty box.
—…

— BlueCollarBlueShirts (@NYCTheMiC) November 10, 2023
---
SECOND PERIOD
As you already know – this period sucked – as once again, the Rangers gave their fans a maddening and excruciating twenty minutes of hockey.
While you can read all of my live in-game commentary on my Tweeter page (https://twitter.com/NYCTheMiC ); among the low-lights that just made you want to throw your remote control through your television, the following, as I want to breeze through this second stanza as fast as possible:
— I still have no clue what the NHL statisticians saw when crediting the Rangers with their first SOG. Ditto Sam and Joe. In fact, it felt like a phantom SOG was accredited to the Blueshirts, following a MAF freeze.
— If you throw out the phantom save awarded to MAF, then the Rangers first SOG of the period took place with 33-seconds remaining, and the second followed just ten-seconds later, and with both SOG coming off of the stick of who else – THE GUS BUS.
— As the Wild just controlled the puck and peppered the Rangers' goalie as they had done on Saturday night; once again, Braden Schneider got caught out there for another shift of over three minutes long. He survived, but this is a new trend to keep an eye on.
— The Rangers, who were full of vim and vigor in the first period, looked tired and disinterested out of the intermission. By the six-minute mark, they had already iced the puck four times.
— Kreider, who had his point-streak snapped tonight, went wide at an open net with 13:40 remaining. Ten-seconds later, Kakko did his Harlem Globetrotter act, as he danced all over the place with the puck, only for the Wild to breath on him in order to force the predictable turnover.
— Down to 11:05 remaining, Jimmy Vesey made one of the worst turnovers that you'll ever see – but true to form – LOUIE, LOUIE!
— With 9:58 remaining in a period that felt like deja vu, and as the Rangers once again played like poo; Trouba was boxed for tripping the love of Sam and Joe from Saturday night, Wild rookie Marco Rossi.
— I guess this should also be said: After taking six penalties in their last game, this Trouba penalty was the only Rangers' infraction of the match – or at least the only one that was called. I thought that these officials, strong tonight, let a lot of things go, and on both sides, which is fine as long as equal treatment is shown – and as was the case here.
— Domingue made two saves on this lone Rangers' PK, including a swatting of the glove on former beloved Blueshirt, Mats Zuccarello – who didn't score tonight since Lundqvist wasn't there!
— The biggest groan during these two-minutes was when Trocheck, all alone on a breakaway, went wide. This isn't a problem exclusive to Trocheck either, as we've seen many Rangers miss the net on odd-man rushes and breakaways this season.
— But what could've been a huge momentum SHG, a 2-0 goal at that, instead turned into a Wild equalizer.
— Right after the penalty kill had expired, as in thirty-seconds later once returned to full strength; there was Duhaime picking up the second part of a Gordie Howe hat trick, as he pulled a Kreider and screened, deflected and tipped a puck past Louie, Louie.
— 1-1 – and a goal that you couldn't blame #70 for whatsoever.
—- But Duhaime, who now had the two hardest pieces of the Howe hat trick to his name, would never get the assist. And for that matter, the Wild would never score again either.
— As Zibanejad looked aloof, and as Lafreniere's passes were intercepted more times than Zach Wilson; the Gus Bus recorded the only real Ranger SOG of the period.
1-1 through forty minutes.
While I'm aware of the record and the overall performance, these brain fart and brain dead periods need to be eradicated.
Here's what I said at the time:
1-1 after 40. 2P Thoughts:
— While it's great that your third-string goalie, third-pair d-man and third-line winger are your best players, that's not great for the Rangers.
— I knew Mika would start slow, but it's time to wake up. Shave his head if you must.
— Trade Kakko…

— BlueCollarBlueShirts (@NYCTheMiC) November 10, 2023
---
Something else that I said?
This:
Panarin will have to lift them in the third #nyr https://t.co/kzJleaOw7y

— BlueCollarBlueShirts (@NYCTheMiC) November 10, 2023
And that's what happened.
---
THIRD PERIOD
The Rangers, who 180'd from their start in the second period, went full circle, as they 180'd again here.
Another cliche for a team full of them?
"The light switch went off."
So did Lafreniere, who scored at just the 1:41 mark of the period:
PERFECT PASS FROM PANARIN TO LAF FOR THE GOAL 🍞

(via @BR_OpenIce) pic.twitter.com/vgWh5W9drs

— Rangers Videos (@SNYRangers) November 10, 2023
---
2-1, GOOD GUYS.
Again, I'm not trying to minimize what Lafreniere did here, but I also believe that anyone in the world, except for Kakko, could have scored on this play.
Panarin's pass was just that perfect.
This was also a pure BREAD LINE PART III goal, as Trocheck picked up the secondary apple.
But while this goal, following the pass, was elementary my Dear Watson; let it also be stated that Lafreniere put himself in the right position too – as this wasn't a fluke play or anything of the sort.
As Panarin, and as Michael Jordan always did whenever playing at M$G, absolutely took over this game, I tweeted out the following:
#NYR with another 180 in this game, need another goal before the inevitable late Minny push – plus, it would help Laf confidence level to get the GWG too , 13:22 to go

— BlueCollarBlueShirts (@NYCTheMiC) November 10, 2023
---
All of this would become the case.
---
During one of those TV timeouts where we are forced to suffer through a grinning and feckless Vagistat, the worst back up goalie in franchise history actually used my moniker, "GUS BUS," to describe Gustafsson.
I was sickened.
While I didn't originate the "GUS BUS" nickname (he's been called that his whole career), it was just pure douchebaggery to hear Vagistat say it.
Speaking of people ripping off my stuff, a quick tangent on Larry Brooks.
---
Apparently, the Hockey Hall of Famer, Larry Brooks, who is doing less reporting these days than ever (when's the last time he has broken a story – and it really says something that he didn't say one word about the Ramsay firing too – and the fact that he's now posting pictures of what he eats and quoting analytical websites tells me that his doofy dingbat "colleague" is rubbing off on him), is now referring to Cuylle as "CUYLLE HAND WILL."
Take a gander:
It would be nice if one of these days Larry Brooks would credit me for creating these silly nicknames, rather than stealing them lol. I guess plagiarism doesn't DQ you from the HOF these days either! #nyr pic.twitter.com/bDkVDQXPKa

— BlueCollarBlueShirts (@NYCTheMiC) November 9, 2023
---
Listen, and as said 789678575578578568557858656756785685 times before on this site – Larry is the best reporter on the beat.
While I think that Johnny Lazarus has some real potential – he's also not full-time yet. (He doesn't do road games.)
But hands down, Larry is the constant – and the GOAT too.
That said, and I don't want to go too long on this (but I do have all of the receipts and evidence) – he does steal/not credit others for what he uses.
I've seen ideas, nicknames, suggestions, whatever, first said on this site, that miraculously winds up in his articles a day or two later.
The same also applies to the Blueshirt Underground Show, as I have seen stuff originally said on their show soon appear in Brooks' articles a day or two later too.
Sure, you can say that some stuff is coincidence and that similar conclusions can be drawn.
But when you see it ten, twenty and fifty times over – then I have to wonder if the HOFer has a little Somalian Pirate in him!
But it's okay Larry (I know you are reading this) pilfer away – but it would be nice if you'd credit where you get some of your material from!
And if Brooks ever uses the word "VAGISTAT" in one of his articles?
I'll allow that one without credit being desired!
---
Similar to the first period, the Rangers were playing well – but only held a one goal lead.
That would change with 7:20 remaining, as the officials bagged Ek for tripping Trouba.
While the PP1 unit couldn't get much going, and as it looked like the same fate was going to play out for the PP2 unit too; with just two seconds remaining on the Rangers' power-play, this happened:
WHEELS UP!

(via @BR_OpenIce) pic.twitter.com/M6sN8DhiBf

— Rangers Videos (@SNYRangers) November 10, 2023
---
3-1, GOOD GUYS!
The two sounds that you heard in the streets in Rangerstown, USA after Blake Wheelchair's first goal of the season, a power-play goal at that?
A sigh of relief, as the insurance goal was netted.
The other sound?
A flying pig crashing through your window!
Listen, I'm happy for Wheelchair, but like anything else, one game where he scores a goal doesn't change all of his previous games.
I still don't think he's the answer.
Furthermore, I think he's too slow and the game has passed him by a bit.
Another cliche?
Father time is undefeated.
I won't go into my Patrick Kane spiel again (although I do find it comical how hellbent some Kane detractors are when bringing up Backstrom's hip-resurfacing surgery – the same people who said that Jack Eichel was doomed following his neck surgery), but I will say that I'd like to see Cuylle get a shot with Kreider and Mika.
That said, this was a huge goal, one that Cuylle assisted on too, as a Lafreniere shot was blocked, Cuylle threw the puck at MAF and Wheeler slammed home the rebound.
Again, I'm not trying to be a "hater" here, so congrats to Wheelchair.
But it does feel like this goal was a rarity – and not commonplace.
I hope he makes a fool out of me.
---
With 3:30 remaining, MAF, and like a Chris Hansen victim, "took a seat."
While it took over two-minutes, it was nice to see the Rangers snap their empty net attack schneid, as Panarin, from DOWNTOWN JULIE BROWN, sealed the deal with only 1:21 remaining.
4-1, GOOD GUYS.
And did I mention that I had a prop bet on a Panarin goal and assist tonight?
Thank you empty net goals!
4-1, GOOD GUYS, your final.
Sorry for the negativity that was included during tonight's blog, but as you all know by now, this is how I vent it all out from my system!
While nowhere close to being the best win of the season; this was another game where the Rangers showed off their resiliency and overcame all adversity.
I'm proud of that.
---
Here's the easy-to-root-for LOUIE, LOUIE after his first win as a Ranger:
---
Here's the man with the magic touch these days, Peter Laviolette, as he looks to notch a 100+ point season under his belt:
---
The dominating Blueshirts have the next two days off.
On Sunday, and as they did to Minnesota tonight, they'll look to avenge another road loss on M$G ice when they host the Columbus Blue Jackets.
After that, they are off until next Saturday, when they will meet the Devils for the first time this season.
On Monday, Henrik Lundqvist will be inducted into the Hockey Hall of Fame.
I'm looking forward to watching the ceremony – and where I can't see him thanking Sieve Vagistat in his speech!
Barring anything truly groundbreaking; see ya Sunday night.
After all, what else am I going to do? Watch the Giants and the Jets?
Unlike those two loser teams, the Rangers have a third-stringer who can excel at the most important position!
---
For our veterans out there, and I know there are many of you who are reading these words – THANK YOU.
You guys and gals are often underappreciated (and sometimes marginalized, which is an absolute disgrace) and I respect all of you.
Enjoy the weekend.
See ya Sunday.
PLUGS TIME! (Buy a book and support my Rangers' induced therapy bills. After all, I don't run ads on this site!)
---
On Wednesday, November 8th, our buddies over at the Blueshirt Underground Show returned with a new episode. To check it out, click the play button below:
---
My fourth title and tenth book is now available for preorder!
"The Top 100 Villains of New York Rangers History," is now available for preorder.
For complete information, please visit: https://bluecollarblueshirts.com/rangerkillers/
---
My second plug of tonight's blog – the mandatory plug for my book, "The New York Rangers Rink of Honor and the Rafters of Madison Square Garden."
As mentioned previously, the book is now available in hardcover, in paperback and in Kindle formats. To purchase a copy of the book, visit this link:
https://www.amazon.com/Rangers-Rafters-Madison-Square-Garden-ebook/dp/B09CM5N2WD
For those still looking for signed paperback versions of the book, I have re-ordered more copies. I now have a few signed copies for sale at $25 a pop (includes shipping price) through me directly. Here is all the information on that:
---
My four-volume set of books, "One Game at a Time – A Season to Remember," is a game-by-game recount of the Rangers 2021-22 campaign.
My second title as an author, "One Game at a Time – A Season to Remember," is now available in eBook, paperback and hardcover formats.
To obtain signed copies, visit: https://bluecollarblueshirts.com/onegamebook/
To purchase all four volumes on Amazon, visit: Amazon.com – "One Game at a Time."
---
The greatest volume-set of books on Rangers' history today!
"Tricks of the Trade – A Century-Long Journey Through Every Trade Made In New York Rangers' History," a four-volume set of books that meticulously covers every trade made in franchise history, is now on sale.
All four volumes of the title can be purchased on Amazon.com and are presented in three different formats – eBook, paperback and hardcover.
To purchase Volume I: Conn Smythe (1926) – Craig Patrick (1986), visit Amazon.com
To purchase Volume II: Phil Esposito (1986) – Neil Smith (2000), visit Amazon.com
To purchase Volume III: Glen Sather (2000-2015), visit Amazon.com
To purchase Volume IV: Jeff Gorton (2015) – Chris Drury (2022), visit Amazon.com
To purchase signed copies of all four volumes, visit https://bluecollarblueshirts.com/tricksofthetrade/
---
Here are my last few blogs, in case you missed them: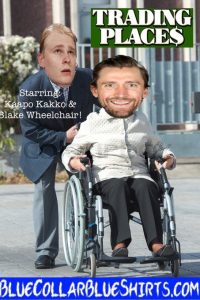 ---
---
---
If you haven't already, subscribe to this blog for the next update:
---
Don't forget to order my recently released four-volume set of books, "Tricks of the Trade!"
If you don't order through me, all four volumes are now available on Amazon.com
For more details, check out: https://bluecollarblueshirts.com/tricksofthetrade/
Thanks for reading.
LET'S GO RANGERS!
Sean McCaffrey
BULLSMC@aol.com
@NYCTHEMIC on the Tweeter machine