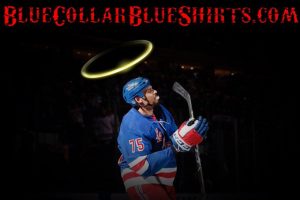 Greetings and salutations everyone and welcome to another blog here on BlueCollarBlueShirts.com. Just like the Rangers themselves, and if you're an "eye-test" fan like me – you won again on Wednesday night.
Even better for the Rangers? This Original Six match-up between the blue Leafs and the Blueshirts was not only a nationally televised game in America, but in Canada too.
In other words, a huge North American audience saw the gritty and tough New York Rangers piss all over the analytical-built Maple Leafs, where for all of Toronto's analytics – they still can't get out of the first round of the Stanley Cup Playoffs. Conn Smythe must be rolling in his grave.
More important than that? Both Adam Fox and CZAR IGOR showcased themselves to the hockey world, as each player continues to make their case for a season-end individual award/trophy.
Furthermore, let's hope that just like the previously mentioned Smythe (the former GM of both the Rangers and the Leafs), that come June of 2022 – a Ranger wins the Conn Smythe Trophy too!
And then there was that Ryan Reaves guy.
(Of note: I covered all of the Mika Zibanejad All Star stuff and the NHL's reversal on their COVID-19 testing policy last night. For that blog, visit: https://bluecollarblueshirts.com/11822/ )
---

Whenever writing one of these game recap blogs, it's very easy to fall into the trap known as "recency bias," which means "living in the moment." This most certainly is true after a big win, when positive emotions are running high.
That said, when it comes to the best win of the season, a season that's now one game away from being 50% completed – this win was as good as any.
Of course, the Rangers had one of their worst periods of the season tonight. That much is true.
However, as I've been stressing all season, and just like the head coach and his players themselves – the Rangers are very rarely out of games. There's not many games where you just throw your hands in the air and admit defeat.
Sure, no team goes 82-0, but even when the Rangers lose, it's not very often where they then go on a losing streak. It's something Reaves, the hero of tonight's game, just said 24 hours prior to this victory. (Full recap of Reaves' interview in last night's blog.)
A lesser team than Gallant's Gang would've folded like a cheap Steve Vagistat suit after their poor performance from tonight's first period. Instead, and as it has been the case all-season long, the Rangers shrugged it off and then scored the next five goals of the game. There was also CZAR IGOR, but we'll get into him soon enough.
And while some morons may focus on the team's imperfections tonight, rather than celebrating the victory – being negative right now is a fruitless endeavor in my eyes. That's not the route I choose to go down. I'm glass half-full, a philosophy that I've been preaching since the off-season! (Blogs/archives don't lie!)
Were the top six great? Was K'Andre Miller a stud? Did the young kids such as Filip Chytil, Kaapo Kakko and Alexis Lafreneire play well? The answers to all of those questions are a resounding NO.
However, it's a team game, and on this night, it was the fourth line, your 2021 Norris Trophy winner and CZAR IGOR who excelled the most.
And if you aren't aware already; during the course of a season, you're going to need different players to do the heavy lifting on some nights. It's not always going to be your two "elite" forwards, Mika Zibanejad and Artemi Panarin – two players who are usually the focus of the opposing defense.
While Toronto did a pretty good job in this game of shutting down the two premier "FAT CATS", in both #10 and #93; it was Ryan Strome, in his contract year, who shone the brightest of the highest-paid players on the team. Not only did he pick up an assist on the game-tying goal (a sweet pass to Fox), he also scored the game winning goal too.
On the game winner, Strome, channeling his inner Chris Kreider, was camped out in front of the net and capitalized after a shot off of the stick of Ryan Lindgren. The winning and strong play is contagious, where tonight, it all started with the fourth line.
---
As I wind down this intro (because I have A LOT to say in tonight's game review segment), I must add that for the first time this season, this game truly had a "playoff vibe" feel to it. I think this was extremely apparent towards the end of the game, when "The Turk" started to rely more on his veterans, veterans who served him well.
Whenever talking about a successful team (where the word TEAM takes the utmost precedence), the word "gel" usually pops up. This team has gelled. There is an "all-for-one and one-for-all" atmosphere in that Rangers locker room.
While Ryan Reaves fell one goal shy of logging a hat trick tonight; in the final minute of the game, every Ranger was trying to feed him the puck, in an attempt to get "The Grim Reaver" his third goal of the contest. It's a little thing, but the little things matter. You can see that these guys all support each other, even when the game isn't in their favor too.
And for all of the whiners and bitches, who will cry about the team's analytics, defiantly shout, "the Rangers can't beat good teams," and the "five vs five this" and "five vs five that" nonsense – the Rangers have been playing well all season. Enjoy your pie charts, hieroglyphics, moon maps, and feeble attempts at rocket science. I'll just enjoy my favorite team and their status as first place in the division.
Furthermore (and as mentioned 78667675675675678576856785765 times in the past), come the playoffs, all of that analytical garbage (which is what analytics are – straight trash) – all of that crap becomes even more meaningless. This team is designed to make noise in the playoffs, and as I've been saying since July of '21 – the Rangers will hit a few decibels once there.
Oh yeah, let me hit my favorite quote one more time, before getting into the news: "I'm still waiting for an NHL head coach, general manager and/or player, to thank their analytical department after a win!"
Let's get into the pregame news.
---
In our only two pregame news items (tidbits that aren't related to Gerard Gallant's line-up), we have some "real" news, and we also have some "fake" disheartening news.
During previous blogs, I may have mentioned the fact that sports gambling is now legal in New York. I may have also mentioned the 678678667967967867896789689 JB Smoove/Caesers commercials that plague every M$GN broadcast.
While I understand capitalism, and I don't blame the M$G Networks for taking Caesers money either; I thought it was a bad look, when on Wednesday afternoon, the Rangers, on their website, and on all of their social media channels too, posted this:
I'm not a "gambling prude," nor am I anti-gambling. However, I just think it's not the best look when the team, when using their official communication channels, are pushing gambling on young and impressionable kids.
I don't know if I said this on social media or on this site before, so I'll say it here one more time:
I think from this point in time, and moving forward (and let's use a ten-year time span, which would take us to 2032), we'll see the suicide rate spike in New York. There's going to be a lot of people who blow all of their money gambling, and while not everyone, and not even the majority, will choose to end it – there will be some people who will.
Much like tattoos from years ago, and later marijuana; the "taboo" and negative thoughts surrounding gambling are no longer a thing.
Gambling is now accepted and promoted. It's now a part of life, where on any given day, whether you're at home browsing the internet or traveling around town, you'll see gambling ads – just like you would for any other major product, such as Coca-Cola, Budweiser, McDonald's, etc.
Again, I understand all of this, but I just think it's one thing for gambling commercials to air on television, and another thing when the teams themselves are pushing it on young fans.
As mentioned before on this site, the "purity of the game" erodes with each passing day. This is the end result of gambling.
Rather than rooting for wins and losses, many fans root for prop-bets, puck-lines, and about 97867866769 different things that are offered in-game by these gambling profiteers.
And I'm guilty of this myself too – as I can't watch any NFL game anymore unless I have some sort of financial incentive behind it – whether it be a box/square, fantasy football implications, or a simple bet on it.
Also not helping matters (in regards to my dwindling football fandom), outside of the NFL turning into the "National Felony League" during the past ten years? Simple – my New York Giants suck! Plus, hockey is my favorite sport anyway, which means I don't need to have money on any NHL game in order to watch it.
For the Rangers, a franchise worth $2B, the most-valued franchise in the league – what's next? Having John Gianonne and Steve Valiquette sitting behind a Marlboro backdrop for the new "Philip Morris Smoking Section" on the M$G Networks?
The saddest thing about this, besides pushing gambling on molding minds?
The Rangers will make all of this money off of gambling, but won't spend one cent on fixing the second rotunda/tier of M$G, which in my opinion, and as someone who has visited 25 NHL arenas – is the absolute worst second rotunda/tier in all of the league.
I know I have brought this fact/opinion up before about 50678678678967896 times in the past – which also is a number that doesn't rival how many JB Smoove/Caesers ads you'll see on any given M$GN broadcast.
Moving on, into our "real news" segment.
---
As you can see from the graphic depicted above, the NHL not only announced dates for all of the Rangers previously postponed games, but for the entire league as well. You can visit NHL.com for all of the rescheduled dates.
When it comes to the Rangers, following their February 1st home game against the Florida Panthers, they'll then be off for two weeks, when they return for two games at home, starting on February 15th. Sandwiched in-between is the NHL All Star Game, where as talked about previously, is where we'll see Chris Kreider and Adam Fox.
In other words, Mika Zibanejad's trip to Sweden will be extended a bit, as instead of the Rangers returning on February 7th or 8th like other teams (such as the Islanders and the ones from the "Great White North"), he'll get more time to spend with his wife in Europe.
As far as switching dates around with Boston, it's not much of an issue. The NHL had to do what they had to do to accommodate everyone.
And heck, this might benefit the Rangers, as instead of facing an already bad Montreal team, they'll get what should be an easy two points in their penultimate game of the season.
By then, the Rangers should be improved, as a result of whatever Drury does at the deadline. When using that same logic, Montreal, already terrible, will be even worse then, as they finish out their string after dealing away all of their rentals to contenders.
---
As talked about last night, and as you guys all knew too – on Wednesday, two hours prior to puck drop, it was announced that Alexis Lafreniere had finished his five-day stint in COVID jail. In a corresponding move, Morgan Barron was sent down to Hartford.
Here's Gallant from his pregame press conference, where he addressed his now 100% healthy team:
---
If there was anything "newsworthy" about this press conference, it was when Gerard Gallant blew off some inane reporter (a reporter who can't go one article without quoting an analytical website, which tells you that this guy knows nothing about hockey), when the clueless beat reporter asked Gallant about perhaps giving some of the AHL and taxi-squad guys a shot.
Gallant (who must've been thinking "what a Father Finkin' idiot"), in response, said that his healthy roster has been playing well all season, he's happy with who he has, and he will be sticking with his regular players.
I mean, this is pretty much "Hockey 101" and simplistic stuff, but when your head is buried in charts all day, while furiously copying & pasting whatever crap you can find from "Natural Stat Trick" and "Evolving Hockey" – well, I guess I'm not too surprised in the lunacy of this reporter's line of questioning.
That said, the only "out" I can see here, is if the Rangers promoted Morgan Barron in steed of Filip Chytil.
However, even then, if the Rangers (Drury) do explore a trade of Chytil for playoff veteran help, you have to play him in the interim. If Chytil is demoted, the Rangers would only be devaluing his worth to a potential trade suitor, in the event that Drury is even entertaining such a deal.
For these reporters that can't hold a candle to Larry Brooks (seriously, outside of Brooks, when have you ever read anything from any of these other guys & gals on the beat and said, "wow I learned something here!"); to explain it simply in a way that they can understand – it's like having a fantasy football team and trying to make a trade.
In that scenario, you don't put the player you want to trade on your bench. You leave him in your starting line-up, so when you try to make a trade, the person you're trying to trade with will then see this player in your starting line-up.
And yes, I love kicking the analytical folk when they are dead-wrong – a common occurrence! Beers, pretzels and the eye test will always reign supreme with me!
With the Rangers now back to full health, here's what "The Turk" went with on Wednesday:
FIRST LINE: Kreider/Mika/Kakko
SECOND LINE: Panarin/Strome/Chytil
THIRD LINE: Lafreniere/Goodrow/Gauthier
FOURTH LINE: McKegg/Rooney/Reaves
(Of note: Dryden Hunt, who is cleared, was originally expected to play. Instead, McKegg, who all of these analytical assholes are trashing left-and-right, filled in. In turn, McKegg, who has played well defensively all season, did so again in this 6-3 pounding of the Leafs. He also added an assist too. Why some fans and media members hone-in on a 12th/13th forward every day is beyond me.)
Defensively, we had this:
FIRST D-PAIR: Lindgren/Fox
SECOND D-PAIR: Miller/Trouba
THIRD D-PAIR: Nemeth/Schneider
And in net, CZAR IGOR.
---
BOX SCORE time.
The following information and graphics come from the new world-wide leader in NHL coverage, ESPN.com:
PENALTIES: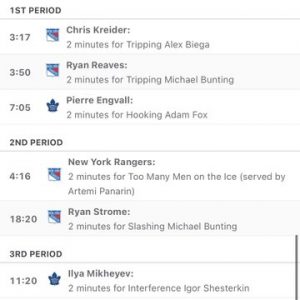 TEAM STATS:
GOALIES:
| | | | | | | | | | | |
| --- | --- | --- | --- | --- | --- | --- | --- | --- | --- | --- |
| SA | GA | SV | SV% | ESSV | PPSV | SHSV | SOSA | SOS | TOI | PIM |
| 26 | 5 | 21 | .808 | 18 | 0 | 3 | 0 | 0 | 58:30 | 0 |
| | | | | | | | | | | |
| --- | --- | --- | --- | --- | --- | --- | --- | --- | --- | --- |
| SA | GA | SV | SV% | ESSV | PPSV | SHSV | SOSA | SOS | TOI | PIM |
| 38 | 3 | 35 | .921 | 28 | 2 | 5 | 0 | 0 | 60:00 | 0 |
THREE STARS:
---
When it comes to the pregame show (or lack thereof), it was much better than listening to Steve Vagistat incessantly whine about his "EXPECTED STATS." And let's face it, Kenny Albert, at this stage of the game, is infinitely better than Hall of Famer Sam Rosen. It's just too bad that Keith Jones, the color analyst for this game, didn't routinely belt out the word "FABULOUS" 7867868678967896789678967896 times.
However, and similar to the M$GN, Kenny Albert was forced to sell his soul a bit and tout 7896786786789678967896 gambling advertisers. There's no turning back now.
Hell, even Vin Scully and John Madden in their primes would now be forced to read off "live, in-game" over-under's 38834377373494948784 times per broadcast too.
And a prediction: sometime in the near-future, EA Sports will include live betting in their Madden and NHL games. You'll also have video game announcers mentioning parlays and stuff of that ilk too.
Game review time!
---
Prior to the game, my friend/next door neighbor/fellow road-tripper, the frequently mentioned "TEN O'CLOCK TOMMY," wondered aloud if the Rangers could beat a good team. And he's not an analytical guy. Hell, he doesn't even check social media, nor does he have a social media account. He's as old school as it gets.
His concerns about the Rangers ability to knock off good teams would grow even larger, especially after the first five minutes of this game.
After the TNT Network showed b-roll footage of the junkie-infested and slimy Penn Station, Ryan Stome lost the first faceoff of the game.
The Rangers centermen didn't exactly have the best showing at the dot tonight, and most certainly not during this first period, as the Leafs won 15 out of 20 faceoffs to open the game.
By the end of the game (and with the Rangers trying to protect a lead), it was telling when Gallant had Barclay Goodrow take the clutch draws, rather than Zibanejad or Strome. But hey, that's good coaching.
The Rangers had a lot of issues with turnovers for the majority of the game, where these issues were blatantly apparent in these first twenty minutes. These cross-ice passes to nowhere were welcomed by the Leafs defense.
Just 2:44 into the game, after a failed Kreider-to-Mika connection; Ilya Mikheyev put on a one-man show against the Rangers defense. #65 in white pinned Patrik Nemeth to the boards, and after CZAR IGOR stopped Pierre Engvall, there was Ryan Lindgren with a bad turnover, which Mikheyev then capitalized on. 1-0 bad guys, and just that quick.
And yes – this goal allowed wasn't on CZAR IGOR. That said, it did seem like Shestyorkin had issues with rebounds early in the game, but he'd eventually settle down and was a rock in net – as usual.
Just 33 seconds following Toronto's goal, Chris Kreider tripped Alex Biega. 13 seconds following the penalty, and after another Rangers faceoff loss (Goodrow), Mitch Marner scored a power-play goal.
2-0 bad guys, just 3:30 into the game. "TEN O'CLOCK TOMMY" gave me the look, but I told him I wasn't worried, because not only do the Rangers always respond well to adversity, but the Leafs also have a nice little knack of choking too.
Twenty seconds after Toronto gained a two-goal lead; Ryan Reaves was sent to the box, after he tripped Michael Bunting, a Bunting who has become somewhat of a "Ranger Killer" as of late.
The Rangers would survive on this penalty kill, but with seven minutes of game expired, the Leafs were out-shooting the Rangers 7-0. Artemi Panarin, who hasn't scored a goal since returning from the omicron gulag, put the first Rangers SOG on the board.
And while on Panarin, while he did finish with two assists tonight, he wasn't at his best in this match, as he was very turnover prone.
As the Rangers tried to find their footing, with 12:55 remaining, Adam Fox drew a tripping call on Engvall. The Rangers power-play looked horrid here, as they couldn't set anything up, as the Leafs constantly cleared the puck.
Following a brutal turnover by Chytil, and another by "The Breadman," with 7:08 to go, there was Ryan Reaves, finishing Campbell, a goaltender contender to Igor's bid for the Vezina:
IT'S RYAN REAVES' FIRST NEW YORK RANGERS GOAL 🚨

(via @NHL_On_TNT)pic.twitter.com/hObkPq9nKA

— Rangers Videos (@SNYRangers) January 20, 2022
---
2-1, as Reaves picked up his first goal of the season.
And it should be stressed, and let's go bold and capslock here – THE RANGERS FOURTH LINE CARRIED THIS GAME. WITHOUT THEM, THE RANGERS LOSE THIS GAME. THEY KEPT THE RANGERS ALIVE ALL GAME, NOT JUST OFFENSIVELY, BUT DEFENSIVELY TOO.
Even if Reaves didn't score two goals tonight; for a fourth line that's been playing well all season, this was their best effort. They were forechecking. They were hitting (Reaves added five hits, a team-high, to his team-high two goals), they were intimidating, and they were all over the place (in a good way).
No joke, as the Rangers top six could never truly get going in this game until late; it was the fourth line who played the most complete game of them all.
The Reaves goal gave the Rangers some extra pep in their step, as at this point, the team didn't allow any SOG for a good four-to-five minute stretch.
However, after Igor snuffed out a Toronto threat; with under 2:30 remaining, Kreider got away with a trip on Auston Matthews. No matter for the Leafs, as with 2:10 to go, Igor stopped Matthews, but Bunting beat Trouba during a one-on-one battle and then scored on the rebound – the second rebound goal Igor allowed in the game. It would also be the last rebound goal allowed, and more importantly than that – the last goal Igor would allow all game.
3-1, bad guys.
When the period came to an end, the Leafs were out-shooting the Rangers by a tally of 11-7. Igor would then stop all 27 shots that he saw during the next forty minutes, where he too, like the fourth line, gave the Rangers a chance to will their way back into it.
---
Following a very Toronto-centric intermission segment; Strome lost another faceoff and CZAR IGOR came up with a big save on #65 in Toronto white. Not to be outdone, just ninety seconds into the period, Campbell stopped Kreider on a breakaway.
However, just 2:58 into the period, Campbell couldn't stop Reaves (again!):
RYAN REAVES' 2ND GOAL ON THE NIGHT, 2ND GOAL AS A RANGER

(via @NHL_On_TNT)pic.twitter.com/sqyUqweseG

— Rangers Videos (@SNYRangers) January 20, 2022
---
2-2, as Reaves and his line were forechecking like mad men.
As the crowd chanted "REAVO," on replay we saw that Reaves took a rebound and was able to get the puck to bounce off of Campbell's back and into the net. SNIPER!
With 15:44 to go in the second stanza, the Rangers got nailed for a "too many men on the ice" penalty, a DQ favorite.
The Rangers penalty kill came up huge here, with Barclay Goodrow clearing the puck multiple times.
After Campbell stopped Kreider, Matthews tried a "McDavid", when he tried to go 1 versus 3 on the Rangers. However, there was rookie Braden Schneider to snuff that crap out.
With under twelve minutes to go, Nylander rang a puck off of the post so hard, that even Sam Rosen from home must've heard it.
As we approached the mid-mark of the game/period; I wondered if Reaves, who was doing everything perfectly already, should've been taking faceoffs too – as the Rangers continued to get dominated at the dot, and in particular, during zone faceoffs.
With 9:26 to go, Panarin found himself all alone with Campbell, but waited to shoot the puck. This allowed the Toronto netminder to make the easy save, as "The Breadman" has had trouble with putting "the biscuit" into the basket.
The Rangers then spent an ample amount of time icing the puck – not a good thing in the first place, and even worse when you can't win a faceoff either.
Ryan Reaves almost had a hat trick with under eight minutes to go, after a Trouba clap-bomb from the blue line – a save for Campbell.
After another Panarin turnover, Igor made a save, as the two Vezina candidates exchanged big-time saves.
It should also be mentioned here, that all game long, and especially during this second period, that the kids – Alexis Lafreniere, Kaapo Kakko and Filip Chytil, were routinely being beat during every puck battle. They were just out-muscled all game. While the word "lost" wouldn't be appropriate, they did look like boys going up against men. Not a good sign.
Need more? Kakko had no SOG in this game. Lafreniere was credited with one, on a nothing attempt. Chytil had two, but on one of them, a breakaway, he shot the puck right into the leaf on Campbell's chest. Anytime any Leaf came near these three, they became shakier than Michael J. Fox on a rickety roller-coaster during a Californian earthquake.
Not intimidated were the NHL veterans on the Rangers, in both Ryan Reaves and Jacob Trouba, who laid the body all night. After Trouba (cleanly) crushed Morgan Rielly, this then led to a second line goal:
ADAM FOX AND WE'RE TIED AT 3!

(via @NHL_On_TNT)pic.twitter.com/rPpHHyC6rH

— Rangers Videos (@SNYRangers) January 20, 2022
---
3-3! The Rangers made the comeback!
On this goal, Panarin found Strome camped out at the goal line, and #16 (WHO SHOULD BE RE-SIGNED) found a wide-open Adam Fox just a few feet away. Simple as that. It was nice to see Fox get a goal (he'd score another, an ENG), as he's been racking up the bulk of his points via assists.
Now tied with 2:11 remaining, the Rangers lost another faceoff. With 1:40 remaining, that pesky Bunting was wide-open in front of Igor, and salivating, in anticipation of receiving a puck and regaining the lead for his Leafs. However, before he could score an easy goal, Ryan Strome slashed him – a good penalty, and a penalty that saved a goal allowed.
The Leafs power-play were all over Igor, but the goaltender and his team survived. 3-3 after two periods.
And for a team full of cliches and adages all season, we were right back to "win the period, win the game."
---
This third period was the Rangers best, even if CZAR IGOR had to put his Superman cape on.
After killing off the rest of the Leafs power-play (20 seconds in all), Zibanejad would have two chances to score, but couldn't convert on either try.
Following Panarin's worst turnover of the game, it led to Igor's best save of the game, as Igor stoned Nylander on a breakaway. WOW! It was nice to see Igor pick up his fellow comrade and All-Star snub.
After Reaves went wide on a shot, and as Kakko continued to be man-handled; you could feel the intensity level rising on the ice. The shots on goal were also limited, as just eight minutes in, the Rangers only had one SOG in the period.
Panarin, who is turning over the puck more so this season than ever before, turned the puck over again, where once again, CZAR IGOR stopped the Leafs on an odd-man rush.
Chris Kreider, who should be the captain of this team, was soon completely robbed by Campbell. Nothing Kreider could do here but appreciate that Campbell made a perfect save.
However, on the Rangers next shift, they'd break Campbell once more, as known sniper Artemi Panarin, rather than shooting, decided to give the puck to Ryan Lindgren. The man with the double nickel on his back then fired a shot, a shot which was deflected. However, the puck landed right on Ryan Strome's stick, a #16 in blue who was camped to the right of Campbell. BOOM, 4-3 GOOD GUYS, and with 9:10 to go.
Up next, ass-cheek clenching time, as the Rangers tried to protect the lead. It wouldn't be easy.
With 8:40 to go, Ilya Mikheyev foolishly interfered with Shestyorkin. This gave the Rangers a chance to find a power-play insurance goal. They wouldn't get it. The Rangers PP1 were even benched during this, as Gallant went with the fourth line for a bit, the best line the Rangers had in this game.
The PP1 were benched immediately following a Fox turnover, which led to Engvall splitting Panarin and Zibanejad, where thankfully, Igor came up with the big save. Had this puck went in, it would've been equivalent to John Starks "THE DUNK" over Jordan and Pippen from many years ago. (I believe Starks' dunk led to the origination of the word "POSTERIZED," as that picture used to be all over the place during the 1990s.)
After Igor robbed Tavares, as I can't rave enough about Igor's third period; with 4:32 remaining in regulation, the Leafs were called for icing. I thought this icing call was questionable, as it looked like Bunting beat Nemeth to the puck. I even said as much on social media, but that was the Leafs' problem and not mine!
Right after the icing, the Rangers won a rare offensive zone faceoff and Kreider buried a puck from a foot away. 5-3 GOOD GUYS, and with 4:27 to go.
Again, closing out the Leafs wouldn't be easy.
With 3:52 to go, following pressure from the Leafs; Auston Matthews scored – or so he thought. On replay, it was obvious that Mr. Mustache had kicked the puck in. End result after a review? NO GOAL!
Following the reversed goal call, the Leafs pulled Campbell for the extra attacker, as every Ranger fan across Rangerstown, USA was rooting for Reaves to get the empty netter, which then would've given him a hat trick. It wasn't meant to be.
What was meant to be was MR. NORRIS sealing the deal, as with 2:24 to go, and from deep in his own end, Fox fired a puck to the other end of the ice, and with pin-point precision at that. TOUCHDOWN RANGERS and 6-3 GOOD GUYS!
Even with the three goal lead, the Leafs continued to fight, where Igor continued to rack up the saves, and tough ones at that.
With under a minute to go, Reaves (who played 12:04 tonight, which I think is a season-high for him), was back out there. The four other Rangers on the ice with him kept feeding him the puck, hoping that he'd find his third goal and the Rangers extra point after their touchdown.
While Reaves didn't get the hatty, who cares? It would've been nice, but nicer than that, was as the final horn went off, the scoreboard read EYE TEST RANGERS 6 – CANADIAN ANALYTICS 3. Another win for your FIRST PLACE NEW YORK RANGERS!
---
All in all, what an overwhelming victory, and the best Rangers comeback of the season.
The fact that the Rangers struggled out the gate, only to be carried by their fourth line, which then led to a win – well that speaks volumes.
The only way this night could've gone better, was had Ryan Reaves, during his first-star victory skate, took a heaping pile of analytics, lifted his leg, and like a dog, urinated on all of that garbage!
(Keep in mind, these analytical freaks bawled their eyes out when the Rangers (Drury) first traded for Reaves, and continued the waterworks after Drury extended his contract for an extra year. During all of this, all you heard from these dorks was "REAVES IS ONLY A GOON AND CAN'T PLAY HOCKEY." These same fans were typing out his name in capslock all night. How quickly they forget!)
All jokes and my shots at the analytical assholes aside – this was the biggest statement win of the season. There will be more – I guarantee it!
PLUGS time.
---
On early Wednesday morning, our friends over at "2 Guys 1 Cup" returned with an all new episode. To listen to the podcast, click the link below:
Episode 32 is up now! #NYR https://t.co/CSF4LXzNO0

— 2 Guys 1 Cup Podcast (@2G1CRangers) January 19, 2022
---
The first plug of tonight's blog – the mandatory plug for my new book, "The New York Rangers Rink of Honor and the Rafters of Madison Square Garden".
As mentioned previously, the book is now available in hardcover, in paperback and in Kindle formats. To purchase a copy of the book, visit this link:
https://www.amazon.com/Rangers-Rafters-Madison-Square-Garden-ebook/dp/B09CM5N2WD
For those still looking for signed paperback versions of the book, I have re-ordered more copies. I now have 4 signed copies for sale at $25 a pop (includes shipping price) through me directly. Here is all the information on that:
---
Here are my last few blogs, in case you missed them:
---
---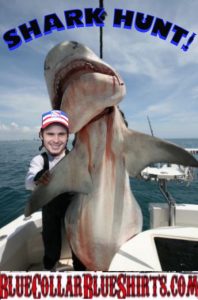 ---
If you haven't already, subscribe to this blog for the next update:
---
Up next: a game to determine who will temporarily sit on top of the Metropolitan Division, between the Rangers and the red-hot Hurricanes in Raleigh.
Carolina, who already has a great homegrown young first line, now has seven ex-Rangers in their line-up, where the additions of Brady Skjei, Brendan Smith, Tony DeAngelo, Joey Keane, Antti Raanta, Derek Stepan and Jesper Fast is more of a coincidence, rather than the Canes & company seeking out members of the Rangers alumni.
(Outside of Skjei, Carolina signed the veterans to team-friendly deals, while Keane, a former Rangers draft pick, was traded two seasons ago in the Julien Gauthier deal.)
Without question, and with this game officially marking the half-way point of the season for the Rangers – this will be the biggest test yet. I'm sure we'll be saying, "this is the biggest test yet" a few more times in the upcoming weeks and months too!
And while I'd expect "The Turk" to go with his best, and go with CZAR IGOR in net – maybe DeAngelo and Alexandar Georgiev will eye each other down during warm-ups.
As always here, thanks for reading and…
LET'S GO RANGERS!
Sean McCaffrey
BULLSMC@aol.com
@NYCTHEMIC on Tweeter