Greetings and salutations everyone and welcome to another blog here on BlueCollarBlueShirts.com. I hope all of the revenue, that the New York Rangers are currently making off of all of these gambling sponsors, repaired that broken hinge on that penalty box door from last season. That is what's important!
On Friday night in Raleigh, North Carolina, the two top teams of the Metropolitan Division squared off. Just under three hours later, it were the Rangers alumni on the Carolina Rangercanes that stood tallest, as the Canes soundly defeated the Rangers by a final score of 6-3.
There will most likely be a ton of negative overreaction to this game. Admittedly, it were the Rangers who looked like pretenders, rather than contenders, on this night. However, as head coach Gerard Gallant has preached all season – "one game at a time." I'm inclined to agree with "The Turk."
(Of note: in case you didn't know already, while I do check my social media feeds during the game; I very rarely read/watch any other game reports, videos or blogs after the game, until I write my own. I don't want to be influenced by anyone else.)
While we'll get into the other big pregame story in just a second (Gallant's decision to start Alexandar Georgiev over CZAR IGOR in this marquee first-place match-up); the other pregame story that dominated the headlines was Tony DeAngelo playing his former team, the New York Rangers.
Despite the Canes employing seven ex-Rangers, it was DeAngelo who got the most buzz. While you heard a little spatter about Brendan Smith too, you didn't hear anything about Jesper Fast at all.
That said, I'm not going to recap all of DeAngelo's history with the Rangers. If you want all of that, just check the archives of this site, or Google "Tony DeAngelo + BlueCollarBlueShirts.com."
---
Tony DeAngelo's name will take precedence not only on this site, but wherever else you go when looking for a recap and/or news about this contest.
Truthfully, after this game between the top two teams of the division – DeAngelo does deserve top billing tonight.
After all, his two assists gave the Canes an early and commanding lead in this game, and for good measure – the former Ranger also scored a power-play goal to put the game away for good.
Of course, the fact that TDA picked up three points against his former goaltender Alexandar Georgiev, aka "THE BULGARIAN BEAST," who blindsided #77 in the tunnel following a loss to the Penguins last season – well that had to be even sweeter for the New Jersey native.
Just as sweet for DeAngelo? His post-game interview in front of a crowd that was largely made up of Ranger fans and empty seats, with a few Carolina red jerseys sprinkled in:
"I'll never talk bad about the team. I love the team. But that felt good."

-TDA with @TrippTracy on beating his former team.@Canes | #LetsGoCanes pic.twitter.com/HTwangW1db

— Bally Sports: Canes (@CanesOnBally) January 22, 2022
---
For those wondering, this isn't the first time that fans of the Hurricanes have chanted "TONY, TONY, TONY!" following a game this season, as they had previously done so earlier this season, immediately after the defenseman's Gordie Howe Hat Trick.
If this teaches you anything, it's this – social media means shit. And I say that as a beer-bellied blogger who pushes these blogs (and my book) on social media!
For all of the people who regularly and non-stop attack DeAngelo (while at the same time, preaching anti-bullying, tweeting out #BellLetsTalk, and saying that they believe in change), these creepy vultures will never give DeAngelo a pass – even if the ex-Ranger cures cancer, ends COVID-19 and creates world peace. They'll always bring up some incident in Sarnia, an incident they know nothing about. (Not going to get into this again, but what these people accuse DeAngelo of never happened.)
Put it this way, in nearly 96 years of Rangers hockey, John Davidson, former President of the club, had to refute lies about DeAngelo, lies that were made up by an over-zealous fan. This was the first time in Rangers history where a member of the Rangers front office had to publicly state that a fan was just making up lies in order to serve his own anti-player agenda. So in a way, DeAngelo's tenure in New York was unprecedented.
While fans of both the Rangers and Canes tweeted out vile things about DeAngelo on Friday night (the hypocrisy is just outstanding), where I even saw some Ranger fans wish death on the rearguard; IN REAL LIFE, you had thousands of people chanting DeAngelo's first name all night long. It just goes to show you that Twitter isn't the end-all, be all – and that whatever you read on social media rarely impacts real-life events – unless you let it.
---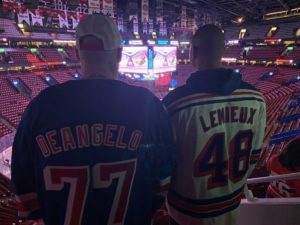 Seriously speaking (especially since I've written about 674378265826784256725 million words on Tony DeAngelo in the past), I was hoping that after this game, I wouldn't have to say much about him, outside of the fact that he played. Instead, he's the top story, as he was the best player in this game. He was also the first star too:
You didn't have to be Scotty Bowman, or some other sort of lifelong hockey expert, to know that DeAngelo was looking to have a big night tonight – especially when it was announced earlier in the day that his former nemesis (and I'm probably exaggerating here when using the word "nemesis," as I have no clue how DeAngelo feels about Georgiev behind closed doors), Alexandar Georgiev, was going to be in net.
After doing a ton of media interviews prior to the game, where TDA praised the Rangers organization, but also expressed regret for how the end of his tenure with the franchise went down (he never mentioned Jeff Gorton and/or David Quinn by name); not only did DeAngelo have his best game of the season – he also became the first defenseman in all of Canes/Whalers history to record 30 points or more in his first 30 games with the franchise.
Dougie Hamilton who? (And as stated 78678668796 times in the past, Tony DeAngelo, at 1/9th the price, brings nine times the value as Hamilton.)
Just like how Barclay Goodrow had his best games of the season against his former team (Tampa Bay Lightning), and just like how Ryan Reaves dominated Toronto; on this night, it was DeAngelo who did both of these things.
However, DeAngelo is in Carolina. Let's now talk about the Rangers.
---
The big Rangers pregame news, prior to tonight's puck drop, was the fact that Georgiev was getting the nod in net. Here's Gerard Gallant smiling and laughing when telling the media about his decision to go with the "BULGARIAN BEAST":
---
Going into this game, while I was initially shocked that Gallant wasn't going with his best in net for this battle of two teams vying for first place – I understood it. After all, in nearly every interview "The Turk" has done this season, he's always stressed the adage of "ONE GAME AT A TIME."
And while yes, this game against Carolina (or any team in the division) was a "four-point game," at the same time, two points against Carolina is the same as two points against Arizona.
Of course, just like anything else in Rangerstown, USA (and as mentioned about 8967867867969 times before on this site) – fans will complain about everything. Even with the team in first-place and riding their biggest statement victory yet of the season – some fans were completely outraged over Gallant's decision to go with Georgiev instead of CZAR IGOR.
I even saw some people say: "GALLANT IS TRYING TO TAKE THE VEZINA AWAY FROM SHESTYORKIN!" (I'm not making this up for effect either.)
If you're into individual awards, I guess I can understand that. But it's a team game. Plus, if you're worried about Igor's Vezina bid, in theory, playing against the crappy Coyotes should help his numbers, rather than suiting up against the red-hot Carolina Hurricanes.
And come awards season, do you think anyone is going to remember that Georgiev started game 41 and that Shestyorkin started game 42? Of course not. The only thing people will be looking at when voting are the black-and-white numbers.
---
Prior to puck drop, I tried to look at Gallant's decision from his perspective, rather than rushing to the "doom and gloom" stuff that many others immediately went to. And when you really think about it, his decision to go with Georgiev made sense.
Think about it yourself.
Had the Rangers defeated Carolina with Georgiev, what a statement that would have been. They would have knocked off one of the best teams in the NHL with their back-up. Had the Rangers lost to Carolina – no big deal, as the Canes didn't see the best out of the Rangers.
And now with the Rangers having lost this game, they get a "slump-buster" in Arizona on Saturday night. They will also have their ace in net too – as CZAR IGOR looks to bring the team back into first place.
(Plus, if you're a Rangers season ticket holder, wouldn't you rather see Igor than Georgiev?) (Gallant never plays goalies on back-to-back nights.)
In addition, win-or-lose on Friday, with emotions running high, and with the team perhaps being tired and drained on Saturday; Gallant was going to put his Vezina candidate in net against a team the Rangers have to beat in their next game – the Coyotes. Should the Rangers come out flat tomorrow (as they did last time against Arizona), Igor bolsters their chances of winning the game they should win.
In my last pregame feeling/thought; obviously, Georgiev had some extra motivation with a ton of his ex-teammates, including that Tony DeAngelo fellow, on the other end of the ice. I think Gallant was banking on a pissed-off and juiced-up Georgiev to get into the zone and knock off the Canes. Gallant has pushed the right buttons all season, and this just felt like another example of that.
Unfortunately, while I thought that Gallant's theory had credibility; it was DeAngelo that personified and exemplified it.
It should also be mentioned, that no matter who is in net – the team has to score goals too. The Rangers waited way too late in this game to do so, as they found themselves down 5-1 after two periods.
---
As far as any other pregame news and notes, on Thursday morning, prior to the Rangers flight out to Raleigh, the team announced that Johnny Brodzinksi, Timothy Gettinger and Zac Jones were all promoted to the taxi squad.
These transactions felt like an "insurance policy," as the NHL has asked their teams to carry extra players for road games, in the event of a 'cron breakout. None of these three played tonight, and should the team remain at 100% health tomorrow – I doubt they will play against Arizona either.
Here's what "The Turk" went with on Friday night, just miles away from "Tobacco Road":
FIRST LINE: Kreider/Mika/Kakko
SECOND LINE: Panarin/Strome/Hunt
THIRD LINE: Lafreniere/Goodrow/Chytil
FOURTH LINE: McKegg/Rooney/Reaves
Defensively, we had this:
FIRST D-PAIR: Lindgren/Fox
SECOND D-PAIR: Miller/Trouba
THIRD D-PAIR: Nemeth/Schneider
And in net, CZAR IGOR.
(Of note: Julien Gauthier, a former Cane, was a healthy scratch. If it were me, I would've scratched Chytil, but as mentioned many times before – one, I'm not the head coach and two, if you want to trade Chytil eventually, you can't devalue him by scratching/benching him either.)
---
BOX SCORE time.
The following information and graphics come from the new world-wide leader in NHL coverage, ESPN.com:
PENALTIES:
TEAM STATS: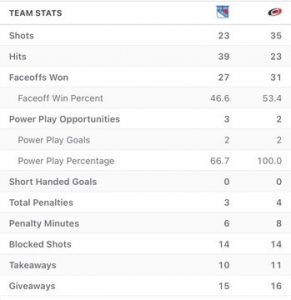 GOALIES:
| | | | | | | | | | | |
| --- | --- | --- | --- | --- | --- | --- | --- | --- | --- | --- |
| SA | GA | SV | SV% | ESSV | PPSV | SHSV | SOSA | SOS | TOI | PIM |
| 23 | 3 | 20 | .870 | 18 | 0 | 2 | 0 | 0 | 60:00 | 0 |
| | | | | | | | | | | |
| --- | --- | --- | --- | --- | --- | --- | --- | --- | --- | --- |
| SA | GA | SV | SV% | ESSV | PPSV | SHSV | SOSA | SOS | TOI | PIM |
| 35 | 6 | 29 | .829 | 29 | 0 | 0 | 0 | 0 | 59:34 | 0 |
---
As has been the case ever since Lundqvist traded in his pads for a seat at the M$GN studios, he was great tonight. Also, and as usual, was Steve Valiquette being utterly useless.
I know I've said this 34838383838399322002 times before; but when you have Henrik Lundqvist there, you don't need the worst back-up of his career alongside him. The broadcast would be better with a skater by Lundqvist's side, where Dave Maloney would make the most sense at the present moment.
(My biggest point here – you don't need two goalies on a panel. One goalie is optimal, and you should also have a skater there too, in order to give viewers a different perspective.)
If there was anything that was just completely idiotic on the broadcast tonight, it was during an intermission segment where Vally teased an idea about trading Braden Schneider. The idea is so foolish, that I don't think I have to explain why this trade suggestion is just as brain-dead and moronic as one of Valiquette's analytics.
Later on, during the post-game show that I reluctantly watched, Vally was then stealing stuff he heard from Elliotte Friedman's "32 Thoughts" podcast on Friday; stuff that he didn't credit the reporter for. Plagiarism is no good! Plus, it's not that hard to give credit to someone who had an idea before you. (I'll get more into this during the game review.)
If there was anything I found truly amusing, is that for all of the Ranger fans that absolutely despise Tony DeAngelo; with an equal amount of passion, these fans also love Henrik Lundqvist. It must've killed them to hear Lundqvist praising his former teammate on-air.
After Vally told us how he enjoys men who hug each other (he later added, "I knew DeAngelo would come strong"), he then said it was important to see a team celebrate goals. He would know all about this, since he once gave up ten goals in a game himself (Dallas), and got to witness a bunch of hugs and celebrations first-hand.
Lundqvist and Giannone then used one of my talking points (and I'm not suggesting they took it from me, as this is fairly obvious), when they said that because the Rangers lead the league in road-games played, it allowed them to gel and create chemistry quicker than had they played the majority of their games at home. Rather than these players living out their daily day-to-day lives in their own homes – these players have spent a lot of time together traveling this season.
(I know I've mentioned this before too – but when it comes to team chemistry, it's tougher for the Rangers to establish it than any other team in the league, because these players live all over the place, such as NYC, Westchester, New Jersey, Connecticut, Long Island, etc. Other franchises, who all play in smaller cities, don't have this problem, or at the very least, not as bad as the Rangers do.)
After Lundqvist made a poignant point about tough guys (Reaves) and the value they bring; Valiquette made a joke about John Giannone, because the clear-sighted one didn't understand the subject at hand. This then led to a segment about Lundqvist's upcoming jersey retirement ceremony, which takes place on January 28th.
Rather than talking about the line-ups (never aired), the Smith/Kakko relationship, the Strome/DeAngelo bond, or anything else pertaining to the game – Vally then spent time asking Lundqvist if he cries. Hard hitting material.
For what it's worth, Lundqvist said he's extremely looking forward to next Friday night, and also mentioned that he was glad that Mats Zuccarello and Cam Talbot would be there. He also added that he had no clue what the moment will feel like, and that he can't wait to experience it.
(And Part I: need I mention, that the Rangers should also honor several other men in their rafters? More on that in the PLUGS segment!)
(And Part II: since some of you have asked me this, despite me already saying this once Lundqvist retired – yes, I hated Lundqvist's final contract of his career. However, he most certainly deserves his number in the rafters and I'm glad this is happening sooner than later. It's just a shame that other Rangers, like Bathgate, Howell, Ratelle and Hadfield, had to wait decades for their respective honors – honors that came in front of many people who had never seen these players play.)
---
Just a few general thoughts before getting into the game review:
— Filip Chytil remains horrible. After being rocked in three consecutive games by huge hits, he seems very timid with the puck. While he wasn't the only one to have a bad game tonight; he had some chances, but the second he heard or saw someone in Carolina black closing in on him, he either turned over the puck or skated the other way.
— Kaapo Kakko will get a lot of talk tonight, as by the half-way point of the game, he was demoted to the fourth line, in favor of Ryan Reaves. I'm not going to get into all of my regular talking points about Kakko and Lafreniere, and the unprecedented circumstances they've endured since entering the NHL; but yeah, they've both been disappointing this season. While I'm not writing them off, nor am I calling them "BUSTS" – to say that you're satisfied with their offensive production would be a lie.
— Following the game, and as I said on social media at the time (and as Lundqvist said right before Gallant's post-game press conference too), it felt like Gallant was rewarding Reaves with this promotion more than he was punishing Kakko. It just felt that in a physical game, "The Turk" wanted more pop out of his first line. Plus, with the performance Reaves just had 48 hours prior, why not shake it up – especially with the Rangers looking like crap for the majority of the game?
— This is also where Valiquette ripped off Friedman. On Friday morning, Friedman brought up the topic of Sheldon Keefe calling his Maple Leafs team "soft," and then recounted a story where he said players hate this stuff, because once the head coach says something negative, it then gives the fan base, media and everyone else the license to say the same. Valiquette took Friedman's story and then applied to Kakko; as Gallant laughed off this line change, saying it had nothing to do with Kakko, the player, and had everything to do with how the game was being played. Understandable.
— Artemi Panarin is still goalless since returning from the omicron gulag. It also feels, and for many long stretches of game time at that, "The Breadman" becomes the complete opposite of a 1994 Scottie Pippen. Rather than wanting the shot, Panarin is feeding guys like Ryan Lindgren and Braden Schneider, rather than sniping the puck himself. And nothing against these two Rangers defensemen – they aren't Toni Kukoc either. Just an observation, and not an indictment.
— Barclay Goodrow carried his line tonight, where you noticed him on most of his shifts. I can't say the same about Lafreniere and Chytil – outside of Lafreniere taking a boneheaded penalty late in the game and all of the shots Chytil sent into the corner boards.
— And lastly, I don't think the goaltender in this game would've made much of a difference. The Rangers were just bad tonight, sans a 74 second stretch late in the game where they scored two goals – which brought the score from 5-1 to 5-3. While obviously, I don't think Gallant was trying to lose this game, he now has his security (or is it CZARcurity?) blanket on Saturday.
---
While this blog may be long, I think I can speed through this game review – or so I say!
The Rangers just came out flat during the first period, which has been the case as of late.
That said, despite the team's early woes in this contest, I felt that they would come back. They always find a way and are resilient. And heck, they almost made the comeback too. It's now up to Gallant to figure out why his team has so many slow starts, and I expect he will do so.
Put it this way, the Rangers were credited for four shots on goal in the first period, where two of them were long distance dumps that just happened to find Andersen. While the black-and-white number says four SOG, in reality, the team only had two SOG during the first twenty minutes. More reality? The Rangers also had a fourteen minute stretch without a SOG, as Carolina just dominated the Blueshirts.
In front of a pro-Rangers crowd, where chants of "LET'S GO RANGERS" were routinely belted out following puck drop; it was soon all Carolina.
The Rangers just couldn't do anything offensively, besides looking offensive.
As Carolina applied pressure, Zibanejad would get the second (and in reality, the last) shot on goal within the first five minutes of action, following a puck-on-pads attempt. After that, there was no more offense to speak of.
While the faceoff stat remained pretty close throughout the game, that wouldn't be the case for zone faceoffs – as it felt like the Rangers lost every faceoff in their own zone. This would terrorize them all game long.
With Georgiev looking stellar early, including a wraparound save on ex-teammate Jesper Fast's wraparound try; Niederreiter was left open from a foot away and from dead center – where thankfully, the right winger pulled a Chytil and shot the puck wide.
As we hit 10:40 remaining in the first period, and speaking of Chytil too – he had a clear and clean lane right to Andersen, but once he saw a Carolina defenseman closing in, he quickly turned over the puck and skated away. As Friedman said on Friday (see, I credit people unlike Vagistat), players HATE HATE HATE the word "soft." However, this play was as soft as it gets. Furthermore – this shit won't fly in the playoffs.
Two minutes later, I think I saw Andersen vacate his net for a pretzel and a Budweiser. He just had nothing to do but twiddle his thumbs during this first period.
Sam and Joe wouldn't know what Andersen was doing in the arena either – because for some reason, despite Raleigh being a quick flight (or a 7-8 hour drive), the two called the game from the studio. As mentioned on past blogs, whenever these two aren't at the game, it hurts the quality of the broadcast.
This was most apparent with 8:16 to go, as the two thought the Rangers drew a penalty. Instead, it was Jacob Trouba who went off to the sin bin for hooking Svechnikov. (And I don't blame Sam for bumbling calls when calling the game off of a monitor. Hockey is fast as it is, and it's tough to see everything on TV.)
Following a defensive zone faceoff loss for the Rangers, Carolina capitalized, where wouldn't you know it, there was "OH JOE, OLD FRIEND TONY DEANGELO JOE," who bombed a puck from the blueline. As the puck whizzed towards Georgiev, Vincent Trocheck was right there for the deflection. 1-0, bad guys.
(And there was nothing Georgiev could do here at all, besides closing his eyes and hoping for the best.)
After Ryan Lindgren broke up a Carolina odd-man rush with 3:30 to go, and as you hoped that the Rangers would just get out of this period down one goal, and then regroup during the intermission; a minute later, a puck took a Carolina bounce in the neutral zone, where the puck bounced over Fox's stick and Carolina then had another two on one opportunity against Lindgren and Georgiev. This time they'd convert.
This was an easy goal for Carolina, and another goal allowed that you can't blame Georgiev for, as Sebastion Aho found Seth Jarvis all alone in Georgiev's paint for the easy tap-in odd-man rush goal. 2-0 bad guys. That would remain as the score as the first period concluded, a period that was one of the worst twenty minutes of Rangers hockey from this 2021-22 season.
---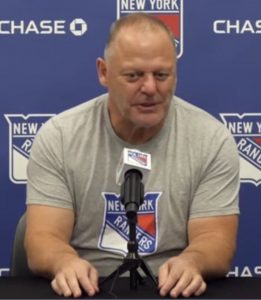 The second period was better than the first, but that doesn't really say much either – especially since Carolina outscored the Rangers 3-1.
At the time (and I'm not trying to pat myself on the back here, as I'm just trying to show you that the EYE TEST trumps all), I said on social media that the Rangers needed a fight or a power-play to get motoring. That would soon happen.
The first 3:30 of this period was a Carolina onslaught, as Georgiev was forced to make save-after-save behind his porous defense. After losing his stick, Georgiev made another stop, which earned the Rangers a whistle and a chance.
Following another Rangers d-zone faceoff loss, there was Tony DeAngelo, once again, assisting on a goal. This time, he fed well-known sniper, Jesper Fast, for a one-timer goal from deep. 3-0 bad guys, with 16:27 remaining in the second stanza.
And no joke, this one-timer was better than any goal that Fast had ever scored with the Rangers. Isn't that always the case?
Five minutes into the period (25 minutes of game time), the SOG were 20-4, in favor of the home team; where as mentioned, two of those SOG accredited to the Rangers were a tad fugazi.
After Chytil found himself, no joke, two inches away from Andersen, where the confused Czech then shot the puck high and wide; Carolina marched down the other end of the ice and put a puck on the iron.
With 13:31 to go, Goodrow laid a big hit on Teravainen (it knocked the Canes top left winger out of the game), and in a response, Kotkaniemi charged Goodrow with the intent of retaliation.
I know fans (and Sam & Joe too), hate whenever a player goes after another player following a big, (but clean) hit – but I have no problem with teammates sticking up for one another.
The end result of this was a Rangers power-play, where just six seconds into it, Zibanejad one-timed a puck after a perfect pass from Panarin. 3-1, and with 13:25 to go. The Rangers, for as bad as they were, now had a pulse.
In what I think was the turning point of the game, and which just killed the chances of the Rangers making their comeback; on the next Rangers possession, following Strome shooting the puck to kingdom come; Panarin had an amazing opportunity in front of Andersen. In turn, Andersen made his best save of the game, robbing "The Breadman" of putting the biscuit in the basket. Seriously, this was the best save of the game. It also prevented the Rangers from drawing within one.
As we got under ten minutes to go, Sam Rosen started reading copy for a worthless Rangers NFT. I would love to hear him explain on-air what a NFT is. It was also around this time where Reaves went to the first line, while Kakko went to the fourth.
The Rangers, somewhat feeling it a bit, continued to pressure Andersen, as the Canes goalie then made back-to-back stops on K'Andre Miller.
After another Chytil turnover, and one more by Trouba, Georgiev prevented ex-Ranger Brady Skjei from joining the box score.
With 5:14 to go, and following yet ANOTHER defensive zone faceoff loss; the Canes surged Georgiev while a bunch of Rangers watched. Georgiev, who did make an initial save on a Cane within his own paint, lost the puck. Dryden Hunt, trying to catch up and prevent the Canes tally, could not do so. Instead, Sebastion Aho tucked the puck in. 4-1 bad guys.
Now with 3:42 remaining, the Rangers would get a chance to cut the Canes lead in half, following Ian Cole's hooking infraction on McKegg. The Rangers power-play was awful here, despite taking a timeout during it, in an attempt to get something going. Not only would this be a wasted timeout, it was a wasted power-play too, as following the timeout – the Rangers wouldn't log one SOG during the man-advantage.
In what was just crushing; Reaves, McKegg, Goodrow, Schneider and Nemeth all got caught on the ice for too long, and were basically statues during a long and sustained Carolina attack. With just 28 seconds to go, Nino Niederreiter easily got by everyone and then got an easy goal past Georgiev. 5-1 bad guys.
Seriously, this goal was deflating, but to the Rangers credit, they'd make a game of it during the final frame.
5-1 bad guys after two periods.
---
Down 5-1 to start the third, this period did feel like garbage time.
And it should also be mentioned, that during intermission, and after spending so much time social-distancing all-season; for some unexplained reason, Valiquette and Lundqvist were shoulder-to-shoulder, with the seven foot jackass breathing directly on Lundqvist's coifed hair. As you may know, Valiquette just had a bout with the 'cron, so I found it extremely peculiar when he was hovering over Lundqvist – especially a week away from Hank's big night.
(Can you imagine if Lundqvist has to miss his own night because Valiquette gave him corona? I'm not rooting for that, but I'd be lying if I said I wouldn't have a field day writing about it.)
Down by four goals, Strome, wide-open, opted to pass the puck behind him. This led to nothing. Right after, Chytil, once again perhaps a bit timid, fumbled a puck.
With 15:24 to go, another fourth liner, this time Rooney, drew a penalty. At the 5:09 mark, Kreider cashed in on a rebound. 5-2, bad guys.
Of note, I liked how Kreider didn't celebrate the goal, as if he were some NFL jerkoff, after making a big tackle during a game where his team was being blown out 54-7. Kreider just skated to the bench and took a seat.
74 seconds later, it was McKegg's turn to cash in, as following an Andersen save on Reaves, "The Kegger" buried the rebound. 5-3 and with an ample amount of time left, as there were still over thirteen minutes left to play.
Things were now interesting.
As the two teams traded chances, and as Carolina clamped down defensively; we reached the FOXWOODS FINAL FIVE mark. With the Rangers still threatening a bit, Lafreniere ended any chance of a comeback, as he was boxed for slashing Svechnikov with just three minutes to go.
For a cherry on top, 31 seconds after Lafreniere's penalty, Tony DeAngelo scored a beautiful-looking power-play goal. 6-3 bad guys. The crowd erupted in "TONY" chants, as the small hometown crowd displayed their appreciation.
Now down by three, Gallant didn't bother pulling Georgiev. 6-3 your final from Carolina.
---
This is a tough loss, due to the opponent and the standings. However, it's just one loss. To piss and moan about it won't do any good. Thankfully, the Rangers can get the bad taste out of their mouths on Saturday, and with the most perfect opponent possible.
(And if the Rangers should lose to the Coyotes, a horrible hockey team that was blanked 4-0 by the Isles on Friday night? Then I will be concerned. However, I don't foresee that happening!)
PLUGS time.
---
The first plug of tonight's blog – the mandatory plug for my new book, "The New York Rangers Rink of Honor and the Rafters of Madison Square Garden".
As mentioned previously, the book is now available in hardcover, in paperback and in Kindle formats. To purchase a copy of the book, visit this link:
https://www.amazon.com/Rangers-Rafters-Madison-Square-Garden-ebook/dp/B09CM5N2WD
For those still looking for signed paperback versions of the book, I have re-ordered more copies. I now have 4 signed copies for sale at $25 a pop (includes shipping price) through me directly. Here is all the information on that:
---
Here are my last few blogs, in case you missed them: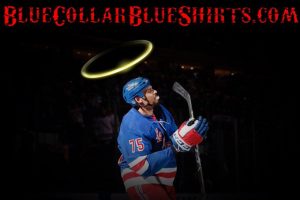 ---
---
---
If you haven't already, subscribe to this blog for the next update:
---
Up next: last place Arizona. Despite hosting the Coyotes on the second-half of a back-to-back – the Rangers have to win this one. No excuses.
And heck, maybe Kakko will show up with a bottom-feeder across the ice. After all, the last time he scored a goal was on December 15th, when the Rangers were in Arizona.
I also want to make mention of the passing of Islander legend Clark Gillies. He was a very charitable person. Rest in Peace and my condolences to his friends, family and fans.
(And if you're a Rangers fan talking shit about someone dying, just because of the jersey they once wore –  you're an asshole. Plus, all these guys from rival teams are friends anyway.)
As always here, thanks for reading and…
LET'S GO RANGERS!
Sean McCaffrey
BULLSMC@aol.com
@NYCTHEMIC on Tweeter