Greetings and salutations everyone and welcome to another blog here on BlueCollarBlueShirts.com. The Rangers gave their fan base something surely to be thankful for on Wednesday night! After all, can you imagine the feeling in Rangerstown, USA, had the Blueshirts not handled business against this sickening (and sick) Islanders squad?
Off puck drop here, this is going to be a different blog from the norm, and for several different reasons:
— I attended the game, meaning while I did post pictures on social media during stoppages and TV time-outs (for a future UBS Arena/"road-trip" pictorial blog), I didn't take game notes like I usually do. Unlike others, I can't be glued to the phone while at a game. I cherish the live experience, and to waste my time in the arena on the phone is not for me.
— I'm starting this blog at 1:30am, Thanksgiving Day, and have a full day ahead, including hanging out with my five nieces, who can tend to get loud – not the best thing for someone running on no sleep!
— If you read last night's blog, while this game between the two New York teams didn't go exactly as scripted, the final result came off as predicted – a big Rangers victory.
---
I wish I had more time tonight to get into everything (and based off what some of you have told me, the television broadcast was fantastic – or should I say FABULOUS, especially whenever M$GN was trolling some disgusting Islander fan), but I guess something is better than nothing. Plus, I'll give you stuff that you won't find anywhere else.
Even as I write these words to you now, there's a ton of stuff flooding into my brain as I try to recount everything. I can't get into it all, but I'll try my best to hit all of the highlights.
And as far as a full-scope view of the IBS Arena, while I'll include some thoughts tonight, I'll do a complete recap/review of the new stable in the near-future (perhaps Saturday night).
For right now, I feel like Gene Wilder in "Willy Wonka and the Chocolate Factory" – "So much time and so little to do. Wait a minute. Strike that. Reverse it."
Let's roll.
---
As I write tonight's manifesto in a "stream of consciousness" style; let me get the PLUGS out of the way first, and then get into everything else afterwards – especially because last night, I did a full preview for this game.
In other words – yes, I'm fully aware that the Rangers had every right, and should have won this tilt, while the Islanders had no business even playing.
And as far as all of the postponement rumors circling around this game goes – it's not the Rangers fault that the Islanders can't get their shit together. Did the Rangers catch the Islanders at the right time? 100%. I don't deny that. On the other hand, didn't the Calgary Flames also catch the Rangers at the right time too? 100%. It all balances out.
And ironically, just like how the Flames caught the Rangers at the right time, and on two separate occasions at that (check the archives of this site for more on those two contests); come Sunday night at M$G, the Rangers will catch the Islanders again under these same circumstances that benefit the Blueshirts, while damning the Fishsticks. Boo-Hoo Islander fans! My heart bleeds for you!
Sometimes, "the luck of the draw" is a real thing, where the Rangers were, and are, fortunate enough to catch their reeling rival at this point of the schedule.
However, and as said last night – it's not like the Islanders (nor their fans) were shedding any tears or making any excuses/outs when they pummeled the Rangers at the end of last season, which led to the conclusion of the tenures of Jeff Gorton, John Davidson and David Quinn.
In turn, every Ranger fan (like the team themselves) should be happy about this win. After all, just imagine had the Rangers dropped this game!
In fact, my own dad, who gave this site the phrase "FATHER FINK" (in lieu of the F-word), said had the Rangers lost this game, he was going to take a break from watching! Instead, he'll now most likely be at a watch party I'm attending on Friday!
At this time, let's get the PLUGS segment out of the way, and then get into everything else.
---
The first plug of tonight's blog – the mandatory plug for my new book, "The New York Rangers Rink of Honor and the Rafters of Madison Square Garden". And let me say this – thank you to everyone who has bought one, as my Amazon sales have exceeded all expectations, where for a limited time (that damn Mark Messier who just released a book!), my book was number one on the Amazon hockey book sales charts.
As mentioned previously, the book is now available in hardcover, in paperback and in Kindle formats. To purchase a copy of the book, visit this link:
https://www.amazon.com/Rangers-Rafters-Madison-Square-Garden-ebook/dp/B09CM5N2WD
For those still looking for signed paperback versions of the book, I have 3 copies left for sale for $25 (includes shipping price) through me directly. Here is all the information on that:
---
Here are my last few blogs, in case you missed them:
---
---
---
For regular and long-time readers of this site, you may have noticed that I have dropped the "GAMBLING" segment from these blogs this season. During previous seasons, I used to give out my over-under picks, where one season I had a winning percentage of 83%. However, as time went on, my success rate decreased and decreased, so it wasn't worth running this segment any longer.
Plus, I also felt like a hypocrite, because here I was giving out over-under picks, yet at the same time, I was also admonishing the NHL, the Rangers and the M$GN for running 7866378634378963789346789 gambling ads on every broadcast.
(Of note: the reason why my success rate went down, and drastically at that? Easy. In the final years of the Henrik Lundqvist era, the majority of his games would always go over. I would pick the over whenever he started and would pick the under whenever Alexandar Georgiev started. Funny how things change, especially when every Georgiev start this season is a lock to go over.)
While I'm done picking and predicting over-unders on this site; I do dabble on betting on the Rangers from time-to-time, where I was really interested in what this game's line was going to be, considering all of the negativity both on-and-off the ice for the Belmont Bozos.
When I checked the line, I was shocked to see the Rangers were only a -120 favorite (risk $120 to win $100). More surprisingly, if you bet on the Rangers to win this game by two or more goals, you won $180 off a $100 bet.
I almost psyched myself out, and almost stayed away from this game – with the key word here being "almost."
However, I had to wonder what the Vegas odd-makers knew that I didn't know. If I was setting the line for this game, I would've made the Rangers a -300 favorite (risk $300 to win $100). I just don't know why this line was set so low – but hey, that's not my problem. That's Fat Tony's problem!
This is my way of telling you that my $300 ticket, $100 in arena beer and $10 match-up puck, were all covered tonight (and then some), off of my gambling prowess! Once in a while, it's nice to get a win.
And for you impressionable gamblers out there, this is a RARE success story. After all, I don't mention my losses on this site!
I'm sure all of you all know this, but it's extremely difficult to cash out while betting big on your favorite team. This game was just a perfect storm to bet on the Rangers, and I'd imagine come Sunday at M$G, the line for the rematch will be bumped up considerably.
(So much for trying to limit myself tonight, as it's now 2AM as I write these words.)
---
Since this site prides itself on giving you the 411 that you won't find anywhere else; and before I forget (I may have had some adult beverages prior to, during and after the game), while there were fights on the ice tonight (and from some unlikely suspects to boot), I didn't notice many fights in the stands – which is another way to say there were several!
Prior to the game, as I was waiting on a long line to enter the Islanders team store (to get my match-up puck, which I pay for – rather than the adult cretins who litter the glass at any given game in the league looking for free handouts) (check the blog from the NYR/BUF game for more on that topic), and while waiting in line at the "HEINEKEN RED STAR BAR"; there was some twenty-year old something, in an Islander jersey (a Barzal sweater if I'm remembering correctly), running around and screaming at Ranger fans of all ages.
Listen, I'm no prude, nor am I objective to foul language; but when you're screaming "YOU'RE A C—!", "FATHER FINK YOU P—Y!", "RANGERS SUCK D—!", and other such pleasantries, it's my opinion that you're an idiot. And as you run away while screaming such things, it makes you cowardly too.
And as someone who has always held their alcohol well (and proud of it) – it drives me nuts when some dope gets drunk and can't handle their booze, which then ruins the experience for everyone else.
After all, there are limits, both time-related and how many drinks you can purchase, at sporting events, because people get drunk and then get stupid.
I know I'm in an elite class here, but as anyone who knows me on a personal level can tell you, I can slam twenty beers and rip shots, and be 100% fine and coherent, both during and afterwards such consumption. I may need a nap (or a nice meal from a diner) following these feats I shouldn't be boasting about, but as far as acting the fool – that's never me.
(And yes, I'm aware this liquid diet is not exactly a Wheaties "breakfast of champions" health-program either – but hey, to each their own!)
---
Anyway, this jerkoff kid (I probably had 15-20 years on this guy, so I'm comfortable with calling this twenty year old male a kid), was going around screaming obscenities all over the place. Whatever. However (and just like my rant on grown men going nuts for free t-shirts and barreling over little kids from two blogs ago), it's not cool to do that when there are children around.
Maybe because I'm older, and have little kids in my family around, but even when I was a teenager or in my twenties, while I have done some dumb things, I never went around cursing up a storm at games, nor let the four-letter words fly around kids. For whatever reason, I'm seeing more and more of this today.
Screaming four-letter insults at some father who is just trying to take his kids to a game (no matter who they root for, the home or away team), doesn't make you a tough guy. In fact, it makes you flat-out insulting. No father (okay, except for one, which I'll soon get into) is going to deck some twenty-year old when their kid is around. If they can catch you one-on-one, and while their children are elsewhere, then the end result may be different.
I know I'm going too long on this, but anyway, I saw this guy twice and both times, he was using intense language while sprinkling in the word "FATHER FINK" – as if it were a Martin Scorsese movie.
And as I always say on this site – these athletes don't fight over my job, so I'd never engage any rival fan when provoked. When Ryan Reaves and Matt Martin come to my job, and fight over me – then maybe I'll consider fighting over Rangers vs Islanders. Then again, and as anyone over the age of thirty will tell you – it hurts your hands to punch anything, whether a human or a wall!
The payoff to this long-winded story? A fun one.
---
As I was leaving the arena following the 4-1 Rangers victory, I saw this same guy, with his shirt ripped off and on the cement next to his feet, with both arms behind his back, as the Nassau County police had this dipshit in handcuffs. Even better, tears were flowing out of his eye-sockets, where unlike many Islander fans on this night – this guy wasn't crying about the final score – he was bawling his eye-holes out over his free one-way ride to the slammer.
So much for being a tough guy.
(Of note: I don't know what he was arrested for, but there was someone else also in bracelets next to him. I don't know if that was his buddy or someone he got involved with physically. I'd assume the latter, based on how foul-mouth's shirt was torn to shreds. Then again, the cops may have done this when arresting him, assuming this ill-fated buffoon resisted arrest.)
Happy Thanksgiving! (Pass the potatoes. And hey, where's Charlie? Oh, he's in holding for 96 hours during the holiday and the weekend for fighting over a hockey game.)
Like my bet tonight, sometimes everything goes right for you. It's nice when the world aligns correctly.
---
And as far as the father who almost got into a fight with his kid around? It was actually my friend, the one mentioned from last night, who was looking to part with his ticket because of the current situation around his favorite team.
My idiot friend (with his 17 year-old son next to us), got into a war of words with a Rangers fan during the final minutes of the third period. My other friend, the infamous TEN O'CLOCK TOMMY, had to physically restrain my dopey Islander buddy. Then, when I told my Fishstick mook of a pal, that "everyone has their phones out, do you want to go viral, and not Corona Viral like your team?", he sat his ass down for good. Crisis averted, where if this went to the next level, my buddy's wife would NOT be pleased at her Thanksgiving dinner!
I guess this is my way of telling you that the rivalry, while not as heated as the 1980s and 1990s, is still alive. This is also my way of telling you that security also remains very relaxed at these games. This just isn't a hockey thing either – as every week, you see two dumb schmucks brawling at some random NFL game.
For the sake of my love of indulging in pops and belts – please drink responsibly!
(It's now 2:45am and I haven't even gotten into the game yet. I hope this is entertaining though!)
---
Again, while I'll have more on the IBS Arena during a separate blog, I must admit that I was impressed with the Rangers secondary home.
More impressive? Islanders owner Jon Ledecky, who sat with the fans during this game. I didn't approach him or anything like that, but I saw many Islander fans stop him and the owner took pictures with every fan and signed whatever they wanted.
Needless to say, Mr. Ledecky is the complete opposite of James Dolan. If James Dolan is your typical anti-hero, akin to a Lex Luthor, then Ledecky is like Superman, with the familiar red cape featuring the Islander colors of orange and blue.
While I can't say I'm envious of Islander fans, I will confess that I wish the Rangers had an owner that was as friendly, caring and who gives a damn like Ledecky does. Not only was Ledecky just wandering around and talking to fans as if he was a famous restaurateur; but during his free-time, he also makes trips to the homes of Islander fans, thanking them for their support. Can you imagine Dolan ever doing that?
And I don't think I'm breaking any news here, but I have heard from many (and this has also been told elsewhere by others), that Dolan doesn't even like his own employees looking him in the eye. (I've been told he fired someone over this, but I have no way of 100% confirming this story.) Here's Ledecky, front-and-center, despite his team's current woes. Respect.
---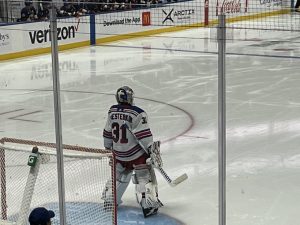 Prior to the game, Gallant met with the NYR beat reporters, where he teased tinkering with his lines. In what I originally thought was a joke, the Rangers bench boss actually did switch up his lines for this game. While this decision didn't seem like a good one after the first period, by the time the final horn went off, Gallant, once again, came off like a genius.
Here was Gallant's line-up:
FIRST LINE: Kreider/Mika/Kakko (I was surprised about this, not because Hunt was removed, but because the second line, which Kakko has been a part of all-season, has been playing well.)
---
SECOND LINE: Panarin/Strome/Hunt (I felt that losing Kakko hurt Panarin and Strome tonight, as if this is the plan, it will take time for Hunt (or anyone else) to mesh/gel with his new linemates. After all, look no further to Kakko himself, who needed time to adjust to #10 and #16.)
---
THIRD LINE: Lafreniere/Chytil/Gauthier (I'm glad Gallant didn't tinker with this line, as this line has been having a lot of success and growth lately.)
---
FOURTH LINE: Rooney/Goodrow/Reaves (Loved, loved, loved this! Prior to the season, I was hoping for a Blais/Goodrow/Reaves line, and with the way Rooney has been playing (best depth signing ever made by Jeff Gorton) – I thought these three would have success – and they did – big time!)
---
FIRST D-PAIR: Lindgren/Fox (Amazing as usual, where I was proud like a parent of a new-born when Fox jumped that sneaky weasel Pageau, after the creepy Islander committed a cheap-shot on Lindgren. Over time, I'll forget about Fox's power-play assist, but I won't forget the way he defended Lindgren.)
---
SECOND D-PAIR: Miller/Trouba (Another good game for the duo, as they are edging further and further away from the horrid streak of games they had earlier this season.)
---
THIRD D-PAIR: Nemeth/Lundkvist (I know many Ranger fans were doing cartwheels and somersaults when Tinordi was scratched. From someone sitting twenty feet away, I thought Lundkvist looked okay, but he is 100000000% not into contact. He shied away from several big hits tonight. I know that's not his game though, but at the NHL level, you gotta make hits, especially in the o-zone, in order to prevent an easy clear. There were a few times the Islanders cleared the zone, where a Lundkvist hit would've prevented this.)
---
And in net, CZAR IGOR, who once again was robbed of a shutout after a fluky goal.
To be upfront with you here, the goal allowed happened on the other end of the ice from where I was sitting, but from the one replay I saw, this goal wasn't on him. Of course, this one goal allowed doesn't matter, but that said – you know I was crossing my fingers for a shut-out!
---
BOX SCORE time.
The following information and graphics come from the new world-wide leader in NHL coverage, ESPN.com:
SCORING:
PENALTIES:
GOALIES:
| | | | | | | | | | | |
| --- | --- | --- | --- | --- | --- | --- | --- | --- | --- | --- |
| SA | GA | SV | SV% | ESSV | PPSV | SHSV | SOSA | SOS | TOI | PIM |
| 21 | 4 | 17 | .810 | 10 | 3 | 4 | 0 | 0 | 60:00 | 0 |
| | | | | | | | | | | |
| --- | --- | --- | --- | --- | --- | --- | --- | --- | --- | --- |
| SA | GA | SV | SV% | ESSV | PPSV | SHSV | SOSA | SOS | TOI | PIM |
| 21 | 1 | 20 | .952 | 11 | 2 | 7 | 0 | 0 | 60:00 | 0 |
---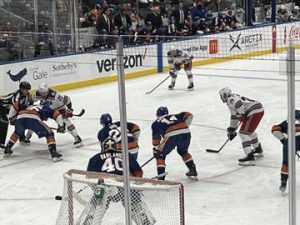 As you know, I was at this game, so I don't have anything to say about the M$GN broadcast like I usually do. However, I was told by several of you that Steve Vagistat was crying on-air, about this game being played, as he played the role of Islander-sympathizer.
I haven't seen/heard Vagistat's comments yet, so I can't opine on what he said. All I can say is that his crying doesn't surprise me. And to wax poetically about the opponent, especially the Islanders, is a disgrace.
Ranger fans are at a disservice with the seven-foot jackass spreading his propaganda, and I hope the Rangers give Lundqvist a full-time gig before #30 goes full-time nationally. (Lundqvist was on TNT tonight, but I didn't see that either.)
Again, and as stated last night – every team goes through trials and tribulations. It's unfortunate the Islanders have a lot of bad stuff happening to them, but that's the game. Why should the Rangers bend over and appease the Islanders, and ask for this game to be postponed too?
And while the Islanders horrific season continues – I didn't see Ledecky looking too upset tonight. His new IBS Arena is setting food and beverage sale records. For Vally to be more upset than the Islander team owner – perhaps he should spend a night in the slammer with that profanity-laced Islander fan! He'll find some love there!
---
Lastly, as I continue to comment on everything and anything but the game itself, the IBS Arena also features a smoking section.
As someone who has traveled around the league for many years now (22+ NHL arenas), I was shocked to see this. After all, arenas that previously had smoking sections, including the Devils, have got rid of them. And in comparison, the new house in Seattle doesn't have one, where I think if you even dared to light up, you'd be arrested.
(And I'll get more into this whenever I do the full IBS Arena review, but in my opinion, this stable blows out the Climate Pledge Arena, the home of the NHL's 32nd team.)
I know, I know, I know – going through a pack of Marlboros is not a wise thing to do. However, people do love to smoke the pot, where once outside, I felt like I was hot-boxed with Bob Marley. Due to my job and lack of interest, I haven't touched the ganja since I was 18 years old – over twenty years ago.
Once outside, the aroma (or stench) of pot was overwhelming, where I truly got a contact high and almost forgot what ledge I placed my beer on! (My other friend, the Islander fan, also felt the same. Maybe that's what "sparked" him up during the third period!)
That said, if you're into the grass, I'm fine with it. I don't judge or care. I only bring this up to say that no one from the IBS Arena, security or otherwise, cared if you Cheech and Chong'd it.
And speaking of ledges (last non-hockey thing related, I swear), and as I put my Larry David two-tone shirt on – the bathrooms at the IBS arena are poorly designed – especially for beer-drinkers.
Every urinal has a slanted ledge on top of them, so there is nowhere to place your $18 (yes, as in EIGHTEEN DOLLARS) beer while draining the main vein. And it seems like the Islanders paid more money to have these angled ledges, rather than going for a traditional flat and level edge, where one could place their expensive brew.
In other words, when needing to squirt, you have to pull a Jim Abbott and go one-handed. Try not to splash yourself!
(And you tell me one other hockey blog that brings up such a poignant point as having flat-edged urinal tops. I defy you to find one!)
---
Again, no normal style of recap tonight. Instead, just a few thoughts.
I thought the Rangers looked flat in the first period, which really disappointed and surprised me.
The Ranger fat cats should've skated circles around what pretty much amounted to an AHL team and the Isles infamous Identity line. However, after one period, we were scoreless and where the Rangers had the same amount of SOG as their deflated opponent – eight a side.
I don't really want to go down the negative road or truly over-analyze this, but yeah, Mika Zibanejad (who did pick up an assist on the fourth and final Ranger goal and had two SOG) and Artemi Panarin (pointless, two SOG), were hardly a blip on the radar. While I wouldn't question them for a lack of effort or anything severe like that – again, the word "disappointed" rings true. These two should've had a field day against this depleted Islander squad – easy for me to say I suppose!
Alexis Lafreniere, who I'll soon get into, was once again held without a SOG. At least his physical presence was extremely noticeable. From the box score, he was only credited with two hits, but I saw him shoving guys around left-and-right and winning puck battles too.
It's not always about the box score, where if you were to read #13's line, you'd think he had another "Where's Waldo?" type of game. That's why the EYE TEST is everything and why analytics aren't worth the piece of paper that they are printed on. Lafreniere, especially after his fight, was A-OK in my book.
(And on aside – not ONCE, prior, during or after the game, did I hear anyone say the following words or terms: "expected stats", "Corsi", "east-west passing", "shot suppression", or anything like that. However, I did hear: "LET'S GO RANGERS", "RYAN REAVES RULES", "E-GORE!", and "THE RANGERS WHOOPED THEIR ASS!")
Give me the eye test, the beer and the pretzels rather than any of the useless junk people try to push on you – the same people who are crying about the Rangers 12-4-3 record. Put them in the slammer too!
---
After a scoreless first period, where I was extremely nervous about all of my grandiose smack-talking, predictions and bets that could blow up in my face, while the tune of "SAME OLD RANGERS" paraded through my skull; just 29 seconds into the second period, Chris Kreider scored his ninth PPG of the season, and his 14th goal overall:
9 POWERPLAY GOALS pic.twitter.com/rWFfTS35Qp

— Rangers on MSG (@RangersMSGN) November 25, 2021
1-0, GOOD GUYS!
I'm telling you – forget about thirty goals. Kreider is going to push forty and go for the "Old English!"
---
We are two games away from the quarter-mark of the season, and I have to ask you this – "have we ever seen Chris Kreider play this consistent before?" The man is a machine, where like Lafreniere, a lot of the physical stuff he does doesn't show up on the scoreboard or box score either.
I don't want to pull the Mike Francesa, and do the "I was dere, ok" act, but while I do think the TV experience has grown leaps-and-bounds – there's just some stuff the cameras won't and will never pick up. Kreider (ditto Fox, especially), is one to watch live. You just don't get the full story on TV.
And yeah, leave it to a player that many wanted to be captain, to score the first Ranger goal in the Rangers new secondary home, and more importantly than that – crack the nil-nil score.
I also want to add here, and in another one of my redundant talking points that I've said 8767867867896789678967896 times before – "SPECIAL TEAMS SWING GAMES."
The Rangers penalty kill went a perfect 6-6 tonight. While the Rangers power-play did score, going 1-5 is nothing to brag about either, especially considering the state of the Islanders. However, this one power-play goal gave the Rangers an edge.
Of course, going flawless on the penalty kill was the bigger deal, especially when you consider that all of these penalties broke up the Pearl Jam inspired "even flow" of this game, which forced Gallant to change up the way he doled out minutes.
Out of the six penalties the Rangers took tonight (and again, keep in mind I'm doing this from my own perspective and didn't see any of these on replay), Strome was the biggest offender, taking two careless penalties in total.
Conversely, I had no issues with the penalties that the Rangers took in the third period, as all of those penalties incurred were the result of the Rangers defending their teammates. I'll never have a problem with that.
With Chris Kreider as the lone fat cat dining, the Rangers fourth line played as if they were earning the money that Panarin and Zibanejad receive. At the 14:28 mark, we had our first pure fourth line goal of the season, as Kevin Rooney cashed in, with Reaves and Goodrow assisting:
all 4 lines contributing 💪 pic.twitter.com/j5sjv8pKHW

— Rangers on MSG (@RangersMSGN) November 25, 2021
This made the score 2-0, GOOD GUYS.
I'll rave more about the fourth line in a second, but yeah, they were, and BY FAR, the best Rangers line of this game. So much for those dumbasses who whine and sob, while asking, "WHY DID THE RANGERS SIGN REAVES?" "WHY DID THE RANGERS SIGN GOODROW?" These were also the same people bitching about the Blais/Buchnevich trade, where prior to his season-ending injury, #91 in blue was having an amazing season.
After forty minutes, we remained 2-0 Rangers, where I was really anticipating the CZAR IGOR shutout. I'll see one live eventually!
---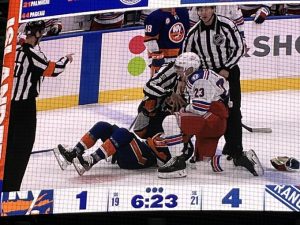 If you ignore the lack of scoring out of the fat cats, and just focus on Chris Kreider, the fourth line, CZAR IGOR and most importantly – TEAM PLAY; this was one of the better third periods of the season – if not the best.
Maybe because I'm jacked after seeing this all play out in front of my eyes, but as someone who champions for team-wide play – this game was the best example of that, as the Rangers defended each other after every dirty Islander foul committed against them. What a complete 180 from last season, especially in games against the Islanders.
While this was a good Rangers win, some habits die hard, as the completely unknown (I know, I know, I know – he was on the Kings for a while), Andy "WHO?" Andreoff scored his first ever goal as an Islander. 2-1, good guys. My Rangers -1.5 bet was now in jeopardy.
However, just twenty seconds later, the Rangers had regained the two goal lead:
Rooney gets his 2nd, but how about the mitts on REAVES! pic.twitter.com/TLHyfi1UIj

— Rangers on MSG (@RangersMSGN) November 25, 2021
3-1, GOOD GUYS, as Ryan Reaves made the best pass of his life (or so I say) and found Rooney for #17's second goal of the game and his first multi-goal game of his career.
Seriously, the Rangers fourth line dominated tonight, where you hardly noticed their more famous peers in Martin, Cizikas and Clutterbuck – three of the Islander regulars who didn't have a case of the Wu Flu.
At the 11:02 mark, Kreider put the game out of reach, despite that "dreaded three goal lead" talk, where he, like Rooney, now had two goals.
At this time, I was thinking the three stars of the game had to be Reaves, Rooney and Kreider – which it wound up being. (My buddy TEN O'CLOCK TOMMY campaigned for Igor, but while making a few good saves, it was tough to say that #31 was ever truly challenged – or not as much as we've seen in the past. And hey, it's nice to see a game where the goalie doesn't have to do all of the heavy lifting on his own too.)
About two minutes and change later, the Henrik Lundqvist Killer, known by his government name of Jean-Gabriel Pageau, cheap-shotted Lindgren. Adam Fox wasted no time, and charged JGP fists-first. Loved this. We know that Fox and Lindgren are pals, but it's nice to see this relationship displayed when an opponent tries to get cute.
As the clock continued to run, Alexis Lafreniere had enough of JGP and had the first fight of his career, a fight that he won! The number one overall pick! The skills guy! The French-Canadian! Hey, if Lafreniere isn't potting pucks, let him slug it out with a shit-heel. This was amazing and something that #13 did not need to do if he didn't want to, especially considering the score.
With 14 ticks remaining, Dryden Hunt, and another high draft pick (who the Rangers should've selected instead of Crybaby Kravtsov), Oliver Wahlstrom, got into it too. I didn't see what set this off, but I have no issues with Hunt defending his team too.
4-1, good guys, your final.
And if you can't tell – I had a FATHER FINKIN' blast, just like the Rangers.
---
I still have much more to say, but it's 4AM now.
I know I'm way behind in catching up on emails, comments, social media taggings and all of that, but I will eventually. I say this just to let you know I'm not ignoring anyone – I just didn't have the time for it tonight. Even my good buddy YOFFREY was getting on my case for not answering his text messages tonight!
All in all, not a pretty win, but how you do it isn't important – it's just getting the job done. At 12-4-3, and with a healthy third place standing, what a good time to be thankful about this team!
---
If you haven't already, subscribe to this blog for the next update:
---
Up next: Rangers vs Boston on Black Friday, at 1PM on ABC.
Of note, I'm attending a watch party for that game (a regular tradition at the pub by me, as the Rangers usually play on every Black Friday), so I won't be doing the normal live play-by-play note taking for these blogs on social media. That will return on Sunday night, when the Rangers host this Isles-19 squad.
The Rangers are also practicing on Thanksgiving Day, prior to traveling to Boston. Those practices are usually light-hearted and not much takes place.
As I said a few blogs back – there aren't many Americans on this team, but you do have Kreider who is a Boston native. In other words, Thanksgiving isn't as big to the team as it is to their American fans.
Happy Thanksgiving.
Stay FABULOUS my friends.
As always here, thanks for reading and…
LET'S GO RANGERS!
Sean McCaffrey
BULLSMC@aol.com
@NYCTHEMIC on Tweeter