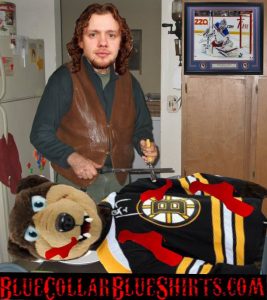 Greetings and salutations everyone and welcome to another blog here on BlueCollarBlueShirts.com. How are you currently feeling about the Rangers, with one game remaining before hitting the 25% mark of the season? To quote Larry David, I'd say the Blueshirts are looking "pretty, pretty, pretty good!" (Of note, that's now two consecutive blogs with a "Curb Your Enthusiasm" reference!")
In an early contest that started out pretty much like any other matinee game that the Rangers play; Gallant's men struggled early and came out flat, as if they were the stalest of stale beer.
However, and contrary to popular opinion, these aren't the "same old Rangers" – as the team weathered the early first period Bruins storm, behind goaltender CZAR IGOR's superb effort in net, which then allowed the Blueshirts to rally back and win the heated game.
While this isn't an indictment of former head coach David Quinn at all (the circumstances and roster are completely different now), during his tenure, the Rangers always had trouble with the Bruins and with the Islanders. This was most certainly the case last season too, as these two teams gave the Rangers their most defeats.
This season, in their last two games sandwiched between the American Thanksgiving holiday, the Rangers have now defeated both of these teams, with both of these victories also coming on the road.
I don't want to go down the Barry Horowitz route, and pat myself on the back here – but yeah, I told you this team would make a playoff run this season! Keep on mocking my glass half-full outlook, it's working!
Sure, it's still early, but the Rangers have now created a cushion between themselves and the bottom five teams of the division. Additionally, and as talked about in the past – there is a 2013-14 vibe to these 2021-22 Rangers, where all you can hope for is continued success.
And speaking of those 2013-14 Rangers, let's just do a quick (and I mean quick, as I could go 10,000 words on just this subject alone), comparison between that team and this current roster.
---
The 2013-14 Rangers, the Cinderella team that made it all the way to the Stanley Cup Final, were just like these 2021-22 Rangers – which means that they always found ways to win games. Will this latest incarnation of Rangers make a Stanley Cup run themselves? Only time can answer that question.
No matter how bad they looked during any particular point in a game, you could never rule the 2013-14 team out of it. We're starting to see a lot of that in Gallant's team, as there have been many times this season where it looked like the Blueshirts were going to lose, only to come back and win.
For long-time readers of this site, I called the Alain Vigneaut coached team of that era the "Find-A-Way-To-Win" Rangers.
Fast-forward to today (and while that nickname is also befitting of this squad), instead, I would go with the moniker of "The One Game at a Time" Rangers – a simple quote that Gerard Gallant often uses whenever speaking of his team.
Of course, just like two snowflakes (real snowflakes, not the people of the analytical community), no two hockey teams are exactly the same. However, while there are some differences between the Rangers of now and then – there are a ton of similarities too.
For starters, just look at the man behind the bench. In 2013-14, Alain Vigneault replaced John Tortorella, a Torts who was thought to have ran his course with the franchise. Today, Gerard Gallant, a veteran coach just like AV himself, is also in his first season with the club, replacing a coach (David Quinn) who was also thought to have run his course.
The 2013-14 version of Henrik Lundqvist was perhaps the "last-best" version of himself, as after this season, his play regressed. (No one beats Father Time.) This season, CZAR IGOR, just like the man he took the job over from – has carried the team on many a night, while lifting his team to victory.
If I've said it once, I've said it about a thousand times on this site – the fourth line of these 2021-22 Rangers is the best collection of Ranger fourth-liners since those peak AV years. You need to be able to roll out four lines to win games (and in the playoffs) and the Rangers can do just that.
Chris Kreider, the only player on both of these two rosters, while good (and clutch then), is even better now. Currently, he's enjoying the best season of his career.
And then there is Mika Zibanejad, who like Rick Nash in his later Ranger years, has become more of an accomplished penalty killer than the goal scorer that we hoped he would be.
Of course, with 75% of the season remaining, there is plenty of time for "RIKA ZIBANENASH" to turn it around (especially with one of his favorite opponents, the Philadelphia Flyers, on the schedule on Wednesday night); but as it was last season, Zibanenash's lack of goals (especially against top-tiered opponents) is now officially eye-opening.
---
Just like Rick Nash, it's not like Mika Zibanejad is "bad" or anything that. However, as a soon-to-be $8.5M center, his lack of goals (4 in all) is alarming.
One hot streak will change everything (and you have to think it's bound to come), but when a fourth-liner like Kevin Rooney (5 goals), has one more goal than your top center at this point of the season, there is cause for concern – especially when you consider that #93 receives nearly twice as much as ice-time (including power-play time) than #17 does.
As the old adage goes – "winning changes everything."
While I don't want to wade through the negative waters here; had the Rangers lost this game, there would've been a lot of belly-aching and "what if" questioning about the two top centers of the team, in both Zibanejad and Ryan Strome. With the win today, the issues between these two players are swept under the rug a bit. Thank you CZAR IGOR!
Strome, who did score the opening Rangers goal in this game, had a perfect opportunity to score a go-ahead goal in this game as well. (I'll get more into this during the game review segment.)
While Strome didn't take this opportunity, Zibanejad did put a shot on goal during his wide-open opportunity, only to be denied by Bruins goaltender Jeremy Swayman. The Mika of the 2019-2020 season would've buried this puck. Today, Mika is looking more and more like the player he was during the first half of last season – and he doesn't have a COVID-19 illness to blame this time.
To be clear, this isn't an epitaph of Zibanejad's season thus far or anything close to it; but needless to say, he needs to shake this "RIKA ZIBANENASH" label, and reclaim his status as one of the better goal scorers of the league. And I'm sure he's aware of this too. It's not like I'm breaking any news here.
---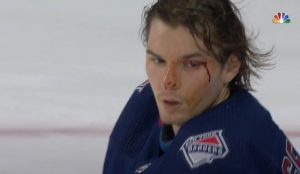 CZAR IGOR, the first star of Friday afternoon's conquest of the Bruins, once again had an amazing game in net. Had Alexandar Georgiev started this game, I'm not so sure if the Rangers win this one – especially after a first period where the Rangers were out-shot to a tune of 17-5.
However, despite the team's poor shots on goal numbers, and the even worse face-off numbers (where the Rangers rank bottom two in the league in these statistical categories), CZAR IGOR always gives the team a chance to win. It's why he's in Vezina contention, where after this game, you'd think that both Jacob Trouba and K'Andre Miller have their goaltender on their fantasy teams, as they try to boost the amount of saves Shestyorkin can rack up every game. In a word, Jake "The Mistake" Trouba and Miller were "terrible" today.
(And for you Trouba fans, I must also add here that while #8 didn't look great today, it was woefully apparent that Miller was much worse – especially when you consider how many times Trouba was left to his own abilities during multiple Boston two on one odd-man rushes.)
After a string of mediocre-to-decent (and sometimes even good) games, the Rangers second pairing reverted to the nightmare-inducing duo that they were earlier this season.
This second pair is starting to remind me of the Chris Kreider from previous seasons, where if there is one thing that they do consistently – it's being inconsistent. Kind of like Georgiev this season, you never know what you're going to get out of Trouba and Miller.
No joke, with a lesser goalie in net – Miller and Trouba may have finished this game with a plus/minus number of -19. (Not to be confused with Isles-19!)
However (and as the win would suggest), it wasn't all bad for the Rangers.
Ryan Strome scored a backbreaking goal, with just under six seconds to go in the first period, a goal that erased all of the previous positivity in Beantown.
Dryden Hunt, in his new role as part of the top six, picked up a huge equalizing rebound goal during the second period. Then, in a Rangers three-goal third period, Artemi Panarin and Alexis Lafreniere were the beneficiaries of odd-man rushes, with each man putting the rubber past Swayman. And I haven't even mentioned Kreider's "Michigan" play yet!
There were multiple things apparent from this win, akin to the many Ranger victories from this season:
— The team continues to show their RESOLVE, never giving up no matter how bleak things look.
— CZAR IGOR's impressive performances.
— Despite all of the meaningless analytics that imply that the Rangers should lose by five goals or more, here they are, with another EYE-TEST win – where hey, they scored five goals themselves!
— Role-players exceeding expectations.
— A slow start followed by a frenetic finish. Hey, they may rarely play full sixty minute games  (the other team is paid to play too), but as long as they turn it on in the third period and win the game – that's all that matters!
---
At this time, let's get the PLUGS segment out of the way, and then get into everything else – including the game review.
---
The first plug of tonight's blog – the mandatory plug for my new book, "The New York Rangers Rink of Honor and the Rafters of Madison Square Garden". And let me say this – thank you to everyone who has bought one, as my Amazon sales have exceeded all expectations, where for a limited time (that damn Mark Messier who just released a book!), my book was number one on the Amazon hockey book sales charts.
As mentioned previously, the book is now available in hardcover, in paperback and in Kindle formats. To purchase a copy of the book, visit this link:
https://www.amazon.com/Rangers-Rafters-Madison-Square-Garden-ebook/dp/B09CM5N2WD
For those still looking for signed paperback versions of the book, I have 3 copies left for sale for $25 (includes shipping price) through me directly. Here is all the information on that:
---
Here are my last few blogs, in case you missed them:
---
---
---
Ninety minutes prior to the game, Gerard Gallant met with the media, where he said he'd be using the same exact line-up from Wednesday night in this game. As a reminder, here's what the Rangers head coach went with:
FIRST LINE: Kreider/Mika/Kakko
SECOND LINE: Panarin/Strome/Hunt
THIRD LINE: Lafreniere/Chytil/Gauthier
FOURTH LINE: Rooney/Goodrow/Reaves
FIRST D-PAIR: Lindgren/Fox
SECOND D-PAIR: Miller/Trouba
THIRD D-PAIR: Nemeth/Lundkvist
And in net, CZAR IGOR.
Of course, while I was happy to see #31 get the start, one question still remains – when does Alexandar Georgiev start again? (I still think #40 returns to the net next weekend, when the Rangers host the Chicago Blackhawks. And as mentioned previously, despite over 75% of the fan base wanting Georgiev shipped off to Hartford – I think Georgiev does get one more start. He's owed that, or so I say.)
---
BOX SCORE time.
The following information and graphics come from the new world-wide leader in NHL coverage, ESPN.com:
SCORING:
PENALTIES:
TEAM STATS: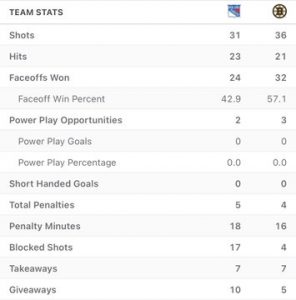 GOALIES:
| | | | | | | | | | | |
| --- | --- | --- | --- | --- | --- | --- | --- | --- | --- | --- |
| SA | GA | SV | SV% | ESSV | PPSV | SHSV | SOSA | SOS | TOI | PIM |
| 30 | 4 | 26 | .867 | 22 | 1 | 3 | 0 | 0 | 57:57 | 0 |
| | | | | | | | | | | |
| --- | --- | --- | --- | --- | --- | --- | --- | --- | --- | --- |
| SA | GA | SV | SV% | ESSV | PPSV | SHSV | SOSA | SOS | TOI | PIM |
| 36 | 2 | 34 | .944 | 26 | 0 | 8 | 0 | 0 | 59:58 | 0 |
---
Today's game was broadcasted on the ABC network, the first NHL game to air on the network since 2004. In turn, that meant no Steve Valiquette! WINNING!
It also meant no Joel Osteen national pregame show either. Let's say it again – WINNING!
As far as the broadcast itself, my biggest takeaway (outside of the horrendous birds-eye view cameras that the ABC/ESPN partnership employs), is that Mark Messier and Chris Chelios, the two in-studio analysts, were paid handsomely for about seven minutes of face-time during the entire broadcast.
With no pregame or post-game show, ABC and ESPN pretty much paid the pair of Hall of Famers crazy money to just talk for about seven minutes during the two intermissions. Good work if you can find it!
Calling the game were Sean McDonough and Ray Ferraro, who never used the word "FABULOUS", nor were confused about any goal scored.
However, I found the person in-between the glass, AJ Melczko, to be annoying – and not because she's a woman, but because she's a regular on-air personality for the Islanders. I don't want that Islanders stench near my Rangers!
I also thought it was stupid when it was suggested on-air that she was the best hockey product to come out of Harvard. To be fair, this was a joking way of saying that Adam Fox also came out of Harvard.
That said, while she was no Adam Fox – I'll say she had a better professional career than the one that Harvard alum Jimmy Vesey is currently experiencing!
---
The first period from this affair wasn't exactly inspiring. In fact, it was pretty terrible. At the same time, it's not like the Rangers come out hot very often during these matinee games.
To me, as long as the game was within one goal after twenty minutes, I would've been fine with that – especially since this team has showed their uncanny ability to rebound after poor starts.
However, instead of being down 1-0, Ryan Strome tied the game in the final seconds of the first period, which tied up the only statistical category that matters – goals for.
While Rika Zibanenash finished with only eight faceoff wins on his eighteen tries, he did win the first puck drop of the game. Right after, the Rangers tried to go for a deflection/tip-in goal twice, with Panarin to Miller and Lindgren to Hunt. Neither try here would be successful, but ironically, both #10 and #55 would pick up assists later on. Also around this time, Lafreniere went wide on a one-timer, where again, ironically enough – he'd later cash in on during another attempt.
As the announcers rattled off every negative Rangers stat known to man, and as the Bruins quickly raced out to 5-0 SOG advantage, Ryan Lindgren broke up a Pastrnak breakaway chance. After doing so, Lindgren also drew Pastrnak for a high-sticking penalty, putting the Rangers on the power-play.
The Rangers power-play, while having opportunities, didn't put a SOG during these two minutes. Instead, Zibanenash went wide twice – a new staple of his game.
Following the Bruins penalty kill, we were nearly nine minutes into the game and the Rangers still didn't have a SOG.
With 9:50 remaining, and after a TV timeout, we saw Chris Kreider and Alexis Lafreniere exchanging smelling salts, where with the way this first period was played – you wanted to see the whole team snort these salts, as if they were Al Pacino during the final scene of "Scarface".
After Kaapo Kakko tried some razzle dazzle, where Swayman made an impressive save following #24's attempt; with 9:05 remaining, Chris Kreider was boxed for interfering with DeBrusk. I have no clue what CK20 did here, as it was never shown on replay. All I know is that a penalty was called.
On this Bruins power-play, CZAR IGOR picked up five short-handed saves. He'd have to make more, as with ten seconds remaining on this Kreider penalty, Fox was then boxed for a high-stick on Craig Smith. This penalty, unlike the Kreider one, was blatantly obvious.
As he did during the first penalty kill, CZAR IGOR remained strong, making four more saves while on this second NYR PK. However, just ONE SECOND after the Fox penalty expired, Craig Smith easily got around Trouba and found himself one-on-one with the Rangers netminder. 1-0, Bruins, on a point-blank shot from a mere 2-3 feet away, and with 5:14 remaining.
Technically, the Rangers penalty kill was awarded with a stop here, but for all intents and purposes, this was a power-play goal for the B's.
And man, oh man, while it's a penalty kill, Trouba looked awful here.
As we got under three minutes remaining, the Bruins were out-shooting the Rangers 16-3. That's not a typo.
With the clock under a minute, you just wanted to get out of this period down one. Instead, with 5.8 seconds to go, this happened:
Strome to knot it up to end the 1st period!
7 game point streak!

(via @NYRangers)pic.twitter.com/GDAgY0Vfho

— Rangers Videos (@SNYRangers) November 26, 2021
1-1, as #10 found his favorite centerman going towards the net for this easy net deposit. Talk about taking the wind out of the sails of the Bruins.
After one more faceoff (another loss for the Rangers), we remained at 1-1 after twenty.
---
After the ABC crew expressed their sympathies to the Bruins for allowing a back-breaker goal; Bergeron beat Mika at the dot again to open up the period. 17 seconds later, the rat, Brad Marchand, was penalized for hooking Trouba.
In a play that saw Ryan Strome get raked over the coals (and he might've been tarred-and-feathered like a Boston colonial had the Rangers lost this game), we had this: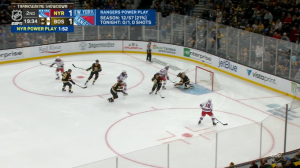 What do you think happened next? Pick one:
— Strome took a shot and went wide.
— Strome took a shot and went high.
— Strome took a shot and hit iron.
— Strome took a shot, only for the Bruins defense to block it at the last second.
— Strome took a shot, only for Swayman to make a fantastic save.
— Strome took a shot and scored, only for the goal to be waived off for an off-side.
— Strome took a shot and scored the go-ahead goal.
All of the above options are things that could've happened. Instead, despite a gaping net in front of him, Strome forced a pass to Kreider (which I assume was Strome's attempt at trying to get CK20 his tenth PPG of the season). This then led to a turnover and an easy clear for the Bruins.
And I don't want to kick Strome when he's down. After all, the ABC Network did just that (and so did many fans on social media), with the announcers bringing up how boneheaded it was not to shoot this particular puck.
After the Rangers power-play failed again, there was Strome again, this time on the other end of the ice, grabbing a juicy rebound off of the pads of Igor and clearing the zone himself. See-saw!
---
As the Miller and Trouba pairing tried to one-up each other in a game of "what can Igor stop next?"; after a poor pinch, Miller, to his credit, raced back and disrupted a two-on-one (Trouba being the one) Marchand chance.
However, with 13:09 remaining, Miller got lost defensively, and Trouba did his wailing and flailing act, as Patrice Bergeron tipped a puck past Igor. 2-1 bad guys.
This would be the last goal CZAR IGOR allowed all game, so it's worth mentioning here that of the two goals allowed, neither one was on the Rangers goaltender – another reason why he was the first star of the game.
At this point, Igor may as well come out for his first star victory lap prior to any game where Miller and Trouba are dressed.
After Zibanenash went high and wide again, the Trouba and Miller pairing had to prove that they were the worst skaters in white. Pastrnak got behind Trouba, where #8 was befuddled again. Igor made the tough save. Following this, Miller got lost again, leaving Trouba as the odd-man out in another two vs one situation, where this time, Pastrnak went wide.
In the Rangers first best scoring chance of the period, Swayman made a glove save on a Chytil attempt. Swayman made this look too easy. This was all about Swayman, rather than Chytil not being able to finish.
As Trouba and Miller continued to look like an uninterested little league baseball player playing with flowers in the outfield; it was Lindgren and Fox, the first-pair defensemen, setting up a goal:
HUNT. RIGHT. ON. TARGET. 🎯

(via @NYRangers)pic.twitter.com/OlOVp38kFS

— Rangers Videos (@SNYRangers) November 26, 2021
Lindgren took a shot, and boom, Hunt buried the rebound on the open net – something Strome should've done earlier! 2-2, with 7:27 to go in the middle frame.
Right after this, on the next Rangers possession, Kakko found Zibanenash all alone with Swayman, where the Bruins goaltender made a stick-shaft save on a shot that the old Mika would've buried 100 out of 100 times.
Not to be outdone, with a wide open Dryden Hunt streaking to the net, Trouba over-passed the new second line winger, sending the puck into the corner boards.
With 5:23 remaining, Bread was boxed for high-sticking Pasta. A carbo-load of a power-play here, Suzyn.
The Rangers would kill this Boston power-play off. With under a minute ago, just like twenty minutes of game time prior, the Blueshirts showed more offensive prowess. Zibanenash, the fourth line, and Gauthier would all get chances, but Swayman survived them all.
2-2 after forty minutes, where the Rangers were much better here, even if the game, just like the first period, remained tied.
---
The first half of this third period felt like the first nineteen minutes of the first period, as the Rangers struggled to shots on goal.
In fact, it would take 7:30 for the Rangers to get their first shot on goal, as Kreider pulled off a Michigan/lacrosse style shot/play. Originally, this impressive display was ruled as a goal scored, but on replay, Swayman got his shoulder on the puck, the puck bounced off of the crossbar and fell in front of the goaltender instead of behind him.
Even with replay, it was tough to see the puck; but either way, there was no evidence of the puck ever going in. That said, with all of the criticism that Kreider receives from some people, it was nice to see him display his hands and skills here. This would've been a highlight reel goal had this counted.
At the halfway mark of the period, Igor denied Hall on a breakaway. The announcers then brought up how Hall won the Hart Trophy in 2018, but didn't bring up the reason why – McDavid's Oilers didn't make the playoffs that year. Hall's Devils did. Had the Oilers made the playoffs that year, McDavid would've won the Hart that season. Instead, the Devils lost a first-round series in five games to the Lightning. Impressive.
With 8:25 remaining, the Rangers found themselves on a three vs two odd-man rush, with Panarin scoring the go-ahead goal. 3-2, GOOD GUYS!
On this play, Strome fed Gauthier. Gauthier juggled the puck, but stayed with it and got the puck to Panarin, where the Breadman was basically nose-to-nose with Swayman. That's all it took for Panarin to score his fifth goal of the season.
Less than four minutes later, Julien Gauthier, who has excelled in his new opportunity (the Blais injury), picked up another primary assist, when on a two vs one odd-man rush, he found Alexis Lafreniere, with the first overall pick of the 2020 NHL Entry Draft, like Panarin, scoring his fifth goal of the season too. 4-2, GOOD GUYS.
For Lafreniere (and following his big fight from the game prior), this was a puck that looked like it came off of the stick of a first overall pick. Happy to see it!
As the Rangers fourth line continued to break up Bruins chances; with 2:37 to go, and with a two-goal deficit, Swayman found his seat on the bench, in favor for the extra attacker.
The Bruins would get chances here, including having the puck for over a minute in the Rangers d-zone. However, with 56.4 seconds to go, McAvoy tripped Kevin Rooney as #17 was clearing the puck. This led to a huge scrum, where at the end of it, both Goodrow and McAvoy took off-setting penalties.
Twenty seconds later, and from behind Igor's net, Trouba (and remember it was a two-goal lead, where icing the puck sometimes isn't necessarily the worst idea in the world), tossed a puck deep, with the puck sailing into the empty net. How Trouba scores from 200 feet away, but can't hit a net two feet in front of him baffles me. Either way, 5-2, GOOD GUYS.
With five goals for, the Rangers firework show wasn't just done yet.
Twelve seconds remaining, we had this:
Panarin just threw his glove at Brad Marchand 😂 pic.twitter.com/IcCWBiaiIU

— Rob Taub (@RTaub_) November 26, 2021
---
Give credit to the rat in the #63 black and gold jersey. Not only was he able to rattle Mika last season, here he is getting the goat of Panarin too. As you can see from the video above, Panarin threw his glove at Marchand after a spirited debate.
Since this was an ABC game, and not a M$GN game (meaning that ABC couldn't wait to get off the air and go straight to college football), we didn't get the full story here, nor were told that both Marchand and Panarin were penalized. (10 minute misconducts.)
Obviously, Panarin had to receive a penalty here, but I'm not sure what Marchand did, outside of running his mouth.
I think, at the very least, Panarin has to be fined here. I'd give him the league max ($5,000) for this, because you just can't be throwing things at the other bench. I'm sure Bruin fans (and fans who don't root for the Rangers), would also like to see a one-game suspension too.
Had Panarin thrown something sharp, or a real weapon, like a skate or a stick – then yeah, I wouldn't care if he was suspended. A suspension would be deemed necessary in that situation.
However, for something as soft as a glove, and considering that Panarin doesn't have a reputation for such nefarious activity – I think a $5,000 donation is the best way to discipline him – especially when you consider all of the stuff that doesn't warrant fines and suspensions around the league. (Tom Wilson anyone?)
5-2, your final, as the Rangers take care of an opponent that's had their number as of late.
---
If you haven't already, subscribe to this blog for the next update:
---
Up next: Rangers host the Islanders this Sunday, at 6PM. Why the NHL schedules games during the NFL's "witching hour" I do not know.
I may return tomorrow (Saturday), with a complete review of the IBS Arena. Then, following the game with the Islanders, maybe I'll do a quarter-pole progress report.
Great win today! As a result of it, the Rangers are now in a virtual tie with the Capitals for second place and trail the first place (and red-hot) Hurricanes by two points.
Stay FABULOUS my friends.
As always here, thanks for reading and…
LET'S GO RANGERS!
Sean McCaffrey
BULLSMC@aol.com
@NYCTHEMIC on Tweeter