Greetings and salutations everyone and welcome to another blog here on BlueCollarBlueShirts.com. This was supposed to be the Rangers vs Islanders Round II preview special. So much for that.
Following the Rangers comeback victory over the Bruins from Black Friday, the team returned home, where they then had a short practice on Saturday morning, in preparation for the scheduled Sunday rematch against the Islanders. Oh well.
While no hard work is ever lost time; the Rangers will now have to wait until Wednesday to see the fruits of their labor, and where they will then try to continue their winning ways, as the Islanders are now on a COVID-19 timeout.
This game postponement is obviously the lede story in Rangerstown, despite Panarin opening up on "GLOVE-GATE", and a pretty telling press conference out of Rangers head coach Gerard Gallant, with both events also taking place on Saturday.
In other words, let's get into Sunday's postponement first, and then get into everything else.
---
In a story that was actually first broken by Islander super-fan Cord L., the Islanders are now in a state of pause, where wouldn't you know it, the first day they could theoretically return is Thursday, December 2nd – a home game against San Jose. (Keep this in mind – even if you probably know where I'm going to go with this already.)
Here is what the Islanders are saying about this news, including a ten-minute audio/video clip from Isles head-honcho Lou Lamoriello, courtesy of https://www.nhl.com/islanders/news/islanders-games-postponed-at-least-through-nov-30/c-328391092:
The National Hockey League announced today that as a result of an additional New York Islanders Player entering COVID Protocol this morning, and up to eight Players potentially unavailable to play due to COVID Protocol, as well as the possibility of additional cases due to spread, the team's games will be postponed at least through Tuesday, Nov. 30. The decision was made by the League in consultation with the NHLPA's and Club's medical groups.

The League is in the process of reviewing and revising the Islanders' regular season schedule.

The Islanders organization has followed, and will continue to follow, all recommended guidelines aimed at protecting the health and safety of its Players, staff and community at large as set by the NHL, local, state and national agencies.
---
From a Rangers perspective, here is what the franchise is saying about Sunday's postponement:
Of note: no make-up date has been announced. Heck, we're still waiting for the previously postponed Ottawa game make-up date too!
I'll get right back into the Rangers in a bit, but when it comes to the Belmont Bozos COVID issues, and how it directly effects the Blueshirts; outside of Sunday's postponement, everything else remains the same. The Rangers next game will now be on Wednesday December 1st, when the team hosts the trashy Philadelphia Flyers.
If you didn't watch the Lou Lamoriello video, the Isles Team President confirmed that Casey Cizikas is the latest Islander to have tested positive for the virus.
In addition, Lamoriello said three other people (non-players) within the organization also tested positive. The names of these people weren't announced, as it wasn't necessary. However, Lamoriello did confirm that he is fine himself, and that he wasn't one of the people who has tested positive.
As far as anything else major from Lamoriello's fireside chat with the media, the Isles boss said he did not ask for any of these games to be postponed – contrary to what you may have heard or felt. After all, during the past week, Lamoriello sounded like a dog begging for a bone. While Lamoriello never politicked the league directly – it sure sounded like he was asking for the league to give his team a timeout.
And of course, even if Lamoriello wanted these games to be postponed (or had asked the league to postpone them), it's not like he'd admit that anyway.
There are so many different ways to attack and dissect this story, where really, the topic of MONEY (as it always is), is most prevalent.
I'm saving the PLUGS segment for the end of this blog, but if you haven't read my previous blogs on the Islanders current situation, those links are there below.
As I said then, and as I'll say now – I have no sympathy for the Islanders at all. Especially not after playing their recent opening homestand at the IBS Arena.
If the Islanders, and the league, were so concerned about COVID in the first place – they would've canceled the grand opening at the IBS arena and those four games from their first homestand of the season. Instead, the Isles played all four of those games (all losses) and are now being let off the hook.
And to be clear – while I'm sure a winning streak would've changed the team's outlook, I still say MONEY is the biggest factor here.
---
With Josh Bailey coming off of the COVID-19 list, the addition of Casey Cizikas means no loss of man-power for the Islanders. So what changed? Easy – the Islanders homestand, THE MOST PROFITABLE FOUR REGULAR SEASON GAMES in Islanders history, is now complete.
Due to an increased arena capacity and raising ticket costs, not only did the Islanders generate more revenue in franchise history during their home opener and with this homestand, but the IBS Arena also set league records for food and beer sales too. (Again, check my previous writings for more on this.)
In addition, the Islanders team store never saw this much foot-traffic before, until this recent IBS Arena opening.
I don't want to get into the political issues regarding COVID-19 and bring up once again, how are all of these vaccinated players getting sick, as I want to keep this to hockey only. That said, if PLAYER SAFETY (and the safety of the fans) is such a huge concern, why did the Islanders play (and why did the NHL sign off on it?) their last four games under these EXACT SAME conditions?
While three non-players from the Isles organization having the virus is a new wrinkle; at the same time, that doesn't effect the games either, unless Barry Trotz has it. (There's nothing out there that suggests that Trotz has tested positive, but even then, look at the Rangers last season when former head coach David Quinn had the virus. The Rangers played some of their best hockey of the season!)
Yes, you can call me an Islander-hater all you want, and I'll wear that label proudly (even if I do respect some Islander fans that also enjoy the art of ball-busting along with me) – but even before the Isles issues with COVID, they weren't playing that great anyway.
In essence, due to MONEY, the NHL is now giving the Isles a free "bye week" now, with all road games ahead, rather than doing the "right" thing prior to the extraordinarily successful homestand.
Just like most things related to the virus and the pandemic, and if you take the topic of MONEY out of the equation – this decision to postpone now doesn't make sense.
And as talked about above, the soonest the Islanders can return is Thursday – a home game against the Sharks. How convenient!
---
As like anything else related to the pandemic, everyone is working off the cuff here. These are unprecedented times, so there truly is no right answer or course of direction. Everyone is just trying to make the best of it.
However, with a league vaccination rate of 99.9%, shouldn't the teams getting sick left-and-right be punished in some sort of way? Or is that too severe? Why should healthy teams (doing everything right) be dragged down by the sick teams?
I know it's tough to pin-point the origination of a team's viral breakout, but someone must've done something to bring the virus inside of their locker room. Why should the teams who are doing the right things, have their schedules messed with, when another team must've done something wrong? Shouldn't there be some sort of accountability here, especially with the league trying to force everyone into getting the vaccine?
Maybe there is some anti-Islanders bias here, but look at the Rangers.
The Rangers have had minimal issues with COVID-19 this season. Ryan Strome had it. In turn, he was sent home and was able to return once he was healthy. He didn't infect the rest of his vaccinated teammates. The Rangers just had to play without their second line center for a stretch of games.
Someone on the Senators and someone on the Islanders, both got the virus from somewhere. Instead of taking a pause, they spread it throughout their locker rooms. Eventually, their games with the Rangers were then postponed.
While the pandemic does force us to roll with the punches, and to go with the flow, the Rangers will now have to find two previous off-days to schedule games on. If all these three games in four nights weren't enough, the Rangers will have to squeeze in these two teams in the future, where more games will played in an already short time span. So much for player safety!
I know it might be a tad ridiculous to suggest infected teams to forfeit games (the league would never give up gate revenues either, including the Rangers, the home team for whenever Sunday's game is rescheduled), but I believe in the "next man up" policy.
I don't care if the Isles have to use every player from both their AHL and ECHL farm teams to put a roster together. Put Shannon Hogan on the fourth line for all I care. That's what should be done.
And while I know this only applies to a small amount of people – what about the fans who book road-trips way in ahead? Maybe there was a large group of Ranger fans going to Ottawa, only to have their plans go up in smoke.
Additionally, I can 100% tell you there is a large audience, in town for the Thanksgiving holiday, that had plans on attending Isles vs Rangers at M$G on Sunday – where you can't give me the "FAN SAFETY" excuse here, since the Isles just played a homestand (including a mega-profitable game against the Rangers) under the same conditions.
---
I want to be clear before wrapping up on this topic.
I am not making light of COVID-19 or the pandemic. I also don't want to down the political waters either, but seriously, what are the true health risks for vaccinated people, including athletes?
While I'm not suggesting sick players go on the ice; all I am saying is that the games should go on, even if the Isles (and other teams like them) are forced to dress a talent-depleted line-up. Some player put the team at risk. They shouldn't get a free week off, nor should opposing teams and fans have to change their plans either.
Again, this is all a slippery slope here. Some COVID plagued teams have played through this. Some were forced to postpone. What is the magic number of positive tests here? How come there isn't one standalone rule, rather than making things up as you go along? All 32 teams should play under the same COVID rules – including the homestand Islanders as opposed to the "road-trip" Islanders.
And if I haven't been vocal enough about this already – yes, playing through the homestand under similar conditions, only to postpone now, is my lone bone of contention here. Had the Islanders postponed a week ago, I would've understood. Now, it all comes off as greedy – or so I say.
In closing, do you know who this news truly benefits the most? Easy – the Ranger and Islander beat reporters.
Just think about it for a second.
On Wednesday, the Rangers played the Islanders. The Rangers then practiced on Thanksgiving, followed up by a matinee game on Black Friday. Once returning to New York, the Rangers practiced again on Saturday and were then scheduled to play the Islanders on Sunday. With Sunday's game now off, the NYR beat reporters can now get a rest, after a busy schedule during one of the biggest American holidays of the year.
For the Islander beat reporters, they now get to sit at home for a bit too. After all, how many times can you ask Barry Trotz, "why does your team suck?" I guess that's the "glass half-full" outlook!
Let's now get into the Rangers themselves.
---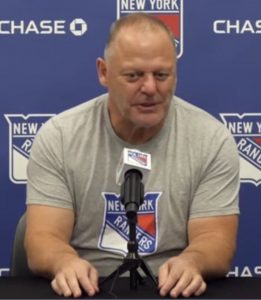 After Saturday's practice, Gallant and the Rangers met with the media. While I'll get into Gallant first, what was noticeable is that the Rangers social media and YouTube accounts DID NOT upload the interview with Artemi Panarin. I have no clue why, especially considering that the NYR beat reporters covered Panarin's interview.
It just feels like if anything can be deemed as "controversial", the Rangers online accounts won't post such material. Look no further to a few weeks back, when Gallant gave Mollie Walker a fresh glass of "GIVE THE KID A BREAK!" (The clip aired live on the M$G Networks, but was then cut out of the YouTube and social media versions.)
Society, much like the NHL, is getting soft, where I guess it's somewhat understandable in this era of "cancel culture". That said, Panarin did meet with the media and to not share his interview (while sharing everything else) does feel suspect. It's a disservice and a way to control the news. It's what Putin does in Russia – how ironic!
However, let's talk about the interview that the Rangers actually did share with their fans, the Gallant interview, which you can watch below:
---
If I've said it once this season, I've said it a thousand times before – I really enjoy these Gallant interviews, and perhaps even more so lately, with yours truly attaching the "ONE GAME AT A TIME" moniker to them – a quote the Rangers head coach also repeated several times in the video above.
Maybe because I favor the "old school" brand of hockey, but with each Gallant interview, I enjoy him more and more. Even more so, whenever he busts out the proverbial fly-swatter to several members of the NYR beat who can't go one game recap without mentioning analytical websites. Rather than reporting what they see, many of these reporters just check analytical websites after games to write their articles for them.
For example, I don't care about the analytics on "Natural Stat Trick" or "Evolving Hockey". If I did, I'd check those sites. I'm sure they do a good job with what they do. Maybe it's for you. It's just not for me. Everyone enjoys the game differently.
Maybe it's me, but if I was an accredited member of the beat, I would write about what actually happened on the ice and what people said – and not focus on EXPECTED STATS!
"OH NO, THE RANGERS WON 15-3, BUT THEY LOST EVERY MAJOR EXPECTED STAT CATEGORY! WHATEVER SHOULD I DO!?!?!?!?!?! THE SEASON IS OVER!"
As an "EYE-TEST" guy, this all sickens me – much like the Islanders!
---
In his first question faced from someone who caters to the analytical community, Gallant shut down a stupid question about Ryan Reaves. And to be clear, it's not that the question itself was stupid – it's the fact that what Reaves brings to the Rangers wasn't known from day one – at least to some people, you know, people who cover the team for a living. (At least Brooks gets it.)
It seems that reporter Vince Mercogliano has finally figured it out (round of applause everyone), twenty games in, that Ryan Reaves doesn't need to fight 89767867867896 times per game. The light bulb has finally gone off – Reaves is a deterrent and keeps the other teams honest.
Equally as important? Reaves is a great teammate and beloved in that locker room. After all, just look at how Alexis Lafreniere looks at #75 before the Rangers come out of the tunnel, where #13 is all giddy like a kid seeing a mall Santa Claus for the first time.
As I keep saying on this site – Reaves will have his most value come playoff time. And I have been saying that since day one, while many others whined about Buchnevich and said that the Rangers wouldn't make the playoffs this season. I stand firm – the Rangers will make the playoffs and they will make some noise in them too.
Now, if people from the analytic community, who will also tell you how "REAVES HAS NO SKILLS" (those people sure were quiet after the win over the Islanders), could understand that you shouldn't take penalties in the third period with a one goal lead too. That would be some progress!
(And isn't it amazing Suzyn, how the people who want fighting out of the game also want Reaves to just fight 100% of the time? You can't win with those analytical folk – chart-geeks who can't calculate Reaves' intangibles in any of their made-up foo-foo nonsense, which is why they can't understand his value in the first place.)
I've talked about this stuff so much already on this site this season, that I don't want to go into my "Greatest Hits" here. However, it's nice to see other people realize that you need a perfect mix of ingredients for your "roster stew", and that you can't just have 12 forwards who all do the same thing – especially come the playoffs, where analytics, as worthless as they already are, become even more worthless – if that's even possible!
Outside of showering praise on his fourth line winger; Gallant also talked about how Julien Gauthier has shined during his new opportunity, where the coach gave all the credit to the player himself – rather than saying the coaching staff played a large part of it.
We're not there. Who knows what goes on between Gauthier and Gallant? However, publicly, here's Gallant, not looking for one ounce of credit for Gauthier's coming out party. This should only maintain Gauthier's confidence and comfort levels – a sign of a great coach trying to motivate his player.
---
In a topic that won't die down anytime soon, was the subject of Gallant's goaltenders. Gallant pretty much said what we all knew and think already – CZAR IGOR is one of the best goalies in the NHL today, and how can you take starts away from him?
Gallant said he always wants to go with his best line-up, which of course, includes #31 in the barrel. While Gallant said Igor can't play every game (duh), it's up to "the other goalie" (Gallant never mentioned Georgiev by name), to accept his role and stay sharp for whenever his name is called.
Gallant also reminded the media, that prior to the season, he said he had two great goalies. Now, Gallant pretty much admitted (publicly), that Shestyorkin is the starter, he's the best goalie of the two and he will continue to get more time.
I've written so much about Georgiev over the past week that I'm not going to rehash it here; but with the Rangers now having a four-day vacation before Wednesday's game with the Flyers, I would 100% expect CZAR IGOR to start that game. After that, it's a back-to-back home set, starting on Friday night with the Sharks and concluding on Saturday with the Blackhawks.
As mentioned before, I do think Georgiev gets the easier opponent, and will start on Saturday against the Chicago. However, now with this new found time off, maybe CZAR IGOR does get his first back-to-back of the season – something Gallant has previously said that he wants to avoid.
And while it's way early, as in five months too early; it wouldn't hurt for CZAR IGOR to get some back-to-back experience, especially since you may see that during the end of the season, and with the Rangers jockeying for playoff positioning.
Another reason to load up on CZAR IGOR starts right now? A good one and let me quickly explain.
The Rangers have a firm hold of third place in the division and are right in the mix to contend for both first and second place too. With other teams struggling in the division, why not try to make a major run now and try to increase the cushion over the bottom five teams?
I know naysayers will say, "the Stanley Cup isn't won in November and blah blah blah", but may I remind you – wins in November and December count just as much as the wins in March and April.
Plus, if you can create major distance between yourself and your competition, it will only help in the latter months of the season, when the schedule gets tougher. With the team healthy (sans Blais, obviously), you may as well keep on rolling with your best line-up (CZAR IGOR in net) and widen the gap.
Who knows? If the top three teams of the division (Canes/Caps/NYR) can keep on doing what they are doing, they will make it tough for the other teams to catch up. With a trade deadline approaching, you could make these other teams sellers, rather than as a competitor trying to actively bump you from your perch. (It would also limit the amount of trade partners selling teams will have too.)
Just food for thought. I guess this is my long way of saying "RIDE CZAR IGOR!"
Speaking of Russians, let's now get into Artemi Panarin.
---
In an update to the Brad Marchand/Artemi Panarin "Glovegate" incident from Friday, as expected and predicted, Panarin indeed was fined $5,000 by the department of NHL Player Safety on Saturday. In addition, no suspension is forthcoming – it's just the $5K donation.
Late Friday night, Larry Brooks (as usual) had the scoop – Panarin took offense to something Marchand said, which was related to Panarin's situation from last season. I don't want to get into all of that again (as I wrote about 78567567567567567856785 words on that drama last season), but to quickly recap, Marchand was alluding to the FAKE NEWS coming out of Russia, and Panarin's view on Russian politics, where #10 in blue is anti-Putin.
And if I haven't said this enough already on this site since its inception – I don't care who these players vote for, nor care about their political views. Just win. As long as these players aren't supporting terrorism, I just don't care how these players view politics. Everyone is entitled to their own opinions, and who am I, or anyone else, to suggest differently?
Prior to Panarin speaking out, on Friday, following the game, Marchand simply said that he and the Breadman had a difference of opinion over what to eat at a Thanksgiving dinner. I liked this response.
As fans (and even the media) – we don't need to know everything. There is an unwritten code among hockey players, even if that code does feel a bit tattered during this social media age, where everything and anything must be over-analyzed, in the never-ending 24/7 news cycle of today.
As mentioned earlier, Panarin did meet with the media on Saturday, where he shed light on what happened. Again, the Rangers social media accounts didn't release footage of this interview, but the NYR beat reporters tweeted out what was said.
And I have to give Vince Mercogliano credit here, because if there is one thing he does extremely well, it's transcribing these interviews before anyone else. He had the bulk of the Panarin quotes from Saturday posted online first.
---
I don't really want to get into NHL Player Safety here, and just like the NHL's COVID policies, their inconsistent ways of resolving issues. All I'll say is that the department of NHL Player Safety (and as Gallant said in his press conference) have a tough job, even if a lot of their decisions are questionable. (Gallant didn't say that part, I'm saying that.)
If you're looking for a good assessment on the department of NHL Player Safety, I thought friend of the site, Derek "NO FLEX" Felix, wrote an excellent piece regarding their ruling on Panarin v. Marchand. (He also brought up a great point how McAvoy's hit on Rooney was ignored too.)
To read that article, check out: https://newyorkpuck.com/
And I'd throw Felix's site in your bookmarks as well. While we don't agree on everything, it's always good to get a varying amount of opinions too. And if everyone agreed on everything, it would be boring and redundant.
Back to Panarin.
---
After Larry Brooks opened the can on Friday night, the media followed up with the Breadman on Saturday. Again, with this interview not being made public, we only have the black-and-white quotes to work with, although it was mentioned that Panarin smiled and laughed at certain points.
Panarin pretty much confirmed Brooks' report, saying that Marchand brought up the Russia and Putin stuff, which #10 thought crossed the line. Panarin also mentioned that he didn't like Marchand, but outside of people in Boston – who does?
Panarin then said that he was disappointed that only he was fined, while Marchand escaped league discipline.
Breadman later said, "it's important to think that I didn't start it. I didn't say good things about him, too, but I think when you touch country, it's different. Probably all Russians would want to defend their country." (Quote credit: Vince Mercogliano.)
While Panarin said he understands trash-talking, he just thought Marchand went too far.
In closing, Panarin laughed about the paltry fine, mentioning how he is a very rich man, indirectly thanking Jeff Gorton for this current $11.6M salary.
At this time, just a few opinions on all of this.
---
Hmmm. How to say this nicely? Hmmm. Here's my "HOT TAKE":
Whenever you put yourself out there (just like how I do with these manifestos), you open yourself up to criticism. It's part of it. If you don't have thick skin, it's wise not to make your opinions on hot-button issues be known, because no matter what you say, and no matter how right you are – you're always bound to offend someone.
In no way am I defending that psychopath Andrei Nazarov, the person who tried to cancel Panarin last season, leading Panarin to worry about the safety of his family in Russia. Nazarov was full of shit and 100% in the wrong. I totally get why Panarin took time off – family is more important than sports (and any job really).
At the same time, just like how Alex Ovechkin publicly supports Putin, Panarin went the other way, where he proudly announced his support of Putin's enemy/political rival, Alexei Navalny.
What I'm saying here is that Panarin's view on politics is out there, where perhaps not so ironically, prior to this season, Panarin said moving forward, that he'd keep his political opinions to himself. Let's just hope that he doesn't slam any penalty box doors! That will get you kicked off the team!
All is fair in love and war, and Marchand used this PUBLIC information to get under Panarin's skin. Is it a classy move? No, but it's not like Marchand is looking to win a Lady Byng either. It's Marchand's role to agitate and throw stars off of their games. If there was an anti-Lady Byng award, Marchand would have a mantle's worth of these trophies.
And let's face it – if Sean Avery, while as a Ranger, did this to a rival – we'd all be hooting and hollering in support of him. After all, weren't we all laughing hysterical when Avery called Marty Brodeur "Uncle Daddy?" Simply put – agitators agitate. It's part of why they get paid and play.
I thought Panarin broke the unwritten code here, by not only airing out publicly what Marchand said, but by complaining about it too.
And I know some people want to go down the -ism and -ist route (I also saw the word "xenophobic" all over the place), but I don't think that's what Marchand's intent was here. He was just trying to rile Panarin up. Marchand succeeded.
After all, it's not like Marchand was calling Panarin a "pinko commie", was laughing about Panarin's grandparents or something as severe as that. He just said, "no one in Russia likes you." I think we've all been called worse by people in our lives. Heck, you'll hear worse on an elementary school playground.
Artemi Panarin may wind up becoming the best free agent signing in all of New York Rangers history – if he isn't already. Nothing I'm saying here is an indictment of him as a player. However, I do think Panarin's complaint to the media is an ill-advised move, because he is now letting everyone in the league know how to rattle him.
Put it this way, and I know this is an extreme example, yet a possible one.
If the season ended today, the Rangers would draw the Washington Capitals in the first round. Do you think Tom Wilson would be opposed to saying "PUTIN OWNS YOU" or something like that to Panarin? In every playoff contest, every team looks for any edge available. If Wilson can throw Panarin off, by just using his words, rather than his fists – wouldn't that be a grand old day at the office for T.W.?
If I was Panarin, rather than throwing a $5,000 glove, I would've saved that money and invited Ryan Reaves and his family to a fancy and expensive dinner. Once picking up the check, I'd then ask Mr. Reaves a favor and explain to him what happened.
I guess this is my way of saying "do your talking on the ice." Let Reaves handle Marchand (or anyone else) on the next go-around (when applicable – and it doesn't have to be a fight either, it could just be a thunderous targeted, yet legal, hit), rather than exposing your weakness to the entire league.
Again, maybe it's me, because I'm "old school"; but I do believe in the players policing themselves, rather than crying to the media. Of course, the league has changed a lot, where incidents we see today, which would've been handled on the ice during a bygone era, now play out in the court of public opinion.
At the end of the day, I think Panarin needs to toughen up during trash-talking spats. It's part of the game.
And to put a bow on this topic, as the old adage goes, "revenge is a dish best served cold." A 5-2 final is a good start.
---
PLUGS time and then time to go home.
The first plug of tonight's blog – the mandatory plug for my new book, "The New York Rangers Rink of Honor and the Rafters of Madison Square Garden". And let me say this – thank you to everyone who has bought one, as my Amazon sales have exceeded all expectations, where for a limited time (that damn Mark Messier who just released a book!), my book was number one on the Amazon hockey book sales charts.
As mentioned previously, the book is now available in hardcover, in paperback and in Kindle formats. To purchase a copy of the book, visit this link:
https://www.amazon.com/Rangers-Rafters-Madison-Square-Garden-ebook/dp/B09CM5N2WD
For those still looking for signed paperback versions of the book, I have 3 copies left for sale for $25 (includes shipping price) through me directly. Here is all the information on that:
---
Here are my last few blogs, in case you missed them: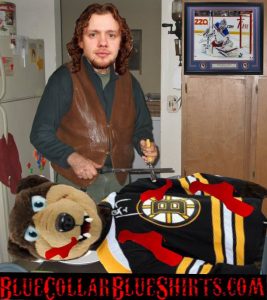 ---
---
---
If you haven't already, subscribe to this blog for the next update:
---
Up next: The Flyers, on Wednesday night, live at M$G.
In the meantime, and with four days off, I'll try to get that IBS Arena review up that I was talking about last blog. And since the Rangers should've been at the quarter-pole mark of the season already (the Senator and Islander postponements prevented that), maybe I'll check in with a progress report, evaluating the entire roster.
And just as I was putting this blog to bed, Elliotte Friedman is reporting that Scott Mellanby has resigned from his post as the assistant general manager of the woeful Montreal Canadiens. As a result, the Habs have asked the Rangers permission to interview former general manager Jeff Gorton – a request that was granted. We'll see where that goes.
On an aside – who do you think leaked this story? Someone from the Gorton camp or someone from the Montreal organization? Hmmmm.
Stay FABULOUS my friends.
As always here, thanks for reading and…
LET'S GO RANGERS!
Sean McCaffrey
BULLSMC@aol.com
@NYCTHEMIC on Tweeter