Greetings and salutations everyone and welcome to another blog here on BlueCollarBlueShirts.com. When I last left you, the Rangers had just finished thumping the Islanders. As we get ready for Thursday night's game with the Islanders, a lot has went down, hence me chiming in some thoughts today.
The biggest story around the league today, was the Vegas Golden Knights firing their head coach, in Gerard Gallant. With the firing, he's the seventh head coach fired this season. I'll get into Gallant, Vegas and all my thoughts on that situation at the end of this blog, once I do all the Rangers stuff first.
I do bring up Gallant here for one reason – I've discussed in-depth already, on past blogs, how many fans want the Rangers to fire head coach David Quinn. It's always been my contention that firing Quinn would be a silly decision. We've already heard Rangers Team President John Davidson give Quinn a seal of approval, even as recent as two weeks ago.
As I've mentioned plenty of times already (check the archives of this blog) David Quinn is coaching during a rebuild. He has the youngest roster in the NHL. Furthermore, he's been saddled with contracts of players he doesn't want, yet Quinn is forced to play these guys. After all, do you think David Quinn wants to kowtow to Lundqvist? Even now, with Lundqvist never being a healthy scratch, do you think that's a decision Quinn made 100% alone? Of course not! JD & Jeff Gorton are involved in that decision too.
If David Quinn had a roster that Jon Cooper has in Tampa, it's a different story. However, Quinn does not have that roster. Quinn is here for this situation.  I don't think you can fairly judge DQ until the Rangers finish the 2020-2021 season, when the team is fully his, he has the players he wants and this young team gets more experience.
If there is one thing that concerns me about Quinn and the Rangers, it's what I said a few blogs ago, when I did my Mid-Season Report Card. Last season, the first season under Quinn, the Rangers had a 9-1-1 winning streak and at the mid-point of last season, those Rangers were only one point worse than the current Rangers of today. In comparison, the Rangers have only won three games in row, JUST ONCE, this season.
And as I've said plenty of times – in games where Artemi Panarin doesn't pick up a point in, the Rangers are 1-21. In other words, if the Rangers didn't have Panarin this season, they could've conceivably been worse than even Detroit!
Of course, this doesn't all fall on Quinn. Going into this year, the Rangers were hoping to get production out of Lias Andersson and Vitali Kravtsov. We know how that's gone. The Rangers have also continued their mantra of "we rather lose with Lundqvist, than try to win without him", as Lundqvist has been the weakest goalie of all three Ranger goalies, yet Lundqvist has the most ice time this season, of the three netminders.
While it is still my opinion that firing Quinn would be a bad move, I always try to look at things from both sides. As my buddy Al "SMD" Demauro always likes to say – "if the Rangers fired Quinn tomorrow, would there be one team in the league looking to scoop him up?" I don't think so.
I bring up Quinn one more time here, because I look at the head coach firings around the league. I understand that Nashville has underwhelmed this season. However, I predicted they would this year. After all, their division got better, Rinne is declining and they missed their window. In addition, not one team that has lost a Stanley Cup Final has returned back to the SCF, in the salary cap era.
When Nashville fired Laviolette, it came off as a desperation move to me. No one can argue with Laviolette's track record, as he has one Stanley Cup win (CAR) and two more Stanley Cup Final appearances, with two other teams. (PHI/NSH.) When I saw Nashville hire Hynes, I was left confused.
Oh, and let's not even get into Hynes' former team, in the Devils, who allowed now former GM Ray Shero, to not only fire Hynes, but to trade Taylor Hall too! Why wouldn't you fire Shero first, and let a new GM assess everything, before allowing Shero to make these types of moves?
After Nashville fired Laviolette, I was inundated with social media postings from Ranger fans, who revved up the "FIRE QUINN" talk. They all wanted Laviolette. Now, a week later, after Vegas fired Gerard Gallant on Wednesday morning, I'm hearing all the "FIRE QUINN" talk again. This time, these fans want Gallant. What happened to Laviolette, the darling of last week? The never-ending instant gratification/immediate over-reaction to everything, never cases to amaze me.
I was sent an interesting fact from my good buddy SPIGGY today. Did you know, after Gallant's firing on Wednesday, that David Quinn has now been at his job longer than 16 of the 31 current NHL head coaches? That's insane to me!
Since I like to present everything from all sides, I'll say this, and this is the reason I start the blog off with this today – no job is safe. If Vegas can fire Gallant, all bets are off. While I don't see Quinn being fired; for the people who want Quinn fired, all this stuff gives them credibility and a reason.
If you're one of these "FIRE QUINN" people, you got every right to have that opinion. I have thought for some time, that firing Quinn is a dumb and stupid idea. I still do. However, I can't argue with the people who want him fired. Just like I say about my opinions about Lundqvist during these past five years, we all have the same goal – we just have different ways on how to attain it.
For the "FIRE QUINN" camp, the precedent around the league has been set. Anyone is fireable, no matter what! And after all, who am I to band-wagon for Quinn? Of course I rather see Laviolette or Gallant here. I just think firing Quinn right now erases some progress made. I also think a Quinn firing would temporarily derail this rebuild. A new coach would want to employ all his systems and that will take time.
And really, it all comes down to this – is David Quinn doing a bad job? Some will say yes. I say no. Are there better options out there? Yes. However, Quinn fits in with this organization and front office. They like him.  You can see he wants to win and it's not like he has an envious hand with this roster either, which is something that gets lost when people do their "FIRE QUINN" diatribes.
We are seeing NHL teams getting shorter ropes with their coaches this season. Too bad the same idea doesn't apply to 38 year old goalies making $8.5M!
At this time, before getting into all the Ranger news, here are my last few blogs, in case you missed them:
---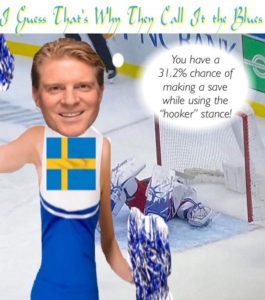 ---
---
---
---
---
On Tuesday morning, coming off the 6-2 win over the Islanders on Monday night, the Rangers announced the following:

To me, this move makes sense. After all, with essentially three home games left before the All-Star break (Thursday night's game is considered a road-game, but we all know the Nassau Coliseum will be full of Ranger fans) the Rangers can afford to send Hajek to Hartford. It's not like the Rangers are in California or in Western Canada, and have to worry about a defenseman getting hurt. If someone gets hurt or can't go between now and the All-Star break, the Rangers can easily recall Hajek back and not have to worry about travel.
As mentioned in the St. Louis Blues vs NYR game blog, I didn't think Hajek played well in his return game. In addition, I thought he hampered Tony DeAngelo some too. Obviously, TDA's best work comes when playing with Marc Staal, as Staal's defensive defenseman game complements the offensive wizardry that DeAngelo has shown us this season. While I'm not calling Staal & DeAngelo this season's version of Beukeboom & Leetch, I don't think that comparison is off either. Just like Beukeboom once did for Leetch, Staal allows DeAngelo to get more involved in the offense. That's what I'm going for here.
I'm not writing off Libor Hajek here either, so don't get what I'm saying twisted. I just don't think he's really been that good this season. Of course, he's young, developing and all of that. However, in the same position, I think Ryan Lindgren has been much better. I'll even go on to say that I think that you need a player like Lindgren on your roster, to make a Stanley Cup run. He's just a big and physical defenseman, who has no problem receiving or delivering contact. You need bruisers like that to make a Cup run. All recent Cup winners have a guy like that.
Hartford might be a good place for Hajek to get better. And no pressure – Hajek will have to be a better player, come preseason of the 2020-2021 season, where he will have Yegor Rykov and K'Andre Miller looking for his spot with the club. If Hajek doesn't improve, he will fall on the depth chart and perhaps be left out of the mix completely.
And I'll say this – the Rangers will give more chances to K'Andre Miller, a draft pick of theirs, than they will with the other young left-handed defensemen that are signed with this franchise. The Rangers always favor the guys they draft, over the prospects they get through trades or the unsigned players that they sign.
For Hajek, hopefully he finds his groove in Hartford. That said, at the current moment, the Rangers won't miss him.
NEXT.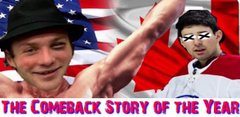 In a quick news note, Brendan Lemeiux is back and practicing with the team. It's being reported that he won't play tomorrow against the Islanders, but he will be back sooner than later. I don't know exactly when he will be back, but maybe the Rangers wait until after the all-star break. We'll see.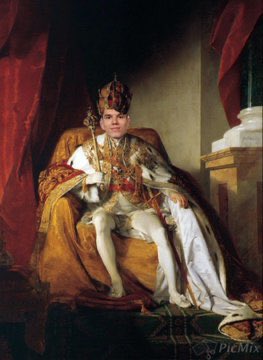 In the latest update, from the never-ending saga of the three-headed dragon goalie tales, David Quinn announced on Wednesday afternoon that Alexandar Georgiev will get the nod against the Islanders again. Here's how the Rangers covered it: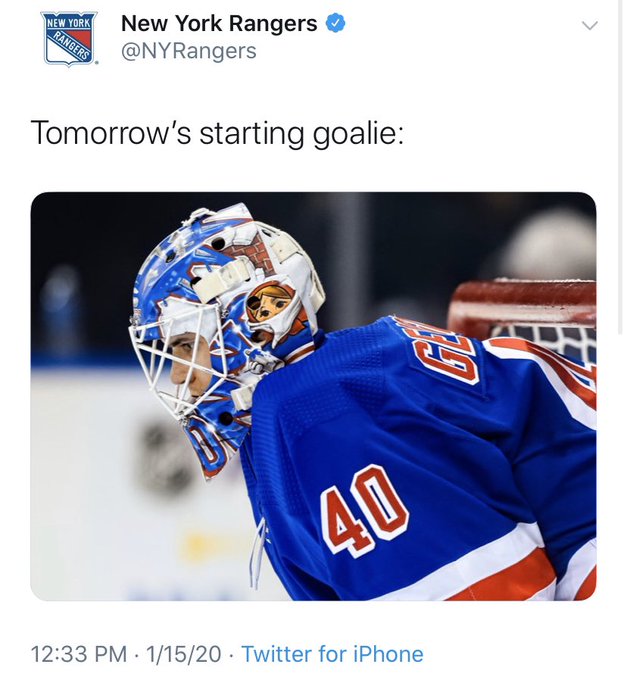 Of course, as previously mentioned on this site, anything goalie related will be blown up and magnified, because of the current situation right now. Who starts, who sat, how the goalie who played did, what happened after the game, blah blah blah; it will all be raked over by a fine tooth comb.
By starting Georgiev, it tells me that Quinn wants to win. He wants the playoffs. And really, as I've said on social media, that should be the goal. I don't care about draft picks. The Rangers have enough of that. Furthermore, while I'm not saying the Rangers are a Cup contender, with the way Artemi Panarin is playing this season, don't you want to see what he could do in the playoffs? As we've seen so many times in the past – ANYTHING CAN HAPPEN IN THE POSTSEASON. Just talk to the Tampa Bay Lightning.
I just feel, with the way Panarin has played this season, that it would just be a true shame if he couldn't keep his season going in April. He's on fire, and who knows, maybe he could steal a series for the Rangers, if not more than one series. Sure, that's the thinking of an optimist here, but I will never be one of these "TANK FOR PICKS" people.
Quinn, after the win on Monday, said it was "tempting" to go with Georgiev at the Coliseum. Quinn is giving into his temptations, and I don't blame him. What's the argument against Georgiev going in this game? The only real argument is that you're keeping CZAR IGOR in street clothes for too long. There is no reason, dictated by his play, that Georgiev should not be going in this game. Georgiev has the numbers and great history against the Islanders and Georgiev has played extremely well in his last two starts.
To me, the issue isn't about Georgiev starting. He earned it and of the three goalies on this roster, he's the best call for this game. The issue is that CZAR IGOR will be in the press box again, which makes zero sense to me. I talked about Lundswiss and how he's holding this team from moving on in my last blog. Until JD has that "come to Jesus" talk with Lundqvist, the Rangers will remain in this scenario.
Bottom line here – you don't pay $8.5M for a back-up goalie. And if the Rangers can't get Lundqvist to waive, let him sit in the press box. Igor needs to be at ice level and at least get his pads on. I'm assuming win or lose on Thursday night, Igor gets the start on Sunday against Columbus. If he gets that start or not, in Igor's next start, it will be his first start with over 9+ days off between starts this season. That's not a recipe for success.
For Georgiev, this is another big game, which will be over-analyzed, no matter how he does. You already have idiots calling this a "trade audition" game. If anything, it's another game for Georgiev to prove his worth to the Rangers, who now may not be so quick to trade him.
I've talked about the Georgiev trade rumors before. The latest update, coming out of Canada (where real news is broken, unlike the news that is regurgitated by the local NY scribes, from the Rangers themselves) is that the Rangers know what they have with Georgiev. The Rangers are also aware, that unless they get something that blows them away back in return, it makes no sense to give up Georgiev for one more year of Lundqvist.
What I'll never get, is how all these fans want Georgiev out of here, for questionable prospects or picks. You have a good goalie now, who could be part of a tandem with CZAR IGOR. Both of these goalies are cheap. The fascination of holding onto Lundqvist is something I'll never get, because it's not good for the franchise. I guess some fans don't want to see the Rangers win a Cup!
And I know I keep saying "as I've said in the past" a lot today, but I don't want to keep rehashing things I've already talked about in-depth. After all, these blogs go on long enough! However, I'll say this one more time – no Ranger has had more pressure on him this season than Alexandar Georgiev. He is in a pressure-cooker every game. He's wrestled the number 1 spot away from Lundqvist. He also has to worry about Igor Shestyorkin running out of him town. The funny thing? Georgiev is younger than Shestyorkin and as of this writing, more proven at the NHL level. Georgiev is doing and saying everything right this season, but with each passing day, he has to read about himself being traded.
Another player, whose name is all over the trade block news, is this guy:
I know I've talked so much about Kreider this season. When the Rangers didn't negotiate a new deal with him this off-season, I thought he was as good as gone. If you look at Jeff Gorton's track record, you would have to think that the Rangers will be out of the Kreider business soon. After all, Gorton didn't renegotiate with Zuccarello, Hayes or McDonagh, and in turn, all three of those players were trade deadline deals. That's why I believe Kreider's fate will be the same.
That said, today, it's being reported by Darren Dreger of Sportsnet, that the Rangers are talking to Kreider right now. It's also being reported that the Rangers would eat 50% of Kreider's deal in a rental trade. The biggest mystery wrapped inside of an enigma, which is wrapped inside of a riddle, in Chris Kreider, remains – at least for now.
I got some feedback from some of you, asking me what's my take on Kreider. In the past, I said you had to trade him. I still feel like that a bit. I will say, that if the Rangers don't have a deal with him by the trade deadline, he will be traded. There's just no way the Rangers will have an Islanders/Tavares situation with Kreider. Gorton isn't stupid. Even if the playoffs are the goal, the Rangers aren't going to let Kreider walk away for free. There will either be a deal in place or he's gone.
I remain conflicted on Kreider, because I see both sides of the argument, on why the Rangers should keep him and why the Rangers should deal him. He will turn 29 soon. How many years do you want to invest into Kreider? Don't you think we've seen him at his peak? Is he really ever going to get any better than he is right now? That said, when I see all these idiots who want Georgiev out of here, their common talking point is – "the Rangers need forward depth." Of course, these people are just repeating what Sportsnet reporter Elliotte Friedman said.
If the Rangers are hanging around for a playoff run, come deadline time, what would it say for the team if they dumped Kreider for picks, prospects or a combination of the two? By all accounts, Kreider is very well liked in the Rangers locker room. Moving on from Kreider, when the team still has a chance to compete, well to me, that would be bad optics and the front office telling the locker room that they don't believe in the team. Obviously, it would be easier to deal Kreider if the team is dead and buried from a playoff run.
As mentioned above, people think a Georgiev trade could bring back a good forward. However, isn't Kreider, despite his well-known shortcomings, a good forward? We all know that the only reason Georgiev's name is even in trade talks, is because Henrik Lundqvist holds all the cards with his disgusting contract and the Rangers seem much obliged to take it up the poop chute with him.
And real quick on Georgiev here – how many teams around the league trade young, potential starting goalies? That's right. No team does this. In fact, EVERY OTHER TEAM locks these players up and moves on from their old & expensive goalie. Tampa did it. Winnipeg did it. Pittsburgh did it. St. Louis did it.
Now, look at the teams that stayed with their old goalies. Nashville, who has under-performed and fired their coach. Montreal, who is near the bottom of the standings and now their smart fans want Carey Price gone. And of course, the NY Rangers, who haven't won a Cup with his royal highness.
Chris Kreider is in the Chris Kreider business. He doesn't owe the Rangers anything. If Henrik Lundqvist wouldn't take less money to win, why should any other player do so?
When I look at Kreider, he's been around. He will be an unrestricted free agent this summer and stands to get the biggest contract of his life, a contract that will set him up for the remainder of his life.
I think the tale of Kevin Shattenkirk should be a reminder to any big name free agent, especially a free agent looking to give a team a "hometown discount." When Shattenkirk signed with the Rangers, he gave up 3-4 extra guaranteed years that he could've got elsewhere. In turn, he gave up anywhere from $20M -$25M in guaranteed money. Instead of making nearly $7M a year, for the next seven years like his buddy Ryan McDonagh is making in Tampa, Shattenkirk is on a cheap one year deal with Tampa. And while yes, Shattenkirk gets his money from the Rangers, that money runs out next season. For McDonagh, he's more comfortable and secure.
Oh, and let's not forget this too. Since the NHL has foolishly ignored a weighted salary cap system, meaning that states like NY should get a higher salary cap number, to offset the high tax rate, as opposed to the no state tax teams across the league, such as Tampa; that Shattenkirk gave up even more money in the bank, by signing with the high-taxed NY Rangers.
Knowing all of this, and you know Kreider's agent knows all of this, why would Kreider sign with the Rangers "on the cheap"?  In a perfect world, you would sign Kreider for four years, and at $5.5M-$6M per year. However, why should Kreider give up three guaranteed years and a higher salary? He will never get another chance to make this money again.
This is where it gets tricky. I know it's easy to compare Lundqvist here, but you have to take him out of the equation. Kreider is an everyday player. We've already seen you can win a Cup with a cheap rookie goalie. You can't win a Cup with cheap forwards. Every Cup contender has an elite forward, whom are surrounded with decent players around him. For the elite Artemi Panarin, Kreider on this roster, in theory, helps the Rangers cause.
I don't envy Jeff Gorton here at all. If you deal Kreider now, you're saying you don't think this team has a shot this year. Furthermore, you will have to find someone to replace Kreider's production. Maybe Kravtsov will be that guy one day. However, no one knows.
While we are all aware of Kreider being a ghost at times, at the end of the season, he does always wind up with near 30 goals a season. When Kreider is really on, he can dominate games. It's just a matter of him "being on" more times than not.
While the baseball and hockey worlds are completely different and while the Yankees and Rangers couldn't be more polar opposites, especially when it comes to winning and respecting their past, I look at the Rangers as if they were the Yankees after the 2008 season.
Heading into the 2009 season, the Yankees spent a zillion dollars and landed every big name player they could get, like Mark Teixeira, CC Sabathia and AJ Burnett. The Yankees knew they overpaid for these guys. The Yankees also knew that these deals may hurt them later on, but they were trying to win in the now. In turn, the Yankees won the World Series in 2009.
When I look at the Rangers, when do they become a Cup contender? Two years? Three years? Longer than that? If you want to be a perennial playoff team again, Kreider on the roster doesn't hurt. Is it worth the Rangers overpaying Kreider now, for one real good crack at the Cup, rather than trying to find someone to replace him?
Let's face it. If the Rangers deal Kreider and if Kreider goes on the open market, he will be offered $7 year/$49M overall packages. Kreider does have value in this league. If the Rangers want forward depth, why let Kreider go? If you really think you can make a case for the Cup soon, is it worth gambling by giving Kreider a big deal? Again, take the Lundqvist stuff out of this, because the positions are completely different, especially when it comes to being a Cup contender.
As time goes on, because of the way these guys train and have all the best amenities and doctors around them, these forwards around the league are playing at a high level, way into their 30's. Is Kreider going to dip off that much as time goes on?
I know I sound all over the place here, but this is why I'm so conflicted on Kreider. I see every reason for keeping him. I see every reason for moving on from him. Unlike others, I can tell you that "I don't know". I can't pretend to have all the answers like others.
I'll also say this – whatever the Rangers do with Kreider, I won't second guess it. While I have strong opinions about other things on this team, opinions that I feel I'm correct about (I've been saying for 5+ years this team would never win a Cup with Lundqvist here) when it comes to Kreider –  I don't have a strong opinion on what I think is best. All I know is that you can't let him walk for free.
Another hot topic, while not discussed publicly or to the media by the Rangers themselves, is what's up with Kaapo Kakko?
In 41 games played this season, "The Finnish Phenom" only has 7 goals and 9 assists.  Those aren't great numbers for a player selected second overall in a much hyped NHL draft. However, that's not the issue to me. The issue to me is that as the season has gone along, I don't see much progression out of Kakko. I don't see how he is better NOW, as the Rangers near the 50 game mark of the season, than how Kakko was at the beginning of the season. Surely, you would expect more production and better play out of Kakko, here in mid-January, than you would in the first few weeks of October.
In these last few weeks, Kakko has become forgotten about a bit. He's gone long stretches of games without a point, much less than a goal. He's turned over the puck a lot, which sometimes is a result of his puck hogging. Then, in a new development, he has developed a case of the "Buchnevich's" as Kakko refuses to shoot during excellent chances. Just in the last Rangers game, the game with the Islanders, Kakko, while on three different odd-man rushes, refused to shoot the puck. That's a new and terrible development.
I'm not a prospects guy. I can't lie to you and tell you I watch any of these games in Bumble-eff, Europe. I know my history of the Rangers, but I can't tell you the future. I just don't have the time to watch these games and furthermore, watching pimply faced teenagers play hockey, at a minor league level; well that doesn't interest me. For others, like a Pierre McGuire, they love it. For me, it's just not in my wheelhouse.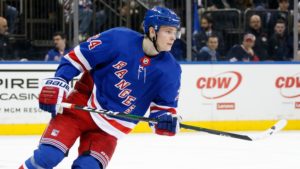 During this season, I haven't said much about Kakko. There hasn't been much to talk about. I'm not going to criticize him every game, because I understand the situation. He's new to the country, the language, his environment, the league and has to monitor his body every day, because of his Celiac disease. I understand that he isn't going to be an All-Star this season. That said, I do think people hyped Kakko up so much, that people had Jack Eichel or Elias Petterson expectation levels for him. I think that's where a sense of disappointment comes in. I'm not saying Kakko has to be a world beater, but I thought he would be better than he is, at the present day.
Recently, and I touched upon this in my last blog, there has been talk about maybe sending Kakko to Hartford. If it was any other player, I think that would've happened by now. However, these are the reasons why I don't see that happening:
— Lias Andersson & Vitali Kravtsov situations. We all know what happened with these two. If the Rangers sent Kakko down, it looks like another draft pick and development issue. If Kakko started this season in Hartford, it wouldn't be as bad. However, with the issues around the other first round draft picks of late, the Rangers don't need another draft pick, the crown jewel draft pick, looking like he's being demoted.
— Kakko lives with a billet family right now. If Kakko is moved to Hartford, a whole new living arrangement would have to be figured out.
— Brendan Smith currently drives Kakko everywhere. If Kakko goes to Hartford, what veteran is going to take Kakko under their wing and provide chauffeur services? Most of these guys in Hartford are focused on themselves and trying to take Kakko's roster spot as it is.
— A hit to Kakko's pride. We've seen many young players, not just on the Rangers, cry and throw a pity party when demoted to the AHL. Could Kakko deal with a demotion like this?
— Kakko's Celiac disease. The Rangers would need to assign a nutritionalist/handler for Kakko's dietary needs. It's an expense they wouldn't mind paying, but it's something to think about.
— If Kakko goes down, who gets his playing time? Is it better to just let Kakko go through the tough times now, at the NHL level, rather than skating against inferior competition?
— What if Kakko fails at the AHL level? That would be a nightmare.
— Who will "develop" Kakko? Is it better for Kakko to be around Quinn? (Assuming you're not in the FIRE QUINN camp.)
I think these above concerns are valid, when thinking about Kakko going to Hartford. While it would make sense for any other player, because of Kakko's status, I just don't see it happening. I will say, it just seems like a long way to go with him right now. If there is anything I want to see out of him, I just want to see him shoot the puck, rather over-skating or deking/making a pass to nowhere.
Few more things.
---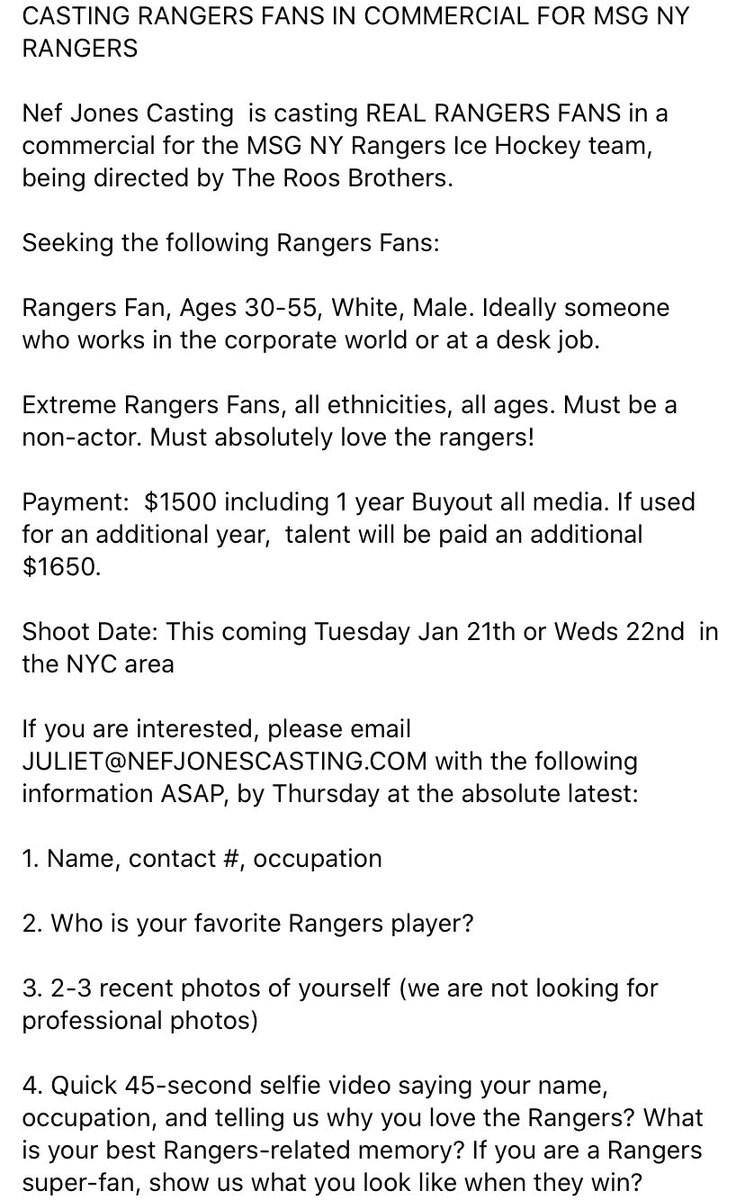 If you're interested, the above press release that was sent to me, is your chance at appearing in one of those goofy commercials that air on the M$G Networks. Please, if you married a Devils fan, please don't apply. I can't stand that commercial!
Time to go to the big news and then wrap this puppy up with a NYR/NYI preview.
The big news of today, as talked about at the top of this blog, was that Vegas Golden Knights General Manager, Kelly McCrimmon, fired Vegas head coach Gerard Gallant. Like everyone else, I'm shocked and confused.
What more could Gallant do? He took an expansion team to the Stanley Cup Final in year one. Right after that, he won the Jack Adams award for Coach of the Year. In year two, Vegas lost a seven game series after a bad call, a call so bad, that the NHL changed the rulebook about major penalties, for this season. Oh, AND I'M TALKING ABOUT AN EXPANSION TEAM THAT MADE THE PLAYOFFS IN THEIR FIRST TWO YEARS! UNHEARD OF!
For some reason, after a four game losing streak, you know, a streak that happens to every team in the league, McCrimmon saw enough. Obviously, McCrimmon was waiting for an opportunity to fire Gallant, as he had ex-Sharks head coach, Pete Deboer, ready to go.
I watch a lot of Vegas games. I talked about my trip to Vegas from two seasons ago, a blog which you can read here:
https://bluecollarblueshirts.com/lvtrip/
While I was rooting for Vegas prior to my trip, as I rallied around the #VegasStrong message, after going to Vegas and seeing it live, I loved everything I saw, from the team to the fan base, especially the fan base. From that point on, when I can, I try to watch every VGK game. There was nothing to warrant Gallant's firing.
If you haven't already, you can read the full story on this questionable move here:
https://ca.sports.yahoo.com/news/golden-knights-fire-head-coach-gerard-gallant-155932669.html
Of course, this story is being covered by a million different news outlets right now. I just picked this link randomly.
For Gallant, this is now his second confusing firing in a row, after being canned by the Panthers and being sent off on his merry way via a taxi cab.
To me, this firing reeks of a GM wanting his own people, as I doubt George McPhee, the ex-GM now Team President, would've fired Gallant.
It should also be noted right now – VEGAS IS THREE POINTS AWAY FROM FIRST PLACE, IN A SUPER COMPETITIVE PACIFIC DIVISION!
Making this news sting even more, at least for Gallant, is Gallant is being replaced by DeBoer, a coach who Gallant called a "clown", just a year ago.
There's nothing more I can really add here that Vegas fans aren't thinking already. Prior to writing this blog, I checked a bunch of different fan reaction – not one fan liked this move.
Gallant, like Laviolette, won't stay unemployed long, if Gallant does seek immediate work, but man, is this coaching game ruthless. As time goes on, it seems easier for GM's to blame coaches rather than the players on the ice. It's like McCrimmon forgot that MAF's father recently passed and he's still reeling from that.
And as I said at the top of this blog, if you're in the "FIRE QUINN" camp, this news now becomes one of your talking points. Of all the head coach firings this season, this one makes the least sense to me. Wow.
Let's head home.
I've talked a lot about the playoffs this season and said I thought that the dream was dead after losing to Vancouver. However, as I write these words, the Rangers are six points away from the second wild card. And all of a sudden, the Rangers somewhat control their destiny.
If the Rangers can sweep their way to the All-Star break, that would be two wins over the third place Islanders and a win over Columbus, a team that the Rangers are looking to leap-frog. Then, after the All-Star Game, the Rangers have a home and home with the worst team in the league, in the Detroit Red Wings. In other words, if the Rangers can win their next 5 games, they have a shot at this. Plus, one of the teams that the Rangers are chasing right now are the Philadelphia Flyers, who just lost their star goalie in Carter Hart for 2-3 weeks, due to injury.
Of course, this is all for hoping for the best. After all, the Rangers only have one three game win streak this season. Furthermore, you know the Rangers will force Lundqvist into one of those games and that will be a loss.
The Islanders crushed the Red Wings on Tuesday night, using the Wings as a way to vent out their frustration after being "Pulp Fiction'd" by the Rangers. Of course, there will be a lot of bad blood on Thursday night, as the Islanders try to extract some revenge, while the Rangers try to keep their playoff hopes alive.
As I write these words, the Islanders haven't announced their goaltender yet. I would assume Greiss, after the way Varly was lit up on Monday. We already know Georgiev is going for the Rangers.
Line-up wise, everything looks the same for the Rangers, and really, after the way they played on Monday, why shake it up?
As mentioned in my last blog, I've been ill and had a bad case of the Hershey squirts, which led to a monster of a case of a Japanese Flag Ass. I'm happy to report now that I'm feeling better. I will be in attendance tomorrow. That said, if you see me, please don't try to shake my hand, as I still got a wicked cough. A hello or fist-pound will suffice!
In my last news item of the blog, I've been told by SPIGGY, that the Rangers will not be practicing at the Nassau Coliseum tomorrow, as they have done in prior years. As long as we've ever known, the Rangers usually get a skate in at the craphole in the Town of Hempstead, and then go to the Marriot for a nap before the game. From what Spiggy found out, the Rangers are busing in from NYC.
I bring this all up, because outside of Marc Staal, Jesper Fast & Chris Kreider, none of these guys have played on Nassau Coliseum ice before. Plus, the arena is different than what it once was. While Ranger fans will give the Rangers a "home-crowd" feel at the game, playing condition-wise, well that edge definitely goes to the Islanders.
See you after the game.
Until next time, thanks for reading and as always…
"LET'S GO RANGERS!"
Sean McCaffrey
BULLSMC@aol.com
@NYCTHEMIC on twitter