Greetings and salutations everyone and welcome to another blog here on BlueCollarBlueShirts.com. What a glorious night in the KINGDOM OF GEORGIEV!
On Thursday night, the Rangers followed Monday night's 6-2 spanking of the Islanders, by defeating the Islanders 3-2, at the dump known as the Nassau Coliseum. I guess to be accurate, I think the building is now called "NYCB Live". Who knows? Who cares? They change names of that place as often as the Islanders change home venues.
While they can change the name of the arena and put some sort of cheap new aluminum siding over the joint, the place remains the same – the biggest shit-hole in Nassau County, with Hempstead High School a close second. However, when compared to the Islanders, you'll see better shots at Hempstead High School.
Off of puck drop here, I attended tonight's game, which for you new readers, means a different style of blog tonight. As mentioned, when I do these game recaps when watching the game from home, I live tweet my thoughts out, so I can refer to those tweets as notes, when doing these write-ups. When I'm at the game, while I'll tweet or write stuff on Facebook, I never check my notifications, texts, or messages.
I'm starting this blog real late now, after checking about 75667567567567858 twitter notifications and messages. I apologize to the people who wanted to meet up tonight, but I just can't be on my phone all game long. That said, I did run into several of you readers tonight and two of the situations were of good timing.
During my travels tonight at the Coliseum, I got to meet Nick from "The Garden of Ill Repute: The Skjeidy End of Rangerstown" Facebook group. Of course, the meeting was perfect – as he noticed me as we were about to take a piss. Then, after pissing, I met up with Dan P., who happened to be sitting in the same section as me. How did he notice me? The Tony DeAngelo jersey! What a great night to be wearing those threads!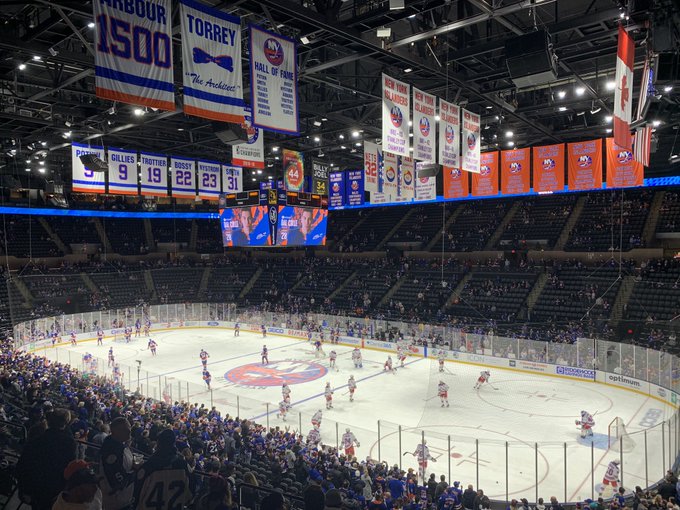 Last night, I did a blog recapping all the latest news and notes, coupled in with my opinions about some of the players and on-goings. You can find that blog, plus my most recent blogs, by checking out below:
---
---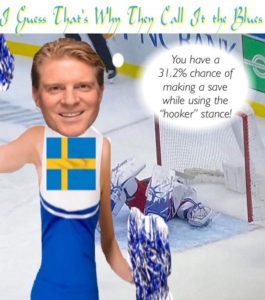 ---
---
---
---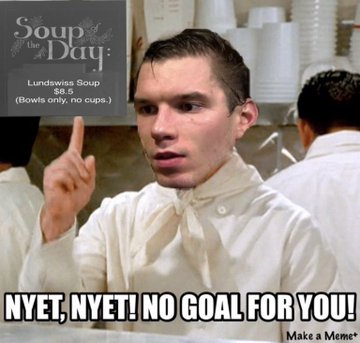 As mentioned, I attended tonight's game. I didn't see anything that was on the broadcast tonight, so I have no comments on what was said or shown. That said, I was forwarded some clips of Steve Valiquette tonight, and I'll get into that at the end of this blog. Tonight's blog will be more about my live experience, and of course, about the game itself.
Rangers news-wise, I covered everything in the blog linked above. There was nothing that happened from that blog and before this game.
As predicted, with everyone healthy, David Quinn used the same line-up as he used in the win over the Islanders on Monday. That meant that Phillip Di Giuseppe and CZAR IGOR Shestyorkin were your two healthy scratches. You already know my beef about Igor in street clothes- I don't see the purpose of having him in the press box. It serves this team no good will, to have Henrik Lundqvist dressed every game. I've already talked about all this stuff already though, and I'm sure you know my opinions on all of this by now!
Before running down my night in a chronological order, let's go to the GAMBLING segment of tonight's blog. Here's what I said before the game:
Season over-under record: 23-21-1

Like last time, this #nyr #isles game is tough to predict. I think there will be a huge focus on D & I think both goalies will be in the zone. I'm going UNDER here.

NYR is a good value bet, but none of these guys have played on this new ice. pic.twitter.com/PrOzLG7oNc

— BlueCollarBlueShirts (@NYCTheMiC) January 16, 2020
I was pretty much on the money tonight. With five total goals scored, and with an over-under of -6, my bet hits tonight! My record now improves to 24-21-1.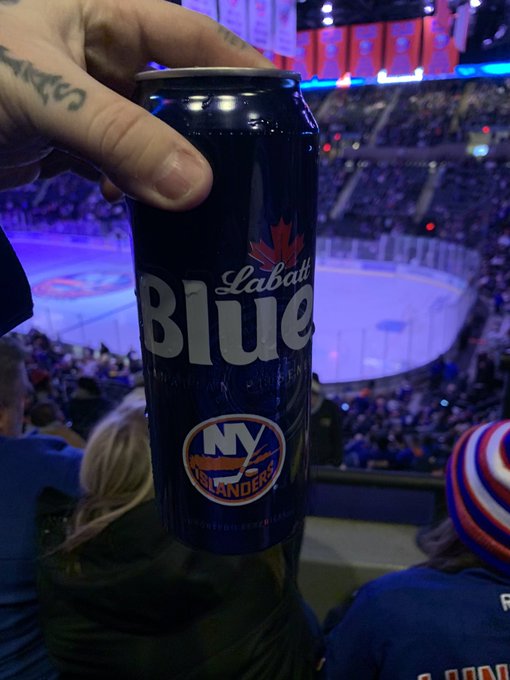 I attended tonight's game with TEN O'CLOCK TOMMY and his work buddy Marino. Marino also brought his freshman son along for the ride. I mention Marino and his son, because both of them are Islander fans. What was great about hanging out with them tonight, is that both were breaking balls. When the Islanders took a 1-0 lead, late into the first period, Marino was simulating the art of bukkake on Tommy and I. He's a gentleman. (Of course, when the Rangers tied it, we re-enacted the same hand gesture. We're classy too!)
Growing up, and throughout my high school and college days (I'm a UNC alum, as in University of Nassau Community) I attended easily over a hundred games at the Coliseum. I've mentioned some of these Nassau Coliseum stories in past blogs. If you scroll up above, and check the Colorado/NYR game review blog, I told my famous story about my friend SPIGGY, and how he stole Patrick Roy's stick out of the Nassau Coliseum.
I've always liked the Nassau Coliseum. I know what it is. I know it's the worst freaking arena in the league, but it's also a 15 minute drive from my house. In the 1990's (and I know older fans will even go back to when the place first opened in 1972 and throughout the 1980's) the Coliseum was always a cheap place to see a hockey game. I can remember going to games for $6 face value, before the era of secondary online markets. Of course, just like today, NYR vs NYI tickets were always more money, but you wouldn't get hammered too bad.
Fast forward to today, and "cheap seats" were going for over $150 tonight. It's a different world. Even sadder, the same seats going for $150+ tonight, will be 75% cheaper whenever the Islanders play at the Coliseum again.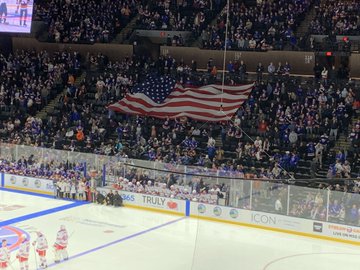 The Nassau Coliseum has gone through many renovations and changes over the years. With this being the first Rangers vs Islanders game at the Coliseum in five years, this was my first time back at the Coliseum for a hockey game in five years too. (I did attend other events at the Coliseum, post-renovation, as I've attended several boxing events.)
If you want a refresher or if you're new here, here's my blog from my last trip to the Coliseum for a hockey game:
https://bluecollarblueshirts.com/final-days-at-the-barn-saying-goodbye-to-the-nassau-coliseum-islespanthers-pics-the-islanders-vip-experience/
While the Coliseum has changed a lot, at least aesthetically, the place is still pretty much the same. It's a dump, but for Islander fans, it's their dump. To me, the renovation basically makes the arena look like a polished turd. It's still a heaping pile of shit, but it shines and smiles at you, like a poop emoji:
When it comes to the Coliseum, nothing beats Rangers vs Islanders. Things are different for those games, as opposed to the other games the Isles play there. Everything that I remembered from previous NYR vs NYI encounters remained the same – bathroom and beer lines that resemble Times Square during New Year's Eve, great sight lines, tight seats, one packed rotunda level and one of the best places to watch a hockey game. I don't care what anyone says, and if you want to question my Ranger fandom here, you're an idiot. However, truth be told, the Coliseum is a great place to see a game, because you're always on top of the action. There's life in that building. It's like going to a minor league baseball game; as you feel like you're in the game.
During tonight's game, I was sitting in section 239, which is pretty much a 300 section from the old days. I felt more on top of the game tonight, than sitting at the 100 level seats at M$G. I don't know if it's the way the building is designed or what, but I have always enjoyed the viewing experience at the Coliseum.
The last time I attended a Rangers vs Islanders game at the Coliseum, was five years ago with my dad. Since both of us enjoy a few "pops" and "belts", we had to deal with urination breaks during our Coliseum excursion. During this time, for the first time ever, the Islanders staged porto-potties outside, for fans to use.
If you're a regular reader of this blog, you know this. I've attended games in 20+ arenas. In all my time going to hockey games or sporting events in general, I've never seen a set-up, where when DURING A GAME, fans were encouraged to go outside to use the bathroom.
I'll also mention this too – while there aren't any smoking sections at M$G, there are smoking sections around the league, including at the Nassau Coliseum. The set-up around the league is all the same, except here. You go out one big door, you have your smoke and then you re-enter through another entrance. This allows a flow of just one-way traffic, so people don't have to do the "Three Stooges" walking through the same door comedy routine. Furthermore, security re-scans you as you re-enter, because after all, it only takes one nut to have his buddy pass him a gun, knife or whatever from outside. Makes sense, right?
At the Coliseum, where they now encourage fans to go outside to piss, there's only one door in and out. They also don't re-scan/make you go through a metal detector either. I was shocked about this, considering how nutty these games can get.
During this game, you didn't have the fights between fans that you had in days of long ago, where it seemed like a never-ending sea of yellow shirts playing referee, peacemaker and police. (Anyone else remember the Razor Ramon doppleganger Islanders security guard from the 1990's?)
That said, you did have some fights tonight. However, the real cops were here tonight and they broke up two or three altercations. However, you didn't have the full-fledged brawling that you had from years ago.
I want to be clear here – I like attending games at the Coliseum. It's close. The sight-lines are perfect. Tickets are cheap if the Isles aren't playing the Rangers.
However, this looks totally bush-league: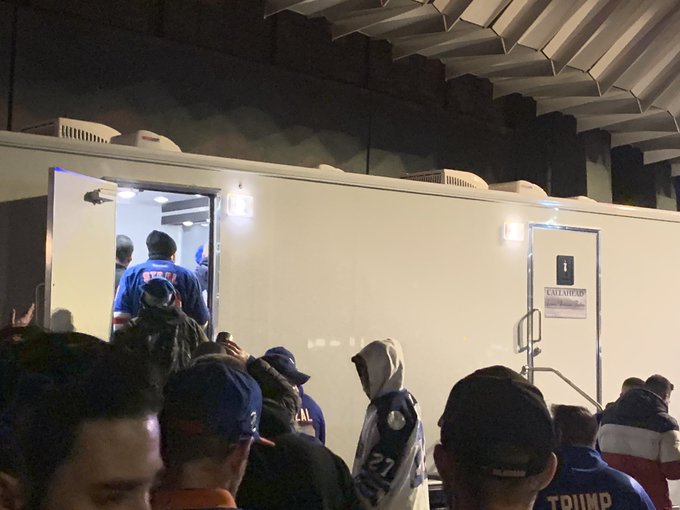 Want to know the crazy thing? That door to the far right was locked, meaning fans had to use the same door to go in and out, which just slowed up the line. I would also mention the Trump jersey too, but I'm heeding some advice you guys gave me – I'll leave politics out of this blog, unless it's a true news story, such as the DeAngelo stuff from prior blogs.
It's just hilarious to me, that for all the millions of dollars that were pumped into the renovation at the Coliseum, not one dollar was spent on plumbing or adding new bathrooms. Instead, the Islanders and the Coliseum have set up portojohns, as if their fans were on a construction site. I'm shocked the Islanders don't have a roach-coach parked outside here either.
And oh, pity the poor fool who eats anything at the Coliseum and needs to take a Grade-A Steamer. There's no way you're sitting down in here and pushing poo. I'll be honest here, if you read my last few blogs, I told you that I had the flu and had a major case of the Islanders. Before leaving my house, I made sure to handle my business, ate light and made sure that sitting down in the bathroom wouldn't be an option!
What other hockey blog gives you this kind of details and breakdown?
Going into tonight's game, it was my original plan to tailgate, just the old days. However, it was freezing out and at one point, snowing. While some fans were tailgating tonight; shivering while enjoying a beer wasn't for me. After all, I'm just coming off the flu and don't need pneumonia here. (Of course, despite being sick, I am a strong believer in "Grampa's Cough Medicine". Beer and whisky suppresses coughing and makes your body forget that you're sick. At least that's how it works for me!)
Back in the old days, and even as recent as five years ago, prior to games where I didn't tailgate at, I would have a few drinks at "Pitchers" or "Champions", which were names of the Marriot bar from years ago. I was disappointed when TEN O'CLOCK TOMMY and I entered the Marriot for a pregame pop. The bar is now called "The Crop and Kettle" and has ditched its previous sports themes. I don't know what they are going for now. It looked like a second-rate steakhouse, which is fitting, since the Islanders are a second-rate team.
If you know me, or can just tell from reading these blogs, I am a man who doesn't mind quenching his thirst in a watering hole. I've frequented many establishments, establishments serving hundreds and sometimes thousands of people at once. In all of my experiences as a consumer of hops & barley, "The Crop & Kettle" was perhaps the worst ran bar I've ever seen.
I guess because there hasn't been a NYR vs NYI game at the Coliseum in five years, the staff and bartenders didn't know how to handle a crowd. However, for Ranger fans like myself, who frequent bars in NYC before Ranger games, we are used to those bars being able to handle crowds. The buffoons at this bar couldn't even get a beer out in 20 minutes. SAD!
The highlight of my $8 beer, which took me 20 minutes to get? Seeing these jerseys: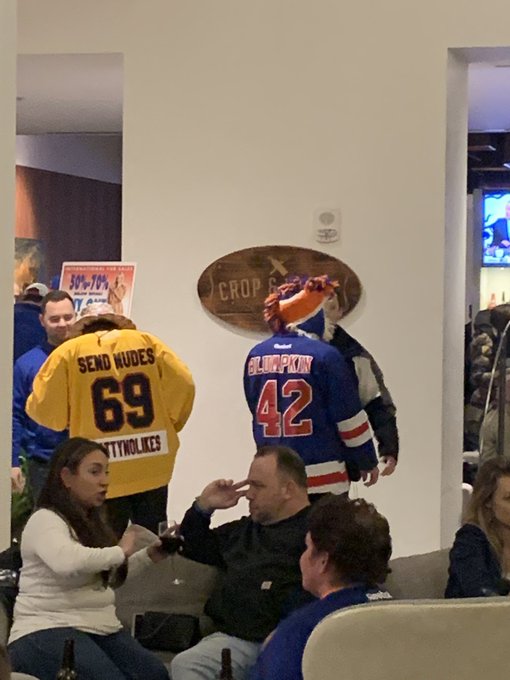 While Tommy was cracking up at the yellow jersey, I was laughing at the Ranger "BLUMPKIN" jersey. If you don't know what a blumpkin is, I'll let you do your own research. If you're too lazy to Google it, all I'll tell you is that it is a sexual act between two people, while one of these people are taking a shit. It's amazing how many times I can bring up fecal matter on this blog tonight. And I'm not even talking about Lundqvist yet!
After an expensive beer (beers at the Molly Wee in NYC are cheaper than the Marriot in cracked out Uniondale) Tommy and I met up with Marino & his son, and we entered the toilet of the National Hockey League. (I'll try to "can" it (get it?) with the poo talk for the rest of this blog.)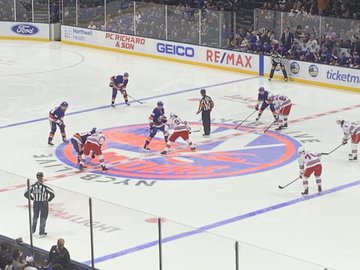 I said this in last night's blog, but I'll say it one more time here. My biggest worry going into this game, was that the Rangers have never played on this ice before. Knowing that the Rangers didn't practice on this ice before the game, as they opted to ditch their morning skate, I was nervous that the Rangers would come out flat. They wouldn't know how the ice played. They wouldn't know the quirks of the boards. The lighting could effect them. After the first period, I felt that my concerns were correct. However, after a bad first period, the Rangers woke up and played a tremendous hockey game.
I'll tell you this, I've been to many great games over the years and this one is right up there with many of them. If you're an Islander fan reading this, I loved the emotion and passion your fan base brought tonight. While I think you guys sing too much, like it's "Showtime at the Apollo" or a bad sorority night of drunken karaoke, that building was alive tonight. That's much more than I can say about Morgue $quare Garden these days.
3500 words in, without much news to talk about, and I still haven't got to the game yet. I hope this blog has been enjoyable so far. I think it is, and it was great to hear from some of you at the game saying pretty much that.
At this time, let's go to the official box score, courtesy of ESPN.com:
SCORING SUMMARY: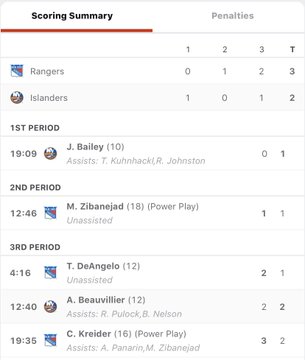 PENALTIES: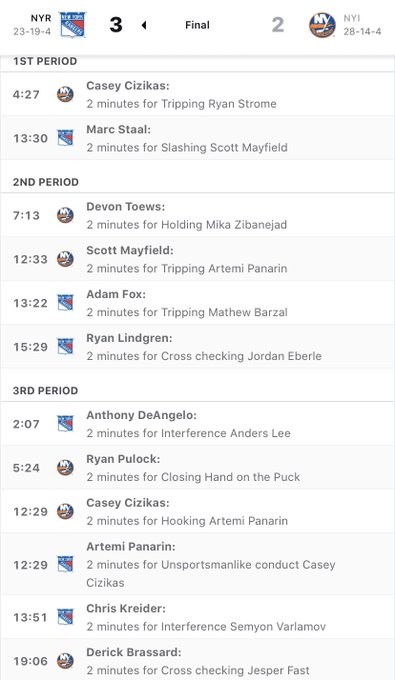 TEAM STATS: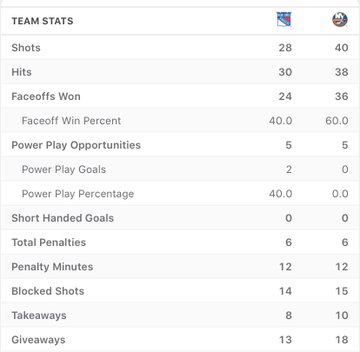 GOALTENDERS:
| | | | | | | | | | | |
| --- | --- | --- | --- | --- | --- | --- | --- | --- | --- | --- |
| SA | GA | SV | SV% | ESSV | PPSV | SHSV | SOSA | SOS | TOI | PIM |
| 28 | 3 | 25 | .893 | 19 | 1 | 5 | 0 | 0 | 59:49 | 0 |
| | | | | | | | | | | |
| --- | --- | --- | --- | --- | --- | --- | --- | --- | --- | --- |
| SA | GA | SV | SV% | ESSV | PPSV | SHSV | SOSA | SOS | TOI | PIM |
| 40 | 2 | 38 | .950 | 29 | 0 | 9 | 0 | 0 | 59:50 | 0 |
Two quick things, and I'll get into the game – I promise!
If you read last night's blog, or know me in general, I was hoping Georgiev would get this start tonight. Of course, you had these deluded MR's, that pollute Rangers social media, crying for Lundqvist to start this game.
Do you want to know why Lundswiss didn't start this game? Here are his numbers against the Islanders, since signing his disgusting contract, where he was the highest paid goalie in the NHL during the majority of these starts: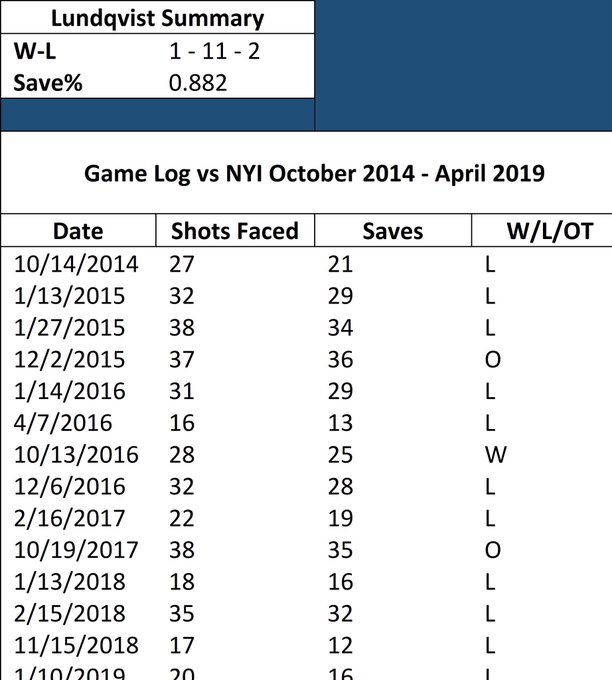 Lundqvist, since signing his crippling contract, has a 1-11-2 record against the Islanders. That means in fourteen games played against the Islanders, Lundqvist has only won ONE freaking game against them. In the same time, goalies like Cam Talbot & Antti Raanta beat the Islanders. After tonight, Georgiev is now 4-1 against the Islanders and with the stats of an ace starting pitcher against them.
So to all these morons, saying how David Quinn shouldn't have started Georgiev tonight, and should've started Lundqvist, that's what you are – a moron!
And Lundqvist wants to call himself a big game goalie? The overpaid and overrated King of the Hair Gel can't even handle his most fiercest rival. Get lost.
Funny enough, prior to Lundqvist's terrible contract, one of my most favorite NYR/NYI Coliseum memories has him in it. In a late game from the 2012-2013 season, Lundqvist and the Rangers beat the Islanders, 1-0, in overtime, after a goal from Dan Girardi. Ironically, Marino, who is now my buddy even though I rile him up during games like these, and who I met through Tommy, was at that same game. The reason I loved and remember that game so much? Both Evgeni Nabakov and Henrik Lundqvist were incredible. It was a pure goalie's duel.
I don't remember the exact stats from that game, but it felt like both goalies had 40+ saves each and it took Girardi's OT goal to win it. Ironically, this was probably the last time Lundqvist ever shut out the Islanders, or picked up a shut-out in general!
Tonight's game reminded me of that game from 2013. While we didn't have dueling shut-outs in this game, we saw balls-of-steel goaltending from both goalies tonight. Sure, five total goals sounds like a lot, but I thought both Alexandar Georgiev and Seymon Varlymov were absolutely on-point tonight. Don't let the 3-2 score fool you, this was as good of a goalie's duel as any.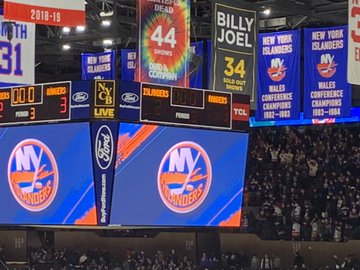 The first period of this game was the Alexandar Georgiev show, as he made 21 saves on 22 shots. In turn, the Rangers only had six shots on goal in the period. At this time, I would like to apologize to TEN O'CLOCK TOMMY, as I must've bruised his arm from hitting him so much after each Georgiev save. There have been great streaks of goaltending from this Rangers team this year, and this is right up there with any of them. And perhaps, because of the magnitude of this game, this being a road game and this being the Islanders, maybe this was the best period of goaltending all season. None of these saves were easy and the defense did Georgiev no favors at all.
The first period confirmed my fears, as the Rangers were out of sorts a bit. Whether it's playing in a new arena for them or what, I don't know. (Note: I haven't read any reports or watched any post-game clips. I don't know if this was even brought up. I'm just opining as usual here.)
The opening minutes of this period were pretty much all Islanders, but they wouldn't amass their 22 shots on goal during this. The tremendous amounts of shots came later on.
At the 4:27 mark of the period, Casey Cizikas, making his return on the fourth line for the Isles, was boxed for tripping. The Rangers would get a PP here, but didn't do much of it. Being a worrier, I immediately went to my old tune of, "this is going to be another game where failing on the PP is going to kill the Rangers." Thankfully, that's not how this game played out. However, special teams did effect this game, as the Islanders went 0-5 on their power-play in this game. One goal was all the difference in this one. The Rangers wound up with two PPG's tonight. That's how you win games.

After killing the Rangers power-play, the Islanders would get their first PP of the game, as Marc Staal was sent off for slashing. The Rangers would kill this, but it would be hairy.
Again, I don't have minute-by-minute notes tonight, but there are a few things in this period that would continue throughout the game. I thought Filip Chytil, while not recording a point tonight, to use a word out of Joe Micheletti's dictionary, was absolutely "FABULOUS" tonight. Chytil was all over the place. He was great defensively. He was getting to the net. He was making contact. He was killing icings. He wasn't afraid of the puck. I don't know if that came off on TV like that, but live, Chytil was an absolute beast. His effort may get lost because of the way Georgiev played and the two goals that Kreider & DeAngelo picked up.
Of course, the biggest constant in this game was Georgiev. I can't say enough about him. Watching this game live, I felt like my last two plus years of blogs and social media postings were finally being realized by everyone else. This kid is great. To trade this guy, for essentially the Toronto version of Boo Nieves, would be a huge Father Finkin' mistake. And like I said last night – WHAT TEAM IN THE LEAGUE TRADES A POTENTIAL YOUNG STARTING GOALIE, FOR A POTENTIAL FOURTH LINE WINGER? It doesn't happen folks.
And in another talking point that I've used a lot this season – no one has more pressure on them this year than Georgiev. In turn, he once again was near-perfect, if not perfect. I can't say enough good things about him. After watching him get the cold shoulder for a week there, I'm so happy for the guy. He "DESERVES" it.
One major play after the Rangers PK, was when Brett Howden shut down Mat Barzal, preventing a "GOOD LOOK" on net.
Most of this period was asshole puckering. Here's a picture I took with 4:23 remaining in the first: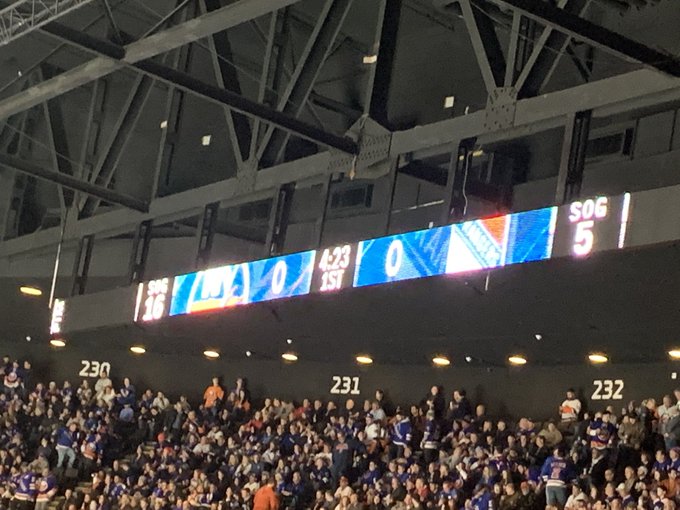 The Rangers were just getting dominated, but because of Georgiev, the Rangers were able to stay alive in this game. With Lundqvist in net, this game is 8-0 in the first period and the Cult of Lundswiss is crying about Brady Skjei and Jacob Trouba.
Oh, and not looking particularly good for the Rangers tonight was the fourth line. Every time they were on ice, I held my breath, as if I was inside a Nassau Coliseum porto-potty.
And of course, I have to mention this – Kakko continued to battle his "Buchnevich Disease", as more times than not, he refused to shoot the puck. While Kakko, in this game, improved with shooting pucks on net, there were several times in this game, that brought back the "SHOOT THE PUCK BARRY" chants of old.
In a period dominated by great goaltending, the Isles got on the board first. The Rangers have been killed this year, when it comes to giving up goals in the first two minutes of a game, after a defensive zone face-off and in the final two minutes of a period. In tonight's game, the latter happened, as with 50 seconds left, Josh Bailey broke up the nil-nil tie:
🚨 HEYYYYYY JOSH BAILEY,
OOH AHH,
THANKS FORRRRR,
THAT AWESOME GOAL! 🚨 pic.twitter.com/CF6fktbKol

— New York Islanders (@NYIslanders) January 17, 2020

1-0, bad guys.
On the goal, first pair Trouba & Skjei displayed their defensive magic, and boom, 1-0. Nothing Georgiev could do here. Keep in mind, when this goal was scored, Georgiev already had 20 saves.
The Rangers and Isles would finish up the period, with the Rangers being dominated, but only down by one goal.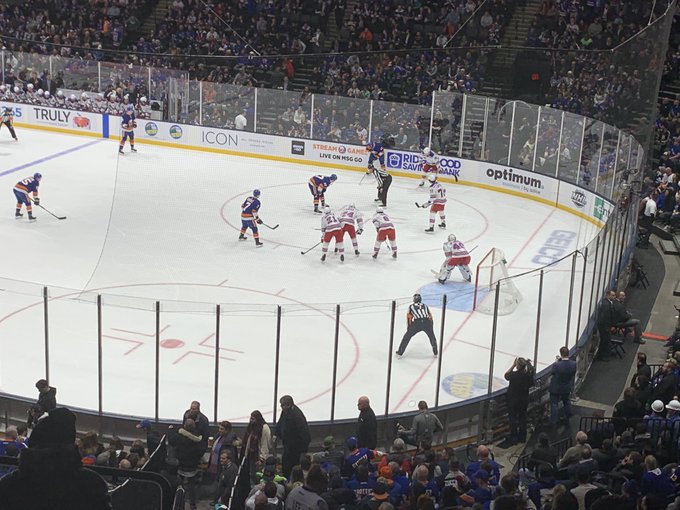 After a horrendous showing in the first period, the Rangers woke up. While they didn't explode like they did on Monday, the Rangers tightened up. While Georgiev would continue to make impressive saves, he didn't have to shoulder that much of a load in the second period, as the Rangers turned the tables. In fact, at one point in this period, I believe the Rangers were out-shooting the Isles 12-0.
Early in the period, Skjei was crushed by Isles goon Ross Johnston. Micheal Haley looked to get into his face, but nothing happened. In fact, after the game on Monday, there were no fights in this one. I think that's partly due to how important this game was and neither team wanted to lose a player, much less put the other team on the PP.
At the 7:13 mark, Devon Toews held Mika Zibanejad on a breakaway. I thought this should've been a penalty shot. Instead, the Rangers got a power-play.  The PP was awful here, highlighted by Skjei missing a wide open net and then clearing the puck for the Isles.
At the 12:33 mark of the second period, the Rangers would get another chance on the PP. This time, they would get the goal, as Zibanejad scored quickly into the PP:
Little delayed, but… "IT'S A POWER PLAY GOAL!!!!"#NYR #LGR pic.twitter.com/PNaHSztCA4

— Rangers on MSG (@RangersMSGN) January 17, 2020
For whatever reason, the Rangers twitter account doesn't have a video of the goal. They do have the clip I just shared. What happened here was Zibanejad scored on the power-play, the refs said no goal, play continued and we had a stoppage. Once the stoppage hit, the refs reviewed the goal and saw this: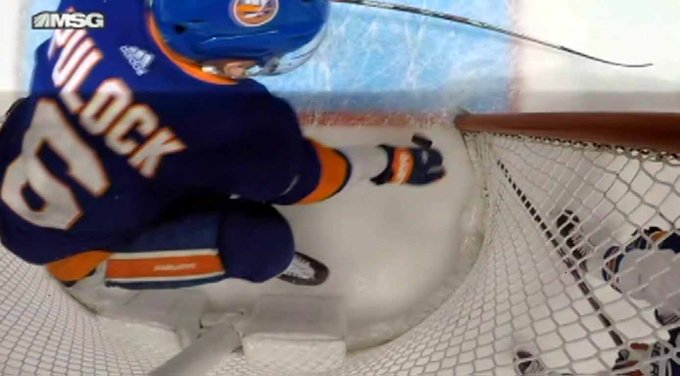 1-1. And talk about a big goal, however it was called. This tied the game, in a period where the Rangers were coming at Varly all period long.
After this goal, the Islanders would get back-to-back power-plays, as Fox was called for tripping and Lindgren was called for cross-checking Jordan Eberle. The Lindgren hit on Eberle looked bad, as Eberle went head first into the goal post. However, after going to the locker room, Eberle was back for the third period, so I guess it wasn't that bad. Looked worse on replay.
The funniest thing happened during commercial break. I hope a video of this pops up somewhere.
During the Islanders "KISS CAM" segment, a decent looking woman was trying to get her boyfriend to kiss her. I guess they were fighting, as the guy's face was buried in his phone. He blew her off. Then after showing a few couples kissing and making babies in the parking lot, the camera returned to this couple. The guy refused to kiss his woman again. This time, the girl took his phone and dropped it in a plastic cup of beer! The guy then immediately shoved and pushed his girlfriend down! The camera quickly got off of this. I don't know, maybe this is how Islander fans appreciate Denis Potvin, a known woman abuser? I'm sure Lundqvist got off on this, as he's been known to attack a broad in the Coliseum too.
Spousal abuse, only at the Nassau Coliseum!
At the end of two periods and after two great penalty kills, with Jesper Fast once again looking phenomenal on, the score remained 1-1.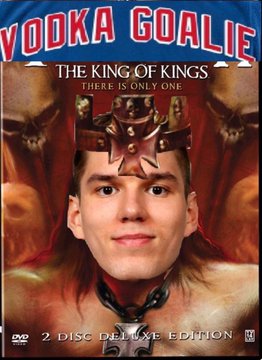 Not going to lie. While I had all the faith in the world in Georgiev at this time, I felt that the Islanders would come out as a better third period team, just because of the way Isles HC Barry Trotz runs his team.
2:07 into the third period, Tony DeAngelo was called for interference. I was told that later on in the game, TDA was shouting with David Quinn after this. However, I just did a quick scan as I write these words – turns out TDA was upset about the call on the ice, as TDA felt he was slashed or hooked.
After killing another Islanders PP, TDA, fed up and furious, scored a jack-in-the-box goal. Here's my favorite Rangers defenseman and yours:
Big stop by Georgie on one end, Tony D with the snipe right out of the box got us screaming our heads off!!!!#LGR #NYR pic.twitter.com/IZhGUAVIU3

— Rangers on MSG (@RangersMSGN) January 17, 2020
2-1, GOOD GUYS!
On this goal, Georgiev was a Father Finkin' beast in net during the Rangers PK, and as he was all game, preventing the Isles from taking the lead on multiple opportunities. The puck then squirts out, TDA grabs it and beats Varly.
I think you guys know this about me. My two favorite Rangers on this team right now are TDA and Georgiev. Hell, I was wearing my DeAngelo jersey at this game! This goal doesn't happen if Georgiev isn't dominant. Watching TDA make the Isles pay for a bad call was even better. When TDA scored this goal, I roared as if I hit $10,000 on a $1 scratch-off.
Another great thing about this goal? It shut up the Isles choir in section 229: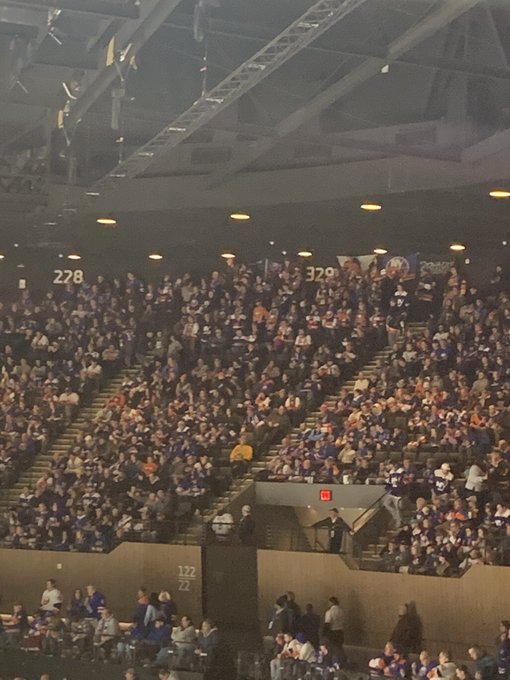 The Rangers would get a PP chance of their own after the TDA goal, when Pulock was boxed for grabbing the puck with his hand. This would've been a huge chance to get an insurance PPG, but Varly did his job, during one of the better Ranger PP attempts of the game.
In a tight game, the clock marched down to triple zeroes. At 12:29, Cizikas hooked Panarin. However, Panarin was called for "embellishment", a call we rarely see these days. That was bullshit to me. What should've been a Rangers power-play, turned into four vs four foreplay.
A minute after this, Kreider skated and took out Varly in net. Shades of Carey Price Batman! Kreider was boxed for interference, giving the Isles a four vs three power-play.
Quickly into the Isles PP, Anthony Beauvillier squeaked one by Georgiev. I rarely blame goalies for PPG's allowed and this wasn't Georgiev's fault. However, the game was now 2-2, and the Isles now had something like a dozen shots on goal advantage too.
As the game hit the FOXWOODS FINAL FIVE MARK and then went down to four minutes and down to three minutes and down to two minutes, I was chomping on my fingernails. The Isles were coming at Georgiev with everything and the kitchen sink. Georgiev kept them off the board.
Then with 54 seconds remaining in the period, old friend Derick Brassard cross-checked Chris Kreider. This penalty was blatant and clear as day, but I was surprised it was called at this stage of the game. Thank the hockey gods that it was!
With 25 seconds left in regulation, Chris Kreider scored the game winning power-play goal:
The game-winner with :25 left, courtesy of Chris Kreider.#NYR #LGR #PlayLikeANewYorker pic.twitter.com/X5iPq4Ov0U

— Rangers on MSG (@RangersMSGN) January 17, 2020
3-2, GOOD GUYS! I THINK IT MOVED JERRY!
This is when the Isles fans made their way to the exits. Instead of overtime, Kreider sealed the deal.
Of note, Panarin got an assist here. I bring this up, because the Islanders really went out of their way to contain him tonight, after exploding for a two goal and three assist game on Monday. Furthermore, going into this game, the Rangers were 1-21 when Panarin doesn't record a point. The Rangers almost made it 2-21 tonight, but Panarin got an assist on this late CK20 PPG. Another point for the BREADMAN and what a gut shot to the Isles BREAD BASKET!
I don't have to tell you how huge this goal was. This gave the Rangers two points in the standings and prevented the Islanders from even getting one. Furthermore, so many times this season, have we seen these goals go the other way. Just look at Georgiev's start from two games ago, when Vancouver beat him late, to win the game 2-1.
With 25 seconds left, the Rangers handled business. 3-2, your final from the Coliseum! WHAT A WIN! WHAT AN EFFORT! WHAT DRIVE!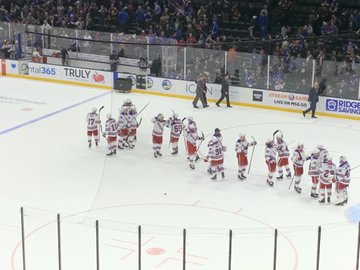 It's now 1:30AM as I write these words and I'm still jacked to the gills. What a freaking win. This is a game I won't forget for some time.
Of course, while I've said I don't think the Rangers will make the playoffs this season, I'm not rooting for that. I want the playoffs. With this win, the Rangers are now six points out of a playoff spot and have two games in hand over the second wild card seed, which is currently held by, and I can't believe this either, the Columbus Blue Jackets. And wouldn't you know it, the Blue Jackets are next on the schedule, as the Rangers will try to strengthen their playoff cause against Team Torts on Sunday at M$G.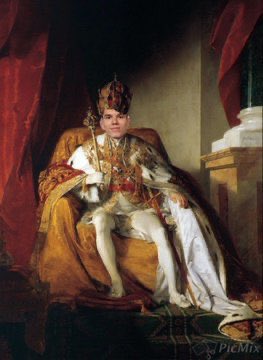 To recap the last two weeks of Rangers hockey, the debuting rookie, in CZAR IGOR, defeated a Cup contender in the Colorado Avalanche. He followed that game up, by playing well and defeating the red-hot NJ Devils. (The Devils went on to beat Washington and Tampa after that loss.)
After Igor's strong games, David Quinn forced Lundqvist into a game against St. Louis, where Lundqvist did his crybaby act and gave up five goals, in a Rangers loss.
Following that, Quinn went to "THE ISLANDER KILLER" and Georgiev played out of his Father Finking mind, defeating the Islanders in back-to-back games.
Georgiev is the number one goalie on this team, no matter how many people want him out of here to placate King Shampoo. Georgiev has the best GAA, save percentage and has won the most amount of games, despite starting less games than Lundswiss.
And as you may know, from my past blogs where I've mentioned this 78624782652 times, Lundqvist is $6.5M more, than the much younger Georgiev and Shestyorkin, COMBINED!
There's a lot of talk about Lundqvist to maybe Colorado, Carolina or Toronto right now and those talks will continue to heat up. THERE IS NO REASON TO TRADE GEORGIEV RIGHT NOW. NONE AT ALL. The only reason Georgiev's name is brought up in trades, is because the Rangers are sandbagged with King Ego and his contract.
Maybe it's me buying into some of the talk, but I don't see this three goalie system continuing for too much longer. I think come the All-Star break, and I'm crossing my fingers and talking to my lucky stars here, I think John Davidson will have the talk with King Five-Hole. You just can't give up Georgiev for a fourth line winger. It's nonsensical.
In my last blog (last time I say that phrase tonight) I said that I saw Georgiev playing the Islanders and then Igor getting Columbus, followed by Georgiev getting the Islanders again. I was told by several of you, that's exactly what Steve Valliturd said on the broadcast tonight. Of course, I've been championing Igor and Georgiev all season. Let's not forget, that during FIVE SEPARATE BROADCASTS THIS SEASON, Statiquette was pushing for the Rangers to trade Georgiev. Now all of a sudden, Vally is his newest cheerleader. What a phony piece of shit!
As it stands right now, I see Igor playing on Sunday. He's been shelved for too long. However, and this is me, who has been talking up Igor for three years now on this blog, I would continue to roll with Georgiev. The kid is on fire. If the goal is to make the playoffs, you gotta ride the hot hand. Once he cools off, then go to Igor and let Lundqvist rot in the press box if he won't waive his NMC.
The Rangers have Friday and Saturday off, before Columbus on Sunday. Georgiev would be rested and ready. However, if you do ride the hot hand here, that means Igor wouldn't play until after the All-Star Break, giving him something like three weeks off. That's why I think Igor is going Sunday, even if Georgiev may be the best option right now.
And I'll say it one more time here – after the All-Star break, if Lundqvist plays in either of the home and home games with last place and tanking Detroit, it's a Father Finkin' joke. Those are the games Igor should play in.
One quick news item and I'm out:
— Ron Duguay (@RonDuguay10) January 16, 2020
If you click the above link, you can listen to the latest episode of Ron Duguay's new podcast. It's a pretty good episode and the shows are getting longer. On the podcast, Duguay has a good talk about the three goalies with Larry Brooks. Duguay also surprises the mother of reporter Mollie Walker. This was hilarious, as Mollie Walker's mother was/is a huge fan of Duguay.
While an interview with Bryan Trottier was interesting, the biggest news item of the podcast is when Duguay brought up how Jaromir Jagr is now playing professional hockey in five straight decades. Jagr joins Gordie Howe with this distinction.
On the podcast, Duguay said, as someone who has played in four decades (70's, 80's, 90's and 00's) Duguay wants to be a five-decade player. Duguay brought up how he will make this happen and how he has a month to do it. It's really late as I do this blog, so I'll see if I can follow up with Duguay to get more on this.
And lastly on the podcast, Duguay talks about how Gordie Howe cross-checked him once and what Howe said to Duguay. Worth your time if you have the time to listen.
Wow this went long tonight!
Depending on my schedule, I may chime in with something if something big breaks between now and Sunday. I know I have a late night on Saturday, as I'm going out for the McGregor/Cerrone fight. If I'm not back between now and then, I'll be back Sunday night, with a recap of the CBJ/NYR game.
As always, thanks for reading and…
"LET'S GO RANGERS"
"FATHER FINK THE ISLANDERS"
"DEPORT LUNDSWISS FROM NY"
"DON'T TRADE GEORGIEV"
"ALL HAIL CZAR IGOR!"
"THANKS FOR MAKING THE RANGERS GREAT AGAIN TONY DEANGELO!"
Sean McCaffrey
BULLSMC@aol.com
@NYCTHEMIC on twitter