Greetings and salutations everyone and welcome to another blog here on BlueCollarBlueShirts.com. What should've been a happy and inspirational manifesto tonight, will now sound as depressing as a suicide letter.
On Sunday night, after beating the Islanders in two straight games, the Rangers hosted the Columbus Blue Jackets. In what was a huge game for both teams, and a game with major playoff implications, Columbus scored the game winning goal, with just 26 seconds left in regulation. By winning the game late into regulation, Columbus halted the Rangers from getting a point tonight.
For the Rangers, Sunday, January 19th, 2020 couldn't have gone any worse. Heading into the day, the two teams the Rangers were chasing for the second wild card and third seed in the Metropolitan division, were doing battle, as the Islanders traveled to Carolina. Either team getting a win today hurt the Rangers. The one thing you wanted to avoid was a three-point game, and that's what happened, as Carolina bested the Islanders after a shoot-out. Carolina gets two points, the Islanders get one point. Compounding matters, for anyone looking for the Penguins to slip-up, the Penguins also won on Sunday, defeating the Boston Bruins.
In the Rangers game, where they hosted Columbus, the Rangers had to win just to keep pace with the division and in the wild card race. In a game where the Rangers led 1-0 for the majority of the game, Columbus would tie the game up with under 14 minutes to go in the third period and would then go on to win the game with just 26 seconds left on the clock. The Rangers couldn't even get one point in the standings. Even worse, Columbus is one of the teams the Rangers are chasing in the standings, so the Rangers essentially lost a "four-point" game tonight, and in the most heart-breaking of fashions.
A few blogs ago, I talked about the Rangers loss to Vancouver, where they gave up the game winning goal with 90 seconds left on the clock. At the time, I thought that game was the most brutal loss of the season. Fast forward two weeks later, and this loss to Columbus now takes the cake for the most pain-staking loss of the season.
The Rangers had to win this game tonight. Despite the Rangers playing better than they have been of late, the Rangers still found a new way to lose tonight. As I said after the loss to the Vancouver, the same stuff applies here. If this was a season where the Rangers were comfortable in and had a playoff spot secure, you would chalk this loss up as "we ran into a hot goalie." However, it's too many losses like this and they all add up. That's why the Rangers aren't a playoff team and why Columbus is. Columbus found a way to win. The Rangers found a way to lose.
What makes this loss sting even more, and the word "sting" is something you'll read/hear about from Ranger fans, reporters and everyone else, that talks about this game from a Rangers perspective, is that this was a game that favored the Rangers.
Just 24 hours prior to this game, Columbus was on their home ice, trouncing the Devils. Columbus rookie goaltender, Elvis Merzļikins, who has just been a beast since starting goalie Joonas Korpisalo went down, wasn't going to play tonight. In his steed, was Matiss Kivlenieks (MK for the rest of this blog, as his name makes my auto-correct go haywire) who was making his NHL debut tonight. Despite Columbus playing the night before, having a late flight to NY and starting a goalie making his NHL debut, the Rangers only mustered up one goal tonight. It wasn't enough.
Before getting into everything from tonight's game, a game that should've been sponsored by the anti-depressant pharmaceutical industry, here are my last few blogs, in case you missed them:
---
---
---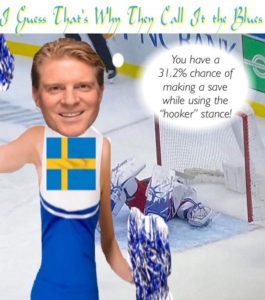 ---
---
---
---
As usual, let's start off with the news from the last time I left you.
The biggest news item heading into this game, was the fact that Brendan Lemieux was back. Lemieux played in this game against Columbus tonight and I thought he looked very good. There were no signs of rust or anything like that. You could see he was itching for contact too, as he was looking for checks and didn't fear getting into any battles.
By the third period of this game, with how poorly Pavel Stinknevich was playing, David Quinn would flip-flop Stinknevich and Lemieux, as Lemieux went from the fourth line to the first line and vice-versa.
Of note, on Saturday afternoon, the day prior to this game, the Rangers tweeted the following after practice:
As mentioned, Lemieux, who was day-to-day, played tonight. So did Panarin, who tweaked his leg in practice. Also of note, with Panarin not picking up a point tonight, the Rangers are now 1-22 in games where Panarin doesn't get a point in.
Goaltending wise, CZAR IGOR Shestyorkin got the start tonight. I had no problem with that. While I wouldn't have minded if Alexandar Georgiev started tonight, just because he was the hot hand and on a good streak of games, I have no problem with Igor getting work here. Plus, it allows Georgiev to rest and then get ready for the Islanders on Tuesday. And really, with hindsight being 20/20, goaltending wasn't the issue tonight anyway.
And let me say this here, and I'll say it again at the end of this blog – ALEXANDAR GEORGIEV MUST START ON TUESDAY AGAINST THE ISLANDERS. Starting anyone else would be foolish. Play the numbers, play the stats.
Outside of Lemieux's return and CZAR IGOR starting tonight, there wasn't any other news to talk about. Really, the biggest news came from the Columbus side, when they announced MK as their starting goalie. Previously, Elvis Merzlikins had started the last ten games for CBJ. He was due for a rest.
At this time, let's go to the GAMBLING segment of tonight's blog. Here's what I said before the game:
Season over-under record: 24-21-1

Columbus played last night and starting a rookie goalie. These aren't the "same old Rangers" with Panarin. I see #nyr winning and Panarin lighting it up. I'm taking the OVER. Good game for Igor to get some work in too. pic.twitter.com/B90GX0HMBp

— BlueCollarBlueShirts (@NYCTheMiC) January 19, 2020
WRONG, WRONG, WRONG and okay, it was a good game to get Igor some work in. Even as I write these words, I can't believe how wrong I was. I really thought the Rangers would win this game and would explode for 5+ goals on home ice. Wishful thinking.
And as I've said ever since the loss to Philly before Christmas, the wind is out of my sails about a Rangers playoff run. While I stay optimistic and hope for the playoffs, I don't think it's a reality. That said, I just hope the Rangers make the playoffs and that's all I can do with a beer in my hand from my couch. I can't root for the team to lose or to tank, or anything like that. It's just not my nature. I understand the logic behind it and I'm sure my good buddy Al "SMD" Demauro is happy about this, but this line of thinking isn't for me. That's all.
My over-under record now drops to 24-22-1 on the season. Two games over .500. I was much better last year, when Lundqvist started the majority of the time and by picking the over every game!
At this time, let's go to the official box score, courtesy of ESPN.com:
SCORING SUMMARY:
PENALTIES:
TEAM STATS (Look how even this game was)
GOALIES:
| | | | | | | | | | | |
| --- | --- | --- | --- | --- | --- | --- | --- | --- | --- | --- |
| SA | GA | SV | SV% | ESSV | PPSV | SHSV | SOSA | SOS | TOI | PIM |
| 32 | 1 | 31 | .969 | 30 | 1 | 0 | 0 | 0 | 60:00 | 0 |
| | | | | | | | | | | |
| --- | --- | --- | --- | --- | --- | --- | --- | --- | --- | --- |
| SA | GA | SV | SV% | ESSV | PPSV | SHSV | SOSA | SOS | TOI | PIM |
| 31 | 2 | 29 | .935 | 27 | 0 | 2 | 0 | 0 | 59:51 | 0 |
The MSG Networks pregame show was again horrible tonight. As mentioned on previous blogs, Vally's new thing, when he comes up from air after servicing Lundqvist, is to talk about his own career. Vally started about talking about his playing days in Russia, as that had anything to do with tonight's game.
Speaking of Vally, I was watching an old episode of "Cheers" last night, as I always do, and this clip reminded me of Statiquette:
It's Steve Valiquette and the Basement Boys on "Cheers". #nyr #PlayLikeANewYorker pic.twitter.com/mGwsmFQUro

— BlueCollarBlueShirts (@NYCTheMiC) January 19, 2020
Once in a while, the MSG Networks will have a good segment during the pregame show, like the JD interview, the coaches teaching the players or Ryan Strome breaking down film. We didn't have that tonight. In what's becoming the new norm, I thought Sam Rosen and Joe Micheletti did more in their five minutes than Vally & the crew did with their 30 minutes.
And hey, give Sam Rosen credit – he pronounced the name "Matiss Kivlenieks" correctly all game. In fact, even the RangersMSGN twitter account was impressed by this too:
Can you pronounce the @BlueJacketsNHL's goalie's name? Well, the man, Sam Rosen can, no prob. (*sound up*) pic.twitter.com/G2hmUSwaHU

— Rangers on MSG (@RangersMSGN) January 20, 2020
I'll get to the final 30 seconds of this game once we get there in this review, but really, for 59:30, this was a great goalie's duel and a great defensive battle between these two teams. Both CZAR IGOR and MK were fantastic tonight. While they weren't challenged non-stop, as Georgiev has been against the Islanders of late, when needed, these two rookie goalies, buckled down and made big saves when needed.
On social media, I saw several people, including NY Post scribe Brett Crygalis & Newsday reporter Colin Stephenson, make jokes about this game being boring or being a "snoozer." To me, this game wasn't that. I really enjoyed this hockey game, that is, until the final 30 seconds.
If there was ever a game that gave more weight to my theory of "you don't need a Top 5 paid goalie to win games in the NHL", this game was it. In tonight's game, Igor had two games of experience heading into this. MK was making his debut. In turn, these two only gave up three total goals tonight and made some big time saves.
Helping the goalies tonight were the defensemen and the forwards, who focused on their defense. You can see that defense was the Rangers priority tonight, as during several plays in this game, the Rangers would skate the puck back from the offensive zone and reset. The Rangers weren't taking any chances. They played Tortorella's game, as speed wasn't a factor in this game. There was a lot of chip and chase and each team limited the other when it came to breakaways and odd-man rushes. Of course, to be clear, there were a few odd-man advantages in this game, but that's always going to happen in the NHL. It's just limiting those opportunities. And that's what you saw tonight.
If there is anything you get out of this recap tonight, it is that the Rangers played one of their best defensive games of the season and got great goaltending. Columbus goalie, MK, was phenomenal and stopped several good Ranger chances for goals. Igor was equally as impressive. However, the final result of this game was that Columbus capitalized on a boneheaded mistake by the Rangers and that was that.
It really is a shame. I was ecstatic after two periods. I really liked how the Rangers were playing, despite the limited goals. They had the lead and they were protecting it. Igor was in a good flow. The defense was in a good flow. The Rangers tested MK. The Rangers were playing a solid fundamentally sound hockey game. However, the Rangers made two glaring mistakes in this game and that's all it took. We should be talking about a Rangers win right now and the photo of this blog should be CZAR IGOR as Batman, vanquishing Columbus and MK. I should be writing a blog of pure glee right now. Instead, this blog feels like a slow death to write.
Six seconds into this game, Igor would be forced to make a save. Thankfully, he did, and Igor was able to prevent the opponent from getting the early goal, as we've seen so many times in previous Ranger games this season. After making this save, Igor would make a big save on Seth Jones. Igor was thrown right into the fire and got his feet wet right away.
As mentioned, this game was a defensive battle. After these two Igor saves, Mika Zibanejad made a bunch of moves, but once he got near the Columbus goal, the CBJ defense collapsed and easily blocked Zibanejad's shot attempt.
After hearing Sam, Joe and Vally on the pregame, talk about how hard it was to break out of the neutral zone with Columbus, Filip Chytil just whizzed around and got to the net. Save by MK.
And I'll say it here, and I hope I don't come off repetitive all blog – I thought every Ranger, aside from Buchnevich, were solid tonight. In Buchnevich's defense, he's still sick and coming off the flu. That said, if he's that sick, the Rangers do have Di Guiseppe up with the team. Why not use him?
In fact, since I haven't mentioned it already, here were the Ranger lines tonight:
FIRST LINE: Kreider/Zibanejad/Buchnevich (Zibanejad stood out the most, especially defensively.)
SECOND LINE: Panarin/Strome/Fast (This line got a lot of chances, but they either over-passed themselves out of chances or MK stopped them.)
THIRD LINE: Howden/Chytil/Kakko (This line once again played well, especially Chytil.)
FOURTH LINE: Lemieux/McKegg/Smith (I thought this was McKegg's best game as a Ranger. He generated offense and was strong defensively. Lemieux didn't miss a beat and by the third period, was on the first line.)
Defensively, we had the same duos:
FIRST PAIR: Skjei/Trouba (These guys played better than they have been of late.)
SECOND PAIR: Staal/DeAngelo (Solid effort as usual.)
THIRD PAIR: Lindgren/Fox (Stellar.)
And as mentioned, CZAR IGOR was in net, while Lundqvist watched. Georgiev was in street clothes. With Eddie Giacomin in the house tonight, (he was pictured on the scoreboard too tonight) I was hoping the Rangers would dress him instead of Lundqvist. And really, with Giacomin in NY, JD should gather up Eddie and have a nice talk with Lundqvist about his future.
Oh and I wanted to share this, since Lundqvist never being a scratch is a topic of conversation. For whatever reason, the cowardly NYR beat reporters are too scared to ask Quinn why this is the case. Here's this take from Howie Wirth, who used to work in NHL front offices:
I asked this ? to someone who would know directly. Hank is on the bench for AG starts because if AG got hurt or blew up it wastes a game for Igor and they have to save games so he doesn't have to go through waivers sooner. As for Igor starts. He's there to help him through.

— Howie Wirtheim (@HWirth) January 20, 2020
I can buy this take from Howie. Good job Howie. However, it still is irritating and bothersome, that the NYR beat reporters won't even bring this up. In fact, Vince Mercogliano, who I think is the hardest working reporter on the beat right now, is vehemently fighting fans over this and why he thinks this question shouldn't even be brought up. If you have a bunch of fans asking you about this, isn't this a question you should ask, as you know, as a reporter? I guess asking David Quinn about Larry David is more important.
In what seems to be a common occurrence, as the first period progressed, the Rangers lost a defensive zone faceoff. Igor made the save. Then right after, Nyquist challenged Igor to Igor's left and Igor made the save.  During this time, I was focusing in on the fourth line. In their first two shifts, and really all game, I thought they played well.
I've mentioned this a lot on these blogs and I'll say it again – you can't second guess Panarin. None of us have the hockey IQ that he does. However, during a Rangers rush, Panarin had a good look at net, but opted to dish to Strome. Instead of a Panarin SOG against a rookie goaltender, we had a Rangers turnover and no SOG. Again, who am I to criticize Panarin after the season he's been having? I'm just bringing this up, because Micheletti would also mention this too.
With the first period half-way down, both teams were limiting chances, as each team had five SOG a piece at this point. As the clock entered the final half of the period, Howden would get a good shot off, but MK made the juggling save. After this, Kreider screened MK, but MK once again made the save, this time on Staal. And to go back to my point on Panarin, after this, Panarin would skate his way through the Columbus defense, but instead of shooting, he opted to make a pass and in turn, the Rangers didn't get a SOG during this. Again, Micheletti brought this up and I'm inclined to agree with Big Joe here.
After Panarin's non-shot, Columbus raced up the ice and Brady Skjei took a blatant high-sticking penalty, at the 16:15 mark, when he high-sticked Pierre-Luc Dubois. This is where your stomach sank, as you didn't want to give the other team a man advantage in this game. And really that's what happened tonight, as there weren't any other penalties in this game.
I'll also say this, despite what happened after this Rangers PK. Rangers GM Jeff Gorton shouldn't worry about Georgiev or Kreider; he should be worried about getting Skjei and that contract off this roster.
After the Rangers killed the penalty, which we didn't know as MSG viewers, as the clock froze and we didn't know how much time was remaining; Brady Skjei got out of the box and for the second straight game in a row, a Rangers defenseman scored a jack-in-the-box goal:
Strange goal, but WHAT A SNIPE! #NYR #LGR pic.twitter.com/cXBLYrTsAC

— Rangers on MSG (@RangersMSGN) January 20, 2020
1-0 GOOD GUYS, with just 90 seconds or so left in the period.
On the goal, Skjei redeemed himself and beat MK on the breakaway. You can't fault MK for this goal allowed. Unfortunately for the Rangers, this was their lone goal of the game, a goal that only occurred because the Rangers took advantage after a strong PK.
This would be the lone goal of the period, as the score remained 1-0 NYR after twenty minutes.
The second period was more or less like the first – great defense, solid coaching and superb goaltending, from both teams.
After a rare breakdown in this game, Igor made a save after a CBJ two-on-one. Igor then stopped Dubois. However, Skjei wasn't happy with that and decided to barrel into his own goalie. I don't know what Skjei was thinking there, but luckily, Igor was fine.
Oliver Bjorkstrand, making his return after injury, would see a backhanded attempt be saved by Igor. Then, when with a Bluejacket all alone in front of Igor (I honestly forget who off of memory), Igor made a huge poke-check with his paddle, to prevent an easy CBJ goal.
Despite this loss, you can't criticize the hard-work of the Rangers. Whether you want to call it blue-collar, lunch-pail, sandpaper, JAM, grinding or whatever adjective you want to use here, the Rangers fought hard all game. The effort was there, the result wasn't.
At the half-way mark of the game and period, MK made a nice glove save on Fast. Same old story, an unheard of rookie goaltender, in his first start, channeling his inner Patrick Roy at M$G. It never ends.
As the period got under ten minutes remaining, Fox hit the post. Then McKegg had a clear shot but set up Smith on the door-step. Save by MK. Immediately after, Fox would get chance from the door-step. MK had another denial here.
Around this point, in this goalie's duel and defensive battle, MK made, and I quote Joe Micheletti here, a "FABULOUS" save on Tony DeAngelo. This may have been the save of the game.
After a Rangers turnover, Columbus went on a breakaway, but Mika Zibanejad caught up and broke it up. I can't say enough about the Rangers defense tonight. Even as I write these words, this loss still stings, because they played so well. The scoring just never came.
In the final three minutes of this tight second period, the Rangers really came hard at MK, but no dice. After this, Columbus had the puck for 75 seconds in the Rangers zone, but the Rangers got the clear and got out of trouble. This then took us to the end of the period, with the Rangers still up 1-0 after two periods.
Here's what I said at the time:
1-0 after two periods. TEAM EFFORT. This is all I ever wanted – no Hank and this team is playing their best hockey of the season. Vindication! Finish them! #nyr #PlayLikeANewYorker

— BlueCollarBlueShirts (@NYCTheMiC) January 20, 2020
I can't stress enough how happy I was with the way the team was playing. You're not going to score 5+ goals a game and sometimes you need to win a defensive game. I thought the Rangers had all the tools to do so in this one, but two mistakes in the third period would spell the Rangers demise in this game.
During intermission, I saw Ranger fans bring up the fact that Igor Shestyorkin had a shutout going. I won't lie, I was thinking it too, but I didn't want to say anything and jinx it.
In the third period, Strome and Panarin would get cracks at MK, but stop me if you heard this before – MK did his job and made the saves.
Once the third line came on ice for their first shift of the period, they created a Columbus turnover and got the puck deep into the Columbus zone.
When the fourth line came on the ice, Buchnevich was with Smith & McKegg, as Lemieux would be out there with Zibanejad & Kreider. As I'm writing this blog, I keep hearing from Quinn & the NYR reporters, how Buchenvich was sick tonight. Again, what's the point of having Di Giuseppe here, if you're not going to play him when one of the Rangers is ailing with an illness?
Later on, after losing another defensive zone face-off, Igor made a save and then stopped Atkinson from the blue paint.
The Panarin line continued to shine and create offensive chances in this period, but MK, MK, MK.
At the 6:08 mark of the period, Oliver Bjorkstrand, who Igor was stopping all game, put Columbus on the board:
HOLD THAT CELLY ☝️ pic.twitter.com/nKIaHT8dcc

— Columbus Blue Jackets (@BlueJacketsNHL) January 20, 2020
1-1.
On the goal, the Fast/Strome/Panarin line tries to get too fancy with the drop pass, these three have some miscommunication, Bjorkstrand gets the puck and snipes a laser of a shot past Igor. A Rangers mistake turns into a goal. While I thought Igor had a chance at this, even if Trouba was in the way a bit, you can't blame him for this one. The Rangers were playing so well, and all it took was this little mistake for Columbus to tie it.
The Rangers kept fighting for a goal, but once again I say, MK MK MK. MK would stop Mika. Then Strome was all alone in front of MK, but the puck went just high. After this, Seth Jones showed off some brawn against Kreider:
Seth Jones rocks Chris Kreider. Kreider felt that one too. #CBJ #NYR pic.twitter.com/nxky2QNcPw

— Rob Taub (@RTaub_) January 20, 2020
I bring up this hit from Jones to Kreider for two reasons. First, when was the last time you saw Kreider get sent on his ass like this? Secondly, isn't this interference? No call. And I'll be honest, I wasn't looking for the call here, as I rather see the guys play without referees swinging a game.
Down the stretch, the goalies kept on doing their thing, keeping this game at 1-1. Igor would make a big save. Then Igor would prevent a goal on a Columbus three on one. We had our first IGOR chants of the night.
With two minutes left in the period, David Quinn was still rolling out all four lines, as he should've. Everyone was playing well. The Rangers would benefit from a Columbus icing call, but couldn't win the draw and get the blast off.
With 90 seconds remaining, the Rangers would kill 40 seconds in the Columbus zone. At this point, I was just rooting for overtime, so the Rangers would at least get a point. I also thought that in a three vs three overtime, the Rangers, because of Panarin, would get the game winning goal, with the ice more spread out. We never got there.
With 26 seconds remaining in regulation, Bjorkstrand won the game:
BAR DOWN FOR THE WIN pic.twitter.com/MxvnkHIctW

— Columbus Blue Jackets (@BlueJacketsNHL) January 20, 2020
2-1, bad guys.
On this goal, Ryan Strome changes for some reason, Columbus gets a three vs two odd-man rush and boom, Bjorkstrand pretty much beats Igor on the same shot that he scored on from earlier in the period. To say this was a kick in the nuts is an understatement.
When I saw Strome changing during this and I saw the odd-man rush coming, I felt like this was like watching a waiter about to drop a tray of plates or someone about to drop a porcelain statue. You could see it coming the whole way, as if it were in slo-motion and all you can do is scream "NOOOOOOOOOOOOOO!", in an agonizing tone. Watching this play unfold, I felt like Michael Coreleone at the end of "Godfather III", when his daughter gets popped in the chest on the steps of the Opera House.
This is a 50/50 save for a goaltender to make. Igor doesn't make it. On the two mistakes the Rangers made in this game, Columbus capitalized on both. On the other end of the ice, MK saved everything. He deserves credit too.
For as much as I, and maybe you do too, want to get into this next era of Ranger hockey, the more things change, the more they stay the same. A rookie goalie, even if he's a homeless junkie turning homosexual tricks in the Penn Station bathroom for pills and needles – WILL ALWAYS BEAT THE RANGERS ON MSG ICE. It's a tale as old as time. For the Rangers, it's just another unfortunate chapter in this 82 game season.
If there is anything to be impressed about with this game, it's the job John Tortorella is doing in Columbus, a team that was massacred this off-season, due to free agency. Instead of being cellar-dwellers, as many thought they would be, they have been absolutely tremendous this season. While yes, the players are busting their ass, this is Torts showing us why he's one of the best coaches in NHL history. However, until Columbus becomes a destination market, Torts and CBJ will always be playing at a disadvantage.
I really don't have much to add here. I thought the Rangers played well enough tonight, but in the limited mistakes the Rangers made, it cost them. You can't really finger-point at anyone. It just sucks.
If the loss to Vancouver was the dagger to the Rangers playoff hopes, this loss was like pouring gasoline and lighting a match on the playoffs. For whatever reason, this team just can't win three games in a row, as they've only done it once this season.
Looking ahead, Georgiev has to go on Tuesday against the Islanders. If you argue otherwise, I just won't waste my breath on you. You're not worth my time.
I don't like to use the term "MUST-WIN" unless it's mathematically accurate. However, this was a game the Rangers needed to win. They didn't. One more win over the Islanders on Tuesday would be great, but since this team can't rack off 4,5,6,7+ wins in a row, what chance do they have?
I will say this, in regards to all the Georgiev/Kreider trade talk. I rather Georgiev & Kreider, than a bunch of fourth liners from Toronto and Lundqvist. I hope the Rangers take this upcoming break after the Islander game, to finally sit down with Lundqvist and apply pressure on that NMC.
I also wonder, that with this upcoming break, if it would be a good thing to send Shestyorkin back to the AHL, just so he can play the All-Star game there, get some quick work in and then be called back up. I don't know if this happens or not.
I will say, if the Rangers do send Igor down for the AHL All Star Game, they should quickly call him back up. Igor doesn't want to be in Hartford. He makes 10 times as much money, just sitting in the press box at M$G, than he would by playing in Hartford. And really, for the rest of the stretch, Igor should be playing NHL games, especially in one of the games with Detroit, as the Rangers have two games with the last place Dead Wings after the break.
Barring any major news taking place tomorrow, I'll be back on Tuesday night.
This loss was brutal.
As always, thanks for reading and…
"LET'S GO RANGERS!"
Sean McCaffrey
BULLSMC@aol.com
@NYCTHEMIC on tweeter