Greetings and salutations everyone and welcome to another blog here on BlueCollarBlueShirts.com. For a season full of cliches, here's another one – "can't win 'em all."
On Sunday night and at the "World's Most Expensive Arena"; the Nashville Predators, winners of their last four (including road victories over the Islanders and Devils), did it again. In fact, the Predators somewhat employed a "Blueshirts Blueprint" themselves, where they relied on their goaltender to carry them to a 1-0 win.
This game was very reminiscent of two previous things from this season:
One, this Nashville win was similar to any Rangers win from their first handful of games, where CZAR IGOR did the heavy lifting and then waited for his team to score a goal.
Two, this game felt like a carbon-copy of the Rangers 1-0 win over the Sharks from nine nights ago, where unfortunately in this go-around – the Rangers were on the loser's side.
---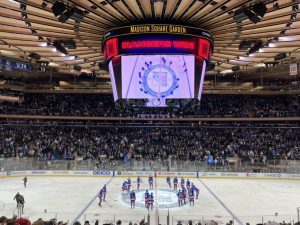 If there's anything I truly didn't like about this one loss from the 82-game schedule, it was the immediate "GLOOM AND DOOM" overreactions on social media.
You are probably aware about these drastic and extreme "HOT TAKES" – such as, "Panarin can't score," "Strome sucks," "the defensemen look weak," and etc.
And if you're one of these people going on-and-on about Miller, Lundkvist, Nemeth, Jones, Tinordi, Hajek or any other defenseman that receives a paycheck signed by James Dolan – you're lost if that's your sole explanation for this particular loss.
However, if that's the route you do choose to go down, I won't stop ya. To each their own. We are all entitled to our own opinions.
That said, such negativity is not for me, especially since I'm always "glass half-full" on this site – an outlook that's often mocked! (And really, just one puck bounce in the Rangers favor during this game – then no one is criticizing anything tonight!)
In the effort of fairness and being transparent here, if you do have a "negative" narrative about this team right now, at least be consistent – just like my opinions on "RIKA ZIBANENASH"; who without a fluke/"puck luck" goal on Friday night, would now be sixteen games straight without a goal. Instead of being on a 16 game goal drought, Zibanenjad now has one goal in his last sixteen games.
And even with that goal scored (a goal that feels akin to holding a winning lottery ticket), it was Zibanenash's fifth of the season. Five goals out of your soon-to-be $8.5M "elite" centerman (who is usually on the wrong end of faceoff battles too.) Needless to say, #93's goal scoring is a far cry from what we expect, especially with 27 games now complete.
Funny enough, Zibanenash did put five shots on goal in this 1-0 defeat, but it felt like he put five times as many pucks either high or wide.
The only other Ranger to record more shots on goal in this game than #93, was Zibanenash's centerman peer, Ryan Strome, a #16 who had 8 of the Rangers 32 shots on goal – good for 25% of the team's SOG statistic. Then again, if you're Predators goalie Juuse Saros – he recorded 25% of his saves against Strome too.
I'll have more on the two centers in the GAME REVIEW segment below, but I also wanted to add this rebuttal, regarding Zibanenash's goal scoring woes, where the common talking point is "he's streaky and ALWAYS gets hot in the second half."
Bottom line – you don't pay a center $8.5M to be "streaky". There's no way to justify that.
That said, the above statement is also somewhat true, as Zibanenash, in his last two seasons, did have great second halves.
Of course, last season also somewhat deserves an asterisk, as Zibanenash saved all of his goal scoring from the 2020-21 season for the dregs of the division, such as the Devils, Sabres and Flyers – bottom-feeders you won't see come the playoffs.
Starting with last season, Zibanenash has just been dominated by opposing centers and goalies on superior (playoff) teams. That's a fact, and not an opinion.
---
I know that everyone who reads this site isn't into MMA or the UFC like I am; but stay with me here for a second.
On Saturday night, in Las Vegas, Amanda Nunes (the most dominant women's fighter and champion in all of UFC history), was upset during the UFC 269 PPV, where she lost to a major underdog, Julianna Pena.
I bring this up for one reason. Nunes, like Zibanenash last year, just recovered from COVID-19. (This fight with Pena was previously postponed, due to Nunes being diagnosed with COVID-19. In other words, this was Nunes' first fight since testing negative for the virus.)
"The Lionness," as she's known as, had a great first round, only to gas out and see her energy diminish in the second round, where she then lost her Bantamweight championship. (Nunes, who prior to Saturday night, held two belts, still has a firm grasp of her Featherweight championship title belt.)
During her Bantamweight championship reign, Nunes not only wiped out opponents in the first round, but also displayed stamina, where she also won fights after five full rounds (25 minutes.)
Maybe I'm playing conspiracy theorist here, but I do wonder if Zibanenash has any lingering effects from COVID, just as he did last season, and as Nunes most certainly displayed on Saturday night.
Then again, this is all probably just a case of "Mental Mika" – as the top line center does play well on the penalty kill and defensively – he just can't score a goal these days.
While someone in the media would have to ask Rika Zibanenash about this (and even then, I doubt he'd give them an honest answer, just like how he lied last season, only to reverse his words come the conclusion of the 2020-21 campaign); I do wonder if Zibanenash's energy levels get zapped and lessened as these games enter the latter stages of the third period.
Just food for thought.
More food for thought? My next "conspiracy theory."
---
I talked about this on Friday night (but I think it's worth mentioning again here), that following the win over the Sabres – the Rangers, at the request of the players', canceled their practice which was scheduled for Saturday.
Was the unscheduled day off a reason why the Rangers lost this game? Perhaps. At the very least, it's a possibility.
At the same time, the Rangers also ran into a red-hot goalie on Sunday night, which truthfully, really is the story of this game.
That said, while one day off won't dull the team's skills; rather than continuing to push with the league's top record in hand – instead, the Rangers decided to take a well-deserved day off.
I bring this up for one reason only:
Should the Rangers find themselves number one overall in the league again, I doubt they'll be canceling anymore practices. One goal was the difference in this game, and perhaps practicing on Saturday would've given the Rangers an extra edge on Sunday.
And yes, and fully admitted to you here – this is a 20/20 hindsight reaction, and a reaction following a loss. Had the Rangers won this game 1-0, I would've never brought this up.
Let's now get into the NEWS segment.
---
Prior to tonight's game, Gerard Gallant met with the media, for a lengthier-than-usual interview with those beat reporters. In fact, off of recent memory, I think this 10+ minute clip is the longest interview since the season started.
To watch the video for yourself, click the play button below:
---
The most important takeaway from the head coach was that CZAR IGOR still remains on the IR.
I talked about this last blog, so I won't repeat everything I said there – but yeah, there's no point in employing a "Rushing the Russian" game-plan – especially with back-up goaltender Alexandar Georgiev playing so well. (3-0 prior to tonight's game. And he played great again tonight too.)
This interview also took some interesting twists-and-turns, where the topic of physicality was most prevalent.
Gallant said while he wouldn't mind taking the "staged fights" out of the game; the bench boss also added that he was a fan of clean hits, where the topic of Jacob Trouba's recent brand of bruising the body was brought up.
As anyone with a brain knows – hitting is part of the game. As long as players are hitting cleanly, Gallant doesn't have a problem with it. Gallant even added if he saw his players making dirty hits (head shots), he'd take them aside and tell them to knock it off. (My words, not Gallant's words verbatim.)
Gallant's past as a player was also brought up, where for some reason, no one on the Rangers media beat brought up what I told you last blog – the current Rangers head coach, while as a player, recorded ten Gordie Howe Hat Tricks himself.
(I only mention this, because there were so much talk about physicality during this interview, where Jacob Trouba (two Gordie Howe Hat Tricks last week) was the root of that conversation.)
Rather than talking about Gallant's physicality as a player (Gallant did mention that he took a lot of dumb penalties in his day, including those of the five-minute major variety for fighting), the media asked if Gallant's style of coaching was influenced by one singular person.
Gallant mentioned that Jacques Demers was the best coach he ever had, while in Detroit. Of course, Gallant would say this – not only because of Demers' resume, but because Gallant had the best years of his career while playing under Demers.
Gallant did go on to say, that while Demers influenced him the most; his style of coaching comes from a bunch of people. Gallant also said that he took things that did and didn't work out from past coaches during his days as an NHLer.
As far as anything else not directly related to his players; Gallant was also asked about the NHL's recent apology to the Buffalo Sabres, where Colin Campbell and company said that their officials erred when calling back the Sabres second goal from Friday night.
Gallant gave the textbook coach 101 answer in response, saying that he had a difference of opinion with that statement. He also said that the officials have a tough job.
As noted on previous blogs, the NHL is cracking down on criticism of their officials (and the league in general), so Gallant wasn't going to say anything to rock the boat here – nor should he – especially with his team benefiting!
---
When it comes to individual players on the team, the media softly suggested that K'Andre Miller hasn't been up to snuff this season. I don't think the media was exactly wrong with that line of questioning, questioning that kind of felt like challenging Gallant about the weakest link on his team.
In turn (and in comments that made some heads spin), Gallant said that Miller has been "perfect" this season and he couldn't be happier about #79. Gallant reminded the media (and the fan base too I suppose), that Miller is only in his second year, following the pandemic-plagued 2020-21 season.
I know some fans got rattled about these comments, but what else did you expect to hear Gallant say? He's not going to trash his players to the media, especially since Gallant is a former player himself.
Rather than going on about Miller's weaknesses, Gallant accentuated his young defenseman's strengths. It's a way to instill confidence – especially since these players listen to what Gallant has to say to the media.
That said, Gallant later went on to say that if players make mistakes, unlike rookie coaches – he's not going to staple them to the bench or scratch them. We've heard Ryan Reaves back Gallant up on this point just last week.
Gallant said he'd only take playing time away from his players, if and only, when they make the same mistakes repeatedly. After all, the other team is paid to play too.
Rarely, and do I mean RARELY, do you see one NHL team just dominate an entire game for an entire sixty minute duration. As long as Gallant's Gang aren't making the same mistakes over-and-over and/or ignoring the advice imparted by their coaches too – Gallant won't punish them.
Lastly, prior to puck drop, both Ryan Strome and Nils Lundkvist didn't practice on Sunday morning, where the head coach said the duo had a maintenance day. It was later reported that Lundkvist had an illness, an ailment that wasn't COVID-19 related.
While Strome was in the line-up tonight, Lundkvist wasn't. With Jarred Tinordi sharpening his skills in Hartford, that meant that Libor Hajek, at the 27 game-mark of the season, made his 2021-22 debut, where he was paired up with Patrik Nemeth.
(And for what it's worth, Hajek looked good tonight. If you didn't know his situation going into this game – you'd never know that this was his first game of the season.)
---
Here was tonight's line-up:
FIRST LINE: Kreider/Mika/Kakko
SECOND LINE: Panarin/Strome/Hunt
THIRD LINE: Lafreniere/Chytil/Gauthier
FOURTH LINE: Rooney/Goodrow/Reaves
FIRST D-PAIR: Lindgren/Fox
SECOND D-PAIR: Miller/Trouba
THIRD D-PAIR: Nemeth/Hajek
And in net, Alexandar Georgiev
---
BOX SCORE time.
The following information and graphics come from the new world-wide leader in NHL coverage, ESPN.com:
SCORING:
PENALTIES:
TEAM STATS:
GOALIES:
| | | | | | | | | | | |
| --- | --- | --- | --- | --- | --- | --- | --- | --- | --- | --- |
| SA | GA | SV | SV% | ESSV | PPSV | SHSV | SOSA | SOS | TOI | PIM |
| 32 | 0 | 32 | 1.000 | 27 | 0 | 5 | 0 | 0 | 60:00 | 0 |
| | | | | | | | | | | |
| --- | --- | --- | --- | --- | --- | --- | --- | --- | --- | --- |
| SA | GA | SV | SV% | ESSV | PPSV | SHSV | SOSA | SOS | TOI | PIM |
| 32 | 0 | 32 | 1.000 | 27 | 0 | 5 | 0 | 0 | 60:00 | 0 |
---
When it comes to the M$GN broadcast tonight, Bill Pidto filled-in for John Giannone.
For some reason, Pidto sat to the left of Lundqvist, where Vally usually sits, while Vally sat in the chair to the right of Lundqvist. Who knows why this game of musical chairs was played, but I thought it was worth noting.
Right as the opening stock music concluded, where the theme sounds like something you'd hear during a "Skinemax" movie; Pidto and Vally went right into defending Zibanenash's weak goal scoring numbers. Kind of a weird way to open the show, but perhaps clairvoyant of what was to come.
It was also mentioned that Georgiev, despite his earlier struggles from this season, had a record of 5-1-1. It was also mentioned that Georgiev had a save percentage under .900 and a GAA north of 3.00.
After tonight's game, while Georgiev's win-loss record took a hit (through no fault of his own, because after all, "you can't win, if you can't score"); Georgiev bumped his save percentage to .902 and lessened his GAA to 2.85.
Whether or not Georgiev is "trade-deadline bait", I don't know – but at least his numbers are no longer horrific and bloody as they once were – as if he was a female teenage star of some 1980s slasher movie.
And yes, when everyone was trashing the player I once dubbed as "THE KING OF KINGS" – I stood by him!
As Lundqvist himself reiterated tonight (and as I have said many times before) – Georgiev is at his best when he's playing regularly.
(Of note, just like Vagistat's Jack Eichel "tingles" from this summer; mum's the word on Vally's most recent comments about Georgiev needing an extended stay in Hartford.)
To fast-forward a bit (when talking about two players who wore #40 for the Rangers, Georgiev and Vally); during the second intermission, Vally put full blame on Georgiev for the lone Nashville goal allowed. The ghost of Georges Vezina himself could see that this goal allowed had nothing to do with Georgiev. (More in the game review segment.)
What I liked after that stupid remark, is that Lundqvist didn't back-up his former useless back-up. Instead, Lundqvist went a full 180 here, bringing up how the shooter was left wide-open and how Georgiev had a battle in front of his own net too. I still contend that Vally has some sort of envious grudge against Georgiev, as he usually tries to bury the Bulgarian whenever he can.
As far as anything else worth mentioning here, during the "BUD LIGHT BAR" segment (where those beer bottles are dustier than a VHS tape), the Trevor Zegras "Michigan" highlight reel play was discussed. Of note, Pidto said that the clip has been viewed over 50 million times! Wow.
Lundqvist said he liked the play, and said it was good for the game. I expected that take here, especially after his former nemesis, John Tortorella, admonished the play on national television.
Steve Valiquette said he didn't like the play, because you'll never see it in the playoffs. Lundqvist brought up how the game always evolves, and if these players are good enough to pull off this Harlem Globetrotter play in the regular season, then we'll see it in the playoffs one day too.
As far as my opinion on the Michigan play (and its variations), I'm fine with it.
Just like an NFL trick play, it's up to the defense to stop it. One good hit would handle that. (Plus, if these clips are getting 50M views, that's good for the game too.)
(And let's not forget, that we didn't hear one Ranger fan, nor Vally himself, complain when Chris Kreider almost had one of these goals a few games back. In fact, Vally was raving about the try. I'm not surprised about Vally having a bi-opinion on this at all.)
And of course – this is where you need a skater on these broadcasts, in order to give M$GN viewers a shooter's perspective. Send Vally to the Isle broadcasts!
Enough dilly-dallying, let's now get into this game itself – a game where if you were trying to introduce hockey to a potential new fan, your attempt would've backfired.
---
This game was very "Jekyll and Hyde", where the Rangers had a dreadful first period, only to turn it up a notch as the game went on.
If there was anything truly uncharacteristic about this team during the first period, it was the fact that just six minutes in, the Rangers were being out-hit 11-1. That's not a typo.
While the Rangers would eventually make the hit stat respectable; it's very rare when the Rangers not only lose the hit stat category, but lose a ton of puck battles too. Maybe that's where that canceled practice factors in?
---
The Strome line started this game, where #16 lost the opening face-off. 37 seconds later, both goalies already had a save on their ledgers.
Hajek was noticeable early, during a shot attempt on his first shift. The Rangers third line, in their first action, saw Gauthier once again go to the net, but failing to finish – a common occurrence.
And I forget who said this first, but they are right (I think it was BUDDA):
Far too often, Gauthier gets to the net, but takes one extra step/stride – thus forcing him to swoop around the net or where he tries to jam a puck home from a near-impossible angle – two events that don't lead to goals.
Five minutes in, after a Goodrow defensive zone faceoff loss, Georgiev made three quick saves in succession. He was on all night, where if it wasn't for his stellar effort – the Rangers would've never had a chance during the final two minutes of the third period.
As Georgiev continued to make save-after-save; with nearly ten minutes down in the period, Zibanenash, on an odd-man rush, opted not to shoot or go for a "puck-on-pads" play, rather forcing a pass for a turnover. Maybe some of his issues are still COVID related, but I think the bulk of them are mental. He looks scared to shoot at times.
With 9:44 to go, Chytil was boxed for hooking Trenin. Georgiev was the best penalty killer here, making three saves in total, stopping three tough chances – including a Forsberg one-timer attempt.
Two minutes and ten seconds following the Rangers kill, they went on the power-play themselves, following Tolvanen hooking Kevin Rooney.
The Rangers power-play was great here, but of course, this isn't horseshoes and hand grenades. Panarin/Mika/Kreider were all over Saros, but could never break through. Credit to Saros here.
Following the failed power-play; the Rangers almost got a puck-luck goal, when Hunt took a shot and the puck bounced off of Josi's skate and right towards Saros. Saros, alert, made the save, preventing Josi from pulling a "Nemeth."
After the first period, we remained scoreless.
The Rangers didn't look good here at all, despite the 0-0 score.
In fact, the first period stats, all favoring Nashville, read as:
SOG: 13-6
Hits: 20-8
Faceoffs: 9-7.
As noted, the Rangers would improve in the second and third periods, but not enough to make a dent in the scoreboard.
---
Georgiev, the lone Ranger star of the first period (and the game), would see his workload lessened – but when his number was called upon, he was there for every save, except at the 1:44 mark of the second stanza.
Philip Tomasino, who also scored the lone Nashville goal during the Rangers 3-1 road victory over the Preds from a few weeks back; scored again in this rematch.
On this play, the Rangers defense got caught looking, Granlund dominated Miller in #40's crease and Tomasino was left all alone to pick his prey, where he lasered a puck to put the score at 1-0 bad guys. And we didn't know it then, but this would be the only goal of the game. Ugh.
Right after the goal, Georgiev was tasked again, this time making a big blocker save to prevent Nashville from quickly going up 2-0.
On the Rangers next possession, Alexis Lafreniere tried some razzle-dazzle, perhaps one move too many, which allowed Saros to regain his stance, which in turn, led to Saros making his first best save of the period. A minute later, Strome and Hunt tried a give-and-go play, to little success.
After Georgiev made two rapid saves; at the near five-minute mark of the frame, Filip Chytil had two wide-open chances. On both tries, he channeled his inner Scott Norwood, and went high-and-wide. With the thinking of "third time is a charm", #72 would get another quick chance, where this time the puck traveled to Saros, where the Preds goalie then made the clutch save.
With 10:50 remaining in the period, it was Zibanenash's turn to blow a scoring chance, missing the net from a foot away.
Continuing the theme of missing the net; with near five minutes to go, Lindgren, from a foot away, went high, but in his defense, the Preds skaters got to him at the last second.
In what we all hoped would be a turning point in the game (and at the time, inside of M$G it was), Jacob Trouba leveled Kunin with another one of his newly patented big, yet clean, body blows.
Kunin tried to goad Trouba into a fight, but #8 never engaged. Following a whistle (goalie freeze), the refs and the players' broke up what could've been a fight. For what it's worth, I don't think Trouba was scared of Kunin for one second.
Following the big hit, and as M$G erupted with many "LET'S GO RANGERS!" chants; Zibanenash had a weak backhander stopped by Saros.
As the period reached its conclusion, Zibanenash had one more try, where yep, you guessed it – he went wide.
1-0 bad guys after forty minutes.
Admittedly, despite the blah first period and scoreless second; I thought the Rangers would find the equalizer and then the winning goal in the third period. It never came, but it wasn't for a lack of effort, as the Rangers put over sixteen shots on goal in the final frame. Unfortunately, Saros was just in the zone and tonight was his night.
Here's another cliche – "shit happens."
---
I forget if I said the following on this site or on social media, but what's one more time?
Doesn't it always feel that whenever Strome scores, his goal (or goals) are usually the biggest of that particular game? Conversely, doesn't it always feel that whenever Strome doesn't score, despite an amazing chance, it always swings the game for the opposition?
Unfortunately for the Rangers, the latter once again applied here.
The Rangers played their best hockey in these final twenty minutes. Sadly for them – Saros was better.
---
After Strome won the first faceoff of the period, Micheletti shrieked, "WATCH OUT FOR MIKA ZIBANEJAD, HE'S DUE!"
While I don't think Micheletti was entirely wrong here, and while I also believe in "due-ness"; saying Zibanenash is due is a lazy prediction/analysis. There was just nothing to suggest that this game was any different than the previous 26 games that Zibanenash has played in from this season.
Funny enough, Zibanenash would have the first GOOD LOOK of this period, where he shot the puck at the head of Saros – a save for the fortunate horseshoe-up-his-ass Predator.
In a save that kept the Rangers alive, Georgiev then made a FABULOUS save on Carrier. In fact, the bulk of Georgiev's third period theatrics took place in these first five minutes, where he kept this deficit to a one-shot game.
With 13:35 remaining in regulation, Fox, after forcing a turnover, was then tripped by McCarron. This is where I thought the Rangers power-play would find the tying goal.
During this Nashville kill, Saros put on his ski-mask and went on a robbery-spree, with Strome being his biggest victim.
Strome had three chances to score during this Rangers man-up opportunity, where Saros stopped him every time – including during a tip-in try from the doorstep.
I should also note, that it felt like during this triad of chances, every time Strome put the puck on net, his shot was delayed for a second, as he had to settle down a nervous puck. Had these been pure one-timers, rather than a juggling act, who knows?
After failing to convert on the power-play, with 10:14 to go, Saros made a clean save on Nemeth. It was also around this time where Gallant shuffled his lines, putting Kakko back on the Strome/Panarin line, and bumping up Gauthier to the top line with Mika and Kreider.
Following the game, Gallant just said he wanted to get something going, and didn't suggest that these changes would be permanent.
With under 7:30 remaining, Rooney was blatantly interfered with, in front of an official no less, but no call. Maybe Saros would've thwarted this potential third Rangers power-play, but the officials 100% blew this.
After an extended stay in the Predators zone (Panarin, Strome, Kakko, Trouba and Miller), the quintet spent too much time passing, rather than shooting the puck, which let Saros off of the hook a bit. Right after this, Goodrow was blatantly tripped, but the refs must've had a 10:00PM dinner reservation – no call.
With 94 ticks remaining, the Predators iced the puck, where in response, Gallant used his timeout and pulled Georgiev.
To the Rangers credit, they won the ensuing offensive zone faceoff, but the Predators blocked a bunch of shots during this and got a much needed clear.
Keeping the Rangers minimal chances alive was Adam Fox, where he blocked two Predator empty net tries.
After one last rush in the Predators zone, Nashville got their clear. Saros would then make a save on a long distance "Hail Mary" try with .1 seconds left, which eventually gave the Predators the 1-0 victory.
---
In my eyes, I would consider this game to be an "aberration," rather than deeming this contest as an "indictment."
That said, it doesn't matter who is in net for the Rangers on Tuesday in Colorado.
Whether it's the returning CZAR IGOR or the now sturdy Georgiev – the team will have to score goals to win. After all, I think that's the number one thing you need to do whenever attempting to win any hockey game – score goals!
I wouldn't finger-point one individual or do the "blame game" after this tilt.
(And that's not me being hypocritical here either (regarding my previous Zibanenash remarks), because I've been saying this all season. I just hope to see the Zibanejad of the second-half of the 2019-20 season return one day.)
Outside of Georgiev, the team wasn't really inspiring during the first period.
And again, and to his credit – Saros was also hellbent on posting a no-no, a feat which he accomplished.
In fact, Saros stopped the surging Rangers power-play, where entering this game, the Blueshirts had scored PPG's in six straight games. Time to start a new streak.
I think I've said enough about this game. On to the next one. However, before going home – PLUGS TIME!
---
The first plug of tonight's blog – the mandatory plug for my new book, "The New York Rangers Rink of Honor and the Rafters of Madison Square Garden".
As mentioned previously, the book is now available in hardcover, in paperback and in Kindle formats. To purchase a copy of the book, visit this link:
https://www.amazon.com/Rangers-Rafters-Madison-Square-Garden-ebook/dp/B09CM5N2WD
For those still looking for signed paperback versions of the book, I have re-ordered more copies. I now have twenty signed copies for sale at $25 a pop (includes shipping price) through me directly. Here is all the information on that:
---
Here are my last few blogs, in case you missed them:
---
---
If you haven't already, subscribe to this blog for the next update:
---
Up next: a two-game road-trip, starting on Tuesday in Colorado and finishing on Wednesday in Arizona.
Of note Part I: Tuesday night's game is an ESPN+ exclusive. I'm sure that's a turnoff for older viewers. Additionally, for younger viewers, I'm sure the illegal stream sites will be busy on that night!
Of note Part II: I'm a day one ESPN+ subscriber, where prior to their NHL deal, I bought the service since they have a ton of exclusive UFC shows. And I'm not being paid here to say this, but with the NHL and MMA being my two favorite leagues/sports, $5 a month isn't that bad. (Plus, I rather pay $5 to watch the Rangers if that means no Steve Valiquette too! Heck, I'd pay $50 a month for that luxury!)
Of note Part III: NHL Player Safety sure cares! This game was the first of four in six nights, where the Rangers will also criss-cross time zones too. Following Friday night's game against Vegas, the Rangers then have one game scheduled in nine nights.
Time permitting, I hope to post my book review of "Tales of Brooklyn", by Stan Fischler, sometime next week too.
Stay FABULOUS my friends.
As always here, thanks for reading and…
LET'S GO RANGERS!
Sean McCaffrey
BULLSMC@aol.com
@NYCTHEMIC on Tweeter