Greetings and salutations everyone and welcome to another blog here on BlueCollarBlueShirts.com. Tony DeAngelo who?
Following the Rangers becoming part of Tony DeAngelo's personal highlight reel just 24 hours prior; on Saturday night, now back at M$G, the Rangers, as they usually do, rebounded after a poor game and knocked off the woeful Arizona Coyotes by a final score of 7-3.
While the scoreboard may have read, Rangers touchdown (extra point good), Coyotes field goal; the fact of the matter is that the scoreboard doesn't tell you the full story of this sixty minute affair.
For the first thirty minutes of Saturday night's game, the Rangers looked absolutely terrible and uninspired. Whether they were brokenhearted over the numerous celebrity deaths that have occurred over the past 24 hours (Meat Loaf, Louie Anderson and Clark Gillies) or what – the Rangers just didn't have it. And without making light of anyone's passing, the first thirty minutes of this game were as quiet as a funeral.
Sure, the Blueshirts didn't get into their own beds until nearly 4:30AM early Saturday morning, but even then, for a team who wants to make a deep run in the Stanley Cup Playoffs – a loss to the Coyotes would've been catastrophic.
This Arizona team, who like the Rangers themselves, had also played the night before. (The Coyotes didn't have sleep issues, as they were shut-out by the Isles 4-0 in Elmont, and in turn, were in the area.)
Prior to Chris Kreider's (and much more on him tonight) short-handed goal at the 11:30 mark of the third period (which then brought the score to 3-2, and in favor of the bad guys); inside of the "World's Most Expensive Arena," you could've heard a pin drop or Steve Valiquette applying another round of Clairol to his hair.
For a Rangers team that had previously struggled with these same Desert Dogs of Glendale on December 15th, they struggled even more so during the first thirty minutes of the rematch. However, behind two of their 7678969789689678968 alternate captains, Chris Kreider and Jacob Trouba, the team rallied big-time, and did what they were supposed to do – put the Desert Dogs to sleep.
---
For a Rangers squad that has had issues with their young players, especially their forwards; it was nice to see the stars of this team explode – and as they should've, against a bad and rebuilding Arizona team.
Put it this way – Kreider had a hat trick and an assist. Jacob Trouba had two goals and an assist. Adam Fox had two power-play assists. Mika Zibanejad had a trio of assists. Ryan Strome picked up an assist himself. Artemi Panarin, who hadn't scored a goal since leaving his omicron gulag, scored his first goal since being released from his five-day sentence. (He also picked up an assist too.)
And after having to survive behind a questionable defense early on, CZAR IGOR Shestyorkin finished the night with 26 saves on 29 shots faced, where six of those saves were of the short-handed variety.
Speaking of special teams, the Rangers, who had a tough night out in Raleigh, were fantastic. (Or should I say FABULOUS?) The power-play went 2-4, where it should also be mentioned that one of the Ranger power-plays (the first one, when the team was struggling) was under a minute long. The fourth and final power-play also didn't feature the team's first unit, as the game had already been long decided by then.
(In other words, the PP1 unit went 2-2 during the standard two-man advantage. This is stuff that the EYE TEST will tell you, but analytics won't.)
The club's penalty kill, one of the best in the league, went 4-4 tonight, and for good measure – scored a short-handed goal too.
In a game that felt like it was going to be an epic disaster, Gallant's Gang, full of so many adages this season, personified one more – "it's not how you start, it's how you finish." And the FIRST PLACE Rangers most certainly finished off the Coyotes on this night.
---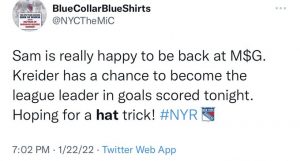 Granted, while I'm writing this review from a state of euphoria following a Rangers win, where need I mention again – returned the team to first place in the division; admittedly, there were many warts tonight, blemishes that may be glossed over by some. After all, it's all about the end result.
I think you can blame the lack of sleep and travel for some of the Rangers issues at the onset of this game, but even so, that's no excuse to get dominated at the dot. Nor is it an excuse to get destroyed in the shots on goal (SOG) statistic either – a real stat that matters.
Even I, someone who has touted my "glass half-full" perspective all season, felt some water leaving the glass during this game. After the game, I was able to repair the chip in my glass!
However, I also felt that the Rangers would comeback, due to the opposition.
As we saw in Carolina, this strategy of laying a stinker in the first period, only to fire back later on; well that won't always work against good teams, but it can work against poo-poo teams, such as the Coyotes.
As stated last night, the Rangers had the perfect opponent to figure things out with, and I'm happy that they did.
However, just like any other team in the league (where rarely does any team play a complete sixty minute game), the Rangers have their flaws too. It's still up to Gallant and company to address these first periods, which I'm sure they will – just like how I'm sure that general manager Chris Drury will try to repair some holes in his roster by the trade deadline as well.
Of note Part I: I'm not so sure if Phil Kessel and Jacob Chychrun are the answers to the Rangers problems, as it was rumored tonight that the Rangers have interest in both; but in either event, you know Drury will be active before the deadline expires.
Of note Part II: the source of the Jacob Chychrun rumor is rooted in esteemed reporter Jeff Marek, who on Saturday night, said on "32 Thoughts" that the Rangers have presented a package to Arizona for him, where Vitali Kravtsov, a first round pick, and another asset (most likely Lundkvist, Miller or Jones) would then go to the desert.
Of note Part III: there are many rumors going on right now. I rather talk about facts, so rather than wading in the trade waters, I'll wait until Drury makes something official. However, since Chychrun's name was mentioned on Canadian national television tonight, I felt I had to bring it up here.
---
Before getting into the game review, let's hit the pregame news first, where since this game was the second game of a back-to-back set; news was light.
Two hours prior to puck drop, head coach Gerard Gallant met with the media. Here is his quick press conference:
---
Gallant didn't say much that you wouldn't expect. He admitted that the loss to Carolina was tough, but at the same time, wouldn't single out any player for the loss – including the struggling and frustrating young players such as Kakko, Lafreniere and Chytil.
Gallant also, and as everyone knew, confirmed that CZAR IGOR would be in net for this tilt with the Desert Dogs.
In his final comments, Gallant expressed his sympathies over the loss of Clark Gillies.
---
Here's what "The Turk" originally planned to go with on Saturday night inside of M$G:
FIRST LINE: Kreider/Mika/Kakko
SECOND LINE: Panarin/Strome/Goodrow
THIRD LINE: Lafreniere/Chytil/Hunt
FOURTH LINE: McKegg/Rooney/Reaves
Defensively, we had this:
FIRST D-PAIR: Lindgren/Fox
SECOND D-PAIR: Miller/Trouba
THIRD D-PAIR: Nemeth/Schneider
And in net, CZAR IGOR.
However, all plans are subject to change.
---
Kaapo Kakko, who did participate in pregame warm-ups, was ruled out of this game following the quick skate. To fast-forward ahead to the end of this game, Gallant said that Kakko had some sort of nagging issue, which was re-aggravated during the Finn's warm-up.
Furthermore, the horror show known as Filip Chytil (who did dress and play in this game), was injured on Saturday night too. After going to the locker room, and following the first intermission, the Czech never returned to the game.
As far as both Kakko and Chytil go, during his post-game press conference, "The Turk" said that both players were "day-to-day" and that neither injury was serious. It should also be mentioned that Gallant regularly says the three words of "day-to-day," following any injury to one of his players.
With Kakko's injury, Gallant, who kept his defensive pairs the same (duh), had to shake up his forwards. Here's what he settled on, where it should also be mentioned that during the second period, Gallant put Panarin on the top line, in favor of Hunt:
FIRST LINE: Kreider/Mika/Hunt
SECOND LINE: Panarin/Strome/Goodrow
THIRD LINE: Lafreniere/Chytil/Gauthier
FOURTH LINE: McKegg/Rooney/Reaves
And heck, for a player that wasn't supposed to play tonight, Gauthier wound up scoring the tying goal of this game. Not too shabby for a player who most desperately needed something positive to happen for himself. Glad to see it!
---
BOX SCORE time.
The following information and graphics come from the new world-wide leader in NHL coverage, ESPN.com:
PENALTIES: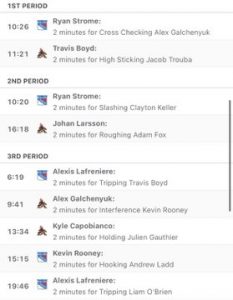 TEAM STATS:
GOALIES:
| | | | | | | | | | | |
| --- | --- | --- | --- | --- | --- | --- | --- | --- | --- | --- |
| SA | GA | SV | SV% | ESSV | PPSV | SHSV | SOSA | SOS | TOI | PIM |
| 20 | 6 | 14 | .700 | 14 | 0 | 0 | 0 | 0 | 41:33 | 0 |
| 7 | 1 | 6 | .857 | 1 | 1 | 4 | 0 | 0 | 18:18 | 0 |
| | | | | | | | | | | |
| --- | --- | --- | --- | --- | --- | --- | --- | --- | --- | --- |
| SA | GA | SV | SV% | ESSV | PPSV | SHSV | SOSA | SOS | TOI | PIM |
| 29 | 3 | 26 | .897 | 20 | 0 | 6 | 0 | 0 | 59:59 | 0 |
---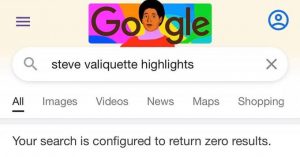 With the Rangers at home, Sam Rosen and Joe Micheletti were returned to their rightful place in the broadcast booth, rather than calling the game off of a monitor. Still, that didn't prevent Rosen from flubbing another goal call tonight, but to be fair, from his angle, it was tough to see how a puck in the second period trickled past CZAR IGOR without the benefit of replay. (That said, there was an official signaling a good goal at the same time! Bless Rosen's heart.)
We had a full broadcast crew tonight, sans part-timer Henrik Lundqvist. Unfortunately, that also meant that Steve "Trade Braden Schneider" Valiquette was there too.
After Michele Gingras gave out her mid-season report card (I'll have one eventually, probably during the break), I said on Twitter, "a Kreider hat-trick tonight would set a season high in goals scored."
It's nice to be nailing all of these predictions, especially since I've been banking on them with all of these free wagers that these new New York sports-books have been offering! (And once I tap out and no longer have their free money, I'm done! After all, no heater lasts forever.)
As Valiquette yammered on-and-on about his fake news/meaningless made up stats, which are compiled from his crappy company; I thought to myself, "damn, John Giannone deserves an Emmy." After all, I've never seen an actor feign more interest and enthusiasm as Giannone does, whenever the seven-foot doofus talks about the charts he made during his adult special ed arts-and-crafts class.
More amazing than that? Despite the Rangers warming up directly behind them, neither Giannone or Vagistat could be bothered to tell us the line-up – which was kind of important, considering that Gallant had teased tinkers to his line-up earlier in the day.
Thankfully, Dave Maloney was in the house tonight. He was great as usual. The broadcasts are much better whenever he's featured, especially since he's a Rangers legend himself. He also never played with the Islanders as Vally once did.
Unlike the analytical back-up goalie, Eye-Test Maloney praised Braden Schneider and predicted a long future for the Rangers latest defenseman – which was the complete opposite of what Vagistat said 24 hours prior.
It should also be mentioned, while Valiquette often mentions on-air that he talks to heat-map geeks on Twitter; Maloney mentioned that he talks to John Davidson. Maloney then said that JD was always high on Schneider and thought that #45 would be a good Ranger.
Maloney (as both the Rangers and M$GN did as well), also paid tribute to fallen Islander Clark Gillies.
Of note, Gillies, who just was at the IBS Arena a few weeks back, seemed to be healthy prior to his untimely passing. There's been no word on the cause of his death yet, although many are already speculating about it. (I won't do the same.)
After Vally waxed poetically about Kakko, only for it to be announced a minute later that #24 had been ruled out of the game; the Rangers then paid their respects to the two NYPD officers who were shot last night, where one was killed and the other is in critical condition.
I think most of us know people who are in the NYPD (and some of you are members yourselves too), whether these friends and/or family members are active or retired.
Personally, I have a few friends who are active NYPD officers. It really is the most unenviable job in the world today. My condolences to everyone who knew these two officers. This attack was pure savagery and the act of a coward.
Let's now try to switch gears here, and get into the game review.
---
There's not much good to say about the first period of this game, where following the first twenty minutes of action, the Coyotes led the SOG statistic 16-4. They also brutalized the Rangers at the dot too, winning 15 of the game's first 19 faceoffs.
By the time that the game was completed, the Rangers pretty much struck even in SOG. However, they still were dominated at the circle, as the Coyotes won 31 faceoffs to the Rangers 19.
Of course, the only thing that matters is the final score, but the SOG and faceoff numbers did tell the story of this game, especially when you break them down by the first thirty minutes and by the last thirty minutes.
The Coyotes, who pretty much had control of the puck for most of the period, had a quick scoring chance early, but Goodrow prevented Kessel from scoring.
However, at the 2:29 mark, Liam O'Brien (obviously of Asian descent), scored a rebound goal. 1-0 bad guys. And since I'm mentioning my predictions, my 4-0 CZAR IGOR shutout didn't pan out as planned!
On the goal, Igor, who gave up a ton of rebounds in this first period, just as he did against Toronto; gave up one here, and O'Brien easily got past Nemeth for the tap-in tally.
Thankfully, just 46 seconds later, this happened:
quick answer from @JacobTrouba pic.twitter.com/0A7acUc6EK

— Rangers on MSG (@RangersMSGN) January 23, 2022
---
1-1, as we had a pure FAT CAT goal.
On this play, during a rare Rangers faceoff win (Kreider); CK20 won the draw, Zibanejad pushed the puck backwards, and then Trouba bombed a shot from deep. This was the Rangers first SOG of the game, where following this goal, it would take a long time to get another.
Following Trouba's equalizer, the Coyotes went right back at it, where Igor had to make a flurry of saves, including saves after odd-man rushes. The Garden exploded with "IGOR, IGOR, IGOR" chants following these saves – which took place just five minutes into the game. (This tells you that this crowd wanted to go nuts tonight, but had to wait a bit in order to fully enjoy this game.)
With 13:04 to go, the Igor chants died down a bit, as both Nemeth and Schneider were caught behind their own net (Nemeth more so than Schneider), which led to an easy goal for Andrew Ladd. Ugh. 2-1 bad guys.
As we approached the nine minute mark, Trouba, after a pass from Panarin, rung one off the iron. Even Sam Rosen heard this one. And since a <ding> doesn't count as a SOG, at this point in the game, Arizona were out-shooting the Rangers 9-1.
After Gauthier finally got the team's second SOG, Kreider turned over the puck in the neutral zone, where CZAR IGOR successfully flashed the cow on Nash.
With 9:34 remaining, Galchenyuk made a move on Goodrow and got one-on-one with Igor. Strome crosschecked his fellow center, which then gave the Coyotes their first power-play of the game.
After 55 seconds of power-play time, the Coyotes took a penalty themselves, after Boyd high-sticked Trouba.
Neither team would score on the foreplay, nor would the Rangers on this short man advantage.
With just under four minutes to go, the SOG were 15-2. Crazy.
As the period came to an end, we remained at 2-1 bad guys, where aside from Trouba's goal, which felt like a unicorn – the extent of the Rangers offense was pass-turnover-pass-turnover-pass-turnover and you get the rest.
---
The first ten minutes of the second stanza were much like the first period, where the Rangers couldn't get much going. As everyone blamed sleep and travel (including the M$GN crew) for the Rangers woes, the team would soon awaken.
Adam Fox would record the first Rangers SOG in this period – at the 5:25 mark. Less than ninety seconds later, following a puck that Trouba tried to clear (it hit the linesman), Clayton Keller got past K'Andre Miller and had a puck trickle past Igor. This was the goal that Sam didn't see, but it was tough to see in real-time anyway.
3-1 bad guys, and it looked like the Rangers were entering hockey hell.
Making matters worse, was with 9:40 remaining, Strome was back in the box, this time for slashing. However, it would be the Rangers penalty kill who scored next.
Following the 'Yotes faceoff victory, the Rangers penalty kill got the puck. After a lot of fancy passing, where you were about to throw your hands in the air in a moment of frustration, this happened:
27 ⬇️

🎥 @NYRangers pic.twitter.com/lYGnMz9LFg

— Rangers Videos (@SNYRangers) January 23, 2022
---
3-2, as Chris Kreider, who previously scored the first short-handed goal of his career earlier this season, picked up his second goal of this variety here. And at this moment in time, it were both Trouba and Kreider who were most noticeable for the Rangers. The box score reflected as much, as now both players had a goal and an assist each.
After Igor made a few more saves, and as the PK remained flawless, the Rangers found an energy boost.
Coyotes goalie Karel Vejmelka was then forced to go to work, where he stopped a flurry of Ranger chances.
However, with 4:34 to go, Julien Gauthier, after a nice pass from Dryden Hunt, tied the game. 3-3.
This goal was created by CZAR IGOR himself, as just prior to the goal, he came way out of his own net, fired the puck up ice, and mere seconds later, Gauthier tied the game. (Igor didn't get an assist here, but Hunt and Kevin Rooney did.)
While you could argue that Chris Kreider's SHG was the turning point of this game, as the Rangers soon turned-the-tables following it; to me, the turning point of the game came with 3:42 remaining in the second period.
Left wing Johan Larsson, after being out-played by Adam Fox, vented his frustration with the Norris winner, as he cheap-shotted #23 in blue with a rabbit punch to the back of the head. With Fox now fallen, Larsson then checked Fox in the back.
Somehow, what I thought was a game misconduct, or at the very least, a double-minor; was a two-minute roughing call. Horrible officiating, especially when you have one of the league stars taking two unwarranted shots, and one to the head. So much for player safety.
This disgusting and cowardly display absolutely riled up Jacob Trouba. If #8 could've, he would've taken Larsson, thrown him into a UFC cage, and just pummeled the shit out of him. Instead, Trouba, who had to be seeing bright red, decided to boom 90+ MPH shots at the Yotes.
Fifteen seconds following the yellow-backed Larsson's crime, Panarin scored his first goal since returning from the COVID list. 4-3, GOOD GUYS, and a goal that would hold up as the game winner.
And for what it's worth, Fox shook off these sissy shots from Larsson, as he assisted on this power-play goal too.
The Rangers, clearly incensed a bit, wouldn't let up.
Two minutes after "The Breadman's" go-ahead goal, Chris Kreider picked up his second. Take a look, as with this goal, Kreider picked up his 28th, tying his (now former) career-high:
28 goals, 42 games. He's good!

🎥 @NYRangers pic.twitter.com/181aTJKm5M

— Rangers Videos (@SNYRangers) January 23, 2022
---
5-3, GOOD GUYS, as Kreider followed-up on Zibanejad's chance.
The Garden just exploded for this, because they knew what was going on too, as not only was this Kreider's 28th, it also meant that he now led the league in goals scored.
(By the end of the night, following Kreider's hat trick, Ovechkin then scored two goals in the Capitals win over the Senators. Both of these long-time NHL veterans now have 29 goals a piece – tops in the NHL.)
And not for nothing, while CZAR IGOR is currently getting attention for the Hart Trophy; with the two wonder-kids in Edmonton struggling, McDavid & Draisaitl, and knowing that year-end awards are exclusive for playoff players – Chris Kreider, on this date of January 22nd, 2022, has to be considered as a Hart Trophy candidate himself.
Of course, Ovechkin will remain as the favorite for league MVP, and for both sentimental and merit reasons. Plus, Ovechkin doesn't have a CZAR IGOR on his team.
Following a god-awful first period, the Rangers now had a two-goal lead over the crappy Coyotes. 5-3 GOOD GUYS after forty. WHAT. A. TURNAROUND.
---
As I said at the time, and as I said earlier during this game review – once that Larsson crap happened, there was no chance that the Rangers were going to allow the Coyotes back into this game.
The only thing that stopped the Rangers from scoring more than the seven goals that they eventually finished with, is because Gallant, now up by four goals, decreased the ice time of his top six, including keeping them on the bench during a late power-play.
On his first shift of the third period, Trouba was hammering the puck like a madman. On his third try, he blasted a slapshot right by Vejmelka. 6-3, GOOD GUYS, just 1:33 into the final frame.
This goal, the Rangers touchdown goal (or the double "Papa Johns" goal from seasons past), ended Vejmelka's night. Scott Wedgewood, who played the night before at the IBS Arena, entered the net in relief.
Everyone knew that the game was over at this point. Even Sam and Joe looked ahead and talked about the standings & around the league scores. The only thing that was left to do, besides winning the game, was to see if Kreider and/or Trouba would pick up a hat trick. And as you know by now, Kreider would.
As the Rangers were just waiting for the final horn, at the 10:06 mark, as friend of the blog Nick Adams would say, "KREIDER DID IT!" Here's CK20's hat trick goal:
CAREER HIGH 29 GOALS AND ITS A HATTY! pic.twitter.com/D1d8l6q1FB

— Rangers on MSG (@RangersMSGN) January 23, 2022
---
7-3, GOOD GUYS!
And for a night full of amazing achievements, milestones and scoring streaks, none were as big as what Kreider did:
Chris Kreider sets his career-high with 29 goals and records the fifth hat trick of his career.

Kreider's 29 goals and 14th power-play goals are the most in the NHL.

— NYR Stats & Info (@NYRStatsInfo) January 23, 2022
---
As predicted earlier this season (I feel like I say this a lot), not only will Kreider easily surpass that 30 goal mark that has eluded him his entire career – he'll smash 40 goals too.
And maybe I'm living in the moment – but hell, Kreider might hit 50 goals too. After all, he's currently on pace for nearly 60 goals right now, and you have to think he'll only get better, while the team around him gets better too.
The Rangers, now up 7-3, were in cruise control, including during a power-play that Julien Gauthier drew with 6:26 to go. This is where Gallant gave his bottom six power-play time, rather than allowing Kreider the chance to finish with an even 30 goals scored thus far this season.
If there's anything else worth noting from this third period, it's Alexis Lafreniere – one of the first round forwards who played throughout the entire duration of this game.
Once again, the first overall pick didn't even record a shot on goal tonight. In a new trend, it feels like #13 in blue has found a new way to make the box score – by taking stupid penalties.
Just as he did in Carolina, where he took a penalty late in the game, which then erased any chance of the Rangers of pulling Georgiev and then employing their 6×5 attack; he took two penalties during this final period. Neither penalty was necessary.
The first penalty he took was a dumb one, as it happened with the Rangers trying to burn the clock, and while up by three goals in a game where Arizona was never going to be able to make a comeback in.
The second penalty was less offensive, nor had it any impact at all, as Lafreniere was boxed for another tripping penalty, with just fourteen seconds left in the game. The Rangers were up by four goals and were just counting the seconds down. Why trip anyone?
These Lafreniere infractions will probably be forgotten about, or at least glossed over anywhere else you go, but it is worth bringing to your attention – just like another one of his games where he didn't play into the offense at all, and where he finished with zero shots on goal.
7-3, GOOD GUYS, a much-needed win. A loss, especially after that first period, would've had Ranger fans lining up at bridge ledges.
---
If you forget the first half of this game, this was a resounding victory. And if you want to go with the sleep-and-travel stuff, stuff that every NHL team goes through during every week of the season – be my guest.
However, to hone in on the negatives is a fruitless task. The Rangers did what they had to do and came out a big winner. The Coyotes were the slump-busters that the Rangers needed, and moving forward, starting on Monday, they need to keep on rolling.
And for all the talk about Gallant's goaltending decisions, things are right back to where they were prior to Friday night. The Rangers remain in first place and are still two points ahead of Carolina. Also remaining the same is that Carolina has four games in-hand over the Rangers.
So in other words, while of course you would have liked to see the Rangers defeating the Canes on Friday; these past two games have resulted in "no harm, no foul." The second half of the season will now march on.
PLUGS time.
---
The first plug of tonight's blog – the mandatory plug for my new book, "The New York Rangers Rink of Honor and the Rafters of Madison Square Garden".
As mentioned previously, the book is now available in hardcover, in paperback and in Kindle formats. To purchase a copy of the book, visit this link:
https://www.amazon.com/Rangers-Rafters-Madison-Square-Garden-ebook/dp/B09CM5N2WD
For those still looking for signed paperback versions of the book, I have re-ordered more copies. I now have 4 signed copies for sale at $25 a pop (includes shipping price) through me directly. Here is all the information on that:
---
Here are my last few blogs, in case you missed them:
---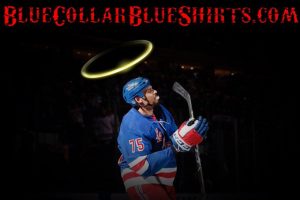 ---
---
If you haven't already, subscribe to this blog for the next update:
---
Up next: a rematch with the Los Angeles Kings, a team that beat a COVID-infested Rangers line-up nearly three weeks ago. I think the Rangers will get their revenge, behind a 4-0 CZAR IGOR shutout!
As always here, thanks for reading and…
LET'S GO RANGERS!
Sean McCaffrey
BULLSMC@aol.com
@NYCTHEMIC on Tweeter