Greetings and salutations everyone and welcome to another blog here on BlueCollarBlueShirts.com. This game wasn't exactly a "revenge" game for the Rangers on this night.
That said, the Rangers are still one point away from first place in the division. They can claim first place tomorrow night, so there's that! Glass half-full I say!
On Tuesday night, the Rangers, looking to get even after the brutal 7-3 "scheduled loss" to these same Avalanche from just under a week ago; were doubled-up by the favorite team to win the 2022 Stanley Cup Final, dropping the rematch by a final score of 4-2.
While the 4-2 score doesn't suggest a blowout or anything as severe as that; the Rangers were pretty much dominated for the majority of the game, especially during the first twenty minutes.
And really, I'm not that upset that they lost (especially when the Blueshirts came this-close of tying the game during the final minute of action), but there were things that bothered me, like this:
Artemi Panarin, arguably one of the softest superstars in all of the NHL today (his reaction and ratting out the "rat" Brad Marchand is all the evidence that I need), is also one of the richest players of the entire league too.
Down two goals in a game that had the Rangers won, it would've been a defining statement; "The Breadman" was more focused on joking around with AJ Mleczko, rather than on trying to mount a comeback. And this guy is supposed to be a leader!
(Admittedly, had the Rangers made a comeback, and then won this game behind two Panarin goals – this wouldn't be a story for me. In fact, I'd be laughing with the majority!)
But at least #10 in white picked up an assist tonight, even if it was of the secondary variety.
The biggest zero in this game, and has been the case all season (and often masked under the guise of the team's winning streaks), was Rika Zibanenash, who still can't bury a puck if his life depended on it.
At the near 35% mark of the season, I am wondering if the monsters from "SPACE JAM" have zapped him of all of his goal scoring talent. I just can't think of a better explanation when trying to explain Zibanenash's disappointing season thus far.
And you can make all the excuses for #93 all that you want (and if that's your agenda, I won't stop you), but as I've been repeatedly saying on this site all season – you don't pay $8.5M for your "elite" number one center to be "streaky." Even worse – that $8.5M per-season contract, which will run for eight years, hasn't even kicked in yet.
I went in-depth on Zibanenash last blog (and several times before that), so I don't want to play my "Greatest Hits" here again. After all, it's late as I write these words, due to the 9PM EST puck drop.
However, whenever the Rangers need him the most, Zibanenash disappears as if he was Lindbergh's baby. Perhaps even worse, is the way Zibanenash consistently whines to officials, as if he was such a baby.
---
As this season has moseyed along, I have previously said (and numerous times at that), that if any Ranger should be traded for help prior to the deadline, it's Filip Chytil.
While my stance hasn't changed on that opinion; if there's another thing the Rangers should do right now, they should give Patrik Nemeth a powder.
Whether the Rangers try a third pair of Lundkvist and Hajek, or finally give Zac Jones the rightful call-up that he richly deserves – I don't care. Nemeth just needs a timeout.
Again, as I try to avoid playing my "Greatest Hits" here and go on-and-on about this for the millionth time; we all know why Nemeth was signed during the off-season – and also at the expense of Brendan Smith too, who the Rangers could've retained for one-third of the salary of Nemeth to boot. (And for all of the talk that Nemeth is here for Lundkvist – Smith was a great mentor for Kakko during the last two seasons.)
While the Rangers did sign Nemeth to play third pair minutes too; the biggest reason he was signed was to help facilitate and acclimate fellow Swede Nils Lundkvist to America. To that, I go to one of my usual talking points – coaches and organizations have to answer to twenty players, and not just one.
Yes, it's nice that the Rangers are trying to make #27 comfortable – but it can't be at the expense of the team either – especially if the mentor isn't panning out.
Another cliche in a season full of them? "You're only as strong as your weakest link."
Some fans may argue that K'Andre Miller is weaker (especially when you compare TOI stats between #79 and #12), but this fact remains – Nemeth is doing no favors for the Rangers right now, even if he is okay at blocking shots and while on the penalty kill.
Conversely, one could also argue that both Hajek and Jones are victims of a player that was mostly signed to play the role of a baby-sitter as well.
---
I'll into this Rangers/Avalanche game in-detail during the GAME REVIEW segment; but for the Rangers, they'll have to forget about this one and hopefully rebound tomorrow night.
Fortunately for them, the worst team in the league is up next, in the woeful Arizona Coyotes. And should the Rangers lose that game – there will be fires (and rightfully so) in the streets of Rangerstown, USA. There's just no excuse to lose to the Coyotes – even on the second half of a back-to-back.
In a word, the Coyotes are the "slump-buster" that the Rangers need right now.
Then again, you could be like my pal Derek Felix of NewYorkPuck.com, and use the words "trap game" instead. (Something he says about every game this season.) For me, I'll go with "slump-buster!" Glass half-full here, need I remind you?
And hey – maybe Rika Zibanenash will show up in Glendale and get another fluke "puck luck" goal in that game, as he did against the lowly Buffalo Sabres.
Before getting into the NEWS segment (and there's a lot to cover), how do you view this team?
Are you happy about being in third-place, and one point out of first place? Are you happy about winning twelve of the last sixteen games? Or are you more focused on the Rangers losing three of their last four and not having much success against the Western Conference this season?
And it should also be mentioned that following these next two games (Arizona on Wednesday and Vegas on Friday), the Rangers will then play one game in a span of nine nights, when they host the falling-apart Montreal Canadiens on 12/22 at M$G. (I wonder if Jeff Gorton makes the trip.)
That's a lot of time in New York. More importantly, that's a lot of practice time too – something the team hasn't had much of as of late.
In fact, with the way Georgiev is playing (and assuming Kinkaid starts in Arizona), I wouldn't be shocked if the Rangers hold CZAR IGOR back until after the X-mas break.
Let's now get into the lengthier-than-usual NEWS segment.
---
As you may know, I am not a scientist, a medical professional or an expert on the coronavirus. If you're looking for those people, just check Twitter, where misinformation from self-professed "experts" runs as rampant as this new "Omicron" variant. (And not for nothing, doesn't "Omicron" sound like some villain out of a "Transformers" movie?)
In perhaps some irony (or at the very least – something that makes you think a bit), the last time the Rangers were in Colorado, back on March 11th, 2020, there was talk about this new "coronavirus" thing. At the time, I didn't think much of it. I thought COVID-19 was just another Chinese virus, like SARS, like bird flu, and like any other world-wide ailment or illness – especially those originating in communist China.
As was evident – I was wrong with that line of thinking. Way wrong at that. Instead of a passing phase/virus – historians in 50, 100, 200+ years from now will all be talking about this era of time.
On March 11th, 2020, prior to that particular Rangers vs Avalanche tilt, I had a road-trip scheduled in two weeks time, where I would go watch the Rangers play in Buffalo and in Pittsburgh.
Now, almost two years later, I find the Rangers once again in Denver, while yours truly has a road-trip coming up in a few weeks time, as I plan on watching the Rangers in Vegas and in California during the beginning of January 2022.
Cruel irony? Maybe. Something to worry about, especially with money, hotels, flights, game tickets, and everything else invested in such a trip? Definitely.
While my road-trips are something of my own personal concern (and definitely not a world-wide issue); around the world of sports, athletes are now getting hit by the coronavirus – as if COVID-19 has the speed and agility of a right-left combination off of the gloves of Floyd Mayweather.
On Tuesday, December 14th, the amount of players (not just NHL exclusive) testing positive for the virus (whether legit, a false positive or just these players being asymptomatic) has hit harder than a hit from Jacob Trouba.
For instance, check out these top news stories from ESPN.com from Tuesday: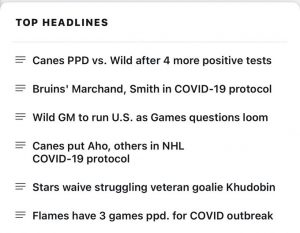 From an NHL perspective, over twenty players were added to the COVID-19 list within the last 24 hours, including names such as Brad Marchand, Matthew Barzal, Devon Toews and a slew of players from both the Carolina Hurricanes and Calgary Flames organizations. In addition, it's rumored that the Nashville Predators, who the Rangers just hosted this past Sunday night, also have an issue with positive tests.
Of note, both the Carolina Hurricanes and Calgary Flames were forced to postpone games this week. Obviously, these two franchises don't have a new arena to open up, unlike the Islanders last month.
Elsewhere in sports; the Chicago Bulls are now down to seven healthy players, where the NBA postponed two of their games, with perhaps more pending. The teflon NFL currently has two franchises impacted by the virus, in the Detroit Lions and Cleveland Browns. In addition, the NFL is now requiring players to get booster shots too.
And if you follow the UFC, an individual sport, fighters have been pulling out of fights left-and-right all year – including Amanda Nunes, who I talked about last blog – in relation to her bout with COVID-19 in comparison to Mika Zibanejad, the Rangers center who had the virus last season.
But wait, there's more.
The New York Knicks, the Rangers co-tenant at Madison $quare Garden, are currently having issues too, with Knickerbocker Quentin Grimes now out.
It was also reported on Tuesday that the legendary Walt Frazier, a broadcaster with the Knicks, is now staying away from the team for the next two weeks. It wasn't reported what Frazier's affliction was, but at 76 years old, you can't blame the guy for taking a timeout. (It should be mentioned that Rangers broadcaster Sam Rosen is 74 years old.)
In two words, all of this is "not good."
Rather than getting away from all of this COVID crap, it now feels like things will get worse before they get better – especially in regards to the Chinese Olympic Games, which are scheduled to take place in February of 2022.
And as talked about two blogs back – if NHL players really want to go to China for the Olympic games, they are Father Finkin' nuts.  You can't convince me otherwise. (Refer to that blog for more, as I won't go into repeat-mode on this topic.)
However, that decision may soon be made for them, especially if there a bunch of NHL games to be made-up. (And if you're an NHLer on a playoff-bound team, do you really want to run the risk of being shelved for at least three weeks, due to Chinese quarantine mandates, mandates which will be enforced by some authorities that may not be on the level?)
---
I don't preach to you on this site. I don't care if you're vaccinated or not. It's not my business. To each their own. Everyone has to make their own decisions, and unlike others – I don't feel like I have a right to tell people what to do.
As you know by now (since you need to be vaccinated to attend Ranger games both at M$G and at other arenas on the road); I am vaccinated. However, I do question the effectiveness of these vaccines. (And really, doesn't the definition of the word "vaccine" imply 100% effectiveness?)
After all, how are all these young men and women, in their prime of their lives, and in much superior peak condition than 99% of the world's population; constantly testing positive for the virus, despite being vaccinated?
You'd have to think that the fans who pay to see these players would be more susceptible of contracting the virus, rather than the players themselves. Or at least, that's the way I view it.
I know the argument against this, such as these players/athletes are constantly traveling, thus increasing their chances of testing positive.
As a rebuttal, I say that these guys aren't all jammed up and squished together, like a bunch of common Joe Schmos, sitting on a most likely delayed "Spirits" airline flight. Far from it.
Instead, these players/teams are flying by themselves on team planes, where once arriving to their destination, they are either going to their own homes or entering a hotel, where these teams have floors to themselves.
Again, as stated at the top of this – I'm not a scientist, a medical professional or an expert. However, from what I read (and as we all know, this stuff changes constantly), people with worse health conditions (in this case, the fans), are more likely to contract the virus than people who keep themselves in tip-top shape (in this case, the players/athletes.)
I am aware that many players who test positive don't necessarily have the virus; but in most of these cases from this past Monday and Tuesday – these players, without a shadow of a doubt, are carrying the virus.
I will never sell fear to you readers, but I must admit that the word "pause" had come to my mind on Tuesday.
As mentioned a few blogs back, all of this coronavirus stuff (and the reactions to it), is all on-the-fly. There's no precedent set or manual textbook on what to do.
Selfishly, I hope the cliche once coined by Wayne and Garth, "GAME ON", will be the mindset. However, I am not 100% confident, especially if numbers continue to rise.
Enough about this topic that I hate writing about. Let's now get into the Rangers news which took place prior to tonight's game.
---
Following an early afternoon pregame skate; head coach Gerard Gallant met with the media, in an interview that looked like it was conducted in some Taliban bunker, due to the poor lighting and close camera shots. To watch Gallant speak, click the play button below:
---
As far as what Gallant said during this brief interrogation, the head coach mentioned that CZAR IGOR was still on the IR. While Gallant wouldn't out-right name Alexandar Georgiev as his starting goaltender – he left enough crumbs for everyone to figure out that good old Al G. would be in net.
When it comes to shortening his bench during the 1-0 loss to Nashville, where both Alexis Lafreniere and Kaapo Kakko had their ice time slashed a bit; Gallant (and as originally suggested in this space on Sunday), said it was a one-game thing and not a permanent thing.
I also liked that Gallant called out Alexis Lafreniere for being "too cute" and then getting "upset" when the cuteness doesn't payoff. I mentioned this during my Rangers/Nashville game review, where Lafreniere tried to razzle-dazzle too much, where I thought it cost him.
With Nils Lundkvist still out of the line-up (non-COVID illness – or at least that's what they're saying!), here was what Gallant went with tonight:
FIRST LINE: Kreider/Mika/Kakko
SECOND LINE: Panarin/Strome/Hunt
THIRD LINE: Lafreniere/Chytil/Gauthier
FOURTH LINE: Rooney/Goodrow/Reaves
FIRST D-PAIR: Lindgren/Fox
SECOND D-PAIR: Miller/Trouba
THIRD D-PAIR: Nemeth/Hajek
And in net, Alexandar Georgiev
---
BOX SCORE time.
The following information and graphics come from the new world-wide leader in NHL coverage, ESPN.com:
SCORING:
PENALTIES:
TEAM STATS:
GOALIES:
| | | | | | | | | | | |
| --- | --- | --- | --- | --- | --- | --- | --- | --- | --- | --- |
| SA | GA | SV | SV% | ESSV | PPSV | SHSV | SOSA | SOS | TOI | PIM |
| 28 | 2 | 26 | .929 | 23 | 0 | 3 | 0 | 0 | 59:37 | 0 |
| | | | | | | | | | | |
| --- | --- | --- | --- | --- | --- | --- | --- | --- | --- | --- |
| SA | GA | SV | SV% | ESSV | PPSV | SHSV | SOSA | SOS | TOI | PIM |
| 31 | 4 | 27 | .871 | 18 | 0 | 9 | 0 | 0 | 56:45 | 0 |
---
Tonight's game was the first of three Ranger games this season as an ESPN+ and Hulu exclusive. It was also probably the first game this season where a lot of New York based IP addresses logged onto the NHL66 website.
Of note, I don't have Hulu, but as mentioned many times before, I do have ESPN+. In fact, I'm a day one ESPN+ subscriber, as ESPN+ is the platform for a ton of exclusive marquee UFC cards. (The NHL and UFC are my two favorite sport leagues that I follow.)
I know that these digital platform streamers are a deterrent to older fans, people who pay insane costs for cable, and for people who live in desolate areas where the WiFi may not be strong. Unfortunately for them (and for everyone else), this is where all of these sports leagues are heading. Cable is being phased out, and as Al Gore once said nearly thirty years ago – the internet is the wave of the future.
And for people who don't want to pay for streaming services (or cable) either, there are always links out there to watch these games too – as legal or as illegal as they may be.
Of course, illegal streamers also tend to be younger, which in turn – still leaves old-time fans in the dark. I mean think about it – do you think Sam Rosen is fuddling around with NHL66 links?
"OH JOE, I found foot-fetish porn Joe!"
"SAM, THE FEET OF REX RYAN'S WIFE ARE FABULOUS, ABSOLUTELY FABULOUS!"
---
On the bright side, with this game being an ESPN+ game exclusive, that meant no Steve Valiquette tonight! Winning!
Unfortunately, there wasn't much of a pregame show either, but if that's what it takes to get Vally off of my TV-I'm sold!
With ESPN+ having the rights to this broadcast, the duo of Bob Wischusen and Brian Boucher handled the commentary.
Of note, AJ Mleczko (between the glass) makes me miss the FABULOUS Joe Micheletti. Why these networks have an Islander homer on a Ranger broadcast is beyond me. (Unlike others, I don't care if she's a woman. I only care about her disgusting Islander affiliation!)
And for what it's worth, I liked the ESPN+ broadcast. It had an "NFL" feel to it, meaning that during breaks, they would flash to other games around the league. (SportsNet out of Canada does this too, something that American networks do not do.)
If there was anything I didn't like, it were all the "seizure-inducing" power-play camera angles, as the camera bobbled around behind the goaltender like a buoy. It's nice that ESPN can feature these angles, but just because you can do it doesn't mean you should.
Game Review time.
---
Based on the few fans that I talked to after the game (and from what I saw on the broadcast too); the crowd make-up at the Ball Arena (no longer the Pepsi Center or whatever it was called), was 60% in favor of Colorado, and 40% in favor of the road team.
I mentioned this a few years back (when I attended a Rangers vs Avalanche game in Denver), but there are a ton of New York transplants in Colorado. Plus, Denver is a great city to visit too.
I bring this up to say, that during the game, there were a ton of "LET'S GO RANGERS!" chants. There was also booing for Jacob Trouba too, where that mostly took place during the first several minutes of the game, only to be drowned out for good by the repeated LGR chants.
And I should also mention that Colorado was without captain Gabriel Landeskog (who despite his absence, still had a better game than Zibanenash) and Devon Toews (COVID protocol.) Even with two of the Av's regulars out, the Rangers couldn't muster up much, at least not until the final three-and-a-half minutes or so.
---
In a word, the first period was pretty "dreadful" for the Rangers.
Not even a minute into the game, Georgiev had already made two saves and Colorado added three more shot attempts on top of that – where they channeled Zibanenash and Chytil by going high-and-wide.
After Fox had a "Craig's List Missed Connection" with Rooney, Zibanenash then put a soft shot on net – an easy save for Kuemper.
Panarin, who lives-and-dies with his cross-ice passing, then turned over a puck in the offensive zone. On the next possession, Fox found Gauthier after a two-line pass, but #15 coughed up the puck.
I should also mention here, that ESPN+ had former official Dave Jackson on the broadcast, just like how these NFL telecasts have retired officials on their broadcasts.
Say what you want about Jackson, but I thought the idea of copy-catting the NFL here was a good one. Now if only ESPN+ would give us a pregame show like the NFL does too!
---
Georgiev, as he's done since CZAR IGOR went down, was strong throughout, despite the never-ending Ranger turnover parade.
Six minutes and change in, and after what felt like one of 765675768567856785 turnovers in this game; Georgiev denied O'Connor on a one-timer, the same O'Connor who posted two quick goals on Adam Huska from this past Wednesday night.
It was also around this point on the broadcast where we saw that Chris Drury, now newly minted as the assistant GM for the USA Hockey team, was in the house. Perhaps he was catching up with former teammate, and his executive peer, Joe Sakic.
And yes – let's hope that Drury doesn't have to do much, at least in regards to American NHLers, during these upcoming Chinese Games. Let the AHLers and amateurs go there if they want.
And to callback to another item from tonight's NEWS segment; this game began one official shy, as that referee was waiting for his COVID-19 test result. You'd think that would be taken care of way in advance, and not right before puck drop. The official would later join the game in-progress.
---
After a nice stay in the Colorado defensive zone from the Strome line and the Fox/Lindgren pairing, with 11:18 remaining in the period, Nemeth took a seat in the sin-bin after holding Valeri Nichushkin.
Two things here. One, Nemeth was brutal tonight. Two, Nichushkin completely owned the Rangers tonight.
Georgiev, as he was for the majority of the game, was huge on this penalty kill (nine short-handed saves in all). Right after the kill, #40 came up big again, stopping Aube-Kubel on a breakaway.
However, with 7:42 to go in the period, the Av's struck first, as the perennial Hart Trophy Finalist, Nate MacKinnon, swooped around the net and was left all alone by Hajek and Nemeth. Also left alone was Rantanen, who scored an easy tap-in goal untouched. 1-0 bad guys. This goal was completely on the defense (Nemeth more than Hajek), and had nothing to do with Georgiev.
On the next Rangers possession, Rika Zibanenash, with a chance to gain momentum and tie the game, decided to leave rubber marks on the corner boards, rather than shooting at the goal while two feet away.
As the period progressed, the Rangers nearly went nine minutes without a shot on goal, until Hajek flung an innocent puck at Kuemper.
With 2:19 remaining, Rooney was boxed for tripping Rantanen. Thirty seconds later, with Patrik Nemeth completely screening Georgiev, as if it was his sole intention in life; Cale Makar shot a puck from the point for the easy power-play goal. 2-0 bad guys.
And yep – "special teams swing games."
After twenty minutes, and a period which looked like "men vs boys", the scoreboard read as bad guys 2 – good guys 0.
---
Opening up the second frame saw Ryan Lindgren drawing Andre Burakovsky for a cross-check, thus giving the Rangers an early power-play, just 1:22 into the period.
The Rangers PP1 unit once again struggled, just as they did last Wednesday against this Colorado PK. One minute in, they were off and the PP2 unit came on, where they too had little success – especially after Dryden Hunt was nailed for interference with 43 seconds remaining on the Rangers man-advantage.
And needless to say, this call on Hunt was BULLSHIT. The ESPN broadcasters (and Jackson) said as much too.
Eventually, with 15:20 remaining, the two teams went back to full-strength. Chytil would get a great opportunity against Kuemper, but as usual, couldn't finish.
With 13:35 remaining, Hunt was cross-checked into Kuemper's net by "former friend" Jack Johnson. This time, the Rangers PP1 unit dominated the puck, but too much fancy passing and not enough shots on goal. Despite playing 1:55 of the two minute power-play – once again, the PP1 unit came up empty-handed.
As we approached the half-way mark of the game and period; Ryan Reaves and Kurtis MacDermid had an inspiring tilt, where haymakers, rabbit punches and jabs were thrown. MacDermid fell on top of Reaves, thus giving him the win in this battle – even if Reaves didn't really look like a "loser" here.
(It should also be mentioned that MacDermid wears a visor. Reaves does not. In other words, this gives MacDermid an advantage.)
---
Maybe the fight inspired the Rangers a bit, as with 9:24 to go, Adam Fox rifled a puck towards Ryan Strome and the puck took a bounce off of #16's shaft and right by Kuemper. 2-1!
This play was similar to several plays that we've seen out of #23 all season, as he magically finds these deflection goals with his pin-point precision passing. And with Strome in a contract year, maybe that's why he said the Rangers played well tonight!
(And to be clear, I'm not knocking Strome at all. He should be riling up the troops. He's more of a leader to me than any of the other alternate captains on the team.)
---
The Rangers, now within one, had a chance to tie it.
Zibanenash soon had a mini breakaway, but you know the rest. Even worse was this new wrinkle, where he blatantly held Jack Johnson while behind Kuemper's net. Inexcusable o-zone penalty, especially considering the player that Zibanenash committed the offense against.
After the Bulgarian Beast did his job during the PK; we returned to full strength with about five minutes and change remaining.
Up next was turnover-after-turnover, where it had to be intentional because there is no way any team could do this on purpose, much less succeed at it.
Georgiev bailed out Miller, Zibanenash and others, making every save after all of these turnovers.
However, with 75 seconds remaining, it was one turnover too many (including Chytil flubbing a puck on a 3 x 2 odd-man rush), which led to Nichushkin scoring an easy goal. 3-1, bad guys.
Despite looking like the better team of the second period, each team recorded a goal, and we remained 3-1 entering the final frame.
---
Ninety seconds into the third period, Trouba went around Kuemper's net and shot the puck – a good save for the Av's netminder.
As Fox screened Georgiev, the Rangers goaltender still made a save, where he denied Aube-Kubel again.
During one sequence, Lafreniere committed three turnovers on a shift. Brutal.
Five minutes into the period, Georgiev got a reprieve, when O'Connor had MacDermid wide-open for a tap-in goal, but the bruiser couldn't handle the puck. This should've been 4-1 here.
However, Colorado would have more chances, where Georgiev kept the Rangers alive with each save, 27 in all tonight.
With 12:29 remaining, Kakko, who couldn't clear a puck during this time, took a slashing penalty, which then put the Avs on the power-play again.
Of note, the Rangers PK killed five of six penalties tonight. This also tells you that they were in the box for 20% of the game. Not a recipe for success. And most certainly not a recipe for success against this heralded opponent.
---
Now approaching ten minutes remaining, and after more solid work out of Georgiev; the two teams returned to full-strength.
Three minutes later, Libor Hajek found himself in the box, after airmailing a puck over the glass for a delay of game call.
With 7:30 to go, Colorado seemingly found the "Ball" game over goal, after Compher scored. However, on replay, Compher made contact with Georgiev, including bumping into #40's head.
After a lengthy video review/Gallant challenge, the referees took away the goal, reverting the score back to 3-1. The game was still alive.
However, following the review (a smart challenge by Gallant, because at this point in the game you had nothing to lose), Colorado still had 1:33 worth of power-play time. Again, Georgiev did his job in net.
With 3:42 remaining, Gallant pulled Georgiev for the extra attacker. From this point on, I think the Rangers had ten shots on goal during all of this, as they were constantly going to the net. Hell, they were even winning every face-off too – a rarity!
Just about at the two-minute warning mark, Dryden Hunt fired a puck at Kuemper. Kuemper misjudged the puck, bobbled it, and there was Julien Gauthier for the backhanded rebound. 3-2, bad guys – the Rangers still had life!
It should also be mentioned, that prior to Gauthier's goal; just seconds prior, Alexis Lafreniere denied Kadri of scoring an empty-netter. This was the only time where Lafreniere was noticeable all game, but without this shot block, Gauthier never scores.
With about sixty ticks remaining, the comeback was almost complete, as Fox found Kreider, and despite his success all season and two whacks and cracks here – CK20 couldn't find the equalizer.
I really thought he had it at the time too, as he was right there. I am still wondering how that puck didn't go in. No joke, in real-time, I jumped off of my couch. I was certain that Kreider was going to bury it.
(And yes, had that puck went in, the tone of this blog would be extremely different.)
Sadly, after winning every faceoff, and creating all of these scoring opportunities for a time-span of just over three minutes; the Rangers then lost a center ice faceoff. Zibanenash and Panarin just watched, as Valeri Nichushkin beat Georgiev, on a breakaway, with 37 seconds remaining.
4-2, bad guys, 4-2 bad guys, your final.
---
While these game reviews always come in long-form, here is a quick synopsis – the Avalanche stars came to play. The Rangers stars did not. Yeah, Fox was great, but Makar was better. Yeah, Panarin got an assist, but Rantanen was better. And Rika Zibanenash looks just as confused as a Times Square tourist.
(And I know I said this last season, but it's worth saying again – I think a lot of Mika's problems are mental. I don't know if he talks to a sports psychologist or not, but it's an idea worth exploring.)
Let's hope it all changes tomorrow night.
PLUGS TIME and then I'm out!
---
Up first, "The Blueshirt Underground Show" returned on Monday night. To hear their take on the Rangers (and some FABULOUS talk on Eleanor Roosevelt too), click the play button below:
---
The first plug of tonight's blog – the mandatory plug for my new book, "The New York Rangers Rink of Honor and the Rafters of Madison Square Garden".
As mentioned previously, the book is now available in hardcover, in paperback and in Kindle formats. To purchase a copy of the book, visit this link:
https://www.amazon.com/Rangers-Rafters-Madison-Square-Garden-ebook/dp/B09CM5N2WD
For those still looking for signed paperback versions of the book, I have re-ordered more copies. I now have 18 signed copies for sale at $25 a pop (includes shipping price) through me directly. Here is all the information on that:
---
Here are my last few blogs, in case you missed them:
---
---
If you haven't already, subscribe to this blog for the next update:
---
Up next: the final leg of the road-trip, against the bottom-of-the-barrel Arizona Coyotes.
Stay FABULOUS my friends.
As always here, thanks for reading and…
LET'S GO RANGERS!
Sean McCaffrey
BULLSMC@aol.com
@NYCTHEMIC on Tweeter