Greetings and salutations everyone and welcome to another blog here on BlueCollarBlueShirts.com. How about those FIRST PLACE New York Rangers?
Ugly. Disgusting. Brutal. Horrific. Horrendous. Garbage. Boring. Snoozer. Terrible. Mind-numbing. Utter trash.
All of those adjectives and terms are a great way to sum up the Rangers 3-2 late triumph over the Arizona Coyotes from Wednesday night, where need I remind you – the Desert Dogs are the absolute worst team among the NHL's 32 franchises, where after tonight, they currently sport a record of 5-21-2 (12 points) and a goal differential of -54.
MINUS 54!!!!
Without a shadow of a doubt, the rebuilding Coyotes, tanking this season in hopes of not only becoming big winners during the 2022 NHL Draft Lottery, but in the next free agency period too – are historically awful.
Additionally, it may take a miracle for them to win over ten games this season, especially when you consider that they will be dealing off veterans prior to the 2022 NHL Trade Deadline. However, that's part of their game-plan.
In fact, on November 24th, I shared an article with you that I wrote for Stan Fischler's now defunct Java Jive website (he's now full-time with "The Hockey News" again), regarding the state of the Arizona Coyotes. As part of my assignment for "The Maven," I was given this near-impossible task and request – "Sean, write about the Coyotes in a positive manner."
At this time, in case you missed that piece, I'd like to rerun it one more time here, and then get into everything else about the FIRST PLACE NEW YORK RANGERS – including the NEWS, GAME REVIEW and PLUGS segments.
(And oh, FYI: this article was written BEFORE all of Arizona's tax issues – another whammy for the 'Yotes.)
---
HEADLINE: THE COYOTES FAITHFUL FAN BASE
THE JIVE: Our roving-the-continent reporter, Sean McCaffrey, takes a more positive look at the Coyotes and their situation in Glendale. See what you think:
It hasn't been easy for fans of the "Desert Dogs," a team now celebrating their 25th anniversary in Arizona. Since the 1996 move from Winnipeg, the franchise has never won a Conference Final, much less a Stanley Cup.
To compound matters, the club recently endured a myriad of issues, including the Mitch Miller controversy, the debacle with former general manager John Chayka and last season's firing of head coach Rick Tocchet.
If that wasn't enough drama on the Coyotes plate, not only was the team forced to move from a weak Pacific division to a more competitive Central division – the team will also have to relocate from their current digs at the Gila River Arena (Glendale) at the conclusion of this season. At least Buffalo is secure in their home!
Despite everything (as Arizona flirts with the 1974-75 Washington Capitals record of futility), fans of the Kachina remain loyal and proud. Taking in an Arizona home game will show you as much. Rather than spiting the team in their current state, these true-hearted fans look ahead to better days – even if the future is in Phoenix, Tempe or possibly Houston – a different can of worms for another time.
Prior to the pandemic, attendance figures were climbing upwards in the desert. A few weeks into this 2021-22 season, while there have been some soft crowds, the Coyotes have been able to reach a capacity number of 88% on some nights – a strong number when you consider that league-wide attendance across the board is down, as fans slowly start to return to the arenas.
Inspiring faith in the Grand Canyon State, is 2020 hire, general manager Bill Armstrong, who won a Stanley Cup in 2019 as the assistant g.m. of the St. Louis Blues. Among Armstrong's numerous duties in St. Louis was scouting and developing young talent, where he was able to pluck signature pieces for the Blue Note Cup run.
Following Tocchet's dismissal, Armstrong's hiring of head coach André Tourigny should help the rebuilding franchise with its youth, as the man behind the bench has had success at both the national and minor-league levels.
With the new front office pressing the reset button, the Coyotes acquired a lot of expiring contracts this season, where come the off-season – the club only has four (yes four) NHL contracts on their books. From there, it's all about the 2022 NHL Draft, where the team will be a favorite to land projected #1 overall pick Shane Wright – a centerman thought to be a franchise player.
If being in the running for the first overall pick wasn't enough positive news, the Coyotes also have two more 2022 first-round selections, via their previous trades with Montreal (Christian Dvorak) and Colorado (Darcy Kuemper). The club also possesses a whopping five 2022 second-round picks as well. And with an incredible projected salary-cap space of $51,265,000 for the 2022-23 campaign – the sunbelt team will not only load up at draft, but can be players during free agency too.
Even better? Armstrong is most likely to make trade-deadline deals this season, which will only bolster the team's cupboard of draft picks and prospects.
In the near-future, Coyote fans will be treated to power-forward Dylan Guenther, the 9th overall selection of the 2021 NHL Draft. A 2021 gold medalist from Canada's Under-18 team, the 2019-20 Jim Piggott Memorial Trophy winner, and current alternate captain of the Edmonton Oil Kings (WHL), should also help to brighten hopes.
No fan wants to see his (or her) team lose. However, every team, no matter what the sport, endures aches and pains. It's part of the business.
While things are bleak now, Armstrong and company have given fans a whiff of what's to come. Between building a sturdy foundation, acquiring prospects, accumulating draft picks and a ton of upcoming salary cap space to boot – this current season will hopefully one day become a footnote for exceptional things ahead.
For the franchise's dedicated fan base, devout supporters through these tough times, for their sake – let's just hope the team is still in Arizona when those days come. Those fans deserve it.
---
As you can tell from my article on the Coyotes, in one word, they "stink."
I talked about this last night (following the loss to Colorado), that no circumstance or situation mattered going into this game – the Rangers had to win it – back-to-back games be damned.
Had the Rangers dropped this contest, it would've led to tire-fires throughout the streets of Rangerstown, USA, fans clamoring for everyone to be traded, and pretty much a red-alert state of emergency for the team.
And let's face it, the Rangers were this-close from their quietest flight home of the season, but behind a late Kaapo Kakko power-play goal, the Rangers survived and lived to tell about it. For a season full of cliches, "good teams find different ways to win" once again rang true.
If you've been following me all season long, then you know that I'm glass half-full about this team. I've long ago adopted the motto of "Just Win Baby."
However, even with my often-mocked optimistic attitude, I can't ignore the facts – this was the worst win of the season – even if "worst win" sounds like an oxymoron. (As opposed to the word "moron," but more about Steve Valiquette later.)
This game was pretty much a shit-show from start-to-finish, where without two late power-play goals (Zibanenash and Kakko, both set up by Kreider), I'd be singing a different tune. You also wouldn't see the words FIRST PLACE plastered all over the place either.
That said, we can only deal with the facts, and not the woulda, shoulda, coulda stuff.
The Rangers, as they've done more times than not this season, found a new way to win, despite the early second period disappearance of Artemi Panarin.
To jump ahead a bit here, Artemi Panarin left the game after his first shift during the second period and never returned.
In what was odd, and pretty much unprecedented – the Rangers PR staff never gave us an update on what happened. And unlike they usually do, the M$GN didn't have a replay of what possibly could've knocked Panarin out of this game either.
Of course (and I'm not blaming anyone for thinking this way because I was thinking this was a possibility too), many fans thought that Panarin must've been pulled out of the game for some sort of COVID protocol related reason.
After all, we've previously seen NHLers (and referees) pulled from games (and not even ready for games at puck drop either), due to unnecessary COVID-19 testing.
And if you missed last night's blog (and I will have more on this below), the NHL currently has over fifty people on their COVID-19 list too.
In other words, to think that Panarin was pulled for some sort of COVID-19 issue wasn't out of the realm of thinking. It was a logical concern.
While Sam Rosen and Joe Micheletti did mention Panarin's absence; they wouldn't use the "C" word (not that one) at all during the broadcast.
Since they would not dare let the word "COVID" escape from their lips; fans naturally thought the worst here – especially since we didn't get a replay nor a statement.
However, following the game, head coach Gerard Gallant said that Panarin had a minor day-to-day lower-body injury. Like this game itself – crisis averted. (Gallant's post-game video appears at the end of this manifesto.)
What specifically is ailing #10 we don't know – but at least it's not COVID-related.
Had this been the worst-case scenario, it's very likely that Panarin would've then had to hang around in Arizona for a few days and eventually take his own plane home. Instead, he's with the team on the flight back to New York, and possibly can play against Vegas on Friday.
And go figure, here in 2021, soon-to-be 2022 – we are happy about injury news, rather than hearing about a player having the sniffles.
---
At the risk of sounding like a "DEBBIE DOWNER" here (and this is not my intention), both the struggling Kaapo Kakko (no points in his last eight games prior to tonight) and Rika Zibanenash (one goal in his last eighteen games, where that goal was of the "puck-luck" variety), had strong games tonight. For the first time in a long time, both of these players matched their strong defensive work with offensive production. Glad to see it.
That said, and unlike other fans – I'm not ready to throw a parade and do the King Kong pounding of my chest yet.
Let's face it – the two struggling Blueshirts had their best games of the season against the crappy Coyotes. These guys SHOULD be dominating this Arizona roster, a Coyotes roster that would struggle to win games against AHL squads.
I'm not here to piss on anyone's leg here, but I do think the word "CONSISTENCY" is the story for these two.
It's great that they had monster games tonight. No question about it. However, let's see them do it again, and again, and again, and more importantly – against a competing roster full of "real" NHLers.
In other words – this can't be a one-time, "blink-and-you'll-miss-it," type of deal.
While this applies more to Zibanenash than Kakko – we must see this offensive output against playoff-bound teams. Your biggest highlight of the season can't be in a game against Arizona. I don't think I'm out of line with that thinking!
Let's now get into the NEWS and then into the GAME REVIEW.
---
Last night, and early Wednesday morning, some of you told me that you watched the Rangers vs Colorado game on ESPN+ with the Spanish commentary on. To be honest, I didn't even know that was an option, but I guess it's a good way to grow the game. Whether or not the Latino market gets into hockey, I do not know – but it can't hurt to try.
On Wednesday afternoon, the Rangers opponent on this day, the Arizona Coyotes, announced a partnership with "Univision," where there will be one Desert Dog game a week broadcasted in Spanish. (Radio only for now.)
And unfortunately for Univision, this will probably be a bad ordeal and some tough timing too. After all, English speakers don't even want to watch that team right now!
To read that press release, click this link: https://www.nhl.com/coyotes/news/coyotes-announce-partnership-with-univision-arizona/c-329026062
Similar to New York, Arizona has a large Latino/Hispanic/whatever the proper word is, as I'm not looking to offend anyone here, population.
Of course, my mind immediately went to an idea that will probably offend some people who don't possess a sense of humor – the debuts of Samuél Rosen and Juan Micheletti!
Yes, this is all immature and silly. I should also mention that I grew up watching "Speedy Gonazales" cartoons too.
Of course, M$GN, like most entities looking to be "woke," would 100% screw this up. They would go overboard, where it would most likely piss people off rather than bringing new fans in.
"OH JUAN, OUR GREAT MEXICAN FRIENDS, JUAN!"
"YOU KNOW SAMUEL, EL STINKO ZIBANEJADO LOST 15 GRAMS THIS OFF-SEASON, AND HIS GOAL SCORING ABILITY TOO!"
And of course, like a true soccer announcer:
"IT'S A POWER-PLAY GOOOOOOOOOOOOOOOOOOAAAAAAAAAAAAAAAAAAAL!"
And sticking with the Mexican theme, Vally would be a perfect candidate for a south of the border "burro."
Needless to say, I know this bit won't land with everyone, especially for people who don't obsess over Sam and Joe like I do. However, I wanted to inject some comedy here (for as poor as it is), before getting into a serious topic.
---
In an update to last night's mega-long story, the amount of NHL players testing positive for the coronavirus (and the omicron variant too) has significantly increased.
Between players, coaches, staff members (and seemingly all of their mothers alike), there are now over fifty different people on the NHL COVID-19 protocol list. And as mentioned last night, there are also major outbreaks in the Nashville Predators, Calgary Flames and Carolina Hurricanes organizations.
Not good.
Also not good was the news out of Canada on Wednesday, where it was announced that the province of Ontario (where the Senators, Leafs and a ton of minor league hockey teams play) are reverting back to capacity restrictions, where the new maximum capacity allowed inside of these arenas is now 50%.
For the full story, here's SportsNet's take: https://www.sportsnet.ca/nhl/article/maple-leafs-raptors-senators-going-50-arena-capacity/
What a shit show – especially for season-ticket holders, fans who previously brought tickets, and road-trip fans who have plans/flights/hotels scheduled.
(And yes, this news does have me concerned about my upcoming trip to Vegas and California, where I could see the latter doing what Ontario is doing here.
If there's any bright side – hockey games in California aren't that well-attended as they are in Toronto, meaning that American fans would be less screwed than their Canadian counterparts.)
It's going to be interesting to see how the Toronto Maple Leafs, the biggest franchise of the province, issues refunds and decides who gets in and who gets iced out.
And for all we know, this 50% capacity rule/mandate could last the entire season, as there was no expected termination date given.
Not good.
Let's get back to the stuff on the ice, and talk about the Rangers news.
---
Prior to the game, Gallant met with the media, where he wouldn't tip his hat about anything, including both the goaltender position and his line-up. However, the bench boss did hint that there could be line-up changes, leaving everyone to speculate over what that meant.
Come puck drop, we found out – Filip Chytil became the first regular to enter the "GALLANT GULAG!"
I was fine with Gallant's decision to send Chytil upstairs for this game. After all, Double G is with these guys all the time. He knows them better than I do.
As talked about on this site in the past, I'm not a HOCKEY MAN like Gallant – I'm a HOCKEY FAN. Gallant is the one who played this game and has won a Jack Adams Award coaching this game too. I won't question him.
That said, as a FAN, I also took no issue with this scratching, because as I've been saying all season, Chytil hasn't been up to snuff. More times than not, despite tons of opportunities, he can't bury a puck to save his life.
If there was anything I took issue with, it was when the M$GN crew said that this was a strong message to a young player. After all, Chytil is the fourth-longest tenured Ranger on this team (Kreider, Zibanejad and Georgiev only arriving before #72 did), and plus – Chytil is in his fifth year as a pro.
And I will admit, if Gallant really wanted to send a message, he would've scratched Zibanenash too.
Luckily, the head coach is wiser than me, although I do think #93 has been great defensively and on the PK. Like everyone else, I'm just getting sick-and-tired of all the high and wide shots and no goals. Let's hope this game is the start of something big.
---
In other line-up news, Keith Kinkaid made his first start of the season tonight. I predicted this last night, and unlike Adam Huska against Colorado – this was a perfect scenario for Kinkaid to get a start.
Unlike Huska, Kinkaid is a long-time NHL veteran. Facing the worst team in the league, the scales were in Kinkaid's favor – as opposed to Huska – who had to face the offensive powerhouse known as the Colorado Avalanche.
Fortunately for Kinkaid (and the Rangers), he got the win tonight – where for about 55 minutes or so, that didn't look like it would be the case.
Here was Gallant's new line-up, with Greg McKegg joining the roster with Chytil in the press box:
FIRST LINE: Kreider/Mika/Kakko
SECOND LINE: Panarin/Strome/Hunt
THIRD LINE: Lafreniere/Goodrow/Gauthier
FOURTH LINE: Rooney/McKegg/Reaves
FIRST D-PAIR: Lindgren/Fox
SECOND D-PAIR: Miller/Trouba
THIRD D-PAIR: Hajek/Nemeth
And in net, Keith Kinkaid.
---
BOX SCORE time.
The following information and graphics come from the new world-wide leader in NHL coverage, ESPN.com:
SCORING:
PENALTIES:
TEAM STATS:
GOALIES:
| | | | | | | | | | | |
| --- | --- | --- | --- | --- | --- | --- | --- | --- | --- | --- |
| SA | GA | SV | SV% | ESSV | PPSV | SHSV | SOSA | SOS | TOI | PIM |
| 30 | 3 | 27 | .900 | 24 | 3 | 0 | 0 | 0 | 58:50 | 0 |
| | | | | | | | | | | |
| --- | --- | --- | --- | --- | --- | --- | --- | --- | --- | --- |
| SA | GA | SV | SV% | ESSV | PPSV | SHSV | SOSA | SOS | TOI | PIM |
| 31 | 2 | 29 | .935 | 22 | 0 | 7 | 0 | 0 | 60:00 | 0 |
---
Just like this win being the worst Rangers victory of the season – this was also the worst M$GN broadcast of the season too. And for the M$GN, that's really saying something, since these broadcasts are usually terrible.
I can understand not flying out Rosen and Micheletti to Arizona for just one game, but having them in-studio does make one think about COVID a bit. However, that's an observation. These two had nothing to do with why this broadcast was so bad, at least not in my eyes (and ears.)
And perhaps this was also out of the hands of the M$GN crew too – the lighting in Arizona was beyond horrible.
Seriously speaking here, I felt like I was watching this game with my television contrast setting at zero and my tint setting at 100. The production values were absolutely horrendous, which leads me to believe that not only are the Coyotes cheating on their taxes – they aren't paying their electricity bills either.
I'm not exaggerating here either. This whole game felt like it was played under one dingy light bulb, like you would see during an interrogation scene in some terrorist movie. The ice was reminiscent to the days of old, where instead of having a clean white color, the ice looked dark and brown.
However, even worse than the lighting issues was the seven foot jackass himself, Steve Valiquette, who remains clueless as ever. I even had Vally disciples, after the game, telling me that I've been right all along about my critiques about him. Come join the dark side!
(And really, the only people who seem to be fans of Vally these days are younger fans – who either don't know better, have never seen better and don't watch the rest of the league.)
I am not joking at all here. I wish I was.
The first words out of Vally's mouth were, "THIS IS A MUST-WIN GAME." For a guy who most likely dry-humps his charts and graphs, and for someone obsessed with meaningless analytics – the guy doesn't know simple math.
SPOILER ALERT: Had the Rangers lost this game, they would've still been in third-place and more importantly – would still be a playoff team. This wasn't a "MUST-WIN GAME" – it was a game that the Rangers SHOULD HAVE won. "MUST-WIN" always implies do-or-die – or so I say!
After selling his hyperbole, Vagistat then bombarded us with all of his plugs for his fake news analytical company and then relegated us tales about his epic and legendary 46 game career – where we've still yet to hear Vally talk about the time he gave up ten goals to Dallas.
With all of Vally's never-ending war stories; you'd think he would've run out of material by now and would be forced to talk about that game one day!
But wait, there's more.
When talking about Chytil's healthy scratch, Vally said Chytil was the best shooter on the team. Is his Clairol hair dye seeping into his brain? Artemi Panarin anyone? Even Adam Fox, a defenseman, has a better shot than Chytil.
Vally then wondered what's going on in Arizona. Check my article above for more, but to his credit, Joe Micheletti would then sum up the state of the Coyotes in seconds – something that the lead analyst on the M$G Networks couldn't do, or perhaps he was just too ignorant to comprehend the situation.
After the game, and despite the victory; Vally then went on to say that he was nervous about the state of the Rangers. Yep, a first-place team with a points percentage of over 70%.
Seriously, I think Shannon Hogan would do a better job than Vally on these broadcasts.
And if I've said it once, I've said it a million times – give Lundqvist a full-time position and hire a skater for him to work off of. HUMAN BEINGS WIN HOCKEY GAMES – not whatever tripe that appears on Vally's arts-and-crafts charts.
UGH!
(And one last thing, for new readers who may find this blog: Vally is a nice guy, fan-friendly, charitable, blah blah blah – but in no way, and in no how, should he be the lead analyst of the New York Rangers. We can do better.)
---
One last note before getting into the GAME REVIEW.
Up until 8:30PM (when Kinkaid was officially announced as the starter), the Rangers were a -230 favorite to win the game. (Risk $230 to win $100.) The second Kinkaid took the ice, the line dropped, and big-time at that, to -180. (Risk $180 to win $100.)
I bring this up, only to say, that this shows you the respect that Alexandar Georgiev is gaining among Vegas odd-makers. A 50 point swing for a goaltending change is huge.
And from experience, I can tell you that the line only swung this drastically because of the goaltenders – and not because of Filip Chytil. There's no way in the world that the disappearance of Chytil from the line-up created such a major line swing.
Finally, let's now get into this game!
---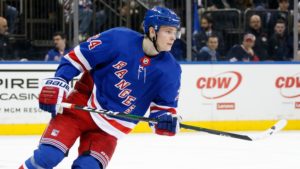 In a game featuring Devils alum (the two even back-stopped together in New Jersey), both Scott Wedgewood (ARI) and Keith Kinkaid (NYR) put forth solid efforts in this contest – or so I say.
Of the five total goals allowed tonight, I'd be hard-pressed to blame the goalies on any of them, especially since three of the five goals took place in their own paint. The other two goals allowed, one by each net-minder, were the end result of broken down defenses.
After Zibanenash won the opening draw of the game, and as Jacob Trouba has been doing for the last few weeks, #8 recorded the first shot on goal. Trouba's offensive game has really been noticeable as of late.
I don't care if he scores goals or not (of course I root for him to score though!) – I'm more concerned with him putting pucks on net, which he's been doing a great job with lately.
(It also helps that he's no longer taking these wild maniacal slap shots that thunderously rattle around the boards, as he's now focusing on more precise wrist shots instead. I don't know if that was a coaching thing or Trouba taking notice himself. The NYR beat reporters haven't asked. More on them at the end of this.)
As mentioned, this game was a slog and pretty much boring for long stretches of time. All of the individual Ranger woes were also on display here, as Zibanenash put soft shots on net for easy saves, while Gauthier must've swooped around the net with the puck about 8-9 times, without ever putting a shot on goal.
The Rangers defense also had issues too, as Kinkaid, in his first save of this season, had to stop the Yotes on a 3 x 2 odd-man rush. He'd get help from Libor Hajek on this save, as after making the save, the puck trickled past Kinkaid, only for #25 to make two different plays, when getting the puck away from the red goal line. Great work and defensive awareness out of Hajek, in his second game of the season.
Wedgewood, one of the few bright spots on this roster, continued to rack up saves, where on consecutive Ranger possessions, he stopped Panarin, Kakko, Zibanenash and Kreider.
At the ten minute mark of the period, the crowd, mostly pro-Rangers, had little to cheer about. They were just busting to explode. Fortunately, they'd have something to go crazy about and would be sent home happily.
As the two goalies traded saves, and in what was a snoozer of a game at the time (the dark lighting didn't help either), with 4:50 remaining, Kinkaid stopped Barrett Hayton, as the centerman found himself one-on-one with #71. However, Lindgren was nailed with a slashing call, giving the Desert Dogs the first power-play of the game.
The Coyotes power-play would soon be thwarted, as with 3:54 remaining in the first period, Travis Boyd hooked Adam Fox.
Following 1:05 worth of "foreplay," the Rangers had a 55 second power-play on their hands.
Rather than going up 1-0, the Rangers gave up their second short-handed goal of the season, as Loui Eriksson fired a shot at Kinkaid. Kinkaid had the save made, put the puck slowly trickled behind him, where the puck then trickled even slower past the goal line. 1-0 bad guys with 2:14 remaining.
No joke, this puck was like watching a slow motion scene in a movie, where the actor does one of those slow-motion "NOOOOOOOOOOOOOO's," as some item drops and crashes all over the place.
In a period where even Dryden Hunt, during the intermission interview, described as devoid of energy – the Coyotes retained their 1-0 lead after twenty minutes.
At the time, the Rangers looked as flat as a 1950's can of Schaefer's beer sitting in the Arizona desert of 2021.
While things didn't look great, as I said at the time – the Rangers do usually play better as these games go along. I'd be proven right, but not without some doubt along the way!
---
In a second period that was much better than the first (even if that doesn't really say much), the Rangers would eventually knot the game.
After some laziness out of Zibanenash, which led to Kinkaid making a stop on newcomer Janis "WHO?" Moser; Arizona then followed-up with a near back-door goal. It was also around this time where Panarin went to the tunnel, never to return.
Five minutes into this period, and for a team with six alternate captains – it were the upstart Coyotes that were hungrier.
With 13:21 remaining, Trouba, showing off some offensive flair, went for a wraparound try. Denied, but it was a good idea.
As we neared the half-way mark of the game, I remarked on social media that either Trouba is going to have to lay a big hit or Ryan Reaves is going to have to throw hands. Something physical needed to happen, in order to get these Rangers going.
Following a possession where Kakko skated around aimlessly with the puck for a minute before turning it over (you'd hear more about this if it wasn't for his two goals tonight); with 10:20 to go, Trouba and Roussel went at it. However, the referees broke up this potential sparring before it could get going.
Less than a minute after Trouba stepped up for the team, Kappo Kakko scored with 9:21 remaining. 1-1!
On this goal, while this wasn't a true "puck-on-pads" play, Kreider got the puck to Zibanenash, and #93 fired a thud at Wedgewood. On the heavy rebound, Kakko, left undetected and untouched, easily tipped-in the puck into the net.
Take a look:
Kaapo Kakko knots this thing at 1-1

(via @NYRangers)pic.twitter.com/2xJTiWWmrp

— Rangers Videos (@SNYRangers) December 16, 2021
---
This was a huge goal, because despite looking out of it, as if they all had omicron themselves, we were now tied – and with first place on the line too.
And yes, I must remind you of the word "consistency" here.
I'm happy for Kakko, but it feels like whenever he scores, people want to roll out the red carpet and pave the way for his Hall of Fame induction. Again, I'm happy for him, but let's pump the brakes a bit.
As we got into the latter minutes of the period, the third line and the second pair survived a hairy defensive zone shift, which eventually led to Gauthier swooping around Wedgewood's net for the 6768969th time. Right after, Zibanenash, a foot away from Wedgewood, couldn't finish. Then, with 4:05 to go in the second stanza, it was Lafreniere's turn, as he too was stopped from a foot away by Wedgewood.
Under 2:30 remaining, Ryan Reaves boomed a shot, where Wedgewood gave up a juicy rebound. However, unlike the Kakko goal – there was no Ranger to capitalize.
With just .2 seconds remaining, Trouba took a bone-headed penalty, when he high-sticked Clayton Keller, in the far corner to the right of Kinkaid.
Since this play immediately followed a Rangers defensive zone loss, Trouba should've been aware of the time here. I get playing to the final horn, but there was no way Keller was going to be able to set-up a goal, much less score a goal, with .2 seconds left and from the far corner.
After forty minutes, we remained at 1-1.
And yep, you guessed it, for a season full of cliches, up next was a tired-and-true cliche – "win the period, win the game," with a nice new wrinkle attached – "take first place too!"
---
With the Chicago Blackhawks defeating the Washington Capitals prior to the start of this third period, first-place was now up for grabs. However, it wouldn't come easy. In fact, there may be few stranglers in Rangers jerseys still on the ledge!
After killing the Arizona power-play, and with no update on Panarin; Hunt was tripped right in front of an official. No call.
Instead of a Rangers power-play; with 11:13 remaining in regulation, the Rangers, who dicked around way too much defensively, allowed the Coyotes to get a two on one chance in front of Kinkaid.
As Trouba went belly-down to break up a pass, his try wouldn't be successful. Instead, Clayton Keller, who received the pass, made one quick move and his try paid off, as he easily potted the puck past Kinkaid. 2-1, bad guys and the fire alarm was blaring in Rangerstown.
Under ten minutes to go, Patrik Nemeth got a reprieve when the Coyotes nearly missed the net after blowing by him. This could've been 3-1, but luck was in the Rangers favor on this play.
With 6:46 to go, and the Rangers down by one, Kevin Rooney drew Phil Kessel for interference.
At the time, I said this: "Zibanenash really needs to score here. With Panarin out, this is where Zibanenash needs to pick up the team."
Call me Nostradamus, call this a reverse jinx; but in either event, just a minute later, this happened:
MIKA MAKES IT 2-2!

(via @NYRangers)pic.twitter.com/KMJ58pRQXb

— Rangers Videos (@SNYRangers) December 16, 2021
---
2-2, as Zibanenash scored his best looking goal of the season.
This goal was 100% set-up by Chris Kreider, who did receive a secondary assist on the goal. (Fox got the primary assist.)
Kreider perfectly screened Wedgewood, and as Zibanenash went to the top of the circle to the right of Wedgewood – Kreider jumped out of the way, and at the last second at that, as the puck sailed behind Wedgewood.
And I've said this 87678678978967896 times before – "Screen Assists" is something that should be tracked.
Perhaps more times than not, a good screen is better than a pass during a power-play. I also think I can say in a matter-of-fact manner that a "screen assist" is more important than the majority of secondary assists.
With 2:59 remaining, the Coyotes, looking to piss away this game, succeeded – as they took one of those lovely too-many-men-on-the-ice penalties.
The Rangers power-play would get a chance to win it.
Forty one seconds into the Rangers power-play, and with Kakko out there as a replacement for Panarin, this happened:
Kaapo Kakko.

GWG.

(via @RangersMSGN)pic.twitter.com/SFSzvc2CBs

— Rangers Videos (@SNYRangers) December 16, 2021
---
3-2, GOOD GUYS, and with just 2:18 remaining!
On this goal, once again, Kreider was in the thick of things, finding the young Finn for the easy tap-in goal, Kakko's second tap-in goal of the game. What a season for CK20!
Now trailing, Arizona looked to pull Wedgewood, but Zibanenash did a good job of keeping the puck in the zone, where he killed some clock during the process. Arizona wouldn't be able to pull their goalie until there were 70 ticks left on the clock.
The Rangers held their ground remarkably here, where with 1.2 seconds to go, Kessel fired a shot into the netting. Arizona would take their timeout here, as I guess they were trying to draw up one of those classic "1.2 seconds left" type of goals.
No matter, as the Rangers then won the faceoff, securing the victory.
3-2 GOOD GUYS, your final.
But wait, there's more.
I didn't see what set this off, but with game result now official, Ryan Lindgren and Phil Kessel got into it. I never understand these fights/brawls following the final horn. If you want to be a tough guy, do it when the game is on the line and not when the game is over.
Either way, this was a "WHEW, thank the hockey gods this is over" type of victory. But hey, they all count the same!
FIRST PLACE!
---
Here's Gallant after the win:
---
Of note, I love the way Gallant handles the millennial (and often clueless – they don't know anything regarding Rangers history), NYR beat reporters. You'd think if it was your job to cover the New York Rangers, you'd try to learn about their rich (and sometimes depressing) history, but you'd be wrong to assume that.
(And to be fair, I doubt owner James Dolan could tell you about "The Bread Line" either.)
I know I've mentioned this a few times before, but you never hear Gallant talk down to Larry Brooks as he does with the younger beat reporters, scribes who usually try to invent stories and serve their own narratives – rather than working with the obvious ledes presented to them.
Instead of talking about first place, the power-play, Kreider's three assists, Kinkaid's big win, etc; these reporters tried to grill Gallant over scratching Chytil. In turn, Gallant told Vince Mercogliano, who writes for some spyware infested site that makes my computer go into hysterics whenever I try to click it, "talk about the game!"
You'd think these reporters would learn by now – Gerard Gallant is not David Quinn. You won't be able to bully THE TURK around. However, I am fairly entertained whenever these reporters attempt such a feat!
GIVE THE KID A BREAK!
And similar to my opinions on Valiquette, and call me a BOOMER if you must – younger fans really don't know what they missed. Give me the old school HOCKEY reporter, who grew up with the game and would drink rot-gut whiskey and chain smoke cigarettes with a head coach and with the players.
I know it's a different era, but really, can you see Gallant, or any of these players, hanging out with any of these pencil pushers of today? Do these beat reporters even drink whiskey? (And I 100% know they don't smoke cigarettes either – not that I'm advocating for that! However, the days of Lucky Strikes and Pallmalls are over!)
Instead, while Gallant is having his post-game pops and belts on the plane, I'm thinking these media members are vaping and getting tipsy off of a 12 ounce can of White Claw. "Ohhhh, the kale-flavored White Claw gives me a buzz!"
Ah the days of old!
(And yes, we are really going to miss Larry Brooks whenever he decides to put a bow on his Hall of Fame career.)
PLUGS TIME and then I'm out!
---
The first plug of tonight's blog – the mandatory plug for my new book, "The New York Rangers Rink of Honor and the Rafters of Madison Square Garden".
As mentioned previously, the book is now available in hardcover, in paperback and in Kindle formats. To purchase a copy of the book, visit this link:
https://www.amazon.com/Rangers-Rafters-Madison-Square-Garden-ebook/dp/B09CM5N2WD
For those still looking for signed paperback versions of the book, I have re-ordered more copies. I now have 18 signed copies for sale at $25 a pop (includes shipping price) through me directly. Here is all the information on that:
---
Here are my last few blogs, in case you missed them:
---
---

---
If you haven't already, subscribe to this blog for the next update:
---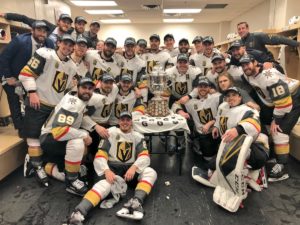 Up next: Friday night, at M$G, where the Rangers will host Gallant's former team – the Vegas Golden Knights.
And needless to say, if the Rangers respect their head coach – they will come out firing on all cylinders for this tilt.
Stay FABULOUS my friends.
As always here, thanks for reading and…
LET'S GO RANGERS!
Sean McCaffrey
BULLSMC@aol.com
@NYCTHEMIC on Tweeter