Greetings and salutations everyone and welcome to another blog here on BlueCollarBlueShirts.com. Bah humbug.
On a festive Friday night at M$G, where in a rare instance, the crowd inside of the arena were also noticeably audible; the Rangers dropped a 3-2 decision to the Vegas Golden Knights. For glass half-full fans like myself, at least the Rangers got a point in the standings, following this particular shootout loss.
Upon the completion of this 3-2 shootout defeat, my instant reaction was anger. My broken remote control and dented wall will tell you as much.
(I guess I should also tell you that I may have had a wager on this affair, where going into this game, there was no bone in my body that suggested a Rangers loss. Call me gullible, call me a diehard – but that's how much I believe in this team right now.)
It's my belief that the Rangers pissed away two points tonight. It is also my opinion that Filip Chytil was the biggest culprit in the decision – where admittedly, that's a bit of an overreaction, yet somewhat true.
Even worse, the Washington Capitals defeated the Winnipeg Jets on Friday night too, which means that the Rangers now trail the Caps by one point in the Metropolitan Division standings. (And watch out for the now healthy Pittsburgh Penguins, as the black-and-yellow are currently streaking and narrowing the gap.)
A few minutes following the game, and as previous bad feelings had eroded; my reaction went back to its natural state of positivity. After all, despite how the game ended – one point is still one point.
Needless to say, things would've been much worse had the Rangers lost in regulation. I'll take the point and move on to the next one.
I think every fan in Rangerstown, USA should be happy about second place right now, especially since many of you (not me though!), didn't even have this team qualifying for the 2022 Stanley Cup Playoff tournament.
One game remaining (hopefully, more on this below) before the Christmas break, and the Rangers are one point out of first place. I'll take it.
While not exactly a "Bronx Tale" game, which means "wasted talent"; the Rangers had everything going in their favor tonight.
However, following an amazing second period, the team went into PREVENT defense mode, where that style of play always leads to a loss. We've seen this time-and-time again. (And this isn't just exclusive to the Rangers either. You'll see this on any given night during an NHL slate of games.)
---
Prior to tonight's puck drop, the Vegas Golden Knights had played 24 hours prior, in a physical game against the New Jersey Devils, and where starting goaltender Robin Lehner got the nod in net. Conversely, the home team, the Blueshirts, had Thursday night off.
However, come the start of the third period, it were the Rangers who looked like they played the night before and then soon got gassed, where they only mustered up two (yes, as in the number 2) shots on goal during the final frame of regulation.
Sitting back on a one-goal lead would blow up in the Rangers face on this night, following Brett Howden beating Mika Zibanejad during a Rangers defensive zone faceoff. Following the faceoff loss, new winger Filip Chytil got absolutely lost – which in turn, then set-up the late tying goal on behalf of the visitors.
Chytil would get a chance to redeem himself during a wild three vs three overtime, but couldn't score on a breakaway – the usual. (I think Chytil only scores breakaway goals against Nashville.)
Come the shootout, the three Ranger skaters, Kakko, Zibanejad and Strome, couldn't put one puck past Vegas back-up goaltender Laurent Brossoit.
Former Ranger prospect/undrafted free agent (a theme, especially tonight as I'll get into during the GAME REVIEW segment), Jonathan Marchessault, after two Georgiev denials, would score in the third round of the shoot-out, which then gave the road team the hard-fought victory.
While this all sounds a tad depressing, where just like the photo of Chytil as tonight's goat, the word "depressing" is definitely an exaggeration – there was some good to come out of this game, as I'll soon get into.
Perhaps the word "depressing" is more fitting for our first item of tonight's NEWS segment. At this time, let's now get into that.
---
In what's now becoming a mandatory thing to talk about again, it is the topic of COVID-19, now in its latest <cue the dramatic BOOM-BOOM-BOOM music> omicron variant.
I'm really tired (and completely over as well) talking about this subject, especially since the NHL players testing positive for omicron aren't sick. Maybe some players are tired for a day or two, but in the majority of cases – these vaccinated (and otherwise 100% healthy) players aren't even aware that they are carrying the virus.
You can visit NHL.com or SportsNet.ca for the live and never-ending coverage of the NHL's newest battle with the virus. It really pains me to even mention the word "COVID," whenever writing one of these blogs. I'm done with it.
There's really no point in me recapping everything COVID-related in this space.
After all, all news related to COVID changes every five minutes, and will most likely be dated by the time I even hit the "publish" button on tonight's manifesto.
But yeah, and as mentioned last week – none of this is looking good, especially with the increasing numbers of not only players testing positive for what's essentially a minor flu at this point in time; but more importantly – the increasing numbers of games now being postponed too.
(If only the teams who are now forced to postpone games had a new arena to open, just like the Islanders did. There would be no postponements then!)
---
If there's anything I wanted to quickly mention here in regards to omicron, it's the fact that the Montreal Canadiens became the first team (officially, as opposed to the Buffalo Sabres, who unofficially play in front of empty houses during every home game), to play a game this season with no fans in attendance. They did so last Thursday night, where they knocked off the Philadelphia Flyers by a final score of 3-2 (shootout.)
On Friday morning (12/17), it was announced that the next Habs home game, which was scheduled for Saturday night (12/18), against Boston, has now been postponed.
I'm only presenting this one piece of COVID crap news to you tonight, because this is somewhat Rangers-related.
---
Next week, the Canadiens are scheduled to play the Islanders at the IBS Arena on Monday night, followed by a Wednesday night tilt with the Rangers at M$G.
While I don't want to sell fear to you, I must also ask you this question: what do you think the odds are of Montreal showing up for Sunday night's flight to JFK?
Yes, I don't like to talk about politics on this site, but the following is part of the story:
The Canadiens play in liberal Canada and also play in one of the most liberal provinces in all of Canada – Quebec. In addition, New York City is very liberal too.
With travel restrictions, COVID mandates and everything else thrown into the mix; do you think the Montreal Canadiens would want to risk Christmas Day, and the break following it, holed up in some crappy and overpriced Times Square hotel? In my eyes, I think they'd much rather spend that time with their families in Montreal.
And again, while I don't like to talk about politics, you have to admit the facts too:
It would be much easier for the Edmonton Oilers, who play in a conservative province like Alberta, to travel back-and-forth to a conservative American city, such as Tampa, Florida, than it is for Montreal with their upcoming round-trip flight to New York City.
It should also be mentioned, that for the first time this season, following a mini-COVID outbreak, where none of the players were sick (Darcy Kuemper and Cale Makar, two players dressed and willing to go, prior to their respectively pesky positive test results); the NHL gave the Colorado Avalanche the decision to postpone their game last Thursday night. The Av's declined, and then lost their game to the Nashville Predators.
Should the NHL give Montreal the same treatment, how do you think they will answer?
This is my way of saying that I think tonight's game with Vegas was the last Rangers game prior to Christmas. I hope I'm wrong.
Speaking of the Rangers, let's now get into their news which preceded tonight's contest at the World's Most Expensive Arena.
---
Prior to tonight's game, both Gerard Gallant and Ryan Reaves met with the media, where obviously, the topic of a "revenge game" was the prevailing theme. Unfortunately, it would be Brett Howden, formerly of the Rangers, who got his revenge – where he scored a goal and then assisted on the tying goal during the final minutes of regulation.
While the history between Gallant and Reaves with the Vegas Golden Knights is a great back-page story; for the Rangers, the injury issues among their Russians is bigger.
The good news: CZAR IGOR practiced with the team and looked pretty good too, where the Rangers social media accounts posted a video of him soccer kicking a puck following a save. In other words, it looked like his flexibility was back.
After the Rangers were finished with their morning skate, Gallant pretty much confirmed what I've been saying this entire week – Igor is getting better and they won't rush him back. Gallant also brought up how the Rangers have one more game prior to the Christmas break (if it even happens), and may wait to bring CZAR IGOR back once the break is over.
So that was all good.
The bad news: We didn't get a real update on Artemi Panarin, aside from the "day-to-day" stuff, which much like "flattening the curve" – could mean anything. (Panarin didn't practice either.)
As far as the injury itself, super-sleuth and friend of the site, Danny Mack, re-watched Wednesday night's game with Arizona, where he unearthed a clip of Panarin favoring his groin with only 7:23 remaining in the first period. It was at that point in the game where Panarin was skating gingerly a bit. "The Breadman" would test himself out during his first shift of the second period, only to never return.
While the Rangers haven't missed a beat with CZAR IGOR out; obviously, if Panarin is out for any length of time, it will hurt the team. (And had Panarin played tonight, who knows?)
If there's a silver lining to this story, it's that this injury took place at this particular point of the season, with a bunch of time off ahead.
(The Rangers now have one game in the next nine nights, should the game with Montreal this Wednesday night go off without a hitch.)
---
Before commenting on what Gallant and Reaves said prior to the game, I think you owe it to yourself to watch these videos and formulate your own opinions first:
---
---
I really enjoyed how honest both Gallant and Reaves were on early Friday afternoon.
As talked about last blog, you knew this game with Vegas was important to these two men.
Reaves said (and of course) that he wanted to win, and where Gallant also said his bitterness over his untimely departure from the franchise has now subsided.
Speaking of my last blog (and to follow up my point about the way Gallant treats the clueless millennial reporters differently from the way he treats Larry Brooks); if you noticed from the video above, Gallant said that he reads Brooks' articles and took his suggestion about flipping Chytil on the wing.
Gallant even went out of his way to be clear with Brooks, mentioning that he was joking and respects what Brooks has to say.
(It's also easier to read what Brooks has to say too – as everyone else is either behind a paywall or writes on websites that include 7676796796 spyware applications and pop-up ads, with whatever site Vince Mercogliano writes for being the biggest offender.)
Let's face it – Brooks has been around this team for a long time. Gallant has only been around this team for a few months, so it can't hurt to read what a Hall of Famer has to say.
While I'm not saying that Gallant should make his decisions based on what Brooks has to say; if I was trying to gather up as much information as possible, I'd read Brooks over one of these reporters talking about how buzzed they get off of a can of White Claw.
Also of note: Gallant has never mentioned that he reads what the younger reporters on the beat have to say. He has specifically mentioned that he reads what Larry Brooks has to say. Wise choice!
As far as anything else that really stuck out to me, I really enjoyed how Reaves gave "THE TURK" credit for his career and how #75 went out of his way to stress that without Gallant, he wouldn't be as successful as he is. You have to like it whenever a player really goes out of their way to praise their coach publicly.
---
Last blog, I opined that Panarin or no Panarin, I didn't think it would change Chytil's status for this home game. After all, Gallant really doesn't punish players – as Chytil was the first regular Ranger to become a healthy scratch this season at the game 29 mark.
If there's anything to note about the line-up tonight, a line-up where both Chytil and McKegg were included; it was that mid-way through the first period, Gallant shuffled up his lines, as Chytil and Hunt flip-flopped spots.
To me, this told me that Gallant really wanted to win this game. (Maybe Brooks feels the same! Ha!)
This was the first time this season that Gallant made a line-up switch during a first period. And really, outside of trying to chase a goal in the final stages of a third period (where he usually puts Panarin and Zibanejad together) – Gallant hasn't changed his lines in-game once this season.
With that all said, here was Gallant's starting line-up, where it should also be mentioned that the fourth line began the game, which was a nod to Reaves and his history with Vegas:
FIRST LINE: Kreider/Mika/Kakko
SECOND LINE: Lafreniere/Strome/Hunt
THIRD LINE: Chytil/Goodrow/Gauthier
FOURTH LINE: Rooney/McKegg/Reaves
FIRST D-PAIR: Lindgren/Fox
SECOND D-PAIR: Miller/Trouba
THIRD D-PAIR: Hajek/Nemeth
And in net, Alexandar Georgiev.
---
BOX SCORE time.
The following information and graphics come from the new world-wide leader in NHL coverage, ESPN.com:
SCORING: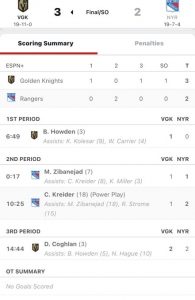 SHOOTOUT:
PENALTIES:
TEAM STATS:
GOALIES:
| | | | | | | | | | | |
| --- | --- | --- | --- | --- | --- | --- | --- | --- | --- | --- |
| SA | GA | SV | SV% | ESSV | PPSV | SHSV | SOSA | SOS | TOI | PIM |
| 29 | 2 | 27 | .931 | 24 | 0 | 3 | 0 | 0 | 65:00 | 0 |
| | | | | | | | | | | |
| --- | --- | --- | --- | --- | --- | --- | --- | --- | --- | --- |
| SA | GA | SV | SV% | ESSV | PPSV | SHSV | SOSA | SOS | TOI | PIM |
| 30 | 2 | 28 | .933 | 26 | 0 | 2 | 0 | 0 | 64:58 | 0 |
---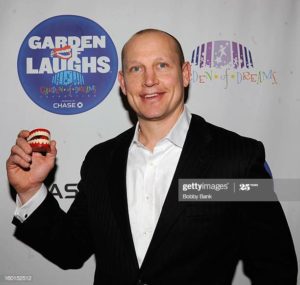 Since tonight was the "Garden of Dreams" fundraiser night, we didn't get much of Steve Valiquette – praise the hockey gods. That said, with all the prizes that the Rangers give away to their $100 donors, can you imagine donating $100 and then being "rewarded" with a signed Valiquette stick? I'd rather test positive for omicron.
I donated my annual $100 to the Garden of Dreams tonight. While I don't look for anything in return (one year, I won a signed Mats Zuccarello signed stick, as talked about on this site at the time); if there's any prize I'd want, it would be a signed puck from Joe Micheletti, with the word "FABULOUS" attached.
After all, for someone who has a ton of rare items in my Rangers memorabilia collection – a "FABULOUS" signed puck would put my man cave over-the-top!
With tonight's pregame show being one to raise money for charity; I'll take a break from slamming Vally as I usually do at this point of any game review blog. Instead, I'll tell you that according to Joe Micheletti, the Garden of Dreams charity has positively impacted the lives of 400,000 children and families. Good stuff.
Better stuff was prior to the game's commencement, where a 12 year-old named Franco Monnecka came out for the ceremonial puck drop. The youngster's cancer has just gone into remission and Monnecka, a youth hockey player, will soon make his return to the ice. Always happy to see these stories displayed on the air.
---
As far as anything else worth noting here, while it was mentioned repeatedly that this was a revenge game for Reaves and Gallant; the two words of "Brett Howden" didn't make their way to the pregame show.
At the time, I was taking odds on how fast Rosen and Micheletti would say "OLD FRIEND BRETT HOWDEN" on-air. While we didn't get the usual two words of "OLD FRIEND" preceding Brett Howden's name – it took just twenty seconds for the pair to bring up Howden's past.
And of course, Howden was a big part, if not the biggest; in the victory for Vegas tonight. IT ALWAYS WORKS OUT THIS WAY.
No joke, Manny Maholtra could come out of retirement right now, and you know that he'd be good for a multi-point game against the Rangers.
And hell, if Filip Chytil ever wants to become a successful NHLer – he might as well demand a trade now, and then circle the games whenever the Rangers are his opponent!
Ugh.
GAME REVIEW time.
---
The first period was the Rangers worst of the game, which seems to be the case a lot lately. On the bright side, what also is the case is the team getting better as these games get going.
Not even a minute into the game, Rika Zibanenash missed the net on a wide-open breakaway. He'd later redeem himself – but had this shot went in, the words "FIRST PLACE" would've been plastered all over this game recap.
Vegas would spend long stretches in the Rangers defensive zone all period, including during the first three minutes of play. At the five minute mark, and with the Rangers battling the pressure, Adam Fox snuffed out a chance from Wild Willy Karlsson.
With a few saves under his belt, Georgiev was looking good. However, at the 6:49 mark, Carrier fired a shot at Georgiev and Brett Howden was left all alone for a deflection attempt. He'd make that deflection, a save for Georgiev. However, on the rebound, Howden remained all alone and tapped the puck in. 1-0, bad guys.
Two words – "OF COURSE!"
As Vegas continued to fire away at Georgiev; with 10:43 to go, Zibanenash was boxed for hooking Evgenii Dadonov, a player whose last name befuddled Sam Rosen all game – the first of many things to baffle the beloved broadcaster.
The Rangers penalty kill held up their end during this, including two saves out of Georgiev, where he stopped Max Pacioretty on a one-timer, and then stopped Brendan Smith's brother, Reilly.
Perhaps even better was a nice no-look drop pass from McKegg to Kreider, but #20 couldn't get a SOG. Still, this play, and this puck possession, helped to kill the Vegas man-advantage.
With 7:31 remaining, Georgiev made another save, where his net went off the moorings following it.
It was also around this time where Joe Micheletti gave us the Jack Eichel report, mentioning that Eichel is currently rehabbing and training in Charlotte, North Carolina.
Worth noting too? Steve Valiquette, during the M$GN postgame show, went on-and-on about the Rangers missing Artemi Panarin tonight and how they almost won the game without him. Not a breath about how Vegas was also missing their newly acquired $10M center. I guess all of Vally's summer Eichel "tingles" have gone the way of the dodo bird. Funny how that's never brought up anymore – just like Vally's ten goal game against Dallas!
6:45 left to play, the Rangers only had four shots on goal. While that number sounds paltry, the Rangers would "out-do" themselves in the third period.
After Brossoit stopped Kreider on a deflection try; with five minutes to go, this is where "THE TURK" made his line changes as talked about earlier. These changes would stick for the remainder of the game.
With 1:47 to go, Brossoit seemingly yawned when stopping a soft shot from Filip Chytil, the new winger who was left all alone with the Vegas back-up goalie at the time.
As the horn went off signalling the end of the first period, we remained at 1-0, bad guys.
Of note, at the time, I said this:
"Panarin's out, Zibanenash needs to step up. He was a detriment this period."
I'd soon get my wish.
---
As Rangerstown, USA were lamenting a poor showing in the first twenty minutes; just seventeen seconds into the second stanza, this happened:
Mika heating up! 🚨🚨🚨 pic.twitter.com/vWNjSJXoGP

— Rangers on MSG (@RangersMSGN) December 18, 2021
---
1-1, after a bomb from RIKA ZIBANENASH MIKA ZIBANEJAD!
This is the Zibanejad we all want to see. If he can stay hot, and continue to score goals like this – the Rangers will be an extremely tough out in the playoffs. Of course, and as mentioned last blog – #93 must stay consistent. However, on this night, Zibanejad showed us what he's capable of doing and played like the center we all know he can be.
Of note Part I: Chris Kreider picked up an assist on this goal, which meant that Kreider had assisted on the last four consecutive Ranger goals scored.
Of note Part II: In game 30 of the regular season, this was Zibanejad's first goal at M$G. So yeah, while I'm happy for him and hope this is the start of something big – I'm still hesitant to roll out the red (or blue) carpet.
---
Following another save on Karlsson from the BULGARIAN BEAST; with 14:34 remaining, Kreider, like Mika earlier, had a breakaway try.
Like Mika Part I: Kreider wouldn't hit the net either, losing the puck while attempting a back-handed shot.
Like Mika Part II: Kreider would soon follow this missed chance with a goal himself.
In what should've been the turning point of the game, which then gave the Rangers two points in the standings; with 11:06 to go, Nicolas Roy slashed Zibanejad, which also gave the Rangers their first power-play of the game.
With 9:35 to go, and with Pietroangelo also high-sticking Zibanejad during this power-play, this happened:
Power Play stays hot! pic.twitter.com/LCIpU0rgNc

— Rangers on MSG (@RangersMSGN) December 18, 2021
---
2-1, GOOD GUYS, after a beautiful pass from Zibanejad to Kreider!
This also gave the two "FAT CATS" multi-point games, a goal and an assist each. With Panarin out, it was nice to see these two do the heavy lifting and come up big. And yep – I was hoping this would be the headline of tonight's game.
Even better at the time, due to Zibanejad drawing his second penalty of the period, the Rangers had another power-play after CK20's much-needed tally. Unfortunately, the Rangers wouldn't match their success here, where during this power-play, Strome rung a puck off the crossbar.
(And if you're counting, that's now three Ranger opportunities that could've been goals – the missed breakaways from Mika and Kreider & this paint chipping of the iron.)
I'm not making the following up:
With about five minutes remaining, Sam Rosen realized that the on-ice officials were one referee short. Rosen assumed that one of the referees went to the tunnel, where I then assumed this was due to "achoo" reasons.
A few minutes later, Rosen corrected himself, saying that the game had been one official shy for the entire contest.
Bless his heart.
Sans one official, this would play into the game as this period progressed.
Following Kaapo Kakko hitting the post (four Ranger chances that could've been goals at this point); with just under four minutes to go, Dadanov blatantly tripped Adam Fox. Stevie Wonder even saw this. However, no call.
While this should've been a Rangers power-play (five Ranger chances that could've produced goals tonight); on the other end, Alexis Lafreniere stuck with the play and made his best defensive play of the season, where he broke up Dadanov's attempt of trying to go one-on-one with Georgie boy.
As we got to the end of the second period, we remained 2-1, and in favor of the good guys.
This was a night-and-day performance from the first period. After all, for your consideration:
Shots on Goal: 20-16 Rangers
Hits: 15-7 Rangers
Faceoffs: 24-14 Rangers
In addition, for all of my "SPECIAL TEAMS SWING GAMES" talk, the Rangers penalty kill was flawless. And with Kreider's potential game winning/go ahead goal being of the power-play variety, the Rangers special teams shone bright.
No joke, this second period created a "WE CAN WALK THROUGH WALLS" type of a vibe. Unfortunately, what followed was anything but – as the Rangers saved their worst for last.
---
I know I might be too hard on #72 tonight, especially since he wasn't the only offender during the third period; but if this team wants to be a serious Stanley Cup contender, they'll need to add some veterans. Chytil should be the casualty when trying to make that happen.
There are two ways to look at Filip Chytil – he's "ONLY" 22, or the fact that he's now in his fifth NHL season, where he's also the fourth longest tenured Blueshirt on the team.
And let's face it – the rebuild is long gone and the Rangers have enough growing pain issues to deal with, both in the forms of Kaapo Kakko and Alexis Lafreniere. Throw Chytil into that mix, and if you had to choose only two of the three to invest in, who are you kicking to the curb for a playoff veteran? I think that answer is obvious.
In addition, with the abundance of winger rentals available on the market – who would you rather – Chytil or a playoff tested veteran? Again, I think that answer is obvious.
---
Going into this final frame, you would think that Vegas, having played a physical game just the night before, would gas out and tire first. That's what you'd think. In reality, instead, the Rangers lost a step in this period, where they only registered two shots on goal during these final twenty minutes.
Following the game, Gallant and Zibanejad said it wasn't the goal to essentially go into "PREVENT" mode, but whatever the intent was, that's what happened.
The Rangers never tried to get the insurance goal. And perhaps if it wasn't for a lost faceoff and Filip Chytil – maybe this PREVENT defense would've worked. However, it didn't and we can only talk about what happened.
If there was any highlight of this third period (and he was strong all game), it was Libor Hajek, who made several key defensive plays tonight. I don't know if he's the answer long-term (and he's only playing right now because Nils Lundkvist has a non-COVID related illness), but I think he's maximized his minutes. At the very least, he's the stronger option between he and Nemeth – or so I say.
Aside from Hajek and the Rangers two SOG of the period, there are only two things worth talking about.
One – Dryden Hunt was held while in the Vegas d-zone. Another no call from the officials, the second of two penalties that should've been assessed to the NHL's 31st team.
Two – following an icing, Zibanejad (who otherwise had a good night at the dot, winning 15 of 19 draws in this game), lost a draw to Brett Howden. Seconds later, Nic Hague found Dylan Coghlan all alone and beat Georgiev while screened. 2-2, and with 5:16 left in regulation.
I have to give credit to Joe Micheletti here, because in real-time, this play was so bang-bang that I didn't see how it all happened.
On the draw that Howden won, Chytil erroneously tried to chase a puck, which then left his man Coghlan all to his lonesome. Just like that, Coghlan capitalized and we had a tied game. Just one defensive lapse and that's all it took.
Now tied, the Rangers would continue to chase Vegas all over the ice, where after a huge turnover from Kreider, Georgiev made two huge saves with just over a minute remaining.
Under twenty seconds to go, Ryan Strome won his biggest faceoff the game, where he won this defensive zone faceoff, which as a result, prevented a surging Vegas team from scoring a late back-breaking goal.
After sixty minutes, we remained even at two. Up next, a wild and crazy three vs three overtime.
---
The scoreless five minutes of overtime is too insane to properly recap.
Put it this way, the SOG totals of this extra period of free hockey read as 7-4, in favor of the home team. With seven SOG – this also tells you that the Rangers had plenty of chances to send the crowd home happy too.
Both goalies were great here, including Georgiev, who made a few breakaway saves, and also got some luck when Pacioretty went wide on other chances.
Really, this whole overtime was wild, where aside from Chytil flubbing on a breakaway; Trouba and Strome had two chances to win the game but failed to do so.
Following the scoreless free hockey; we went to a shootout, where as described at the top of this blog, Jonathan Marchessault scored the only goal, which just absolutely deflated the Garden Faithful, especially after those frantic and frenetic five minutes of an energetic overtime.
3-2, bad guys, your final.
---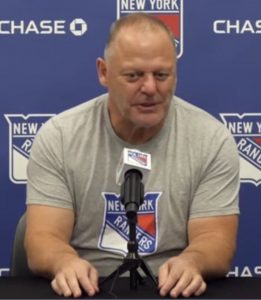 It's a shame the Rangers lost this game, as the top stories should've been the following:
— Reaves and Gallant get revenge.
— "Missing" Mika FOUND!
— Kreider continues to shine.
— Another win for Georgiev the Great.
— Lafreniere saves a goal!
— Panarin-less Rangers find a new way to win!
— Hero Hajek.
Instead, we're talking about a bad third period and Filip Chytil's miscues.
But hey, at least the Rangers got a point in the standings, and even if it feels like kissing your cousin – it's better than no points. Plus, one good period got the Rangers a point over a good team too. Imagine if they played a full sixty!
PLUGS TIME and then I'm out!
---
Up first, Ron Duguay and company returned Friday afternoon with another episode of "Up in the Blue Seats." To listen to show, click the link below:
Up In The Blue Seats Podcast: @RonDuguay10, @MollieeWalkerr & I talk #NYR injuries, what they need & @NYP_Brooksie on Chytil benching.@MSGNetworks Joe Micheletti stops by to talk working with Sam Rosen & more! ⬇️

Apple: https://t.co/yew626H8CJ
Spotify: https://t.co/1vUl8v7Ed8 pic.twitter.com/dXUY5pMBeX

— Jake Brown (@JakeBrownRadio) December 17, 2021
---
As stated previously on this site, I feel this podcast isn't what it used to be. Duguay is somewhat being phased out of his own podcast for two people who don't really know the game. At least Walker is learning, and yes, Brown is enthusiastic – but I'd rather hear more from Duguay.
That said, the Larry Brooks segments still remain A+, as you get real news and expert insights out of him.
Of note: the Brooks segments are recorded first, and then later placed into the podcast.
I mention this, because you can see that Walker is learning from her co-worker, as during the opening segment (recorded after Brooks), you can hear her parroting and repeating what Brooks had previously said. Anyone else notice this?
---
The first plug of tonight's blog – the mandatory plug for my new book, "The New York Rangers Rink of Honor and the Rafters of Madison Square Garden".
As mentioned previously, the book is now available in hardcover, in paperback and in Kindle formats. To purchase a copy of the book, visit this link:
https://www.amazon.com/Rangers-Rafters-Madison-Square-Garden-ebook/dp/B09CM5N2WD
For those still looking for signed paperback versions of the book, I have re-ordered more copies. I now have 18 signed copies for sale at $25 a pop (includes shipping price) through me directly. Here is all the information on that:
---
Here are my last few blogs, in case you missed them:
---
---

---
If you haven't already, subscribe to this blog for the next update:
---
Up next: a nice mini-break before the Christmas vacation, where the Rangers will then host the Montreal Canadiens in an Original Six match-up on 12/23.
As far as this site goes, I'll definitely be back before the game with Montreal – should it happen. I'll have my Stan Fischler "Tales of Brooklyn" book review posted and something unique – a blog about Cosby's.
Stay FABULOUS my friends.
As always here, thanks for reading and…
LET'S GO RANGERS!
Sean McCaffrey
BULLSMC@aol.com
@NYCTHEMIC on Tweeter