Greetings and salutations everyone and welcome to another blog here on BlueCollarBlueShirts.com. Where were these Rangers all-season? Silver lining? At least they are motoring now!
In what's probably now boring and repetitive for regular readers of this website – yes, I have to catch a 5AM train for work on Friday morning.
But hey – who can sleep following this YUGE win?
Needless to say, while these game review blogs are the most-detailed written recaps of these Ranger affairs out there, in the "Blueshirts' Blog-o-Sphere" – I wish I had even more time to bask in the Rangers' 3-1 victory over the Leafs tonight.
That's how impressive this win was.
Sure, there will always be a recency bias whenever you proudly proclaim, "BEST WIN OF THE SEASON!" – but put it this way: I rather debate with you guys and gals over the "best win of the season" – rather than wallow in the misery whenever dissecting the "worst loss of the season."
Due to the recency bias factor, and where this will only continue as the season inches closer-and-closer to the playoffs; each big win feels bigger than the one that preceded it.
That said, I fully believe that Thursday night's win over the streaking Leafs was the best Rangers' victory of the season – and the best game this team has played since the home-opener – the third period blow-out against the Red Wings aside (8-2 final).
Why do I feel as such? Let's count the ways:
— While this is just happenstance more than anything else – the Rangers finally lifted the curse against them – and picked up their first win of the season while wearing their cash grab reverse retro Liberty Jerseys. They are now 1-4 this season with those sweaters.
— For a team that's been on the wrong end of so many negative trends – the Rangers snapped all of that junk too.
— For the first time in fifteen games – the Leafs didn't pick up a point in the standings. Mitch Marner, who entered this game on a 23-game point streak, had that streak snapped tonight too – despite Sam Rosen doing his best in wishing for Marner to extend his streak to 24-games.
— "The Slump-Buster Rangers?" You can now call them the "Streak-Busters" – for as silly as that may sound!
— For the first time during "THE TURK ERA," the Rangers' second power-play unit not only received time – they scored a goal too. Filip Chytil's early first period PPG snapped that drought, where it was Nils Lundkvist, during the pandemic-shortened 2021 season, who last scored while playing on the PP2 unit – for head coach David Quinn.
— The Rangers' penalty kill, which has been up-and-down this season, and just like the power-play – was perfect tonight. The man-down squad went 3-3, where just like this entire game – the entire PK unit put forth a team effort – including CZAR IGOR – who had his best game on home ice yet – a much-needed performance in front of the lively M$G crowd.
---
While the Rangers ended a lot of the negative trends against them tonight; also taking place was some of the good stuff that we've previously seen this season:
— An "unlikely hero" performance from Jimmy Vesey, who not only scored the game winning goal – but the insurance empty netter too. Yes, Vesey has been rock-solid for the Rangers during his second tour, but this was his statement game – where ironically, and to go back to the "negative trends" talk – it was an ex-Leaf torching his old team for once – rather than an ex-Ranger scoring against the Blueshirts in bunches!
— Prior to Vesey's empty netter – the last three Ranger goals scored hit the iron – and went in!
— Gallant shook up his lines, and while he didn't need to make any in-game changes tonight – the unexpected roster shuffling worked out.
— Artemi Panarin, somewhat committed to playing defense ever since Trouba called the team out; "The Breadman" saved a potential and crushing Toronto game-tying goal.
— A new player making his season debut had a strong showing, as Ben Harpur, in steed for Libjor Hajek, was impressive when paired along with Braden Schneider – a Schneider who may be the best "kid" on the team.
---
Programming note before getting into everything tonight.
I am making the trek down I-95 on Saturday to watch the Rangers dominate the Flyers.
In other words, while maybe I'll post a "pictorial blog" – there most likely won't be a game review – especially with the team playing just less than 24 hours later on Sunday night.
If I have enough juice in me once getting home at likely 3AM – maybe I'll write something short. We'll see.
Due to my insane work schedule and busy weekend – I'm going to jam-pack tonight's blog, as I don't think I'll get a chance to write anything on Friday.
Before getting into tonight's game, I'm going to share with you my latest articles for Stan Fischler and "The Hockey News," articles that I believe will be posted on either Friday or Monday.
(As noted many times before – I run these articles here only because Fischler edits my original pieces due to space constraints, and sometimes these chopped-up articles don't hit the way that they should – or so I say!)
Brew your coffee, sit back and get ready to hit that scroll button. Let's roll.
---
I believe this following article will appear on Monday in "The Hockey News." Enjoy:
The often discussed Arizona Coyotes (where not much of the talk is from a positive perspective), should have the Chicago Blackhawks, the San Jose Sharks, the Anaheim Ducks and the Columbus Blue Jackets on their Christmas gift list.
After all, if it weren't for this merry bunch, the only five teams worse in the NHL than the Desert Dogs themselves – then perhaps there'd be even more talk of derision in regards to the fledging franchise.
Then again – the Coyotes, following two long road-trips to begin their 2022-23 campaign, are back in the news – and not because of their 3-2-1 record at their new home in Tempe.
Instead, the Yotes, whose new home is at a college campus (ASU), are in the news for something else – and another negative story to boot – following a drunken fan brawl during the Coyotes 4-3 win over the Boston Bruins from this past Friday night (12/9).
(Full story: https://nypost.com/2022/12/13/coyotes-vs-bruins-fan-brawl-ends-with-mans-finger-bitten-off/)
Rather than a headline of "Worst of the West Bests The Beasts of The East;" instead, the hockey world is talking about this alcohol-fueled booze bruisefest, where if it wasn't bad enough that a grown man blasted a young woman in the face with an overhand right – a fan also had a piece of his finger bitten off.
Obviously, for Coyotes CEO Xavier Gutierrez – this was not a story that he wished to comment on – but to his credit – he faced the heat.
Not brought up by Gutierrez? How his team has a "morality clause" with the powers-to-be at ASU, where the college can boot the team from their temporary digs, whenever they want – and solely at their own discretion.
On May 18th, 2022, Coyotes' owner, Alex Meruelo, said that his team had signed a "good behavior" clause with the university, a stipulation that states that the NHL club is "required to avoid notoriety."
A woman getting KO'd? A fan losing his finger? Police officers receiving injuries when trying to break up the melee? This all sounds notorious, and nefarious, to me.
While we all know that the situation in Tempe isn't ideal for the NHL – Friday night's fracas only made it worse.
Currently, the Coyotes, who seem to be "Going Hard for [Connor] Bedard;" will have to prevent similar incidents from this past Friday from happening again.
If not, the team may have to "Think for a New Rink."
---
The following will appear on Friday in "The Hockey News." Enjoy:
The San Jose Sharks, currently in a rebuild, where both a new general manager (Mike Grier) and head coach (David Quinn) are tasked to get the team from the bay swimming again; more times than not this season, have been fish-food themselves – and as their 10-16-5 (.403) record would suggest.
The silver-lining? At least they aren't the Anaheim Ducks – one of the Sharks' California rivals – where the team from the pond, despite boasting a ton of young talent and accomplished veterans, are 7-20-3 (.283).
It's tough to get a true read on the job that Grier has done thus far. After all, for a team trying to find their way, the rookie g.m. was saddled with a lot of long-term deals by the club's former g.m., Doug Wilson.
Not only is team captain Logan Couture signed through the 2026-27 season at $8M per; but alternate captain, Tomas Hertl, is signed through the 2027-28 campaign at $8,137,500 per.
And despite the recent resurgence and emergence from defenseman Erik Karlsson – it's no secret – the Swede possesses one of the worst contracts in a league which is dominated by their salary cap.
The Sharks are still on the hook for four more years after this one, where "EK65," who takes up a staggering 13.9% of the team's cap, will be paid $11.5M per.
It's no wonder that Grier, during a recent interview, said that he'd be open to the idea of trading Karlsson.
However, even with the 32-year old flirting with Norris contention this season – even at 50% retained – it's tough to see any other team wanting to absorb Karlsson's cap-hit – especially following the news from Tuesday, where NHL commissioner, Gary Bettman, said that the cap may only rise by $1M for the 2023-24 campaign.
(It can also be argued that Grier's trade of Brent Burns to Carolina during this past off-season, opened the door for Karlsson. With Burns no longer around on the Sharks' blue line – Karlsson gets more time with the puck – and even more time on the power-play too.)
Due to these long-term deals; we can't accurately assess how Grier has handled his new gig – yet. We'll get a better look come the off-season.
In the case of David Quinn, now in his second-stint as an NHL head coach; just as was the case 3,000 miles away, when he was first tasked to spearhead the Rangers' rebuild – he once again finds himself with a team at rock-bottom and looking to climb their way up.
Unfortunately for DQ – it may be a long climb.
One word that the former coach from Boston University has frequently repeated this season, whenever asked about his team during his daily chats with the media, is this one – "fragile."
While DQ is correct, this word isn't exactly inspiring either.
It's true that scoring is up league-wide this season. However, DQ's two goalies, James Reimer (6-8-1, 2.93 GAA, .903%), and Kaapo Kahkonen (3-6-2, 3.71 GAA, .877%), haven't exactly been lights-out either.
Needless to say – DQ's current duo are the complete opposite of his previous trio – Henrik Lundqvist, Alexandar Georgiev and Igor Shesterkin.
Furthermore, while the Sharks' veterans have been able to produce points, such as Karlsson (38 points), Hertl (30 points), Timo Meier (27 points) and Couture (26 points) – all of them have negative plus-minus stats.
To compound the pain, the drop-off in scoring production falls off a cliff once done looking at this "Core Four." In fact, nobody else on the team, aside from this quartet, has ten or more goals. (Nico Sturm, fifth-best in the team in this department, has eight goals.)
The Sharks entered this season knowing that it could be a long one. Quinn, along with Grier, have preached patience, while also using everyone's favorite word, the "c-word," as in "culture."
For a team that has missed the playoffs during the past three seasons – you can bet your bottom dollar – that streak will increase to four come this Spring.
It will be up to DQ and his g.m. to sniff the playoffs next season – where you can also expect the team to use this season in preparation for what should be a busy Summer.
---
Before getting into the GAME REVIEW and everything else from tonight's game; let's first hit all of the pregame news and notes – where there was plenty to discuss.
After winning their fourth game in as many contests played on Monday night; a day later, Tuesday, the Rangers were off.
On Wednesday, the team reconvened for practice in Tarrytown, NY.
Head coach Gerard Gallant, who as of late, has admitted that he doesn't want to change his lines; reshuffled the deck again. However, the latest shuffling comes with an asterisk, as "The Turk" went with the same line-up that he first used once the Rangers found themselves down 2-0 against the Devils – the crew that then went on to out-score their Hudson River rivals 4-1.
And if you thought that "second line right winger, Barclay Goodrow" forced you into rubber soles whenever walking the streets of Rangerstown, USA, due to the abundance of tears flooding out of the eye-ducts of the "Kult of Kravtsov;" then you needed scuba gear in order to navigate these roads following this sentence – "first line right winger, Barclay Goodrow."
With the lines, d-pairs and healthy scratches (Kravtsov and Ben Harpur) all staying the same; not much of note took place during the practice.
That would soon change, very unexpectedly at that, a day later.
Here is what Gallant said following the skate, Wednesday's edition of "TURK TALK":
---
Gallant, who jested about his recent line-up changes on Wednesday; the head coach also said that he felt these moves were necessary, in order to give his team a spark. And for what it's worth, during his one-and-a-half seasons behind the Rangers' bench – more times than not, these in-game moves have worked out.
On reuniting his top two forwards on the same line, Panarin and Zibanejad, Gallant said, "we'll see where it goes."
The most notable topic of discussion during this "TURK TALK" is when the head coach spoke about his captain, Jacob Trouba.
Gallant, who was the first person to bring up Trouba's nagging injuries, as he first did over a month ago; "The Turk" said the following about #8:
[When discussing Trouba's game from an overall perspective]: "He's fine, battling hard, competing hard, a big part of our group. He makes mistakes like every other player in the league, it cost us one goal in the last game. That happens, that is part of the game and Troubs rebounds from that real well and that is what you like about veteran players and players like him. He's not going to let a mistake or, you caused a goal, move on, get ready for the next shift and that is what you like about pros like that."
As Gallant always does – he defended his player – as he should.
---
[When responding to a question regarding Trouba's health status]: "fine as far as I know."
These remarks were telling, as for the first time this season, "The Turk" erased all doubt about Trouba not being at 100%.
Of course, it should also be considered that the head coach didn't want to divulge any more injury news about his captain.
And as friend of the site, Jen E., reminded me – Gallant has previously told the media, "sometimes I'll lie to you."
---
The media, who entered this chat with the head coach with a narrative of "Trouba is a turnover machine," then asked Gallant about the blueliner's latest battle with blunders. Here's how "The Turk" responded:
"Turnovers are part of our game because you get pressure against you and stuff like that. Let's face it, he tried to flip a puck and it didn't flip. You can't blame a guy for that, we laugh about it all the time. The NHL, there are a lot of times you are under pressure and flipping pucks and sometimes you miss them. It's part of the game, you get pressure on you and you make a mistake, but it's about rebounding from a mistake. There is not one player in this league that doesn't make mistakes."
Once again, and as usual – Gallant defended his player.
---
Finally, when asked about flip-flopping Trouba and Schneider; Gallant said:
"I thought our team was flat, I thought we did nothing in the first period that I liked. We talked about playing against a fast team, a quick team and we didn't forecheck them, all we did was back off and give them time in our zone."
If you haven't already noticed – whenever Gallant speaks negatively about his team – that's what he does – speaks about the team.
Rather than singling out players, Gallant always uses the word "we" – and again, as he should.
---
While the media pestered Gallant about his captain with their negative, yet warranted, line of questioning; the media pulled 180 when talking to the man himself, Jacob Trouba:
---
The media, who bombarded Gallant with questions about Trouba; went into generic mode when talking to #8.
Instead of asking Trouba about his injuries, turnovers, miserable goals allowed stats, zero goals, being demoted to the third-pair and perhaps if the "C" was weighing him down too; the NYR beat reporters lobbed softballs, in the most deliberate and underhanded way possible, with such questions as, "do you want to win games?," "is it good to win games?," and "do you pee standing up?"
Okay, they didn't exactly ask those questions verbatim – but you get my point.
Just as they ignored the Trouba incident with Leon Draisaitl; the media "didn't give a shit" when it came to asking Trouba the same questions that they asked Gallant about him – aka – the usual.
At the very least, I think the media should've asked Trouba this, and at least get him on record – "are you still playing while injured?"
If the answer to that question was "no," then I believe you could run with the "Trouba has reverted to the player he was during his first two seasons in New York" stuff.
Since that question was never asked, we don't know.
At least we do know that Trouba wants to win games – hard-hitting stuff from this collection of the worst reporters to ever man (and "woman" for you PC people who love to throw the -isms and -ists around) the Rangers' beat.
---
Just as you thought that the Rangers were returning to a state of normalcy, and expecting Gallant to dress the same line-up as he had during the four-game win streak; come 5PM Thursday – Gallant shook it up – again.
Keep in mind, "The Turk" rarely shuffles his line-up following wins, which is why it was so surprising, especially after Wednesday's practice, that both Vitali Kravtsov and Ben Harpur were tabbed to play.
Here was Thursday's pregame edition of "TURK TALK":
---
Gallant, who could've toyed around with the media a bit (something that he often does); rather than playing coy, instead, the head coach started his press conference by saying that Kravtsov and Harpur would play.
Gallant said that he felt that both players had earned a chance to play and as he always says during these situations, said "just play well," in regards to remaining in the line-up.
(By the end of the night – I thought Harpur earned a second game, while Kravtsov was largely a non-factor – but not bad either – he just didn't stand out. And yes, whatever he does will always be under the microscope.)
Obviously, the news of Kravtsov's return created a few erections (and "lady boners" too, for the PC crowd) across the streets of Rangerstown, USA. Harpur's debut was met with much less fanfare.
While I don't really ever question Gallant about his line-up (he's there every day – I'm not – and he knows his players better than me); I did find the timing of this news to be interesting.
After all, aside from Gallant rarely tinkering with his line-up following big wins (and with the team entering this game on their longest winning streak of the season too); Toronto, the hottest team in the NHL, is also the third-best team in the league.
When I first heard the news, I thought that Gallant perhaps was throwing these two to the "wolves."
Come 9:45PM – Gallant had struck gold – again.
To me, if you're going to reinsert Kravtsov into the line-up, while debuting Harpur too – why not make these moves under better conditions, against two of the softer teams of the league, the Flyers and Blackhawks – the two teams that the Rangers will play next over the weekend?
That said, that's why I'm a writer and Gallant is the head coach!
And yep, just like everyone else – I was eagerly anticipating how these moves would work out.
---
Here was tonight's line-up:
FIRST LINE: Panarin/Mika/Goodrow
SECOND LINE: Lafreniere/Chytil/Kakko
THIRD LINE: Kreider/Trocheck/Vesey
FOURTH LINE: Kravtsov/Brodzinski/Gauthier
FIRST PAIR: Lindgren/Fox
SECOND PAIR: Miller/Trouba
THIRD PAIR: Harpur/Schneider
STARTING GOALIE: CZAR IGOR
BACK-UP: Jaroslav Halak
---
BOX SCORE time.
The following graphics and information come from ESPN.com:
SCORING:
PENALTIES:
TEAM STATS:
GOALIES:
| | | | | | | | | | | |
| --- | --- | --- | --- | --- | --- | --- | --- | --- | --- | --- |
| SA | GA | SV | SV% | ESSV | PPSV | SHSV | SOSA | SOS | TOI | PIM |
| 19 | 2 | 17 | .895 | 12 | 2 | 3 | 0 | 0 | 59:22 | 0 |
| | | | | | | | | | | |
| --- | --- | --- | --- | --- | --- | --- | --- | --- | --- | --- |
| SA | GA | SV | SV% | ESSV | PPSV | SHSV | SOSA | SOS | TOI | PIM |
| 23 | 1 | 22 | .957 | 18 | 4 | 0 | 0 | 0 | 60:00 | 0 |
---
Come 6:30PM, where M$GN was promoting their Garden of Dreams charity (no fundraiser tonight – that will take place on Tuesday – tonight was all about giving the kids some face-time); Sieve Vagistat, fresh off of his "day-to-day" status, was back.
Since you know I won't watch these solo Vagistat showings; I do want to say the following before getting into the GAME REVIEW:
— Previously, Vagistat has expertly opined that the Rangers have lost "MUST WIN GAMES," and no less than three times this season. Does this huge win over Toronto mean nothing then?
— Vagistat was very careful whenever talking about the Leafs, especially when you compare the remarks he's previously made against Ranger opponents. The reason? The Leafs are the only team in the league stupid enough to purchase Vagistat's analytics from his fake news chart company. All those charts, graphs, hieroglyphics and for what – another first-round exit?
— And as I always say whenever these Garden of Dreams nights take place – I wouldn't give my worst enemy a signed stick from Vagistat! During the post-game, Vagistat signed a stick for charity. I mean, it's a noble cause, but imagine receiving that for Christmas? That's like an Elf on a Shelf taking a lump of a dump in your stocking!
(While I always donate my standard $100 during G.O.D. nights without expecting anything in return – if there's ever a raffle prize I'd like to win, it's a signed puck from Joe Micheletti, with the word "FABULOUS" inscribed on it!)
Speaking of Mr. Micheletti; come 7PM, we went to Sam and Joe, where as par for the course, the two praised the Leafs.
However, I'm happy to report that while these two did try to will both Auston Matthews and Mitch Marner into scoring – the "home announcers" also did a good job of praising the team that pays them – a rarity.
Then again, the Rangers, until recently, haven't given them much material to work with. They did tonight.
GAME REVIEW time!
---
FIRST PERIOD:
Following Lavienna Ingram, a fifteen year old G.O.D. kid, singing both national anthems (and she did a good job of doing so); Gerard Gallant had his third line start the game, where I assume Vincent Trocheck's success at the dots was the main reason. (The media doesn't ask questions like these, because after all, they "don't give a shit.")
As it always goes; once again, #16 led the team in face-offs, with a winning percentage of 69.2% after winning nine of thirteen draws.
Perhaps more impressive? Of all Ranger centers, only Chytil (2-5, 40%) had a losing face-off percentage tonight.
Zibanejad finished eleven of nineteen (57.9%), while JONNY HOCKEY finished three of five (60%).
Of course, of these Ranger centers – only Filip Chytil scored tonight.
As a general statement, and as noted at the top of this – and from the first puck drop to the final horn – the Rangers played a complete sixty minute game.
Sure, the Leafs had some flurries during the second and third periods (where ironically, their only goal took place during this first period – more on that in a bit); but again, and as often repeated on this site – the other team is paid to play too.
The Rangers survived all of these attacks, and in a myriad of ways, including CZAR IGOR, blocking shots and the Leafs airmailing pucks.
If Vitali Kravtsov isn't the most talked about, analyzed and dissected Ranger on this team (and this makes me shake my head); then Jacob Trouba (who should be) is.
To open the game, Trouba, and sadly, in a recurring trend, had trouble getting pucks out of the zone.
While only credited with two shots on goal tonight, it felt like he had 7-8 other attempts blocked – just as he did when the Leafs blocked two of his shots within the first two minutes.
Just 2:23 into the contest, Julien Gauthier, who draws more penalties-per-minute than anyone else on the team; drew his latest, when former Kraken captain, Mark Giordano, slashed #12 near the Rangers' blue line.
Following a pretty uneventful first minute from the Rangers' PP1 unit; the second unit came on – and then scored their first goal of "The Turk Era." Take a look:
How about this passing?! 😲 pic.twitter.com/yhfCRnxmNU

— Rangers on MSG (@RangersMSGN) December 16, 2022
---
1-0, GOOD GUYS – and a pure "second line" goal – as Kakko got the puck to Lafreniere before the left-winger found Chytil for a shot that felt reminiscent to his game winner from Monday, as the puck rattled off of the iron before crossing the goal line.
Talk about a much-needed goal. Not only did the Rangers take what felt like a rare early first period lead – they didn't squander this power-play either.
If there's anything "unfortunate" right now? The following: the fact that the Rangers only received one power-play tonight. The Leafs received three, while the officials also swallowed their whistles on two other Toronto infractions.
I bring this up because I would've liked to see what this PP2 unit would've done during a potential second chance. I would reckon we'll see that chance on Saturday.
As the Rangers were hellbent on defense, getting pucks deep, blocking lanes and harassing every Toronto shooter (and this went on for sixty minutes); with 11:53 to go, Trouba had a shot blocked, which then led to a Toronto 2 x 1.
Despite Miller being back and seemingly having the situation under control; Trouba hooked Leafs' rookie, Pontus Holmberg.
No one has taken more penalties this season than Trouba. And even if you toss aside his fighting majors – he still leads the team in PIM.
In what would take place during all three Ranger penalty kills tonight – Zibanejad and Kreider, the BFF, almost picked up a shorty.
CZAR IGOR had to make one save late during this kill, when he stopped Sandin, as pajama boy, John Tavares, was screening him.
(Also worth noting – Jonny Brodzinski, Vincent Trocheck and Jimmy Vesey were also lights-out during all three Ranger kills.)
As we crossed the ten-minute mark, CZAR IGOR made a nifty save on an even niftier shot, a backhander by Kampf. On the other end, Panarin, following a Zibanejad o-zone face-off win, almost caught Matt Murray off-guard.
Down to 8:00 remaining, Vesey, while trying to lay a hit on Holmberg in the corner to the right of Murray; #26 seemingly had a knee-on-knee collision. This play took place off-camera, but in real-time, Sam and Joe were worried about Vesey's health. And once seeing the replay – you could understand why – but fortunately, Vesey only missed one shift – and then scored two goals!
The Rangers, who were doing everything right at this point, surrendered their lone goal of the game with only 5:54 to go. This goal should've never happened.
Bunting, who scored a rebound goal here, had previously held and thrown Trouba's stick to the corner to the right of CZAR IGOR. Despite this obvious penalty, the refs let it go. I guess Canadian Christmas takes place ten days earlier than it does here in America – as this was an absolute gift.
Instead of a Rangers' power-play; instead, we were now tied at 1-1.
This goal, again, which should've never taken place – was the last goal Toronto would score.
Down to 1:12 left on the clock; CZAR IGOR, while doing what he had to do but also not tested very often during these first forty minutes; made his best save yet – a point-blank robbery on Holmberg.
Following one more shot from Trouba that was blocked; we remained 1-all after twenty minutes.
Here's what I said at the time:
1-1 after 1. 1P Thoughts:
— #NYR looking to play a full 60 tonight.
— Rangers' special teams and 5 x 5 have been strong.
— Leafs goal should've never happened – a penalty (no call) & puck luck.
— 13/72/24 best line.
— SOG 9-all, Hits 6-2 NYR, FO's 9-8 TOR
— Keep it up

— BlueCollarBlueShirts (@NYCTheMiC) December 16, 2022
---
SECOND PERIOD:
This was arguably the most exciting and wild period of the game – although the ultimate feeling of relief, pride and exhilaration took place following Vesey's empty-netter.
Following Trocheck's face-off loss, and as Micheletti was trying to will Auston Matthews into a goal; there was a lot of back-and-forth between both teams, but not a SOG to be had. This remained true at the 3:48 mark, as JONNY HOCKEY, with a nose for the net all game, heard that all too familiar sound – <DING!>
Seriously, this period was mainly a defensive battle between two teams that didn't want to give up an inch.
The first-best Rangers' scoring chance took place with 12:30 remaining, as Zibanejad perfectly set-up Panarin. Murray just made a perfect save in response – but did give up a rebound – one that Panarin just missed on.
As we approached the half-way mark of the game/period; this was our first true turning point – unless you count the refs no-call against Bunting from the first period.
During a stretch where Braden Schneider played 2:52 and Trocheck played 2:38; the Leafs spread out their offense like COVID in Wuhan.
The Leafs must've shot the puck ten times in a span of three minutes; but only put two SOG, due to the blocked shots and shots going high and/or wide.
When all of this was over with 9:00 to go; M$GN caught Schneider on the bench, a #4 whose face screamed of exhaustion. John Giannone, in-between the benches, said how the team was laughing and giving Schneider a pat on the back – which of course – is easier to do when the puck doesn't go into your net.
And let me be clear – Schneider, again, was a stud. His new partner, Ben Harpur, was just as impressive. That spoke volumes to me – after all, not only was this Harpur's debut – this is the first time these two have ever played together. You would've never known, as they were a well-oiled machine.
Here's one of my tweets from the latter stages of the period:
Holmberg to Reese, one timer, Igor save, 7:55 to go. I wouldn't say this feels like a playoff game (especially with the so-so crowd), but it's being played like one. Not too many pucks getting to the net, lack of odd-man rushes, strong D, etc. Both teams want it tonight. #NYR

— BlueCollarBlueShirts (@NYCTheMiC) December 16, 2022
---
Sam Rosen would say the exact same thing during the third period. Both of us were right. This was playoff hockey, sans the big hits and bonkers crowd.
Down to 6:40 remaining, Trouba, who if he didn't have bad luck, he'd have no luck at all; joined a Rangers' attack while Leafs' center, Aston-Reese, was without a stick. On a rare shot that actually found the goaltender – Trouba remained looking for his first goal of the season.
Panarin, again, much better ever since Trouba riled-up the troops; had a puck stripped from him. Fox, my favorite for the 2023 Norris, then broke up a mini Toronto breakaway.
Down to 5:22 on the clock, we had another wild sequence where Trocheck lost his stick and Lindgren lost his helmet. In order to get Toronto out of the zone – Goodrow iced the puck, which just allowed the Rangers to reset.
This worked.
With these players still on the ice following the icing; this happened with 4:27 to go:
BAR DOWN ⬇️ pic.twitter.com/57GYh1Cn4J

— Rangers on MSG (@RangersMSGN) December 16, 2022
---
2-1, GOOD GUYS, as JIMMY HANDS showed off the mitts, banged one off of the bottom of the crossbar, and beat Murray.
Talk about an individual effort, following this two-vs-one odd-man rush with Trocheck by Vesey's side.
Also of note – while it wasn't exactly the most impressive secondary assist in the world; Miller, who has been racking up the points as of late – picked up his 12th apple of the season.
Come 2:56 remaining, Goodrow, while anticipating a puck near the boards in Toronto's zone, accidentally slashed Giordano, smashing the defenseman's stick into smithereens.
Now on the penalty kill once again, this time to close out the period; the Rangers stood tall – again. (I'm using "again" a lot tonight – but bare with me – I've been up since 4:00AM and have to be up in three hours as I write these words!)
"Again" – Kreider and Mika almost connected for a short-handed goal.
And "again" – Brodzinski and Vesey looked incredible too.
CZAR IGOR only had to make one save on this PK, and with just one second remaining on it, as #31 flashed the cow and made a BESSIE SAVE on Malgin.
We remained 2-1 after forty minutes of play, where the only question entering the final frame was this – "would the Rangers play a full sixty-minute game?"
You already know the answer.
Here's what I said at the time:
2-1, GOOD GUYS, after 40. 2P Thoughts:
— They've played a full 40. Make it 60.
— SOG 15-13, Hits 15-7, FO's 18-17, Blocked Shots 10-9 – all #NYR
— Kravtsov hasn't done much, Harpur has played well
— Stats wouldn't suggest it, but that was a thrill-ride second period.
LGR

— BlueCollarBlueShirts (@NYCTheMiC) December 16, 2022
---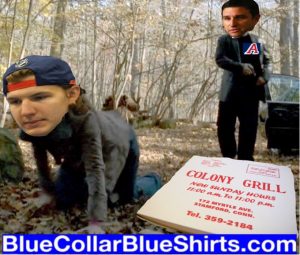 THIRD PERIOD:
After finishing the first two periods with only thirteen shots on goal; the Leafs finished the game with ten more – where each Igor save seemed more impressive than the one that had preceded it.
And oh – during the second intermission segment, I was stunned when Vagistat referenced tonight's blog header photo, the JIMMY scene from "Goodfellas."
Originally, it was my plan to run this horrendous photoshop had the Rangers won this game at the time; but once Vagistat said that – I was going to go down a different route.
However, due to Vesey's FINISH THEM goal – I had to go back to the Lufthansa heist!
What am I blabbing on about right now? This – I didn't steal this idea from Vagistat – I had the same notion – a rare time where both of us were thinking the same thing!
---
Ninety seconds in, and after not seeing much work; CZAR IGOR had two saves, including a big one on Matthews.
Down to 17:39 remaining, the officials continued the Canadian Christmas spirit, and boxed Filip Chytil for "holding" Kerfoot. In reality, Chytil had given up his stick to Schneider, who lost his; Kerfoot skated into Chytil, and while bracing for the contact – the Czech pushed Kerfoot away from him. No matter – the officials decided to bag the big bad physical Chytil with a penalty anyway.
One more time, "AGAIN" – Kreider, Mika, Brodzinski and Vesey.
Another "AGAIN?" Igor had to make only one save on this PK, as the Rangers were the better team during these two minutes, including a play where Mika almost had Kreider sprung for a breakaway after a pass off of the boards, but the puck had too much juice on it.
As we hit 15:12 to go; CZAR IGOR made his best save of the game – a robbery on Reese. He'd continue to wear the ski mask during crunch time.
Following a pair of Murray saves on Vesey and Panarin; you could really see Chytil buying Gallant's message.
Rather than doing wild-and-crazy stuff with the puck, #72, along with every other Ranger, kept chip-chip-chipping away the puck. This conservative approach, and with a late lead, panned out.
Down to ten minutes – Panarin made his best defensive play of the season yet – when he stick checked and prevented Matthews from scoring a back-door goal.
As you were clock watching, now down to 7:44 – Igor made another game-changing save, when he robbed the guy who said "Eff the Islanders," Toronto captain, John Tavares.
With 5:50 remaining, we saw Haley's Comet – a Kravtsov shot on goal – an easy save for Murray.
Now approaching the FOXWOODS FINAL FIVE MARK; with Jacob Trouba draped all over him and with Sam & Joe fawning over Marner too – CZAR IGOR denied the Leafs' star from extending his point streak.
No joke, come the next commercial break with 4:00 left to play – Rosen did his reverse curse/jinx stuff and brought up how Marner's point scoring streak was in jeopardy. I'll never understand why he does this.
With 1:48 away from victory, Toronto pulled Matt Murray for the extra skater.
A handful of seconds later, Jimmy Vesey, much like yours truly at the end of a long work week, didn't want to work any overtime:
It's Jimmy Vesey night at The Garden 🙌 pic.twitter.com/31msqBppi7

— Rangers on MSG (@RangersMSGN) December 16, 2022
---
3-1, GOOD GUYS!
In what will perhaps be lost in Vesey's two-goal performance? Trouba picked up a huge assist after making a play in his own end.
It's funny, it's now the "cool thing" to kick Trouba while he's down – and I say this as a person who hated his contract from day one.
It's too late to bring up all of my talking points about this contract/Trouba again (just check the archives of this site if you want them all) – but while I get all of the disdain – I'm really rooting for him to play well.
But yeah, his contract stinks. Much like Fox and DeAngelo before him; now it's Braden Schneider out-playing Trouba for 1/8th the price.
I just hope that Trouba can revert back to the player that he was from last season, because while I'm aboard the TROO TROO TRAIN – it's hard to ignore the obvious too. Hopefully this assist will get him going, where yep – I was kind of hoping him to score the empty netter – just because I think he needs something to hang his hat on.
However, five straight wins ought to do it for him too!
As far as anything else during this final 1:13? Now down by two goals, Leafs' coach, Sheldon Keefe, didn't bother to pull Murray again.
3-1, GOOD GUYS, your final.
Here's "The Turkmaster General" after the win:
---
"AGAIN" – it's late, I've been up for nearly 21 hours straight, have a 5:00AM train to catch and blah-blah-blah – but I pretty much agreed with everything Gallant said here.
If anything, and maybe the media did ask about the this (as this video was clipped) – I wanted to know more on why Gallant dressed Kravtov and Harpur tonight. Was it just a feeling? Something he saw at practice? Something from above?
In any event, all I care about are wins – and the Rangers sure need these wins – as the teams they are chasing, such as Carolina and Pittsburgh, are rolling.
The Devils, first-place in the division, lost to the woeful Flyers on Thursday night, but still remain seven points ahead of the Blueshirts – and with one game in-hand too.
The Rangers, who created a little wiggle room from the teams who are chasing them in wild card tonight – the Isles, Capitals, Red Wings and Panthers – will have to keep up their winning ways, especially against two teams that following these two wins over NHL powerhouses, the Devils and Leafs – everyone and their mother will expect them to beat – the Flyers and Blackhawks.
After that, another litmus test/gut-check game on Tuesday night – Sidney Crosby's Penguins.
"AGAIN" – I'll see what happens on Saturday night. Hopefully I don't get jumped by the Philly mob, as I will be wearing my Rangers' gear at the Wells Fargo Arena.
One last food for thought? The Rangers, now 16-10-5, sixteen wins and fifteen losses, are now above .500 for the first time since the early weeks of the season.
LGR!
PLUGS TIME!
---
On Tuesday, our pals from "The Blueshirt Underground Show" returned with a new episode. To check it out, click the play button below:
---
My first plug of tonight's blog – the mandatory plug for my book, "The New York Rangers Rink of Honor and the Rafters of Madison Square Garden."
As mentioned previously, the book is now available in hardcover, in paperback and in Kindle formats. To purchase a copy of the book, visit this link:
https://www.amazon.com/Rangers-Rafters-Madison-Square-Garden-ebook/dp/B09CM5N2WD
For those still looking for signed paperback versions of the book, I have re-ordered more copies. I now have a few signed copies for sale at $25 a pop (includes shipping price) through me directly. Here is all the information on that:
---
My four-volume set of books, "One Game at a Time – A Season to Remember," is a game-by-game recount of the Rangers 2021-22 campaign.
My second title as an author, "One Game at a Time – A Season to Remember," is now available in eBook, paperback and hardcover formats.
To obtain signed copies, visit: https://bluecollarblueshirts.com/onegamebook/
To purchase all four volumes on Amazon, visit: Amazon.com – "One Game at a Time."
---
The greatest volume-set of books on Rangers' history today!
"Tricks of the Trade – A Century-Long Journey Through Every Trade Made In New York Rangers' History," a four-volume set of books that meticulously covers every trade made in franchise history, is now on sale.
All four volumes of the title can be purchased on Amazon.com and are presented in three different formats – eBook, paperback and hardcover.
To purchase Volume I: Conn Smythe (1926) – Craig Patrick (1986), visit Amazon.com
To purchase Volume II: Phil Esposito (1986) – Neil Smith (2000), visit Amazon.com
To purchase Volume III: Glen Sather (2000-2015), visit Amazon.com
To purchase Volume IV: Jeff Gorton (2015) – Chris Drury (2022), visit Amazon.com
To purchase signed copies of all four volumes, visit https://bluecollarblueshirts.com/tricksofthetrade/
---
Here are my last few blogs, in case you missed them:
---
---
---
If you haven't already, subscribe to this blog for the next update:
---
Don't forget to order my new four-volume set of books, "Tricks of the Trade!"
If you don't order through me, all four volumes are now available on Amazon.com
For more details, check out: https://bluecollarblueshirts.com/tricksofthetrade/
Thanks for reading.
LET'S GO RANGERS!
Sean McCaffrey
BULLSMC@aol.com
@NYCTHEMIC on the Tweeter machine