Greetings and salutations everyone and welcome to another blog here on BlueCollarBlueShirts.com. Heave ho, three in a row – and the longest winning streak of season – including two wins over recent Stanley Cup champions.
Now make it four straight wins on Monday against the "November Stanley Cup Champions" – the New Jersey Devils!
As we always see PART I: following any Rangers' game played – there are plenty of narratives currently being debated in the mean streets of Rangerstown, USA – especially after tonight's win over the Avalanche.
As we always see PART II (too): all of these narratives will either be correct, incorrect, personal, impersonal, positive and/or negative – as everyone has different opinions – and perhaps some "tunnel vision" to boot!
(I also feel, that during all of these discussions, people often lose sight of this – everyone has the same goals – we all just have different ideas on how the Rangers could/should win their fifth Stanley Cup – an overdue championship to say the least!)
For some fans (as well as some members of the media), they just can't let themselves enjoy a Rangers' victory – the team's third consecutive win – solely because Vitali Kravtsov has been punted to the press box – rather to Hartford and/or the waiver wire – where he belongs. (That's my narrative – I'm not above any of this either! I'm just as guilty of this as anyone else – which is why I have this blog to begin with!)
If you're currently shedding tears about Kravtsov being scratched following a win – then I have no pity for you.
For me, I don't give a crap about who plays for this team.
Heck, Rangers' g.m., Chris Drury, could return Lou Fontinato from the dead and solely for the purpose of "GRIT" – and as long as they win – that's all I would care about.
And that's what the Rangers did tonight – WIN – and on a night that they very much needed to do so.
Let's count the ways, bullet-point style, on why the Rangers "had" to win (as opposed to "must"), on Friday night:
— The Colorado Avalanche are crushed by injuries. No team has lost more man-power (games played) than Joe Sakic's squad this season.
— Among the MIA? Team captain Gabriel Landeskog and perennial Hart Trophy candidate, Nathan MacKinnon.
— Simply put, and as mentioned last blog – the Rangers have caught two upper-echelon teams of the league (Vegas and Colorado) under unfortunate circumstances. Rather than playing "slump-buster," or letting these teams off of the hook – the Rangers – and just like last season – "found-a-way-to-win." It sure beats what we've previously seen from this "find-a-way-to-lose" club.
— After watching and listening to Alexandar Georgiev's reaction following his win over the Rangers at M$G earlier this season; two losses to "THE BULGARIAN BEAST" would've been deflating – especially had the Blueshirts dropped two consecutive shoot-out games to their former net-minder.
— Both prior to and during tonight's game, the Islanders, Capitals and Penguins all won on Friday. In essence, the Rangers had to win tonight in order to keep pace – although this victory leapfrogged them into the second wild card; albeit temporarily.
Here's a look at the updated standings:
While I'll have the full GAME REVIEW for you below (a lengthy one at that); I think my biggest takeaway following this 2-1 shootout victory is this: the next 48 hours in Rangerstown, USA will be peaceful – as long as you avoid the "Kult of Kravtsov," a rag-tag bunch, and for whatever reason – are more concerned about one player than a team victory.
Had the Rangers dropped another game to Georgiev and company, it would've been more of the same – "change the lines, Gallant doesn't know what he's doing, Kravtsov has to play sixty minutes a game, Player X sucks, Player Y blows, and blah blah blah."
Instead, you can now enjoy the weekend – and also look forward to a rematch with the Devils.
That all said; admittedly, tonight's downing of the Avalanche was more of a "get the hell out of town and escape with the two points," rather than a "King Kong, beat your chest," type of a win.
However, for a team that has lost these types of games all season – this was a step in the right direction.
Bottom line? All that matters is that they won – and that the confidence level is now returning to normal levels.
Sure, there's plenty to pick at, but let's face it – if the team had a better record, then you'd chalk this game up to "winning ugly," and also mention how you have 5-7 of these types of games (and wins) during any particular playoff-bound season.
Perhaps come April, when the post-season begins – this win will be viewed in that manner.
While I don't have my normal 5:00AM train tomorrow (Saturday), I have been awake since 4:00AM and don't plan to hit the publish button until my 24th hour without rest. ("Gotta support the team." – David Puddy.)
(Tonight's blog header photo is also evidence of my lack of slumber – even if 99.9% of these pictures are as bad as Sam Rosen and Joe Micheletti fawning over the Rangers' opponent for three hours!)
In other words, let's close this intro, get into the pregame news & notes, and then head into the GAME REVIEW.
---
Following the Rangers' Wednesday night win in Sin City; on Thursday, the team practiced in the Mile High City.
However, prior to lacing the skates, Elliotte Friedman, of SportsNet, was the first to report that the Rangers had waived Ryan Carpenter.
Come Friday afternoon (24 hours later), Carpenter cleared waivers. In turn, the Rangers announced the following:
---
This news was expected – even if the timing of this story was somewhat unexpected.
After all, more times than not, whenever teams waive a player – they usually do it during a home-stand, rather than doing so when on the road.
Then again, the Rangers will return home for the weekend, as this game against the Avalanche was the second-and-last of this brief trip out west.
Chris Drury's decision to waive Carpenter was no surprise.
Heck, if you've been regularly following this site, I've been predicting this transaction for some time now.
As mentioned numerous times before, it's all about that "a-word," as in "accrue."
Simply put, the Rangers, even after trading Ryan Reaves to Minnesota, want to accrue as much salary cap space as possible. To accomplish that goal, they need to carry a 22-man roster, rather than 23-players.
For the third time in less than two months, the Rangers have now made a transaction to get down to a 22-man roster – where during each move – it was a vote of confidence for someone else on the team.
When the Rangers waived Dryden Hunt earlier this season, it was a vote of confidence for Jimmy Vesey. When the Rangers traded Ryan Reaves, it was a vote of confidence for Julien Gauthier. Today, after moving on from Ryan Carpenter, it was a vote of confidence for Jonny Brodzinski.
It should also be mentioned that Hunt, Reaves and Carpenter were all considered to be "Gallant Guys," as they had previous history, prior to their respective arrivals to New York, with the head coach.
Whether this is Drury acting on his own (although I don't suspect that to be the case) or not is unknown.
Simply stated: it's just hard to envision the general manager trying to fracture his relationship with his head coach.
In this particular case, the Rangers are banking on JONNY HOCKEY, a leader (he is, or perhaps "was," the captain of the Hartford Wolfpack), to fill-in as the team's fourth line center.
While you can argue that Barclay Goodrow is better suited for that role – that won't happen until someone can truly emerge as a top-six forward.
And yep, while the roster is always ever-changing, and since I don't see Vitali Kravtsov as that guy (and based on what Gallant has said and done – he doesn't view him in that way either) – it feels like the Rangers will be waiting for the trade deadline in order to get that top-six help.
Following the Rangers' practice from Thursday, where not much took place (same line-up from Wednesday); Gallant held his daily "TURK TALK."
Here's what he had to say:
---
There wasn't much said during the media's chat with the "THE TURKMASTER GENERAL," outside of their usual and tired narrative – "WHAT ABOUT VITALI KRAVTSOV? WAA WAA WAA! I NEED A WHITE CLAW AND A VEGAN MEAL TO COPE WITH THIS PAIN!"

For the third time in as many weeks – Gallant reiterated that #74 was his spare forward and that he was happy with his current line-up.
I don't feel like going into re-run mode on this topic/player again, so just check out my previous blogs for all of my detailed opinions and thoughts.
For tonight, just the bullet-points:
— As I've been saying, and ever since "TEETHGATE;" Gallant has soured on Kravtsov.
— If the Rangers hadn't went on a massive losing streak following Kravtsov's bout with his miserable molars; then I think that Gallant would've never re-inserted Kravtsov back into the line-up in the first place.
For whatever reason, the millennial/clueless/feckless reporters are hellbent on getting Gallant to talk about Kravtsov during every interview.
It's just a shame that these reporters, who never bother to do their homework and/or any research whatsoever, look at Gallant's past.
After all, this is a guy who once played on a line with Steve Yzerman and Bob Probert.
And when you know what type of a player that Gallant was – it's easy to see why he embraces players who bring a physical edge to the ice. That's what he did.
For your consideration, and I'm just picking a season at random here; during the 1987-88 season, here's how Gallant's line with the Detroit Red Wings finished:
Steve Yzerman: 64gp 50g 102pts
Gerard Gallant: 73gp 34g 73pts 242 PIMs
Bob Probert: 74gp 29g 62pts 398 PIMs
What has Kravtsov done under Gallant? One fluke goal, five cavities, a touch of diarrhea, three injuries, one participation trophy and what feels like six diseases acquired from the Oregon Trail.
As noted before, while I understand that Kravtsov took bigger money in the short term (his right); by returning home (twice) – he hurt his North American development in the process.
It's also why he's the odd-man out and hasn't been able to get going at all.
And since he can't go to Hartford, he's now stuck in limbo – where I don't think you'll see him play until the Rangers start losing again.
---
On Friday, and following the Rangers' pregame skate; Gallant spoke to the media again, where he laughed and said, "nothing's changed," and said that he'd be using the same line-up that played on Wednesday night against the Avalanche.
---
On Friday afternoon, "The Patch," a local Long Island news outlet, reported that "The Long Beach Hockey Arena" will be renamed as "The Emile Francis Memorial Arena" on Saturday, 12/10.
For the full story, check out this link: https://patch.com/new-york/longbeach/long-beach-hockey-arena-gets-renamed-legendary-rangers-coach?utm_source=facebook.com&utm_medium=social&utm_term=community+corner&utm_campaign=autopost&utm_content=longbeach&fbclid=IwAR2k4fI6IA0C1fJOiuoQOojnBecFK_0GB3ZRq7ijdtCc1TXHFZeJ1gqTo40&mibextid=Zxz2cZ
If you don't know, Long Beach is about a ten-minute ride away from where I live – twenty-minutes if you get stuck at the LIRR crossings.
I'm 50/50 about attending, but if I go, I'll write something up about it here.
It was "The Cat," when he first took over the Rangers from Muzz Patrick, that decided on Long Beach, NY as the Rangers' new practice facility.
While over time, the team would later relocate to Westchester, NY (Rye and Tarrytown) for their new practice home; during "The Francis Era" – it was in Long Beach where the club practiced – and where many Rangers lived.
And without getting too morbid – Long Beach, NY was also where Terry Sawchuk died, following his drunken fight with Ron Stewart.
(Sawchuk, along with many other Rangers from this era, lived five minutes away from the practice arena. In fact, outside of Rod Gilbert and a few select others (they lived in NYC), the majority of the team called Long Beach (and Atlantic Beach, the next town over), home.)
As the article states, Francis' son, Bobby, will join former alumni, Brian Mullen, Ron Greschner and Nick Fotiu at the ceremony.
---
Here was tonight's line-up:
FIRST LINE: Lafreniere/Mika/Kakko
SECOND LINE: Panarin/Chytil/Goodrow
THIRD LINE: Kreider/Trocheck/Vesey
FOURTH LINE: Blais/Brodzinski/Gauthier
FIRST PAIR: Lindgren/Fox
SECOND PAIR: Miller/Trouba
THIRD PAIR: Hajek/Schneider
STARTING GOALIE: CZAR IGOR
BACK-UP: Jaroslav Halak
---
BOX SCORE time.
The following graphics and information come from ESPN.com:
SCORING:
SHOOTOUT:
PENALTIES:
TEAM STATS:
GOALIES:
| | | | | | | | | | | |
| --- | --- | --- | --- | --- | --- | --- | --- | --- | --- | --- |
| SA | GA | SV | SV% | ESSV | PPSV | SHSV | SOSA | SOS | TOI | PIM |
| 29 | 1 | 28 | .966 | 28 | 0 | 0 | 0 | 0 | 65:00 | 0 |
| | | | | | | | | | | |
| --- | --- | --- | --- | --- | --- | --- | --- | --- | --- | --- |
| SA | GA | SV | SV% | ESSV | PPSV | SHSV | SOSA | SOS | TOI | PIM |
| 42 | 1 | 41 | .976 | 39 | 2 | 0 | 0 | 0 | 65:00 | 0 |
---
At 8:30PM, I had to find out what channel this game was on, as this game was relegated to "M$G 3" – because the other local teams were in action – the Knicks – and a tilt between the Rangers' most-hated rivals, the Islanders vs the Devils.
Once I saw the smug Vagistat all by his lonesome; I returned to M$G2 and then watched more of the Islanders' statement win over the team from Newark.
Come 9PM, I returned to "M$G GUAM," where I was surprised that Joe Micheletti didn't tell us how the kush in Denver was "fabulous."
"OH JOE, GETTING HIGH JOE! AND FRANK VATRANO POTS A GOAL JOE!"
Instead of talking about grass, and as would be the case all game (AGAIN) – both Sam and Joe told us how "fabulous" the Rangers' opponent was.
And whatever Rosen is doing with his hair these days; well his 36 inch pompadour looked like it was going to knock down the Avalanche's 2022 Stanley Cup banner. What's he using, the hair gel from "Something About Mary?"
After more praise for the no-names on the Avalanche (due to their injuries); Sam & Joe hit the two topics you'd expect – Igor vs Georgiev and Fox vs Makar.
On this night, it were the goalies, and not the pair of Norris Trophy winners, who became the headline.
Let's get into it, as it's now time for the GAME REVIEW.
---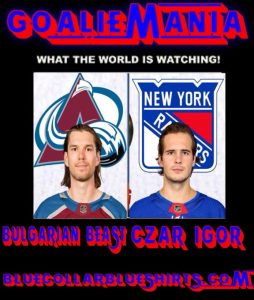 FIRST PERIOD:
"It wasn't all bad."
And heck, "it wasn't all good" either!
As opposed to recent games, where the Blueshirts usually falter or collapse during the latter periods; tonight, this first frame was the Rangers' worst twenty minutes of the game.
I'm not a professional athlete (unless you count my participation during "The Beer Olympics" at my local watering holes), nor have I ever skated around in "The Mile High City."
This is my way of saying that maybe the altitude had something to do with the Rangers' performance in this game.
I just can't speak from any sort of first-hand knowledge – outside of saying that when I was in Colorado a few years back for a game between these two clubs – I was winded a bit when walking back from the bars to my hotel – but in my defense – I did pound about twelve Czech beers (and a few shots of Bulleit Bourbon too) at the good old SOBO 151!
That all said, I always find the "altitude excuse" to be just that – an excuse – but at the same time – I'm also aware that it's something that can't be ignored.
(Even MMA fighters, who fight in Denver, arrive to town weeks early, just to prepare/adjust to the altitude.)
I'm also saying all of this because I wouldn't have found one acceptable excuse had the Rangers lost tonight.
The Avalanche pretty much had half of their AHL squad dressed, so in turn, the Blueshirts had to handle business.
It would take a gimmick contest for Turk's team to do so, but as already repeated several times tonight – all that matters is that they won.
---
As Sam and Joe ran down the birth cities, the blood types and the social security numbers of every player to have ever worn an Avalanche sweater – there wasn't much going on during the first five minutes.
In fact, the loudest the crowd ever got during this time (5:13 mark), is when official Chris Lee, when skating backwards, landed on his rear-end – where his whistle must've also been – but more on the Goodrow no-call to come.
Six minutes in, the Rangers were being out-shot 6-1.
It was also during this time where we saw both teams blocking a bunch of shots – another theme of this game. (The Rangers blocked sixteen shots, the Avalanche blocked fourteen shots.)
At the eight minute mark, the Rangers were still sitting on one shot on goal (Georgiev stopped Kreider two minutes into the game); but a phantom SOG was credited to Trocheck – something that I'm sure fans of the CORSI stat appreciated!
Down to 11:20 remaining, CZAR IGOR, who held his ground all game, stopped Nichushkin – #31's toughest save yet. (Many more would follow.)
As we made our way past the half-way mark of the period, Colorado had controlled the puck for 90% of the game, with all of the action taking place in front of Shestyorkin.
It was also around this time where Sam and Joe broke down the "FOUDY FAMILY TREE" for us, as they had large boners for Jean-Luc Foudy all game.
Much like Sam's ridiculous hair, I thought these peckers were going to knock down all of the retired Avalanche numbers from the rafters at the "Ball Arena."
Following a Georgiev save on Goodrow; Sam and Joe continued to pour their hearts out for the Avalanche, this time for Mikko Rantanen.
For whatever reason, these two "home announcers" also went out of their way to state the obvious – among the pair of Finns on the ice – the one in the Colorado jersey was much better than the one in the Rangers' jersey, Kaapo Kakko.
And yes – when I keep bringing up the bumbling buffoons in the booth – then that tells you that not much was going on – where during this period, the only Rangers' highlights were all of the saves that Igor made.
Down to 8:32 to go; Georgiev passed his first test, when he stopped Zibanejad off of the rush. Then again, #40 didn't have to do much at this point, which is why this save stood out.
While on the Rangers' top line of Lafreniere/Mika/Kakko, two silly pictures and thoughts:
There's also this:
I didn't think this new "MLK Line" were bad tonight, but I also didn't think that they impressed either – even with Mika, for whatever reason, being named as the first star of the game (just because he scored a shoot-out goal).
Once again, #93 had a tough go of it at the dots tonight, where he finished 9 of 21 (another losing face-off percentage, 42.9%).
Furthermore, while Mika did finish with a team-high six shots on goal; Zibanejad, and his line-mates, were also on the ice for the only goal surrendered to the home team.
Mika's wingers had up-and-down games. Lafreniere showed some flashiness, but couldn't bury pucks. And as you'll later see – Kakko almost became the goat (in a negative manner, as opposed to the acronym "GOAT"), during the overtime period.
That all said, I think Gallant should still stick with this line – which I expect that he will.
In fact, barring injury – I believe that we'll see this same line-up come Monday, when the team plays next.
And from there, we'll see if this "MLK Line," is just that – and you can also "LMK" your thoughts about this trio!
---
Following a pair of Georgiev saves on Chytil and Panarin; during the same Rangers' attack, their longest at this point of the contest, Fox fanned on a shot. The Avalanche then went on a 3 x 1 odd-man rush, but fortunately for the Rangers – rather than shooting point-blank at Igor – Rantanen passed backwards – a turnover.
Ah – the good old "Artie Panarin" play!
As Sam Rosen started talking about the Islanders (I'm not making this up); K'Andre Miller sent "Old McDonald" on his ass with a hit. However, Colorado kept pressing the Rangers, which then forced Igor to come up with a pair of stops himself.
With 5:22 remaining, and as Sam and Joe were verbally fellating Rantanen all game; the "Rangers' announcers" received their wish – Rantanen scored.
1-0, bad guys.
This was a goal that we've seen a few times scored against the Rangers.
Mika can't win a d-zone face-off, and boom, one pass here, one pass there – and just seconds after the d-zone draw loss – boom – the puck winds up in the back of Igor's net.
However – this would also be the only goal that Igor afforded – as he was flawless for the remainder of the game.
Following the goal, Igor continued to make saves while Sam & Joe lifted their skirts and told the Avalanche "to come hither."
Okay – they didn't really say that, but what they did do is praise Callahan Burke – a center who played in his second NHL game tonight.
No joke, no less than five times did Rosen remind us that Burke played at Notre Dame – where maybe only Mollie Walker gave a shit.
(Then again, her hearts-in-eyes are really only for the players from her alma mater – and like Zac Jones – the University of Amherst-Massachusetts – who must not have much of a journalism program.)
The heralded praise for a player now playing in his fourth period of NHL hockey led to another "Rosen-ism."
Come 2:07 remaining, it was at this time where the M$GN decided to mention that, "oh yeah, Ryan Carpenter was waived and sent to Hartford today."
Here's how Sam "Bless His Heart" Rosen called it: "OH JOE, RYAN CALLAHAN CLEARED WAIVERS AND WAS ASSIGNED TO HARTFORD JOE."
Thirty seconds later, a producer chimed into Rosen's ear and the Hall of Fame announcer, who sadly, will also be remembered for all of his "senior moments" too; rectified his mistake.
"OH JOE, I HAD CALLAHAN BURKE ON MY MIND JOE. I MEANT TO SAY THAT RYAN CARPENTER WAS WAIVED."
I don't even think the parents of Callahan Burke have ever said, "I had Callahan Burke on my mind."
And yep – I've spent way too much time talking about this broadcast – but again, not much happened during this period, at least not from a positive perspective, for our favorite team.
We remained at 1-0, bad guys, at the end of this first period.
Here's what I said at the time:
1-0, bad guys, after 20. 1P Thoughts:
— Lucky to only be down by 1.
— Don't know what's worse, Sam & Joe or #NYR.
— SOG 12-8, FOs 11-5, Hits 10-0 all Avs.
— If the Rangers lose, this will be another "they didn't play a full 60 game."
— Can't play slumpbuster again.
LGR

— BlueCollarBlueShirts (@NYCTheMiC) December 10, 2022
---
SECOND PERIOD:
The Rangers were much better once Rosen belted out, "SECOND PERIOD, WHAT DO YOU LOOK FOR HERE JOE?"
Then again, they couldn't have really been much worse, following that slow-as-molasses first period.
The Rangers came out with some gusto early, as Georgiev had to stop Chytil just 53 seconds in.
Right after, Miller tried to score on the same play/shot that he used to beat Jordan Binnington – but Georgiev wasn't allowing any softies on this night.
And following the save – Rosen went right back to talking about Cale Makar – who wasn't involved in this play.
(No joke – I think Rosen would be the worst radio broadcaster of all-time – as very rarely does he ever tell you about what's happening on the ice.)
Following a CZAR IGOR save on "OLD FRIEND JOE, DRYDEN HUNT;" the Avalanche had about a seventy-second attack, where at the end of it – Kakko ended it by getting the puck out of the zone with 16:15 remaining.
After that, a pair of turnovers, as Makar stripped Trocheck and Vesey got it back.
As the Rangers' second line returned to the ice, this happened with 15:04 left on the clock:
leave to the breadman & THIS FINISH FROM SCHNEIDER!

we're tied at 1 pic.twitter.com/fKpDcuQ0iP

— Rangers on MSG (@RangersMSGN) December 10, 2022
---
1-1!
I loved this goal, and let me count the ways:
— Here's Barclay Goodrow setting up this goal, a #21 who many of these millennial fans (and beat reporters) swear up-and-down to me that he has no offensive skill. (Goodrow only set career-high totals in goals, assists and points last season – but who's paying attention to that? I guess Mollie Walker doesn't give a shit about this either!)
— Goodrow, after making a defensive play, found Panarin up ice, and with Chytil flanking "The Breadman" – instead of going to #72, #10 fed the trailer, #4 – a backward pass that actually worked out – as Braden Schneider scored his fourth goal of the season.
— I think lost in a lot of the narratives and talk this season is how good Schneider has been. (Although it's always mentioned on this site!) Unlike many others on this team, whether this season or in years' prior – there's no "sophomore slump" to be had. Instead, Schneider continues to improve and shines "day-to-day," "DAY-BY-DAY!"
— Not only has Schneider been a force behind the blue line – he's now scoring goals too. John Giannone brought up some wacky stat, that since November 22nd – no defenseman in the league has scored more goals than "B-Schneids."
— And this is me looking WAAAAAAY ahead – but it could be Schneider, and not Miller, not Lafreniere and not Kakko – who gets the biggest contract among this young crop of players.
— As mentioned a few weeks back – "Baby Trouba?" I don't think so. Schneider is his own guy. How about "Old Man Schneider" – as my friend, and a friend of the blog too, Linda H., suggested to me. (Another one of her ideas will be featured later tonight.)
— As we're now one game shy of 30 games played (and over 30% of the season too) – did you ever think that Braden Schneider would have more goals scored than Ryan Lindgren (0), Zac Jones (1), K'Andre Miller (1), Jacob Trouba (0) and Vitali Kravtsov (1) – COMBINED?
— And for all of the talk about the youth? Schneider is one goal away from tying the lottery picks, Kakko (5) and Lafreniere (5), too. Not too shabby if I say so myself!
— The biggest exaggeration that you'll ever see on this site? This one: Schneider is earning his new jersey number, #4, as he's playing like Bobby Orr!
---
Away from Mr. Schneider (who also speaks eloquent and like a long-time veteran during his intermission interviews too – as he talks well beyond his years); here you have Goodrow, now on the second line, picking up his second point in as many games.
As brought up earlier – this goal, all started by Goodrow, set-off the "Kult of Kravtsov."
Rather than being happy about being proven wrong; instead, they allowed their negativity and narratives to overwhelm them – where instead of celebrating – they hit their usual junk, such as, "lucky play," "anyone could've made that pass," "I want Kravtsov in my mouth, STAT," and you get the rest.
Finally, as I'm spending way too much time on this goal – I was happy to see Panarin pick up the primary assist (just as he did twice in Vegas) – rather than one of his secondary/fugazi/"A-Rod" assists.
That said, while "The Breadman" didn't pick up his "Panarin Hat Trick" tonight – one horrendous turnover, one fugazi assist, a brain-fart on defense – he did become a defensive liability at points, but at the same time – he negated these errors with some strong defense too – a new and improved defensive Panarin!
And yep – the Rangers need this version of Panarin to succeed. It can't be the "Pad-My-Stats" version that we've seen previous to this road-trip.
---
Wow, it's getting late and I'm already at word 6,000. Let me try to speed through the rest of this, as I did get caught up in that Schneider goal.
(Plus, this is the first night in a while where I don't have to worry about being up at 4:00AM the next day – so I'm savoring this win!)
Now tied, this is when this game felt like something ripped out of last season.
CZAR IGOR just dominated and made save-after-save. All he had to do was wait for the goals to come.
What he, nor anyone else, didn't know at the time – he'd have to wait for the "game winning goal" in the shoot-out.
And I have to say this too – following this equalizer goal – Sam and Joe railed on Panarin for only having one goal scored in his last eighteen games played.
While that's true and a valid concern – if I was being paid by the Rangers to announce these games – then my lede story would've been about Schneider's success – rather than in regards to Panarin's failures.
At the half-way mark of the game/period; Igor was already up to 21 saves. He'd make 21 more saves during the second-half of the game.
As Rosen once again reminded us about Burke and Notre Dame; there was a scary play where Fox almost got caught by an errant (accidental) skate blade. Thankfully, no such thing happened, but it was a reminder of how dangerous this game can be.
In what was probably the "MLK Line's" best shift; with 7:45 to go, Lafreniere showed off his hands and tried to set-up Kakko in the paint. However, the play was broken up. Georgiev then stopped Mika at the end of this shift.
A minute later, Makar did some Harlem Globetrotter theatrics himself and almost found a teammate for a one-timer.
Come five minutes remaining, Meyers and Hudon had a 2 x 1 odd-man rush against Igor, following a Panarin turnover.
In real-time, it looked like Igor made the save here. The Colorado crowd also thought as much, as huge "IGOR!" chants were heard, as once again – Ranger fans remain the best-traveled fan-base in the league.
(Part of that, besides all of the New York transplants? It's cheaper to fly, get a hotel and sit 5-15 rows away from the ice elsewhere, when compared to purchasing a ticket in the 400s section at M$G. Again, I've done this rant before and you can check the archives of this site for more.)
While it looked like Igor made this denial; on replay, it was shown that Panarin got back in the nick of time, and lifted Hudon's stick just as he was about to tap-in the puck.
Down to 2:30 remaining, Devon Toews hit the cross-bar.
While on the subject of iron – for the second consecutive game, Trocheck, nor anyone else in a Rangers' jersey, created a <ding> sound tonight. Progress!
Both goalies, now in a duel, made a save each with under a minute remaining.
For the fourteenth time this season, the Rangers entered a third period with a tied score.
Here's what I said at the time:
1-1 after 40. 2P Thoughts:
— #NYR got the only goal, but I wouldn't say this was a great period either.
— SOG 25-23, FOs 19-16 Avs; Hits 21-19
— Panarin Hat Trick in play – one bad turnover, one assist and now looking for the secondary fugazi assist
— Not a full 60, again

— BlueCollarBlueShirts (@NYCTheMiC) December 10, 2022
---
THIRD PERIOD:
Right before the period began – Colorado played "BABA O'RILEY." Blasphemous!
Sam and Joe also told us that the Rangers' team dentist (I forget the name) is "day-to-day," but also expected back on Monday. These next 48 hours may be tough for "TOOTH BOY," Vitali Kravtsov.
The beginning of this period featured many Ranger turnovers and bounces in Colorado's favor.
In what could've been a turning point of the game; a no-call and a fugazi call.
As Barclay Goodrow went on a breakaway at around the 2:30 mark; Cale Makar hacked-and-whacked him. You could've called any penalty here (and perhaps a penalty shot too), including slashing, holding, hooking, interference or whatever else. However, the officials, who must've had an Asian Massage Parlor appointment scheduled at 10PM local time, swallowed their whistle.
For the first time all game, Sam and Joe actually talked about the Rangers and were furious about the no-call – and they were correct in their analysis.
What should've been a Rangers' power-play or a penalty shot, instead, turned into a penalty kill, when with 17:40 remaining, Kreider was called for breathing on Dryden Hunt.
This was a BS call – especially since the officials had their heads wedged up their five-holes just seconds prior.
The end result? Igor survived some hairiness and made two saves during this successful kill.
Now returned to full-strength, I said the following at the time:
Old time hockey/unwritten code would suggest that #NYR is owed a PP here, as Georgiev stops Schneider and Igor stops Cogliano on the other end, 14:41 to go. Another great game from the former Igor/Georgiev Ranger tandem.

— BlueCollarBlueShirts (@NYCTheMiC) December 10, 2022
---
To the credit of these inept officials – that's what happened.
With 12:14 remaining, Rantanen was boxed for interfering with Zibanejad – a total BS penalty – but this was the make-up call.
Prior to the penalty, Trouba bombed a puck that caught Trocheck. In turn, Trocheck missed the early seconds of this power-play, but would soon get on the ice for his replacement, Filip Chytil.
Not much happened on this power-play (PP2 played for forty seconds) and Colorado killed this.
Of note, friend of the blog, Howie W., made a valid suggestion: perhaps Schneider, and not Trouba, should be on the PP2? Can anyone argue against this?
After all, not only is Trouba without a goal this season – the PP2 unit hasn't scored once during "The Turk Era."
And what Sammy Blais (0 goals this season) is doing out there – I have no answer for that.
Now under ten minutes to go, this is when the game really picked up. You had both goalies making save-after-save and just a frenetic pace of energy on the ice.
As we hit the FOXWOODS FINAL FIVE mark, the Rangers were all over the Avalanche like white on rice, but in a recurring trend – did everything but score.
With Georgiev preventing the Rangers from going-ahead, I found this reply tweet to be both interesting and truthful:
It's funny. If the Rangers end up going on a run that Trouba Helmet throw could end up being the turning point in the season. But #molliedontcare

— Pucker Up (@PuckerUp13) December 10, 2022
---
Following both teams emptying their respective tanks, and with thirty seconds to go; Lindgren took the puck and patiently waited behind his own net. This worked out for both teams, as each needed a point in the standings.
Here's what I said at the end of regulation:
1-1 after 60. OT next. 3P Thoughts:
— Schneider can't be your only goal scorer.
— Need two points
— #NYR have been horrible in OT this season, I think 1-6-1
— SOG 36-29, FOs 24-23 Avs; Hits 24-all
— Both PK's 1-1
— Another goalie duel from 31 and 40
LGR

— BlueCollarBlueShirts (@NYCTheMiC) December 10, 2022
---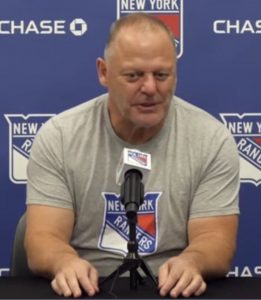 OVERTIME:
These five minutes were pretty much all Colorado.
After Mika lost the faceoff; the Avalanche then maintained the puck for nearly two minutes, where Fox, Panarin and Mika couldn't get a change.
Of note, due to Zibanejad's horrendous showing at the dots; it might not hurt to let JONNY HOCKEY, or as Linda H. calls him, JONNY DOTS – to take these big faceoffs late in the game – and then change.
After crushing the circles last game, #76 finished four of six tonight, good for a team-best 66.7% winning percentage.
The Rangers, sans CZAR IGOR, didn't do much during these five minutes.
Following Kakko blowing a tire and turning over a puck behind Igor's net; the CZAR then made a SWEEPING BESSIE GLOVE SAVE on Makar with 1:42 to go.
I won't lie – with the Rangers, 1-5 in OT prior to tonight – I thought this Makar blast from the slot was going to be the game-winner.
Again – IGOR IGOR IGOR!
Following one last Panarin turnover; CZAR IGOR soon stopped a Colorado odd-man rush (Rantanen-to-Toews) with just one second remaining in the OT.
Had this puck went in, it would've been the most "Rangery" way for this team to lose.
We remained tied after 65 minutes of action.
---
SHOOTOUT:
The Rangers didn't fool around once we got to the "second inning."
Following Trocheck over-skating himself from a SOG; Igor then made a clean glove save on Compher.
Mika, in round two, then blew a puck past Georgiev. Igor then denied Rantanen.
With the game on his stick, Panarin stalled, stalled, stalled, and do I mean stalled, and then beat his former goalie with a backhander.
2-0, in the shootout, 2-1, GOOD GUYS, your final – and above all else – a much needed two points in the standings.
Here's Turk after the game:
---
I thought that Gallant accurately assessed this game: Igor was phenomenal, the team could be better, they found a way to win, Schneider continues to impress, and losing to Georgiev would've been a kick to the sack.
The Rangers will fly home to New York on Saturday, where once landed, they'll have the day off.
The team will practice on Sunday, where I don't think much will take place.
After two wins with this line-up – there's no need to change anything.
And how about Trouba? His physicality has woken up his team – but don't tell Mollie Walker – she doesn't give a shit!
Up next – the Devils, who will be seething, especially after being embarrassed by the Islanders on Friday night. (6-4, where the score doesn't tell the story of that game – the Isles dominated and ran Vitek Vanecek out of the game.)
After losing a bunch of games to crappy teams (Senators and Blackhawks); the Rangers, along with their win over the Blues, have now beaten two strong teams – their current injury issues aside.
This road-trip could've been dark. Instead, the sun is coming out a bit, where a win over the Devils (and then the Leafs), could really be a turning point.
"One Game at a Time." Send the Devils back to hell on Monday.
Depending on my schedule, I'll be back Monday night.
If I attend the Francis ceremony on Saturday, then I'll return with a report – but I may trade hockey for sleep this weekend – especially after these two late games.
If I don't say it enough on this site, let me say it one more time – LGR!
PLUGS TIME!
---
My first plug of tonight's blog – the mandatory plug for my book, "The New York Rangers Rink of Honor and the Rafters of Madison Square Garden."
As mentioned previously, the book is now available in hardcover, in paperback and in Kindle formats. To purchase a copy of the book, visit this link:
https://www.amazon.com/Rangers-Rafters-Madison-Square-Garden-ebook/dp/B09CM5N2WD
For those still looking for signed paperback versions of the book, I have re-ordered more copies. I now have a few signed copies for sale at $25 a pop (includes shipping price) through me directly. Here is all the information on that:
---
My four-volume set of books, "One Game at a Time – A Season to Remember," is a game-by-game recount of the Rangers 2021-22 campaign.
My second title as an author, "One Game at a Time – A Season to Remember," is now available in eBook, paperback and hardcover formats.
To obtain signed copies, visit: https://bluecollarblueshirts.com/onegamebook/
To purchase all four volumes on Amazon, visit: Amazon.com – "One Game at a Time."
---
The greatest volume-set of books on Rangers' history today!
"Tricks of the Trade – A Century-Long Journey Through Every Trade Made In New York Rangers' History," a four-volume set of books that meticulously covers every trade made in franchise history, is now on sale.
All four volumes of the title can be purchased on Amazon.com and are presented in three different formats – eBook, paperback and hardcover.
To purchase Volume I: Conn Smythe (1926) – Craig Patrick (1986), visit Amazon.com
To purchase Volume II: Phil Esposito (1986) – Neil Smith (2000), visit Amazon.com
To purchase Volume III: Glen Sather (2000-2015), visit Amazon.com
To purchase Volume IV: Jeff Gorton (2015) – Chris Drury (2022), visit Amazon.com
To purchase signed copies of all four volumes, visit https://bluecollarblueshirts.com/tricksofthetrade/
---
Here are my last few blogs, in case you missed them:
---
---
---
If you haven't already, subscribe to this blog for the next update:
---
Don't forget to order my new four-volume set of books, "Tricks of the Trade!"
If you don't order through me, all four volumes are now available on Amazon.com
For more details, check out: https://bluecollarblueshirts.com/tricksofthetrade/
Thanks for reading.
LET'S GO RANGERS!
Sean McCaffrey
BULLSMC@aol.com
@NYCTHEMIC on the Tweeter machine