Greetings and salutations everyone and welcome to another blog here on BlueCollarBlueShirts.com. The Rangers did what they were supposed to do on Wednesday night – and I'm happy to tell you all about it!
(Of note: it's 1:30AM as I write these words and I have a train to catch in just three-hours. Let's hope I don't miss anything tonight! And if you're worried about my sleeping schedule – I took a four hour nap right after work! I will also have a Red Bull early Thursday morning to power me through my all-nighter – an easy all-nighter following a Rangers' win!)
The Rangers, following an unimpressive victory over the lowly St. Louis Blues on Monday night, looked much better 48 hours later in Sin City.
While admittedly, Vegas was without two of their best players tonight, center Jack Eichel and defenseman Alex Pietrangelo (and "Ranger Killer," Brett Howden, was MIA too); for a Blueshirts' group that's been very fragile as of late – this was a much needed win – and a much-needed two points in the standings too.
Also true? This was a game that made you pull the hairs out of your head – not because of how they played tonight – but because of how they've played for most of this season.
Yes, Vegas was beat-up a bit, but even so – knocking off bad and injured teams haven't been the Rangers' strong suit this season.
By the time this game ended at 1:00AM EST Thursday morning – and especially when you took a look at the standings – you were left wondering the following:
"How in the hell did this team lose to San Jose, Columbus, Ottawa, Anaheim, Chicago, Nashville, etc?"
Then again, maybe the answer was as simple as this – in Game 28 of the season, head coach Gerard Gallant has finally found the right line-up.
---
During the past two weeks, whether credible or not, there has been chatter about Gallant's seat – and more importantly than that – the temperature of it.
As talked about last blog, even Emily Kaplan, of ESPN, got in on the action, in a report that I didn't really buy in the first place. (Check out that blog for more, but the short of it – no one besides Larry Brooks has a line to Rangers' owner, James Dolan.)
While I didn't think the win over the Blues moved the needle one way or the other; I do believe that Wednesday's win over Vegas will cool the short-list of possible replacements for Gallant – where again – who knows if his job was really even in jeopardy at all? (Fans and reporters can have opinions – but we have no clue what the general manager, Chris Drury, is thinking.)
Following a strong first period on the strip; the Rangers had a temporary brain fart during the second period which soon led to a Vegas 5 x 3 power-play. Gallant's Gang, who were up 1-0 at the time, gave up the equalizer – and the only goal that Vegas would score all game too.
As Vegas tried to regain the momentum, a Barclay Goodrow vs Keegan Kolesar fight gave the team some life.
The game also became more physical, where the Rangers got the better end of it – especially when Vegas took some stupid penalties while retaliating.
The end result? Tied at 1-1 to open the final frame, the Rangers then went on to score three goals within a time-span of 1:53. For good measure, Zibanejad scored the dagger goal, the Rangers' fifth goal (and his second of the contest) at the 11:34 mark.
After recently watching the Devils and Oilers score four unanswered goals against this team; it was nice to see the Rangers on the right-end of this.
While the phrases, "turning point win," "MUST-WIN," and "season-saving victory" have been thrown around way too loosely as of late (and don't forget, M$GN ANALyst, Sieve Vagistat, has said all of this on numerous occasions, only for the Rangers to then lose a bunch of "MUST-WIN" games afterwards) – this did feel like a win that the Rangers can build from – the complete opposite when compared to their victory over the Blues.
Up next for the Rangers are the Colorado Avalanche, a team very similar to this Vegas crew, as the defending Stanley Cup champs are all beat-up with injuries themselves.
The Rangers have caught these two upper-echelon teams of the league at the right time. But don't pity poor Vegas – every team goes through this, including the Rangers themselves.
It's now up to the Rangers to extend this now two-game winning streak, their fourth of the season, to three games in a row on Friday.
However before getting into all of that – the pregame news, followed by the GAME REVIEW.
---
Following the Rangers' once in a "blue" moon victory over St. Louis on Monday; a day later, Tuesday, the team left the ice for the air and flew to Las Vegas, Nevada.
On late Thursday morning, the team held a light pregame skate, where Gerard Gallant shuffled his lines again – a recurring theme from this season.
Despite doing what many fans (and media members too) wanted to see, when "The Turk" put the two struggling wonder-kids, Alexis Lafreniere and Kaapo Kakko, on a first line centered by Mika Zibanejad; once again, the tears overflowed the streets of Rangerstown, USA (by both fans and the millennial/clueless beat reporters too), once it was learned that the biggest crybaby and malcontent in hockey, Vitali Kravtsov, would be a healthy scratch.
No joke – Gallant finally put Lafreniere and Kakko with Mika (at the expense of both Chris Kreider and Jimmy Vesey) – yet once again – you have these clowns who just focus on Kravtsov.
There are even some Ranger fans "upset" over this win, because "god's gift to hockey" took this one in from the press-box.
(And once the news broke, of this "once-in-a-lifetime" player being scratched – in turn, these same jackasses then started to bury Barclay Goodrow. Goodrow then had one of his best games of the season. More about this during the GAME REVIEW.)
I'm not making any of this up. Even media members, such as Wince Mercogliano, firmly put on their Kravtsov campaign hats, and used ANALytics/made-up stats to suggest that the man of one fluke goal (and 78967896969 injuries) this season was a better player than Barclay Goodrow – you know, a two-time Stanley Cup champ, someone able to play on all four lines, a PKer, a great teammate, reliable, durable, scores goals, etc.
Mercogoliano, much like his millennial/clueless audience, is just one of these younger people who believe that all twelve forwards on the ice should all do the same thing.
The idea/notion of a "roster stew," where you need a blend of different players, who all do different things to attain success – is just a concept that he, and many others, can't grasp/comprehend.
After all – this stuff, as old as the NHL itself, doesn't appear on the ANALytical websites that he uses to write his stories for him. (If you can get through all of the ads, spyware and pop-up video players on his site – see if you can find one article where an analytical website isn't quoted no less than three times.)
Again, and this goes for everyone who reports, blogs, tweets or podcasts about this team – tell me about what you saw.
Don't tell me how Vitali Kravtsov has an "EXPECTED" goals average of a 4.52, whenever playing on a first Thursday in December during a full moon.
Let's talk about reality instead of the "EXPECTED": Kravtsov can't stay healthy, has burnt this team twice, is rarely a factor, scored one lucky goal against a horrendous team, and perhaps had the "NashVegas Flu" a few weeks back.
Perhaps now in Sin City – the "Vegas Flu," which has effected players more than COVID-19, had claimed another victim.
(Keep in mind – the head coach knows this team better than anyone. He's behind the closed doors. We are not.)
Ironically enough, it's Gallant who also knows more about this "Vegas Flu" condition than anyone else.
After all, as the head coach of the then expansion Golden Knights, his team went all the way to the 2018 Stanley Cup Final – as "The Turk" spearheaded the most successful expansion team in the history of sports.
I've wasted too much time talking about Kravtsov, especially at this late hour (and I can't wait until he's traded so I won't have to talk about him again), so let's get into the Thursday edition of "TURK TALK."
Here's what the head coach said prior to tonight's game:
---
Gallant, who spoke briefly, lightly touched upon the player that's treated as Wayne Gretzky meets the Beatles (including by otherwise sane fans, in addition to the loyal "Kult of Kravtsov"), when he said that Kravtsov's scratching was a "coach's decision" – one of the many decisions that panned out for "The Turk."

The other often injured Ranger (although a much better player than his fellow first-round draft pick peer), Filip Chytil, was announced as ready to return. In turn, he slotted back on the second line between Panarin and Goodrow.
(Something else not mentioned by the Kravtsov enthusiasts? Chytil is horrendous at the dot. By having Goodrow there, it gave the Rangers a chance for that line to win a faceoff.)
---
Here was tonight's line-up:
FIRST LINE: Lafreniere/Mika/Kakko
SECOND LINE: Panarin/Chytil/Goodrow
THIRD LINE: Kreider/Trocheck/Vesey
FOURTH LINE: Blais/Brodzinski/Gauthier
FIRST PAIR: Lindgren/Fox
SECOND PAIR: Miller/Trouba
THIRD PAIR: Hajek/Schneider
STARTING GOALIE: CZAR IGOR
BACK-UP: Jaroslav Halak
---
BOX SCORE time.
The following graphics and information come from ESPN.com:
SCORING:
PENALTIES: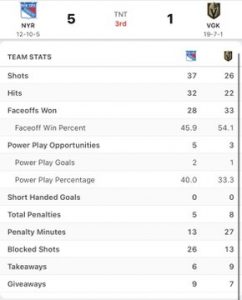 GOALIES:
| | | | | | | | | | | |
| --- | --- | --- | --- | --- | --- | --- | --- | --- | --- | --- |
| SA | GA | SV | SV% | ESSV | PPSV | SHSV | SOSA | SOS | TOI | PIM |
| 26 | 1 | 25 | .962 | 17 | 8 | 0 | 0 | 0 | 59:14 | 0 |
| | | | | | | | | | | |
| --- | --- | --- | --- | --- | --- | --- | --- | --- | --- | --- |
| SA | GA | SV | SV% | ESSV | PPSV | SHSV | SOSA | SOS | TOI | PIM |
| 37 | 5 | 32 | .865 | 22 | 10 | 0 | 0 | 0 | 60:00 | 0 |
---
Tonight's game was broadcasted on both M$GN and TNT, where for fans living in the NYC area – the game was blacked-out on TNT due to local black-out rules.
In other words, rather than seeing the best analyst of the M$GN panel, Henrik Lundqvist, on the home network; instead, we had to suffer through Sieve Vagistat.
Funny enough, Lundqvist was on the TNT broadcast, along with Kenny Albert, the best Rangers' play-by-play man.
For Ranger fans, instead of listening to Lundqvist and Albert; instead, we had to listen to the two Vegas Golden Knights announcers, Sam Rosen and Joe Micheletti, where the latter said the word "FABULOUS" no less than six times prior to puck drop when talking about the home team.
From 9:30PM-10PM, instead of listening to Vagistat drone on about "east-west passing," his own career, how he calls Henrik Lundqvist ten times a day, etc; I was checking my Twitter notifications once arising from my pregame slumber – where most of it was about Kravtsov, as for some reason, #74 has a special stranglehold over most of the fan base.
As everyone was bitching about Goodrow over Kravtsov, I said the following earlier in the day:
I'll take a Stanley Cup champ, a team player, a PKer, full of durability & reliability, in Goodrow rather than Kravtsov any day of the week, twice on Sundays. #nyr

— BlueCollarBlueShirts (@NYCTheMiC) December 7, 2022
---
Chalk up another win for the EYE TEST!
Since this was also a TNT game, in addition to Vegas holding a pregame ceremony for "Hispanic Heritage Night;" this game didn't start until 10:22PM.
I only bring this up, because I tried to avoid Vagistat to the best of my abilities, but due to the delay – M$GN went right back to him at around 10:15PM, where he then talked about a hypothetical about playing for the Rangers again.
Too bad M$GN won't make him a healthy scratch.
As far as anything else M$GN related – until Kakko scored the first goal of the game (6:49 mark), M$GN had a weird blue filter and had no white balance at all. This made the game tough to watch, but eventually, the billion dollar network figured it out. There were also audio issues, but that seems to be commonplace these days, where I'm now used to them.
GAME REVIEW time.
---
FIRST PERIOD:
Whether it were the line-up changes, getting pissed-off following all of the losing, CZAR IGOR back on the road or whatever else you can conjure up – everything clicked for the Rangers tonight.
As mentioned earlier, aside from the snafu of allowing Vegas a 5 x 3 power-play during the second period – the Rangers pretty much dominated every facet of the game. It all started during these first twenty minutes.
Put it this way: do you know how good it was? (HOW GOOD WAS IT?) The Rangers didn't even hit one post tonight – not even Vincent Trocheck!
Following Mika's first faceoff loss of the game; the new second line came on, where Goodrow turned over the puck – twice. That's when I started getting the "I TOLD YOU SO" tweets – but magically – all of those people disappeared by the end of the game. Gee, I wonder why?
The first five minutes of this game wasn't much, as the 2022 Vezina winner, CZAR IGOR, and a favorite for both the 2023 Vezina and Calder trophies, Logan Thompson, only had to make one save a piece.
However, that would soon change at the 6:49 mark, following this play:
Kakko with the perfect deflection to give #NYR the early lead!! pic.twitter.com/SuvIMC7lTS

— Rangers on MSG (@RangersMSGN) December 8, 2022
---
1-0, GOOD GUYS, following Kakko's deflection goal.
This was a heck of a play.
Jacob Trouba, who had a nose for the puck all game (he looked reinvigorated and maybe he's overcoming some of his injuries), made a perfect pass from behind Thompson's net, off of the boards, to his buddy K'Andre Miller.
Miller, also looking for more scoring these days, fired the puck at Thompson from the point. Kakko got a piece of it and there was nothing the goalie could do. 1-0, GOOD GUYS, just like that.
A few other things about this goal:
— After missing so many nets, failing on breakaways and not being able to lift the puck – this is how Kakko snapped his eight-game scoring drought.
— Chris Kreider, like many, predicted that Kakko would score soon after being so snake-bitten as of late.
— Of course, this goal wasn't a "goal scorer's type of a goal" – but who cares? He was in the right place and at the right time – and that wasn't luck. He perfectly positioned himself for this opportunity.
— That said, you hope this goal will get Kakko's confidence up a bit, so when he returns to goal scorer situations, he'll do just that – score.
— And yep – Gallant's new top line had scored the first goal of the game too.
---
CZAR IGOR, who could've played the slots during this frame, was barely tested. He made five saves in all during this period. His toughest challenge took place with 11:15 remaining, when he stopped Mark Stone, who looked very "Mark Porcelain," on a redirect. Right after this save, Thompson soon made a similar one on Kreider.
The Rangers were creating scoring chances seemingly at will. Following a strong play to the net from Gauthier (save by Thompson); with 8:38 to go, this is when Artemi Panarin turned it on and helped distance himself from that "A-Rod" label.
No joke, Panarin looked like a different player tonight – and much like the one from his 2019-20 Hart Trophy contending season.
Let's count the ways:
— Following a three-game stretch where he didn't put one shot on goal; Panarin led all skaters in the SOG department, six in total.
— While he did pick up a secondary assist – this one wasn't an "A-Rod"/fugazi assist. He set up a Rangers' 2 x 1 odd-man rush on his secondary assist – and also picked up two primary assists – both on Zibanejad PPGs.
— After what feels like 7896786867896 turnovers per game; Panarin only turned over the puck once – and it didn't wind up in the back of Igor's net.
Simply stated – if we can get this version of Panarin on a consistent basis, then the Rangers will be in good shape.
As Thompson racked up the saves; Lindgren broke up a Vegas odd-man rush with 5:02 to go.
Down to 4:14 remaining, Thompson stopped Panarin for the third time – a tough backhander. A minute later, Thompson made his best save yet, when he snagged a Trocheck shot with his right hand, a puck that had goal written all over it.
Kakko, following his goal, continued to play well in his own zone, including when he forced Mark Porcelain away from Igor with under three minutes remaining.
The Rangers' fourth line, who did have some defensive hiccups, also played well on the offensive end. This was evident when with 1:50 remaining, Sammy Blais drew Jonas Rondbjerg for a tripping penalty.
This was one of these Ranger power-plays where they did everything but score, where come the final horn, Thompson had to make five tough saves, each tougher than the one that preceded it.
We remained at 1-0, GOOD GUYS, after twenty minutes.
Here's what I said at the time:
1-0, GOOD GUYS, after 20. 1P Thoughts:
— Best #NYR period/start in a while – can they do this for 60 minutes?
— SOG 15-5 (not a typo), Hits 14-8 #NYR; FO's 11-6.
— They are playing a strong team game – as they should against this beat-up Vegas team.
— Panarin, 4 SOG.
LGR

— BlueCollarBlueShirts (@NYCTheMiC) December 8, 2022
---
SECOND PERIOD:
During the intermission, John Giannone said the obvious – the Rangers couldn't afford another second period collapse.
Also of note? After demanding a Lafreniere scratch last game (where #13 then picked up a goal and an assist afterwards); Vagistat pulled a 180 and praised the 2020 first-overall pick. Can't make this up.
Vegas opened the period by killing the final ten seconds of the Rangers' power-play, but the team continued to get at Thompson. Miller almost had another deflection assist to his name while Panarin picked up his fifth shot on goal.
Rosen also mentioned that the Rangers had ten scoring chances in the first period – something I just rolled my eyes at. After all, did they count five separate scoring chances on the Rangers' power-play? In my eyes, that was 1:50's worth of one continuous chance. I'll never understand the abundance of analytics in sports.
At the near four-minute mark, this looked to be true: Vincent Trocheck's new winger, Chris Kreider, seemingly has more chemistry with him than Panarin ever did.
Maybe I'm looking too much into this, but this new third-line duo were setting each other up left-and-right.
At the six minute mark, Vegas were still looking for their first SOG of the period, and they almost had it, following Panarin's lone o-zone turnover of the game. Fortunately, Vegas put too much sauce on the outlet pass, which prevented them from capitalizing.
Down to 11:54 remaining, we had a potential turning point of the game. A Vegas defenseman (his name is escaping me), made a brutal, and I mean brutal, turnover at the corner boards to the left of Thompson.
Chytil got the puck and went one-vs-one with Thompson – Thompson's best save of the game yet.
This should've been a goal. Had the Rangers lost a one-goal game tonight, this play would've received more buzz/talk.
Now at the half-way mark of the game/period; CZAR IGOR made his best save yet (and of the game), when he denied a Knights' two-vs-one odd-man rush.
Following stops on both Stephenson and "The Hot Dog Man," Phil Kessel, as Vegas was heating up a bit during this period of time; with 6:56 remaining, we had another potential turning point of the game.
Trocheck tripped Brendan Smith's brother, Reilly. Vegas power-play. Six seconds later, following another Zibanejad faceoff loss; Lindgren took a cross-checking penalty, when he blasted Mark Stone from behind as the Vegas captain was crashing the net.
End result – a 1:54's worth of a Vegas 5 x 3 power-play.
28 seconds into their two-man advantage; Igor stopped Shea Theodore. However, the puck went right to Stephenson and he immediately dished the puck through the crease to a wide-open Jonathan Marchessault for an easy goal.
1-1 with 6:22 to go – and the only Vegas tally of the game.
At the time, this was another case of "special teams swing games." Fortunately, the Rangers would soon be on the right side of this.
With 4:23 remaining, Kolesar tried to get cute with Panarin while behind Thompson's net. Immediately, Goodrow charged at the Knight. Both players were boxed for two minutes for roughing.
As Sam and Joe would not shut the hell up (for whatever reason, they think yammering over penalty calls, only to then wonder what was called, is the right thing to do); the two players returned to the ice following the foreplay.
Once leaving their sin bins, Kolesar and Goodrow dropped the gloves:
Good scrap between Goodrow and Kolesar. Decision: Kolesar. pic.twitter.com/Hqkd9k2xS7

— Rob Taub (@RTaub_) December 8, 2022
---
While the bigger Kolesar won this fight, although not by much; here was Goodrow, an alternate captain, defending his teammates – again.
You think Kravtsov would've done this?
Hell, if he fought a Vegas cirque de soleil dancer – then he'd wind up in a Vegas ICU.
As the penalties were being assessed; Sam and Joe brought up that JONNY HOCKEY had won six of his seven faceoffs. He ultimately finished eight of twelve, a success rate of 66.7% – which doubled Zibanejad's percentage.
And let me say this and get it out of the way: if this was a bad game for any two Rangers, then it was bad for both Ryan Carpenter and Vitali Kravtsov, the two healthy scratches.
I'd suspect Gallant to go right back to this line-up on Friday – and how can anyone question that?
1-1 after forty minutes.
Here's what I said at the time:
1-1 after 40. 2P Thoughts:
— I wouldn't say #NYR are playing bad, but the one goal was a deflection – VGK goal 5 x 3.
— Other words – need goals! (And goalies been good)
— Rangers open up 3P on a PP, Theodore for slashing Trouba
— SOG 26-22, Hits 21-14 NYR; FO's 20-16 VGK

— BlueCollarBlueShirts (@NYCTheMiC) December 8, 2022
---
THIRD PERIOD:
At this time, let the following sink in:
— The game was tied.
— The Rangers were the better team – even if they didn't have the goals to show for it.
— The Knights' goal was a 5 x 3 PPG.
For whatever reason, and now knowing all of that – the entire M$GN crew talked about the second period as if it were the worst twenty minutes of the season.
To me, maybe this was a culmination of everything that we've previously seen, but at the end of the day – it was a blah second period – not something to throw in the towel over.
The third period opened with the Rangers' on a power-play, due to Theodore slashing Trouba at the end of the second period.
This power-play, while not as good as the first one, was still decent enough with Thompson making three saves during these two minutes, including a robbery save on Panarin.
It was also during this Vegas penalty kill where Stone ate some friendly-fire following an attempted clear. He left the game again, but Porcelain would later return.
Following the 98767896789678967896th Trouba Bomb of the season, a save for Thompson; I was wondering if the law of averages will ever work out for the Rangers' captain? By now, you'd think one of these shots would go into the net out of pure dumb luck.
After two potential turning points that could've went the home team's way; it was the Rangers' turn.
With 14:32 to go, Theodore tripped Chytil. This kicked off three Ranger goals scored in less than two minutes of play:
Mika Zibanejad it's a Power Play Goal!!!!!

2-1 #NYR pic.twitter.com/Ome4M5nBDM

— Rangers on MSG (@RangersMSGN) December 8, 2022
---
2-1, GOOD GUYS, as Panarin fed Zibanejad for the one-timer – just like how they drew it up.
Twenty-four seconds later, and rather than allowing the other team to get it right back as they often do; Filip Chytil scored the insurance goal:
A perfect saucer pass from Goodrow to Chytil and just like that it's 3-1 #NYR pic.twitter.com/39fRulGsuX

— Rangers on MSG (@RangersMSGN) December 8, 2022
---
3-1, GOOD GUYS – and another assist for Panarin.
On this goal, Panarin made the long-distance pass to Goodrow, and on a two-vs-one (and keep in mind of Chytil's earlier miss); this time, the returning Czech buried the puck.
But wait, there's more!
Less than ninety seconds later, this happened:
Laffy waits EVERYONE out and slams home the 3rd goal of the 3rd period #NYR pic.twitter.com/wymJSmm4dT

— Rangers on MSG (@RangersMSGN) December 8, 2022
---
4-1, GOOD GUYS, and with 12:07 to go. This is when Vegas officially crapped out.
This was a great goal for both Lafreniere and the Rangers, and for these reasons:
— After missing a few empty nets as of late, Lafreniere, who did double-pump and almost loused this up, scored. He needed this one.
— This gave every member of the first line a goal – even if Mika's goals were PPGs.
— Adam Fox picked up his second assist of the game, where perhaps for non-Ranger fans – he's quietly putting forth another Norris Trophy winning season.
— Rather than allowing Vegas to work their way back into this game – the Rangers made sure to maintain and extend the lead.
The only bad thing about this goal? Now up by three – it was unlikely that Thompson would be pulled; thus preventing us from a Goodrow empty net Gordie Howe Hat Trick goal!
However, the Rangers weren't done yet, nor was Goodrow.
Following a Trouba penalty at the 9:06 mark, Goodrow negated the Vegas power-play when he drew a visibly frustrated Stone for a tripping penalty.
Once the foreplay concluded and with the Rangers on a short power-play; Mika scored five seconds into it.
5-1, GOOD GUYS, following another Mika one-timer. (He'd later get a chance at the hat trick, but Thompson made a good save.)
Friend of the site, Danny M., made this poignant observation: rather than waiting all day in the center of the circle, #93 is starting to drift to the lower portion of the circle. It's worked. Whether this was a coaching move or Mika doing this himself, either way, keep it up!
It's late, this game was over at this point, so I can fast-forward to the end.
Aside from a Chandler Stephenson ten-minute game misconduct for "abusing the officials" with 2:39 remaining (MSGN never showed us what happened since they were celebrating a rare Rangers' winning streak – and I get it); the Rangers continued to protect the lead.
While the box score will show you that CZAR IGOR made 25 saves on 26 shots tonight; he maybe had to make three tough saves, at most, during this game.
The Rangers played a tremendous game, where again, outside of a few minutes during the second period – they played a near complete sixty minute game.
Now do it again. And again. And again. And again. And I think you get my point!
Great win for the GOOD GUYS!
Here's "The Turkmaster General" following the big win:
---
Gallant pretty much said everything that appeared during the GAME REVIEW, including:
— He was happy with his new top six.
— He was elated about the way his team played and called it a "team win."
— Praised CZAR IGOR.
— Was joyed to beat his former club, but pivoted that line of questioning and continued to heap praise upon his team.
---
Up next: Friday night in Denver, where the Rangers will rematch with a reeling Colorado team, a team with injuries up-and-down their roster, including perennial Hart Trophy candidate, Nathan MacKinnon.
It will be interesting to see if Alexandar Georgiev plays in the second game between these two teams following his move to the Avalanche.
As the Rangers were doing their thing on Wednesday; at the same time, #40 and the Avs got destroyed by the Bruins, 4-0. (I should've bet 4-0 on this game!)
I'd have to imagine that Georgiev will get the start, just for the revenge factor and since he played one of his best games of the season against the Rangers earlier this season.
If not, who cares? It's all about the Rangers trying to piece together a three-game winning streak – no matter who is in net for the other team.
For the first time in a while, this was an excellent Rangers' victory. The faith is being restored, but I still remain cautious, especially with the schedule ahead.
However, and as the head coach always likes to say – "ONE GAME AT A TIME!"
And speaking of time, I'm out of it, as my train departs in just twenty minutes!
And oh yeah, speaking of time, what a segue-way to…
PLUGS TIME!
---
On Monday, following the game against the Blues, our friends at "2 Guys 1 Cup" returned with a new episode.
To check it out, click the link below:
Episode 65- Blues Postgame Show! #NYR https://t.co/CSF4LXicpq

— 2 Guys 1 Cup Podcast (@2G1CRangers) December 6, 2022
---
On Tuesday night, our pals at "The Blueshirt Underground Show" returned with a new episode. To check it out, click the play button below:
---
My first plug of tonight's blog – the mandatory plug for my book, "The New York Rangers Rink of Honor and the Rafters of Madison Square Garden."
As mentioned previously, the book is now available in hardcover, in paperback and in Kindle formats. To purchase a copy of the book, visit this link:
https://www.amazon.com/Rangers-Rafters-Madison-Square-Garden-ebook/dp/B09CM5N2WD
For those still looking for signed paperback versions of the book, I have re-ordered more copies. I now have a few signed copies for sale at $25 a pop (includes shipping price) through me directly. Here is all the information on that:
---
My four-volume set of books, "One Game at a Time – A Season to Remember," is a game-by-game recount of the Rangers 2021-22 campaign.
My second title as an author, "One Game at a Time – A Season to Remember," is now available in eBook, paperback and hardcover formats.
To obtain signed copies, visit: https://bluecollarblueshirts.com/onegamebook/
To purchase all four volumes on Amazon, visit: Amazon.com – "One Game at a Time."
---
"Tricks of the Trade – A Century-Long Journey Through Every Trade Made In New York Rangers' History," a four-volume set of books that meticulously covers every trade made in franchise history, is now on sale.
All four volumes of the title can be purchased on Amazon.com and are presented in three different formats – eBook, paperback and hardcover.
To purchase Volume I: Conn Smythe (1926) – Craig Patrick (1986), visit Amazon.com
To purchase Volume II: Phil Esposito (1986) – Neil Smith (2000), visit Amazon.com
To purchase Volume III: Glen Sather (2000-2015), visit Amazon.com
To purchase Volume IV: Jeff Gorton (2015) – Chris Drury (2022), visit Amazon.com
To purchase signed copies of all four volumes, visit https://bluecollarblueshirts.com/tricksofthetrade/
---
Here are my last few blogs, in case you missed them:
---
---
---
If you haven't already, subscribe to this blog for the next update:
---
Don't forget to order my new four-volume set of books, "Tricks of the Trade!"
If you don't order through me, all four volumes are now available on Amazon.com
For more details, check out: https://bluecollarblueshirts.com/tricksofthetrade/
Thanks for reading.
LET'S GO RANGERS!
Sean McCaffrey
BULLSMC@aol.com
@NYCTHEMIC on the Tweeter machine