Greetings and salutations everyone and welcome to another blog here on BlueCollarBlueShirts.com.
In case you decided to sleep through this game, which started at 10:42pm, Eastern Standard Time, don't worry, Uncle Sean has you covered! And it gets better, for the people who traded Ranger hockey for sleep, on Tuesday night – you missed a debacle of a game.
On Tuesday night, coming off a big 5-0 win over the Vegas Golden Knights on Sunday, the Rangers flew to LAX and were promptly embarrassed by the LA Kings, by a final of 3-1. While a two goal deficit doesn't sound like the end of the world, in reality, and if you stayed up & watched this game, you saw the Rangers throw away two easy points tonight.
I talked about the Ranger troubles in the last blog I did. Alexandar Georgiev has been able to mask a lot of the Ranger problems during this past week. Without Georgiev in net, which was a huge mistake by David Quinn tonight, at least in my opinion, Lundqvist wasn't able to mask the prevalent Ranger issues. The Rangers don't shoot enough and when they do, it's usually a second too late and they give the opposing goalie too much time to track the puck correctly.
While Lundqvist has a terrible history in LA, obviously; when you only score one goal, which came with only 29.7 seconds left in regulation in this game, you're not going to win many games. Like Plaxico Burress once did, the Rangers shot themselves in the foot, here in this game with LA.
Before moving on here, as usual, here are my last few blogs in case you missed them:
---
---
---
---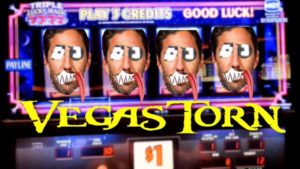 ---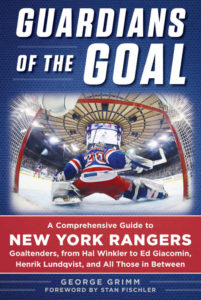 ---
---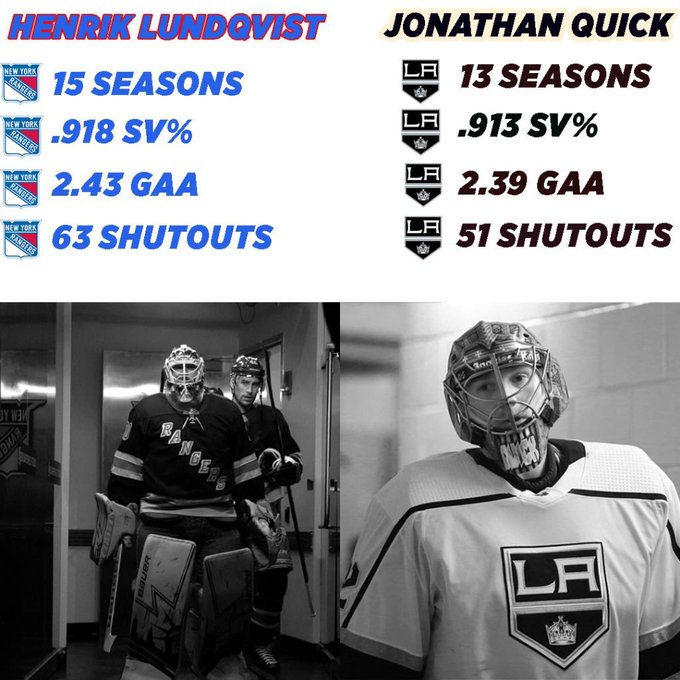 It's funny, because of my stance on Henrik Lundqvist, I'm usually tagged in a billion things all over social media, by these Cult of Lundswiss troglodytes, who will tell me that Lundqvist is the best goalie of his era. These heathens will then discount the careers of Marc-Andre Fleury, Roberto Luongo and Jonathan Quick. I will never get how these dim-witted individuals can consider Henrik Lundqvist a Hall of Famer, and in their next sentence to me, disregard someone like Jonathan Quick.
In the graphic pictured above, which was tweeted out by the Rangers MSG twitter account, the graphic conveniently left out the fact, that you know, Jonathan Quick also won two Stanley Cups and a Conn Smythe Trophy. Two things Lundqvist knows nothing about. I would say that's a pretty big omission, wouldn't you?
When it comes to Jonathan Quick, I like him. After all, he's an American, so I root for him. That said, it was much easier to root for him in 2012, when he had one of the best goaltender performances in modern NHL playoff history. Better yet, he even beat the Devils!
Of course, two years after defeating the Devils in the 2012 Stanley Cup Final, my opinion and rooting interest would change, in regards to Jonathan Quick. While Quick wasn't as strong in the 2014 Stanley Cup Final, as he was in the 2012 Stanley Cup Final, he did wind up out-lasting and out-playing Henrik Lundqvist. In the biggest moments of those five Stanley Cup Final games, Quick saved his best work for last.
I just will never get these Ranger fans, who must be brainwashed by listening to Steve Valiquette for years, who will discredit Quick as a Hall of Famer, but will shout from the roof-tops how Lundqvist is one.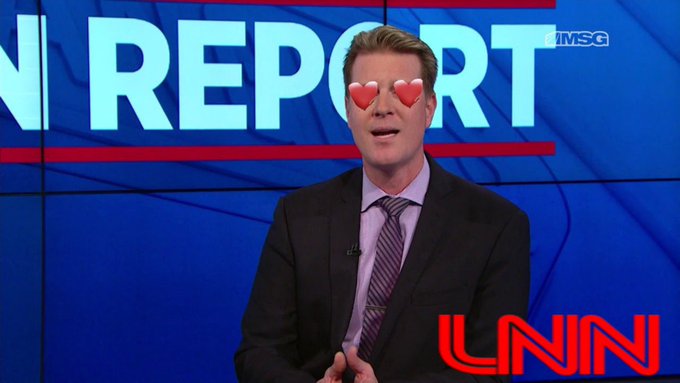 I haven't seen every Rangers broadcast this season, due to the fact that I've attended 7 games this season. That said, from all the games I have seen on the M$G Networks, I thought this was the best broadcast of the season.
I've talked about this recently – Joe Micheletti has been great during these past few weeks. Not only is he treating every player fairly in his criticism and analysis, he's also calling out plays, pointing out systems and hasn't been as rah-rah as he has been. In this game alone, he called out LA's 1-3-1 system and was extremely harsh about the Rangers not shooting the puck. And to his credit, Micheletti was correct on everything.
Even better, with this being a West Coast game, M$G Networks decided to have Giannone & Maloney, live on location, host the pregame and post-game shows. They also covered the intermission segments. That meant no Steve Valiquette and his horrible takes such as this one: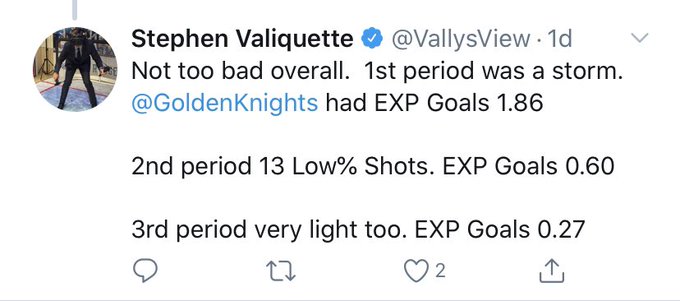 Someone needs to tell Vally this – None of this crap that he tweets matters. Georgiev's save percentage was 1.000 in that game. Most importantly, the RANGERS WON. It's just a shame these chart nerds are stealing jobs from real hockey people. I'll give serious credit to ANALytics, when anyone can get real money in Vegas off of them.
Even worse, if you follow Vally's made-up stats, they are 100% made-up. The reason for this? It's because the variable he uses the majority of the time are of the "EXPECTED" variety. As in what he expects, and which is up to the eye of the beholder watching the game. After all, he tends to EXPECT Georgiev to stop everything, whereas, he expects Lundqvist to stop nothing.
Put it this way – if you gave a damn about any of these EXPECTED stats, which once again, mean OO-GATZ, they have no bearing on a game and these stats can't predict a final score. If you watched the game against Vegas and this game against LA, you probably would've expected the Rangers to lose to Vegas and to beat LA. Instead, the Rangers pasted VGK 5-0. Tonight, the Rangers lose to shitty LA, by a final of 3-1.
If you get anything out of this, it is that all these nerd charts and stats are garbage. The only thing that matters are wins and losses.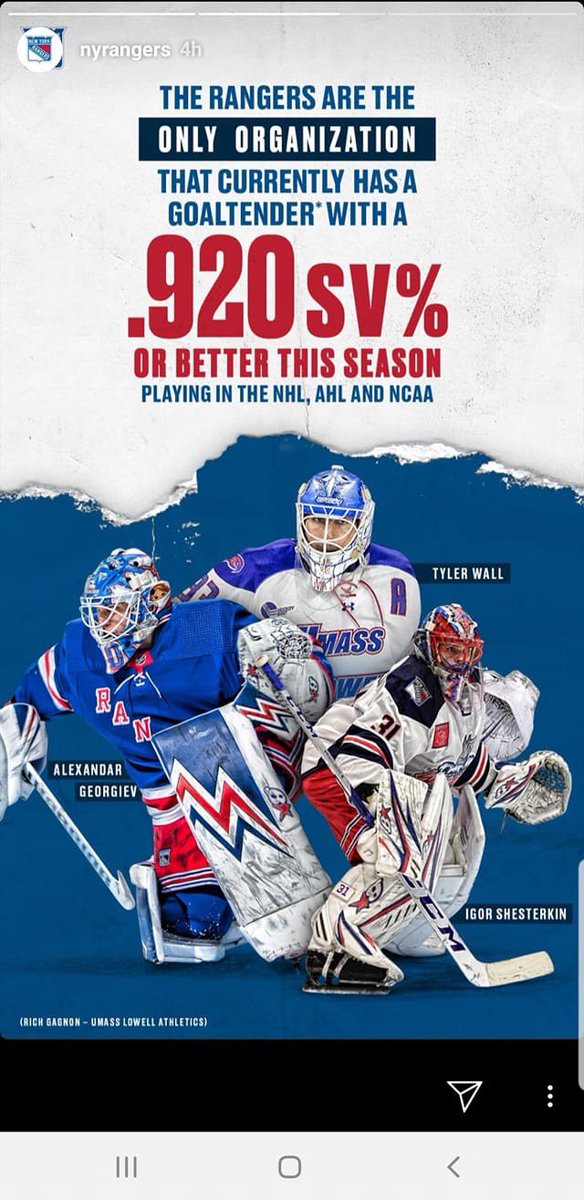 Oh, and for shits and kicks, here was my reaction to the above graphic, after the Rangers posted it to their social media accounts:
It's cute when #nyr tries to pretend that Lundswiss is as good as Georgiev pic.twitter.com/tzxamX9Iap

— BlueCollarBlueShirts (@NYCTheMiC) December 10, 2019
While on the M$G Networks and the Rangers, before getting into this game, let me finish by talking about Joe Micheletti once more.
Did you see this tweet before the game, posted by a M$G Networks staffer:
LA traffic can't slow down our guys! Rangers and Kings tonight on MSG. Coverage starts at 10pm @RangersMSGN #whoistayingup pic.twitter.com/U55stwclqv

— Steve Napolitani (@Stevenapolitani) December 11, 2019
If you watch the clip above, you can see Joe Micheletti is taking that "I gotta take a shit power-dump walk." As someone well versed on the topics of poo, farts and the hiney (Just ask my three year old niece about this, as we have deep discussions about these topics, which I always entertain & enjoy) there's no doubt in my mind, that Joe had to drop major heat, after sitting in grueling and intense LA traffic.
In fact, before the broadcast, I think he still had some shrapnel left over. Just look at his face: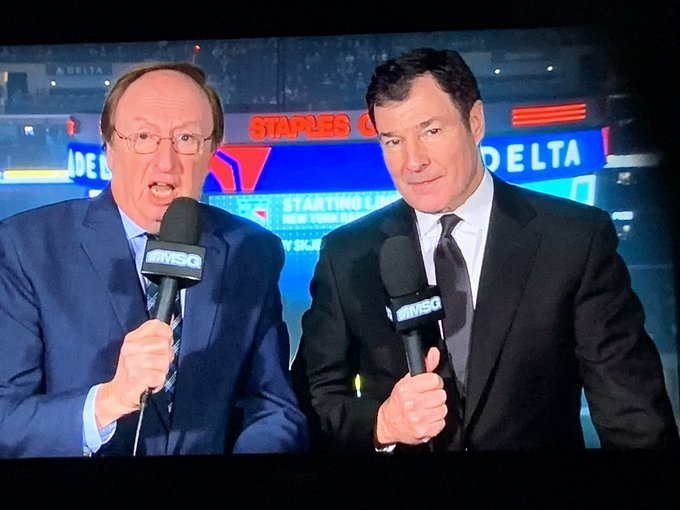 This is the hard hitting commentary that you only get on BlueCollarBlueShirts.com!
And I have to mention this too – during the second period, Joe ghosted for about five minutes. Now I don't know if he had to push more doo-doo out or not, but he didn't say a word for a good five minutes. Maybe he spaced out. However, in my own little heart and mind, I would like to think he was finishing pushing out the rest of his Mexican food dinner.
Come on folks, with a game like this one played tonight, I have to find something entertaining to talk about here! And I'm writing these words at 2AM, that's dedication. (Due to the weather that's predicted on Wednesday, my job was canceled, which allowed me to stay up and write about this game.)
MOVING ALONG.
Gambling segment time. This is what I said before the game:
Season over/under record: 16-13

LA Kings stink, but score more goals at him than on the road. Doesn't mean they will win though, as they give up a bunch too.

Lundswiss is in net, so you know the deal – Take the OVER.

NYR for even $ is nice, but I can see Hank choking. #nyr pic.twitter.com/YIIKGkFnoS

— BlueCollarBlueShirts (@NYCTheMiC) December 10, 2019
With only four total goals, my record worsens to 16-14. If it weren't for four posts/crossbars that LA found, if NYR could've buried the puck on their first power-play and if the Rangers actually shot the puck during good looks; then maybe I would've won. Coulda, woulda, shoulda. I take the L here. At least I was right with my last sentence, as Lundqvist choked on the game winning goal.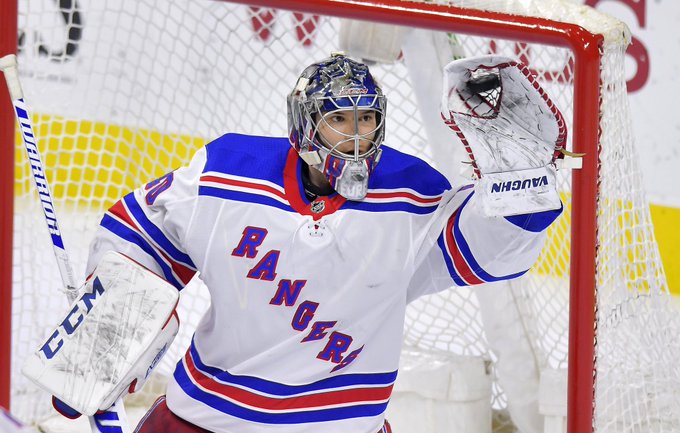 In the headline of this blog, I made note of David Quinn's error. Again, if you've been with me all season, I have nothing against David Quinn. I don't want him fired like others do. I think he's fine and to quote AV, "it's a process." That being said, for the second time this season, and the second time in two weeks, Quinn made the same exact mistake again.
After Alexandar Georgiev's blanking of the Devils last week, in the next game, Quinn went back to Lundqvist. You see, it's important to get a 38 year old goalie, on a rebuilding team, "into a rhythm." In that game, Lundqvist cracked at the first sign of pressure and the Rangers lost to Vegas by a score of 4-1.
This past Sunday, Georgiev posted another shut-out. Instead of "riding the hot hand", as Quinn has said a few times this season, Quinn went with Lundqvist tonight. In turn, the Rangers had one of their worst games of the season, if not the worst. After all, 30 games into the season and here is Lundqvist & the Rangers losing to the worst team in the Western Conference.
On Monday, the day before this game, Quinn announced Lundqvist would take this cherry-picked start against the last place Kings. Then, right after, Quinn talked about wanting to make the playoffs. If Quinn really wants to make the playoffs, why would he rest his hot goaltender against the worst team in the West?
As you'll see as I get into the game – the Rangers stunk tonight. However, after the second goal, the Rangers played like frightened little turtles, as Lundqvist was screaming and doing his fish-out-of-water act. It changes the whole team dynamic when he does this crap.
Furthermore, after what we've seen out of Georgiev this past week, I'm inclined to think that Georgiev could've had another shut-out tonight. If that was the case, at the very least, the Rangers get a point out of this game. Instead, Lundqvist cracks, he cries and he humps the ice, like he's Jason Biggs in "American Pie" with an apple pie.
I just don't get how if Quinn wants to win, and if the playoffs are the goal, why would you shut down your hot goaltender, for a guy who isn't hot. After all, look at these stats, REAL STATS, before tonight's game: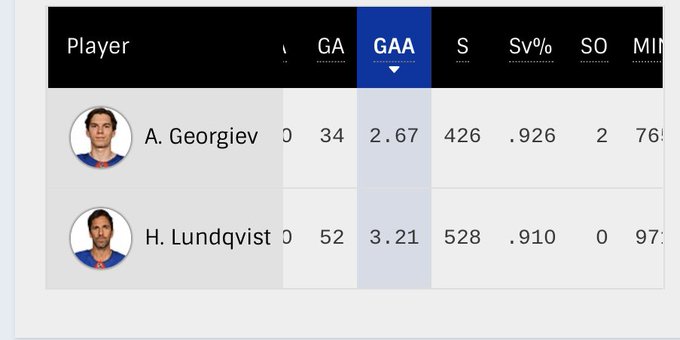 And really, in more REAL STATS news, not only has LA been a horror show for Lundqvist over the years, Lundqvist struggled mightily with LA last year. With both the Rangers & Kings rebuilding and tanking last season, Lundqvist lost twice to the Kings. In both games, he gave up four goals a piece, despite the Kings being the worst team in the West, during both of those games. Just like Montreal, Lundqvist doesn't have it in LA. He's too busy thinking about all the great hair dressers that ply their craft in LA.
With Georgiev on fire and with Lundqvist's terrible numbers in LA, there was no reason for Lundqvist to start this game. I'm not saying Lundqvist is 100% solely responsible for this loss, but he didn't help matters either. I truly believe that the Rangers would've won this game if Georgiev started tonight. The team just plays better. Furthermore, when things get tough, Lundqvist starts rolling all over the ice, like a dog trying to scratch his back. When things get tough for Georgiev, you never see the fish-out-of-water act. Simply put, Georgiev is cool, calm and collected. Lundqvist is anything but.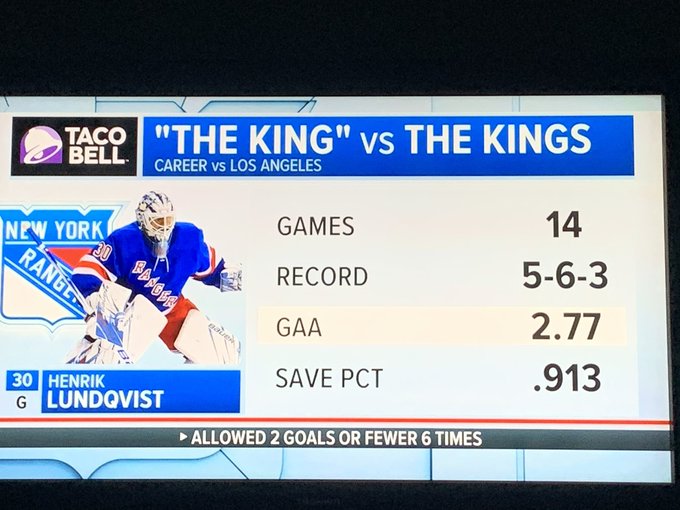 Line-up wise tonight, aside from the goaltender, everything else stayed the same from the game with Vegas, including the new GAG line. I don't know if you want to count it, but the new GAG line did score in this game, albeit on a 6 x 4 attack, with 30 ticks left in regulation. More on them as I continue.
At this time, let's go to the official box score, courtesy of ESPN.com:
SCORING SUMMARY: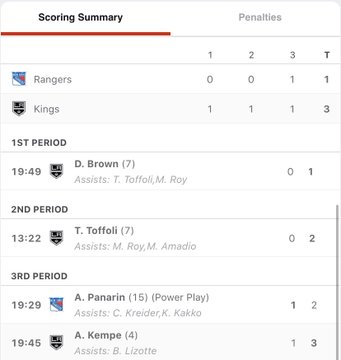 PENALTIES: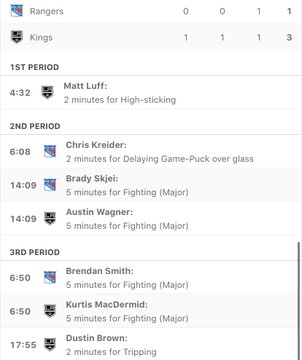 GOALIES:
| | | | | | | | | | | |
| --- | --- | --- | --- | --- | --- | --- | --- | --- | --- | --- |
| SA | GA | SV | SV% | ESSV | PPSV | SHSV | SOSA | SOS | TOI | PIM |
| 30 | 1 | 29 | .967 | 21 | 1 | 7 | 0 | 0 | 60:00 | 0 |
| | | | | | | | | | | |
| --- | --- | --- | --- | --- | --- | --- | --- | --- | --- | --- |
| SA | GA | SV | SV% | ESSV | PPSV | SHSV | SOSA | SOS | TOI | PIM |
| 25 | 2 | 23 | .920 | 21 | 1 | 1 | 0 | 0 | 57:37 | |
You know these blogs are always longer than anything else you'll read about the Rangers, but if you want the short version of why the Rangers lost this game, 2000 words in here, here you go:
— Jonathan Quick was absolutely fantastic tonight and after a bad start to the season, had a "VINTAGE" Jonathan Quick game.
— The Rangers don't shoot enough.
— Quick made the biggest saves of the game when it mattered. Lundqvist, who was serviceable, did not.
Two "quick" notes before going into the period-by-period review.
One – both Jonathan Quick, and the returning Marc Andre Fleury, almost had shut-outs tonight. Both shut-outs were ruined by a late power-play goal in the third period. Both of these goalies are still getting shut-outs in 2019. Lundqvist hasn't had one in two years. He hasn't even come close to getting one.
Two – keep the following tweet in mind. This is what I tweeted out during the game, with 6:22 left in the first period:
6:22 remaining, in a game where it feels like the Rangers should have a two goal lead in. Only a matter of time before LA scores on some random nonsense. #nyr #PlayLikeANewYorker

— BlueCollarBlueShirts (@NYCTheMiC) December 11, 2019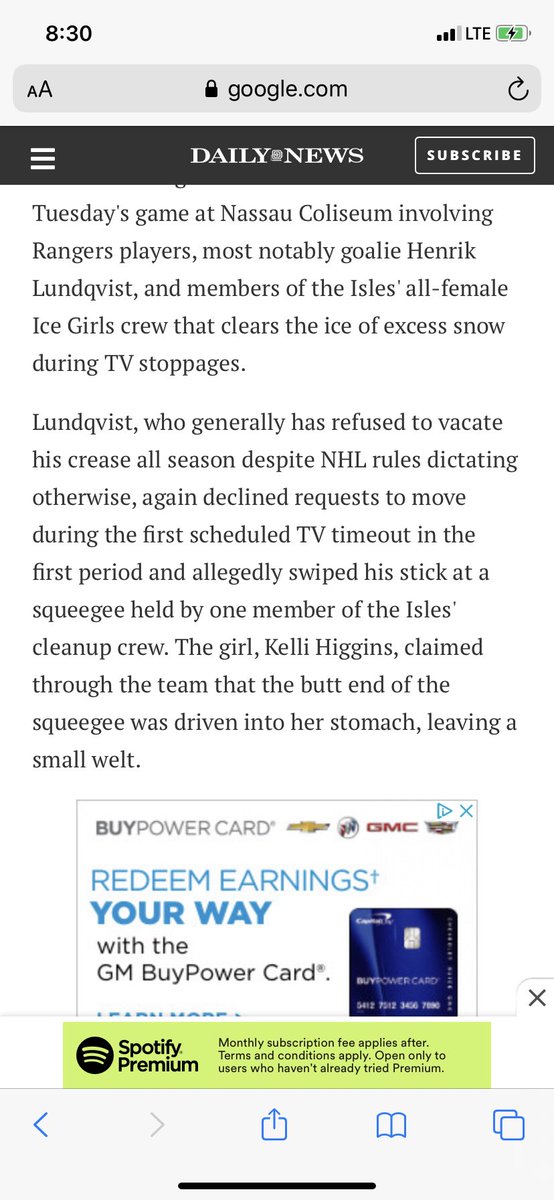 The first period of tonight's game was all Rangers. The Rangers were bringing the fight to LA and at one point, doubled up LA in the SOG department, to a tune of 10-5. If there was an underlying theme all game, it was the Rangers inability to shoot at opportune moments, with Kaapo Kakko being the biggest offender. You even had Joe Micheletti saying, "SHOOT KAKKO, SHOOT!" For older Ranger fans, Kakko has become a Barry Beck throwback, here during this 2019-2020 season.
And as mentioned on previous blogs, I don't know if the word "intimidated" is the best word, but I think Kakko wants to be a team player with his new jacked-up linemates, in Panarin and Zibanejad. When Kakko was with Lemieux and Howden, he could be the star and be selfish. While Kakko did log 8 shots on net tonight (doubling up Panarin, who had four shots in this game, who finished second on the team in shots on goal) there were many times where Kakko opted to pass than shoot. It drove not only Joe Micheletti up a wall, but Ranger fans too. That said, Kakko did have 8 shots tonight.
Oh, and going into this game, the Kings were on a four game losing streak. Lundqvist was just what the doctor ordered for LA. Then again, for Kings fans, they may want to tank this season.
And one more "oh" here – The Kings have made Ilya Kovalchuk a healthy scratch for the 15th straight game in a row. In other words, the Kings are doing what I suggested the Rangers do with Lundqvist. The Kings are putting Kovalchuk and his $6M in the press box every night, hoping that he may waive and accept a trade. The Rangers have the money to bring up Igor Shestyorkin, without worrying about the salary cap. If the Rangers had any balls, they would put Lundqvist and his $8.5M cap hit in the press-box and just play Igor & Georgiev. That's how you get Lundqvist to waive his NMC – by taking away his playing time.
If Vegas took odds on who got the first shot in a game, you would clean up this season by betting on the Rangers opponent. 11 seconds into this game, LA recorded a SOG. While it was a simple one, it was a good attempt at trying to catch Lundqvist off-guard.
After this shot, Kakko would get the puck, after a brutal turnover by LA. Kakko didn't shoot. Micheletti went off here about Kakko's refusal to shoot. Seriously, with all the sponsors the Rangers have, they need to get the NRA in here. We need more shooting! (Chris Kreider would say the Rangers need to shoot more too, in the post-game.)
Lundqvist, despite what looks to be a stellar box score, was bailed out a lot in this game. After coming out way too much, Lundqvist gave up a bad rebound and Toffoli almost put the Kings up 1-0 here. Instead, Adam Fox made the save, with the net vacated, by sticking out his skate. Crisis averted. As the game progressed, LA would hit the iron four times too. Now I'm not saying that's 5 LA goals here, but you get my point.
4:32 into the first period, Buchnevich drew Matt Luff for high-sticking. On the Rangers PP, the Rangers peppered Quick for five shots, with all of these shots being of the "high quality" variety. Quick just stopped everything. As I said at the time, if the Rangers lost this game, you could go back to this power-play. The PP was good, but it did everything but score. What made matters worse, is that LA's PK was the 29th ranked PK in the league. In other words, the Rangers really needed to finish here.
With about 8 minutes played, the Rangers were winning the face-off stat, by a tally of 7-0. I only know this, because Sam Rosen said it. Of course, Rosen jinxed it, as LA won the next face-off.
At the 11 minute mark, Jesper Fast had a great look, but once again, Quick denied all Ranger chances.
As the game continued, the Rangers took control and were coming at Quick. Quick made all the big saves. The Rangers also bailed Quick out, as they didn't shoot enough, and when they did, they waited too long to fire off a shot.
While I don't want to complain about the refs tonight, the refs missed three calls against the Kings in this game, with the first missed infraction coming in this period, after Clifford boarded TDA. No call.
In a great scoring chance,  TDA would then set up Kreider at Quick's door-step. The Kings blocked the shot.
With the Rangers dominating the period, my prediction came true, as with 10 seconds left in the period, Lundqvist was beat by Dustin Brown:
Dustin Brown takes advantage of a sprawling Henrik Lundqvist to give the LA Kings a 1-0 lead 👑#GoKingsGo pic.twitter.com/BKbfNAjmpi

— LA Kings (@LAKings) December 11, 2019
This was horrendous.  Yes, the Kings were bringing some offense, in their only real true threat of the first period, but once again, Lundqvist is rolling around all over the place, as if he's doing a "STOP, DROP AND ROLL" fire drill from the first grade. If he stayed upright, like Georgiev always does, this goal doesn't happen.
1-0 BAD GUYS, and that was the score once the final 10 seconds of the first period ticked off.
I don't know what you need to do, but obviously, whenever Lundqvist needs to move laterally, he doesn't do it from his skates – he does it from his belly. They need a harness on him or something.
Sam Rosen said the following, once the second period started: "The Kings have been a bad second period team and have a goal differential of -12." Once again, Rosen brought the jinx, as the Kings won this period 1-0.
This second period was the worst of the game for the Rangers, as they allowed the Kings to wake up and kick the Ranger dicks in.
Quick would stop Chytil to begin the period. Then, after that save, Buchnevich lazily turned the puck over. No benching here. After this, we had some back and forth action, with Zibanejad standing head and shoulders above everyone else. Quick would then stone Kakko from the goal mouth, as Kakko failed to elevate the puck. Kopitar would then go up the ice and would go wide with the puck. The Rangers would then get an odd-man rush, but instead of shooting, they passed to nowhere. That recaps the first five minutes of this period.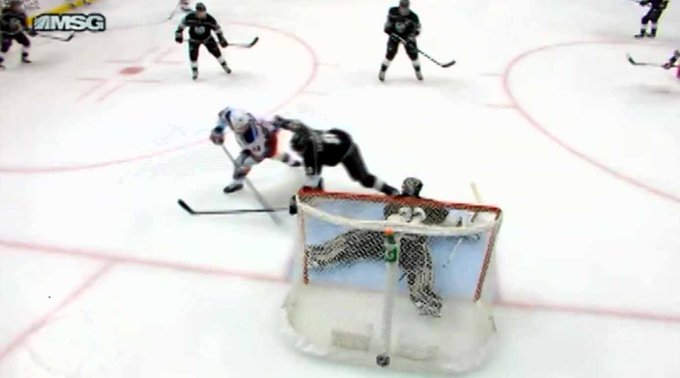 Later on, Carter would take an innocent shot at Lundqvist. Lundqvist had trouble with it, and flung the puck up in the air. As it came down, Kreider caught it and airmailed the puck into the 9th row. This put LA on a PP, 6 minutes into the period, for delay of game.
While on the PP, the Kings would hit iron for the third time in the game. The Rangers would finally get a clear, after 1:22 expired in the Kings PP.
At this time, I couldn't believe the Rangers were losing. Neither could Ron Duguay, whose new podcast drops on Thursday, with Phil Esposito and Ron Greschner:
Rangers clearly the better team!!
This game will be decided by the goal tending !!!
LGR !!!!! https://t.co/5jJyEPbiuk

— Ron Duguay (@RonDuguay10) December 11, 2019
After killing the LA PP, the Rangers would find iron themselves, after Lemieux took a drop pass from McKegg and hit the post to the right of Quick.
I said this after my last blog – if Lundqvist lost this game and/or gave up a bad goal, everyone will kick up the Georgiev vs Hank talk. As people were fighting on social media about the first goal, my buddy Greg tweeted out the following:
#NYR #PlayLikeANewYorker Rangers play nervous when the albatross is in net. It's very apparent. Netflix needs to make a 3.5 hour movie about Lundswiss and call it the "Swedishman". You'll ahve 3.5 hours to drool over your faux King. Win Win.

— Fixxser 🔥🥃🍺🏒🥅 (@Fixxser) December 11, 2019
At this point in the game, it seemed like the Rangers were okay with playing down to the level of their competition.
You know the Rangers shooting woes are really bad, when the Rangers twitter account puts out the following, during the game:
"Some times, just take the shot guys."

Mika to Panarin & Kakko, probably pic.twitter.com/1OgKKHJW3Q

— Rangers on MSG (@RangersMSGN) December 11, 2019
With under 7 minutes to go in the period, Lundqvist gave up another god-awful goal, and pretty much scored on himself again, for the third time in two weeks:
Spumoni Toffoli gets behind everyone for a tap-in goal to make it 2-0 😎#GoKingsGo pic.twitter.com/h8YgDmEve0

— LA Kings (@LAKings) December 11, 2019
2-0, bad guys.
Once again, there is Lundqvist laying on his back, like a cheap hooker who had a $20 bill tossed in her direction.
On the goal, Lundqvist misplayed the puck, the puck trickled off his yellow spine and Toffoli taps it in. THIS IS A GOAL GEORGIEV DOESN'T ALLOW.
And sadly, this was your game winning goal.
Seriously, ask yourself this – what has Lundqvist done, since receiving this horrible contract, that his back-up goalie hasn't done better? The answer – JACK SHIT MOTHER FATHER FINKER!
After this, LA would hit the iron again, while Lundqvist tried to drill his penis through the ice.
With ten seconds left in the period, a period which was dominated by the Kings, Quick would make two huge saves, including a huge left skate save on Chytil. This save, shown below, prevented the Rangers from cutting the lead in half:
— Eric (@Kingsgifs) December 11, 2019
2-0, after two periods of action.
The third period saw Joe Micheletti, once again, tee off on the Rangers for trying to find the perfect shot, rather than shooting, hoping for a goal and/or a deflection for a goal.
Quick maintained his shutout, after robbing Panarin on a backhanded shot and then on a rebound from Kakko.
The Rangers then fired one at Quick's glove and Quick made the save, something Lundqvist couldn't do in the second period.
Just as the 7 minute mark was about to approach in the period, Brendan Smith and Kurtis MacDermid had a fight. MacDermid brutalized Smith here. Previously in the game, in the second period, Brady Skjei had a fight, where he weakly took down Austin Wagner with a headlock. In other words, the Rangers didn't do well in the fight game tonight.
After the halfway mark of the third period passed, Quick would once again stop Kakko, this time, after a one-timer pass from Kreider. After this save, the usually quiet as a mouse fart LA crowd, went nuts. Leave it the Rangers to wake up LA.
As the game marched down to triple zeroes, the teams went back and forth, and this is where LA went with their 1-3-1 defense, which Micheletti predicted earlier in the game. Again, I bury Micheletti a lot on these blogs, mostly for comedic effect, but he was spot on all game tonight.
With under five minutes to go, LA got away with two penalties. Brendan Lemieux was cross-checked on his back. No call. Then, Panarin was blatantly slew-footed. No call:
What penalty? NHL refereeing at its finest. pic.twitter.com/aNo3HqrQyD

— Gideon Dabi / גידעון דבי (@gideondabi) December 11, 2019
That's two power-plays the Rangers could've had in this period. Despite the PP not scoring earlier in the game, the Rangers PP looked good. A PP goal here would've been huge here, but the refs swallowed their whistle on these two infractions. I don't get it. This shit is clear as day.
With 2:05 left in the game, and with Lundqvist already pulled, Zibanejad was tripped by Brown. That gave the Rangers a 6 x 4 attack. It also allowed the Kings to ice the puck at will.
With 30 seconds remaining, Panarin scored, to ruin Quick's no-no. 2-1, BAD GUYS.
Immediately on the next face-off, the Kings got the puck and Kempe scored the empty net goal for LA, with just 14 seconds remaining. 3-1, BAD GUYS, which was your final, here from LA-LA Land.
The Rangers lose this game 3-1.
To me, while you know I can't stand Lundqvist being on this team, regardless of that fact, it just baffles me how Quinn decided to shelf his hot hand tonight. I truly believe the Rangers win this game with Georgiev.
And no, while this loss isn't solely on Lundqvist, he didn't help the Rangers either. The second he starts doing his angry principal act, and starts screaming at his teammates, he puts the team in a weird and unwinnable dynamic. I just think the Rangers play better for Georgiev, because "he's one of the guys", whereas Lundqvist puts himself above the guys.
There's really nothing nice to say about the Rangers tonight. They threw away two points to a last place team. I know what this team is. It's going to be an up-and-down season, but that said, this is a game you gotta win.
In a weird turn of events, rather than playing the two LA based teams consecutively, in Anaheim & LA, the Rangers now travel to San Jose on Thursday, and then go back to the LA area, for a game against Anaheim on Saturday. If I'm someone in control of costs for the NHL, this seems like two extra flights, for no reason at all.
As far as this blog goes, I'll always trade sleep to watch my teams. I don't know what my work schedule is (I'm pretty sure I'm working Thursday, not sure about Friday) I'll try to come back Thursday night. If I don't, I'll do a quick recap on Friday. I will 100% be here for the Saturday afternoon game with Anaheim. Let's hope the Rangers win that game, as I got my dad and brother-in-law's birthday parties on Sunday. It's always good to go to those parties on a Rangers high note!
Goaltender-wise for Thursday against San Jose, do you really need me to write this out? GO WITH GEORGIEV!
It's now 4:00am, as I go to hit the "PUBLISH BLOG" button. I feel like I worked harder than the Rangers tonight! I think this is why BCBS fans, like the very generous Marc Grandisson, loves these blogs!
As always, thanks for reading and…
"LET'S GO RANGERS!"
Sean McCaffrey
BULLSMC@aol.com
@NYCTHEMIC on twitter