Greetings and salutations everyone and welcome to another blog here on BlueCollarBlueShirts.com!
Before starting this super-long blog tonight, let me hit the big news of tonight first. Happy 69th birthday to my dad, who I believe is reading this right now. (Cue Beavis & Butthead, "You said 69 heh-heh!") I know several of you readers have met him at games, such as Larry, Padma, Louis, Tommy and Marc. Just like you reading this, he's a huge Rangers fan. This blog however? He can take it or leave it! I kid, I kid!
And of course, let me say this too – what another glorious evening it is, here in the KINGDOM OF GEORGIEV!
Okay, okay, okay – I'm going over-the-top here. While King Georgiev was in net, during this Rangers 6-3 harpooning of the Sharks on Thursday night, in reality, this was a huge team victory for the Rangers. And really, as you'll see below, the save of the game didn't even come from Georgiev. It came from Marc Staal!
That being said, even on a night where Georgiev wasn't at his best (and really, it's hard to bury him for any of the goals allowed, as Trouba was just god-awful all game) once again, the Rangers rallied around their favorite goalie and broke through for a touchdown in San Jose.
After the win, while it wasn't exactly like the game in Montreal, where the Rangers rallied from down four goals to win the game 6-5, this game did have some minor similarities. This wasn't Georgiev's best game, but he wasn't bad or shaky, like he was in that game with Montreal. However, when things got hairy and sticky, the Rangers did not give up and just kept coming at Sharks goaltender Martin Jones. At the end of it, the Rangers were rewarded with this 6-3 win.
Seriously, while I don't want to go into my "Greatest Hits" again, all the things I've been saying for the last two years, in regards to Lundqvist vs Georgiev, once again popped up in this game. It's just the little things, such as opposing teams trying to get cute with Georgiev after Georgiev freezes the puck. The result? All five Rangers on the ice swarm the Sharks. You rarely see this with Lundqvist, as guys just skate away.
In addition, as a fan, even when things aren't looking good, you feel better with Georgiev out there in a tight game. Even when he gives up bad goals, his demeanor, of always being cool, calm and collected, allows him to shake bad shit off and forget the score. He just remains stoic and plays his game.
Unlike Henrik Lundqvist, with Georgiev in net, there's no belly flopping. There's no humping the ice. There is no crying. There is no screaming bloody murder at his teammates. There's no stick smashes or hissy fits. Even when Trouba shoves it up Georgiev's ass, as he did twice tonight, Georgiev maintains his composure and it allows the Rangers to rally in front of him. The Rangers can play their game, and they don't have to worry about getting frantic or being berated. Georgiev wants to be with this team for the long haul. He wants to be part of the team. I just feel with Lundqvist, and I know many of you feel the same, Lundqvist thinks he's above these guys. In turn, we get a game like we got with LA and then we get the game we had here with San Jose.
At this time, especially for people looking for my Georgiev vs Lundqvist greatest hits (most recent rant is in the Devils/Rangers blog) here are my most recent blogs, in case you missed them:
---
---
---
---
---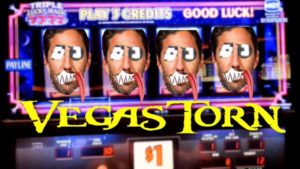 ---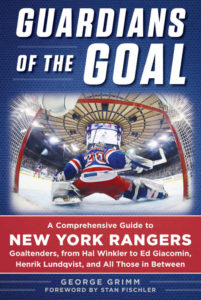 ---
Going into this game, there was a lot of Ranger news before puck drop and none of it had to do with any of the players in this game!
On Wednesday, following the loss to LA, the following news was broken by a Russian website: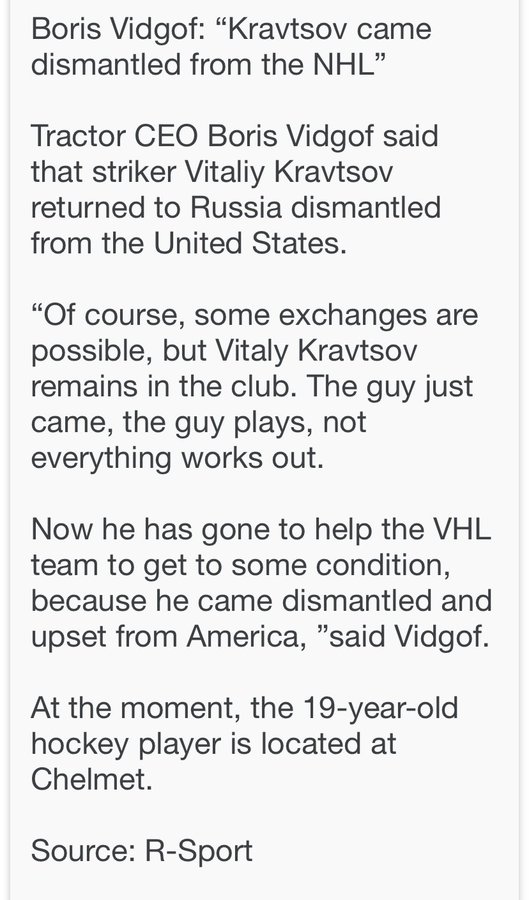 In my last blog, I talked about how Traktor, Vitali Kravtsov's team with the KHL, sent down Kravtsov to their VHL team, which is the KHL Ranger equivalent of the Hartford Wolfpack of the AHL.
After sending Kravtsov down to the VHL, the above news was broken. In short, Traktor was blaming the Rangers mishandling of Kravtsov, which led him to a "dismantled" state of mind. In my opinion, this was Traktor's way of responding to Jeff Gorton's comments in the New York Post, where he made it clear that he wasn't happy with this move.
24 hours later, on Thursday afternoon, Vitali Kravtsov, the social media whiz kid himself, posted the following on Instagram: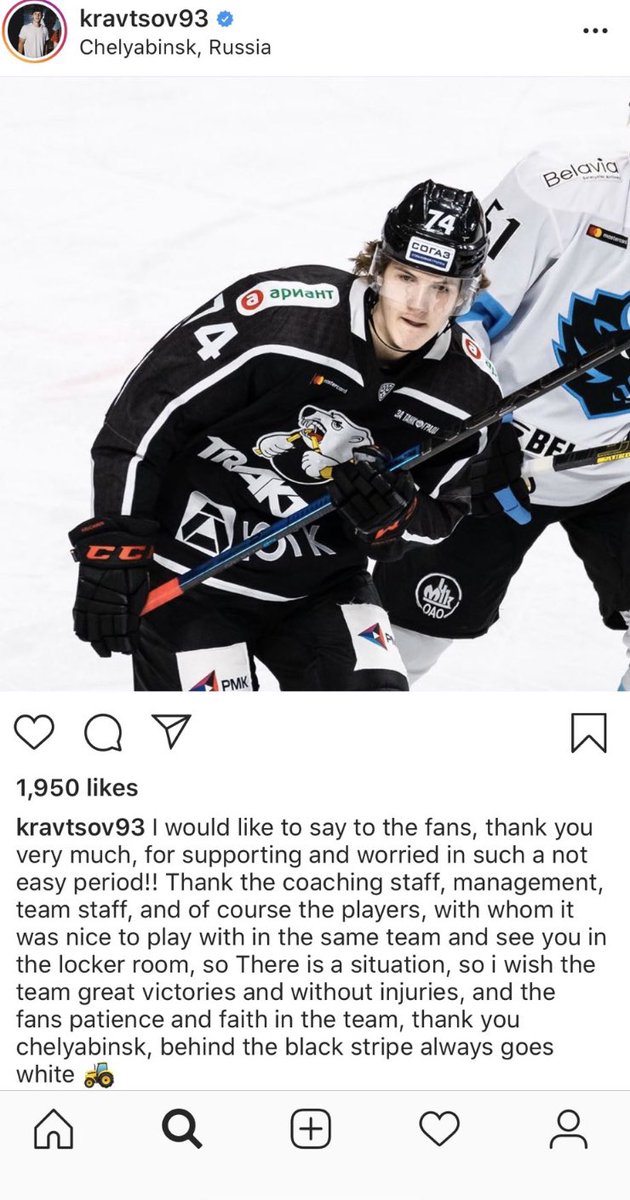 After this Instagram posting, the news was made official – Kravtsov is coming back to America, where he will presumably return to the Hartford Wolfpack.
This makes me wonder – after deleting all his Ranger related social media postings, will Kravtsov now re-upload all his pictures of himself in Rangers regalia?
When it comes to Kravtsov, I've made my opinions known already. I want him to do well. He's Ranger property after all. However, the only knock and concern I have with him, is when he deleted all his social media stuff about the Rangers. I thought that was catty and was like an ex-wife cutting out the head of her ex-husband in all of her photo albums.
What is also concerning, is that it seems when things don't go Kravtsov's way, he pouts and is willing to jump ship at the top of the hat. I could be wrong, and I hope I am, but he just doesn't seem like someone who is willing to "roll with the punches." It seems at the first sign of adversity, he's tucking tail. Again, that's my opinion as someone who is looking at this from the outside.
For Kravtsov, he gets his second shot with Hartford and with the Rangers organization. I don't know if there will be a third. For Kravtsov and for us Ranger fans, all we can hope is that Kravtsov has his head on straight and is willing to suck it up. Maybe he doesn't make the Rangers this season. However, if he can make his bones in Hartford now, maybe he makes the team on Opening Night next season.
Welcome back Kravtsov.
In another news item prior to tonight's game, Ron Duguay returned on Thursday, with the second episode of his podcast. You can find the podcast on the NY Post website or on iTunes, by looking up "Up in the Blue Seats".
I haven't hid my biases for Ron Duguay during this site's 6 year history. I'm a fan. I like him. I appreciate all the charity work he does and he does a lot of this charity work when the camera isn't always on. He's always been nice and cordial to me too. I like his takes. I usually agree with his opinions. If there was ever a perfect candidate for my "RANGERS RINK OF HONOR" idea, it's Duguay. For me personally, his podcast is going to be a must-listen for me.
In the latest episode of "Up in the Blue Seats", Duguay talks the current state of the Rangers with Larry Brooks. This was just simple back and forth conversation, that fans will like. From there, Duguay talks about his first day with the Rangers, his $100,000 signing bonus and a trip to what sounded like a Robert Kraft Asian Massage Parlor.  Just like his story about Cher, Duguay stops right when the story is about to get juicy. Draw your own conclusions. Better yet, wait for the book!
In the biggest news item of the podcast, and the reason why I'm talking about this at 2:15AM, is the fact that Duguay interviewed his buddy Ron Greschner on the episode.
You guys all know about my push to get Frank Boucher into the rafters of M$G. I'll save you all my plugs, as you can look in the archives of this site for them. I will plug the following though, and that's an interview I did with a small Ottawa based website/radio show, about Frank Boucher & my mission to see Boucher get his just due. You can find my interview here:
https://www.mykemptvillenow.com/36610/local-family-blogger-pushing-for-rangers-to-honour-frank-bouchers-jersey/
And maybe Frankie Baird would be a good guest for Duguay's show? Hmmm!
In Duguay's interview with Grescher, the two friends have a friendly chat about the current Rangers and their days with the team.
In the closing moments of the interview, Duguay brings up how fans would like to see Greschner's #4 jersey in the rafters of M$G. In response, Greschner said that he would love the honor, but wants it now (or in the near future) while his mother is still alive. Greschner said if the Rangers ever honor him, if it happened after his elderly mother passed, then he wouldn't be interested.
As Duguay said on his podcast and as many NHLers say, if it weren't for the parents of these players, these players would have never made the NHL. Being a parent of a hockey player is no easy task, as it is expensive and more time consuming than any other sport. The travel alone, will eat up the best cars around.
I've talked about this topic to death on these blogs, so again, just refer to the archives or read my previous works. The Rangers are the worst team in hockey and of all the New York sports franchises, when it comes to honoring their past. Deceased players, like Frank Boucher, Bill Cook, Bun Cook, Ivan Johnson, Dave Kerr, Bryan Hextall, Lester Patrick (GM/HC) and Chuck Rayner, and their contributions, have all been swept under the rug. These guys are forgotten and these men and their family members, have received a big FU by the Rangers.
There are two men alive today, that deserve to be honored and have a banner, in the rafters, out of respect by the Rangers. Those guys are Emile "The Cat" Francis and Ron Greschner. When it comes to Francis, I don't know what the Rangers are waiting for. He's 93 years old. Are they waiting for him to die to remember him?
When it comes to Greschner, who turns 65 years old next week, he still has a strong allegiance to the organization. He's at charity events. He works with the alumni. He does meet and greets on behalf of the franchise. On top of that, he was a great career-long Ranger.
When you think of the best defensemen in NY Ranger history, the top two names are Brian Leetch and Brad Park. However, Park spent more years elsewhere, than he did in NY. Truth be told, he would have much more individual hardware, if it wasn't for Bobby Orr.
Below Leetch & Park, you have Ivan Johnson, who the Rangers will never honor. They don't even know who he is. SAD!
Depending on how you see things, and only if you discredit Park because lack of tenure, you can argue that Greschner was the second best defenseman in Rangers history. At the very worst, he's the fourth best defenseman in franchise history.
For someone who gave the best years of his life to the Rangers, and for someone who has strong ties to the team today, I don't get why the Rangers ignore Greschner in the modern day. I'm hoping that if the Rangers hear Duguay's podcast, they do the right thing and put #4 in the rafters.
In fact, I would love to see the Rangers have a "WE FATHER FINKED IT UP" night, and just honor the names I mentioned before, and then honor The Cat & Greschner. Yea, that's a lot of fabric to come up with, but the Rangers really need to get that #4 jersey up there, while Greschner's mother is alive. They also need to honor the Cat too, while he's still alive as well. Waiting on either of these moments, is a huge slap in the face to these guys, and a true travesty of justice.
NEXT (and our final news item!)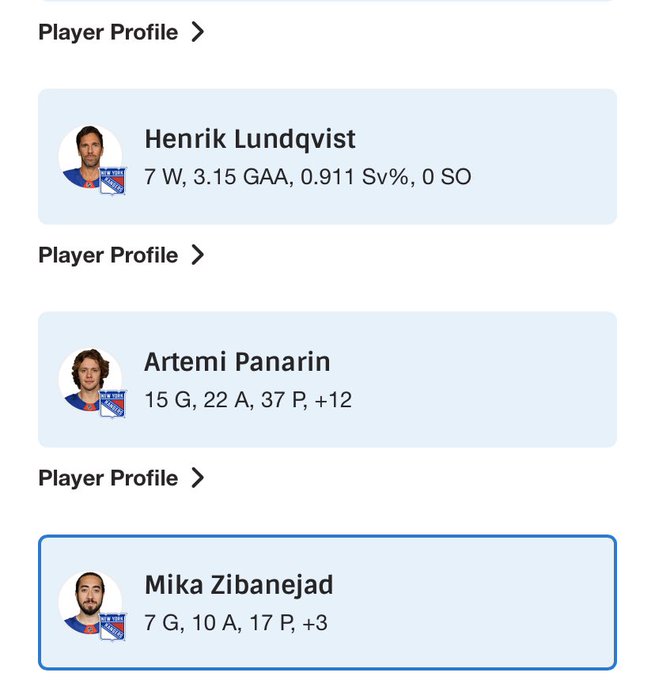 On Thursday, NHL.com opened their polls to NHL All Star Game voting. The NHL site allows you to vote on one of the three Rangers – Panarin, Zibanejad and of course, Lundqvist.
This just shows you what a farce the NHL All Star voting is. Alexandar Georgiev has better stats than Lundqvist, in every statistical category that matters, but he's not an option. The only way you can vote for him, is if you choose to write him in.
I don't know what's worse – the fact that Lundqvist and Subban, two players past their prime, are both eligible to be voted on.
For the record, I voted for Panarin. I can't see how he's not at the ASG this year, unless the Cult of Lundswiss stuffs the ballot box.
GAMBLING SEGMENT TIME!
Here's what I said before the game:
Season over/under record: 16-14

Tough one tonight. SJS have scored 2 or less goals in last 5. Do they explode & play up for a new coaching staff or do they continue to sink in despair?#NYR basically was shutout last game. No goalies announced yet. I think UNDER regardless. pic.twitter.com/8qDRRif1sa

— BlueCollarBlueShirts (@NYCTheMiC) December 12, 2019
The Rangers nearly hit the damn over all by themselves. My record drops to 16-15, but I'm not mad. I'll take a loss every game if that means the Rangers are going to score a touchdown!
While I didn't mention it in the above tweet, the Rangers went off at +140 before the game. Not shabby, especially for people who hammered the Rangers at +1.5!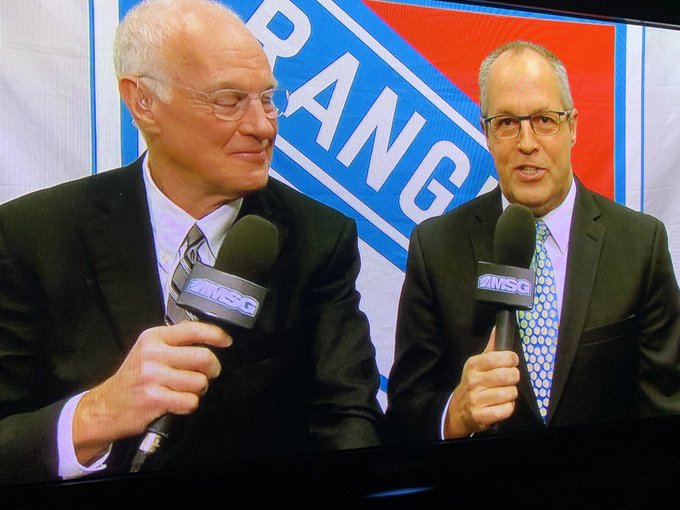 It's almost 2:45am as I write these words and I'm already 3000 words in, without getting to the review section of the blog. However, you know the motto here at BCBS – 10,000 words, no ads, one click. I could've broken up this blog into sections tonight, but once I get rolling, it's just easier to write everything all at once, and hope that you guys get through it all eventually!
I thought tonight's game was the best game the MSG Networks has done this season. Maloney is the best hockey guy under the M$G umbrella and provides insight and analysis that no other person on this staff can provide. The man lives hockey, as he watches every NHL game possible.
Maloney and Giannone did a bang-up job once again, just like they did in the LA game.
Without Steve Valiquette and his meaningless stats and Bill Pidto hawking Subway sandwiches all pregame show, the M$G Networks provided us with a cool segment about the Rangers equipment manager and his staff. It was something different and interesting. The biggest takeaway? The fact that the Rangers order all their sticks from China. I was shocked about that. I figured they got sticks, at bulk prices, from Canada. Instead, they pay face value for expensive sticks made in China. I would've never guessed that.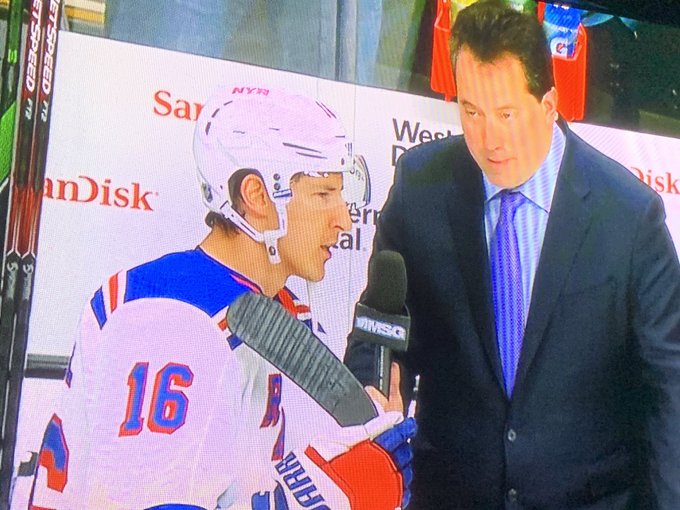 Once again, I thought Sam Rosen and Joe Micheletti were on-point tonight, especially in a one Joe Micheletti. I know these last few blogs sound like the "Twilight Zone", as my buddy Eddie S. pointed out to me, but I call it as it is. Micheletti was great again tonight.
Micheletti was spot-on with his real-time analysis and fawned praise on every player on this team accordingly. Micheletti also was solid with breaking down plays, calling out what led to goals and his eye was extremely sharp. For instance, on the first goal the Sharks scored, it looked like a soft goal allowed by Georgiev. That's the route Sam was going down. Micheletti corrected him, without the benefit of replay, and said that Fox got a piece of the puck. While I have made fun of Micheletti and his phantom deflections before, he called this play out accurately.
If I were the M$G Networks, if you're looking to cut payroll and make a profit, I would can the studio shit and just let Giannone and Maloney do the pregame/intermission/post-game stuff, live on location. This was a great broadcast tonight and I wanted to give these guys some burn and credit.
Plus, the best thing about not having the guys in the studio? No fake laughter during that bullshit Bud Light Blueshirt Bar segment, where you got three jackasses at a bar not drinking!
We're almost at the game review, I promise!
Prior to tonight's game, Brendan Lemieux was ruled out, after being dinged up in the game with LA. As a result, we had the following lines:
FIRST LINE: Kreider/Zibanejad/Buchnevich
SECOND LINE: Panarin/Strome/Kakko
THIRD LINE: McKegg/Chytil/Fast
FOURTH LINE: Haley/Howden/Smith
Defensively, everything stayed the same. As mentioned, Georgiev replaced Lundswiss in net.

Real quick here, before going into the review section of the blog, Panarin & Strome stood out more than anyone tonight. Chytil was also a major stud and the star of his line. The fourth line was kind of a mess, with only Smith playing well, at least in my opinion. And last but not least, the first line, while Zibanejad was a beast tonight, Kreider continued to hurt his trade value and money that he will get over the summer. Woof.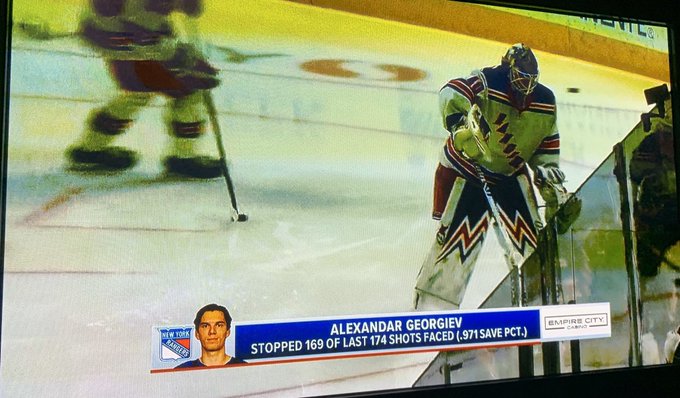 Finally, ESPN.com box score time:
SCORING SUMMARY: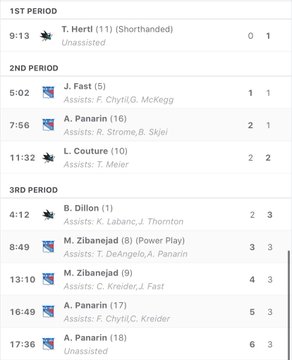 PENALTIES: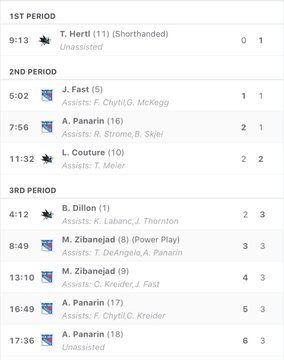 GOALIES:
| | | | | | | | | | | |
| --- | --- | --- | --- | --- | --- | --- | --- | --- | --- | --- |
| SA | GA | SV | SV% | ESSV | PPSV | SHSV | SOSA | SOS | TOI | PIM |
| 18 | 3 | 15 | .833 | 14 | 0 | 1 | 0 | 0 | 60:00 | 0 |
| | | | | | | | | | | |
| --- | --- | --- | --- | --- | --- | --- | --- | --- | --- | --- |
| SA | GA | SV | SV% | ESSV | PPSV | SHSV | SOSA | SOS | TOI | PIM |
| 29 | 5 | 24 | .828 | 19 | 0 | 5 | 0 | 0 | 59:41 | 0 |
Going into this game, like Joe Micheletti said on the broadcast, I didn't know what to expect out of the Sharks. I didn't think they'd score much, as in their last five games, they had goal totals of two or under. In fact, in their last five games, the Sharks only put one goal on board, on three separate occasions.
I was kind of shocked to hear that Peter Deboer was fired by the Sharks on Wednesday. After all, even if it was fugazi how his team made the WCF last season (that bullshit game 7 major penalty against VGK led to their first round victory) they did make the WCF. They also had a SCF appearance during Deboer's tenure. In addition, who out there is better?
I said this in my NHL season preview blog – I thought the Sharks were too old and did nothing to bolster their team. I'm also of the opinion that in this new cap era, one you make the SCF and if you lose it (NYR, TBL, NSH, SJS, etc) you need to make moves to get back there. In this cap era, we haven't seen one losing Stanley Cup Finalist return to the SCF. I thought the lack of activity during the off-season hurt the Sharks. All they did was lose Joe Pavelski. They then added Patrick Marleau a few weeks into the season, which seemed like a pity hire more than anything else.
I just don't know why Deboer had to fall on the sword here. In either event, that's their problem and not the Rangers problem. Replacing Deboer is Bill Boughner, who survived the ax after the Sharks basically wiped out their entire coaching staff.
Very often, when a team makes a coaching change, teams respond. The Sharks kind of did that tonight, but once again, they would get hammered in the third period. After all, look at this stat, that was aired by the M$G Networks, right before the third period started: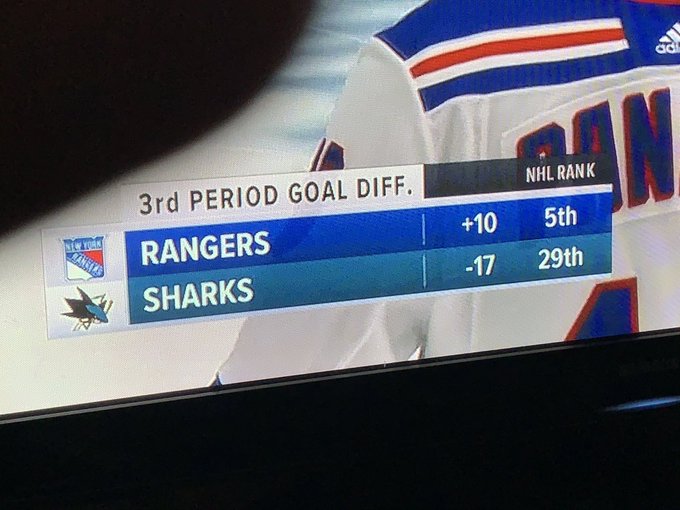 You know me. I don't buy the advanced stats and all that ANALytic foo-foo. That said, up until the final five or so minutes of this game, if you didn't know the score, you would think the Sharks were winning. The Sharks dominated at the dot. They out-hit the Rangers. They even blocked more shots. Then you had Jacob Trouba out there for the Rangers, who once again, and I've said this plenty of times on this site – when Trouba messes up, it really stands out. Guys can make mistakes. It happens. However, whenever Trouba makes a mistake, it's like a pimple on your nose on prom night. It's just glaring.
The Sharks would win the opening faceoff and TDA would make a nice clear. However, Kreider tipped the puck up too far and this resulted in an icing. Kreider, who you did notice in this game, had one of those "SCALE" games.
This is going to be a reference that many of you won't get, but let me try:
In a late 1990's episode, of the critically acclaimed, "Boy Meets World", Shawn Hunter & Corey Matthews pulled out a scale and some jelly beans, to decide Corey's love interest. Would Corey go back to Topanga, or would he go with the sultry siren known as Lauren?
To decide this pressing matter of the heart, Corey and Shawn used jelly beans, on behalf of each woman. In 2019, liberals would call this sexist, woman hating and would call for "Boy Meets World" to be "Boy Pulled off The Air".
For every positive thing about Topanga, the best friends from Philly would put a jelly bean on one side of the scale. They would then do the same thing with Lauren.
When watching this game, I think you could've done the same thing with Kreider. He did a good thing. Give him a jelly bean on the GOOD SIDE of the Kreider scale. Kreider then loused up his good thing. Put a jelly bean on the BAD side of the Kreider scale.
In other words, for every good thing Kreider did tonight, he immediately poo-pooed on the ensuing play.
Oh, and for those wanting to know how the Topanga vs Lauren debate ended, it was with Corey Matthews putting the whole bag of jelly beans on the Topanga side. When it comes to re-signing and keeping Kreider, I would throw all the jelly beans on the TRADE KREIDER side.
And I have heard people suggest, such as Larry Brooks of the NYP, that a Kreider to Islanders trade could help both teams. While I don't see that ever happening, I do think Kreider would have monster numbers under Barry Trotz. After all, Trotz has made chicken salad out of every chicken shit player the Islanders have given him.
(I also want to mention that it's 3am and I just did a bit like this. Share the blog with your friends!)
Marc Staal was a hockey's player hockey player tonight, and you'll soon see why. Before his save of the game, Staal made a one-handed pass to DeAngelo. Who said Staal had no hands?
Just like Jonathan Quick in LA, the first half of this game saw Martin Jones flashback to his prime. He was stopping everything. The Sharks also played well defensively, and broke up a Buchnevich/Zibanejad attempted one-timer here.
Chytil also stood out for the Rangers all game and that was before he scored in the contest. He was forcing turnovers and would be a one man machine going up ice.
In a hairy moment, and this is what I'm talking about, Kreider got the puck from behind the boards and nearly skated the puck past Georgiev's left skate. Why in the hell would Kreider skate in this direction, and so close to Georgiev, when he had plenty of open ice? I have no answer.
At the 7:24 mark of the first period, San Jose would take a penalty for too many men on the ice. The Sharks number one PK unit in the league would make the Rangers pay:
Our favorite way to kill a penalty :-)) @TomasHertl48 | #StealthMode pic.twitter.com/jdI2ZJ6Cg9

— San Jose Sharks (@SanJoseSharks) December 13, 2019
1-0 BAD GUYS, at 9:13 of the first period.
On the goal, Trouba turns the puck over, this leads to a Sharks 2 vs 1 and Fox helped deflect the puck past Georgiev.
Of note here, LIVE, on social media, I saw people getting on Georgiev for this goal. This is kind of good and bad. The good is that fans expect Georgiev to stop everything. It's like they expect a shutout in every game now. That means Georgiev has raised the bar. The bad thing? These same people all missed a deflection, a deflection that people would've killed Fox for, had Lundqvist been in net. To me, this was an unfortunate goal. We're just so used to seeing Georgiev stop everything now.
The worst part about this? Prior to this goal, TDA made a beautiful two line pass off the boards, to set up Kreider. Jones made the save. Then right before the Trouba turnover which led to the Hertl goal, Jones stopped Zibanejad point-blank, right from the goal mouth.
After the Sharks goal, Kaapo Kakko had an AV trademarked "GOOD LOOK", as he was all alone with Jones. Kakko shot wide. In fact, Kakko, after logging 8 shots last game and being actively involved all game against LA, was kind of a non-factor tonight. I know the modus-operandi is to bow down to everything this kid does, and even Micheletti, who I thought was good tonight, was doing a bit of that in this game. However, I thought Kakko was virtually invisible tonight, aside from taking a bad penalty, late into the third period.
The Rangers, who didn't dominate the puck in the first half of the period, started to catch some breaks, but Jones, who did look shaky, was making the saves. With 4:17 remaining in the period, Skjei, who has to lead the team in penalties this season, took a dumb tripping call. This then led to the first Sharks PP of the game. It also led to the save of the game:
Great play by Marc Staal to keep the puck from crossing the goal line!! 👀 #NYR pic.twitter.com/hjZgAirboM

— Rangers on MSG (@RangersMSGN) December 13, 2019
MARC STAAL- SAVE OF THE GAME!
Couple of things here. If Lundqvist was in net, he would've scored on himself here, because he plays too deep. On this play, Georgiev really owes Staal a steak dinner after this!
Staal cleared the puck twice off the goal line, and really, the Sharks couldn't have come any closer to scoring here. If Staal doesn't make this play, it's 2-0 and the Shark Tank is all riled up. Instead, Staal makes two saves here, clears the puck and all is right in the world again. What a freaking play, and really, despite Panarin's hat trick, this was the play of the game in my eyes, especially considering when it happened in the game.
The Rangers would eventually kill the Sharks PP and would then get a PP of their own, with 1:39 remaining in the first, after a Sharks delay of game.
In my jelly bean Kreider reference from earlier, Kreider would get the puck on the PP and charge right to Jones. For some reason, he stopped. It was like driving at 90MPH on an open road, and then considering the fact that a cop could be hiding out somewhere, so you slow down. Instead of continuing his drive at Jones, Kreider stopped, waited for the Sharks defense to catch up and then took a weak as Father Fink shot. Easy save for Jones.
The period would then end, with the Rangers holding onto 21 seconds of PP time. 1-0 BAD GUYS.
Of note, during the intermission here, M$G Networks ran a great segment on a miked up David Quinn during practice. I would pay $5 a game, for a miked up David Quinn, DURING a game!
As the second period commenced, the Sharks would kill the final 21 seconds of the NYR PP.
Five minutes into the period, Filip Chytil pulled off some FUNKY LIKE A MONKEY with some SWAGGER AND DAGGER action, as he showed off the hands and set up Jesper Fast, in what I thought was the best goal of this 9 total goals game:
That move & that pass from Chytil is giving me the chills#NYR | @NYRangers pic.twitter.com/B1Cmnos4HD

— Rangers on MSG (@RangersMSGN) December 13, 2019
Folks, I'm an atheist, but if you're of the religious type, pray to God that Hartford works for Kravtsov as it did for Chytil.
1-1.
Of course, right after this play, Micheal Haley made a terrible turnover. This allowed a Shark (I forget who off the top of my head) to get a one-on-one chance with Georgiev, all alone. Thankfully, this Shark airmailed the puck. Crisis averted.
Three minutes after Chytil's goal, Ryan Strome, you know, the player all these chart nerds and Steve Valiquette hates, set up Panarin with a beautiful pass. 2-1 GOOD GUYS. Nothing Jones could do here, just like how he couldn't do anything with Fast's shot.
On this goal, Strome continues to shine while playing with Panarin. ISN'T IT AMAZING SUZYN, how Strome has played with John Tavares and Connor McDavid, yet is having a career resurgence, while playing with Panarin? Keep these two together! (And yes, this is my daily rant about re-signing STROME, LEMIEUX and DEANGELO here!)
At the half-way mark of the period, Marc Staal wasn't done giving it his all for Georgiev. Staal would eat a huge shot during a shot-blocking attempt. Staal crumpled to the ice and would have to be helped back to the bench. During a commercial break, Staal skated around and didn't even miss a shift. HOCKEY PLAYER. LEADER. TEAM PLAYER. WARRIOR.
Of note, at this time, I tweeted out the following, "Sharks have applied a lot of pressure in this game and not once has Georgiev been on his belly, cried or flopped around like a fish out of water."
Of course, right after tweeting this, at the 11:32 mark, Logan Couture scored. Jinx. 2-2.
On the goal, Trouba turned the puck over senselessly and CAPTAIN HAPPY just watched:
Wait for it… Waaaait for it… @Logancouture | #StealthMode pic.twitter.com/SQLd4iNLba

— San Jose Sharks (@SanJoseSharks) December 13, 2019
The worst thing about this goal? This wasn't even Trouba's worst error of the game. And really, I get that the other team is paid to play hockey too. It just goes back to when Trouba Father Finks up, he really Father Finks up. More on Trouba to come.
After the Sharks hit a cross bar, Staal was still skating, while all gimpy and limpy. I get that he wants to play and he would eventually get back to his form of normal, but if the Sharks scored here, I think you'd have to question Quinn for putting a guy on ice that was hurting badly.
Chytil would then set-up Fast again. This play was broken up, but Chytil continued to motor, as he did all game.
Eventually the period came to a close, with the game tied at 2-2. This was when Rosen started talking about how much the Sharks sucked in the third period this season and when I felt that Rosen was just asking for a jinx!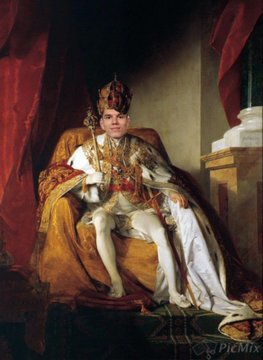 This is what I said before the third period started:
Winnable game for the Rangers here. I feel better with Georgiev in net. Can't expect a shutout every game and while this isn't one of his best, he's able to forget goals allowed better than Hank does. #nyr #PlayLikeANewYorker

— BlueCollarBlueShirts (@NYCTheMiC) December 13, 2019
I say this, because in a tight and tied game here, never did I waver. I thought the Rangers would win, even if Trouba did his damndest to lose this game.
After Georgiev got bailed out by the iron, after a huge shot from Erik Karlsson, Brenden Dillon made the game 3-2 BAD GUYS, after this play:
"He had enough time to do a hair toss, check his nails, and say baby how you feeling."

What a call, @sharkvoice 😂 @BDillon04 | #StealthMode pic.twitter.com/1J08ebfQOp

— San Jose Sharks (@SanJoseSharks) December 13, 2019
What in the world is Trouba doing here?
What Trouba did here would've made Dan Girardi throw up. In fact, if John Tortorella was still coaching this team, Tortorella would've bitchslapped Trouba, here in San Jose, right across the Pacific Ocean. Trouba would've landed ass up in some sushi bar in Japan.
With the Sharks marching up the ice in a tied game, Trouba pulled out the red flag and did the El Matador defense. Trouba might as well held up a white flag too, as he just gave up. Instead of blocking the shot, Trouba went limp and ran away from the puck, as if it had HIV blood all over it. Talk about leaving your goalie out to dry. What Trouba did here was inexcusable. He may as well have pantsed Georgiev and pull a Jerry Sandusky on him.
How Trouba could do this, especially after playing so bad all game and watching what Marc Staal was doing, was out-right disgraceful. Quinn should've stapled him on the bench after this. I get that blocking shots hurt, but pain is only temporary. And again – LOOK AT WHAT MARC STAAL WAS DOING. Staal is basically a one-eyed Cyclops, held together by duct tape and gum, and Staal is jumping in front of pucks. Instead, Trouba just gave the middle-finger to Georgiev and this team, by running away.
I'm sorry, and really, don't take this as me burying and writing off Trouba, as I want him to do well, but this was an act of cowardice to me.
Fortunately, there were still over 13 minutes left in this game. The Rangers would take advantage of that fact.
After Trouba's fear of blocking a shot, Kreider would draw Barclay Goodrow for tripping.
On the Rangers power-play, Panarin (four point game) would show off his patience. He outskated the Sharks PK, found Tony DeMAGAngelo and TDA would find Zibanejad for the picture perfect PPG:
Way to set up in front of the net Kreids! #LGR #NYR pic.twitter.com/9zFxvyJi9g

— Rangers on MSG (@RangersMSGN) December 13, 2019
3-3 game, with just over 11 minutes left to play.
Of note here, give Kreider a good jelly bean here. As I talked about in past blogs, Ron Duguay has been calling out Kreider to screen the goalie on the PP. That's what happened here. This was TEAM-WIDE PPG!
After this, the Sharks tried to get silly with Georgiev, after Georgiev froze the puck. This is when every Ranger on the ice swarmed the Sharks. Tony DeAngelo wanted some here too. Do I have to say it again? This team plays better for Georgiev.
With 6:50 left in the game, Zibanejad would break the tie and score the eventual game winning goal:
Zibanejad's winner! pic.twitter.com/USKzIkkj82

— Rangers on MSG (@RangersMSGN) December 13, 2019
4-3, GOOD GUYS!
Kreider and Fast get assists on this goal, but let's make this clear – this goal was all Mika Zibanejad.
Prior to the puck crossing the goal line, Zibanejad was hooked, held and tripped. No call. Then, Zibanejad tried to set up Fast. Fast then fanned a one-timer. However, Zibanejad stayed with the play and fired off the puck, as Fast was screening Jones. (I thought Fast may have tipped it in live, but it was just a screen.) This was the work of a determined HOCKEY PLAYER and Zibanejad pulled his team here. I still love the Chytil to Fast goal, but this was just a great individual effort.
Right after this, Kakko would be called for tripping. Bad penalty to take here. Fortunately, the Rangers really stood up here, with Strome, Smith, Staal and Zibanejad looking amazing on the NYR PK.
After killing the Sharks PP, Panarin would go five-hole on Jones. OO-FA for Martin Jones here:
We've seen enough, @artemiypanarin is the BEST PLAYER IN THE NHL!

All 3️⃣ goals of his 1st hat trick with the @NYRangers👇 pic.twitter.com/az3KlqnBzc

— Rangers on MSG (@RangersMSGN) December 13, 2019
5-3, GOOD GUYS, with under four minutes left in regulation.
With under 2:50 left to play, the Sharks pulled Jones. Panarin wasn't Father Finkin' around here.  Just seconds into the Sharks pulling Jones, Panarin scored the empty netter, giving him the hat trick and the Rangers the 6-3 GOOD GUYS lead.
The two teams would skate out the remainder of regulation, and as we hit triple zeroes, it was Rangers a touchdown, the Sharks a field goal. TWO HUGE POINTS FOR YOUR NEW YORK RANGERS!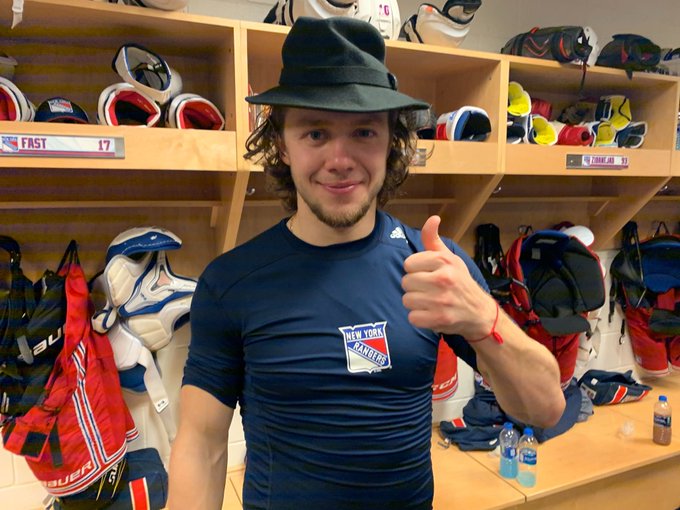 With tonight's huge win, the Rangers are now four points out of a playoff spot & with games in hand. In other words, they are alive and have as good of a chance as anyone to qualify.
You know my take on the goalie situation already. Ride Georgiev and do this: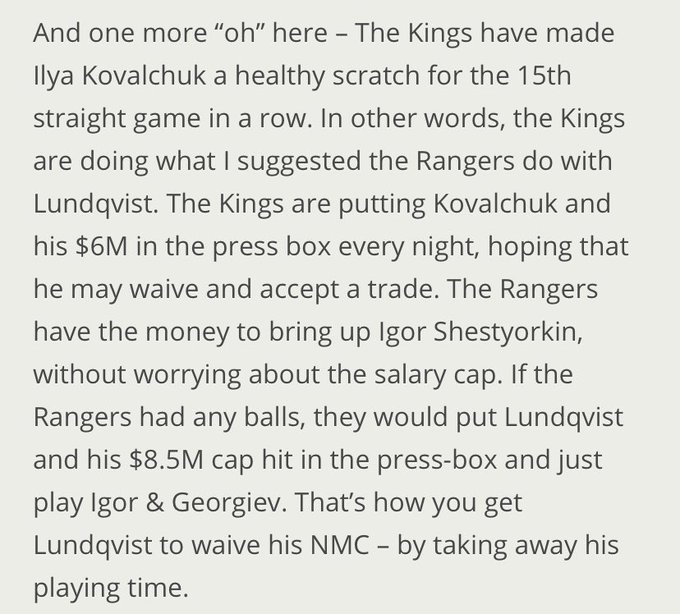 This game was an example of what I've been preaching since the 2014-2015 season on this site – YOU NEED AN ELITE FORWARD TO WIN A CUP. The Rangers have that in Panarin. While Panarin's success for the Rangers in the playoffs is yet to be determined, who in their right mind would bet against this guy? He is ELITE. He makes his linemates even better. If Ryan Strome gets the biggest contract of his life next summer, because of his point production, he should take Panarin to the best steakhouse in the country. He should even splurge for the lobster tails on top of that steak! (Just don't load up on the bread. After all, Panarin has plenty of that!)
The Rangers are nearly 40% done with this season, having played 31 games. We've seen a big sample size now. For anyone who doubts me, please take a look at the games where Georgiev starts, as opposed to the games where Lundqvist starts. The team is freaking night and day. Sure, the defense can be shoddy and the team can be mediocre, but whenever Georgiev is in that net, that team does not give up. Georgiev gives this team the best chance to win. And really, don't look at my blogs, look at the player reactions after games this season. The team is jacked to the gills after a win with Georgiev in net.
While Georgiev, no question, didn't have his best game of the season tonight, he fought. Maybe he was cooled down a bit, when Quinn erroneously went with Lundqvist against LA.
On this West Coast road trip, I think the Rangers would've been happy with four points and splitting the games. Instead, they are now 2-1 and perhaps have a house money game with the second-from-last-place Ducks on Saturday afternoon.
Doesn't it stand out to anyone else, that Georgiev is 2-0 against the best teams on this trip, while Lundqvist lost to last place LA? If Quinn wants to make the playoffs, ride Georgiev on Saturday. Get those two points against Anaheim. Do what's best for the TEAM and not what's best for an ornery egomaniac.
The Rangers return Saturday afternoon against the Ducks, with a 4PM EST start time. I'll be back then. And I hope it's another win, because it's now 4:30AM as I proofread this blog. I'm not even worried about the time. Games like this, the time flies by when I'm writing. Games like this is why I started this blog in the first place – to spew my joy when the Rangers win. And this was a huge win, especially considering the circumstances.
See ya Saturday.
Once again, Happy Birthday BILL THE PAINTER! See ya Sunday.
As always, thanks for reading and…
"LET'S GO RANGERS!"
Sean McCaffrey
BULLSMC@aol.com
@NYCTHEMIC on tweeter