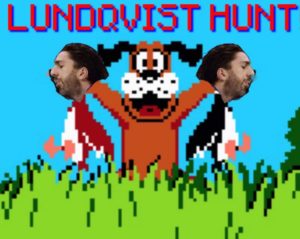 Greetings and salutations everyone and welcome to another blog here on BlueCollarBlueShirts.com. As opposed to the last two blogs I wrote, it's nice to start this blog at 7:30PM, rather than at 2AM!
On Saturday afternoon, with a local puck drop time of 1PM, the Rangers played their fourth and final game of their west coast road-trip. Despite grabbing a quick 2-0 lead and having a one goal lead with less than three minutes left in regulation, the Rangers found a way to lose this game, losing 4-3 after a shoot-out.
In case you missed my previous blogs of this left coast road trip, you can find those blogs, and all my recent blogs, below:
---
---
---
---
---
---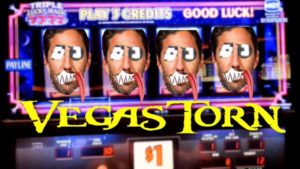 ---
During this road-trip, we saw Alexandar Georgiev play the two toughest teams of the four teams on the schedule. On Sunday, he shut-out a team with Cup aspirations, in the Vegas Golden Knights. Do I need to mention again how Vegas is the toughest arena to play in, in the entire league?
David Quinn, wanting to get Lundqvist "into a rhythm", decided to cool off Georgiev after the win over Vegas.
If you recall, a week prior to this, Quinn sat down Georgiev after his shut-out with the Devils. Quinn then went with Lundqvist in the next game. In that next game, ironically, against Vegas (the team, that you know, Georgiev shut out on the road) the VGK beat the Rangers and put four goals past Lundqvist.
Going back to this trip, after cooling Georgiev off after his shutout, for no explainable reason, Quinn went with Lundqvist against the last place LA Kings. Behind Lundqvist's belly flopping, crying, temper tantrums, franticness and perpetual state of panic, the Rangers lost. What should've been a "Gimmie Game", wound up being anything but.
In the Rangers next game, Quinn went with Georgiev against the San Jose Sharks, fresh off of firing their head coach, in Peter Deboer. Georgiev won that game and protected the Rangers lead.
Despite David Quinn saying 908677788 times how he "wants to ride the hot hand", "wants to make the playoffs" and "wants to get a winning streak going", once again David Quinn shelved Georgiev in a game against weaker competition. In Saturday's matinee with the second-to-last-place Anaheim Ducks, Lundqvist was once again on the losing end, and he has nobody to blame but himself.
I know this is a tired topic, but every Lundqvist start is a black eye to this rebuild. Games like this will just keep the fire burning. You have Georgiev, 15 years younger and $8M cheaper, out-playing Lundqvist every night. He also has better stats in every statistical category that matters, such as wins, GAA and save percentage.
In what world would you pay $8M more for an aged-out and broken down product? Only the Rangers do this.
One last time folks, this is how you get Lundqvist out of here: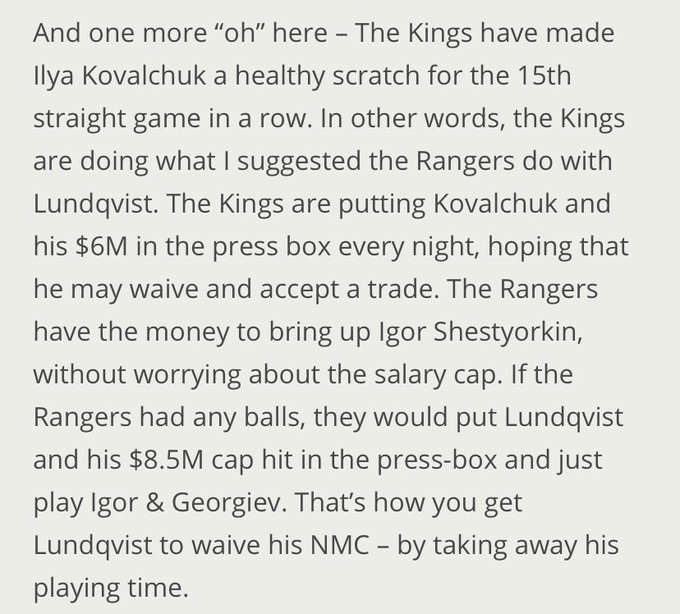 Until the Rangers choose to face the music and accept the inevitable, which is Lundqvist is not the answer; he's the problem, the Rangers will continue to roll around on their hamster wheel. This team is going nowhere with Lundqvist.
For argument's sake, while the Devils would never trade Taylor Hall to the Rangers, just like how the Rangers would never trade Lundqvist to the Devils (Lundqvist wouldn't waive his NMC to play for a last place team anyway) let's say the Rangers could land Taylor Hall during the 2020 Free Agency signing period. Who would you rather have for $8.5M? Taylor Hall or Henrik Lundqvist?
Lundqvist's contract is an albatross. His GAA and save percentage stats put him 45th place or higher out of every goalie in the league. He's the most overpaid player in hockey today. Even worse, the Rangers have two goalies who are ready, but they can't get away from the foot of Lundqvist:
As this season progresses, and as Georgiev continues to out-play Lundqvist, while Shestyorkin remains the best goalie in the AHL, this Lundqvist topic won't go away.
If you leave the Rangers bubble and look outside the league, you will see that no other team in the NHL treats a player like the way the Rangers do with Lundqvist. Even sadder? The Rangers and the MSG Networks put a force-field against any talk that could be perceived as critical of Lundqvist. No other Ranger in history has gotten this preferential treatment. While the Rangers keep this eternal blowjob going for Lundqvist, they ignore guys that should be in their rafters, that you know, have actually won Cups for the franchise, in guys like Frank Boucher, Bill Cook, Bun Cook, Ivan Johnson, Lester Patrick, Dave Kerr and Bryan Hextall. SAD!
And think about it. If the Rangers somehow made the playoffs this season, and even if Alexandar Georgiev was in the Vezina race (I'm not saying he will be, I'm throwing out a hypothetical here) the bottom line is that Lundqvist would start in the playoffs. And once again, the Rangers would lose with Lundqvist in the playoffs.
In the history of sports, I've never seen a team that's hellbent on losing with one guy, while fearing to win with another.
I know I'm sounding repetitive and going into my "greatest hits" again. However, unlike that turd Steve Valiquette, who I'll get into in a bit, I won't ignore the Swedish elephant sized contract in the room.
Everything that I've been saying for years is happening this season. Everything I've been saying since the preseason has happened this season. You saw it again in this game – this team plays much better in front of Alexandar Georgiev. Even when Georgiev doesn't have his "A" game, the team still rallies and hustles for him. Once Hank starts giving up bad goals and does his crybaby act, the team checks out. We saw that again today.
Bottom line is this – on this road-trip, the Rangers, behind Georgiev, beat the two hardest teams on the docket. Behind Lundqvist, the Rangers lost to a last place and second-to-last-place team. $8M more? What is it getting you? I'll tell you what it's not getting you – WINS!
Enough about Lundqvist for now, he makes me sick. Moving along.
In my last blog, I recapped the latest saga which is Vitali Kravtsov. I also said the following on Twitter:
I just want to see this catty Kravtsov post all his Ranger pictures again. #nyr pic.twitter.com/QRN6aJkNfS

— BlueCollarBlueShirts (@NYCTheMiC) December 13, 2019
Just like clockwork, after the Rangers made the news of Kravtsov's return official, Kravtsov sprinted to his social media accounts: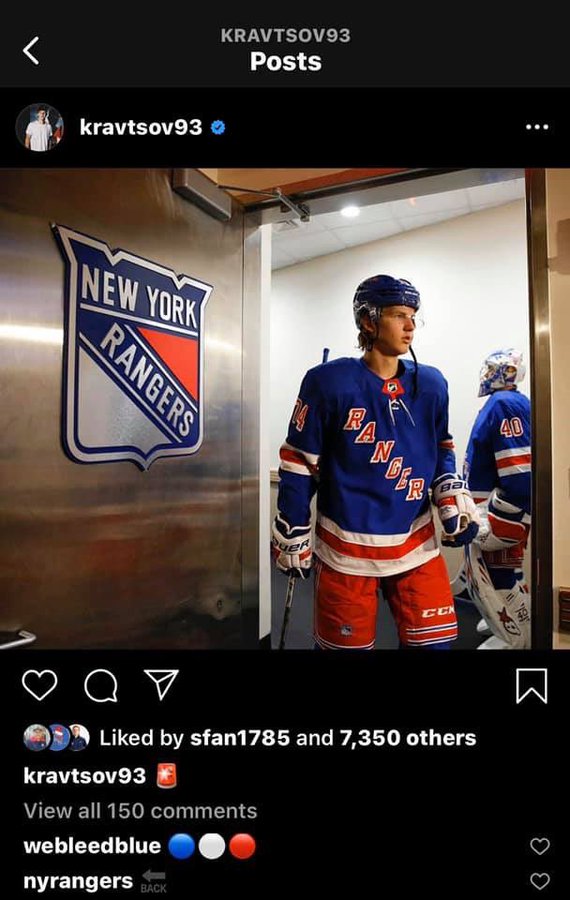 By posting a picture of himself in a Rangers jersey, this is Kravtsov's way of telling us that he's back. Let's see if he deletes all his pictures of himself in a Traktor jersey now!
And really, as I've said a bunch of times here, I hope it all works out for Kravtsov. I just think he needs to spend more time focusing on hockey and less time posting and deleting things off of social media.
As far as other Ranger news before this game, there wasn't much. The only news was this:
David Quinn doesn't want to win tomorrow. One day he will realize that Lundswiss gives him no chance of winning. And isn't it amazing Suzyn how Lundswiss took the starts against last place LA & second-to-last place Anaheim? 🍒 Ducks and the over: #nyr #PlayLikeANewYorker pic.twitter.com/bzjTlBaHPB

— BlueCollarBlueShirts (@NYCTheMiC) December 14, 2019
Outside of Lundqvist, we found out that Lemieux, who missed the game with the Sharks, was going to be playing today. Marc Staal, who blocked a big shot in San Jose, (as talked about in-depth in my last blog) was a game-time decision. In fact, since I'm talking about the roster here, let's go to the LIST OF QUINN segment of tonight's manifesto:
Here were your lines for today's game. Of course, and as usual, Quinn shook up the lines as the game progressed:
FIRST LINE: Kreider/Zibanejad/Buchnevich (Zibanejad continues to roll. Buchnevich couldn't get any puck luck at all.)
SECOND LINE: Panarin/Strome/Kakko (The best line of the game, in my opinion.)
THIRD LINE: McKegg/Chytil/Fast (McKegg could've had two easy goals today. Lettieri would've scored where McKegg didn't!)
FOURTH LINE: Lemieux/Howden/Smith (Howden was meh. Lemieux and Smith busted their ass as usual.)
Defensively, we had this:
FIRST PAIR: Skjei/Trouba (Trouba was much better today, but how could he be any worse than he was in San Jose? Skjei continues to be Skjeitty.)
SECOND PAIR: Staal/DeAngelo (Solid work.)
THIRD PAIR: Lindgren/Fox (Fox almost had the game winner in this game.)
And of course, in net, was a pile of money who blew every lead imaginable.

GAMBLING SEGMENT time!
Here's what I said before the game:
Season over/under record 16-15

FREE MONEY TODAY! An over-under line of -5.5, a season low! Lundswiss is in net. Hammer the over w/your life savings and buy yourself a new car with your winnings.

While #NYR are dogs & good value, I wouldn't touch the Rangers to win w/🤡 in net. pic.twitter.com/BjaQSLf43i

— BlueCollarBlueShirts (@NYCTheMiC) December 14, 2019
Ding-ding-ding! Winner, winner, chicken dinner!
With 7 total goals scored, my record improves to 17-15.
The funniest thing about all of this? Remember my good buddy and neighbor, in a one TEN O'CLOCK TOMMY? If you don't, here we are in Montreal together: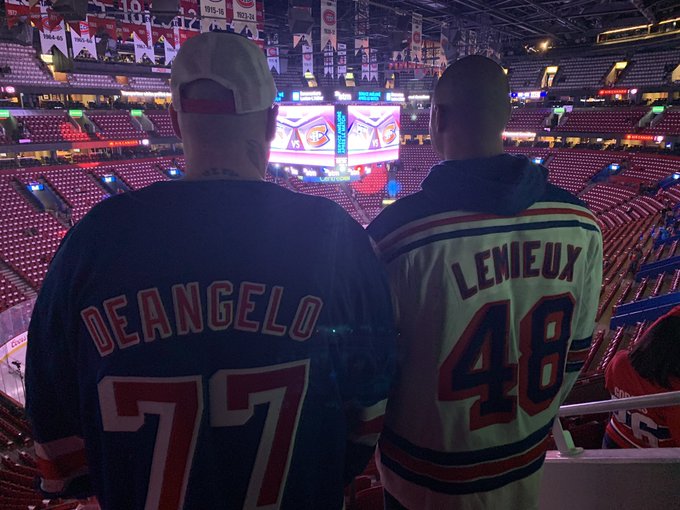 Tommy called me at 11AM today, asking me to place a bet for him with our local bookie. He wanted to put triple digits on the Rangers/Sharks over and on the Rangers themselves. I told Tommy that I really liked the Rangers over bet, because the over-under line was the lowest of the season, with an over-under of -5.5 goals. The reason for this super rare low line? The Ducks were averaging 1.5 goals a game, in their last six games played. With Lundqvist in net, I knew this bet was a lock to hit.
However, Tommy also wanted to bet the Rangers too. I told him that Lundqvist would choke this game and that it was inevitable he would lose. After thinking it over for two seconds, Tommy decided to pass on betting the Rangers. Because of my sound gambling advice and knowledge of the Rangers, I saved Tommy a hefty sum of money today. Instead, he now has a few fresh crisp Benjamin's in his pocket. I should open up a gambling proxy tout service! After all, my stuff is more on point than Vegas Dave or Stu Feiner! READY TO ROLL!
At this time, let's go to the official box score of this shit-show. As always, full credit goes to ESPN.com:
SCORING SUMMARY: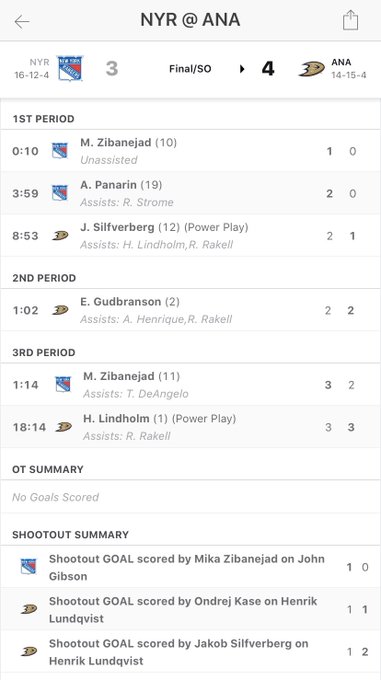 PENALTIES: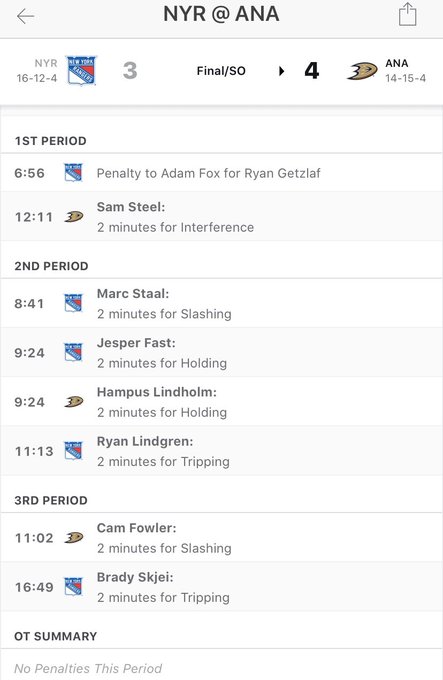 GOALIES:
| | | | | | | | | | | |
| --- | --- | --- | --- | --- | --- | --- | --- | --- | --- | --- |
| SA | GA | SV | SV% | ESSV | PPSV | SHSV | SOSA | SOS | TOI | PIM |
| 32 | 3 | 29 | .906 | 28 | 0 | 1 | 0 | 0 | 65:00 | 0 |
| | | | | | | | | | | |
| --- | --- | --- | --- | --- | --- | --- | --- | --- | --- | --- |
| SA | GA | SV | SV% | ESSV | PPSV | SHSV | SOSA | SOS | TOI | PIM |
| 42 | 3 | 39 | .929 | 32 | 0 | 7 | 0 | 0 | 64:57 | 0 |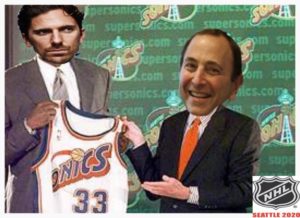 As usual, let me start off with the hacks at the M$G Networks. After two great games where John Giannone and Dave Maloney did all the pregame, intermission and post-game segments, we were right back to that idiot Steve Valiquette and Bill "GIVE ME A FOOTLONG" Pidto.
Valiquette, who we had the pleasure of not seeing for two straight games, opened up the broadcast by talking about meaningless stats. Moron.
In his next breath, Valiquette showed us this: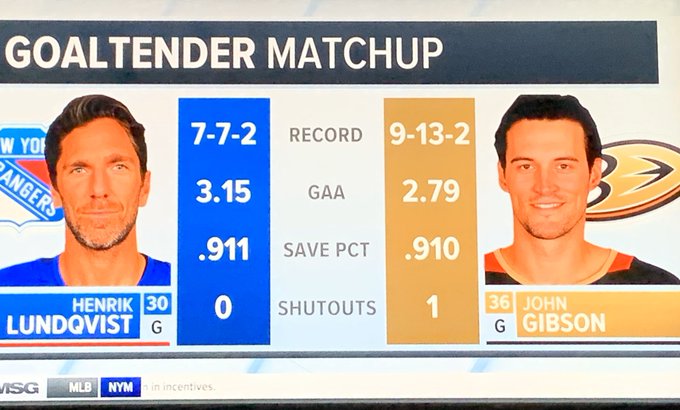 What did Vally say next? He said that "Lundqvist needed to steal this game for the Rangers." I guess the other guys on the team weren't playing today? The only thing Lundqvist is stealing these days is a paycheck. Shit, he should wear a ski-mask to the bank on the days that he cashes his paychecks.
We were then treated to this segment, a segment we haven't seen during the last two broadcasts: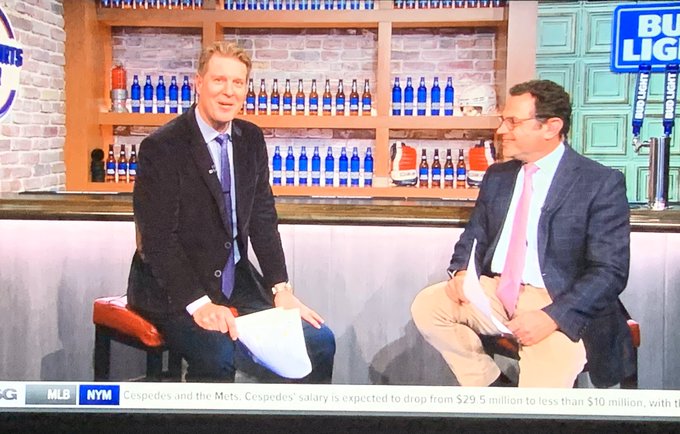 Seriously, someone needs to drink a beer on set. Those bottles are getting dusty, dustier than the game puck from Lundqvist's last shut-out. More on Vally later.
When it comes to Sam Rosen and Joe Micheletti, they were okay. Sam was confusing Tony DeAngelo and Michael Del Zotto all game. At one point, Rosen was saying "Del Zotto" so much, that I thought he had money on how many times he could say it.
I'm going to give Micheletti a pass tonight. He's been really good as of late, as I mentioned on my past blogs. On two of the horrible goals that Lundqvist gave up today, Micheletti's reflexes kicked in and he automatically pulled out his excuse rolodex. There were deflections, screens, alien invasions, hackers from "The Matrix", LA smog, noise pollution, the War of 1812 and whatever else Micheletti could come up with, as an excuse for Lundqvist's poor play and positioning.
However, away from Lundqvist, I thought Micheletti was solid again today. Yes, he holds a torch for Lundqvist, but he has dialed it down this past month. It's Valiquette that's tuned himself up to a full 100 and will now just flat out ignore goals against Lundqvist, as he did once again today.
After four minutes of game time, the Rangers led 2-0. At this point in the game, not only was I thinking about the Rangers over/under, I was thinking of the apology I was going to have to give to Tommy. Fortunately, Lundswiss was playing and his piss-poor play would prove me correct!
10 seconds into the game, Mika Zibanejad capitalized after a Ducks turnover:
10 seconds in and we're up 😎 ⚡ pic.twitter.com/VVkuodQL0U

— Rangers on MSG (@RangersMSGN) December 14, 2019
1-0, GOOD GUYS!
We've seen Zibanejad get a couple of these GOOD LOOKS, while one-on-one with the goaltender. In the last few games, Zibanejad has been backhanding these pucks past the goalie, just as he did here against Ducks goaltender John Gibson.
Three minutes and 49 seconds later, Panarin made it 2-0 GOOD GUYS:
🥖 + 🚨 = 😁 😁 😁 #NYR #LGR pic.twitter.com/XH3BJGRLuD

— Rangers on MSG (@RangersMSGN) December 14, 2019
Two words here – OH BABY!
And how about Ryan Strome, the player these chart nerds and Steve Valiquette doesn't like? Here's this stat, courtesy of the Rangers twitter account:
"Ryan Strome tallied the primary assist on Artemi Panarin's goal. He has registered nine assists/points in the last 12 games. In addition, Strome has recorded a point in 18 of the last 27 games, and he has notched 26 points (six goals, 20 assists) over the span. #NYR"
As I said a few blogs ago, Strome has played with Tavares, McDavid and now Panarin. He's having a career year with Panarin. And I'll get my daily take out of the way now – RE-SIGN STROME, LEMIEUX AND DEANGELO!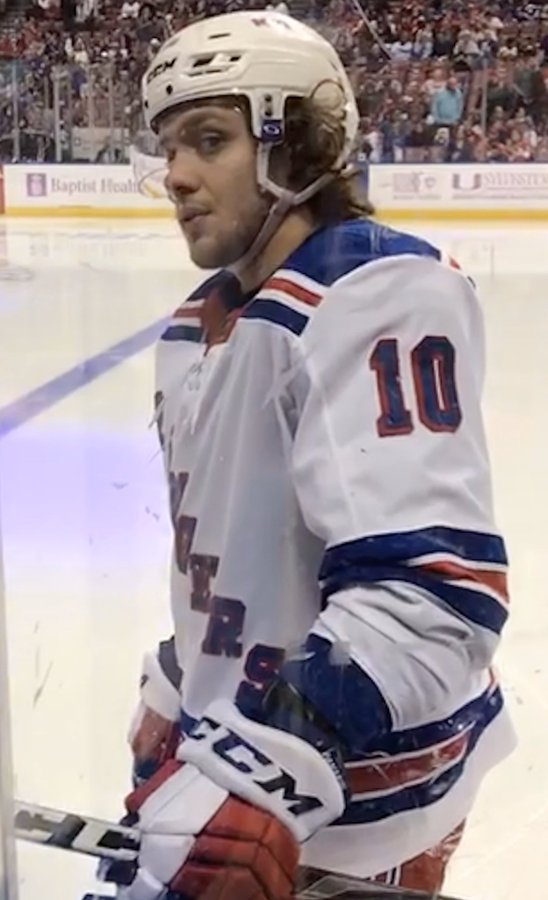 With a 2-0 lead, it looked like the Rangers would be popping bottles on their flight home from LAX to NY. Instead, the Rangers, while playing well, wouldn't score again until the third period. But hey, Lundqvist once said, "Give me two goals and I got this." You had to feel confident, right?
After Del Zotto boarded Fast head-first into the glass (no call), the Rangers fourth line put together an extended shift in the Ducks defensive zone. No goal here, but it was a great shift of hard work.
Oh, and a random observation- the Ducks have a 7UP ad on the ice. You don't see many of those around the league. I was told that the Ducks even give away 7-UP to their fans. What way to get them jacked – with non-caffeinated soda
At the 6:56 mark of the period, Adam Fox high-sticked Ryan Getzlaf. This was the turning point of the period.
Before this Ducks PP started, Sam Rosen talked about how the Ducks don't score goals and how the Ducks PP was ranked 30th in the league. Of course, right after this, the Ducks PP looked like Team Canada playing Team Belarus, as they peppered Lundqvist with multiple shots.
With the Ducks PP about to expire, Jakob Silfverberg tipped one by Lundqvist. 2-1 good guys.
On the goal, I'll say what I usually say – it's tough to blame the goalie for a PPG allowed. Could've Lundqvist stopped this? Sure. However, it's a PPG and you really can't hang the goalie here. Don't worry folks, I'll hang Lundqvist later!
With 7:49 remaining in the period, Sam Steel, which would be a good porn name, interfered with Lindgren. The Rangers would go on the power-play.
The Rangers PP was atrocious here, only picking up one shot on goal. Making matters worse, this was the Rangers best PP attempt of the game!
The biggest chance for the Rangers on this PP came when a Duck (I forget who) broke his stick. He rushed to the bench, which gave the Rangers some seconds of 5 vs 3 play. No shot on goal though! SAD!
With the teams at even strength, both Brett Howden and Greg McKegg would miss easy sure-fire goals. Gibson made the stops when needed in this game, like this one on McKegg. That said, Howden went wide on his attempt.
Later on in the period, Kakko would force a turnover and skate towards Gibson. No shot on goal though. This is becoming a trend and a problem.
When the period ended, you felt like the Rangers could've had a 4-1 or even 5-1 lead. Instead, they were up 2-1. While needless to say, you'll take a one goal lead on the road any day of the week, twice on Sundays, the Rangers did allow the Ducks to hang around. They could've blew them out of the water. Maybe that's the difference between a young team and a veteran team. I mean, who knows, but I think a team like Boston would've had Gibson pulled before the second period even started.
2-1, GOOD GUYS, after one.
You may be asking yourself, why in the hell am I posting a picture of the Honda Center's concession stand? Well that's because where Lundqvist was when the second Ducks goal occurred.
62 seconds into the second period, the Ducks tied the game:
Right place, right time for @Guddy44 to get his second of the season and tie this one up. #LetsGoDucks pic.twitter.com/98v82tagdJ

— Anaheim Ducks (@AnaheimDucks) December 14, 2019
I don't know if Lundswiss saw a Swedish meatball parm in the second deck or if he saw an innocent ice girl that he wanted to attack again or what, but for whatever reason, Lundqvist ran away from his net, left it wide open and made a sad & desperate attempt, at a 60 foot shot from Erik Gudbranson. 2-2.
Watch the goal for yourself. WHAT IN THE GOOD NAME OF FATHER FINK is Lundqvist doing here?
There's a lot to talk about here. For starters, with this goal, Lundqvist blew another two goal lead in California. He's known for that. This may have been his worst goal allowed since the time Buffalo scored a 200′ goal on him, from several years ago.
This was also a goal allowed, that will keep the Georgiev vs Lundqvist talk going. Only Lundqvist rolls around on his belly and dry humps the ice. You can always feel the panic and frantic energy when Lundqvist is out there. You don't feel that with Georgiev.
This goal was really classic Lundswiss – blow the lead, a goal allowed in the first two minutes of the period, roll around all over the place, and changing the momentum of the game.
Oh, and you know it's bad when Micheletti can't even use his deflection or screen excuse!
For those who care about these things – you couldn't find this goal replay on any of the Ranger social media accounts. Give props to the Ducks social media accounts. Not only do they show goals for, they also show goals against on their accounts.
And finally, this is what I said when I saw this god-awful goal:
100% Vally ignores that Lundswiss play during intermission.#nyr #PlayLikeANewYorker

— BlueCollarBlueShirts (@NYCTheMiC) December 14, 2019
Listen, I don't care if Steve Valiquette's wife left him because he's a closeted homosexual. I don't know if that's even the case or even true; I'm just assuming. After all, I have never seen a straight male have such a crush on another straight male before. No joke, Vally's crush for Lundqvist has long gone surpassed the crush Pierre McGuire has for Sidney Crosby!
(For legal purposes, let me be clear here, I DON'T THINK VALIQUETTE IS REALLY A HOMOSEXUAL. I'M TRYING TO BE FUNNY HERE. GO WITH IT! I KNOW VALIQUETTE IS A GOOD FAMILY MAN.)
That being said, not only did Vally ignore this goal in his second intermission recap, he also ignored that this goal ever happened in the post-game show. Vally, like Lundqvist, just blamed the Rangers team for the loss. IF THIS GOAL NEVER HAPPENS, THE RANGERS WIN IN REGULATION, a fact which of course was ignored by the number 1 member of the Cult of Lundswiss, in Steve Valiquette.
All I'm saying is this – I understand that Valiquette wants to be first in line to slob Hank's knob. All I'm asking is that he, and the M$G Networks, talk about plays that happened in the game, rather than ignoring them. If you just watched the post-game show, you would never know that this goal allowed by Lundqvist occurred.
And lastly on Valiquette, because quite honestly, he gives me a rash just thinking about him, isn't it funny how he champions and politics for Georgiev to be traded after a win, but ignores whenever Lundqvist gives up a goal? One more time folks – SAD!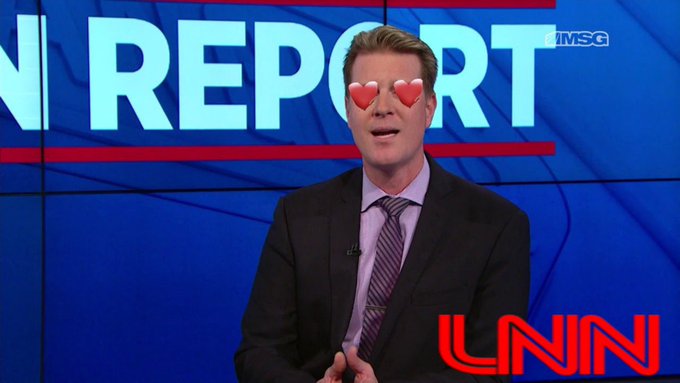 This crowd in Anaheim today was made up of empty seats and people in Ranger jerseys, with a few sprinkles of Duck regalia. When Lundqvist gave up this goal, the crowd got quiet. That's because this was pretty much a Rangers home game, despite being 3000 miles away from Morgue $quare Garden.
One last thing on this bad Lundqvist goal allowed. The saddest thing about this goal? Lundqvist would go on to make the next 16 saves of the period. He played well in this period after this gaffe. However, and this is coming from someone who can't stand Lundqvist being on this team – no one will remember that. All we'll remember is this bad goal, a bad goal allowed that should've never happened.
This goal changed the tide of the game, as the Rangers started getting really sloppy. Fortunately, the Ducks were just as sloppy. For the remainder of the period, both teams would get about 789647826524578926 chances each to score, but between Lundqvist & Gibson and missed connections, the score would remain 2-2.
With 8 minutes and change played in the second period, during one of these sloppy plays, Staal was boxed for slashing, as he broke up a breakaway at Lundqvist. The Ducks PP, which was great on their first attempt, looked like a 30th ranked PP on this chance.
Upon coming out of the box, Staal would have a jack in the box chance, but would skate the puck deep and behind Gibson. No SOG.
With 8:47 remaining, Lindgren would be boxed for tripping. The Rangers would kill off this penalty too. In fact, Strome had the best shot on goal, during this Ducks two minute power-play.
Two things about the broadcast here. The Ducks have a player named Max Comtois. Whenever Rosen said his name, he said "CUM SHOT" or "CUM SQUASH". Only Sam, only Sam.
Then, with this period being sloppier than a horse track during a typhoon, anytime either team got a rush, Rosen would call it a "three vs two rush". On every rush, Sam ignored the third defender. I guess "god bless" Sam for trying.
With 6:39 remaining in the period, the Ducks were out-shooting the Rangers by a tally of 13-1 during this second period. That's not a recipe for success.
The Rangers would get a chance to go-ahead in this game, but Kakko decided to slap shot a pass to Panarin, rather than saucing it over. As I've said before, I don't think Kakko is "intimidated" by his line-mates, but he's also not playing like he was when he was on the third line.
After Kakko's error, Fowler would miss a chance from four feet in front of Lundqvist. In fact, it felt like Fowler was shooting at will at Lundqvist. I had to check this stat out – Fowler indeed led the Ducks in SOG, with 6.
In a period full of missed opportunities for both teams, the Ducks would get one last chance with 1.2 seconds left in the period. The Ducks pulled Gibson, with a faceoff coming to the right of Lundqvist. The Ducks won the faceoff and Fowler got one last shot off. Lundqvist made the save. And while on the topic of faceoffs, the Ducks beat the Rangers at the dot all game, to a tune of 39-20. NOT GOOD!
At the end of two periods, it was anyone's game, with a 2-2 score.
The third period started off with a bang. While it took longer than 10 seconds, as in 74 seconds, Zibanejad once again opened up a period with a quick goal:
That's 2 goals now for Mika 🚨 🚨 pic.twitter.com/Od15fdiyWs

— Rangers on MSG (@RangersMSGN) December 14, 2019
3-2 GOOD GUYS!
On the goal, Zibanejad took a perfect pass from DeAngelo and found the tiny space that Gibson was offering and buried the puck. Just a great pass and a great finish here.
As the period progressed, the Ducks put some pressure on the Rangers, but fortunately, even with Lundqvist losing his stick, the refs blew the play the dead, as they lost sight of the puck.
The third period wound up becoming a show called "Where Can Buchnevich Fail From Next?" That's not to say that Buchnevich was bad, but he would be stoned on three shots, all of the "HIGH QUALITY" variety. Oh, and McKegg, who should've had a goal in the first period, also wound up flubbing again here.
With 9 minutes remaining in a 3-2 game, Strome drew a slashing call against Cam Fowler. On the Rangers PP, they would record ZERO, as in GOOSE FATHER FINKING EGG, shots on goal.
I'll slam Lundqvist all day long on this blog, but once again, special teams were a huge factor in determining a winner and a loser. The Rangers went 0-2 on their power-play in this game, with one shot on goal. The 30th ranked Ducks power-play finished 2-4. You're not going to win many games like that, unless Georgiev is in net and he stops 8 different power-play chances. (As he did against the Devils.)
In a 3-2 game, a game full of missed chances, the Rangers clung on to their 3-2 lead.
With 3:11 remaining, Brady Skjei, who has to lead this team with penalties, took another dumb one, this time for tripping.
I was fully expecting the Ducks to pull Gibson here, to give them a 6 vs 4 attack. Instead, it wasn't needed, as Lundqvist was beaten by Hampus Lindholm on the Ducks power-play:
First of the year for @HampeLindholm and it came at the PERFECT time. We're tied! #LetsGoDucks pic.twitter.com/a2mizdUv7s

— Anaheim Ducks (@AnaheimDucks) December 14, 2019
3-3, with under two minutes to play.
Of note, Micheletti was blaming screens and deflections here. Sorry Joe. Lundqvist was beat point blank.
And one last time, and I know you're sick of it, when it comes to Georgiev vs Lundqvist. Georgiev can have a shit game, but when the pressure is on in the final minutes, Georgiev comes up with the big saves. In the same situations, Lundqvist folds like a cheap suit. He just doesn't have it anymore. He's too slow. He just couldn't react fast enough here.
While Lundqvist needs to make this save, Brady Skjei is the real culprit here. How many dumb penalties will he take this season? Despite Quinn doing his "Resting Quinn Bitch Face" after this goal allowed, he put Skjei right back on the ice, during the closing moments of this third period.
At this point in the game, all you wanted to see were the Rangers to at least get a point. That's what they did, as after 60 minutes, this game was tied at 3-3.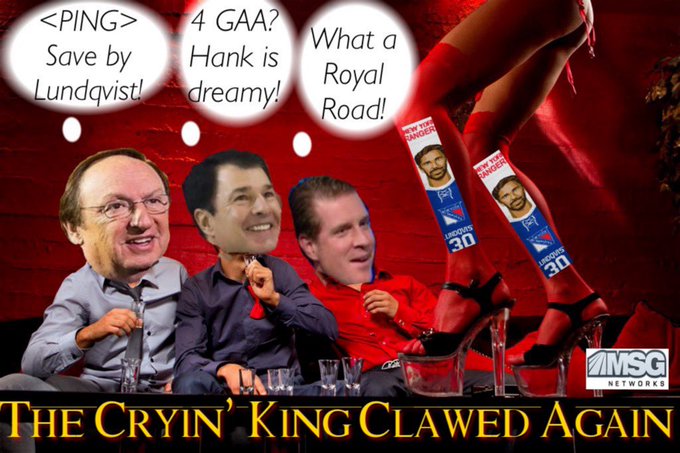 In the five minute 3 vs 3 overtime, the Rangers would have the two best chances of the OT. Adam Fox was completely robbed by Gibson. Then Zibanejad, with two goals and looking for a game winning hat trick goal, saw the robbery of all robberies, when Gibson stoned him from point blank. Put it this way, this Gibson robbery on Zibanejad was almost as big as the robbery Lundqvist has pulled on the Rangers with his hideous contract.
At the end of overtime, we remained tied. This brought us to the shoot-out.
In the shoot-out, Mika Zibanejad drew first blood. Lundqvist would then make saves on the first two Duck shooters faced.
With Lundqvist only needing a save to give the Rangers a win, Ondrej Kase beat Lundqvist on a backhand shot, to tie the shoot-out at one goal a piece.
On the next Rangers attempt, Kakko was stopped by Gibson. With the game now on the line, Jakob Silfverberg pulled the same move as Kase, and backhanded another shot by the Swedish bitch. 2-1 shoot-out win for the Ducks, 4-3 your final score from Anaheim.
If anything was shocking about Lundqvist losing another shoot-out, it was the fact that Joe Micheletti didn't blame a screen or a deflection for any of the shoot-out goals!
David Quinn can be as angry as hell after this loss, but he has no one to blame but himself – he should've started Georgiev.
For the Rangers, they took 5 out of a possible 8 points on this trip. So that's a good thing. However, they lost both games against the weaker teams of this trip. This is no coincidence – Lundqvist lost both of those games.
Quinn and the Rangers can play this game with Lundqvist all season long, but until the franchise realizes that it's time to cut the cord, this team isn't going to win a Stanley Cup. Shit, with Lundqvist, they can't even beat a last place or second-to-last-place team.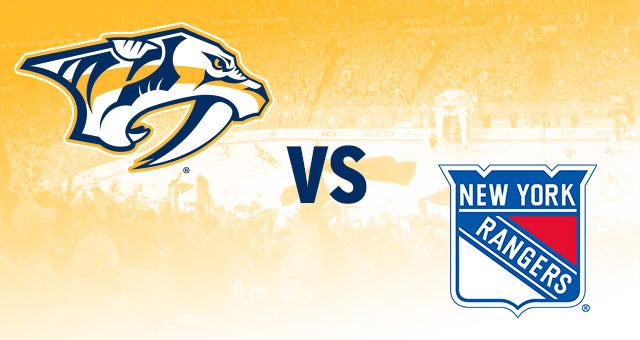 It's UFC time for me, so I have to get out of here.
Up next for the Rangers is a home game against the Predators, a Predator team that the Rangers beat in Nashville earlier this season. Georgiev was lights out in that game, so I would go with him here. However, who knows what the Rangers will do, as they seem content with losing with Lundqvist, rather than winning without him.
I'll be back Monday night. Until then, let's go COLBY COVINGTON in tonight's UFC main event!
Oh and always, thanks for reading and…
"LET'S GO RANGERS!"
Sean McCaffrey
BULLSMC@aol.com
@NYCTHEMIC on twitter
PS: Sorry if this blog comes off short or distracted. I was watching the UFC prelims while writing this!