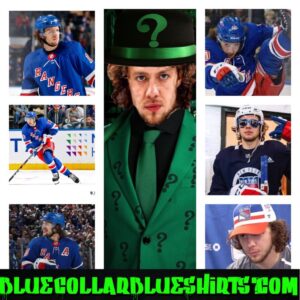 Greetings and salutations everyone and welcome to another blog here on BlueCollarBlueShirts.com. Can you believe that it's already February?
After all, it feels like just two weeks ago that we were discussing both the "Thanksgiving Tent Pole" and the upcoming Christmas break soon ahead.
Instead, we're now entering the first day of the second month of 2023, following the Rangers' 8-2-2 performance in January.
While the Blueshirts created many memorable moments during their past dozen games, contests played as Christmas trees hit the curbs and holiday decorations were returned to the attics; there's also been some cause for concern.
In a month where we saw some impressive heroics off of the blade of K'Andre Miller, Adam Fox continuing his Norris Trophy campaign and some litmus-test victories over the likes of Carolina and Dallas; the powerless play has been extremely eyebrow raising. It's hard to ignore.
The lack of success on the man-advantage units is a large reason why the team didn't sweep January – that's how good the Rangers have been – where at the same time – that's how bad the power-play has become too.
Equally maddening, akin to the currently two of their last thirty Rangers' $50M in salary first power-play unit, were the late blown leads in the two overtime losses, as was the case against both New Jersey and Toronto.
And while losing to the Boston Bruins isn't the end of a world; a Beantown club who are presently enjoying one of the best seasons not only of their franchise history, but in all of league history too; dropping a 2-1 decision at home, to one of the worst teams in hockey, the Montreal Canadiens, was a major loss to gripe about.
Suffice to say, the team's wins and losses from January mimicked a lot of what we saw during the latter months of 2022.
In what feels like a classic example of "playing to the level of competition;" for every big Blueshirt win over the upper-echelon teams of the league; there have been many losses to the dregs of the league too – where without such losses – the Rangers, as the NHL calls Sunrise, Florida home for the next few days, would be in first-place.
While you can't solely finger-point at any one player for the team not playing up to expectations (again, especially on the power-play); needless to say, Artemi Panarin is a big part of the problem – and that's who we'll take a deep look at tonight.
However, before getting there, just some news, notes and thoughts.
---
I'd like to thank everyone for all of their overwhelming feedback from last Friday's blog, which covered the Rangers' win over the Knights, the latest nonsense with James Dolan, and of course, "Pride Night" too.
I'm still replying to your emails now, so if I haven't responded yet – don't worry – I soon will!
And if you missed it, where I thought that the reader testimonials were telling (and perhaps the best part too), you can check it out here: https://bluecollarblueshirts.com/12723/
Moving forward, and unlike many around the hockey world – I'm done with the "Pride Night" topic.
After all, I think I hit everything and said everything that needed to be said. I also believe that had the Rangers not been idle this week, then like most "major" stories, this story would've exited the news cycle by now – and in lieu of something else considered equally as important/newsworthy.
And in a way, at least league-wide, that's kind of what happened on Monday, January 30th, when "The Golden Jet," Bobby Hull, passed away at the age of 84.
While the NHL.com obituary of one of hockey's greatest Hall of Famers (one that you can read here: https://www.nhl.com/news/bobby-hull-dead-at-age-84/c-340587082 ) firmly applied the adage of "stick to sports;" everywhere else, whether it be ESPN, TSN, SportsNet or elsewhere – Hull's off ice issues were addressed.
For a player that once won the Lady Byng Trophy, as Hull did in 1965; he wasn't such a gentleman as that prestigious piece of hardware would suggest. Need the evidence? Just ask the women in his life – as there were multiple incidents where Hull either battered, abused, bloodied and made death threats to his numerous wives and girlfriends.
And of course, there was also Hull's 1998 interview, where he glowingly spoke of Adolf Hitler; but to be fair, the interview, which was originally ran/printed by a Russian media outlet, was always deemed to be made-up and false by Hull.
(Tonight's main event topic, Artemi Panarin, can tell you all about how the Russian media has no issues with printing lies.)
In fact, following the interview's printing, Hull tried suing every outlet that carried the interview; but between the high costs of attorneys, having to prove that he didn't say what was reported, and dealing with multiple cases in multiple countries – it was both a fruitless and impossible task for Hull to win these lawsuits, lawsuits that he ultimately dropped.
Furthermore, how could Hull prove that his character had been damaged – especially after all of the police reports and the testimonies from his ex-wives that made it clear – he was a serial spousal abuser.
While Hull defenders will tell you, "he came from a different generation," that thinking is the equivalent of putting your head in the sand. Heck, it's not like he was living in the same times as Caligula!
(And when anyone defends a woman beater, I ask them this – "how would you feel if your mother, sister, daughter, whoever, was on the other side of it?")
"Funny" isn't the right word, but for a lack of a better word; I found it "funny" that some Hull supporters suggested that following his death, "now was not the time" to talk about Hull's previous transgressions.
As mentioned, while he always denied his worship of Hitler and the Nazi regime; the same can't be said about his treatment of women.
In a phrase that I feel we use a lot of lately – "two conflicting things can both be true."
For every great goal, Stanley Cup victory, the first-ever $1M contract and highlight reel moment on the ice; Hull's story off of the ice can't be forgotten either.
Similar to the recently deceased Joe Paterno, and one day, whenever Bill Cosby goes six feet under a vat of Jello; Hull, as a public figure – his activities away from what made him famous does go to the grave with him – while the living will discuss them – not only now – but in the generations to come.
RIP Bobby Hull. A great hockey player for sure, but a flawed man away from the game.
Then again, I guess no one is perfect (I know I'm not) – but it's hard to overlook his physical abuse of women.
---
In other news from Monday, January 30th; Islanders' general manager, Lou Lamoriello, after practically sitting on his hands for nearly a calendar year, made a big splash, when he acquired Bo Horvat, the now former captain of the Vancouver Canucks.
Going to the Pacific Northwest in the transaction is Ranger killer Anthony Beauvillier, Aatu Raty and a conditional first-round pick of either the 2023 or 2024 NHL Entry Draft.
For complete details of the trade, check out: https://www.nhl.com/news/islanders-acquire-bo-horvat-in-trade-with-canucks/c-340604068?tid=278542340
Since this is a website dedicated to the Rangers, and not little brother, just a few thoughts on the deal:
— As many of us stated during the summer – it was bewildering, when Lamoriello, who did nothing during the 2022 NHL Trade Deadline, and aside from adding Alex Romanov to the fold during the '22 Draft – then continued to do nothing as the off-season came-and-went. Monday's move was certainly the opposite of "nothing."
— As of right now, Horvat, one of the league's best centers and who will become an unrestricted free agent in the summer, has yet to sign an extension with the Nassaumen. However, I feel like it's only a matter of time, solely based on Lamoriello's history. Need a recent example? Look no further to Jean-Gabriel Pageau, who Lou, after receiving him from Ottawa, then quickly re-signed.
— Without a doubt, for right now, this trade, and as much as it pains me to say this – does make the Islanders better. Of course, due to horrific NHL scheduling this season – unless the two New York teams meet in the playoffs – then the Rangers won't see Horvat in an Islander jersey for the remainder of this 2022-23 campaign – if ever.
— As the old saying goes, "whoever receives the better player wins the trade." That will be true, if and only Horvat remains in Elmont past this season. If Horvat, who could be seeking an eight-year deal worth $64M overall or more, opts to test the market this summer and then goes elsewhere; then this trade will be a loss – for a team that may not even qualify for the playoffs this season anyway.
— One of the biggest reasons why Horvat was the apple of Lamoriello's eye? The Islanders have had issues scoring goals all season, where entering the All-Star break, the team has scored only three power-play goals in their last fifty tries, thus "earning" their ranking as the second-worst (31st overall) power-play of the league. The addition of Horvat is hoped to change all of that.
And why bring up these Hull and Horvat stories? Because in a way (and let me clear – PANARIN HAS NEVER DONE ANYTHING CRIMINAL), they do somewhat relate and have an impact on what the Rangers do next.
---
Over the weekend, I was conversing with my pal, buddy and confidant, "The Maven," Stan Fischler. He asked me to write a short piece on the Rangers at the All-Star Break, where I should stress that the word "short" was repeatedly requested by the man who belongs in the Hall of Fame in Toronto!
While I still went over my five paragraph space constraints anyway (it's just impossible for me to write a hundred words or less – heck, the titles of these blogs are longer than some of the articles that I see that are out there!); when I sent my column to Stan – I felt like I omitted a lot, just to get the piece as short-and-tight as possible.
I also came away with this thought – all season long on this site, I've routinely brought up what I percieve to be problems for the team's highest-paid forward, Artemi Panarin.
Since the Rangers are idle for nine days, what better time than now to see if the black-and-white stats, and not those foo-foo ANALytical ones, support my opinions from the realm of the "EYE TEST?"
Up first, here's what I sent to Fischler. Following that, a deep look at "THE BREADMAN."
---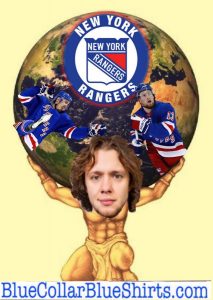 Without further ado, here's what I sent to Fischler, where some variation of the following will soon appear in Stan's column on The Hockey News website:
The New York Rangers head into All-Star weekend with 27-14-8 record, where their 62 points accumulated has them comfortably sitting third-place in the ultra competitive Metropolitan Division – and perhaps better than that – five points ahead of the Eastern Conference playoff berth cut-line.
It's been an up-and-down season for the Blueshirts.
Fresh off of their Eastern Conference Final showing last May; the team from 33rd & 7th got off to a slow start, where in a complete 180 from last season – they were losing many games to the bottom-barrel teams of the league. Had they taken care of business against these rebuilding squads – then perhaps the Rangers would have first-place all to themselves.
However, as it goes, "coulda, woulda, shoulda."
Then Jacob Trouba happened.
At the team's rock-bottom point of the season, the Rangers had lost back-to-back games to the Senators and Blackhawks, where all of the losing (then six games under .500) finally took its toll.
Following three fights in two games from the team captain, a much-discussed "helmet toss," and perhaps with an assist from Blues' goaltender, Jordan Binnington, too; the Rangers turned their season around on December 5th in their 6-4 home win over St. Louis.
While there were a few hiccups from that game to today – for the most part – the Rangers have found their winning touch again.
Like most teams with their eyes on the Stanley Cup; the Rangers aren't without their warts either, as general manager Chris Drury prepares for the March 3rd NHL Trade Deadline.
What's 100% known is that the team has a weakness at the right-wing position, which is why the club has been linked to such names as Patrick Kane, Timo Meier, Vladimir Tarasenko and other pending unrestricted free agents of this ilk.
However, no matter who the reinforcement will be following March 3rd; it could be all for naught if the team's highest-paid player, the $11.6M "Breadman," Artemi Panarin, can't get going.
Far too often, the 2019-20 Hart Trophy Finalist, has been a non-factor; where many are wondering if we have already seen Panarin's prime years.
Arguably, as perhaps the best free agent signing of franchise history; Panarin remains polarizing. After all, he is the team's point leader this season (50); but far too often, he racks up multi-point games during blowouts – while finishing with goose-eggs in the box score whenever matched against the league's elite.
Compounding matters is that one of the team's biggest strengths from last season, their power-play, has gone power-less.
At one point this season, the Rangers' power-play was ranked as high as sixth-overall. Currently, they rank 17th overall in the league, where entering the All-Star Break, the Blueshirt's first power-play unit, which runs the team $50M in salary, have only scored on two of their last thirty chances.
While the Rangers should be one of the eight Eastern Conference teams playing hockey once the regular season turns into the postseason; for the team to repeat, and hopefully exceed their showing from a year ago – no matter who they land at the trade deadline – both Panarin and the power-play will need to improve.
If not, the Rangers will enter the 2023-24 season with a thirty-year Cup-less drought – and we all know about the 54-year drought that had preceded it.
---
A DEEP DIVE INTO ARTEMI PANARIN
Before letting the fingers fly on the keyboard; the following disclaimer:
THIS IS NOT A HIT PIECE. REPEAT, THIS IS NOT A HIT PIECE!
Rather than a hit piece; instead, the intent of this article is just to present you the facts – and then let you do whatever you want with them.
From a personal perspective, it's also a way for yours truly, and once again, to exhibit to you, one of my favorite philosophies, "THE EYE TEST > ANALYTICS, ALWAYS!"
---
The New York Rangers, now three years shy of their 100th birthday, have made numerous free agent signings in that time – and where without question – the July 1st, 2019 signing of Artemi Panarin, by then general manager, Jeff Gorton, has been the greatest of them all.
Of course, it should also be stated in this space that free agency didn't really begin until 1972, when the WHA first came to be (that's a Hull reference and as alluded to earlier), but for all intents and purposes – NHL free agency, as we know it today, truly first began in 1995, following the 1994-95 lock-out.
While over time, there have been new wrinkles and creases added to the NHL's free agency system (and where two more lockouts also took place since 1995); the way the NHL handles free agency today is now approaching the thirty-year mark.
And when it comes to free agency, especially prior to the hard-salary cap era (which first began in 2005); no one spent more money than the New York Rangers, and their then general manager, Glen Sather.
Whether it was Bobby Holik, Scott Gomez, Chris Drury – you name the player – the Rangers offered him a contract – the Blueshirts have a long list of regrets when it comes to free agency.
Panarin bucked that trend – even if he is struggling, and perhaps regressing too, today.
It's also why I consider Panarin so polarizing.
For whatever you consider to be negative regarding "The Breadman" this season; whether it be his never-ending and now patented brand of cross-ice passes/turnovers to nowhere, his lack of goals, refusal to abide by his coach, shoddy defense or something else – he has been the team's best scorer (points) in every single season since arriving to New York.
However, when compared to previous seasons, and as later outlined below – it does feel that Panarin has become more of a COMPILER this season – rather than as a contributor – which yes – does sound oxymoronic.
---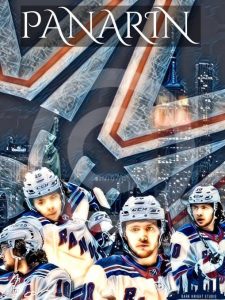 There's always been a line of thinking throughout NHL circles, that if a player under the age of 25 has joined his third NHL club, then there's a problem.
While Panarin isn't like a trio of some recent names of Rangers' history, such as Michael Del Zotto, Anthony Duclair and Tony DeAngelo; for a big name superstar – he's now playing for his third NHL club. Of course, this also took place AFTER he turned 25 – and where the salary cap has played its role too.
After being passed on by every NHL franchise (30 of them at the time) during the 2010 NHL Entry Draft; Panarin, then at the age of eighteen, remained in his native Korkino, Russia. From there, he spent the next five years of his career playing in the KHL, the top hockey league in Russia – and arguably – the second-best league in all of hockey today.
Panarin's final season in the KHL, the 2014-15 season, was his best. Not only did he set career-highs in every scoring statistic, which then earned him his first KHL All-Star nomination – but behind a point-per-game performance (20 points in 20 games) during the 2015 KHL Gagarin Playoffs (the KHL's Stanley Cup equivalent), he helped lead his SKA Saint Petersburg team to the championship.
Once hoisting Russia's greatest chalice; Panarin, having conquered the KHL and now also approaching the age of 24-years-old, was ready for his next challenge – the NHL.
On April 29th, 2015, Panarin agreed to a two-year entry level deal with the Chicago Blackhawks. Come the start of the season, and of course this is always the case – Panarin scored his first NHL goal in his first game played – against Henrik Lundqvist and the New York Rangers.
During Panarin's rookie season, the Blackhawks were defending their 2015 Stanley Cup championship – their third of the decade, having previously won the holy grail in both 2010 and 2013. As a result of all of their recent success, the Blackhawks were hampered by the salary cap, which is what made Panarin such a welcome addition – and afforded him an opportunity too.
Panarin, along with future Hall of Famer, Patrick Kane (and perhaps a future Ranger too – hmmmm!) flanked former Rangers' center, Artem Anisimov, on Chicago's second line.
While the Blackhawks wouldn't defend their title (they lost a first-round seven-game set to the Blues in 2016); both Panarin and Kane had monster years.
Kane, as the league's leading scorer, won the Hart Trophy at the end of the season, where he credited Panarin for making it happen. Panarin himself, despite approaching the "old age" of 25-years-old, was rewarded with the Calder Trophy – as the top rookie in the league following his 30 goals and 47 assists season.
This much was apparent – Panarin was the real deal.
Whatever "transition period" that Panarin, like most KHLers, usually need when making the jump to the NHL, was never an issue.
Due to his instant success, and now returned to Chicago for his second NHL campaign, the 2016-17 season; the Blackhawks wasted no time in locking Panarin into a contract extension.
On December 28th, 2016, in the middle of the season; Panarin received a Christmas present from then 'Hawks g.m., Stan Bowman, when he was offered a two-year deal worth $12,000,000 overall. For the Russian kid from humble beginnings – he immediately signed on the bottom line.
While Panarin continued his ascension, behind his 82-point season (the first of many seasons where he averaged over a point-per-game); the Blackhawks were experiencing a decline – again – because of the salary cap.
With his new-deal set to begin at the start of the 2017-18 season; following the Hawks being swept out of the playoffs by the Nashville Predators, Panarin, on June 23rd, 2017, was traded to the Columbus Blue Jackets.
Panarin spent the next two years of his career in little town Ohio – and then fulfilled his recently signed two-year deal with the Blue Jackets.
Come the Summer of 2019, and now as an unrestricted free agent – Panarin did what many Blue Jackets did – left the small city for the bright lights of New York. Just ask Rick Nash about this. Heck, just ask John Davidson, who at the time, also left the Blue Jackets in his role as Team President for the same job in New York. (But that's as far as this history lesson will go – there's no reason to rehash what happened to JD just two years later!)
Panarin, now approaching his 28th birthday, was a New York Ranger.
For the Blueshirts, the acquisition of Panarin felt very similar to one that had taken place some fifteen years prior, when they traded for another international all-time NHL great – Jaromir Jagr.
However, unlike Jagr, who was 31-years-old at the time (and then lost a year because of the 2004-05 lockout); Panarin was entering his prime.
---
Currently, Panarin is the highest-paid winger in the NHL today.
Among every position in the league, Panarin is the second-highest paid player in the NHL today, where only Connor McDavid ($12,500,00) earns more than #10 in the blue Rangers' sweater.
(Of note: Nathan MacKinnon recently signed a deal that pays him $12,600,000 per season – but that contract goes into effect next season.)
At the time and even now, it's easy to see why the Rangers' brain-trust all collectively agreed to pay "The Breadman."
Panarin had excelled everywhere that he went. Not only did Panarin dominate the KHL and win the Calder Trophy in Chicago; during his two years in Columbus, Panarin set the franchise's point record (82) in his first year – and then broke his record in his second-and-final season as a member of the CBJ (87).
Even better than that? Panarin's underdog Blue Jackets then went on make NHL history, when they swept that year's Presidents' Trophy winners, one of the greatest regular season teams of all-time, the Tampa Bay Lightning.
This first-round 4-0 blanking of the Bolts is considered to be the biggest upset in the league's playoff history (and that covers a lot of ground), as well as one of Tampa's worst low points – and as one of the Blue Jackets' greatest triumphs.
It was this loss that also changed things in Tampa – where following this massive embarrassment – they then went on to win the Stanley Cup in both 2020 and 2021.
Panarin, who at the time, was the biggest free agent of the Class of 2019, had many suitors, including the New York Islanders. It was speculated and reported that the Islanders had offered Panarin anywhere from $12,500,000 – $13,000,000 per season – but as the story always goes – whenever a player can choose the Rangers or the Islanders – they choose the Original Six team – and not the barnyard animals – who now currently play adjacent to horse stables and manure! (I had to get that in!)
---
In a word, Panarin's first season in New York was "historic."
Since the 1923-24 inception of the Hart Trophy, the NHL's MVP award, only four Rangers have won the hardware – and where none of these wins have occurred in recent times.
Prior to Mark Messier winning the trophy in 1992, previous winners included Buddy O'Connor (1948), Chuck Rayner (1950), and Andy Bathgate (1959).
While Leon Draisaitl (EDM) won the Hart Trophy in 2020; it was always my belief that the second runner-up, Panarin (MacKinnon finished first runner-up), should have won it.
Of course, there's some bias here – but unlike Draisaitl and MacKinnon, and despite the efforts of Mika Zibanejad too – Panarin wasn't working with a cast of characters that the two Western Conference players had around them, you know, guys including Connor McDavid, Gabriel Landeskog, etc. (Keep in mind – Adam Fox didn't explode on the scene just yet – that took place a season later.)
During his first season in New York, one that was marred by the coronavirus pandemic; Panarin still managed to set career-highs in goals (32), assists (63) and points (95) in just 69 (nice) games played. Had he played the full 82; then very likely, Panarin would've notched the first 100-point season of his career.
Once the hockey world traded in goalie masks for mask coverings; this is when Panarin's career, and with the benefit of hindsight, peaked – but even then, for a player that's been polarizing as of late – Panarin would later go on to set his career-highs in assists (74) and points (96) during the 2021-22 season. But more on that to come.
---
When the world shut down during the early weeks of March 2020; the Rangers were playing their best hockey of the season.
Once the team returned to the ice nearly five months later, and now inside of an empty arena in Toronto; Panarin only scored one goal and one assist during the Rangers' three playoff games – a three-game first-round ouster to the Carolina Hurricanes.
While in hindsight, this loss wasn't the end of the world, as it would lead the Rangers into landing the first-overall pick of the 2020 NHL Entry Draft; at the time – the Rangers were exposed by their divisional foes. Badly at that.
Come January 14th, 2021, the first match of a 56-game truncated 2020-21 season – the start of one of the worst, controversial, dramatic and ungodly seasons in all of Rangers' history.
At least the World War II era of Rangers had an excuse. This bunch? None at all.
On this date, the Rangers dropped a 4-0 decision to the Islanders, in a game that's now known today as the "Tony DeAngelo Slammed a Penalty Box Door Game."
You can check the archives of this site and/or my books for everything else from this season – but without a doubt – this season – as opposed to Larry Sloman's coined "THIN ICE: SEASON FROM HELL" title when describing the season that had transpired forty years prior – was the true SEASON FROM HELL.
For the Rangers, their brain-trust and the players themselves; no one got out of this season without an issue.
Panarin, through no fault of his own, included.
---
Again, just check the archives of this site for all of the information regarding everything that happened in 2021; but in short, two things interfered with Panarin's season – where despite it all – his 58 points in 42 games played still led the team.
On February 22nd, Panarin left the team, after false allegations, or really, FLAT OUT LIES, were spread about him.
These lies, that suggested that Panarin was some sort of sexual deviant and abused women (another Hull reference), originated in Russia, after Panarin's former coach, Andrei Nazarov, had a local pro-Putin tabloid, "Komsomolskaya Pravda" run these falsehoods.
Previously, Panarin, a critic of the Russian president, Vladimir Putin, had lent his support for the Kremlin's biggest political foe, Alexei Navalny.
While no one believed these accusations at the time; Panarin had to worry about the safety of his elderly grandparents in Russia, grandparents who had raised him as a child.
Once things blew over, and that the safety of his family was secure and no longer in jeopardy (his fiancee's father also coaches in the KHL and his safety was a concern too); Panarin then returned to the team on March 10th.
He's never talked about Russian politics since.
Less than two months later, May 3rd – the Tom Wilson Incident. (Full review/recap here: https://bluecollarblueshirts.com/5321/ )
Following one of the craziest seasons of Rangers' history; come the 2021-22 season – "ONE GAME AT A TIME" – and as led by a new management regime – general manager Chris Drury and head coach Gerard Gallant.
---
As mentioned, while Panarin set career-highs in assists and points during the 2021-22 season, and was also the team leader in both of these statistics – a lot would soon change.
Panarin, despite his role as one of the team's six alternate captains, wasn't really much of leader, much less the team's go-to guy.
Instead, the team was largely lifted by the heroics that CZAR IGOR Shestyorkin was regularly performing in net; while the longest-tenured Ranger, Chris Kreider, was making history himself, behind his 52-goal campaign.
And that Adam Fox guy, despite being injured, remained as one of the best defenseman in the NHL, following his 2021 Norris Trophy win.
Towards the end of the season, Panarin received an injury, one that was thought to be shoulder-related – although never 100% confirmed. Heck, the media didn't even ask him about this at the season's end – but they did spread one rumor that we'll soon explore.
During the 2022 Stanley Cup Playoffs – Panarin remained polarizing.
It wasn't until Game 7 of the first-round that Panarin, who had been struggling to rack up the points, finally did something big – as he did when he scored the game/series winning goal in overtime. While the goal was fluky, and for the life of me, I'm still wondering how that puck went in – they all count the same.
During the Rangers' quest for the Cup, Panarin picked up sixteen points in twenty games – but outside of the Game 7 clinching goal – it never felt like these points equated to much. This is when you first heard the word "compiler."
Once up 2-0 in their Best-of-Seven Eastern Conference Final series with Tampa Lightning; in Games 3-6, all Ranger losses; Panarin scored just once – a meaningless power-play goal scored late into Game 4, which at the time put the score at Tampa 3, New York 1. Less than four minutes after Panarin's goal – Tampa won the game 4-1.
And again – this wasn't just a Panarin problem – it was also a Mika Zibanejad problem too – the team's second-highest paid forward and who wasn't at his best either.
Tampa's stars whizzed all over the Rangers during the final four games of the series, as the Tampa 1-2 scoring punch, Nikita Kucherov and Steven Stamkos, saved for their best for last – while Panarin & Mika looked like the least of the east.
Had #10 and #93 in dark blue played in the same fashion that #86 and #91 in light blue had played – who knows?
Following the season, and with Panarin now vacationing in his homeland; Islander fan/new Ranger scribe, Arthur Staple, reported the following:
When this report first came out on June 28th, 2022 – I said I didn't believe a word of it. (For more, visit: https://bluecollarblueshirts.com/62822/)
Then, on August 1st (as recapped here: https://bluecollarblueshirts.com/8122/ ), Panarin, at a charity event in Russia, was asked by scribes from his native land about Staple's report:
"How do you react to various criticisms? To be clear, it wasn't written by us, but our Western colleagues (New York Rangers' beat) reported that the Rangers' front office (Chris Drury) wasn't satisfied with your performance during the playoffs. How do you feel about that?"
Panarin fired off by responding with the following:
"Speculators! I haven't heard of such a thing firsthand (from Drury). I'm sure I could have played better, but what did they write there? I really don't know, I came to Korkino [after the playoffs] to see my grandfather.
"I don't like these scoundrels-speculators because my grandfather reads it. My grandfather also plunged into this Internet drug, this garbage. All of this annoys him. He does not understand that these people are all couch journalists who write out of envy or whatever else.
"I'm already used to not paying attention to them, but he is always worried and asks me: 'why are they trading you?' I'm just shocked by this.
"They can't trade me! And if these people understood at least a little bit, then they would know that I have a no-move clause and it's impossible for me to be traded."
Of course, once the Rangers returned to camp for the 2022-23 season, and in multiple interviews conducted with both Chris Drury and Artemi Panarin since that time – Staple never uttered another word about this.
SCOUNDREL!
---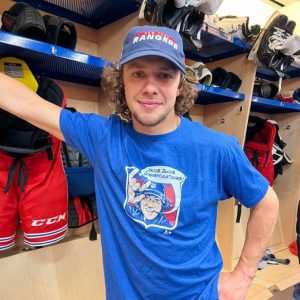 This now brings us to today.
Since I know this is going long, I will ask you to refer to all of my writings from this season for everything Panarin-related.
For now, a quick summary:
— I've called Panarin a "compiler" many times this season.
— I've brought up the Rangers' lack of success on the power-play, where following an 0-13 stretch, the first power-play unit followed that donut with their current two of their last thirty showing.
— I've said that Panarin shines during blowouts; but rarely is a factor against the top teams of the league.
— I've also showcased, and like many of you – Panarin's new "ability," where he's now become a turnover machine – and as a result – has brutalized the Rangers many times this season.
— Furthermore – despite it all – Panarin does presently lead the team in both assists (38) and points (50). However, for a player that has never finished with a minus next to his name at the end of the season, and where his previous low (+8) took place in his rookie year – Panarin is currently -4 – where amongst all full-time forwards, only the player that he has no chemistry with, Vincent Trocheck (-7), fares worse.
— And I've said enough about the Panarin/Trocheck lack of chemistry issues all season, so that bears no repeating here. You know the story by now.
— Last but not least – I've also brought up how many times, even recently, where the last time this took place was on January 5th (following the Rangers' 4-1 road win in Montreal), how Panarin laughed and said he doesn't listen to Gallant sometimes.
At this time, let's see if the real numbers, and not ANALytics, supports my eye-test arguments.
---
Panarin, 31-years-old, and now in Year Four of his seven-year deal with a no-movement clause attached, stacks up as such:
— In his last nine games played, Panarin, who mind you, hasn't missed a game this season, nor has been scratched either, has been held scoreless in six of those games.
— In 19 of 49 games this season, nearly 40% of all games, Panarin has been held without a point.
— In games against the other current fifteen bound playoff teams of the league, Panarin has amassed only 16 points.
— In other words, of Panarin's fifty points this season, 34 of them were scored against inferior competition, and where more times than not – took place during blowouts, including a four-point game against Anaheim, a three-point game against Arizona, multi-point games against Chicago (albeit, one of these games was a Rangers' loss), and a three-point affair against Florida.
— Of Panarin's multi-point games against playoff-bound teams, these stats are also misleading.
— Panarin scored four points against Minnesota during the second game of the season, a 7-3 Rangers' win, and when the Wild were experiencing their early season struggles, including on behalf of their goalie, Marc-Andre Fleury. Panarin later scored three points in a December 7th 5-1 win against Vegas – and when the Knights' roster was completely ravaged by injuries. These two games were Panarin's best showings against playoff teams this season.
— In games against the seven other projected playoff teams of the East (Boston, Toronto, Tampa, Carolina, New Jersey, Washington and Pittsburgh); Panarin has totaled four points.
(For anyone who wants to double-check my work, take a look at the box scores yourself and/or feel free to visit: https://www.hockey-reference.com/players/p/panarar01/gamelog/2023/ )
---
When you read all of the stats and information posted above, then YES – I think you can make the argument that Panarin has been a compiler this season.
What makes it so frustrating is that we know how good this guy can be; but this can't be debated – despite leading the team in scoring – this is his worst season of his career yet – which I guess to be fair – would be the best season for the majority of the players in the league today.
And while it's not fair to compare Panarin's production to the other top ten highest-paid players of the league (most of them are centers and it's a different animal) – needless to say – Panarin's numbers aren't up to snuff.
You wouldn't mind all of Panarin's never-ending bouts with turnovers, and his lack of chemistry issues too, if he was flirting with another 100-point season, scoring on the league's 17th ranked power-play and not sinking everyone else.
To close on the power-play, an area where #10 thrived in until this season – he has to shoot more. His often and active refusals to shoot pucks is widely known throughout the league, and in turn – Blueshirt opponents cheat, camp and just wait for Mika to sail his predictable one-timer.
Until Panarin becomes a true threat again – the Rangers' power-play will continue to falter.
Away from Panarin, the top two Rangers' centers, Zibanejad and Trocheck, have had their best games of the season. With him, they've struggled to score and have had their worst games of the season.
And when Panarin jokes and mocks about his refusal to listen to his coach at times – it makes it all more the aggravating.
---
So, as we get to the end here, what's the fix?
Patrick Kane, who Panarin had chemistry with seven years ago? (And to refer back to the Bo Horvat trade – maybe that deal will inspire rival g.m.'s to get ahead of the March 3rd NHL Trade Deadline.)
Crossing your fingers and hoping NMC's to be waived, cap retention to be had and a Vincent Trocheck for Ryan Strome return swap? (Like Panarin speaking about Gallant – I'm joking here.)
Trading Panarin and/or buying him out? (I'm joking at a Rodney Dangerfield level here!)
Since I'm not there, nor am I a true hockey man (I'm a hockey fan – but I know nothing when compared to hockey lifers such as Gerard Gallant and Chris Drury); I can only guess.
My best guess? Panarin starts listening to his head coach – and goes back to shooting the puck!
I understand that every player slumps, struggles and experiences cold snaps – but at this point in the season – if you are still trying to figure out ways to get your best player going, including changing the line-up as frequent as you change a new born's diaper – then you have problems.
The Rangers have Panarin Problems.
Maybe a relaxing weekend amongst the league's elite will jog Panarin's memory, and come February 6th, when the Rangers play next – have him running again.
---
I'm not sure when I'll return next.
Should something magical happen at the NHL All-Stars Competition on Friday (the real highlight of the weekend for me); I'll return then. If not, a quick recap of what Adam Fox, CZAR IGOR and Panarin did at the All-Star Game on Saturday instead.
Until then, I got that damn 5AM train tomorrow – and a few more chapters to write for my upcoming new book too.
Speaking of my books, you can find my previously released titles below, as it's now…
PLUGS TIME!
---
My first plug of tonight's blog – the mandatory plug for my book, "The New York Rangers Rink of Honor and the Rafters of Madison Square Garden."
As mentioned previously, the book is now available in hardcover, in paperback and in Kindle formats. To purchase a copy of the book, visit this link:
https://www.amazon.com/Rangers-Rafters-Madison-Square-Garden-ebook/dp/B09CM5N2WD
For those still looking for signed paperback versions of the book, I have re-ordered more copies. I now have a few signed copies for sale at $25 a pop (includes shipping price) through me directly. Here is all the information on that:
---
My four-volume set of books, "One Game at a Time – A Season to Remember," is a game-by-game recount of the Rangers 2021-22 campaign.
My second title as an author, "One Game at a Time – A Season to Remember," is now available in eBook, paperback and hardcover formats.
To obtain signed copies, visit: https://bluecollarblueshirts.com/onegamebook/
To purchase all four volumes on Amazon, visit: Amazon.com – "One Game at a Time."
---
The greatest volume-set of books on Rangers' history today!
"Tricks of the Trade – A Century-Long Journey Through Every Trade Made In New York Rangers' History," a four-volume set of books that meticulously covers every trade made in franchise history, is now on sale.
All four volumes of the title can be purchased on Amazon.com and are presented in three different formats – eBook, paperback and hardcover.
To purchase Volume I: Conn Smythe (1926) – Craig Patrick (1986), visit Amazon.com
To purchase Volume II: Phil Esposito (1986) – Neil Smith (2000), visit Amazon.com
To purchase Volume III: Glen Sather (2000-2015), visit Amazon.com
To purchase Volume IV: Jeff Gorton (2015) – Chris Drury (2022), visit Amazon.com
To purchase signed copies of all four volumes, visit https://bluecollarblueshirts.com/tricksofthetrade/
---
Here are my last few blogs, in case you missed them:
---
---
---
If you haven't already, subscribe to this blog for the next update:
---
Don't forget to order my new four-volume set of books, "Tricks of the Trade!"
If you don't order through me, all four volumes are now available on Amazon.com
For more details, check out: https://bluecollarblueshirts.com/tricksofthetrade/
Thanks for reading.
LET'S GO RANGERS!
Sean McCaffrey
BULLSMC@aol.com
@NYCTHEMIC on the Tweeter machine