On Saturday, December 10th, Nick Fotiu, Andre Dore, Steve Vickers, Brian Mullen, Pete Stemkowski and Gilles Villemure appeared in Long Beach, NY, as the once former Rangers' practice facility was renamed as "The Emile Francis Memorial Arena." Also in-attendance was Francis' son, 2002 Jack Adams Award winner, Bobby Francis.
Greetings and salutations everyone and welcome to another blog here on BlueCollarBlueShirts.com. I hope everyone is enjoying their weekend.
Our top story today is about Emile Francis, a former goalie, head coach and general manager of the Rangers – and someone who has been frequently covered both on this site and in my books.
Simply stated – Francis, who was inducted into the Hockey Hall of Fame in 1982, is one of the most important figures in all of franchise history.
While I'll provide some light history in regards to Francis during this manifesto; in order to get the complete story on "The Cat," I'd advise you to check out my books. Today, I'll just be focusing on what he did in Long Beach, NY.
Furthermore, if you haven't already read it, I covered Francis' passing from February 19th, 2022 here: https://bluecollarblueshirts.com/ripef/
If you click that link, I included the Emile Francis chapter from my first book, "The New York Rangers Rink of Honor and the Rafters of Madison Square Garden," in my tribute to "The Cat."
However, before covering the excellently executed Francis ceremony from Saturday; I first want to share with you my latest for Stan Fischler, articles that will soon appear in "The Hockey News."
Once doing so, I'll then give you all the latest news and notes from Rangerstown, USA, as the team held a light practice on Sunday, prior to the NFL's kickoff of Week 14.
Let's roll.
---
After writing about the Rangers most recent losing streak last week, Fischler asked me to cover the 180 from this week – the Blueshirts' current three-game winning streak – and an assignment that I was more than happy to tackle!
The following words will appear in "The Hockey News" on Monday.
---
Just a week ago, and as covered in this space – the streets of Rangerstown, USA were filled with hellfire and brimstone.
A week and three games later – the streets have cooled – much like the perceived "hot seat" of their bench boss, Gerard Gallant.
Admittedly, the Rangers caught three teams all under tough circumstances. However, the Blueshirts, nor their backers, should have any pity for the Blues, Knights and Avalanche. After all, the Rangers have been on the wrong end of many games this season, and they needed something to spark a turnaround.
On Monday, New York hosted St. Louis. If it weren't for the shaky goaltending of 2019 Cup champ, Jordan Binnington – then it's very likely the Rangers wouldn't have won this tilt by a final score of 6-4.
Following what was an unimpressive victory at MSG (but two points is two points); on Wednesday, the Rangers hit the strip in Sin City. With Bruce Cassidy's team missing their top two players, Jack Eichel and Alex Pietrangelo, the Rangers were able to cash-out in Vegas, 5-1.
Turk and company took their new two game winning streak (a rarity thus far this season) to the Mile City on Friday night, where they played a depleted Denver team. The Avalanche, the reigning-and-defending champs, have lost more man-power (games played) than any other NHL squad this season. Among the ten MIA players? Captain Gabriel Landeskog, and perennial Hart Trophy candidate, Nathan MacKinnon.
Despite fielding a roster that looked ready to compete for the Calder Cup, rather than the Stanley they won six months ago; the Avalanche, led by former Ranger, Alexandar Georgiev, kept the game close.
After Georgiev was able to beat the Rangers at MSG earlier this season via a shootout; in the rematch, it was Igor Shestyorkin's turn. Behind Iggy's 41 saves after 65 minutes played, and two more flawless stops during the shootout – the Blueshirts escaped Colorado with a 2-1 victory – and their second three game winning streak of the season.
This upcoming week will be the biggest litmus test yet, as we'll see what Gallant's Gang is truly made of.
A rubber match with the Devils awaits on Monday. After another battle with their warring Hudson River rivals, the Rangers will then host a fellow Original Sixer, the Maple Leaf red-hot team from Toronto.
If the Rangers don't "drive for five," then these three recent victories will be viewed as what they were – three wins against three teams experiencing tough times. It's up to the Rangers to not endure tough times themselves.
---
Another piece that "The Maven" asked me to write? Something in regards to the Leafs – and their new winning ways.
This is another article that will appear on Monday in "The Hockey News," as a follow-up to Fischler's thoughts on the Leafs' regular season.
Enjoy:
---
"Like sands through the hourglass, so are the days of our lives."
For many of us during our lifetimes – the Toronto Maple Leafs have yet to win their fourteenth Stanley Cup, nor have we been alive to witness such a feat – an occurrence that seems as rare as seeing Haley's Comet.
The blue-and-white, who haven't won the chalice since 1967, will enter their 55th straight Spring looking for the prize that has eluded them for generations.
However, as the expression now goes – "the only leaves that fall in the Spring are the ones in Toronto."
If it weren't for the red-hot Devils and the blistering Bruins, then perhaps more American fans would be talking about the Leafs right now. (Of course, Canada, both the fans and the media, remains as 100% dedicated to their favorite franchise.)
Through all games played of December 10th, the Leafs are one of the four members of the "Forty Club." Only the Bruins (43 points), Devils (43 points), and Knights (41 points) have more points than Kyle Dubas' club (40 points).
Despite their current performance during the regular season, that's all that it is – "regular."
It doesn't matter if the Leafs finish as the first or the eighth seed. What matters is what happens when the games become "extraordinary," which postseason hockey always is.
The Leafs have been motoring, but until they can prove they have enough gas to make it through the first-round (everyone's well aware of the Leafs' first-round follies), then just as has been the case for the past eighteen years – this season will be all for naught.
As Leaf lovers are well-aware – Boston, a perennial thorn in Toronto's side, remains atop of the Atlantic Division. Needless to say, it would benefit the Leafs if they could avoid the Beantowners in the first-round. However, and no matter the opponent – the Leafs will only be judged by what they do in the playoffs – and not during the 82-games that precede them.
---
Prior to getting into the light news and notes from the Rangers' practice held on Sunday; an update on two stories recently covered on this site.
As mentioned last blog, the Rangers vs Avalanche game review; Sam "Bless His Heart" Rosen misspoke again (sadly, there will be large portion of this fan base that will only remember Rosen for his senior moments, rather than for what he did during his prime), when he said that the Rangers had waived Ryan Callahan.
Rosen would later correct himself and say the obvious – the Rangers had waived Ryan Carpenter – and not their former captain who they traded to Tampa Bay for Martin St. Louis over eight years ago.
Here's "Captain Cally" enjoying the latest "Rosen-ism":
Had no idea I was on waivers and then no one claims me…unreal 😂😂😂. Sam is the best "it's a power play goal" https://t.co/phUM7dyU6O

— Ryan Callahan (@TheRealCally24) December 10, 2022
---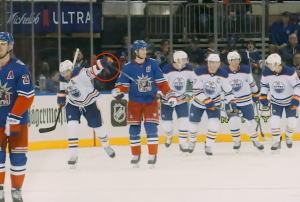 As recently covered on this site (it all started here: https://bluecollarblueshirts.com/112822/), towards the end of the Rangers' brutal loss to the Edmonton Oilers from November 26th; following the Oilers' game winning goal, Leon Draisaitl made a fool out of Jacob Trouba.
Despite this story going viral around NHL circles (and Leon Draisaitil was even asked by Anson Carter about this during his next game, when the Oilers appeared on the national game featured on the TNT Network); Mollie Walker went out of her way to find me on Twitter and told me that "nobody gives a shit" about this game of "one-upsmanship."
And while clueless Mollie was wrong (the usual), what's happened since? The following: one Trouba meltdown, three fights and after all of that? A three game winning streak – the longest of the Rangers' season thus far.
With the benefit of hindsight, not only did Trouba "give a shit," but Draisaitl may have woken up the Rangers' captain too.
Why am I rehashing all of this again? The answer is simple.
On Friday, December 9th, during the Oilers' 5-2 win over the Wild; Draisaitl got cute – again.
Here's the perennial Hart Trophy candidate trying to show up Marc-Andre Fleury, as he did to Trouba. However, this time – Draisaitl was met with a response:
Draisaitl tries to troll Fleury… pic.twitter.com/Z2b3j9LyGT

— Brady Trettenero (@BradyTrett) December 10, 2022
---
I guess "The Flower" "gave a shit!"
---
As far as anything else that took place prior to Rangers' practice, we have this:
NHL → Minor
Ben Harpur (LD) | NYR#NYRhttps://t.co/u3sY1RoHzF

— CapFriendly Transactions (@CF_Transactions) December 11, 2022
---
I wouldn't really look too much into this transaction, one that may very well be a "paper" deal come Monday.
As we all know, the Rangers are trying to accrue every cap space dollar available. In other words, who knows – Harpur may be recalled on Monday.
Then again, with the team at home for their next two games, followed by a short drive to Philadelphia this Saturday (I'm attending that game too); the Rangers may leave Harpur in Hartford for the time being.
If that's the case, then general manager Chris Drury and company will have to hope that nothing happens during pregame warm-ups.
If Harpur remains howlin' with the Pack, and should a rearguard get dinged up, then that would force Gallant to go with a line-up of thirteen forwards and five defensemen – not exactly ideal.
We'll find out the final decision prior to puck drop between the Rangers and Devils on Monday night, where in either case – Libor Hajek will remain as the sixth defenseman of this team.
---
For your consideration, my tweet from Saturday morning:
More credence to the "young sire at home has impacted Igor's play at M$G" stuff:

Home: 5-4-3, 2.80, .907

Road: 8-0-1, 2.09, .930

Get the home numbers up and #31 could repeat as a Vezina winner. #nyr pic.twitter.com/TPv4gjtKNQ

— BlueCollarBlueShirts (@NYCTheMiC) December 10, 2022
---
As the old adage goes, "no news is good news."
That expression sums up the Rangers' weekend, following their 2-1 shootout victory over the Avalanche from Friday.
On Saturday, the team flew home and took the rest of the day off.
A day later, the team reconvened in Tarrytown, NY for practice, where not much went down.
CZAR IGOR had the starter's net, while Gallant went with the same line-up that he used during the last two games, wins over both Vegas and Colorado.
Following the practice, Gallant held his daily edition of "TURK TALK." Here it is:
---
Gallant didn't really say anything new on Sunday.
If there was anything to note, it was that the head coach said he thinks that he has now found his regular line-up, will continue to play this line-up, and hopes that the team continues to win. Gallant said if the latter is to become the case, then it will make his job easier, as he doesn't want to tinker around with his line-up game-by-game. (He said all of this last season too.)
Gallant also praised the job that Lindy Ruff is doing with the Devils, but duh – thinks the Rangers can beat them.
We'll find out on Monday night at M$G.
Main event time, the Emile Francis ceremony in Long Beach.
---
On Saturday, December 10th, "The Long Beach Ice Arena," the once former practice home of the Blueshirts, renamed their venue to "The Emile Francis Memorial Arena."
As previously discussed at length in both this space and in my books, it was "The Cat" who first brought the Rangers to the beach town located in Nassau County – and long before Long Island had a hockey team all to their own – the New York Islanders.
(The Isles were founded in 1972 – and only as an NHL direct response to the upstart World Hockey Association, who planned on using the Nassau Coliseum as one of their venues.)
When Francis, now removed from his playing days, was initially hired by the franchise in 1961, then as the team's assistant general manager, he selected Long Beach, NY as his home. His landlord? Doug Harvey, the first-and-only Ranger to serve the club in the dual role of player/head coach.
Similar to today, over sixty years ago, the living conditions in Manhattan were both poor and outrageous. Between crime, filth, wide-spread drug abuse, you name it – the players wanted nothing to do with the city – besides play hockey for it.
Of course, the high cost of living in Manhattan, during a time where player salaries were nowhere near what they'd later become, was also a huge turn-off.
As Walt Tkaczuk said in 1972, "I used to pay $250 a month rent, now I pay $276 for a house that's mine."
The fierce Rangers' center also said, "I wouldn't call my home here [Long Beach] a permanent home. I don't think any hockey player can call his home permanent. You can get traded. Not until you're finished do you have permanent home."
Tkacuk, who spent his entire fourteen year NHL career with the Rangers, currently lives in St. Marys, Ontario, where he owns a golf course.
When Francis replaced Muzz Patrick as the team's general manager in 1964, not only did he demand the powers-to-be at MSG to lose the circus (Francis wouldn't accept the job unless he was guaranteed that every home playoff game would be played at the Garden – for more on this, just check out my books), he soon settled on his new "hometown," Long Beach, as a place where not only his players could practice – but live and enjoy life too.
During the Francis era of Ranger history, the majority of players and staff (including dentists, doctors, trainers, etc) all lived just blocks away from the Atlantic Ocean. Whether it was Long Beach, or its neighboring town, Atlantic Beach; Ranger fans on the south shore of Long Island would constantly bump into their favorite players.
For over a decade, the Rangers pretty much lived a stone's throw way from each other (and the sand too), with only two notable exceptions – Eddie Giacomin and Rod Gilbert.
While the goaltender bought a home in another Long Island suburb, the tony town of Manhasset; the star of the "Goal A Game" line, then one of NYC's most eligible bachelors, decided to stay in the city.
For Gilbert, the only player from this era to live in the city that he played for, it also meant that his nightlife, and whatever shenanigans took place after midnight, wouldn't get back to Francis.
In 1972, during an interview with the New York Times, Francis said, "all the guys were spread out then. Some lived in Jersey, some in Manhattan, some in garden apartments in Glen Oaks, Queens. I wanted a place where I could keep all the players together."
Without saying it verbatim, by having all of his players nearby, it allowed Francis to monitor them away from the ice.
(And to state the obvious – this was during an era long before the days of everyone having a camera/video recorder in their pocket, in the form of a smartphone.)
However, Francis, now as a "deterrent resident" of Long Beach, couldn't prevent what happened to Terry Sawchuk during a spring night in 1970. By that point, Sawchuk had a ton of issues, and his alcohol-fueled fight with his teammate and roommate, Ron Stewart, soon led to his passing on May 31st. (Another story that I covered at length in my books. Long story short – Sawchuk took all of the blame prior to passing away, and in no way was Francis to blame.)
Sadly, it was Francis who had to claim the body of the person he described as "the great goaltender that had ever lived."
During his time in Long Beach, when the Rangers weren't practicing at their new facility, Francis was also involved with the town's council. Francis, during a council meeting, said, "we try to make it [Long Beach] like home for the players."
While only a few players would remain on Long Island once the off-season hit, as the majority of the Canadian-born Rangers returned home (or to "cottage") for the summer; both Winnipeg, Manitoba native Pete Stemkowski, and Gilles Villemure, born in Trois-Rivieres, Quebec, remained on the island.
Over fifty years later, the two men, still close-friends today (they have weekly lunches together), remain on Long Island.
Villemure, a life-long fan of the horse racing scene, having raced the beasts himself at the many tracks located nearby during his heyday (Francis knew about this but never bothered his Vezina Trophy winner about his risky passion), now lives in Levittown – a fifteen minute drive away from Stemkowski, who still remains in Atlantic Beach.
Both Villemure, the greatest back-up goaltender of franchise history, and Stemkowski, the center of the best third line of franchise history, were at the ceremony that was held this past Saturday afternoon.
Joining the two Blueshirt legends (and who I consider "Rink of Honor" Rangers too) for this tribute to Francis were Brian Mullen, Steve Vickers and Nick Fotiu (also members of the "ROH.")
Andre Dore, a former Ranger who didn't play under Francis in New York (but he later played for Francis in St. Louis), was also there.
For Mullen and Fotiu, both natives of New York themselves, they grew up and took part of the Francis-led "Junior Rangers" program, a group of minors who all played for the Metropolitan Junior Hockey League. For "The Sarge," Vickers, who played his whole career in New York, he first got his start under Francis during the 1972-73 campaign.
Also in-attendance was "The Cat's" son, and don't confuse him for a kitten, Bobby Francis.
Bobby Francis, who gave a riveting speech on December 10th, in praise for his father, the facility and Long Beach too, was born on December 5th, 1958, in North Battleford, Saskatchewan – where his father was also born. However, by the age of three years old, the Francis family was in Long Beach – Bobby's new and "unofficial" hometown.
The younger Francis, while only playing fourteen games in the NHL, had a lengthy hockey career, as both a collegiate and minor-league player.
Once retired as a player, he followed in his father's footsteps and got into coaching. He was later named as the bench boss of the Phoenix/Arizona Coyotes prior to the 1999-00 season. In just his third season with the struggling club, he won the Jack Adams Award, as best coach of the league, following the Yotes 2001-02 campaign, where they went 40-27-9-6.
Friend of the site, Jack Vobis, attended the ceremony at the newly minted "Emile Francis Memorial Arena." As a resident of Island Park, Vobis is only a five-minute drive away from the rink – his home rink.
Vobis said, "the event was well-attended, with plenty of my fellow old-timer fans there. It was noted that Stemkowski, who is just a tremendous person, was the man who helped the arena get their finances for improvements, as it was Stemmer who reached out to the Rangers for help.
"During Stemkowski's speech, he brought up Francis' dedication to the community – both in New York City and in Long Beach, especially as the driving force behind the arena and the Metropolitan Junior Hockey League, where Brian Mullen made his bones.
"Mullen credited Francis with his life as a hockey player and brought up how much "The Cat" helped both he and Fotiu.
"Overall, the event was an overwhelming success. Every member of the alumni was grateful and made time to speak to everyone. As a huge fan of Fotiu, going back to my days as a high school student, and later as a season ticket holder (I was even the "founder" of his fan club too!), I had a blast reminiscing with #22."
---
And yes, I have to say this before sharing all of the pictures from the ceremony – when will the Rangers honor Francis?
Yes, they missed their shot at doing so when he was alive, and many times at that – but they should rectify the errors of their ways, and just like in Long Beach – hang a Francis banner in the rafters of MSG.
In fact – I heard there is a book out there that covers this very subject!
Here's a photo gallery of the event, with all photos credited to both Garrett G. and Jack Vobis:
---
---
---
---
As a Ranger fan, I tip my cap to the city of Long Beach – where I'm sure a few pops and belts were consumed at "SHINES" following the ceremony!
PLUGS TIME!
---
My first plug of tonight's blog – the mandatory plug for my book, "The New York Rangers Rink of Honor and the Rafters of Madison Square Garden."
As mentioned previously, the book is now available in hardcover, in paperback and in Kindle formats. To purchase a copy of the book, visit this link:
https://www.amazon.com/Rangers-Rafters-Madison-Square-Garden-ebook/dp/B09CM5N2WD
For those still looking for signed paperback versions of the book, I have re-ordered more copies. I now have a few signed copies for sale at $25 a pop (includes shipping price) through me directly. Here is all the information on that:
---
My four-volume set of books, "One Game at a Time – A Season to Remember," is a game-by-game recount of the Rangers 2021-22 campaign.
My second title as an author, "One Game at a Time – A Season to Remember," is now available in eBook, paperback and hardcover formats.
To obtain signed copies, visit: https://bluecollarblueshirts.com/onegamebook/
To purchase all four volumes on Amazon, visit: Amazon.com – "One Game at a Time."
---
The greatest volume-set of books on Rangers' history today!
"Tricks of the Trade – A Century-Long Journey Through Every Trade Made In New York Rangers' History," a four-volume set of books that meticulously covers every trade made in franchise history, is now on sale.
All four volumes of the title can be purchased on Amazon.com and are presented in three different formats – eBook, paperback and hardcover.
To purchase Volume I: Conn Smythe (1926) – Craig Patrick (1986), visit Amazon.com
To purchase Volume II: Phil Esposito (1986) – Neil Smith (2000), visit Amazon.com
To purchase Volume III: Glen Sather (2000-2015), visit Amazon.com
To purchase Volume IV: Jeff Gorton (2015) – Chris Drury (2022), visit Amazon.com
To purchase signed copies of all four volumes, visit https://bluecollarblueshirts.com/tricksofthetrade/
---
Here are my last few blogs, in case you missed them:
---
---
---
If you haven't already, subscribe to this blog for the next update:
---
Don't forget to order my new four-volume set of books, "Tricks of the Trade!"
If you don't order through me, all four volumes are now available on Amazon.com
For more details, check out: https://bluecollarblueshirts.com/tricksofthetrade/
Thanks for reading.
LET'S GO RANGERS!
Sean McCaffrey
BULLSMC@aol.com
@NYCTHEMIC on the Tweeter machine