"I had a tough time opening my beer." – David Quinn, on 2/1/21, minutes after the Rangers 3-1 win over the Penguins, and in a response to the question of, "were there any post-game incidents after this game?" For David Quinn, he needed this win tonight as much as anyone.
Greetings and salutations everyone and welcome to another blog here on BlueCollarBlueShirts.com. Anything new going on?
While we didn't know it at the time, 48 hours prior to the Rangers 3-1 win over the Pittsburgh Penguins on Monday night, Rangerstown, USA looked like a tire fire. Not only was the team continuing down their path of habitual losing, the Tony DeAngelo incident occurred; an incident which will now mark DeAngelo's eventual departure from the Rangers. (As of this writing, he's still under contract to the Rangers, more on this as we continue.)
As I said at the end of last night's blog, it was my opinion that what the Rangers really needed at this moment, now more so than ever, was just to win games. Forget all the bullshit. Just win. Negative fan reaction? Just win. Fake news blogs like the crap that Adam Hermtrans put out there? Just win. Stories about David Quinn's job on the line? (ESPN.com just ran a story and a poll, where the majority of their writers have David Quinn as the first coach fired this season.) Just win, just win and just win!
The Rangers did just that on Monday night, winning their second game in regulation out of their last thirteen games played. Winning cures all problems. By winning tonight, no one is talking about Jake "The Mistake" Trouba right now, like they would've had the team lost. By winning, no one is talking about the Rangers power-play failures, like they would've had the team lost. And by winning, no one is talking about the Rangers worst performance at the face-off circle this season, like they would've had the team lost. Winning has a beautiful way of temporarily hiding problems.
I know I've said this before, but it's worth repeating again – you're only as good as your last game played. For the Rangers, this win was akin to having to take a huge dump, where your stomach is making ungodly noises and you have sweat pouring off of your forehead, but by the grace of God, you make it to the toilet, and you relieve yourself over the bowl just nanoseconds after getting your pants down. This was the Rangers "Kodak Photo Finish" game. After all, had the Rangers lost this game, the Rangers not only would've crapped themselves, the crap would've hit a ceiling fan, a ceiling fan with a diameter that rivaled the size of the ceiling of the "World's Most Famous Arena".
There's just too much bad stuff going on in Rangerstown, USA right now, both on and off the ice, with Tony DeAngelo currently as the lede story. By winning tonight, the Rangers and David Quinn prevented headlines of "Rangers lose Tony DeAngelo; lose another stinker." For the DeAngelo haters out there, tonight's their night to use headlines of "DeAngelo Who?" and "DeAngel-NO!" Instead of the Rangers continuing to sink to the bottom of the pool, as if they were AJ Soprano; the Rangers now get their head above water a bit, where now, you hope that other players outside of Artemi Panarin start to kick their legs and start swimming laps around the competition.
The last 48 hours have been a complete whirlwind. Despite writing two blogs in that time, each hitting the 10,000 word mark, I still feel like I'm trying to catch up in my attempt to cover all the news. In tonight's blog, I'll kick off with all of the latest news about Tony DeAngelo and the press conference that John Davidson & Jeff Gorton had prior to tonight's game. Once closing the gate on "DeAngelo-Gate", I'll open the gate and talk all about this Rangers 3-1 victory over the Penguins, where there's another scandal brewing – "Sam Rosen's Tik-Tok-Gate!" (Hi Andy G. and Cord L.!)
And oh, while opening and closing all of these gates, there's also other news to talk about, because after all, there's never a slow news day in the world of the Blueshirts – Kaapo Kakko's status, as he's now on the NHL COVID-19 list.
However, before rolling up the sleeves and attacking this blog like the Rangers attacked the Penguins in the third period on Monday night – the PLUGS segment. That said, I'll keep it short this time! Below, you can find my two most recent blogs, where I've recapped all the latest craziness and events in the wide world of the New York Rangers:
---
---
By now, I don't blame you if you're sick of Tony DeAngelo's name being in the news. Even as a supporter and fan of his, I know it's at the point of overkill. However, there is still more to talk about concerning DeAngelo. In addition, after this, there will still be a few news stories regarding TDA, such as whenever he comments on what happened, when he gets traded, who he gets traded to, how he fits in with his new team, and in the event that he plays against the Rangers this season, in what would be a "revenge game". And one more time here, if you didn't read my last blog on DeAngelo, which is linked above, I urge that you do. I got a lot of good feedback from the people who read it, and if I say so myself, I thought it covered everything and in a fair manner.
I'll also say this here before continuing – if anyone could use Tony DeAngelo right now, as stated last night, it's the Pittsburgh Penguins. Not only are the Penguins ravaged with injuries at the defenseman position (they've used 11 defensemen this season) their power-play is horrendous. The Penguins power-play went 0-6 tonight and are now 0-17 during their last 17 power-plays.
In addition, while I said last night I didn't know if the Rangers would entertain a trade with a division rival; after hearing Jeff Gorton and John Davidson speak on Monday evening, at this point in time, I think the Rangers will take anything they can get for DeAngelo, no matter who the suitor is. For DeAngelo, I think a team like the Pittsburgh Penguins, a Penguins roster with accomplished and champion veterans on it, would do him good as well.
Another potential landing place, although I don't envision it happening? The Detroit Red Wings, where TDA could reunite with Marc Staal. However, I just don't see the Wings bailing out the Rangers again.
Picking up with where I last left you last night on this story, at 12:00PM Monday, Tony DeAngelo officially cleared waivers. In other words, not one team in the league were willing to pick up DeAngelo's contract, which was my prediction. After all, with the salary cap staying flat, and knowing that the Rangers are now dealing from a position of weakness, who was going to add $4.8M to their payroll?
While I'll get into the Gorton & JD press conference in just a few moments, moving forward, with DeAngelo still property of the New York Rangers; it remains my prediction that some team will give the Rangers crap in return for DeAngelo, in a trade where the Rangers will eat 50% of DeAngelo's salary, thus putting more dead cap space on their books, books that already feature 17.18% of dead cap space – the highest percentage in the league. (Holy run-on sentence Batman!) Also worth mentioning, with DeAngelo soon to be gone, DeAngelo joins Brendan Smith, Kevin Shattenkirk and Brady Skjei, as a bad (high-salaried) contract given out by Jeff Gorton, to a defenseman. Hell, you may as well add Jake "The Mistake" Trouba to this list too!
As noted before, when it comes to the tenure of Jeff Gorton as general manager of the New York Rangers, without question, his biggest weakness are the contracts he's given out to the majority of his defensemen. The Shattenkirk buy-out alone (which I thought was a mistake at the time) will remain an issue for the next few seasons. (Really, who would you rather want right now – Kevin Shattenkirk or Jacob Trouba, especially knowing that Shattenkirk earns much less?)
Using basic logic and the art of deduction, if no one was going to sign DeAngelo for $4.8M, and in a scenario where a suitor wouldn't have to give up any pieces, who is going to trade for DeAngelo's entire contract? Even worse, with the Rangers making it 100% known that DeAngelo is now finished, where they even buried him in the process, who in their right mind is going to trade anything of value to the Rangers? Compounding matters, is that whoever trades for DeAngelo, that team will most likely demand the Rangers to eat 50% (the maximum percentage allowed) of DeAngelo's contract. More dead cap space.
My prediction: the Rangers will trade DeAngelo, where they will assume 50% of his contract, for either "future considerations", a future seventh round draft pick, or for another team's bad contract, whether it be a dead cap space contract or a struggling player that a team wants sent out of town. At the end of the day, the Rangers bought high on DeAngelo's stock and will sell him for pennies on the dollar. This one is on Jeff Gorton.
If there's a theory I truly dismiss, it's my buddy Derek Felix's theory (from the NewYorkPuck.com blog, another blog that doesn't report fake news) where he sees DeAngelo going to the KHL. That doesn't make sense to me for many reasons, with perhaps the biggest reason being that the KHL season finishes up at the end of February. With this pandemic, what's DeAngelo going to do? Play there for two weeks, if that? Plus, the Rangers want DeAngelo out of their system and will take anything back at this point. DeAngelo is still an asset, and even if he was bought out, I'd imagine that he's not looking to go to Russia. I still contend that Pittsburgh would be a perfect landing place for him. We'll see.
---
I don't really want to do another hit piece on Adam Hermtrans here, but I'm forced to. After all, John Davidson called out the fake news and terrible narrative that Hermtrans promoted during JD's press conference with the media. As a result of JD acknowledging this little prick, this is all "real news" and a pertinent story. Again, refer to last night's blog for the origination of this story, which as a result, forced JD to talk about it.
With DeAngelo clearing waivers and after ESPN.com refuting Hermtrans and his horrendous article, Adam Hermtrans went radio silent after being exposed as a liar and a fraud. Here are some of the last tweets from Hermtrans, before going into hiding like a coward: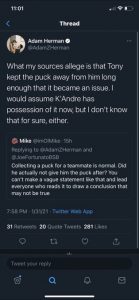 Making matters worse here, are these two things, one brought up by John Davidson (and something I mentioned on Twitter before JD agreed with my thoughts, thoughts that I doubt he saw on Twitter) and something that wasn't brought up by JD.
The thing that wasn't brought up by JD was this – Hermtrans cited that he was having anxiety after releasing his fan-fiction. This was his way of trying to become the "victim".
To recap, since day one of the DeAngelo trade to New York, Hermtrans has written 956785678567857685685 words and 8076786786786789 articles, all burying DeAngelo, all because DeAngelo doesn't have the same political beliefs as Hermtrans. However, despite the numerous attempts by Hermtrans to "Cancel DeAngelo", it was Hermtrans having the anxiety here and desiring to be the victim. Bullshit.
As talked about last night and on social media today, and in addition to hearing what JD said; Tony DeAngelo now has a locked and sealed slander and libel lawsuit for the taking, should he choose to do so, against Hermtrans. I'd donate to that legal fund's GoFundMe! Then again, DeAngelo has enough money to hire his own lawyer and any lawyer would salivate at taking this slam-dunk case.
And really, how ironic would it be if Mrs. Hermtrans was forced to sell her house over this? (In the past, Hermtrans has called the mothers of Ranger fans, for having opinions, even if they were insane, that were different than his. My argument here? Who is Adam Hermtrans to call the mother or family member of anyone?)
The second thing here is the following. Adam Hermtrans, who is one of those uber and extreme liberals, where everyone is a -ist and accused of every -ism, (in the event that you don't agree with his political beliefs) comes off as the biggest hypocrite possible. As JD addressed, without saying Hermtrans by name, but addressing the report by Hermtrans directly – Hermtrans SOLELY dragged K'Andre Miller into this story. For Adam Hermtrans, this social justice warrior white knight, he was making Miller his "token" spokesman, without Miller ever saying a word or even knowing who Hermtrans is.
And let's face it. K'Andre Miller is 21 years old and just wants to play hockey. Do you think Miller wants to be thrown into the political bullshit that Hermtrans is promoting? Outside of fans like Hermtrans, no one cares if Miller is black, white, liberal, conservative, straight, gay, a fan of "The Bachelor" or whatever; all fans care about is if Miller can play hockey and if I say, Miller is currently doing a kickass job of doing so. Miller doesn't need to be the posterboy of Hermtrans and his never-ending race-baiting bullshit.
Here is a fact: Adam Hermtrans 100% used Miller's racial background to not only discredit and smear Tony DeAngelo's name, but to make Miller a key figure in his made-up story. Another fact – MILLER HAD NOTHING TO DO WITH THIS TONY DEANGELO/ALEXANDAR GEORGIEV INCIDENT AT ALL. There was no "stolen puck". If Hermtrans wants to write about stolen pucks, maybe he can do it Nancy Drew style, rather than making up things and reporting them as fact.
I'm not going to give Hermtrans a pass at all here. I can tell you from doing this blog, I've created contacts and relationships with both people currently in the organization and in the Rangers alumni. However, unless they ask me to say something publicly or share something, (if you need evidence here, check out my Ron Duguay/MSG Network story from two season's ago) everything they say to me is in confidence.  You, the readers, tell me things, and all of that is taken in confidence too. I'm not a reporter, although I try to hold myself to journalism standards from eras ago. (As talked about many times in the past, I feel that journalism standards are now extinct these days.)
At the end of the day, I am just a fan with a beer in my hand, sharing MY OPINIONS. Nothing more, nothing less. Hell, people criticize me for prefacing many of my comments on this site with "in my opinion"! Of course, one of the benefits of doing this site is creating relationships, both with people in the hockey world and with you guys, the readers. While I comment on the news all the time, very rarely am I breaking any news here, unless it's something alumni related, (like I did two blogs ago with my story of my night out with Pete Stemkowski or anything regarding my Frank Boucher stuff) and even then, I'm not pretending to be Walter Cronkite.
What's my point here? Easy. If you're doing a blog or a podcast for any significant amount of time, you're going to create contacts along the way. However, it's my opinion that whatever is said to you, you should keep it to yourself, unless asked otherwise, especially if you're going to infuse politics into your sports writing.
When Hermtrans wrote his fan-fiction full of fake news, he cited "three sources", sources that he did not name. Who are the sources? Drop Dead Fred, the Ghost of Moe Howard and another blogger who shares the same political views as him? While I don't doubt that someone fed him some crap about DeAngelo, it's up to Hermtrans, as the publisher and author, to filter out the bullshit. Sometimes you just need to listen and leave it at that. When Hermtrans decided to irresponsibly publish the crap he heard, he crossed a dangerous line, and now in turn, he's crying into his pillow full of teeth marks.
And to paraphrase what reader Vinny B. said to me in an email – "A 20 year old running the New York Rangers twitter account may have blocked you over your opinions on Henrik Lundqvist and his contract, but you never had the Team President and General Manager calling you out in a press conference!"
For the record – I wasn't blocked for my opinions about Lundqvist. I was blocked after defending the firing of Jim Cerny, in exchange for the hiring of Amanda Borges, a Borges who never covered hockey prior to her hiring. Whatever, that's neither here or there! (In 2021, Borges is long gone from the Rangers and no longer covers hockey. Jim Cerny works for NHL.com. So was I wrong? I don't think so! While some of my opinions may be unpopular, look at my track record. Over time, my original opinions are proven correct.)
Since I've alluded to it a few times already, here's the complete press conference that JD & Gorton held with the media prior to tonight's game. The following video was posted up on both the Rangers and MSG Networks YouTube accounts, which shows you how important that they felt this press conference was. (Many times, these videos are clipped down and not shown in their entirety.)
Here you go:
In case you don't have an extra twelve free minutes to watch this video (I know these blogs eat up time!) I want to share with you what JD said about Hermtrans and his fake news report:
As you can see, just like Miller's agent, JD, the Rangers team president, started off this press conference by 100% discrediting the crap that Hermtrans put out there. As said last night, I know it sounds "sexy" and how Hermtrans subscribes to the theory of "never let the truth get in the way of a good story", but what Hermtrans did was wrong. He should crawl in a hole after this and stay there. After all, he should go into hiding, because if I were him, I'd be nervous about being served with legal papers right now. When MSG re-opens, it's going to be tough for him to show his face inside the arena. He allowed his politically driven narratives to get himself carried away.
Lastly on this – I hope everyone, who shared with glee and posted all this sick stuff about DeAngelo after reading Hermtrans report, with that same effort and happiness in mind, shares what JD said and what actually happened. I'll hold my breath. Then again, maybe I won't, I do want to finish this blog tonight!
<Deep breath!> Okay, that concludes the Hermtrans section of this bog and all the K'Andre Miller/TDA fake news rumors. Let's get into everything else that was said, you know, the real news.
---
To quickly recap what JD and Gorton said about DeAngelo, here's what you really need to know:
— Tony DeAngelo is done with the Rangers. While DeAngelo will be placed on the taxi-squad for cap related purposes, he will not be with the team. TDA will remain home, until a trade is made, a trade that Gorton and JD think they'll be able to execute.
— Furthermore, there is no chance of Tony DeAngelo going to Hartford or anything like that. He's done. Gorton and JD are finished with him and don't want him around the organization anymore. There will be no redemption story or a situation similiar to the one Brendan Smith once had with the club.
— To back up what I said last night, Gorton said DeAngelo had a negative reaction to being scratched after the home opener. Things just escalated from there and the incident with Georgiev was the end of the line. Prior to the Georgiev incident, Gorton talked to DeAngelo one-on-one, where Gorton said if there was another outburst or issue, he was going to place DeAngelo on waivers. In other words, DeAngelo knew he was on thin ice and was warned that he'd be removed from the team, in the event that another negative thing happened.
— Of David Quinn, Jeff Gorton and JD, it seems that Gorton was the biggest figure involved in removing DeAngelo from NYR. Gorton repeatedly mentioned his talks with TDA, warning TDA if challenged, he'd be gone. From Gorton's perspective, TDA forced his hand.
— Whatever TDA does or did on social media was never an issue for JD and Gorton. JD said he believes in free speech and it's up to others how they take DeAngelo's comments. JD stressed that social media had nothing to do with this transaction.
— When asked about TDA's prior issues with his temper, JD & Gorton pretty much said that was in the past and how DeAngelo had a good track record with the Rangers, bringing up how he was a good teammate.
— JD mentioned that he talked to TDA during the off-season, saying: "My feeling was with Tony, we had to try to help Tony. Tony's got a lot of good attributes, but sometimes he gets in his own way."
— As far as what exactly happened with TDA & Georgiev, just like DQ previously said, Gorton & JD said that they're dealing with it and moving on. None of the three men would go into specifics.
— When it comes to the idea of trying to terminate TDA's contract, in an effort to erase TDA's salary cap hit off the books, Gorton said, "No. We're not talking about that. We're talking about finding him another place to play and letting him move on with his career and wishing him the best of luck." In other words, whatever happens, TDA will get his money.
In DQ's interview, which took place before this, he admitted that this has all been tough for both he and TDA. DQ also said that he texted DeAngelo, saying "I'll keep that private between Tony and I. Contrary to what people may believe, under the circumstances it was probably way better than people imagine." DQ would continue to stomp out fires in his press conference, as he didn't want to say anything negative and allowed JD & Gorton to explain TDA's future.
---
I know this blog is going on too long already and I haven't even got into the game tonight itself, so I'll save some of my comments on DeAngelo once he gets traded. All I'll say here, is I feel this story sucks for all parties involved. It also sucks for the people who bought those $225+ #77 Tony DeAngelo reverse retro jerseys. At least I got a season and a half out of my DeAngelo Rangers blue jersey!
Seriously though, I hope DeAngelo can turn it around, because wherever he goes next, it's his fourth franchise in five years. While I do think DeAngelo became an easy target for people, he also has to take some accountability for himself, and like JD, I'm not talking about social media here. The stuff with Georgiev should've never happened. Was TDA set up to fail a bit? I would agree with that, but that's his issue with DQ and not with Georgiev. And yes, while Georgiev messed up on the play that set up the Crosby game winning goal, Georgiev should've never been the outlet for TDA's pent up rage.
I think it's at the point, where if TDA has another on-ice or locker room incident, it will become TDA's last incident in the NHL. I'm rooting for a redemption story for him personally, even if it isn't with the Rangers. Let's just hope he doesn't go to the Flyers, Islanders or Devils!
As a fan, while I think Pittsburgh would be a win-win for both parties, personally, I'd like to see him hook up with the Minnesota Wild. After all, my boy Cam Talbot is there! (And let's not forget Zuccarello too!)
Good luck to Tony D. moving forward. If he wasn't a big enough of a target already, the red circle will only increase now. He'll have to handle it and change his behavior if he wants to remain in this league.
---
There's even more news to get into before getting to puck drop.
As talked about last night, with TDA gone, Anthony Bitetto joined the line-up for the first time this season. In addition, so did Johnny Brodzinksi, as Kaapo Kakko was placed on the league's COVID-19 list. As JD and Gorton talked about in their press conference, Kaapo Kakko is okay.
Due to league rules and protocol, teams are not allowed to get into specifics about a player and COVID-19. However, what we can take out of what was said, was that Kakko was placed on the COVID-19 list, but may not have COVID-19 himself. By the way these guys were talking, it seems highly probable that Kakko was exposed to someone with COVID-19, and as a preventive measure, was placed on the COVID-19 list. In other words, Kakko could be back for the next game.
With all the roster changes, David Quinn was forced to shake up his line-up, yet again. Here's what he went with and some thoughts on each line and pairing:
FIRST LINE: Alexis Lafreniere/Mika Zibanejad/Pavel Buchnevich (Mika's struggles continued tonight.)
SECOND LINE: Artemi Panarin/Ryan Strome/Chris Kreider (The best line for the Rangers tonight, and it looks like Panarin is getting his groove back too.)
THIRD LINE: Philip DiGiuseppe/Brett Howden/Julien Gauthier (Gauthier took a horrendous penalty in the final minutes of this game, a penalty that almost cost the Rangers a win.)
FOURTH LINE: Brendan Lemieux/Kevin Rooney/Johnny Brodzinski (Another great job by a Rangers patch-work fourth line, with Lemieux arguably having his greatest game of the season tonight.)
Defensively, we saw this:
FIRST PAIR: Lindgren/Fox (Fox continues to be the team's MVP in my opinion, although Panarin is starting to get back into the race.)
SECOND PAIR: Miller/Trouba (Miller continues to play well, while Trouba's play continues to smell.)
THIRD PAIR: Brendan Smith/Anthony Bitetto (Smith would get hurt in this game and DQ would be forced to use five defensemen for 40+ minutes.)
CZAR IGOR, as announced previously, was the starting goaltender. He looks like he's heating up. Alexandar Georgiev, despite the fake news that was out there, was fine. He backed Shestyorkin up as planned.
---
Two more segments and then it's game review/recap time.
Up first, the GAMBLING segment. Here's what I said before the game:
Season over-under record: 5-3#NYR are a mess. Sometimes you rally during crisis, kind of like how Washington did last week. However, I see a high scoring game full of errors.

I'm taking the OVER. pic.twitter.com/el3XTi96wB

— BlueCollarBlueShirts (@NYCTheMiC) February 1, 2021
Well I did get the "sometimes you rally during a crisis" part right! However, with a 3-1 score, my under pick is now a ripped ticket. My over-under record now drops to 5-4 on the season.
Box score time! The following graphics and information come courtesy of ESPN.com:
SCORING: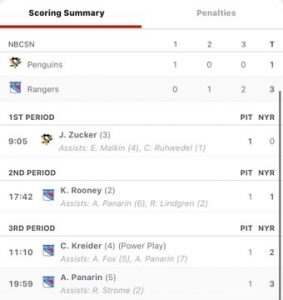 PENALTIES:
GOALIES:
| | | | | | | | | | | |
| --- | --- | --- | --- | --- | --- | --- | --- | --- | --- | --- |
| SA | GA | SV | SV% | ESSV | PPSV | SHSV | SOSA | SOS | TOI | PIM |
| 26 | 1 | 25 | .962 | 17 | 1 | 7 | 0 | 0 | 59:12 | 0 |
| | | | | | | | | | | |
| --- | --- | --- | --- | --- | --- | --- | --- | --- | --- | --- |
| SA | GA | SV | SV% | ESSV | PPSV | SHSV | SOSA | SOS | TOI | PIM |
| 23 | 2 | 21 | .913 | 14 | 1 | 6 | 0 | 0 | 58:03 | 0 |
TEAM STATS: (Look at the face-offs and special teams)
---
In the latest from the world of Steve Vagistat, to the MSG Networks credit, they opened up the show talking about the DeAngelo and Kakko situations. It was also mentioned that the Rangers were wearing "Black History Month" warm-up jerseys, which will be auctioned off for charity. Adam Hermtrans is reporting that this is all racist, because after all, auctioning off Black History Month jerseys, as if these jerseys were slaves, is a slap in the face to the one black person he knows in real life (his UberEats delivery driver). Hermtrans later added, that K'Andre Miller must be fuming about this. (And yes, this joke is as bad as believing that a hockey player stole a puck from a rookie. After all, where did DeAngelo hide the puck? In his Hermtranshole?)
Right after talking the news, Steve Vagistat had two segments, where he talked about charts in both of them. This is unbearable. Rather than having Vagistat go on and on about his rainbow stats, (Vally continues to ignore real black and white stats, such as special teams and face-offs, as he thinks charts full of color are what matters most) the MSGN should've just aired the entire Jeff Gorton and John Davidson press conference. I would think that press conference is of more importance than Vally's fake news charts, charts that he made up on his train ride home, which tell you the "expected" goals on a Monday night game during a snowstorm in an odd-number calendar year.
And really, if the Rangers really wanted to punish Tony DeAngelo, they should've put him in the studio with Steve Vagistat. Hell, as part of an anger management program, they could've had DeAngelo in studio with Vagistat and told DeAngelo that he's not allowed to comment as Vally prattles on and on about garbage. If DeAngelo can hold his tongue for 30 minutes around Vally's inane and worthless commentary, nothing will ever bother DeAngelo again!
Ugh, the Rangers need to do something about this pregame show. While I know these bits can be funny at times, Vally is absolutely terrible at his job. He'd be better off hosting a podcast for chart geeks.
---
Two shocking developments at puck drop of tonight's game:
Alexis Lafreniere shaved his goatee. For some reason, people in Rangerstown, USA are obsessed with hair, whether it be on the head, face and presumably ass areas. Anyway, Lafreniere has a fresh shave.
The Rangers won the opening face-off. This would be the one out of the fourteen face-offs that the Rangers won tonight. In total, the Penguins absolutely pulverized the Rangers at the dot tonight, to a tune of 34-14. As mentioned earlier, had the Rangers lost this game, this issue would get more press right now.
In the first minute of the game, the Rangers almost got caught giving up a quick goal, as the Penguins caught the team making a bad shift change. Fortunately, the Rangers were able to get back and break up the yellow and black attack.
During Bitetto's first shift as a Ranger, he blasted a puck, only for it to get blocked. I was just happy to see him out there. Overall, despite a penalty, I thought he played a solid game. You know the adage I always say here, when it comes to defensive defensemen – if you're not saying their name all game, that's usually a good thing. Bitetto was more than serviceable tonight, in a game where the Rangers held the Penguins to only one goal in.
The other new Ranger, in Johnny Brodzinski, also had a decent game in my opinion. As it has been, these fourth line plug-in guys step in without an issue. He helped Lemieux set up a GOOD LOOK on net early into this game.
2:52 into the game, Brendan Lemieux drew his first of three penalties. I can't stress how great Lemieux was tonight. He was a wild man on both ends of the ice. When Lemieux plays like this, you always say to yourself – "this is a guy you need on your roster to win a Stanley Cup."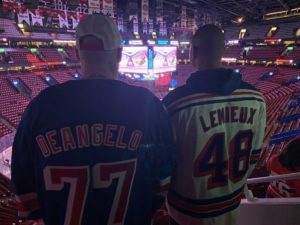 With Jake Guentzel in the box for slashing Lemieux, Chris Kreider replaced TDA on the NYR PP1 unit. Panarin would try to find Kreider here, but no dice. With Kakko out, Lemieux was promoted to the NYR PP2 unit, where he, like all of us, saw Jake "The Mistake" Trouba do one of his patented blasts from the point, where the puck comes nowhere near the net and lands in the East River. All in all, the Rangers power-play failed here. 0-1.
If there was anything that showed you that CZAR IGOR was in the zone tonight (even if he did get help from his iron twice) it was on two different back-to-back Pittsburgh possessions, where awkward looking loose pucks fluttered in his direction. Igor played both of them cleanly. It was nice to see that after that McCann goal from a few games prior.
With the Rangers looking like the better team up to this point in the game, Jason Zucker would put the Penguins on the board at the 9:05 mark. 1-0 bad guys.
On the goal, it was somewhat a fluky play, but a play where the Rangers could've defended better. After a shot that went wide, Malkin got the puck, fed it to Ruhwedel, Ruhwedel blasted the puck to the back boards, Zucker snuck by K'Andre Miller and finally tucked in the puck past Igor. This was a little sloppy defensively, but Pittsburgh did get some puck luck here. And really, while maybe some blame goes to Miller a bit, this all happened so fast and it's not like this is a daily occurrence with Miller, like it is with Trouba. Plus, Miller would later make the defensive play of the game.
Buchnevich, who also had a good game tonight, would be stopped by DeSmith with 9:06 to go in the period.

With 7:37 remaining in the period, Brodzinski was boxed for hooking Brandon Tanev. The Penguins would go on their first of six power-plays here, with all six power-plays eventually coming up empty-handed. Again, this is where a Tony DeAngelo trade could make sense. (A healthy Letang with DeAngelo, Crosby, Malkin and Rust would be nasty.)
While you can say that the Penguins are pretty bad on the power-play right now, you also have to tip your hat to the Rangers PK. After keeping the Penguins off the board during their power-plays last game, and where the PK even picked up a SHG; the NYR PK was 6-6 tonight, which was a PK featuring scrambled units. Of note, and as I've been saying, Chris Kreider, in his new Rick Nash role, is playing his best hockey while on the PK. This move of putting CK20 on the PK has worked out tremendously. Give DQ some credit for that.
After getting the kill, Trouba got the puck, where of course, his shot didn't go on net. Team leader folks! On the next Rangers possession, Ryan Strome, who is starting to play better lately, stripped Malkin of the puck. Trouba then turned over the puck.
With 2:45 remaining in the period, we had this scary play:
Brendan Smith goes face first into Brandon Tanev. Ouch. #NYR pic.twitter.com/WgRK6RRFBr

— Rob Taub (@RTaub_) February 2, 2021
Smith looked dazed and confused as he sat on the ice. Jim Ramsey, the Rangers trainer, had to help Smith up and off the ice. Smith wouldn't return to the game after this. As far as Smith's current status, David Quinn said he'd know more tomorrow. I'm not a doctor (you may have heard) but this looked like a concussion to me. At the very least, Smith had his bell rung.
In any event, not only were the Rangers without Kakko and now without DeAngelo, the Rangers were down to five defensemen for the remainder of the game. The fact that the Rangers won this game is incredible. Again 6-6 on a PK against a PP that features Crosby and Malkin!
With 1:11 to go in the period, Trouba went off for a senseless slash on Crosby. After Igor swallowed up a loose puck, the horn went off. However, so did Brett Howden, as he won a fight against Kasperi Kapanen:
Brett Howden and Kasperi Kapanen drop the gloves after the period. Spirited bout from two guys who aren't known as fighters. #NYR pic.twitter.com/qOObuiciTl

— Rob Taub (@RTaub_) February 2, 2021
It's nice to see some fire in the Rangers belly here. Good for Brett Howden, who would ultimately be rewarded with the Broadway Hat after the win. (Adam Hermtrans is reporting that DeAngelo snuck into MSG and stole the hat! I kid, I kid!)
At the end of one period, 1-0 bad guys, with the Pens having a 12-9 SOG advantage and a disgusting 15-5 face-off advantage too. As mentioned, Vally didn't mention any of these stats during the intermission. "Expected" goal stats, in the Chinese New Year of the Dog, were deemed to be more important. Vally also rambled on about his 46 NHL game career again, where he mentioned that Glen Sather once told him he sucked. You don't say.
---
In our SECOND PERIOD, WHAT DO YOU LOOK FOR HERE JOE moment of the game, the Penguins still had 49 seconds left of power-play time.
Sidney Crosby, who perhaps was snake-bitten tonight, as he probably could've had five goals in this game, deflected a puck from Malkin that hit the crossbar. On replay, it looked like it would've been a high-stick goal anyway, thus negating the goal had the puck went in. Right after this, Crosby then tried a lacrosse/Michigan goal. You could see that Crosby was hellbent to win all game, but once again, K'Andre Miller did a FABULOUS (credit: Joe Micheletti) job of keeping Crosby off the board.
2:34 into the period, Lindgren drew Lafferty with a high-sticking call. Sam Rosen said that "Mika Zibanejad needs to find his game." Maybe he should check the lost and found box from last season. The Pens would kill off the Rangers power-play here, as the Rangers power-play was now 0-2 and in another one-goal game.
For the third straight game in a row, Micheletti pestered Rosen about joining Tik-Tok. Rosen seemed more agreeable to the idea. I'd love to see Rosen shake his ass to that "Down for My N-Word" song that the MSG Networks played in the background, as Rosen was doing an ad read for a black history month promo.
Also of note here, you know those MSG Network fan commercials featuring Ted Kalamaras and his QVC style Facebook video chats, where he's hawking all of his stuff? (Stating, not hating, everyone has to make a buck.) I'm sure you've seen them, as they run like 12-15 times a game.
In the commercials, Ted Kalamaras has a Tony DeAngelo jersey propped up on a chair. You can't miss it. It's featured prominently. Anyway, the MSG Networks have now clipped/cropped the commercial, where DeAngelo's #77 jersey is no longer seen in the commercial. Talk about cancel culture. After all, you still see people wearing Lundqvist regalia in some of these commercials, and despite him not being on the team anymore, his stuff is still featured. Just an observation.
At the 5:36 mark, Bitetto was boxed for interfering with Guentzel. Both Buchnevich and PDG looked good here, giving the Rangers PK another successful kill.
Kreider, who has put his ghost costume away for the time being, had another good game, as he routinely streaked to the net. After the Rangers PK, Casey DeSmith stopped him after a great shot. On the next NYR possession, Kreider then deftly fed Zibanejad a puck, where Joseph blatantly interfered/hooked/held Zibanejad all on the same play, but no call. Had Joseph not been around, perhaps Mika would've got the goal he desperately needs. Instead, Joseph got away with one and the Rangers weren't afforded a power-play either.
In game that was the complete opposite of the one 48 hours prior, as each team were much better defensively and limiting opportunities, Crosby hit a crossbar. Immediately following, at the 13:38 mark, Miller was boxed for tripping Rust. Once again, the Rangers PK unit, which now seems led by Chris Kreider, shined, as Kreider beat four Penguins, streaked to the net, got a shot off, got his own rebound and made the Pens look silly. However, DeSmith made both saves.
After killing another Penguins PP, Miller would get a jack-in-the-box chance, but shot wide. Then with Lemieux drawing another penalty, CZAR IGOR went to the bench and Panarin joined his teammates as an extra skater. However, it would be Kevin Effin' Rooney, tying the game:
GET IN THERE! pic.twitter.com/VYKFMc5yaJ

— Rangers on MSG+ Tonight (@RangersMSGN) February 2, 2021
1-1. This was a textbook definition of a hardworking greasy goal. Rooney stuck with the play, didn't let anything bother him and skillfully tucked the puck in the limited space DeSmith offered. What a nice surprise Rooney has been thus far this season.
With 57 seconds remaining in the period, Ryan Lindgren was sent to the sin bin for tripping Tanev. It's amazing that the Rangers won this game, as their PK killed six penalties tonight, with two of them being wrap-around PK's, meaning that the Penguins got a full two minutes out of their PP1 unit. No bother!
1-1 after two periods and with the Penguins winning the circle game 24-9.
---
As we hit the third period, it looked like this would be another one-goal game for the Rangers and Penguins. While the final score was 3-1, due to a last second Panarin ENG, the Rangers had one of their best periods of the season under these circumstances.
I don't know if David Quinn gave his team a pile of cocaine and shot them up with meth during the break, but whatever happened, the Rangers came out flying for the next twenty minutes. The Rangers absolutely dominated. What a complete reversal from the third period from Saturday night. Making things crazier, was how flat the Rangers looked in the first forty minutes in this game, at least offensively.
With the Penguins still on the power-play, the Rangers would kill it, with Mika Zibanejad making a clear while Crosby looked possessed. After some shaky play in front of CZAR IGOR, Kreider would get a clear and Igor would get his stick back after dropping it after making a save.
At the 3:49 mark, Chad Ruhwedel went off after slashing Lemieux. Again, Lemieux was fantastic tonight.
Zibanejad looked shy to shoot early into this Rangers power-play, opting not to shoot while open and making a cross-ice pass to nowhere. Then, to show us he's back to normal, at least normal in this 2021 season so far, Zibanejad took his one-timer from Ovi's office, where he falls to his knee and the puck never goes into the net. No one on this team needs a goal as bad as Zibanejad does right now.
After the failed power-play, the Rangers just had a series of plays, from all four lines, where they had 6766789 scoring chances but just couldn't get across the finish line.
With the period flying by, at the 10:57 mark, Ruhwedel was boxed again, this time for a delay of game. In a rare display, we then got Sam Rosen to say "AND IT'S A POWERPLAY GOAL":
🚨 KREIDER!!!! 🚨 pic.twitter.com/C1HqXfAWyG

— Rangers on MSG+ Tonight (@RangersMSGN) February 2, 2021
2-1, GOOD GUYS, with under ten minutes to go!
On the CK20 goal, it was perfection. Kreider had DeSmith screened, Fox noticed, and after making a head fake, Fox blasted a puck from deep and Kreider timed his deflection with ease. Nothing DeSmith could do here, as the Rangers took "DeLead". This was what I was calling for last game, as the Rangers failed to shoot the puck when Kreider had the goalie screened. You have to love these type of goals!
Enter K'Andre. (I want to use the K'Andre The Giant nickname, but now that Vally is doing it, he's killed that for me!)
In the absolute defensive play of the game, K'Andre Miller preserved the Rangers 2-1 lead:
What a defensive play by K'Andre Miller #NYR pic.twitter.com/8hupyHKk2K

— Rob Taub (@RTaub_) February 2, 2021
I believe my buddy Gideon jumped through the ceiling after seeing this play too!
K'Andre Miller not only prevented a goal here, he bailed out the lousy overpaid Jacob Trouba too.
Take another look, as there were many replays of this blocked shot:
We just can't get over K'Andre Miller's heads up play to stop at the goal line & get out in front to stop the tying goal. Look at this, man👍👍 pic.twitter.com/obYYHEjCuQ

— Rangers on MSG (@RangersMSGN) February 2, 2021
On this play, Jake "The Mistake" Trouba skates into his own goalie, thus knocking the stick out of Shestyorkin's hand and forcing Shestyorkin out of position. With two rookies both looking to make plays, K'Andre Miller got in line and blocked a sure-fire goal for Pierre-Olivier Joseph. With the Rangers bad luck this season, keeping the lead was crucial here and Miller did just that. Not only did Miller protect the lead, and not only did he help Igor's GAA and save percentage, Miller bailed out his overpaid partner too. Had this shot gone in, this is a different story right now.
With 5:35 to go in regulation, Julien Gauthier took a horrendous penalty, as he held Guentzel. Let's see if DQ returns him to the "Blueshirt Underground Show" coined "Quinn Bin" after this game. (Of note, I believe BSU returns Tuesday night. Check their YouTube and Facebook page for more.)
With the Penguins on their sixth and eventual final power-play of the game, behind Brett Howden and Miller, (once again) the Rangers got their kill. I know it's early into the season and I know this sounds fan-boyish, but hell, the Rangers have a real shut-down defender in Miller, and a defender who can help on the offense too.
Prediction: Fox and Miller will soon be teamed up, even if that means breaking up Fox and Lindgren. It will be an experiment too enticing not to try.
As the two minute warning hit, Casey DeSmith went to the bench to sit. Brendan Lemieux would get caught on the ice for a long shift, as a result of an empty net shot attempt that went for an icing. However, Lemieux hung in there and got a clear, where he went for another chance, but he was so tired, that Crosby easily picked him clean near center ice.
As the clock ticked down, Zibanejad would get the final clear of the game. Panarin would try to feed Strome, but it didn't work out. However, Panarin got the puck back and with something like .5 seconds on the clock, Panarin scored. As a result, Panarin finished with a three point game (1G, 2A) where really, you didn't realize he had a three point game until looking at the box score. (Both assists credited to him tonight were kind of fugazi, but they all count. Also of note, this was the Rangers first ENG of the season.)
In either event, 3-1, GOOD GUYS, your final score from Madison $quare Garden! I can't stress enough how huge this victory was needed, not only for the team, but for David Quinn himself.
---
In the first game in the post DeAngelo Era, and with the team desperately needing something good to happen, the Rangers knocked off the Pens. However, it can't stop here. The team needs to streak like a drunk at a Polar Bear outing.
Moving forward, the Rangers now have two days off and will host the Washington Capitals on Thursday night. After that game, the Rangers will have a few days off, where they will then next host the Islanders on 2/8.  Originally, the Rangers were supposed to play the Devils on 2/6, in New Jersey, but that game is now postponed, due to the Devils coronavirus issues:
#NEWS: Our season is postponed through at least Feb. 6. For more information read the blog below:https://t.co/E19BOSv0zM

— New Jersey Devils (@NJDevils) February 1, 2021
With the Devils battling corona, that means, while including this two-game series with Pittsburgh, that the Rangers will now have seven straight home games. No excuses. It's time to pick up some wins.
In the post-game press conference, you could see pure relief seeping out of the pores of David Quinn. He's no dummy, he knows what's up right now. However, a season isn't won in one game. After all, even after this win tonight, the team still remains in last place in the division with a 3-4-2 record. That said, in a season of four-point games (standings-wise) one good win streak and you can be at the top of the division. That's what I'm rooting for!
If you haven't already, subscribe to this blog for the next update:
---
I need a break from writing. My fingers feel like they are more damaged than the reputation of Adam Hermtrans!
With two days off, I expect some news in-between, whether it's about Kakko, Smith or something else in the line-up. We also know that the Rangers are trying to force a DeAngelo trade.
And let me say this – DQ has to scrap this alternating goaltender idea. No one is a bigger Georgiev fan than me, but CZAR IGOR absolutely needs to be in net on Thursday night – no ifs, ands or buts about it.
If the Rangers trade DeAngelo between now and Thursday, I'll return then. Hell, I might return Wednesday night with a short blog, just recapping all the Rangers news. Until then, I return to my "New York Rangers Rink of Honor" book, a project that's almost done, but has gone to the back-burner with the events of the last few days with these 2021 New York Rangers.
As always here, thanks for reading and…
LET'S GO RANGERS!
Sean McCaffrey
BULLSMC@aol.com
@NYCTHEMIC on Tweeter
Follow the BlueCollarBlueShirts.com Facebook Group by clicking this link: https://www.facebook.com/groups/1564026407193056/