"I think any player would be, so yeah, it is frustrating. But I'm trying to work through it. I thought we created a little more today as a line." – Mika Zibanejad talking about his offensive struggles, on 2/8/21, minutes after the Rangers 2-0 loss to the New York Islanders. I don't know what Zibanejad saw, when speaking of his line creating "more" in this game. Arguably, his line was the least productive of all four Ranger lines during this frustrating loss.

Greetings and salutations everyone and welcome to another blog here on BlueCollarBlueShirts.com. Ugh.
After waiting 72 hours to see the Rangers capitalize (pun intended) on their big win over Washington on Thursday night, the Rangers returned to action on Superbowl Monday, where the Rangers offense was worse than the offense we saw out of Patrick Mahomes and his Chiefs during Sunday night's Superbowl. Granted, Seymon Varlamov was the biggest factor in this Rangers loss, as Varlamov made 30 saves in his shut-out of the Blueshirts.
While I wouldn't describe this 2-0 loss to the Islanders as truly "painful", to me, this loss was "stinging". This loss didn't feel like you broke a bone or were in a car accident. This loss felt like a bad bee sting or having salt touch a fresh paper-cut on your finger. Once the final horn went off, I had a reaction of waving my hand in a disapproving tone towards the TV, rather than throwing the remote through the screen.
For over 50 minutes, these two rivals played a scoreless game, a game which featured solid defense and even better goaltending. With under ten minutes to go in regulation, the Islanders scored somewhat of a fluke goal and that was that. The Rangers offense just couldn't get going, where it's now at the point that Mika Zibanejad's struggles aren't comical anymore – they are concerning. Simply put, the excuse train for Mika Zibanejad has reached the last stop, at least for me.
Winning hides flaws, flaws which I mentioned during my recaps of the Rangers two most recent wins. The power-play production is abysmal. Mika Zibanejad couldn't score in a cheap whorehouse while holding a fistful of $100 bills in his hands. Trouba rarely finds the net. Kreider is inconsistent. And by now, we all know what happened with Tony DeAngelo.
As I said at the end of my last game recap/blog, Artemi Panarin's line carried the Rangers in their two most recent wins. I said after the win over Washington, that I think it's at the point where if Panarin isn't hot, the team won't win; especially with Zibanejad having the worst puck luck in the world right now, at least from the offensive side of the puck. While the Rangers bottom six forwards and defensemen continue to play strong games, with Zibanejad currently in the worst slump of his Rangers career; if Panarin's line isn't scoring, the Rangers aren't winning. And that's what happened in this 2-0 loss to the Islanders.
As you read tonight's manifesto, don't take this write-up as being a "hit-piece" on Mika Zibanejad. That said, 11 games into the season, Zibanejad's woes can't be ignored. Zibanejad is a big part of this team and with Zibanejad in a major goal scoring drought, it's costing the team not only wins, but points in the standings too. Panarin & Zibanejad are the Rangers 1-2 punch, where right now, Zibanejad is packing as much punch as a right hook from Stephen Hawking.
As talked about in-depth during prior blogs, maybe Zibanejad is having a "Corona Hangover", something which he has publicly denied. (The fact that this question was asked should tell you what you need to know here.)
On the flip-side of things, it's hard to imagine that Zibanejad would ever admit to the press that his battle with COVID-19 is effecting his play. After all, if Zibanejad is struggling after his bout with COVID-19, and if he said as much, then you'd have to question David Quinn for playing a player that's not 100%. You'd also have to question the NHL's COVID-19 policy too. Of course, this is all a gray area/fine line situation, as nobody knows what the effects are on an athlete who had the virus.
To go even further here, while some NFL and MLB players have overcome bouts with COVID-19, and while UFC fighters have also done the same, hockey is a different sport than football, baseball or mixed martial arts. In this season, most NHL teams are playing every other night and a hockey shift is longer than an NFL play or an MLB at-bat. For UFC fighters, if they test positive, they're pulled from fight cards, where they then have 2-3 months to get healthy before stepping back in the cage. For Zibanejad, right now, he doesn't have that luxury. He is going to play 20+ minutes a night, in a very stressful sport, a sport which pushes you to your physical limits on a daily basis.
I said on a prior blog that maybe Zibanejad needs a night off to get himself refreshed and recuperated. That said, the Rangers had three days off prior to tonight's 2-0 loss. If anything, Zibanejad looked worse tonight than he did in previous games, games where Zibanejad had shots on net where the opposing goalie then robbed him of goals. Tonight, you never felt Zibanejad was a factor, nor was he robbed on any particular shot.
Yes, no one is amazing night in and night out, but for Zibanejad, this game was another fruitless game for the team's number 1 center, and a player that will be looking for a new contract soon. While we all hope that Zibanejad gets the monkey off his back and gets back on his horse, (I'm watching too much "Animal Planet" lately) should this slide continue, it's hard to envision the Rangers "ponying" up (one more animal reference for good measure!) the bucks (last animal reference, I promise!) to keep Zibanejad after his current contract expires.
And just to think, right before the season began, the majority of fans and beat writers were campaigning for Zibanejad to become the franchise's newest team captain. Imagine if that happened? Had Zibanejad been named captain, there would be 76769699786 stories tonight, all about how the "C" was weighing down Zibanejad. Instead, perhaps it's the other "C" that's weighing down Zibanejad, as in "COVID".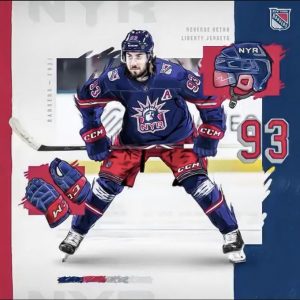 In tonight's blog, I'll recap the news that preceded this game, which truth be told, wasn't much. The biggest story, prior to this game, concerned which goalie would get the net. Even then, to me, that wasn't a big deal, as I didn't think it mattered who started – something which I stated numerous times on social media prior to puck drop. By the time this game ended, and with a 2-0 final, my opinions were spot on. After all, if you can't score a goal in 60 minutes of action, you're not going to win games, unless you're playing for shoot-outs every night.
After blazing through the news, I'll take a look at two interesting NYR media stories, two stories which I think you'll get a chuckle out of. After all of that, it's the game recap/review. That said, as usual, before jumping into everything, the PLUGS segment!
Here are my last few blogs, in case you missed them: (And based on recent site traffic, record site traffic may I add, you guys aren't missing them. Thanks for the support!)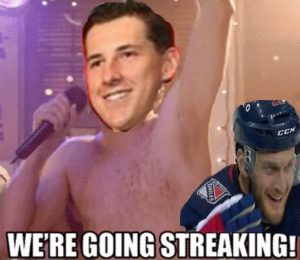 ---
---
---
---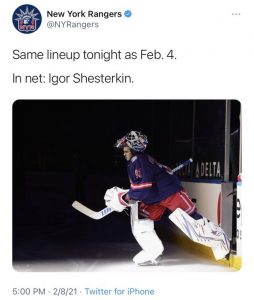 As mentioned, the biggest story going into tonight's game was about who was going to start in net for the Rangers. In my opinion, I would've went with Georgiev for several reasons. Here they are:
— Georgiev has the favorable history with the Islanders.
— Georgiev has been off for a week and needs playing time.
— For all the talk about CZAR IGOR getting into a groove (and he is) the Rangers had three days off, meaning that Igor may have cooled off with the downtime.
— With three games ahead against division leaders, in Boston (two games) and in Philadelphia, I thought this is where you'd go to Georgiev, and then let Igor take on the tougher teams.
David Quinn, who wouldn't tell the media who he was going to start until two hours prior to puck drop of this game, finally said he was going to go with CZAR IGOR. As I said on social media, this didn't bother me. This was a good problem to have, as DQ had to choose between his hot hand or his goalie with the great track record against the Islanders. Unlike others, who were going bat-shit about this topic, (some fans were going mental about the idea of Georgiev starting) while I thought Georgiev should've got the nod, Igor getting this start didn't bother me one iota. After all, of all the silly NYR bloggers, podcasters, fans, media members or whoever, I've been singing Igor's praises for four years now:
As said, once the game was over, the starting goaltender didn't play into this final result, except for the fact of keeping this game as a low scoring affair. With zero goals scored by the Rangers, even if the Rangers had made a robot goalie, a robot goalie featuring the skill sets of Hasek, Brodeur, Sawchuk & Roy, the Rangers weren't going to win this contest behind zero goals for.
In other news, Filip Chytil is expected to remain on the IR, where it looks like he won't be returning for a while. Ditto Brendan Smith. Colin Blackwell, of the walking wounded Rangers, seems like the player that's most likely to return to full health first. Then you have Jack Johnson, who still remains out with a groin injury, a Jack Johnson who shouldn't touch the ice for the rest of the season, especially with Anthony Bitetto and Libor Hajek playing well. (After all, it is a rebuild and Johnson just doesn't fit into that equation. He had his chance and now the Rangers should move on from him. I don't think I'll get much push-back with that opinion!)
We also have news on this guy:
Since the time of the Rangers decision to send DeAngelo home, while on paper, keeping DeAngelo on the taxi-squad for salary cap related purposes; DeAngelo's name was linked to the Calgary Flames in a potential trade, only because the Flames have a player in Sam Bennett who wants out of town. It was thought/speculated, that similar to the recent Pierre-Luc Dubois/Patrick Laine deal between Columbus and Winnipeg, that the Rangers & Flames could make a similar trade, between the two teams and their disgruntled players.
With that said, take a look at this: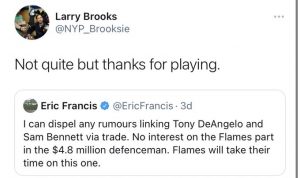 While I'm sure that the Rangers may have called the Flames about DeAngelo, that idea looks like it has now gone to the wayside. Francis is now reporting that the Flames and Bennett are trying to repair their relationship and find common ground, as Bennett wants more playing time, in an effort to help out the Flames. Regardless, it does seem silly that Brooks, who was pushing the DeAngelo/Bennett trade speculation, would call out a member of the Canadian hockey media. In this instance, this isn't Brooks doing his surly and salty old-man act with a fan – this is Brooks calling out an accredited member of the hockey media.
After all, when it comes to big and breaking news stories regarding the Rangers, the majority of the time, that news is broken in Canada – and not by anyone on the New York Rangers beat here in NYC. When it comes to Brooks, most of the stories he breaks are stories that are fed/leaked to him by the Rangers themselves, with most of those stories regarding the contract negotiations of players. (Brooks usually sells stories of the Rangers looking to move on from players during this time, as a way to lessen a player's financial worth to the team. I've recapped all of this on prior blogs and you can check the archives of this site for all of that.)
Three days after calling out Francis, Brooks posted a new column on Monday regarding the DeAngelo trade speculation. Here's a piece of the column:
As of this writing, Larry Brooks hasn't apologized to Mr. Francis. Funny how that works.
Speaking of people who haven't issued retractions or apologies, how about an update on Adam Hermtrans?
Of note here, and in an update to the Adam Hermtrans story that everyone loves, Joe Unfortunato, who works for the same site as Adam Hermtrans, has crawled out of his hole. Previously, after JD called out Hermtrans and his website, not only did Hertmrans go into hiding, so did Unfortunato, who works with Hermtrans.
While Unfortunato hasn't apologized, made a retraction, nor posted that "huge" article he was working on about the fake news report that Hermtrans released, Unfortunato is back on social media, where he's currently posting pictures of his foray into the fast-paced world of BBQ. Maybe he can start wearing a black hat next, as he does his Jim Ross routine on Twitter. SAUCE IT!
In today's world, there are people who are paid to handle someone's crisis on social media. Usually, after a bad event, the offender will start posting baby pictures, cat videos or dogs doing tricks, things that everyone enjoys, as a way to fan the flames. Similar to that, Unfortunato is posting pictures of the meat he flames, as a way to test the waters. While some fans have called Unfortunato out for ignoring everything that happened, for the most part, since most of the readership that Unfortunato and Hermtrans have hates Tony DeAngelo anyway, these people don't seem to mind the irresponsible fake news that Hermtrans put out there. In fact, some of these simpletons are accusing JD of lying! (And let me ask you this, who do you trust more – JD and K'Andre Miller or two jack-offs who make worthless charts all day?)
Also of note Part I – the site that Unfortunato and Hermtrans run/write for? Not one peep about JD's press conference, just like how there wasn't a word mentioned when Henrik Lundqvist donated time/money/food to the NYPD this past summer. And they say they don't have a political agenda in their writing/reporting. Rubbish I say, complete rubbish!
Also of note Part II – you know it's a slow news day when I'm talking about this stuff, but to be fair and honest here, I did have several of you asking me about this. With JD calling out that fake news site and their hogwash reporting, this is REAL news in the land of Rangerstown, USA. Had JD ignored this fan-fiction story, say the same way that Hermtrans and Unfortunato have ignored JD's press conference and the idea of a retraction/apology to DeAngelo, K'Andre Miller and the Rangers; then this wouldn't be as big of a story as it is right now. (Or a story you'd care about.)
Also of note Part III – these two buffoons have tried to discredit me for seven years now, over my opinions on Henrik Lundqvist, goaltenders and contracts. Seven years later – who was right and who was wrong? Last time I checked, Lundqvist never won a Cup, not one top five paid goalie has won a Cup in the hard salary cap era and multiple rookie goalies have won the Cup. I predicted all of this. It's all in the archives of this site. As it is right now, outside of perhaps Vegas and Montreal, no team in the league is making goaltending the brunt of their salary cap. Again, who predicted this? My work and predictions each speaks for itself. (And when Lundqvist was helping out the NYPD over the summer and despite my hatred of Lundqvist's contract, I was the only one to talk about this story. Every other blogger and news reporter ignored it. I never let my own biases get in the way of what I'm writing. I could've ignored this Lundqvist story just like them.)
That pretty much sums up all of the latest news, as after the Rangers were flying high over their win over the Capitals, the only other bit of news was the fact that David Quinn said he'd be going with the same line-up in this game with the Islanders, with the line-up he used in the win over the Caps. That's always been DQ's modus-operandi during his stint as the head coach of the Rangers; as most of the time, DQ will use the same line-up while the team is winning. However, once the Rangers lose a game? All bets are off!
---
For the second straight game in a row, the MSGN didn't release the team's line-up on their pregame show. Instead, we had Vally yammering on about his career in Italy and more talk about his fake news charts. In any event, here was the line-up for tonight's game:
FIRST LINE: Kreider/Zibanejad/Buchnevich
SECOND LINE: Panarin/Strome/Kakko
THIRD LINE: Lafreniere/Howden/Di Giuseppe
FOURTH LINE: Lemieux/Rooney/Gauthier
Defensively, we had this:
FIRST PAIR: Lindgren/Fox
SECOND PAIR: Miller/Trouba
THIRD PAIR: Hajek/Bitetto
And as mentioned, CZAR IGOR got the start, as just like in the home-opener, he squared off against Seymon Varlamov of the Islanders. One day we'll get "The BFF Goalie Game", between Shestyorkin and Isles goaltender, Ilya Sorokin.
---
Gambling segment time. Here's what I said before the game:
Season over-under record: 5-4-1.

I see a 5-1 #nyr win, rest may have done the Rangers good. Islanders seem relieved to have escaped against Pitt on Saturday.

Two teams in similar places, where ever game has been a blowout. I'm taking the OVER! pic.twitter.com/GsUmqZC7zZ

— BlueCollarBlueShirts (@NYCTheMiC) February 8, 2021
So much for that horrid prediction. With the 2-0 Rangers loss, my season over-under record stands at .500, with a 5-5-1 record. I'm not off to the great start like I had during the past three seasons!
Box score time. The following information and graphics come courtesy of ESPN.com:
SCORING:
PENALTIES:
GOALIES:
| | | | | | | | | | | |
| --- | --- | --- | --- | --- | --- | --- | --- | --- | --- | --- |
| SA | GA | SV | SV% | ESSV | PPSV | SHSV | SOSA | SOS | TOI | PIM |
| 30 | 0 | 30 | 1.000 | 26 | 0 | 4 | 0 | 0 | 60:00 | 0 |
| | | | | | | | | | | |
| --- | --- | --- | --- | --- | --- | --- | --- | --- | --- | --- |
| SA | GA | SV | SV% | ESSV | PPSV | SHSV | SOSA | SOS | TOI | PIM |
| 30 | 2 | 28 | .933 | 26 | 0 | 2 | 0 | 0 | 58:50 | 0 |
TEAM STATS (Once again, the Rangers power-play could've swung this game for the Rangers. They went 0-3. At least the Rangers were much better at face-offs tonight.)
The less said about Valiquette and the horrible MSG pregame show the better. However, I'd be remiss if I didn't bring up how Vally couldn't grasp the concept of how winning defensive zone face-offs is important. During the broadcast, Vally actually said it's a hard concept to understand and how it would take him too long to break it all down. In response, Giannone said something like, "you have to win defensive zone face-offs to prevent goals allowed." Vally looked flabbergasted by that response.
As talked about repeatedly on this site, black and white stats are hard for Vally to process, as he would rather make-up foo-foo charts, charts which are full of rainbow colors. After all, Vally makes money in the analytical game, so it's to his benefit to ignore simple stuff and push his meaningless crap. How this guy is the lead studio analyst for the Rangers remains mind-boggling. In addition, without an ex-player to work off of, Vally is a complete disservice to all Ranger fans as a solo act.
Off puck drop here, as we hit the game review portion of this blog, there's really not much to talk about, at least offensively. Both teams were tremendous defensively and the goaltending was even better. While both teams had decent scoring chances, because after all, no NHL defense is 100% perfect, 100% of the time, for the most part, defense was the story of the game and with the two goaltenders bailing out their team whenever things got temporarily hairy.
I should also mention this not-so-fun fact. Last season, the Rangers were the only team in the NHL not to get shut-out. This season, just 11 games in, the Rangers have now been shut-out twice, both by Seymon Varlamov and the Islanders. Varlamov is now etching out a nice reputation for himself as a Ranger killer, where after this 2-0 loss, I had flashbacks to Jaroslav Halak always beating the Rangers whenever Henrik Lundqvist was in net. Perhaps like Georgiev is to the Islanders, just like Halak once was, Varlamov is now that guy against the Rangers. Disgusting.
Mat Barzal would win the opening draw against Mika Zibanejad, as it looked like Zibanejad's troubles at the dot would continue. However, despite still struggling to score goals, Zibanejad won 11 face-offs and only lost 2 in this game. Now, if Zibanejad could get the rest of his game going, we'd be cooking with gas.
For some reason, once getting the puck during the first Rangers possession of this game, Kreider iced the puck, despite having a clear path into the Islanders zone. While this particular play didn't bite the Rangers in the ass; the Rangers have been prone to these icing calls that turn into face-off losses in their defensive zone, which then turn into goals for the opponent.
1:21 into the game, Dal Colle hooked Trouba. Remember their meeting from last year?
As has been the case during many of these games, the Rangers were rewarded with the first power-play of the game and another early power-play at that. And once again, the Rangers power-play failed to deliver a goal.
The Islanders PK was pretty much perfect here, with only Lemieux challenging Varlamov after tipping a Kakko puck towards Varlamov's direction. The Rangers power-play was now 0-1, where again, a power-play goal could've been the difference between a win and a loss. All of these failed power-plays have really hurt the Rangers in the standings. And while everyone on the Rangers first PP unit deserves blame here, more times than not, it's Zibanejad always sticking out like a sore thumb. (In my opinion, Adam Fox has been the best player on the Rangers power-play, as he continues his campaign for both the team's MVP and the Steven McDonald Award.)
After six minutes played, Lemieux would get hit from behind by Clutterbuck and Miller would be tripped. No call was made on either Islander offense. That said, officiating wasn't the story of this game and we didn't get a call, or a no call for that matter, that was as egregious and as bad as that embellishment call that went against Kakko, in the Rangers win over the Caps this past Thursday evening.
Phillip Di Giuseppe, who was easily the Rangers most aggressive forward of this game, as he was in pure "Kobe" mode, which means he was shooting whenever he could; would then put a puck on the pads of Varlamov. The puck then found Trouba's stick and Trouba put a rare shot on goal. However, this puck was stopped.
Of note on PDG here? He led the team in SOG, with six. Panarin finished in second, with three. Once again, the Rangers bottom six forwards and the defensemen, outplayed the Rangers top six forwards.
After CZAR IGOR made a nice save on Anders Lee, Varlamov made a good stop on Bobby Orr Anthony Bitetto. On Bitetto, I thought he had a tremendous game defensively tonight. While his partner Libor Hajek made a gaffe that later went for an Islander goal, I thought it was terrible and irresponsible when Vally tried to paint a picture of Hajek being the goat (not the GOAT, like Tom Brady) in the post-game. Hajek was playing in his second game of this season tonight, while making less than a million bucks and is on third defensive pair. You want to hang this guy instead of the Rangers 0-3 power-play and Mika Zibanejad? Get lost Vally.
As we crossed the half-way mark of the period, PDG, once again creating offense, tried a give-and-go play to Howden. On the other end after this attempt, Igor would stone Eberle. Back into the Islanders zone, Fox and Strome came close to hooking up for a goal. With the pace picking up, Ryan Lindgren would then break up an Islanders two-on-one rush.
With the Rangers still looking for a goal, while all by himself, Buchnevich, perhaps nervous, just passed a puck to an Islander. I don't know if Buchnevich was expecting a Ranger to skate to the spot or what, but this was as bad of a turnover as you'll ever see. Again, this is why I don't get Zibanejad's quote that I included at the top of this blog.
After the turnover from Buchnevich, Igor's number was called, as he made a flurry of saves before finally freezing a loose puck. You can see that Igor is in the zone these days, as later on in the game, he was coming out of the net more frequently to make plays and even made a perfect poke check on a loose puck in front of him, a puck which an Islander was charging at.
With 2:40 to go in the period, Zibanejad misplayed a puck that was dealt to him while he was standing in front of Varlamov. Mika's Virus continues to plague him.
In more from the world of CZAR IGOR, Igor made a great save on an awkward puck that was shot at a weird angle. These were shots that were going into the net earlier during this season, such as the McCann goal that he allowed. Again, Igor is heating up.
Kaapo Kakko would make a great defensive play, getting the puck out of the zone, during the Islanders final rush of the first period.
After one period, a period that flew by, the score remained 0-0. NYR was leading the SOG department 9-7. To show you how fast this game was moving, we only had 8 face-offs, with the Islanders winning five of them.
Also worth mentioning? K'Andre Miller was leading the team in blocked shots, with two. Miller would finish overall with five blocked shots, which was a team high. Even better, despite the loss, Miller was a force to be reckoned with defensively, as he was breaking up plays all game long. His stock continues to rise.  You simply can't say enough good things about him.
---
As the second period started, we got our normal "SECOND PERIOD, WHAT DO YOU LOOK FOR HERE JOE?" question from Sam Rosen. One of these days, I'm hoping Micheletti will say, "a power-play goal, ya daft prick!" (Speaking of the phrase "daft prick", I totally lifted that from the show "Still Game", which is a Scottish TV show that's currently on Netflix. I'm telling you, it's one of the funniest shows I've ever seen. You will probably need subtitles in the first season. After that, you will get used to the Scottish accents/brogues. That said, I'm telling you, it's well worth your time. And if you're a SJW, forget about it, ya bummer!)
The second period was much more offensively intense than the first period. Zibanejad would create a turnover. Then the Islanders immediately turned over the puck. This left Buchnevich with Varlamov, only for Buchnevich to shoot wide. On the next Rangers possession, the Rangers would get a "soft" three on two opportunity, as a third Islander was just about to catch up, and Varly made a save on a puck off of the stick of Howden. Then, after another dump and chase dance, the Rangers got the puck back, where Buchnevich missed Zibanejad with a pass.
The Rangers would continue to be denied by Varlamov. In perhaps some foreshadowing of things to come, Varlamov made a beautiful and a "save of the game" contender on a Strome to Panarin one-timer. Had the puck went in, this would've been one of the best one-timer goals of the season. Unfortunately, as it seems to be the case, an opposing goalie had one of his best games inside of Madison Square Garden tonight.
As we hit five minutes played into the period, Lafreniere stripped an Islander, which set up PDG for another SOG. Save by Varly.
At the 6:14 mark of the period, Julien Gauthier stripped Cal Clutterbuck of the puck. In return, Noah Dobson hooked Gauthier. The Rangers would then go on their second power-play of the game.
Right after Rosen's new customary comment of "Zibanejad needs to get going here", Zibanejad took his 56675676785786th shot of the season from Ovechkin's office, where once again, the puck never crosses the goal line.
As stated on previous blogs, these were the pucks that were going into the net last season, but for whatever reason, they're not going in this season. And really, I don't have an explanation as to why this is. The shots are on net. They are great looking shots. However, the opposing goalies are pretty much making these saves at a rate of 100%. It's tough to watch, as you know this has to be wreaking havoc on Zibanejad's mental health. Watching Zibanejad on the power-play these days, it is akin to watching a homerun hitter continue to hit bombs that fall short at the warning track, which the outfielders catch. Then, once you think this homerun hitter hits one over the wall, the centerfielder then makes a 10 foot jump at the wall, bringing back a potential homerun ball.
After the Rangers power-play failed again, Brock Nelson beat Jacob Trouba, and went on a breakaway. In turn, CZAR IGOR made a huge save, which was big for several reasons:
— Igor was getting beat on breakaways prior to this game.
— This save kept this game at 0-0.
— Igor bailed out Trouba, a Trouba who was at the end of his shift and was a little bit gassed.
— By making this save, Igor's confidence got a major boost.
— It would've been outright disgusting had the Islanders scored a goal seconds after a Rangers power-play expired.
After the save on Nelson, PDG, once again, the offensive leader for the Rangers tonight and a player being paid millions less than the top six, set up more offense. On this play, Gauthier would get two good shots off, but Varly continued to stand on his head.
With five minutes to go in the period, this game looked like it was going to either end by a fluke goal, after a major defensive mistake or in a shoot-out. Sadly, that's what would happen, and not to the benefit of the Blueshirts.
Towards the end of the period, "THE PRAYING MANTIS" K'Andre Miller broke up a cross-ice/east-west Islanders pass from Jean-Gabriel Pageau, a pass that had it connected, would've been an easy Islander goal for Brock Nelson. Miller continues to dominate. Also during this Isles possession, Igor made something like three or four saves, keeping the game tied at nil-nil. Igor would then make a stick save on Dobson. Both goalies, as Micheletti would say, were FABULOUS tonight.
After two periods of action, we remained at 0-0. The SOG and face-off stats also flipped a bit, as the Isles led NYR 20-19 in the SOG department. Impressively for these Rangers, the Rangers led NYI at the dot, winning the face-off battle to a tune of 18-11. However, and I know I sound redundant, but it is a major issue – the Rangers power-play was 0-2 in another one goal/tied game.
---
After both fourth lines opened the period, Panarin's line would take the ice for their first shift of the third period. Panarin would go on a breakaway, where he was absolutely robbed by Varlamov. This was the save of the game to me for several reasons:
— Varlamov robbed Panarin twice, a Panarin who going into this game, was the hottest player on the Rangers.
— A save in a 0-0 game.
— Had this shot went in, it would've given the Rangers a momentum boost.
— And had this shot went in, the Rangers, who were playing tremendously defensively all game, could've continued to clamp down in their attempt to hold the lead.
With Varlamov bailing out his team, Varlamov would be called on again, as the result of a Rangers two-on-one odd-man rush. Varlamov denied Zibanejad with ease, as once again Zibanejad couldn't lift his team to a win.
On the following Islanders possession, once again, Miller continued his stud season, where he shuts down the top players of the opposing team, this time by forcing a turnover out of Barzal while in the Rangers d-zone. Miller would then get the puck up ice. Without question, Miller's contributions to this team thus far, is the biggest positive surprise of the season. If you recall, prior to the season, it was debatable if Miller would even make the team. By the end of this season, he could be the team's top LD.
Mika's woes continued, as during a wrap-around shot, a shot that Varlamov didn't see coming, Varlamov would make the save anyway. I would imagine that Mika is losing sleep these days. Mika looked absolutely depressed during his post-game interview with the media.
With both goalies continuing to play at their best, we got under the ten minute mark, where it looked like we would have shut-outs for both goalies after regulation. Unfortunately, that wouldn't be the case.
After Igor made a stop on a potential fluke goal, on the next Islanders possession, a fluke goal would come.
Libor Hajek would turn over the puck from behind his own net. Many people are making a big deal of this and while this play led to the Islanders goal, the Rangers had plenty of chances to keep this game at 0-0.
After Hajek's turnover, the Islanders got the puck, where Adam Pelech blasted the puck from the point. On the rebound, a bunch of Rangers and Islanders collapsed in front of Igor, with Casey Cizikas getting to the puck first, where he backhanded a loose puck into the Rangers net. 1-0 bad guys and with 8:45 remaining. Give the Islanders credit here, this was a hard-working and greasy goal, even if it was a tad fluky.
With the Rangers needing an equalizer, two minutes later, and with 6:40 remaining, Clutterbuck fed a streaking Matt Martin, a Martin who blew by the Rangers defense, and Martin easily scored while inside of Igor's paint. 2-0 bad guys, and really, after this Islanders goal, you knew the game was kaput for the Rangers.
For the Islanders, similar to the Rangers, it was their bottom six outperforming their top six, as the blue-collar line of the Islanders scored the only goals in this game.
The Rangers looked like they just checked out after Martin's goal, as all the great defensive work we saw in the previous 50+ minutes was tossed in the trash. At the FOXWOODS FINAL FIVE mark, the Islanders hit the post. With 3:47 remaining, Trouba carelessly hooked Cizikas, thus giving the Islanders a two minute power-play while trying to preserve their two goal lead.
Despite the Islanders looking a little aggressive on their gift from Trouba, the Rangers PK would remain flawless. With 72 seconds remaining, Igor was pulled for the extra attacker. Then, with 53.4 seconds on the clock, Pelech was banged for delaying the game, as a puck sailed into the stands. (With the glass removed as a COVID precaution, the refs had to determine if the puck would've went over the glass had the glass been there, which was their determination.)
The Rangers, down two goals and with under a minute to go, opted to pass than shoot the puck with the two-man advantage. Since the Rangers were on a power-play, all the Islanders had to do was ice the puck, which they did. The Isles ran out the clock, and that was that. 2-0, bad guys, and a wasted opportunity to jump into playoff contention by the New York Rangers.
---
If you're trying to remain an optimist and look for some good things out of the Rangers in this game, here they were:
— The Fox/Lindgren pair.
— K'Andre Miller.
— Artemi Panarin, who really could've had two goals tonight.
— The defensive effort.
— CZAR IGOR.
— PDG.
While I see some people, including Valiquette, that are trying to play the blame game with Hajek, really that's utter shite to me. (Yes "utter shite" is lifted from "Still Game" too!) You can't win if you can't score. Plus, the Rangers got caught on Martin's goal, which gave the Islanders insurance.
Honestly, I don't "blame" Mika Zibanejad for the loss, but you'd have to have your head in the sand to say that he's playing well right now. While he's not a shit-show or anything like that, he's just not producing and he is someone that needs to produce for the Rangers, in order for the team to win games. If the Panarin line is stunted, it's up to Mika to carry the team to wins, just as he did last season. That's just not happening now.
---
If you haven't already, subscribe to this blog for the next update:
---
The schedule now takes a turn for the worse for the Rangers.
The Rangers will host the Bruins on Wednesday and Friday night, a Bruins team that is first place in the standings. After this two-game set, the Rangers will host the Flyers, a Flyers team who are currently in second place in the standings. Come Tuesday 2/16, the Rangers will host the Devils, providing that the Devils are able to play. Once that game is over, it's six straight games against the top three teams in the division, in the Flyers, Bruins and Capitals. It's time to put on the big boys pants and win, rather than shitting into them.
In addition, to show you how much winning and losing truly matters this year, had the Rangers won this game, they would've been in fourth place in the division. Instead, they are now in last place.
For those looking for more on the Rangers, The Blueshirt Underground Show returns on Tuesday night (2/9) at 7PM. You can watch the show live, by visiting this link: https://www.youtube.com/channel/UCY7uJZRhIkM1iLKEdo6gmag
Barring anything crazy happening on Tuesday, I'll be back Wednesday night, looking at the first of eight games among the Rangers and the team from Beantown.
Until then, and as always here, thanks for reading and…
LET'S GO RANGERS!
Sean McCaffrey
BULLSMC@aol.com
@NYCTHEMIC on Tweeter
Follow the BlueCollarBlueShirts.com Facebook Group by clicking this link: https://www.facebook.com/groups/1564026407193056/