"At the end of the day, we probably got what we deserved." – Rangers head coach David Quinn, on 1/30/21, minutes after the Rangers fifth one goal loss of this young season. David Quinn, like his players, also deserves blame in another game this season where the Rangers pissed two points away.

Greetings and salutations everyone and welcome to another blog here on BlueCollarBlueShirts.com. Ugh, ugh and ugh.
On Saturday night, now back at Madison Square Garden, the Rangers played their first game since Alexis Lafreniere's game winning overtime goal against the Buffalo Sabres, which took place this past Thursday evening. While it was fun to get caught up in that moment from that game, let's face it – that goal, as noted last blog, temporarily masked a lot of Ranger issues. Had the Rangers lost that game, the downward spiral in Rangerstown, USA would have continued. Instead, Lafreniere's goal just put the Rangers issues on hold for one night.
In tonight's 5-4 overtime loss to the Pittsburgh Penguins, the Rangers played their absolute worst defensive game of the season. While no NHL team plays a perfect defensive game night in and night out; outside of the home opener, the Rangers were doing a great job defensively and limiting the other team's offensive chances in every game since that 4-0 loss to the Islanders. In this game tonight, the Rangers threw all of that out the window. By the time the half-way mark of the game hit, it was a complete free-for-all, with both teams playing like hockey's version of an Old Wild West shootout at the O.K. Corral.
I will get into the Ranger goaltenders as we move along tonight, as the goalies are now a top topic among Ranger fans and perhaps the team themselves. That said, for the people blaming the goaltenders (and David Quinn) for the recent Rangers struggles, these critics got a ton of ammo to work with after tonight's loss. After all, check out the updated stats of the team's two netminders:
While the stats here aren't that great at all; I truly don't think the Ranger goaltenders have been as bad as their numbers suggest. Conversely, I do think that both goaltenders have given up bad goals this season, especially on shots we've seen them previously make saves on. That said, if anything, the Ranger goaltenders have admittedly been average.
When you boil it all down, when you look at Georgiev & Shestyorkin, if the Rangers make a bad defensive play, the other team is going to score. If the Rangers can't win a face-off in their own zone, the other team is going to score. And if the Rangers are stuck on the ice on a two minute shift in overtime, the other team is going to score. Simply put – these goalies haven't been able to steal wins this season.
Yes, while the argument of "needing to make the extra save" is a valid one, the Rangers didn't give Georgiev much help tonight, especially during a third period where the Penguins pretty much dominated the puck for the final six-to-seven minutes. On the other end, Casey DeSmith, who was no peach himself either tonight, didn't get much help from his team as well. If anything, this was like one of those games from the early 1980's, where offense came first and defense was optional. More concerning as a result of this performance? The Rangers found a new way to blow a lead and lose a game. Prior to this game, the Rangers had been pretty solid defensively.
There's a lot to get into, it's late and I'm running on no sleep. Let's get into the mess this game was and then close off with something positive – some stories from Pete Stemkowski, the center of the greatest third line in all of Rangers franchise history.
However, before recapping all the misery, the PLUGS segment! Here are my last few blogs in case you missed them:
---
---
---
---
---
As I said at the end of my last blog, I thought that David Quinn wouldn't change a thing after a win. While DQ didn't change the skaters in his line-up as I predicted, DQ did change his goalie, which truthfully, just shocked me. I mean, even prior to the Rangers & David Quinn announcing the news about Georgiev going in this game, I posted the following picture on my social media channels:
In his post-practice Zoom call with the media on Saturday afternoon, DQ said that he now wanted to alternate his goalies every game. I will say, when it comes to Georgiev & Shestyorkin, I did tell you that I thought we'd see a 55-45 or 60-40 split among the two goaltenders, rather than a 75-25 or 80-20 split as others predicted. However, due to DQ's history, I also thought that DQ would ride whatever goaltender was hot at the time, with no bias to either goalie. If Igor was hot, he would play. If Georgiev was hot, he would play too. In fact, that's what DQ did after the second game of the season, rewarding Georgiev with a second consecutive start after his 5-0 shut-out win over the Islanders.
I can understand DQ reversing course on his goalies here, or at least understand the logic/thinking behind it. DQ is trying to take the pressure off of the goalies, where it's now no longer a "if you lose, you sit" mentality. Of course, what makes things maddening is how this same logic isn't applied to the skaters, as DQ will bench and scratch guys over taking a penalty, no matter how minor that penalty is. (Of note: Chris Kreider is exempt from this, as no one has committed more bad penalties than Kreider has this season, yet he still plays in every game. And I'm not suggesting that DQ scratches Kreider or anything like that. I'm just pointing out how DQ has treated both Tony DeAngelo and Brendan Lemieux differently when compared to Kreider.)
You know the deal here. I'm not a coach. I'm not in the locker room. I'm not with the team and blah blah blah. That being said, it's always been my approach and thinking that you always ride the hot hand, no matter who it is. Rather than allowing a goalie to get into a rhythm or get hot; DQ, by announcing this alternating rotation, DQ is now taking away the chance of either goaltender getting hot and ripping off a major win streak. In addition, some goalies play teams better than others. After all, Alexandar Georgiev has been an Islander killer during his career. Should Igor get that next start against the Islanders, if it's his game to play, just because of a rotation?
I have been a David Quinn defender the whole way here, despite my disapproval of the firing of Alain Vigneault. (I also hated the Tortorella firing too.) I have chosen to support the coach of the Rangers, rather than challenge him at every point and with every decision made. However, as time passes, it's getting harder and harder to defend DQ, as I find myself conceding a lot of my arguments to one of the biggest DQ haters I know, in my buddy Al "SMD" D. The VIIth.
Again, I can see DQ's reasoning for doing what he's doing with his goalies, but in my opinion, it's counter-productive, especially if CZAR IGOR is supposed to be the next generational goalie of this franchise. CZAR IGOR has the potential to be the team's best player, and that's not going to happen if you ice him every other game. And I say this as a big fan of Georgiev too!
At the end of the day, and because I am opinionated on this site, I say this – this is a horrible decision. This isn't Little League or Pee Wee Hockey, where everybody gets to play. This is professional hockey, where you go with your best guys, especially in net. If you want to keep your same line-up after big wins, I get that, but to yo-yo your goaltenders is not a recipe for success, at least not in my eyes.
(And for what it's worth, I had this opinion before this game, so this isn't a case of hindsight being 20/20 here.)
We've discussed DQ's goaltender decision. Let's get into the rest of his line-up:
As mentioned, DQ went with the same line-up that he used in the win over Buffalo, sans the goaltender position, for this game. I had no issue with it. There's no harm in keeping what's working. However, DQ would be forced to jumble his lines early, due to the Blackwell injury. There was nothing DQ could do about that. However, I thought DQ's line-up decisions in the third period buried the team; decisions that DQ made all on his own. More on that as we continue.
As far as anything else before this game, there wasn't much. All that was left for the Rangers was to get their first winning streak of the season. Unfortunately, that's not what happened in this disgusting 5-4 overtime loss.
GAMBLING SEGMENT time.
Here's what I said before the game:
Season over-under record: 5-2

Keep riding the trend – under has hit three straight. #nyr d has been solid and pp continues to fail to produce. Taking the UNDER. 3-2 Rangers win. pic.twitter.com/1yQvyOiLD3

— BlueCollarBlueShirts (@NYCTheMiC) January 30, 2021
I couldn't have been anymore wrong. Did the under hit? No. Was the NYR defense solid? No – it was anything but solid. Did the Rangers power-play continue to fail to produce? Kind of, but they did get a PPG, so that's ultimately another no here. Most importantly, did the Rangers win? Ugh, no.
I take the loss here. My season over-under record worsens to 5-3 this season.
Box score time.
---
The following information and graphics come from ESPN.com:
SCORING:
PENALTIES: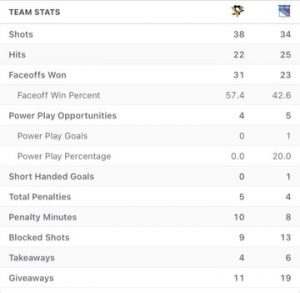 ---
I'm telling you, these MSG pregame shows are absolutely horrid. It's at the point where I think Vally has a secret romance with someone in power. The dude is just terrible as a solo act.
For starters, Vally started going on and on about Ryan Strome, as if Strome was one of the new kids on the Rangers, rather than one of the highly paid fat cats on the team. I'm a fan of Ryan Strome as much as anyone, but Vally was selling Strome here as if Strome were exceeding expectations this season.
After talking Strome, Vally went into his charts, pie graphs and his fake news stats, with words such as "chances" and "expectations" tossed around all over the place. Every shot on goal is chance. Expectation stats are in the eye of the beholder.
Vally then raved about DQ's decision to alternate goaltenders, omitting the other side of the coin and how by doing this, you're preventing a starting goaltender (something Vally never was in the NHL) to get hot.
If that wasn't bad enough, Vally started busting out "slot line" stats, as if that has anything to do with the Rangers amassing losses this season. Not mentioned by Vally here, in his explanation for the Rangers troubles: face-offs and special teams. Vally, who seems like a rainbow man himself, especially with those blonde highlights, is just not a fan of simple black and white stats. For Vally, it's easier to invent stats and claim credit to them, just as he did last game when he ripped off that K'Andre Miller "K'Andre The Giant" nickname.
If you think I'm over-reacting to Vally's poor work, just go and watch any other pregame broadcast around the league. Then watch Vally and his nimrod assessments. It's night and day. And outside of the MSG Networks, no other team in the league features a studio show with only one analyst. Like anything, too much of Vally is a bad thing.
Even worse? Seeing Vally's face after the Rangers lose, as he pulls out his hieroglyphics and all of these other foo-foo charts out of his ass, in a feeble attempt to explain a loss.
Listen, I know this site features the longest game recaps on the internet today, but if I was in the studio, this loss would be easy to explain. This game wasn't a loss because of some chart or anything like that. The Rangers lost this game because they were tired, the defense shit the bed, Georgiev had a bad night, Mika Zibanejad is at the point where it's now truly concerning, one of the team's leaders was a coward, face-off losses and special team struggles. And hell, I would even blame the coach too, not just because of his goaltending decision, but for things I'll later describe as I continue this game review.
Put it this way, once the clock turns to 7:00PM and Sam Rosen & Joe Micheletti replace Vally and do their spiel, I'm celebrating like it's New Year's Day.
---
If you recall, last game, Ryan Strome and his line started the game against Buffalo. In that game, Strome would win two face-offs in nine seconds. In tonight's game, in perhaps a move to reward Lafreniere, Mika Zibanejad's line started the game. Mika would lose the draw, with Mika's tough time at the dot continuing to be a major issue lately, and the Penguins would rush right into the Rangers zone.
With the Penguins already deep in the Rangers zone, Adam Fox held Jake Guentzel. Just 12 seconds into the game, the Penguins had a power-play. This all could've been avoided if the Rangers won the opening face-off. (Yet some chart nerds will still continue to blow off the importance of face-offs.)
Chris Kreider, who has been great on the penalty kill, and who is now like Rick Nash from seasons ago, would make clears and get short-handed chances all game. It was here where CK20 got his first short-handed opportunity, but he would lose the handle as he was streaking towards Penguins goalie, in a one Casey DeSmith.
After two saves from Georgiev, the Rangers would get this early penalty kill. While I'd like to see a lot more production out of the power-play, for all intents and purposes, this game was the best Rangers special teams game of the season. As you'll soon see, the Rangers PK even scored a short-handed goal in this game!
In what seems to be a common occurrence these days, with the teams now back at even strength, the Rangers missed a partially vacated net, with Ryan Strome being the offender in this case. 4:35 into the period, Pierre-Olivier Joseph interfered with Kevin Rooney, as the patchwork Rangers fourth line continues to play well.
The Rangers would get four SOG during this power-play, but DeSmith kept the Rangers off the board. Mika Zibanejad, who finished with four shots on goal in this game, and could've used a goal to help his plus-minus number of -3, (a team low tonight, with Tony DeAngelo and Artemi Panarin joining Zibanejad for this dubious honor) continued his act of taking one-timers from his knee, shots that never feature the puck in the back of the opposing net.
Let's get the Mika rant out of the way now and then continue.
I know I've said this 678967867896897678969 times already, which is just as many times as Zibanejad has failed to score on his chances this season; but without question, Zibanejad has to have some sort of COVID-19 hangover. Between missing most of training camp, not having a preseason and going through the daily rigors that an NHL player endures while playing hockey, Zibanejad isn't the same player from last season. Really, how can anyone debate otherwise?
Zibanejad is just OFF. While I do think Zibanejad has looked decent on the PK, offensively, he's a mess. A new negative trend in Rangerstown, USA is whenever Zibanejad takes a one-timer shot from his knee. If he doesn't whiff at the puck, the other goalie easily turns back the shot. These were pucks that were going in the net last season.
While the Rangers would never do it, especially with the team's center depth issues and with Chytil now out, it might be best for Mika, at least personally, to sit a game or two out. I just think he needs time to heal and maybe he rushed back into this line-up, before being 100% healthy. I say all of this, because while I know Mika has denied any sort of post COVID-19 symptoms publicly, what else is there, when trying to explain Mika's failures from this season?
Mika is a scoring threat. He is getting SOG. However, he's now becoming a liability, as he's being destroyed in the face-off game. There are also times where he just looks sluggish. While I don't have a stop-watch on me whenever Mika is on the ice; knowing that Mika had a ton of breakaways last season, when was the last time you saw Mika go on a breakaway this season?
Of course, there are a bunch of reasons to explain the Rangers futility this season. Zibanejad not being the same player from last season is one of them. After all, with five different losses this season and with a one goal differential in each of them, had Zibanejad scored in any of these games, the Rangers most likely wouldn't find themselves right now, in dead last place, in the "My Shiney Hiney, Viagra, Swank Magazine, Omaha Steaks, Mass Mutual East Division."
And really, don't take this as me knocking Mika Zibanejad here. Take this as an observation about Zibanejad, where I believe he isn't 100%.
---
After the Rangers power-play failed, DeSmith made a great save on Blackwell. Right after, Blackwell went to the locker room and he would be done for the game. Again, there's no update on his status. If he's out for any length of time, I imagine that Julien Gauthier will make his return to the line-up. This is just horrible news in any event, as Blackwell was clicking with his new line and was on a three game point streak.
With the Rangers firing at will at DeSmith, TDA shot a puck wide, where DeSmith, who looked shaky himself, looked into his net for the second time at this point of the game. With the puck ricocheting around the boards, the Penguins stripped Panarin of the puck (this has happened a lot lately, in regards to opponents stripping Panarin of the puck) and marched up ice. Pierre-Olivier Joseph would then fire a puck from the dot right of Georgiev, right onto the stick of Jason Zucker. With the force of the pass, the puck deflected right off Zucker's stick and behind Georgiev. 1-0 bad guys, with 12:20 to go in the first period.
On the goal, this is one you couldn't hang Georgiev for. Bang-bang play, where I'm not sure if even Zucker knew the pass was coming, despite being in the right position.
On the face-off after the goal, Sidney Crosby was called for hooking Zibanejad. This was a ticky-tacky penalty, but we'll take it!
During this second Rangers power-play, Fox made a great pass to Zibanejad, where the net was left wide-open. I don't know what happened here, but it looked like the puck hit both the crossbar and the post. For whatever reason, and with the MSG Networks doing a great job all season with their replays, there wasn't one replay here. I know after the fact that this wasn't a goal, or else Toronto would've chimed in and fixed the situation. However, how this puck didn't go into the net, and how we didn't get a replay here – well both of those things were, and still are, baffling to me.
The Rangers power-play, who had three SOG during this attempt, for a grand total of seven PP SOG, were held off the board. The power-play was now 0-2.
As the period progressed, the Rangers finally got some good news – a Brendan Lemieux goal!
With 6:08 remaining, Philipp Di Giuseppe fired a hard shot at the chest of DeSmith. The puck bounced off his chest and Brendan Lemieux slammed home the rebound:
A lot going on here but Lemieux ties it up at 1! pic.twitter.com/5IbmTISHnX

— Rangers on MSG (@RangersMSGN) January 31, 2021
On the goal, Penguins head coach Mike Sullivan immediately went to his iPad, to see if he should challenge the goal for goaltender interference. While he most likely would've lost, as Lemieux was pushed into DeSmith by a Penguin, I thought it was worth the risk. After all, if Sullivan lost his review, it wasn't like the Rangers power-play were going to make the Penguins pay!
In either event, there was no challenge. 1-1. Also of note – it was nice seeing the other team blow a lead for once. In fact, we'd see the Pens blow three leads in this game! (Of course, the Rangers would blow the final lead of the game. Same old story.)
---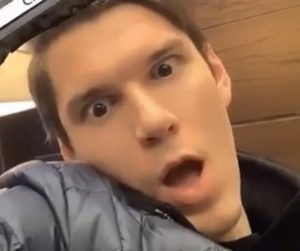 After TDA hit iron, Panarin would be left wide-open, where instead of shooting, he tried to feather a pass that had no chance of connecting to TDA. Panarin needs to be more selfish. These routine cross-ice passes to nowhere is something he needs to drop.
Georgiev, who was helter-skelter a lot in this game, would come way out of his net, almost approaching the face-off circles in his zone, while making a stop on Guentzel. While Georgiev made the save, this could've back-fired big time.
With 39.4 seconds to go, the Penguins made this 2-1. Another late minute goal allowed by the Rangers.
On the goal, the Rangers lost another face-off in their defensive zone after an icing call. Tanev barely deflected a puck, a puck which then dribbled through Georgiev's five-hole. While yes, this was another quick goal after another Rangers face-off loss, Georgiev should've had this one, at least in my humble opinion.
At the end of twenty minutes, we remained at 2-1, bad guys. The Rangers had a SOG advantage of 13-10 at this point, but it were the problems that routinely plague the Rangers that reared its ugly head in.
Of note here, Jacob Trouba gave one of the most god awful intermission interviews you'll ever hear, where he had as much energy as a mute mime doing a statue act. Trouba, who has really gotten on my nerves these last few days, said the same exact shit he says in every interview, (he would also echo these comments in his post-game interview) where he said, "we did some good things, we just have to get better." To that I say, talk is cheap and actions speak louder than words!
---
As we hit the "SECOND PERIOD, WHAT DO YOU LOOK FOR HERE JOE?" segment of the broadcast, I was hoping Micheletti would say – "A Father Finkin' power-play goal Sam, a Father Finkin' power-play goal!"
With Letang joining Blackwell in the locker room, the Penguins defense was more questionable than usual. In fact, the Penguins have now used 11 defensemen already this season!
This second period was sloppy, entertaining, exciting, full of mistakes and like a five-round UFC fight.
2:19 into the period, Marino was boxed for a delay of game. The Rangers power-play got their third opportunity of the game. It was here where Zibanejad had a bunch of chances to score and where Sam Rosen called out Zibanejad for not putting pucks into the net. As said earlier, you know it's bad when Rosen isn't sugar-coating anything.
While the Rangers basically had the puck for the entire two minutes here, you could see why the power-play wasn't executing. There were portions of time where Kreider had DeSmith completely screened, yet no Ranger took a shot on net.
After the Rangers power-play went 0-3, Georgiev made a huge save on Guentzel, a save that prevented this game from putting the Rangers in a two goal deficit.
6:15 into the period, Brendan Smith was boxed for tripping Jared McCann. While this was a penalty, this was a call you probably don't see in a playoff game.
In some absolute craziness, Buchnevich would get a breakaway on the Rangers PK, where Buchnevich tripped over his own dick and lost the puck as he was about to shoot. However, on the next Rangers possession, we had this two vs zero breakaway:
BEAUtiful way to tie it all up at 2 pic.twitter.com/wDkIUUApnw

— Rangers on MSG (@RangersMSGN) January 31, 2021
This was simply amazing for many reasons. I mean after all, Buchnevich just flubbed on a breakaway and seconds later, the Rangers pulled this off!
On the goal, a goal that anyone could've scored, it was Miller making a perfect pass, a pass that is much harder to make than it looks. All Rooney had to do was keep his stick on the ice. This was just another game where K'Andre Miller continued to shine, and on both sides of the puck and in all three zones.
At the 7:20 mark, as a result of this GOOD GUY goal, we were now tied at 2-2.
Just over two minutes later, and after blowing their second lead of the game, the Penguins would regain the lead after a Kasperi Kapanen breakaway goal. Malkin made a perfect pass and Georgiev couldn't win this 50-50 battle. 3-2 bad guys.
Forty seconds later, at the 10:25 mark of the period, Chris Kreider slammed home a rebound after a rare Trouba SOG. 3-3! Also of note here, Miller picked up the secondary assist, as Miller recorded his first two-point game of his career. Again, another Rangers loss buries Miller's huge game from being the lede story. Even better, the Penguins blew their third lead of the game!
This game was wild, as both teams just marched down the ice, put some fantastic shots on net and the goalies would be tested.
After both goalies made some tough saves, Alexis Lafreniere knocked Marino's helmet off. Perhaps Lafreniere should've been penalized, but that's not my problem. With his helmet off, Marino played a puck, which is an automatic penalty, despite how stupid that penalty is. (You're no longer allowed to play a puck if you're without a helmet, which is really stupid when you consider how this league was without helmets for 3/4 of its existence.)
With the Rangers now on their fourth power-play, a power-play that featured another Zibanejad face-off loss and another DeSmith save on Zibanejad, Artemi Panarin broke up the 3-3 tie at the 16:01 mark:
Panarin with a snipe and a half 🎯🎯🎯 pic.twitter.com/rmdivIspNc

— Rangers on MSG (@RangersMSGN) January 31, 2021
4-3, GOOD GUYS and a RARE POWER-PLAY GOAL. I think Micheletti had to whack Rosen in the back of the head, because Rosen was out of practice in saying "AND IT'S A POWER-PLAY GOAL!"
On the goal, Tony DeAngelo got his first point of the season, with a secondary and admittedly, bullshit assist. TDA fed Panarin. Panarin fed the puck to Buchnevich. With the Penguins defender moving, Buchnevich got the puck back to Panarin and boom-shaka-laka, 4-3, as the Rangers took their first lead of the game. Things were looking good, or so we thought.
With 3:20 left in the period, Jacob Trouba was called for roughing, after he was getting too cute and hit Sidney Crosby above the shoulders. Trouba laughed as he went to the box, but for as much as I'll soon slam him, I thought this was a frustration laugh, more than anything else.
The Rangers would go on to kill this Penguins power-play, with both Brett Howden and Chris Kreider doing a great job here.
As we got into the final seconds of the period, Cody Ceci tripped Buchnevich near center ice. The Rangers had the puck all in their lonesome, but rather than just skating the period out, thus getting a full two minutes of power-play time to start the third period, Adam Fox decided to make a play, and in turn, turned over the puck. So instead of a two minute power-play to open the period, the Rangers had 7.9 seconds of power-play time at the end of this period.
It's funny how one play can swing a game. During these 7.9 seconds of time, Kreider cross-checked Teddy Blueger. So rather than starting the third period fresh with a two minute power-play, the two teams would start the period four vs four, and with the Penguins then getting 7.9 seconds of power-play time themselves.
The big story here, besides the Rangers terrible clock management, was that after the Kreider hit, both teams went at it.
I present this video to you, before commenting:
Just keep your eyes on Trouba 🤣😂#NYR pic.twitter.com/49E4O3nCAQ

— David 🔹 (@DaveyUpper) January 31, 2021
Now re-watch this video.
During this scrum, a scrum between two heated divisional rivals, you have Ryan Strome, Chris Kreider, Tony DeAngelo and Artemi Panarin all going at it with members of the yellow and black. Jacob Trouba, one of the anointed and self-proclaimed team leaders, is just standing there, doing absolutely nothing. Like a YELLOW STREAKED COWARD, Trouba tapped a piece of equipment with his stick, as his teammates did all the heavy lifting. What a Father Finkin' disgrace! This guy is supposed to be a leader? These are the actions of a team player?
Trouba has been horrendous and overpaid for 99% of his Rangers tenure. This is not new when it comes to high priced players throughout Rangers history. However, in this instance, at least show that you give a damn. You got four of your teammates scrapping it up and showing that they all give a shit, and here's Trouba looking absolutely GUTLESS here, by standing all by his lonesome.
And let me expand even more. Trouba isn't an idiot. He knows he's playing like crap. The least you can do is join your teammates in battle, rather than dicking around by flinging equipment around. After all, every athlete slumps. Slumps are part of any sport. No one is perfect at their jobs. When stuff hits the fan, it's up to someone like Trouba to join the front line, rather than to cower away. Am I wrong here? Please tell me if I am.
No joke, Trouba may as well have low-blowed his teammates, and do the nWo spray-paint job here. It would've made the same impact had he did.
Furthermore, I don't care if it's the Ducks, the Wild, the Coyotes or another non-rival team. You gotta back up your teammates here, no matter who the opponent is. With this happening against a heated rival in the Penguins, this just magnifies this situation even more. Hell, you got Artemi Panarin, the best and highest paid player on the team, jumping right into the fire. "The Breadman" has all the respect in the world from me.
And don't think I'm exaggerating here. While the MSG Networks didn't show this replay and while Vally flat-out ignored it in his horrible analysis during intermission – every player that has ever played this game and is worth his salt, knows that Trouba completely looked like an asshole here. Put it this way – if Ryan Lindgren was on the ice here, do you think he's standing there with his thumb up his ass?
I am begging Larry Brooks, who said that Trouba should be the captain of this team, to rescind and issue a retraction on that opinion. Leaders join their soldiers in battle. They don't skate around and laugh when the fire gets hot.
I was absolutely DISGUSTED watching Trouba here and I'm even more disgusted watching this on replay.
And save me the shit that Trouba makes money and can't be getting involved in such situations. During this scrum, you had Strome, Kreider, Panarin and DeAngelo, all making choice money, all involved and joining the fray. These four may have their own individual and separate issues, but they are team players and willing to jump head first into the pool. Trouba is just sitting in a lounger working on his Father Finkin' tan!
Of course, not one reporter asked Trouba about this in the post-game. However, Trouba said that the team needs to learn and move on. I lost a lot of respect for Trouba tonight. (And can you imagine if the Rangers ever let me in on one of these zoom calls?)
I'll end this rant with this. There are players on the team that read this site. There are members of the alumni who read this site. All of them have done it or are doing it – I'm just someone with too much time on their hands who writes about it and was never able to become a pro athlete. Just as important, you guys also read this site and your opinions are important to me as well. To anyone saying I'm over-reacting here, I ask you to answer this – AT THE VERY LEAST, shouldn't have Trouba pulled off any Penguin mixing it up with Panarin?
---
Of note during intermission, besides Vally ignoring Trouba here? Vally needed charts to explain how great Miller's pass was on the Rooney short-handed goal. Moron. Can you imagine this 7 foot douche needing charts to break down a pass that looked like something out of the Bobby Orr playbook?
I'm getting too fired up here, so let me try to breeze through this third period.
With both teams continuing to roll in the pig sty with sloppy play, both goalies made huge saves. Put it this way, at the end of the second period, the SOG tally was 26-19, in favor of the Rangers. By the end of the game, the SOG were 38-34, in favor of the Penguins. DeSmith would make 15 saves to close out the game, while Georgiev made 17.
No joke, both goalies played well to start this period, as each team could've had two goals a piece in the first five minutes of this third stanza.
Also entertaining here Part I: Joe Micheletti continuing to push Sam Rosen into joining Tik-Tok, in an effort to get Rosen to shake his fanny like a single mother looking to pay the rent. I'll say this, if this season continues to suck, Sam Rosen on Tik-Tok may help heal the pain!
Also entertaining here Part II: With Black History month coming up, Rosen said that during the next Rangers game, the Rangers will honor "the black experience". I don't know why that was so funny to me, but the way Rosen said it, it just came off so odd that it became funny.
With 10:49 to go, we had a no-call that swung this game.
Ryan Lindgren, who drew two penalties in one play, as a result of Guentzel high-sticking and boarding him, had no such call made. Even worse, the refs blew a whistle, where there was no explanation on why the refs blew a whistle if a call wasn't going to be made. This was complete and absolute horseshit here.
Of course, and for a reason that only these idiotic refs could explain, the Penguins then got a face-off in the Rangers d-zone. You know the drill and what happened next.
The Penguins would win the face-off. Georgiev would make two saves on Guentzel, who should've been in the box, and on his third attempt and with no Ranger being bothered to cover him (maybe the Rangers walked away from their teammate here, in an attempt to follow the example Trouba set previously) Guentzel scored untouched. 4-4, with ten minutes and change left in regulation. This was horrid all-around, from the no-call, the lost face-off, another quick goal after a face-off loss and the fact that it was Guentzel, who should've been penalized, scoring this equalizer.
Disgusting.
---
For whatever reason, David Quinn decided to staple Smith's ass to the bench for the entire third period. When questioned about this decision after the game, DQ said, "It was a decision we made." Well for Mr. Quinn, it was a decision that blew up in his face, like a piece of dynamite during a Road Runner vs Wile E. Coyote cartoon.
To quickly recap – Colin Blackwell was out with injuries, so the Rangers were down to 11 forwards, a position Smith could play, in the event if DQ wanted to continue to roll-out four lines.
With Blackwell out, DQ decided to bench Smith this whole period, thus on his own accord, leaving the team with 11F and 5D. What happened? The Rangers defense tired out. They were shot to shit. For the remainder of this game, it was all Penguins, where instead of hoping for a two-point regulation win, you were just begging for the Rangers to escape with a point. What a roller-coaster of emotions, as at one point, the Rangers looked like they could win this game outright. (Also of note, sorry for using the "shit" word all night. I make an active effort to limit profanity on this blog, and while you won't see the "F-word" on these blogs, I'll use "shit" when appropriate!)
Of course, DQ, ever the hypocrite this season, had no issues with Kreider taking another dumb penalty in this game. Kreider can play with immunity. However, for whatever infraction Smith committed, that was so egregious that DQ had to wear his bench out, Smith sat, and like us, just watched the Penguins absolutely dominate the Rangers. It was a godsend that the Rangers didn't lose this game in regulation, because of DQ's idiotic decision.
And let me be clear here once again – I'm always fair here on this site. If I'm right, I'll tell you I was. If I'm wrong, I'll tell you that too. If I like a player and he does well, I'll let you know, just like how I'll tell you if a player I like doesn't play well. In that same vein, I've been a DQ defender this whole time. I can't defend him tonight. He gassed his team out and that's before he decided to cool off Shestyorkin. (While I think Georgiev could've been better, I can't fully pin the loss on him either.)
If Trouba wasn't terrible enough in this game, in a tied 4-4 game, Trouba, from two feet away, shot wide. As I said during the off-season, why the Rangers let his NMC kick-in this season is beyond me.
After the Guentzel goal, the Rangers played like a team who were told their dog died, as the wheels fell completely off. This was a pure meltdown, like one of my nieces having a toy ripped out of her hands. (Happy 5th birthday to my eldest niece Cayleigh, who is definitely not reading these words right now!)
Somehow, the Penguins didn't score another goal in regulation. 4-4 after 60 minutes.
---
DQ started off the overtime with Strome, Fox and CK20. Again, I'm not there, blah blah blah, but you don't start with your top guys? Panarin should've been out there.
With both goalies making saves, the Penguins would take the puck from the tired and weary Rangers, where Tony DeAngelo and Panarin got caught out on the ice for over two minutes. With the Rangers wearing cement skates, Crosby got the puck, and while wide-open, beat Georgiev. This was a save Georgiev needed to make and cleanly, in order to get a shift change for the boys.
5-4, bad guys, your final.
After the game, DQ said the following about Georgiev: "Georgie would like to have maybe one or two of those back. But listen, we hung him out to dry an awful lot."
If you're a regular reader here, you know I'm high on Georgiev. While I didn't agree with DQ's decisions tonight, I agreed with him on that quote. Georgiev should've made this save and made a save on the 2-1 goal. However, the Rangers have plenty of blame to go around tonight, including DQ himself.
Let me try to calm myself down at this time, and relegate a positive story with you!
---
If you've been following me here on this site, or on social media, I've told you about the "New York Rangers Rink of Honor" book I'm working on. I also told you how I have a mutual friend of Peter Stemkowski and how Stemkowski also goes to the same dentist as I do. Hi Dr. B.!
On Friday night, my buddy Garrett G. set up a meeting between Stemkowski and I. GG told Stemmer about the book I'm working on, and for whatever reason, Stemmer graciously decided to give me nearly three hours of his time. While he did so as a favor to GG, (a long time family friend of Stemmer) Stemmer didn't have to waste his time with me at a local Long Island watering hole, especially during this pandemic.
Stemkowski, who is a featured name in my upcoming "New York Rangers Rink of Honor" book, gave me a ton of stories to use for the book. He also gave me stories that I can't repeat!
Let me expand on that last sentence. In our meeting, which included beers and shots (if I've learned anything in life, you tend to make more contacts and bonds if you're able to hold your booze, where if I have anything going for me, it's the fact that I can!) Stemmer, GG and I talked about the book "Thin Ice". Stemmer, like many in the Rangers alumni, thought that Larry "Ratso" Sloman somewhat "back-stabbed" (that may be too severe of a term, as perhaps the word "disappointed" is more fit) the people he was covering. As previously noted on this site, to this day, the ever fan-friendly Dave Maloney will sign anything Rangers related, except for "Thin Ice", a book that trashed him.
For many of you, you guys, without me saying it, know who my contacts are with the Rangers of today and with the alumni. I'll never name anyone by name, unless I'm asked to by these people, because even as a bullshit blogger that's held to no journalistic standards whatsoever, I'm a big believer in "guy code". No matter how good a story or a quote is, sometimes you have to pocket it, because like any relationship you may have in life, you don't want to betray anybody after being told something in confidence.
That said, Stemmer gave me a ton of great stories that I can use for the book. Even better, he gave me positive stories about many people in the Rangers alumni, which will help me flesh out this now 550+ page manifesto even more. (I'm going to have to cut this down eventually!)
In addition, Stemmer also gave me some quick news items that I can use for this blog.
In a story which I'll repeat in the book, Stemkowski, like every other Ranger of his era, said his biggest regret was that he never won a Stanley Cup for Emile Francis. Every Ranger from this era have echoed this sentiment publicly. In addition, other members of the alumni have also told me this privately.
When I told Stemmer about how I wanted to see Francis get a banner in MSG one day, Stemmer said that Francis is unable to travel right now. I am to assume this is the way it will be for as long as Emile Francis is with us. I really hope the Rangers, now knowing this, will just give Francis a ceremony over Zoom.
As said 7663786786 times on this site, the Rangers really dropped the ball by not honoring Francis when Francis came up for the Ratelle ceremony two years ago. And really, you know that when Francis eventually passes (Francis turns 95 years old this year, just like the Rangers franchise) that the Rangers will post all this flowery and heart-warming stuff about him. How about honoring Francis when he's still alive, rather than honoring "The Cat" with post-humous platitudes?
There are many men who contributed to the success of the Rangers. Only Lester Patrick and Frank Boucher did more than Francis, as a leader of this club. All three of them deserve a banner in MSG. (And yes, I know about Neil Smith, but "The Cat" means more, when talking Rangers history, than Smith.)
Stemmer also told me that he keeps in touch with many members of the NYR alumni. In an update to my previous stuff on Gilles Villemure, Stemmer said that Villemure has exceeded expectations that doctors once put on him and how he still visits with Villemure regularly to this very day.
When it comes to the alumni as a whole, Stemmer said that the Rangers have always treated the alumni great and praised Glen Sather for all his work on behalf of the alumni. Sather gets a lot of flack about his tenure as the GM of the Rangers, but it should be publicized how Sather always tried to get the alumni paid and in the spotlight.
In some current news, due to the pandemic, it doesn't look like that Stemmer will be calling games on the radio this season. Previously, Stemmer usually does anywhere from 12-15 games a season, especially when the NFL season is active, where Rosen does NFL games, which slides Maloney from radio and into the TV end of things.
I've been fortunate, due to this site, where I've been able to watch Ranger games with members of the alumni. Stemmer told me how it's fun to watch games as a fan and his process in calling games on the radio. Just think how hard it truly is to call games, between how fast the game is, line-changes and all the action going on at any particular time. It was cool to understand Stemmer's thought process on calling games. It's a tough job for sure.
In my time with Stemmer, not only was I impressed with his knowledge of the NHL today (many ex-players tend to not follow the league as closely as they used to) but I was more impressed with Stemmer's ability to recall stories from 50 years ago. I can't even remember what I had for breakfast yesterday, which (CALLBACK) is a trade-off of being able to hold my booze!
All in all, a big thanks to Stemmer for giving me his time and to GG for making this all happen. At least something good happened in these last 48 hours for the Rangers!
---
If you haven't already, subscribe to this blog for the next update:
---
The Rangers go back on the saddle on Monday night, where they'll host these same Penguins of Pittsburgh.
Moving forward, we pretty much know that CZAR IGOR is starting. Line-up wise, due to the injury to Blackwell and because of the team's loss, expect the line-up to change.
Making matters worse for the Rangers tonight? This:
— The Sabres beat the Devils 4-3, in a shootout.
— The Flyers beat the Islanders, 3-2, in OT.
— The Capitals beat the Bruins, 4-3, in OT.
In other words, the whole division played tonight, where each game was a three-point in the standings game. The Rangers lost ground in the standings with this loss tonight. For this Rangers team to have any shot at the playoffs, the team needs a major winning streak. That stated, the Rangers have 24 games remaining against the Capitals, Flyers and Bruins; three teams who are 1-2-3, respectively, in the standings. Not good.
See ya Monday, with hopefully a more positive tone.
As always here, thanks for reading and…
LET'S GO RANGERS!
Sean McCaffrey
BULLSMC@aol.com
@NYCTHEMIC on Tweeter
Follow the BlueCollarBlueShirts.com Facebook Group by clicking this link: https://www.facebook.com/groups/1564026407193056/