Greetings and salutations everyone and welcome to another blog here on BlueCollarBlueShirts.com. As they say, "a win's a win!"
Another old cliche? This one: "take your two points and get the hell out of town!"
During a game that only can be described as "sloppy," the "Find-A-Way-Rangers" did it again, en route to their 6-4 victory over the Canucks.
For Gallant's Gang, this was the team's sixth win in a row. A win on Friday night in Edmonton would be the team's seventh, and should that occur – then the Rangers will have matched their previous season-high winning streak, a streak which took place right before the annual Christmas break.
Equally as exciting? For the third time in as many games played, the Rangers posted six goals on the scoreboard. The last time such a feat had taken place? Thirty-four years ago, in 1989!
If you favored sleep over hockey on late Wednesday night – then admittedly, you didn't miss much.
After all, going into this game, where not only were the Blueshirts taking on one of the worst teams of the league, a rebuilding franchise out of British Columbia; but where new head coach Rick Tocchet also elected to start Artus Silovs, a Latvian Orthodox (there's your "Seinfeld" reference for tonight!) goalie who was making his first NHL start – the Rangers were supposed to win this game – and win it handily.
Of course, since things are never easy for the Rangers – the team made their fans sweat it out to the very end – where not even Mika Zibanejad's 6-4 empty net goal, scored with just 1:34 remaining, made you feel safe.
Rather than cruising to victory against a bad team; instead, you only exhaled once the clock had reached triple zeros at the end of regulation.
But hey, to go back to what I said at the top of this – "a win is a win!"
---
In this observer's opinion, my number one takeaway from tonight's tilt is that the Rangers won. The two points netted in the standings is the only thing that matters.
As a result of tonight's two-pointer, the third-place Rangers now trail the second-place Devils by three points and the first-place Hurricanes, who the Blueshirts are 2-0 against this season, by six points.
Perhaps most important, as really, the only thing that matters is qualifying for the playoffs; is that the Rangers, now with 72 points, are eleven points ahead of the playoff cut-line, as the ninth ranked team of the Eastern Conference, those lowly outside-looking-in New York Islanders, only have 61 points – and have played in three more games than their biggest rivals to boot.
Furthermore, the Washington Capitals (62 points), currently the second wild-card of the Eastern Conference, will now be without their greatest star for an extended period of time, "The Great Eight" himself, following the passing of Alex Ovechkin's father on Tuesday.
Of note, my condolences to the Ovechkin family – but the facts are the facts – despite how sloppy tonight's win over the 'Nucks was – the Rangers, through 54 games played – are inching closer-and-closer to officially securing a playoff berth – and with the teams chasing them currently battling a myriad of issues.
---
While my biggest takeaway is that the Rangers won tonight; needless to say, I'm sure that some of the negativity from tonight's game won't be overlooked by others.
Put it this way – the Rangers scored six goals against a crappy Canuck crew, where again, the home team featured a goalie making his first ever NHL start in net – and even then – you couldn't relax until the game had reached its conclusion.
While winning will always create "lumpy rugs;" had the Rangers choked tonight, then I don't think anyone would've been sweeping CZAR IGOR's performance under any rugs – and when I say the word "rug" – I'm not talking about Sam Rosen's bad toupee.
Arguably, this was the 2022 Vezina Trophy winner's worst performance of the season, especially when you consider the competition. In a way, it also feels like he made a deal with the Devil to win that piece of hardware, where in exchange, he'll never be allowed to record a shutout again.
My little gripe about my daily 4-0 Ranger shutout victory bets aside – whatever the case – CZAR IGOR was horrid tonight – and I say that as his biggest fan!
---
While of course, nobody is perfect; at the same time – this CZAR IGOR showing didn't really feel like a one-off either.
After all, and as noted all season – he's been giving up 3+ goals on home ice on a daily basis.
I know that this isn't a 2-1 league anymore, but even so, and maybe it's because what we now all expect out of #31 – it feels like the Rangers have to score 4+ goals in order to win these days.
I'm not there, nor do I talk to CZAR IGOR either.
In other words, I can't accurately pin-point and tell you what's plaguing the best goalie from last season.
As a fan, all I can do is guess – where outside of the new sire at home that's most likely keeping him up late at night and also throwing him off of his routine – I do wonder if all of his rest has led to some rust too.
While it's all about the team; as we all know – Jaroslav Halak has been receiving a bunch of starts lately and where the Rangers have also had some extended breaks in-between games too.
What should also be stated is that CZAR IGOR has carried this team a lot ever since taking over the throne from Henrik Lundqvist – so it's nice to see the team reciprocate every once in a while too.
When it comes to this one game of 82 – while Igor did make 2-3 decent saves – it didn't feel like anything he did tonight was going right for him.
Sometimes, "shit happens," but whether it were the soft goals allowed, none of his passes finding their intended targets and giving up juicy rebounds too – needless to say – Wednesday night was an off-night for him.
That being said, I'd go right back to him on Friday night and allow him to shake this game off, and hopefully, work the kinks out too.
But again – the Rangers ultimately took care of business tonight – and will now face their biggest tests of their final Pacific Time Zone games of the season, the Oilers and the Flames.
And this too – it's extremely late as I start this blog – and yep – I have my daily 5AM train too.
In other words, let's roll, as time is certainly of the essence – and who wants to waste it by worrying about a player that's been dominant more times than not anyway?
---
In case you missed it, I covered all of the Rangers' news from the previous three days early Wednesday morning here: https://bluecollarblueshirts.com/21423/
Since the Rangers held full practices on Monday and Tuesday; a day later, the team held an optional practice on Wednesday morning.
Following the lightly-attended skate, Gerard Gallant held his daily "TURK TALK." Here it is:
---
Not much came out of Gallant's three minutes media, where it was more of the same – a good thing.
The head coach praised the players he was asked about (Kakko and Chytil) and then said what I said last night in this space – how the three days off were beneficial for his squad, both for team-bonding and rest reasons.
And as he always does, Gallant also spoke highly of the opponent, because after all, there is no sense in giving the other team "bulletin-board material."
As far as anything else, Gallant spoke about the one line-up change, the one we all expected – CZAR IGOR in net.
---
Here was the line-up from late Wednesday night:
FIRST LINE: Kreider/Mika/Tarasenko
SECOND LINE: Panarin/Trocheck/Vesey
THIRD LINE: Lafreniere/Chytil/Kakko
FOURTH LINE: Goodrow/Leschyshyn/Gauthier
Defensively, we saw:
FIRST PAIR: Lindgren/Fox
SECOND PAIR: Miller/Trouba
THIRD PAIR: Mikkola/Schneider
STARTING GOALIE: CZAR IGOR
BACK-UP: THE HALAKNESS MONSTER
PRESS BOX: Harpur and Kravtsov
---
BOX SCORE time.
The following graphics and information come from ESPN.com:
SCORING:
PENALTIES:
TEAM STATS: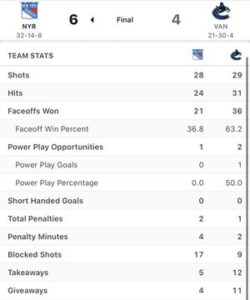 GOALIES:
| | | | | | | | | | | |
| --- | --- | --- | --- | --- | --- | --- | --- | --- | --- | --- |
| SA | GA | SV | SV% | ESSV | PPSV | SHSV | SOSA | SOS | TOI | PIM |
| 27 | 5 | 22 | .815 | 21 | 1 | 0 | 0 | 0 | 58:44 | 0 |
| | | | | | | | | | | |
| --- | --- | --- | --- | --- | --- | --- | --- | --- | --- | --- |
| SA | GA | SV | SV% | ESSV | PPSV | SHSV | SOSA | SOS | TOI | PIM |
| 29 | 4 | 25 | .862 | 23 | 2 | 0 | 0 | 0 | 59:55 | 0 |
---
When I woke up from my four-hour pregame nap, a slumber that I'm relying on to carry me through my work day on Thursday; I tuned into the TNT Network for the second intermission of the Leafs vs Blackhawks game.
Once there, I saw Henrik Lundqvist in-studio, which meant that "The King of Commentary" wouldn't be in the M$GN studio come 9:30PM.
Long story short – I stayed with TNT – and didn't watch one second of the M$GN pregame show. Unfortunately, I'd have to suffer through Vagistat's intermission segments, which were worse than usual tonight – and that's saying something.
Also unfortunate tonight? The fact that Sam Rosen and Joe Micheletti called this game in-studio, rather than taking the 12-hour round-trip flight to Western Canada.
I don't know if Sam and Joe didn't want to travel or if this was an M$GN cost-cutting measure or not (as mentioned on this site before, another negative thing to come out of the COVID-19 pandemic is that sports broadcasting networks now know that they can save money by keeping their crew in-studio); but for as bad as Sam & Joe tend to be – they are even worse when they aren't at the arenas.
After all – it's impossible for Micheletti, who usually does have a keen eye, to see plays away from the puck.
When it comes to Sam – I don't think it matters. You can put him anywhere and he'll never talk about the game anyway. Instead, he'll just read you the pregame notes and if there is a Hughes brother playing – then forget about it – as it will be a three-hour love fest dedicated to all things Hughes.
And that's what happened tonight, as no less than ten minutes into this broadcast, I was left wondering, "is Sam Rosen the godfather of the Hughes brothers?"
Seriously, and I really thought about this myself before writing this – in all of my forty years on this planet, I can't think of any other hometown broadcaster that gushingly and glowingly speaks about an opposing player in the way that Rosen does whenever a Hughes brother is on the ice.
This is also why I was surprised that Rosen didn't board a jet plane destined to Vancouver during the first intermission, just so he could enter the Rogers Arena – and then plant a good old smooch on the smackers of Quinn Hughes.
That's how bad he was tonight – and since I don't want to suffer alone – I'm going to bring up every time when Rosen messed his pants whenever talking about Hughes tonight – and the Canucks too.
I mean after all, how often do you get to hear a hometown announcer wax poetically about the state of the opposing team's assistant coaches?
That's our Hall of Famer for you!
Put it this way – can you imagine George Steinbrenner, in his heyday, allowing one of his announcers to rave about a player from the Boston Red Sox on his airwaves? Heck, can you imagine Steinbrenner allowing his announcers to praise a player from the San Diego Padres for three hours?
Too bad James Dolan is more concerned about his "Sphere" in Las Vegas, rather than the Rangers' stratosphere!
GAME REVIEW time.
---
FIRST PERIOD:
As a general statement, tonight's game was as sloppy as it gets. Whether it was rust from the three days off, being in a foreign land or something else; whatever the case, this was not an entertaining game.
This was never more apparent during the third period, and where I'm not exaggerating – there were 98678678967896896789686 icing calls.
Prior to puck drop, Sam Rosen spent five minutes talking about Quinn Hughes, where each time, the announcer said the player's full name, rather than just saying his surname. This was kind of shocking, because Rosen, who always has to say Micheletti's first name, "OH JOE," whenever addressing him; he didn't do the same with who I'm alleging is his godson!
J.T. Miller ("Oh Joe, no relation to K'Andre Joe!") won the first draw of the game, when he beat Zibanejad at the dot.
For as sloppy as this game was, one area where the Rangers were flat-out dominated in was at the circles.
Overall, the 'Nucks won 63.2% of the game's face-offs. Only Zibanejad, which is surprising (it's usually Trocheck) finished better than 50%, as the first-line center won 54.5% of his draws.
Just 32 seconds in, CZAR IGOR made his first save of the contest. Following the save, Sam & Joe recounted all of the problems in Vancouver and how they will be busy at the deadline. (Keep in mind, they just did this no less than two weeks ago.)
And while I did say that I'd never mention him again last night – you know, the mercurial Russian who I will not name in this writing – mum was the word from M$GN tonight, regarding the soon-to-be former #74 of the Rangers.
I only bring this up because Sam & Joe had no issues whenever speaking about Vancouver's roster (as they did many times) and how goaltender Thatcher Demko made it publicly known that he's not requesting a trade out of the Pacific Northwest.
Just 1:41 in, Filip Chytil went one on four with the Canucks. While not exactly "McDavidesque;" the Czech did put a shot on goal here, which was pretty impressive and hard to do.
The performance of team captain Jacob Trouba may get lost in the mix tonight due to the team's six-pack of goals and because of the issues with Igor. However, don't get it twisted, the Rangers' "Great Eight" was phenomenal on Wednesday night.
Overall, the captain finished +2, and with two big hits and three blocked shots to go along with it. He also made several key defensive plays, as he did at the three minute mark, which then set-up Leschyshyn in the other end – a save for the soon-to-be struggling pal of Cosmo Kramer, the Latvian Orthodox in net, Arturs Silovs.
Since Sam and Joe have to besmirch every Ranger possible whenever calling these games; nearly five minutes in, the two pounded their puds over Erik Karlsson and practically handed him the Norris – despite you know – Adam Fox being much better – especially defensively – where need I remind you – was the original intent of the award.
Following a big hit from Trouba on Joshua; the center remained with the play and boom – just 4:52 in – the Canuck scored during a play where Igor couldn't freeze the puck. This loose change would be the first questionable goal that Igor allowed – where let me stress – only because we've seen Igor shut this stuff down with ease before.
(Of note: later on, this goal was credited to Curtis Lazar – but from my own two eyes – I thought this was Joshua's goal.)
1-0, bad guys.
To the Rangers' credit – they immediately responded – and in the form of two goals from their two highest paid forwards, Zibanejad and Panarin, and within a time-span of 1:12.
Here's Zibanejad tying the game:
Mika smooth as silk finds the 5 hole and ties it up! #NYR pic.twitter.com/oe091zORnm

— Rangers on MSG (@RangersMSGN) February 16, 2023
---
1-1.
Let's face it – a better goaltender – and this isn't a goal. But at the same time, you can't fault DJ Mika for spinning his 28th goal of the season either.
Zibanejad skated right towards Silovs and then threw a weak-looking shot through the five-hole. The rookie goalie was no match for Mika Selke.
And following Rosen's blatant disrespect in regards to Fox – Fox picked up an assist on this goal.
Just 62 seconds later, Panarin, playing his best hockey of the season, gave the Rangers their first lead of the game:
How about this 🍎 from Jimmy Vesey to Artemi Panarin for the quick lead?! #NYR pic.twitter.com/pdikS4vbRR

— Rangers on MSG (@RangersMSGN) February 16, 2023
---
2-1, GOOD GUYS!
This goal was set-up by the second-line Jimmy Vesey, as Panarin blew away Silvos following the one-timed pass. You couldn't have drawn up this play, nor executed it, any better.
Despite the Rangers pulling ahead at the time; Sam and Joe then spent several minutes talking about what goes on at Canuck practices. I'm not making this up.
"OH JOE, RICK TOCCHET WORKS HARD JOE!"
As we crossed the half-way mark of the period, Sam continued to profess his love for his alleged godson, Quinn Hughes.
Down to 8:39 remaining, Lafreniere was boxed for hooking Conor Garland.
The Rangers' special teams units, which have been hot as of late, failed tonight.
Officially, they went one of three, but unofficially, they had a success rate of zero percent, and as I'll soon explain.
On this first penalty kill of two, Pettersson had his stick break on a slap shot, but his team stuck with the puck. This then led to a goal for former Ranger, J.T. Miller, as he beat CZAR IGOR on a clear shot from the left side with 7:15 remaining.
It's tough to get on goalies for giving up power-play goals; but even so, and again, it felt like #31 should have stopped this one – only because we've seen him make these denials time-and-time again.
Because this network hates their fans; once returned from a TV timeout, M$GN then ran a special video package on Miller – the one not wearing the Ranger jersey tonight.
You can't make this up.
Down to 4:43 remaining, Silovs made a rare save during this period, when he denied Kakko. Sam's response, "The Rangers lead this game 2-2 Joe."
I'm not making this up either.
To one-up himself, Sam's next comment? This one: "Look at Quinn Hughes Joe. Two assists Joe. I know we talked about him before Joe!"
No shit – that's all Sam talked about tonight!
Thankfully, we soon received a temporary reprieve for Rosen's adoring godchild; as with 4:24 remaining, this happened:
Niko Mikkola from dooooooowntown #NYR pic.twitter.com/fuvULEWvHW

— Rangers on MSG (@RangersMSGN) February 16, 2023
---
3-2, GOOD GUYS!
Originally, this was ruled as a goal for Mikkola. Had it gone down this way, it would've been his first goal as a Ranger.
While I thought it was obvious at the time that Panarin had deflected Mikkola's shot from DOWNTOWN JULIE BROWN – I guess the official scorers' thought that Schenn, and not "The Breadman," had gotten a piece of it.
At the time – who cared? The only thing that mattered was that the Rangers had regained the lead.
At the end, this was ruled as a goal for Panarin – his second of the game – and his sixth in his last two games.
And no joke – after scoring four goals on Saturday night – Panarin very easily could've scored five tonight.
We remained at 3-2 at the end of the period. Here's what I said at the time:
3-2, GOOD GUYS, after 20. 1P Thoughts:
— Anytime you have a one goal lead on the road is a good thing. You would've been happy with 1-0, but yeah, a little concern about the 2GA.
— SOG 10-9 #NYR; Hits 11-8, FOs 12-5 Nucks
— Vesey continues to roll
— Glad to see #10 score.

— BlueCollarBlueShirts (@NYCTheMiC) February 16, 2023
---
SECOND PERIOD:
During the intermission segment, the following two things happened:
— Sieve Vagistat told us to look at men on their knees – where maybe he was talking about Sam Rosen's love for Hughes.
— Vagistat also did his role-play act, where he dons his gear and pretends that he once was an NHL starting goalie.
Ugh.
It's time for M$GN to make Lundqvist a full-time analyst, or at the very least, beg of him to blow off TNT whenever the Rangers are playing!
---
To open the second frame, Phil Di Giuseppe, the other former Ranger now in Canuck blue, almost got one past Igor. For the second time in two weeks, "PDG" looked like a man possessed against his former team.
However, following Igor's denial, and at just the 50 second mark of the frame, this happened:
"Tarasenko, Zibanejad, Kreider… SCORE!!!"

I love this song 🎵 pic.twitter.com/tt5znWmAcy

— Rangers on MSG (@RangersMSGN) February 16, 2023
---
4-2, GOOD GUYS!
This score was one of the more prettier goals of the season.
On this "tic-tac-goal," Tarasenko found Mika, Mika found his BFF, and Chris Kreider had all day to deposit the puck into the Latvian's vacated net.
What. A. Goal.
And who knew it at the time – this wouldn't even hold up as the game winner.
Also of note – this was Kreider's 251st goal of his career – as he's now seventh all-time in goals scored of franchise history. Should he finish out his contract without injury as a Ranger – then one day – he'll surpass Rod Gilbert's 406 goals – and have his number up in the rafters with "Mr. Ranger" too.
Following Kreider's goal, the second line came on and where Trocheck then immediately found Panarin. The Breadman smashed the post, as this should've been his hat trick goal. And to be clear – I'm not disparaging Panarin here – I'm just saying how close this shot was from going into the net.
And had this puck went in? Then I wonder if Silovs would've been pulled – and if the 'Nucks would've just given up.
Instead, this puck didn't go in and the Canucks continued to fight the Rangers right until the very end.
Down to 15:45 remaining, the Blueshirt alum, PDG and Miller, almost bought the 'Nucks within one. However, Miller, while all alone in the slot, slammed the boards rather than Igor's twine. Whew.
Right after that – the Rangers' first line almost had another tic-tac-goal.
Come 13:40 remaining, Panarin, who looks absolutely rejuvenated since the addition of his comrade; stuck with a play, took a stab at a puck at the Canucks' blue line and kept an attack alive. He'd later make a big hit too – as he's really feeling it these days.
As we hit 12:38 left in the period; Mikkola was boxed for holding Garland.
Officially, the Rangers received their kill here, but just four seconds after the 'Nucks power-play had expired; Garland scored himself.
4-3, good guys.
On this goal, one that you could see coming all the way in real-time; Andrei Kuzmenko skated through the defense and then hit the crossbar. Garland then took the rebound and backhanded it into Igor's vacated net.
As we hit the half-way point of the game/period, Trouba and Lazar had a nasty and accidental collision near the boards to the right of Igor. This physicality ended Lazar's night.
Down to 9:25 remaining, the Canucks almost tied the game, but a Miller rebound went lightly wide.
Out of a TV timeout two minutes later, this is when the senile old coot really lost it.
Here's what Rosen said, and again, I'm not making any of this up:
"TAMMY GRANATO JOE, ONE OF MY OLD TIME FAVORITES!"
Then, as Vancouver were attacking during this one-goal game, Sam gave us every story about every Vancouver assistant coach imaginable. Why any Ranger viewer/fan wanted to listen to this was beyond me.
As Sam continued to rave about a pair of Tocchet hires, he missed the following:
🔑 with the wicked wrister and #NYR are back up by 2!! pic.twitter.com/55aYIoO8A8

— Rangers on MSG (@RangersMSGN) February 16, 2023
---
5-3, GOOD GUYS, following K'Andre Miller's sixth goal of the season, as scored with 6:32 remaining.
It's not every often that you need your fifth goal to stand up as a game winner, especially with CZAR IGOR in net; but that wound up being the case tonight.
On this scoring play, Trouba kicked it off by winning a puck battle near the boards to the left of Silovs. The captain then got the puck to Chytil and the Czech then deftly backhanded the puck to his defenseman. Miller then absolutely blasted this puck from the high slot for this no-doubt-about-it goal.
Just seconds later; CZAR IGOR almost allowed the lead to return to one, but Ryan Lindgren broke up another PDG-to-Miller potential goal.
Come 4:56 remaining, Tarasenko drew Aman for hooking.
The Rangers' power-play, while good, didn't double-up the score here. This is also when Silovs made a breakaway save on a Panarin back-hander – the Latvian's best save of the game.
As the two goalies continued to look shaky; this is when CZAR IGOR kept turning over the puck, on his passes that usually connect. Thankfully, the Ranger blue-liners covered up for him.
As the period concluded, Trocheck had Panarin set-up again, but no dice. However, the takeaway here in my eyes, is that whatever lack of chemistry these two never had – well that now seems like a thing of the past.
We remained at 5-3, GOOD GUYS, as we entered the third period.
Here's what I said at the time:
5-3, GOOD GUYS, after 40. 2P Thoughts:
— They are scoring, but giving up goals too.
— SOG 23-18 #NYR; Hits 23-18, FOs 23-11 Nucks
— Officially, special teams are 1-2, but in reality, 0-3.
— Sam has to be related to the Hughes family somehow.
— FINISH!
— LGR

— BlueCollarBlueShirts (@NYCTheMiC) February 16, 2023
---
THIRD PERIOD:
We can bullet-point this final-frame – especially since there isn't that much good to say – and because of my time constraints too!
— Prior to these final twenty minutes, the game had a quick pace and was flying by – even with eight goals scored. This period was the complete opposite, as every ten seconds we had a whistle, where icing calls were predominately, and accurately, called.
— Thirty seconds in, something happened to Kreider, where we saw him limping as he skated to the bench. Since Joe wasn't there, we never found out what it was. That said, Kreider never missed a shift, but there were three times where you could see he was in agony and a bit slow.
— Trouba hit Joshua again, as the Canuck joins a long list of "TROO TROO TRAIN" passengers.
— During a period where the home team largely controlled the puck; with 11:09 remaining, Andrei Kuzmenko beat Igor with a clean shot from the high slot. And yep – this too is something we've seen Igor stop before.
— 5-4, good guys – and thankfully – the final 'Nuck goal of the contest. However, it didn't seem that would be the case at the time.
— Down to 10:00 remaining, both Garland and Miller came very close to tying this game, and within ten seconds of each other, but each missed the net.
— Now in crunch time, your asshole puckered anytime a shot was sent Igor's way. When was the last time you had that feeling?
— As the Canucks continued to mount their attack, the Rangers got strong defensive plays out of Kreider, Lindgren, Trouba and Tarasenko, with the latter making a pair of defensive stops on the same shift.
— Now under 3:00 to go; Trocheck was absolutely decimated at the dot, as the Canucks won another o-zone face-off following a Rangers' icing, but true to form – CZAR IGOR prevented Myers from tying the game. I won't lie, I thought this shot was going to tie the game.
— Following the save, and with 2:50 to go, Silovs took a seat on the bench.
— Up next, a crazy sequence.
— The Canucks tested Igor, but wouldn't pass it. Vesey missed an empty net from the red line. CZAR IGOR tried to dial up a puck long distance but his shot was blocked. Panarin then missed (it could've been a shot block, but I was so nervous at the time that I can't recall), and finally, with 1:34 left in regulation, Zibanejad scored the insurance empty net goal.
— 6-4, GOOD GUYS.
— As far as anything else; since the game was over anyway, and because the Canucks suck too – I was surprised that Tocchet didn't pull his goalie again once his team got possession of the puck with 1:15 to go. Instead, they dicked around in their own zone, threw in the white towel and were resigned to losing.
6-4, GOOD GUYS, FINAL, in another one of those games that was much harder than it needed to be.
Silver lining? The Rangers have been on the right end of all of these high-pressure finales to games.
In other words, maybe they are building up their battle-tested scars now – and will then be ready for the ultimate stakes come the postseason.
Here's "THE TURK" following the game:
---
I know this comes off like yours truly sounding like a "know-it-all;" but the evidence is all here, and has been there all season, during these daily manifestos.
99% of the time, my thinking and opinions on the team, and their games played, align with the coach with the best winning and point percentages of franchise history.
I always write these blogs before reading what anyone else has to say, including the head coach, just so my opinions won't be influenced.
I also write these blogs in real-time; which means that I don't watch these Gallant interviews until I reach this point of the manifesto. (The only time I watch post-game "TURK TALKS" is whenever something major had occurred, because M$GN runs them live, while the Rangers' YouTube page censors/edits them.)
In other words, Gallant concisely said what I wrote tonight – this game was sloppy, rust may have been a factor, they can't allow four goals every night, the six goals were nice, you move on, and it's been fun watching this team succeed.
---
The Rangers will look to continue their winning ways, and get their pound of flesh from the Oilers too, when Jacob Trouba and company seek to extract revenge on Leon Draisaitl.
But hey, and as noted last night – Mollie Walker "doesn't give a shit!"
Someone who gives a shit? Yours truly, as much like the Rangers following this victory; it's time to shower and travel for work.
Unfortunately, I won't be boarding a luxury plane! Instead, my chariot comes in the form of my daily 5:00AM LIRR train!
See ya Friday night, as once returned home from work on Thursday, and barring a major trade (cough-cough – you know who I'm thinking of right now); I'm crashing!
LGR!
PLUGS TIME!
---
My first plug of tonight's blog – the mandatory plug for my book, "The New York Rangers Rink of Honor and the Rafters of Madison Square Garden."
As mentioned previously, the book is now available in hardcover, in paperback and in Kindle formats. To purchase a copy of the book, visit this link:
https://www.amazon.com/Rangers-Rafters-Madison-Square-Garden-ebook/dp/B09CM5N2WD
For those still looking for signed paperback versions of the book, I have re-ordered more copies. I now have a few signed copies for sale at $25 a pop (includes shipping price) through me directly. Here is all the information on that:
---
My four-volume set of books, "One Game at a Time – A Season to Remember," is a game-by-game recount of the Rangers 2021-22 campaign.
My second title as an author, "One Game at a Time – A Season to Remember," is now available in eBook, paperback and hardcover formats.
To obtain signed copies, visit: https://bluecollarblueshirts.com/onegamebook/
To purchase all four volumes on Amazon, visit: Amazon.com – "One Game at a Time."
---
The greatest volume-set of books on Rangers' history today!
"Tricks of the Trade – A Century-Long Journey Through Every Trade Made In New York Rangers' History," a four-volume set of books that meticulously covers every trade made in franchise history, is now on sale.
All four volumes of the title can be purchased on Amazon.com and are presented in three different formats – eBook, paperback and hardcover.
To purchase Volume I: Conn Smythe (1926) – Craig Patrick (1986), visit Amazon.com
To purchase Volume II: Phil Esposito (1986) – Neil Smith (2000), visit Amazon.com
To purchase Volume III: Glen Sather (2000-2015), visit Amazon.com
To purchase Volume IV: Jeff Gorton (2015) – Chris Drury (2022), visit Amazon.com
To purchase signed copies of all four volumes, visit https://bluecollarblueshirts.com/tricksofthetrade/
---
Here are my last few blogs, in case you missed them:
---
---
---
If you haven't already, subscribe to this blog for the next update:
---
Don't forget to order my new four-volume set of books, "Tricks of the Trade!"
If you don't order through me, all four volumes are now available on Amazon.com
For more details, check out: https://bluecollarblueshirts.com/tricksofthetrade/
Thanks for reading.
LET'S GO RANGERS!
Sean McCaffrey
BULLSMC@aol.com
@NYCTHEMIC on the Tweeter machine