Greetings and salutations everyone and welcome to another blog here on BlueCollarBlueShirts.com. I don't even know where to begin!
How about starting with the following graphic, ripped straight out of my childhood?
(DISCLAIMER: We're going long tonight! No 5AM train tomorrow for yours truly – and there are so many great things to enjoy and talk about following this Rangers' 5-4 victory!)
Very much like the win over the Kraken from just one week ago – I wish that the Rangers had off this Saturday – just so we could bask a little bit more in this win!
Instead, there's no time to celebrate – as the Rangers are now resting inside of a Calgary hotel, in preparation for their Saturday night rematch with the Flames.
Then again, the Blueshirts followed-up last Friday's home win over the Kraken by thrashing the first-place Carolina Hurricanes, in Raleigh, just 24-hours later.
Come Saturday night, February 18th, in Calgary; can the Rangers, who haven't lost a game yet since returned from the All-Star break, repeat their back-to-back winning ways just one week later?
Ironically enough – if they can – then these back-to-back "Saturday Night Specials" would be victories over teams that once held the rights to the future 2023 Norris Trophy winner, Adam Fox!
"Isn't that amazing Suzyn?"
(Of note: I'll be quoting Yankees' announcer, John Sterling, one more time tonight!)
---
There are so many different takeaways to be had following the Rangers' 5-4 shootout victory over the Oilers from Friday night.
While we'll soon discuss all of them; my biggest takeaway is this – and this speaks volumes – not once during this game, not even for one second, did I ever think that the Rangers were going to lose.
And if you don't believe me, then go take a look at my Twitter account (@NYCTHEMIC), as my live tweets/blog notes, don't lie!
Even when trailing 4-1 – I just didn't see the Rangers giving up, nor having their six-game winning streak (now seven games), ever being placed in jeopardy.
One of the many reasons why I had these feelings? A personal one – I saw the frequently mentioned "SCRATCHY," on my way home from work on Friday!
And if you're new to this site, you can read more about "SCRATCHY" here: https://bluecollarblueshirts.com/11223/
And for the regular readers of this site, I've had many of you reach out to me, especially fellow Penn Station commuters, all requesting for yours truly to post a photo of "SCRATCHY."
While I think it's in poor taste to share a picture of his face; I'll bend on what I've previously said, and in turn, give you this photo of the legend known as "SCRATCHY":
Once spotting "SCRATCHY" on Friday afternoon; this bet was soon placed, by me, and a fellow fanatic of all things "SCRATCHY," my buddy and "boss," "EDDIE WHISTLES":
Perhaps it's the booze talking (or is it typing?); but at the risk of sounding obnoxious (and hey, why not?) – is there any other blogger, podcaster or beat reporter that's been more right about this team than yours truly?
While most (not all) of these dopes have been crying about the new regime ever since it was installed by James Dolan; all I've done since that time is successfully nail a good portion of my predictions, including forecasting a Rangers 2022 Eastern Conference Playoff appearance (against Tampa Bay no less) – and as prognosticated all the way back in July of 2021. (Blogs don't lie!)
These same "gloom and doom" dopes also compromise the "KULT OF 'The Player Who Shall Not Be Named,'" and who will also doubt and question, daily at that, "THE TURK" – and at every turn and with every decision made.
What have I been doing ever since Day One? Sharing this picture with you:
And for the fun of it, here's the first bad photoshop that I ever made of Gallant, back when he was first hired:
During tonight's game, the head coach was questioned once again by these fools – simpletons who are now doubting CZAR IGOR's ability to win games – and where all of them wanted the 2022 Vezina Trophy winner pulled after one period of play.
What did I say at the time? The following:
I wouldn't put Halak in yet. Let Igor try to figure this out. This isn't exactly a 1995 Patrick Roy in Montreal situation. Plus, the Rangers have comeback ability in them. #NYR

— BlueCollarBlueShirts (@NYCTheMiC) February 18, 2023
---
Following giving up four goals allowed on his first twelve shots faced – CZAR IGOR never gave up another.
Instead, he then made seventeen consecutive saves, where his work during the second period was his best during regulation play – only to then be out-shadowed by his performance during the three-vs-three overtime.
While it's true that CZAR IGOR is experiencing the worst slump of his career; at the same time, during these past six games, where #31's numbers have been taking a beating, as if they were an NFL player attacking somebody – the Rangers have gone 5-0-1.
My cockiness and "told-you-so" turn-off attitude aside; it's true that CZAR IGOR isn't at his best right now. I admit it – and have said as much before.
What's also true is that he's had so many games where he gives up one or two "blah" goals – but then locks down the fort right after doing so.
And while my biggest takeaway from tonight is that I never doubted the Rangers ability to win this particular game (and the stuff on "SCRATCHY" is intended to be humorous – as much to my chagrin – he has no bearing on these games); the reason for that vibe is because of the team's resiliency.
In a role-reversal from last season – the team is now lifting up CZAR IGOR when he's struggling – and just like last season – winning too.
Down by three goals against the best power-play and player in the league? No problem. Gallant's Gang never gave up and found a way.
It should also be brought to your attention, that while you never want to see anyone slump or go cold – at the same time – wouldn't you rather CZAR IGOR experience this hiccup now – rather than during the playoffs?
Like a bad flu bug, let him work it out of his system – and then come out rip-roaring and ready to go – when these games matter the most.
---
While I do write professionally for Mr. Fischler, and have now authored nine books to boot; at the end of the day – I'm just a fan – and a fan who can't attend many games at M$G anymore neither – as I refuse to pay the $200+ "get in" price these days!
(And no – I'm not broke – but I can't justify a $300+ night, drinks and travel costs included, to sit in the worst seat at M$G. I rather have the best seat in my own house, free drinks and no travel costs included, instead. Plus, no lines for the bathroom either – unless my buddy and neighbor, "TEN O'CLOCK TOMMY," has a monstrous duke inside of him!)
In other words, my confidence (as a fan) about this team is presently overflowing the proverbial cup – where after tonight's comeback victory, the biggest of the season, I was left with four words following it – "WE WANT THE CUP!"
And as we'll get into later on – Chris Drury isn't done yet either.
While it "won't ruin my Christmas" (older fans will understand that reference, and I know that reader Mike S. will); I admit that I was perplexed when reading alleged "Ranger fans" crying about this win.
We are currently watching the head coach with both the best winning and points percentages of franchise history continue to win, and yet, and especially from "The Kult of the Player Who Shall Not Be Named" – all I see is non-stop bitching – and where these jackasses, who need a giant sized pair of pliers to remove their head from their five-holes – are STILL COMPLAINING about Gallant.
End of the day – I will never understand the thought processes of these mental defects, including the demented 46-year old blogger from Staten Island (and who sadly, has never moved out of his parents' house either – and that tells you all that you need to know), who rather be proven correct about their negative takes – rather than being elated about being wrong – as the team, now under this new regime, plays their best hockey since the days of the 2014-15 season.
So while these people invent new things to be mad about; what about yours truly?
I'm enjoying every single second of this – and I'll see all of you, including my buddy Al "SMD" D., at the parade come this June! (A boy can dream!)
---
As mentioned, we have a lot to talk about tonight, and as Gene Wilder once said in "Willy Wonka and The Chocolate Factory," "We have so much time and so little to see. Wait. Strike that. Reverse it."
After all, there's a game to be played in less than 24 hours!
At this time, let's rifle though all of the pregame news and notes and then get into the GAME REVIEW itself.
And fortunately, there's not much from the pregame end of things! These blogs go on long enough!
---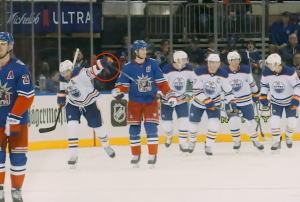 Following their sixth straight win of the season on Wednesday night in Vancouver; a day later, Thursday, the Rangers had the day off.
Come Friday morning, Pacific Standard Time, the Rangers hit the ice in Edmonton for a morning skate – where as you would have expected – there were no changes made to Gallant's line-up.
Once returned to the locker room and prior to their pregame nap; several Rangers and the head coach spoke to the media.
Here's what team captain, Jacob Trouba, had to say:
---
I don't know, maybe it's just me (but based on the feedback that I receive from you guys and gals – I know I'm not the only one) – I just don't understand why the Rangers' media/beat reporters ignore what Leon Draisaitl did to Trouba at M$G right after Thanksgiving. (Check out this blog for more: https://bluecollarblueshirts.com/21423/ )
One more time for the people in the back – following Draisaitl's lack of respect for "The Great Eight," Trouba then fought three times in two games, "The Helmet Toss" around the world took place – and boom – once seeing a shaky Jordan Binnington and the St. Louis Blues – the Rangers have never looked back, en route to their winning ways of today.
But as the story goes, Mollie Walker "doesn't give a shit!"
Long story short, on Friday morning, Trouba was asked simplistic questions – despite the evidence clearly telling us that you can trace the Rangers rebounding from their rock-bottom point following that loss to the Oilers.
Following the captain answering questions posed to him from the birdbrain millennial beat; Gallant then held his daily "TURK TALK."
Here it is:
---
As is usually the case, the head coach didn't really say anything that you wouldn't expect.
Better than that? No questions in regards to the player who shall not be named on the site, the soon-to-be former #74 of the New York Rangers!
The clueless beat reporters biggest takeaway from their five-minute chat with the coach with the best winning and points percentage of franchise history (and where none of them have brought up this fact at all) – was that Gallant didn't predict a shutout for his starting goalie, CZAR IGOR.
Instead, Gallant, when asked about Connor McDavid, who is averaging nearly two-points per game this season, and who entered tonight's tilt with 99 points to his name, said, "I'd like it if he had 99 after the game tonight, but I don't think that's gonna happen."
While some Ranger fans, sadly, and predictably at that – went nuts about what Gallant said – not yours truly. After all, my motto is "IN TURK WE TRUST!"
In my eyes, this was just another example of Gallant not giving an opponent "bulletin board material."
I mean really, what would you want him to say? "We're going to shut out these assholes and McDavid can suck my Turk Hammer too!"
To summarize, this was a non-story – even if others wanted it to be one.
And this too – I still bet the Rangers to win this game 4-0 anyway! (So I netted $95 tonight – I can now afford a beer at M$G!)
---
Here was the line-up from late Friday night, the same line-up that Gallant used on Wednesday:
FIRST LINE: Kreider/Mika/Tarasenko
SECOND LINE: Panarin/Trocheck/Vesey
THIRD LINE: Lafreniere/Chytil/Kakko
FOURTH LINE: Goodrow/Leschyshyn/Gauthier
Defensively, we saw:
FIRST PAIR: Lindgren/Fox
SECOND PAIR: Miller/Trouba
THIRD PAIR: Mikkola/Schneider
STARTING GOALIE: CZAR IGOR
BACK-UP: THE HALAKNESS MONSTER
PRESS BOX: Harpur and Kravtsov
---
BOX SCORE time.
The following graphics and information come from ESPN.com:
SCORING:
SHOOTOUT:
PENALTIES: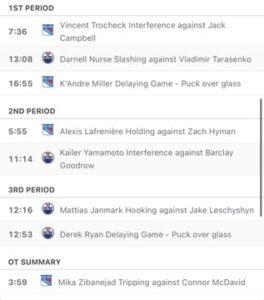 TEAM STATS:
GOALIES:
| | | | | | | | | | | |
| --- | --- | --- | --- | --- | --- | --- | --- | --- | --- | --- |
| SA | GA | SV | SV% | ESSV | PPSV | SHSV | SOSA | SOS | TOI | PIM |
| 38 | 4 | 34 | .895 | 29 | 5 | 0 | 0 | 0 | 64:54 | 0 |
| | | | | | | | | | | |
| --- | --- | --- | --- | --- | --- | --- | --- | --- | --- | --- |
| SA | GA | SV | SV% | ESSV | PPSV | SHSV | SOSA | SOS | TOI | PIM |
| 29 | 4 | 25 | .862 | 19 | 6 | 0 | 0 | 0 | 65:00 | 0 |
---
The weekend started on a high note, as Mike Rupp returned to the M$GN studio for I believe the third time this season.
As opposed to Sieve Vagistat – it's always nice to hear from a player that actually did something in this league – and not having to listen to the seven-foot doofus go on-and-on about his fake news charts was even better.
To open the broadcast, rather than being bombarded by Vagistat's homemade arts & crafts, charts & graphs; instead, Rupp and John Giannone overwhelmed with us a ton of positivity, as throughout this winning streak – the Rangers have a bunch of insane streaks themselves.
Whether it was all of the touchdowns or personal goals/points streaks – everything was extended tonight, sans the TD streak – but hey, five goals for ain't too shabby either!
Furthermore, throughout this season, the Rangers have kept on creating positive history too, including the following:
This marks the first time in franchise history that the Blueshirts have posted multiple winning streaks of 7+ games in the same season.

— NYR Stats & Info (@NYRStatsInfo) February 18, 2023
---
Despite all of this Blueshirts' euphoria, and their winning ways too; my buddy, "Jesus S," if that is his real name, keeps blowing up my Twitter feed with his same old garbage, "THE PLAYER WHO SHALL NOT BE NAMED NEEDS TO PLAY" and "GALLANT DOZN'T NOSE WUT HE'Z DOIN!"
Thankfully, Mr. S.'s non-stop negativity has proved fruitful, and is now the equivalent of a "Sam Rosen Reverse Curse!"
Rupp had no problem sharing with us his accurate criticisms of the season, as he said that Panarin and Trouba weren't playing well at the start of it, but have since turned a corner today.
Rupp would later say that Igor wasn't playing well, but much like yours truly – thought he should've remained in the game after giving up four goals.
After telling us all about McDavid and Draisaitl (and this theme continued all night – but it wasn't as bad as whenever Rosen is pounding his pud over a Hughes' brother); we were informed that Adam Fox, from Jericho, NY (you may have heard), shares a birthday with another famous #23 – Michael Jordan.
For the 2021 Norris Trophy winner, he turned 25-years-old today.
Also noted? Filip Chytil, aged at 23, would play in his 300th game tonight. But, yeah, keep on calling him a "kid!"
If that wasn't enough, it was also relayed that Braden Schneider's parents, from Saskatchewan, and unlike Sam & Joe, were in-attendance. I'd expect they'll make the two-hour or so drive to Calgary for Saturday's tilt too.
Giannone then told us all about what happened the last time these two teams played – but didn't bring up the Draisaitil nonsense. Instead, he said that match, the 4-3 loss to the Oil Cans, sparked the "HELMET TOSS" game that soon followed.
Rupp, who was firing on all cylinders tonight, then predicted that this game would be high-scoring and would easily surpass the game's -6.5 over.
Come 7PM, we were greeted by Sam and Joe. As Sam was slobbering all over McDavid; Micheletti told him to cool it. I got a laugh here.
It was then brought to our attention that Jack Campbell, the overpaid and struggling goaltender, would start tonight. This news took place last-second, as originally, Stuart Skinner, the affordable and hotter hand, was dubbed as the starting net-minder.
As far as anything else, I do want to bring your attention to the following:
It was later noted during the broadcast that the Oilers had only dressed 19-players tonight, rather than the traditional 20. The reason for this? The salary cap.
---
While I know that this blog is going way too long already; I just wanted to mention this – and then maybe go full-boar on this topic in the future.
However, I must propose this to you:
With the cost of tickets higher than ever before, two new major television rights deals, fully in-bed to the point of completion with about ten different gambling outfits, digital board ads and everything else in-between – why are teams forced to go with a lesser roster (so much for player safety), solely due to the horrendous hard salary cap?
If I was an Oiler fan, then I'd chalk this loss up to the cap.
After all, McDavid was largely double-shifted all game – and as a result – perhaps was burnt out during crunch time.
My question to Gary Bettman and to his co-conspirators too – "WHERE IS THE THE MONEY GOING?"
Seriously, how bootleg and Mickey Mouse is it, when the top hockey league of the world not only punishes teams for winning; but where these teams are now living-and-dying by $800,000 players too?
And what good is it when fan-favorites, including homegrown talent, are routinely traded throughout the league because of cap implications?
The greatest hockey league in the world, and as the three other major leagues across sports annually and exponentially increase their salary cap figures; NHL clubs are scratching and clawing with only a million dollar jump next season – and forced to present a weaker product – the biggest insult of them all – especially when you consider the skyrocketing prices of ducats.
Rant over… for now.
GAME REVIEW TIME!
---
FIRST PERIOD:
As a generality, the Rangers were the far superior team throughout all 65 minutes of hockey played, especially whenever at full-strength.
And while the goaltenders had their moments; both of them received a ton of help from their friend, the iron, too.
No joke, I think each team hit the post or crossbar about 3-4 times each; but as they say, "That's Hockey Suzyn!"
The Rangers came out hot right away, and pretty much dominated possession of the puck; which as a result, led to a bunch of icings from the home team.
However, the Blueshirts didn't log their first shot attempt until the 3:30 mark – a shot from Tarasenko that was interrupted and sent wide. Sam and Joe's response? A two-minute diatribe on the state of the Detroit Red Wings. I'm not making this up either.
At the four-minute mark, Mikkola, a defensive-defenseman, brought a puck deep into the Oilers' zone, and left it behind Campbell's net. However, the Rangers couldn't capitalize here.
Jimmy Vesey, who I thought that once again had a spectacular game, constantly pushed the offense – but could never score.
While officially he was credited with four shots on goal; it felt like he had forty other shots either sent high, wide and/or were blocked/deflected.
Following a Vesey miss at the net; Trouba, who along with Lindgren and Trocheck, finished with a game-high five shots on goal – the captain recorded the first SOG for his team at the 4:31 mark – Campbell's first save.
A few seconds later, CZAR IGOR made a pair of his saves, his first two of the game.
The fourth line, who had issues tonight, saw Gauthier streak to the net at the 6:00 mark, only for his pass to Goodrow to get broken up by the Oilers' defense. The same then happened to Kreider and Miller, as Nurse broke up their potential scoring play.
Down to 12:24 remaining, our first turning point of many.
Despite the Rangers' attacking; Trocheck was boxed for interfering with Campbell.
Yes, I have my Blueshirt bias; but even so; while a penalty – I don't think you'd ever see this called during a playoff match.
And yep, this was a bad penalty to take, as not only was it an o-zone penalty; but the Rangers had all of the momentum at the time.
Sixteen seconds into the home team's power-play, the best in the league; Hyman broke Igor.
1-0, bad guys.
On this play, the Oilers didn't see a Rangers' defender in sight. Hyman got to Igor and whacked the puck at him three times, where on the final rebound, Hopkins, who also didn't see a Blueshirt in sight – then tapped the puck home while in the paint.
I rarely blame goalies for PPGs allowed; but had Igor frozen this puck, then no goal here. However, he was all alone – and against two skaters too.
In a trend that would continue throughout the game, and as we've seen during the past two games too – Chytil and Kakko created a lot of offense – but they were skating more than shooting.
Following a save on Chytil with 11:15 to go; Kakko's backhanded rebound went wide.
Both of these two would later redeem themselves – and finish strong too!
As Sam Rosen's tallywhacker knocked the toupee off of his head, as he waxed poetically about McDavid registering his 100th point of the season; Trocheck almost scored with 9:20 remaining. However, his puck stopped dead under Campbell's pad – a break for the "Soup Can," as he had no clue where the puck was.
Forty seconds later, Trocheck made a strong defensive play on Warren Foegele, where Sam excitedly shrieked, "A FORMER CAROLINA HURRICANE JOE!"
The Hurricanes, the Hughes Brothers and all Ranger Rivals – the biggest spots in the heart of the senile old coot!
Come 7:49 remaining, Tyson Barrie scored.
2-0, bad guys.
This was another goal on the Rangers' defense, as this time, the fourth line and third pair were completely beat.
McLeod ("HIS BROTHER PLAYS FOR THE DEVILS JOE!" – I'm not making this up – Sam really said that); sent a backhanded shot wide. Barrie, all alone, walked right in, and from two feet away – finished off Igor.
Worse than that? Just nineteen seconds later, Derek Ryan scored.
3-0, bad guys, and on a shot that Igor simply had to stop.
Now down by three, here's what I said at the time:
Ok, stage is set – time for #NYR to make their three-goal comeback.

— BlueCollarBlueShirts (@NYCTheMiC) February 18, 2023
---
And that's what happened – although and admittedly – it did take longer than I expected!
As Micheletti criticized Igor (he wasn't wrong – Igor has had issues with stopping rubber lately); the Rangers finally received a break, when with 6:52 to go, Nurse slashed Tarasenko.
If you're keeping track, this is the second consecutive game where the newest Ranger has drawn a penalty – and where the Rangers then scored a PPG too.
In a role-reversal ever since Gallant changed-up his power-play units (following the trade for VT91); while the Rangers' once hot penalty kill has cooled off – the power-play has heated up.
One day, it's my belief that both special team units will click together!
Just eighteen seconds into the power-play, where the Rangers just owned the puck, this happened:
It's a power play goalll from Kreider!!! pic.twitter.com/9iZfM5I1LF

— Rangers on MSG (@RangersMSGN) February 18, 2023
---
3-1, bad guys.
However – let the comeback begin!
On this goal, Kreider's 252nd as a Ranger (and now five away from surpassing Camille "The Eel" Henry for fifth-best in franchise history); Zibanejad sent a shot-pass to his buddy – and boom – all day for CK!
Once returned to full-strength, the Rangers remained as the better team while on five-vs-five – but could never find that goal, despite great plays from Trouba, Trocheck, Vesey and Panarin.
Down to 3:05 remaining; once again, another bad penalty stalled the Rangers' momentum. This time, K'Andre Miller was the offender, as he was boxed for a delay of game (puck over the glass).
The Rangers' PK almost got out of this, especially when Fox & Lindgren prevented McDavid from going one-on-one with CZAR IGOR; but #97 found his German buddy, Leon Draisaitl, for a wide-open shot – and goal.
4-1, bad guys, and with 1:33 remaining.
And yep, this is true too – while another PPG allowed – Igor has to make this stop.
This is when everyone, including Sam and Joe, suggested that Igor should take the rest of the night off. Not me and Rupper!
We remained with a Rangers' three-goal deficit after twenty minutes.
Here's what I said at the time:
4-1, bad guys, after 20. 1P Thoughts:
— It was a penalty, but #NYR just fell apart after the Trocheck infraction.
— SOG 13-12, Hits 11-7, FOs 12-10 NYR, but the PK is 0-2
— Igor's toughest slump of his career
— I wouldn't give up on NYR, they can comeback
LGR !

— BlueCollarBlueShirts (@NYCTheMiC) February 18, 2023
---
SECOND PERIOD:
As previously noted – CZAR IGOR would never allow a goal again – at least not during the hockey portion of this contest anyway!
Both teams tried to play defensive hockey early, as neither team logged a SOG come the 3:00 mark.
Campbell then soon came up with a pair of odd-man rush saves, on both Trouba and Trocheck.
At the 4:10 mark, an Oiler hit the post. As you may have deduced – a 5-1 deficit would've been bad here.
Forty seconds later, Mika tried the same play that he had previously scored on while in Vancouver, but over-skated a bit and didn't challenge Campbell. Had he, who knows? This could've been 4-2 just like that.
Down to 14:05 remaining, some home cookin'.
Despite Gauthier being interfered with; instead, just seconds later – Lafreniere was boxed for holding the Oilers' Hymen. (Gross!)
Praise the hockey gods – the Rangers' penalty kill, then 0-2 at the time, not only finished 1-2 – but would score a shorthanded goal themselves:
a short-handed goal from kreids!!! pic.twitter.com/mLToECWEk5

— Rangers on MSG (@RangersMSGN) February 18, 2023
---
4-2, bad guys – Kreider's tenth shorty of his career – where all ten of these goals have been scored under Mr. Turk!
This was a pure puck-luck goal.
On this play, Kreider and Mika had a two-vs-one odd-man rush – and as they often do.
Kreider tried to dish it to his favorite Swedish DJ, but the pass was broken up – but more important than that – the puck was then returned right back to the blade of the longest-tenured Blueshirt.
Now with the only option of shooting remaining (and as he probably should have originally done anyway); Kreider scored the demoralizing goal on Oil Nation!
Huge, Jerry, Huge!
Now down by two, and with nearly a minute remaining on the Rangers' kill – CZAR IGOR came up huge himself, denying a bevy of comers, including Hyman and McDavid.
As his fourth line struggled in front of him; by the half-way mark of the period/game – CZAR IGOR strung six consecutive saves together – and all on shots from three feet or less away.
Clutch.
With 8:46 remaining, the Rangers received a chance to strike within one, following a Yamamoto interference penalty committed on Goodrow. (In total, the fourth line, which was erratic tonight, but to their credit, also drew two power-plays.)
The Rangers' first power-play unit did everything but score in their ninety seconds of action. The second power-play unit could never set up during their brief time on the ice.
And once returned to full-strength, McLeod, "HIS BROTHER IS A DEVIL JOE," sent a <DING> past Igor. Crisis averted.
Now with 5:45 left on the clock, Mika had a breakaway, but Hopkins made a hell of a stick lift, a clean one, to prevent the 4-3 goal.
Up next, two more Ranger scoring chances that didn't result in a goal.
The most egregious failure is when Chytil found himself with the puck all alone and one foot away from Campbell. Despite the goalie planking on the ice – the Czech, who would've easily buried this puck a week ago, stalled, took his time – and then hit the mask of the Soup Can.
Without a doubt – this should've been a goal. But while I was disappointed at the time – and as repeatedly mentioned – I still never doubted the Rangers and their will to win this game.
With forty seconds remaining, Campbell made an all-out robbery on a Trocheck-to-Vesey attempt. Even the arena thought this was a goal, as was evident by the red light that flashed behind Campbell. However, it was a save, and once the horn went off, the Rangers were still trailing by a deuce.
Here's what I said at the time:
4-2, bad guys, after 40. 2P Thoughts:
— #NYR much better, just can't finish 5 x 5.
— SOG 25-21, Hits 19-14, FOs 20-18, all Rangers
— Igor calmed down after the poor start
— Maybe the Oil gas out a bit with only 11F playing
— Don't give up, LGR!

— BlueCollarBlueShirts (@NYCTheMiC) February 18, 2023
---
THIRD PERIOD:
This team never gives up, and once again, and despite the scoreboard looking bleak at the time – never threw in the towel and said, "hey, we'll live for another day."
Up next, one of the best periods of the season – followed by both an overtime and shootout that may have shaved a few years off of your life too!
I want to bullet-point this final frame, not because it's getting late as I type this (these damn PST starts), but because I really want to highlight the positivity:
— CZAR IGOR, after giving up four goals on twelve shots in the first; then made nine saves in the second period. Once seventeen minutes of this period had elapsed; #31 had only made one save – THAT'S HOW STRONG AND DOMINANT THE RANGERS WERE IN THIS PERIOD.
— And yep, perhaps the salary cap impacted the Oilers here – as they did look to be gassed-out a bit. But that's a problem for their fans – and not for me!
— Right away, before the puck even dropped, Rosen informed us that the Rangers hadn't made one two-goal comeback during a third period all season.
— What he didn't say, is that the Rangers have usually either led or have been tied when entering third periods this season, and rarely, have ever trailed by two goals. Thankfully, and in a rarity itself – this "reverse curse" proved beneficial for the Rangers!
---
— Following a 4 x 2 Rangers' odd-man rush, another Campbell save on Vesey; six seconds later, on the ensuing face-off, this happened:
the Rangers are within 1, thanks to Laf!!! pic.twitter.com/5JGh3Gu3us

— Rangers on MSG (@RangersMSGN) February 18, 2023
---
— 4-3, bad guys, and with 18:24 still left on the clock for the equalizer.
— This goal was kind of funny, and for all the right reasons, as this was Lafreniere's first shot on goal of the game. Previous to this, his linemates, Chytil and Kakko, generated a ton offense – but couldn't put pucks on net.
— On this score, Chytil finally won an o-zone faceoff (an occurrence as rare as seeing "Haley's Comet"), Kakko retrieved the puck – and in what we're seeing a lot of lately – from the boards behind the goalie – found his teammate for the goal!
— Up next, a non-stop barrage of Ranger shots on goal – but Campbell proved true – and time-and-time again. Conversely, the Oilers put a shot on goal with 14:34 remaining and were pretty much done until one minute remaining.
— Mikkola made pair of great hits, both on Hyman and McDavid, which scared these two Oilers straight.
— With 7:44 remaining, another turning point, as Janmark had hooked Leschyshyn. Just 37 seconds later, Ryan sent a puck over the glass while on the Oilers' PK, which in turn, gave the Rangers a 5 x 3 power-play of 83 seconds.
— As I always say on this site – if you can't score on an extended 5 x 3 power-play, or on a five-minute major, then you don't deserve to win. We didn't have to worry about that, as just seventeen seconds into the two-man advantage, DJ Mika spun his 30th goal of the season:
some Mika Magic to tie it up!!!!!!!!!!!!! pic.twitter.com/qpum1idRGo

— Rangers on MSG (@RangersMSGN) February 18, 2023
---
— 4-4!!!!!
— I know what happened next, and despite all of the hairiness that followed – I go back to what I've been saying all night – I never thought that the Rangers would lose.
— With the Rangers still on the power-play; with 45 seconds remaining on the now one-man advantage – it was Chytil's turn to set off the ringing in our ears, following his <DING>.
— Down to 3:00 in regulation, the SOG in this period were Rangers 9, Oilers 1.
— The Rangers continued their attack, but since it's the "Rangers' Way" (TM, trademark pending); they almost blew it.
— With ninety seconds left to go tick-tick-tick; Foegele, off of a rebound, missed CZAR IGOR's vacated net. As you'd imagine, had the skater done his job, this would've been crushing for both the Rangers and their goalie.
— Thankfully, where at the time, you were just happy about the "cap impacted stolen point," even if the Rangers were the better team; we remained at 4-all after sixty minutes.
Here's what I said at the time:
4-4 after 60. 3P Thoughts:
— Whatever happens next, a good night for #NYR – another example of their resiliency
— Lots of adjectives to describe this – stolen point and cap-point apply too
— SOG 35-23, Hits 27-20 #NYR, FOs 31-28 Oil – but Rangers killed it in the o-zone
LGR

— BlueCollarBlueShirts (@NYCTheMiC) February 18, 2023
---
OVERTIME:
It's impossible to recap this madness, as no joke – each team had four great scoring chances each – but none of these eight tries found twine – as both goaltenders came up big – and received breaks too.
These five minutes of three-vs-three hockey were just as the NHL originally intended once installing this brand of overtime – ALL OUT MAYHEM.
Campbell robbed Chytil. Trocheck hit a post. Hyman lost the puck at the last second while on a breakaway. Draisaitl failed to convert on a wide-open rebound afforded. Fox & Kreider just missed. And then, with 1:01 remaining, my live tweet, a social media posting made with red in my eyes:
1:01 to go, Mika to the box for tripping the Golden Boy – right after Draisaitl tripped Mika with no call. HORRIBLE officiating, just like the SB – cant have the stripes effecting the game at this point. #NYR

— BlueCollarBlueShirts (@NYCTheMiC) February 18, 2023
---
And unlike the Superbowl, and despite their best efforts – the officials couldn't swing this game.
Lindgren, Trouba and Goodrow were Gallant's three penalty killers; where right away, CZAR IGOR was forced to stop McDavid from saying, "GAME OVER."
Right after that, Hyman hit the post.
By the end of this 1:01, where you had to check if your underwear remained white and without a brown stain to be found – the Rangers survived.
A shootout would be needed – where if possible – was just as heart-attack inducing as the five-minute overtime that preceded it.
---
SHOOTOUT:
As I write these words, even two hours removed from the final result – I'm still catching my breath!
In the top of the first, Hopkins beat CZAR IGOR. Just before you could say, "shit, at least they got a point;" Kakko, with a perfect backhander, deposited a puck past the Soup Can!
Up next – four rounds of no goals.
McDavid was stopped by Igor. Panarin, previously four-of-four this season, went wide.
In the top of the third, Draisaitl took a boneheaded slap shot that came nowhere close to Igor's net. Mika then followed with a miss of his own.
Come the fourth inning, a Barrie backhander was denied, while Tarasenko was then denied too.
In the fifth round, CZAR IGOR made his best save yet – a PURE BESSIE COW GLOVE SAVE, on Ryan. However, Campbell matched this save with his own best save of the shootout too, a stop on Chytil.
Now into the sixth inning, CZAR IGOR had one more save in him, when he stopped Yamamoto's sneaky snap shot.
With the game on his stick, Lafreniere, who has been up-and-down this season, experienced a new high:
MAKE THAT 7 STRAIGHT WINS! pic.twitter.com/ws3h8Vypzn

— Rangers on MSG (@RangersMSGN) February 18, 2023
---
2-1 in the shootout, 5-4, GOOD GUYS, in the ball game and to paraphrase John Sterling, "THEEEEEEEEEEEE RANGERS WIN, THEEEEEEE RANGERS WIN!"
Sure, I'm bat-shit ecstatic right now because the Rangers were on the right end of this one; but man-oh-man, was this game, and the overtime & shootout too, an electric thrill-ride!
Here's my favorite coach and yours, "THE TURK," following the win – where wouldn't you know it – once again, Gallant said exactly what I said during the game and in this GAME REVIEW:
---
Do you know what Adam Fox, the birthday boy, had to say for himself?
He pretty much pulled a 1990s Chris Farley, from those old SNL Chicago Bears skits, when he said, "THEEEEEEEEE TURK, THE TURK, THE TURK, THE TURK!"
You know, these sketches:
---
And just like Farley always having a heart-scare during those bits – most of Rangerstown, USA had one tonight too!
(In reality, Fox said [after the first period], "Gallant came into the locker room and said we're not losing this game.")
But Gallant doesn't know what he's doing – am I right?
One last thing to discuss before turning our attention to the Flames.
---
I won't go long and bore you here, because after all, I've out-lined how to do the following trade many times before; but on Friday night, the Leafs made a three-way trade where they acquired both Ryan O'Reilly and Noel Acciari in the process.
The reason I bring this up? This was a three-way trade, where the Blues will retain 50% of O'Reilly's salary, and in return for a 2025 fourth-round draft pick; Minnesota will retain 25% of O'Reilly's cap hit too.
One last time – Patrick Kane (who has previously said that he only wants to go to New York – and not the Islanders either) – until traded or unless he decides to remain in Chicago – is still on the table for this WIN NOW Rangers team.
All Chris Drury has to do is find a third team to retain 25% of Kane's salary, and for the player who shall not be named, Zac Jones and one or two draft picks too – boom – the Rangers' could have their second #88 of franchise history (Eric Lindros).
I know that many fans want the Rangers to go after a fourth-line plugger, and perhaps Tanner Jeannot to fit the role too; but in my eyes (and I'll be fine with whatever Drury does – he knows more than me – I know, an opinion that any blogger and/or fan should never publicly admit – the horror!) – I think the best way to address the team's biggest weakness – the fourth line – is by beefing up the top six – and then experience another "trickle down effect."
While I won't give you my PROPOZED LINEZ tonight; if you can add Kane to your top-six, then it returns both Goodrow and Vesey to your fourth line – and as a result, gets Leschyshyn, who is not producing at all sans faceoffs – out of the line-up.
If you just add a traditional fourth-liner to your line-up (via a trade); then you're not increasing your potential to score. You're just hoping for a player to eat up minutes – and NO, for the record – I'm not clamoring for a return of Tyler Motte, as many currently are, either. (He had his chance to stay and I don't think he ever wanted to be a Ranger in the first place – as Kane does right now.)
And if it's Kane, or even if it's another top-six type; it just gives the Rangers another scoring threat – and another player for opposing teams to worry about.
---
Thanks for sticking with me tonight, through this super-long manifesto.
Up next for Rangers, a chance to sweep the Western Canadian teams for the first time since 2015 – and then fly home to New York on their longest winning streak yet – eight games.
And after what we saw last time from the Flames and Rangers, just one week ago – I'd expect another barn-burner at the Saddle Dome on Saturday night.
Sign me up!
PLUGS TIME!
---
On Thursday night, our buddies over at "The Blueshirt Underground Show" returned with an all-new episode. To check it out, click the play button below:
---
My first plug of tonight's blog – the mandatory plug for my book, "The New York Rangers Rink of Honor and the Rafters of Madison Square Garden."
As mentioned previously, the book is now available in hardcover, in paperback and in Kindle formats. To purchase a copy of the book, visit this link:
https://www.amazon.com/Rangers-Rafters-Madison-Square-Garden-ebook/dp/B09CM5N2WD
For those still looking for signed paperback versions of the book, I have re-ordered more copies. I now have a few signed copies for sale at $25 a pop (includes shipping price) through me directly. Here is all the information on that:
---
My four-volume set of books, "One Game at a Time – A Season to Remember," is a game-by-game recount of the Rangers 2021-22 campaign.
My second title as an author, "One Game at a Time – A Season to Remember," is now available in eBook, paperback and hardcover formats.
To obtain signed copies, visit: https://bluecollarblueshirts.com/onegamebook/
To purchase all four volumes on Amazon, visit: Amazon.com – "One Game at a Time."
---
The greatest volume-set of books on Rangers' history today!
"Tricks of the Trade – A Century-Long Journey Through Every Trade Made In New York Rangers' History," a four-volume set of books that meticulously covers every trade made in franchise history, is now on sale.
All four volumes of the title can be purchased on Amazon.com and are presented in three different formats – eBook, paperback and hardcover.
To purchase Volume I: Conn Smythe (1926) – Craig Patrick (1986), visit Amazon.com
To purchase Volume II: Phil Esposito (1986) – Neil Smith (2000), visit Amazon.com
To purchase Volume III: Glen Sather (2000-2015), visit Amazon.com
To purchase Volume IV: Jeff Gorton (2015) – Chris Drury (2022), visit Amazon.com
To purchase signed copies of all four volumes, visit https://bluecollarblueshirts.com/tricksofthetrade/
---
Here are my last few blogs, in case you missed them:
---
---
---
If you haven't already, subscribe to this blog for the next update:
---
Don't forget to order my new four-volume set of books, "Tricks of the Trade!"
If you don't order through me, all four volumes are now available on Amazon.com
For more details, check out: https://bluecollarblueshirts.com/tricksofthetrade/
Thanks for reading.
LET'S GO RANGERS!
Sean McCaffrey
BULLSMC@aol.com
@NYCTHEMIC on the Tweeter machine