Greetings and salutations everyone and welcome to another blog here on BlueCollarBlueShirts.com. I don't have a 5AM train to catch on Saturday morning, so be warned – I'm going long – and will enjoy every single minute when writing tonight!
(I'll also enjoy this bottle of Michter's whisky too!)
The Rangers may have found their new "Goal a Game" line on February 10th, 2023 – even if Vladimir Tarasenko's tenure with the team doesn't go beyond this season.
On Friday night at "The World's Most Expensive Arena," where the get-in price to attend this game reached $220; the Garden Faithful gave their newest superstar, Tarasenko himself, a warm and loud welcome.
Less than three minutes later, Tarasenko thanked these fans in the form of goal – following a perfect pass from his long-time friend and Russian comrade, Artemi Panarin.
By the 14:29 mark of the game, both Kaapo Kakko and Vincent Trocheck had scored too, thus putting the home team ahead on the scoreboard, 3-0.
More impressive than that? These three goals meant that every line, sans the new fourth line/check line, had scored.
As we'll get into during the pregame news & notes section; due to the addition of Tarasenko, head coach Gerard Gallant, and for the first time this season, was forced to change his power-play units.
On the Rangers' first power-play of the game, a two minute man-advantage that extended into the second period; captain Jacob Trouba put the Blueshirts ahead, 4-0, at just the 1:03 mark of the middle frame.
Then it was time for the "same old Rangers," where following the game, Artemi Panarin summed up the hairiness the best, "It's Rangers. It's normal!"
And yes – we can laugh about that comment only because the Rangers won tonight.
---
At the time and with a four-goal lead – no one knew that Trouba's power-play goal would become the game-winning tally.
In a game that had "blow-out" written all over it; CZAR IGOR was beat a minute later by Oliver Bjorkstrand, as the Kraken immediately reduced the four-goal deficit to three. However, by the time the second period had concluded, the Rangers maintained the "dreaded three-goal lead" over the Kraken.
The Blueshirts, who have a flair for the theatrics this season, saw Mika Zibanejad score on the Rangers' second power-play of the game at the 3:19 mark of the third period – as this goal returned the Rangers' lead to four.
Again, at the time, you thought of those two little words that you should never let enter your brain – "game over."
Now up 5-1, and with the days of the power-less play seemingly long gone; and to paraphrase Panarin, "normalcy."
No less than three minutes following Mika's 5-1 goal; the Kraken then scored a pair of goals within 22 seconds.
A four-goal lead was now cut in half.
However, despite poor officiating (which we'll get into), a late Kraken power-play, and goaltender Martin Jones on the bench – the Rangers survived an onslaught, and as we approached the two-minute warning – #55, the man held together by duct tape, crazy glue and blood, Ryan Lindgren – the left-handed d-man scored into the Kraken's empty net from his own end for his first goal of this 2022-23 campaign.
6-3, GOOD GUYS – and where finally, you could say those two words of "GAME OVER!"
---
Tarasenko or no Tarasenko – this much is true – the Rangers are on a heater right now.
Also true? Tarasenko only makes them better, and for all the reasons as discussed last night on this site.
As a result of the win, the Rangers swept their three-game home-stand and are now 11-2-2 since the calendar flipped to 2023.
They are also continuing their chase to receive home-ice during the first-round of the playoffs: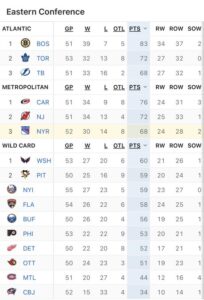 Going into this game, I said on the Twitter machine that the pregame vibes we all had are why we love sports.
By the end of the game, these positive feelings remained, if not increased – and where I wish the Rangers didn't have to play on Saturday night in Carolina – just so we could bask a little bit in this win.
Instead, there's no time off for the Rangers and they will battle the first place and rested Canes on Saturday night.
However, before darting our full and undivided attention to the Hurricanes; let's re-live all of the glory from Friday night – and where everyone should be buying into this mantra – "WE WANT THE CUP!"
Up first, all of the pregame news and notes, followed by the GAME REVIEW.
---
Following all of the big news from Thursday (full recap here: https://bluecollarblueshirts.com/2923vt/ ), we had some aftershocks on early Friday afternoon, prior to the puck drop of tonight's game.
One ripple of news? Libor Hajek, who the Rangers feared would be claimed off of waivers for nearly two years now, actually cleared waivers at 2PM Friday, and as a result, was then assigned to the Hartford Wolfpack.
Once again, the Czech finds himself in a Catch-22 situation.
Should Hajek's time in Hartford be well spent; then perhaps the Rangers will want to hold onto him, as an "insurance policy," in the event that someone gets injured during the playoffs.
However, if Hajek sputters and flutters with the 'Pack, the end result could be the same anyway – finish the season out with the organization and watch every Rangers' playoff game from the press box.
Whatever the case, and as repeatedly mentioned on this site many times before – Hajek needs a fresh start elsewhere – a change in location which will most likely take place during the off-season.
---
As the Rangers were enjoying their morning skate on Friday; over in Chicago, Patrick Kane was asked about the Vladimir Tarasenko trade.
When speaking to a gaggle of reporters in the Windy City, Kane didn't hide his feelings, and pretty much said that he was disappointed to hear that the Rangers went ahead and landed the right-winger from St. Louis.
Here's what Kane had to say about the Rangers, Tarasenko, and his own situation, courtesy of Charlie Roumeliotis:
"It's not like the happiest I've been to hear about a trade. I think the Rangers are a team that you definitely pay attention to and definitely are intrigued by, for obvious reasons.

"If things were going to happen, that was a team [the Rangers] I was definitely looking at. It seems like they kind of filled their void and went ahead and made a deal, so it is what it is."
On his perceived hip injury, Kane added:
"Yeah, I think so. I'm not sure what the story is to be honest with you, but I feel better than I did last year. It's just one of those things that maybe the story leaks out and it piles up a little bit."
On his immediate future, the future Hall of Famer stated:
"Obviously you want to do right by the franchise, and the organization here has been amazing to me and given me so much. So you definitely want what's best for both sides."
---
When you boil it all down, Kane has been very wishy-washy when speaking about both his future and desire to leave the only team that he's ever known.
In other words, the Rangers couldn't wait any further for him to make a decision – especially not after the Islanders went out and nabbed Bo Horvat from Vancouver.
Kane played the waiting game – and while he may have wanted to jump to the Big Apple – he waited too long.
While it would take a ton of cap gymnastics to bring Kane to New York (a three-way trade is the only way to make it happen and in this scenario – Chicago and the other team involved would have to assume 75% of his contract combined) – it could still happen and I'll outline how below.
However, it does feel like that ship has now sailed.
As predicted in this space all season; while I would have liked to seen Kane in New York – I still think he winds up in Colorado. As they say, we'll see.
---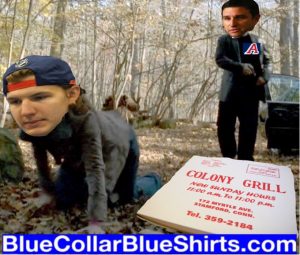 Prior to tonight's game, the Rangers held their morning skate, where yes – both Vladimir Tarasenko (#91) and Niko Mikkola (#77) were not only in-attendance – but full of smiles too.
While I'll have the line-up for you included on the other side of these following interviews; the biggest news from the practice was that Gerard Gallant finally shook up his first power-play unit – but it wasn't the change we all expected.
Rather than immediately deploying Tarasenko on the PP1 unit; instead, Filip Chytil was placed there, in steed of Vincent Trocheck.
Here are Gallant's new power-play units, at least for the time being (more on this during the "TURK TALK" segment):
PP1: Fox, Mika, Panarin, Kreider and Chytil
PP2: Trouba, Kakko, Lafreniere, Trocheck and Tarasenko
Of note: K'Andre Miller floated around with both units.
---
In other "big news," at least for the birdbrain millennials of the Rangers' beat, and for the "KULT OF KRAVTSOV" who mindlessly follow them; it was Vitali Kravtov back in Gallant's line-up tonight, while Jake Leschyshyn took a seat.
While we all know that I'm not exactly the biggest fan in the world of Vitali Kravtsov – I didn't mind re-inserting the mercurial and disappointing Russian back into the line-up – and for the following reasons:
— Jake Leschysyhn hasn't shown much. I think Kravtsov, at least from what I've seen from these two thus far this season, is the better option.
— Also a better option? Barclay Goodrow centering the fourth line – although I would've had no problem with either Goodrow or Vesey remaining with Trocheck & Kreider.
(Keep in mind, my motto is "IN TURK WE TRUST" – and I rarely, if ever, question his line-up and decisions!)
— And as the highly esteemed reporting duo of Elliotte Friedman and Jeff Marek went on to say on Friday (outside of Brooks, it's night and day when listening to these two when compared to the clueless Rangers' beat, you know, the Mercogliano's and Walker's of the world) – playing Kravtsov tonight, and up to the trade deadline, is a "showcase" move.
On Friedman and Marek's successful "32 Thoughts" podcast, infinitely better than whatever Walker and Mercogliano are saying on their own shows, shows that are catered to middle-schoolers rather than to adults; Marek said that Vitali Kravtsov's spot on the line with Vincent Trocheck and Chris Kreider "raises an eyebrow," and later on, called it the "s-word," as in "showcase."
Here's Friedman on the player that I hope gets traded tomorrow – just so I never have to talk about him again:
"That is interesting about Kravtsov. First of all, there was a rumor yesterday that Kravtsov was in the deal, which obviously turned out to be incorrect, he wasn't. But I think the player, I think the player has made it clear that if he is not going to play there that he would like to go somewhere else, the opportunity to go somewhere else. And it's not the first time that has happened, the relationship with Kravtsov and the Rangers has been on again and off again.

"One thing that is very clear about Chris Drury, that we've learned about him in the short time he's been a GM, he doesn't like to give players away for free. He didn't put Blais on waivers, he put him in the trade. He didn't put Hajek on waivers until yesterday because he had to. I'm not surprised he's not doing this with Kravtsov. I think the player has made it clear that he would like a change of scenery if this isn't going to work for him."
Maybe we'll get that Kravtsov for Kane deal done just yet!
---
Following the Rangers' morning skate, the team uploaded a bevy of interviews to their YouTube channel. Here were the top three – the two newest Blueshirts and "THE TURK" himself:
---
---
---
When it comes to Tarasenko, he said what you'd expect him to say – he was happy about his new team, thanked his old team (and fans of the Blues too) and then brought up his friendship with Panarin.
Tarasenko also said he'd do whatever was asked by him and was excited to go for the Cup with the Rangers. Music to my ears.
New d-man, Niko Mikkola, told reporters that he's been friends with Kakko, a fellow Finn, for years.
As mentioned last night, the NHL stresses/features nationalities more than any other league; so by adding a fellow countryman to the locker room – it's only a bonus.
Just based on what I've heard from these guys (and from what I've been reading too); while the Kakko/Mikkola bond isn't as strong as the Panarin/Tarasenko friendship (and how can it be – the Russians are older and have known each other longer when compared to their Finn counterparts) – the two are close enough.
In other words – just like Panarin with Tarasenko – Kakko, despite his young age, should help with Mikkola's acclimation to New York.
---
Admittedly, while I'm a huge fan of Gallant anyway – I thought he gave an amazing interview on Friday.
The head coach immediately praised his g.m. and said that yesterday was a good day for the club. I'd say.
While this got lost in the weeds as the clueless members of the beat centered their attention around Kravtsov; I liked how "The Turk" went out of his way to praise both Vesey and Goodrow – a story that none of these foolish imps brought up.
Gallant said that these two role-players can play anywhere in his line-up, and despite their ice time being decreased – they won't care one iota about it.
The only things they care about are winning and bettering the team – and Tarasenko, and his trickle-down effect too, will accomplish just that.
As alluded to earlier, Gallant also mentioned that he was finally going to shake up his power-play units, where not only was Filip Chytil bumped to the PP1 squad; but Tarasenko was inserted onto the PP2 quintet.
While I think many expected Tarasenko to join the PP1 unit (I know that I did); without question – Chytil deserved the promotion, and in favor of Trocheck.
In Gallant's words, he wants to create two strong power-play units, where he also said that he wanted to balance the time between the two five-man groups.
Needless to say, "THE TURK" won again on Friday night, as each power-play unit delivered a goal tonight – but of course – this streak needs to continue. It can't be a one-and-done Haley's Comet occurrence.
As far as anything else, both Mercogliano and Walker loudly banged their Kravtsov drum, where Gallant reiterated what he's said 78967868696 times before – he wants to see Kravtsov score goals and thought his play had tailed off a bit.
Seriously, I think the Rangers could deal Kravtsov to the Blackhawks in March and then go on to win the Stanley Cup in June; and the first question these bumbling bozos would ask Gallant would be, "You just won the Cup, but how do you think Kravtsov will do with Connor Bedard in Chicago?"
UGH!
---
Here was the line-up from Friday night, night one of the Tarasenko era:
FIRST LINE: Panarin/Mika/Tarasenko
SECOND LINE: Kreider/Trocheck/Kravtsov
THIRD LINE: Lafreniere/Chytil/Kakko
FOURTH LINE: Vesey/Goodrow/Gauthier
Defensively, we finally had a change:
FIRST PAIR: Lindgren/Fox
SECOND PAIR: Miller/Trouba
THIRD PAIR: Mikkola/Schneider
STARTING GOALIE: CZAR IGOR
BACK-UP: THE HALAKNESS MONSTER
PRESS BOX: Harpur and Leschyshyn
---
BOX SCORE time.
The following graphics and information come from ESPN.com:
SCORING:
PENALTIES:
TEAM STATS: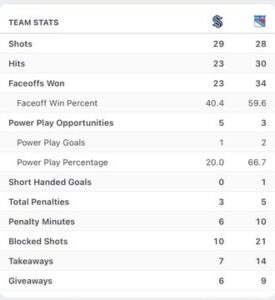 GOALIES:
| | | | | | | | | | | |
| --- | --- | --- | --- | --- | --- | --- | --- | --- | --- | --- |
| SA | GA | SV | SV% | ESSV | PPSV | SHSV | SOSA | SOS | TOI | PIM |
| 27 | 5 | 22 | .815 | 14 | 6 | 2 | 0 | 0 | 57:54 | 0 |
| | | | | | | | | | | |
| --- | --- | --- | --- | --- | --- | --- | --- | --- | --- | --- |
| SA | GA | SV | SV% | ESSV | PPSV | SHSV | SOSA | SOS | TOI | PIM |
| 29 | 3 | 26 | .897 | 21 | 4 | 1 | 0 | 0 | 60:00 | 0 |
---
This was one of the better M$GN broadcasts of the season – where admittedly – that doesn't say much.
While Sam Rosen continued his black voodoo reverse curse magic, and while Sieve Vagistat remains a boil; at least it wasn't as intense and in-your-face as it usually is.
And of course, with Henrik Lundqvist there – he remains as the saving grace of these thirty minute pregame shows.
I know I say it a lot, but what's one more time? Lundqvist is very quickly becoming one of the best analysts in hockey. And yep, I say that because he's a fan of the "EYE TEST" too!
There are many reasons to like "The King of Commentary," including the fact, and as opposed to Vagistat – he's been there, done that.
There are just some conversations that Vagistat is not qualified for, where Lundqvist knows the subject inside-and-out.
If you want to know the best place to get your starting goalie a coffee; then yes, Vagistat is your man. If you want to know about battling in the trenches and the drive to win games; then look no further to Lundqvist.
I think I may have said this before on this site too – but as a fan of autobiographical books, history and pro wrestling shoot interviews – every time Lundqvist lends his insights – I feel like I'm getting all three of these things at once. I always have a thirst for knowledge and what makes the great ones tick. Lundqvist provides that.
Since this was a perfect night in Rangerstown, USA, and on the advice of reader Owen D., I'm going to skip the Vagistat segments. Let's just focus on the positivity and what Lundqvist said.
On the Tarasenko trade, Lundqvist said what we all felt: "Tarasenko may be that [missing] piece. The organization is all about winning right now. It's a good time to be in."
Damn right!
As Giannone ran down Tarasenko's accolades and as M$GN showed us a camera shot of Tarasenko talking to his family seated on the glass; Lundqvist talked about facing Tarasenko: "Any goalie facing him needs to keep their feet in the right position and be set. He's fast and explosive. He's thick and uses his weight to shoot too. It's a challenge facing him."
And speaking of Tarasenko's family being there, what I said on Twitter at the time is 100% true too:
Tarasenko's three sons and wife made the trip for his #NYR debut. I bet the Rangers handled all of their accommodations too – first class – which is why players always choose NYR over NYI when given the option.

— BlueCollarBlueShirts (@NYCTheMiC) February 10, 2023
---
Just read my books or the archives of this site for more; but when it comes to the treatment of their players – no one does it better than James Dolan and the Rangers.
Say what you want about Jimmy D., but all of his players, both past and present, love him. He spares no expense, and not only does he try to give his players every edge/advantage possible; he extends that generosity to the families of his players too.
Non-player employees of Dolan?
It's a different story – you can't make eye-contact with him! (I'm not making this up.)
On Panarin and Tarasenko reuniting for the first time since 2011, the best analyst on the M$GN today said, "I think it's huge for both guys. These guys will help each other to reach their top level."
They then hooked up for a goal no less than three minutes into the contest!
Kaapo Kakko, a man of few words, was then interviewed by Michelle Gingras, where upon being asked about his fellow Finn, Niko Mikkola, #24 said, "He's a great d-man. He's what we need."
Needless to say – of the two former Blues-turned-Blueshirts – it was the Russian who had the better night.
On the never-ending discussion regarding Vitali Kravtsov, Lundqvist, who in my eyes, kind of views the crybaby in the same way that Gallant does, said, "He shouldn't do too much. Keep it simple. Rely on the veterans. I always tell guys who have been sitting out for a while not to do much. Let the skill take over."
In his 10:46 of ice time, Kravtsov, despite the head coach pleading for him to shoot the puck and score goals, went without a shot on goal tonight. Mercogliano then praised this Hall of Fame performance.
Again, I'm not making this up – I'm just telling you the lengths and the ways these boneheaded bozos will go to whenever serving their own narratives.
During his final segment, Lundqvist said that he was happy in regards to Chytil's promotion to the first power-play unit.
Number thirty then talked about Tarasenko one more time, and basically said what I said last night, and brought up the trickle-down effect. This is also when Lundqvist praised his fourth lines from the 2013-14 and 2014-15 seasons – where in no coincidence – were the most successful teams of the "Lundqvist Era."
Not mentioned once during the pregame show? The Rangers' opponent, much less the Kraken goaltender!
However, I'll give M$GN a pass here – as I 100% understand the Tarasenko excitement!
Following Joe Micheletti using the word "threesome" for the 9767867867867868th time this season; Jumpin' Joe then told us all about the amazing reception that Tarasenko had received when announced as starting.
Of course, M$GN didn't show us this; as instead, we were bombarded with 98678678678676 gambling commercials.
GAME REVIEW time!
---
FIRST PERIOD:
Tonight was one of those nights, where despite the insane prices for tickets – there didn't seem to be one casual fan in the building.
While of course, I'm sure there were a few casuals there (especially in the press box); it never felt like that when watching this game on television. Instead, it felt like the 18,006 sold-out crowd was 100% aware of who Tarasenko was and what this game meant.
Rosen, and I'm not making this up, immediately brought up how the Islanders beat the Kraken 4-0 the other night. By now, you're probably all well aware of my daily 4-0 bet, so this remark stung a bit for me personally!
(Plus, I never want to hear about the Islanders winning a game on a Rangers' broadcast!)
However, while the Rangers didn't win 4-0 tonight, in spite of another one of my daily $5 donations; my new prop bet hit instead, this one:
Following three early stoppages, two icings and an offside, I made the following remark on the Twitter machine:
I think the new #91 scores faster than the old #91 #NYR

— BlueCollarBlueShirts (@NYCTheMiC) February 11, 2023
---
Following that tweet, Sam Rosen tried to will Jordan Eberle into scoring a goal, while at the same time, the 2:00 mark, Martin Jones denied Filip Chytil on a two-vs-one odd-man rush – a save made following Lafreniere's pass to his favorite center.
Then, at the 2:49 mark, a new memorable moment of Rangers' history:
Panarin to Tarasenko and The Garden Faithful go absolutely WILD 🗣️🗣️🗣️ pic.twitter.com/HW6b5qJIMD

— Rangers on MSG (@RangersMSGN) February 11, 2023
---
1-0, GOOD GUYS!
I mean you couldn't write a better start, as Panarin made a perfect pass to his buddy and Tarasenko then scored on his first shot on goal as a New York Ranger.
What a debut.
While this would be the only goal and points from these two; I go back to what I said last night – despite the excitement – you had to temper your expectations a bit.
In other words, you couldn't expect Tarasenko to come out guns blazing, as there's usually an adjustment period, especially for a player who had traveled all-day 24-hours prior – and who was playing in his first game for a new team for the first time in his career.
Tarasenko debunked that at just the 2:49 mark, but as we'd see later on – there was some confusion and he had to be told where to go on the ice at certain points, where to be clear – through no fault of his own. He was just learning Gallant's system and the way his teammates play, on-the-fly.
And as we all know – that's why it was so important that g.m. Chris Drury brought Tarasenko into the fold three weeks ahead of the deadline, as these extra games played will only help the newest shining star (and the team) on Broadway.
Just a tad over two minutes later? The third line's turn:
Kakko scores and is fired up Sam is fired up The Garden is fired up I'm fired up LET'S GO pic.twitter.com/dBdJQ2JNux

— Rangers on MSG (@RangersMSGN) February 11, 2023
---
2-0, GOOD GUYS – and at just the 5:01 mark of the game!
This was a pure first-round draft pick line goal; as following a Kakko turnover, Chytil got the puck back, dished to Lafreniere, Lafreniere returned the puck to Chytil, and on Chytil's one-timer; Kakko cashed in the loose change.
Man, is this line absolutely motoring these days – and to go back to what I've previously said – are greatly benefiting by playing against opposing third lines.
And yep, with Tarasenko now here – this third line will only continue to succeed.
This too – this was Kakko's tenth goal of the season. He has now set career-highs in goals and points this season, and just like Filip Chytil; yet there are still some morons who ignorantly proclaim, "GALLANT DOESN'T KNOW WHAT HE'S DOING! HE HATES THE KIDS!"
No wonder why these people need a GoFundMe to pay the bills these days!
And oh yeah – ah, to be a 45-year-old man living in your father's Staten Island basement – but why plug those ridiculous and often-wrong sites tonight?
In the case of this 40-year-old blogger and world renowned author? (I'm saying the latter tongue-in-cheek, so relax!)
Here's what I said following Kakko's goal:
This is where we will see what #NYR is made of – far too often they let a 2-0 score turn into 2-1 rather than 3-0.

— BlueCollarBlueShirts (@NYCTheMiC) February 11, 2023
---
The Rangers continued their attack – despite Micheletti, and for the 90876786786786786th time this season, telling us how the other team, "works hard Sam."
Just one day, I'd love to hear who doesn't work hard.
No joke, Micheletti would say a five-year-old squirt team from Flin Flon, Manitoba "works hard Sam!"
At the nine-minute mark, Seattle finally put forth their first true attack of the game, but Braden Schneider wasn't having any of it and got the puck out of the zone.
At the half-way mark of the period, CZAR IGOR stopped a good lookin' try from Schwartz.
Down to 8:15 remaining, Kravtsov, who must've been muscled off of the puck no less than four times tonight, turned the puck over. However, during this play, he recovered, forced a turnover himself and then set-up Kreider for a GOOD LOOK – but the puck took a bad hop – and is often the case whenever #74 is out there.
A minute later, Kakko, who was really displaying BIG COCKKO ENERGY tonight; made his first of three Harlem Globetrotter inspired plays, where he skated all over the place, the Krakheads chased him like chickens with their heads lopped off, and were then forced to send the puck down Main Street.
And this too – I've brought up in the past, how earlier this season, Kakko would try these plays and would then just turn over the puck – and where two of these plays went for goals the other way.
Not anymore.
Kakko, just like his whole line, is dripping machismo right now. I've never seen these three more confident than they are right now.
Down to 6:28 left on the clock; the Rangers marched on. Tarasenko set-up Zibanejad on Jones' doorstep, but the puck wouldn't go in. However, the wise sages in the seats of M$G appreciated the smart play and gave VT91 a rowdy ovation. I mean, you gotta love this – you can feel it.
A minute later, it was time for the second line to score, via Nonna Trocheck's bambino, Vincenzo from Pittsburgh:
Trocheck puts it on net and stays with it to push in the rebound #NYR pic.twitter.com/BLLyUR078V

— Rangers on MSG (@RangersMSGN) February 11, 2023
---
3-0, GOOD GUYS, following Trocheck, from Jones' paint, staying with the play and trickling the puck past the goal line – rather than hitting the goal post!
Of note, Kreider and Lindgren received assists here, so like Trocheck; all three of these men finished with a two-point, multi-point showing.
At the time, and with 5:31 remaining – if you could bottle the energy, passion and good-feelings from M$G – then you'd be able to sell it – and maybe afford Ranger season tickets too!
In perhaps his best play of the game, with 3:25 to go, Mikkola blasted some rubber at Jones. Jones gave up a rebound to Gauthier, but the puck bounced away from the returning fourth-line forward.
Following a Bjorkstrand shot sent wide, and a slash on Kreider that went uncalled; I said the following on the Tweeter:
Living in the moment, but if there's a sliver of hope of making a three-way deal where 75% of Kane's hit is assumed elsewhere – you have to do it. Gotta go all in. #NYR

— BlueCollarBlueShirts (@NYCTheMiC) February 11, 2023
---
I'm no hypocrite so I will call myself out here!
Similar to the way I get on the "KULT OF KRAVTSOV;" I feel like my own one-man Patrick Kane marching band!
But hear me out – and then I'll leave this topic alone until Kane's fate is decided.
If not now, then when?
The Rangers have many guys in their prime or entering it, such as Panarin, Zibanejad, Fox, Igor, and you know the rest.
You also have many young players on cheap contracts, all due for raises this summer.
In this hard-salary cap world, you only have a finite amount of time to win the Cup before having to reset again.
If there's a will, a chance, whatever, to add Kane to this line-up – then don't you have to do it?
The how? Easy: Chicago retains 50%, a third team retains 25% (look at the Savard trade to Tampa from two seasons back for an example) and the Rangers then assume the final 25%.
I don't care if Drury has to give up his other first-round pick, Kravtsov, Zac Jones, anyone else in Hartford or whatever asset that you can conjure up (sans Brennan Othmann – he's the untouchable prospect to me); but if you can add Kane, rather than Kravtsov or a grinder to your second line – then by all means, and since you're already ALL IN – ya gotta do it.
Plus, as recapped earlier – Kane wants to be a Ranger and has the final say on where he spends the end of the 2022-23 season.
And as Kane said – the hip-injury stuff is overblown.
If you can add a player of his caliber, a three-time Stanley Cup champ, a successful playoff player and a future Hall of Famer; then I don't see a reason why not to bring him in.
I know this is largely a pipe-dream, as you usually only see such super-teams in the NBA; but hey, a boy can dream, no?
---
As we approached the final minute of the period, Panarin, in no less than twenty seconds, turned over the puck three times. "It's Panarin," am I right?
However, with 45.4 seconds remaining, Schwartz dangerously checked Lindgren in the head when behind Igor's net.
I thought this should've been a five-minute major, if not a ten-minute game misconduct. What are we doing here? I thought we were trying to promote player safety and punish potential concussion-seeking dirty plays.
Instead, this was a two-minute minor assessed.
The PP2 unit started, but despite not scoring, sent three shots Jones' way.
We remained 3-0 after twenty minutes, and with the Rangers opening up the second period with a 1:15 power-play.
Here's what I said at the time:
3-0, GOOD GUYS, after 20. 1P Thoughts:
— Ecstasy. You couldn't have asked for a better start. Talk about exceeding the hype!
— SOG 12-10, Hits 11-6, FOs 12-10 all #NYR
— Even Rosen hasn't been bad!
— Rangers have a 1:15 PP to open 2P
— Keep doing what you're doing!

— BlueCollarBlueShirts (@NYCTheMiC) February 11, 2023
---
SECOND PERIOD:
The PP1 opened up this period, where just seconds in – Kreider hit the post.
Here's Sam Rosen's call, "WHAT A SAVE FOR MARTIN JONES!"
The more things change, the more they stay the same!
Not a save for Jones? Trouba's puck luck power-play goal scored at the 63-second mark:
Trouba banks home a Kakko rebound and it's a power play goal! #NYR pic.twitter.com/JIk6TuJ80h

— Rangers on MSG (@RangersMSGN) February 11, 2023
---
4-0, GOOD GUYS!
On this goal, there was Kakko, once again, just full of himself (in a good way); leading the offense. Following his shot on goal, Trouba sent the puck back at Jones and the puck bounced off of Borgen and into the Kraken net.
One more time – at this point in the game, you were beating your chest King Kong style and belting out "WE WANT THE CUP!"
Or at the very least – that's what I was doing!
Just a minute later, Bjorkstrand got behind the second pair and beat CZAR IGOR on a clean and wide-open shot.
4-1, good guys, and with 17:53 remaining.
Seriously, and this isn't about my 4-0 daily bets – will CZAR IGOR ever get a shutout again? It feels like every game, the Rangers get a big goal and then boom – the other team scores before the PA announcer can even read out the Rangers goal.
And as mentioned two blogs ago – as a devout hater of all things Islanders – I watch the Sorokin/Varlamov tandem pick up one shutout a week.
Funny enough, CZAR IGOR's one shutout from this season? A 1-0 overtime win against Philly.
More important than all that – this is when the game turned.
For the remainder of the period, the Kraken largely dominated puck possession and dictated the pace.
In my eyes, I thought the Rangers' adrenaline level had dropped, as after all, it was tough to match what they did in the first period and with the Garden rocking over Tarasenko.
In other words, I don't think the Rangers went into cruise control or anything as severe as that – I just think they lost some energy – which was understandable.
What wouldn't be understandable is blowing a four-goal lead; and as Rosen tried to reverse-curse and will into happening.
Since I want to maintain my positive mindset, here are the Ranger highlights from this period:
— Chytil, while being draped by three Kraken defenders, put a hard and clean shot on goal – a save for Jones – but the fact that he got this shot off – and hit the net too – spoke volumes on the way he's playing these days.
— CZAR IGOR prevented Bjorkstrand from scoring his second goal with 10:45 remaining.
— Then, with 10:11 remaining, Panarin took an interference penalty – but I had no problem with it. This is when Borgen hit Tarasenko from behind, and "The Breadman," of all people, defended his friend and newest teammate. Yeah, you hate penalties when up by three goals, but I'll never criticize a player for protecting the valor and honor of a teammate.
— Even better, the Rangers' PK had a stellar showing.
— Down to 5:10 remaining, Mikkola took his first of three penalties – where to be fair – I thought the latter two were bullshit, and where the officials apologized for the third penalty assessed – and as we'll soon get into.
— This Rangers' PK was much scarier than the first, as the Kraken spent 1:40 in the Rangers' zone. However, Lindgren finally cleared the puck and that was that – 2-2 on the PK.
— As we hit 2:00 left on the clock; CZAR IGOR made a monster save on Donato, and just as Yanni Gourde was going to bang home the easy rebound; his buddy and former two-time Cup Champ linemate, Barclay Goodrow, hit him and prevented him from doing so.
— Come 27 seconds remaining; the third line cooked again, but for the second time – Jones prevented a two-vs-one odd-man rush goal, following a sweet set-up from Lafreniere to Chytil. However, Jones' center, Alex Wennberg, collided with his head. Jones was shook up but never left the game. So much for the concussion spotters.
Despite a sloppy and perhaps tired period, the Rangers were still up by three with twenty minutes remaining.
Here's what I said at the time:
4-1, GOOD GUYS, after 40. 2P Thoughts:
— Was going to be tough to match the pace from 1P, but they maintained the 3-goal lead.
— SOG 21-20, Hits 22-17, FOs 20-16 all #NYR; PP 1-1, PK 2-2 – Special Teams swing games!
— Finish strong!
LGR!

— BlueCollarBlueShirts (@NYCTheMiC) February 11, 2023
---
THIRD PERIOD:
Perhaps the less said about this period the better; but even so – the Rangers tied the frame 2-2 with their opponents – and where you can say the officials assisted on both Kraken goals.
Following the RUSSIAN ROCKET OF HIS GENERATION, the no shots on goal Kravtsov, being muscled off of the puck again; CZAR IGOR also stopped Bjorkstrand from scoring goal #2 again.
Down to 17:51 remaining, the ex-Isle, Eberle, high-sticked K'Andre Miller.
Seventy seconds into the power-play; the future 2023 Norris winner, Adam Fox, and Zibanejad's BFF, Chris Kreider, assisted on Mika's power-play goal – his team-leading 26th tally of the season.
While this was a PPG, it also meant that all three members of my newly dubbed "ATM LINE" had a point next to their names.
Up next, Rangers' tradition.
With 15:32 to go; Mikkola was boxed for hooking Geekie. However, on replay, this should've never been called, as the Kraken were offside by a mile prior to entering the zone.
Despite a strong penalty killing effort during the first ninety seconds, and where Miller almost had Kreider set-up for a short-handed goal; with 14:01 to go, McCann scored.
5-2, good guys.
22 seconds later, Tanev got right to Igor and easily beat the '22 Vezina winner.
5-3 good guys, and where once again, CZAR IGOR's numbers took a beating on home ice, as he finished with three goals allowed and a save percentage of .897.
And while I still consider CZAR IGOR "elite;" this much is true too – he's nowhere close to defending his Vezina title – and very likely – won't even finish top-five in the league right now.
Down to 11:40 remaining, and with their previous four-goal lead down to two; Mikkola was boxed for the third time, as he was assessed with a delay of game penalty (puck over the glass).
Gerard Gallant was absolutely irate and let the f-bombs fly at the stripes.
As we saw on replay, Mikkola's puck had deflected off of the stick of Matty Beniers – so this wasn't a penalty.
Had the Kraken scored here, I think Gallant would've laced up the skates and beat the ever-living shit out of these referees.
Instead, the Rangers' PK did their job, where following their kill and during the TV timeout that ensued afterwards – the officials profusely apologized to Gallant.
I'll give the refs credit here – they didn't have to apologize – especially in front of the cameras.
As far as Mikkola goes; I think this was good night for Ben Harpur, regardless of this erroneous call.
Despite the apology, the officials then allowed a hold on Fox to go uncalled.
However, with 4:37 to go, the Rangers received their "make-up call." Lafreniere made a bee-line to the net, but despite McCann stripping him cleanly; the Krakhead was boxed for hooking.
The power-play, 2-2 for at the time, wouldn't make it 3-3. Instead, the power-play was negated 49 seconds later, when Fox was boxed for questionably tripping Yanni Gourde, after a snow-angel.
To reset here; at the time, there was 3:48 left on the clock and with 1:12 of foreplay coming up, followed by a 48 second Kraken power-play.
Kraken coach, Dave Hakstol, used his timeout here and then pulled Jones.
Once the foreplay concluded and the road team's power-play had begun; Ryan Lindgren said "GAME OVER," following his empty net goal – a goal that also counts as a short-handed goal for the Rangers' PK:
Ryan Lindgren 🎯 pic.twitter.com/q9MuwA7oqq

— Rangers on MSG (@RangersMSGN) February 11, 2023
---
6-3, GOOD GUYS – and where you could feel every Ranger fan inside of M$G exhaling – and what held up as the final score too.
While it wasn't easy (when is it ever?); another great win for the GOOD GUYS – and where many players had excellent showings.
Here's the head coach following the win:
---
The always cool, calm and collected Gallant praised Tarasenko and also revealed the crash-course he gave his new star before the game.
Up next, a quick turnaround for the Blueshirts, as they will try to extend their win streak to five games on Saturday night.
And as someone who has to wake up at 4:30AM from Monday to Friday; I'm happy that the Rangers played tonight and tomorrow too – especially with Tarasenko here!
See ya tomorrow night!
PLUGS TIME!
---
On Thursday night, our pals over at "The Blueshirt Underground Show" returned with an emergency episode, covering all of the Rangers' big news from Thursday. To check it out, click the play button below:
---
My first plug of tonight's blog – the mandatory plug for my book, "The New York Rangers Rink of Honor and the Rafters of Madison Square Garden."
As mentioned previously, the book is now available in hardcover, in paperback and in Kindle formats. To purchase a copy of the book, visit this link:
https://www.amazon.com/Rangers-Rafters-Madison-Square-Garden-ebook/dp/B09CM5N2WD
For those still looking for signed paperback versions of the book, I have re-ordered more copies. I now have a few signed copies for sale at $25 a pop (includes shipping price) through me directly. Here is all the information on that:
---
My four-volume set of books, "One Game at a Time – A Season to Remember," is a game-by-game recount of the Rangers 2021-22 campaign.
My second title as an author, "One Game at a Time – A Season to Remember," is now available in eBook, paperback and hardcover formats.
To obtain signed copies, visit: https://bluecollarblueshirts.com/onegamebook/
To purchase all four volumes on Amazon, visit: Amazon.com – "One Game at a Time."
---
The greatest volume-set of books on Rangers' history today!
"Tricks of the Trade – A Century-Long Journey Through Every Trade Made In New York Rangers' History," a four-volume set of books that meticulously covers every trade made in franchise history, is now on sale.
All four volumes of the title can be purchased on Amazon.com and are presented in three different formats – eBook, paperback and hardcover.
To purchase Volume I: Conn Smythe (1926) – Craig Patrick (1986), visit Amazon.com
To purchase Volume II: Phil Esposito (1986) – Neil Smith (2000), visit Amazon.com
To purchase Volume III: Glen Sather (2000-2015), visit Amazon.com
To purchase Volume IV: Jeff Gorton (2015) – Chris Drury (2022), visit Amazon.com
To purchase signed copies of all four volumes, visit https://bluecollarblueshirts.com/tricksofthetrade/
---
Here are my last few blogs, in case you missed them:
---
---
---
---
If you haven't already, subscribe to this blog for the next update:
---
Don't forget to order my new four-volume set of books, "Tricks of the Trade!"
If you don't order through me, all four volumes are now available on Amazon.com
For more details, check out: https://bluecollarblueshirts.com/tricksofthetrade/
Thanks for reading.
LET'S GO RANGERS!
Sean McCaffrey
BULLSMC@aol.com
@NYCTHEMIC on the Tweeter machine