Greetings and salutations everyone and welcome to another blog here on BlueCollarBlueShirts.com. These are the games that I absolutely despise – and not because of anything that the Rangers did.
Similar to this year's Superbowl, and just like last night's game between the Rangers and the Oilers – the officials made their impact during the final seconds of the match and in turn – robbed fans of their three-hour investment.
For whatever reason, these officials, and across all sports at that, fail to realize that nobody pays to see them. Fans want to see the athletes win-and-lose games – and not the morons dressed as Foot Locker employees.
While admittedly, the Rangers were gassed, slow and sloppy during the majority of Saturday night's affair in Calgary; come the end of regulation, and due to the heroics of Jaroslav Halak in net – the two teams jockeying for playoff positioning were tied at two goals a piece.
With a critical point up for grabs – enter the officials to swing the game.
Despite Nazem Kadri receiving a game misconduct at the end of regulation for arguing with the bozos in stripes – not one Flame had to serve a penalty. Rather than the Rangers opening up the bonus period on the power-play; instead, Kadri went to the locker room and that was that.
I've never seen anything like this before, but apparently – players can curse out officials during tied games – and not have to worry about putting their opponents on the man-advantage. Instead, they just get an early shower and that's that.
It gets worse.
Just fifty seconds into the overtime, Tyler Toffoli mugged Artemi Panarin at the corner boards to the left of Flames' netminder, Jacob Markstrom. No call, as the officials said play on.
And let me be clear – I have no problem with Toffoli's three infractions going undetected by these derelicts with whistles – but at the same time – if you're going to do that, then you have to extend that same leeway to Toffoli's opponents too.
However, as Adam Fox went into the scrum, as he intended to retrieve the puck and get the former King off of "The Breadman;" the future 2023 Norris Trophy winner was boxed for a high-sticking penalty himself, an inadvertent infraction, as Dube skated right into the blade.
No matter – Fox was boxed and just 38 seconds later – boom – Mikael Backlund deflected a long-distance puck, as shot by Jonathan Huberdeau, for the 3-2 walk-off overtime game-winner.
While this was not the best effort from the Rangers tonight, and as I'll soon explain – I'm not aggravated about any of that.
Unlike the ignorant miscreants who compromise "The Kult of the Player Who Shall Not Be Named," and those foolish "TURK TRUTHERS" too – I understand the rigors of a grueling NHL schedule – especially whenever an east coast team has to play three games in four nights in western Canada.
What just bothers me, especially as someone living in the Eastern Standard Time Zone – is staying up until 1:00am to watch the conclusion of tonight's tilt – only for the officials to decide the winner.
Had the Rangers lost outright, and as they would have, had Halak had an off-night like the team in front of him – then fine – it is what it is.
But to lose because of the three blind mice on ice – it just makes your blood boil.
Sleep was sacrificed and three hours of time were invested and for what – the officials, who are never held accountable, to determine the victor?
Sickening!
---
Going into this game, while I'm not a fan of the phrase "scheduled loss;" only because I don't want to use the "L-Word" whenever talking about my favorite team – I did think this was a "house money" type of night for the Blueshirts.
Win-or-lose – at the very least – the Rangers were coming home with at least six of a possible eight points.
If there is any major takeaway that I have from tonight, outside of the piss-poor officiating, then it's the following:
The red-hot Rangers gained seven of a possible eight points during their daunting road-trip.
THAT'S ALL THAT MATTERS!
I'll take the sum of the parts – rather than psychoanalyzing one tired off-night.
Would have eight points gained been nice? Of course – but seven ain't shabby either – especially when you consider the conditions.
After knocking off first-place Carolina, the Rangers then had to barnstorm through western Canada for three games and in a time-span of 96 hours.
Following their handling of the pesky Canucks; the Rangers then pulled off their biggest comeback of the season, an emotional shootout thriller over the Oilers.
Less than 24-hours removed from a 65+ minutes game; the Rangers then traveled two or so hours south to Calgary, where they competed against the well-rested Flames.
Despite spotting the home team an early two-goal lead; the resilient Rangers never gave up, and following Alexis Lafreniere's first career power-play goal – the Blueshirts tied the game with 7:12 remaining in regulation.
And prior to taking some air out of the Saddledome following Lafreniere's tying goal – the Rangers, who clearly didn't have their legs tonight – still had what felt 7896789698796 scoring chances – but between missing empty nets, not executing and a save or two from Markstrom too – the touchdown Rangers didn't find the end zone tonight.
But as the story goes – there's "NO QUIT IN NY" – and the Rangers found-a-way to at least come out of this game with one point.
---
If there was any other takeaway that I had from tonight's game, one that doesn't have anything to do with the officials or the standings, then it was that this contest was a stark reminder of why analytics are trash.
As I've said many times before, you can't judge all 82-games on any team's NHL schedule the same.
Between travel, opposing schedules, injuries, playing while not at 100%, bad ice, line-up changes, salary-cap induced moves, trades, and most importantly, the human element – to throw a bunch of stats into a computer, and then think that's the end-all, be-all – it's ridiculous and ludicrous.
And just like analytics – I think analyzing tonight's particular game is worthless too.
Were the Rangers hot tonight? Hell no, but when you consider the game they had just played 24-hours ago, and how tonight was their third tilt in four nights – I just don't understand how anyone, despite the nonsense I saw on social media – could criticize this team, any player and/or the head coach.
If there is one exception to this, then it was the freshest Ranger of them all, the one who hadn't played during the past two games – THE HALAKNESS MONSTER.
What is also equally worth noting is the fact that the Flames are currently in a state of disarray, with a lot of drama circling around them, following Huberdeau's agent, the high-profile Allan Walsh, publicly calling out Calgary head coach, the chicken-face, Darryl Sutter.
The Flames, who entered this game with the previous two days off, following their 5-2 loss to the Red Wings on Thursday; had a controversy on their hands, as Walsh said that the players were getting sick-and-tired of Sutter and how it wasn't any fun to play for him.
While players being upset with taskmaster coaches isn't new (see Bowman, Scotty, Tortorella, John and the list goes on-and-on); Sutter was forced to address the issue on Friday, especially since his most well-known player, Huberdeau, is one of Walsh's biggest clients.
Long-story short – there's not one analytic that captures the state of the Flames – and how desperate they were to debunk what Walsh had said – and just like how there isn't any analytic that will explain the Rangers' grueling schedule either.
At this time, let's get into the pregame news and notes, rifle through the GAME REVIEW and then look ahead to Monday night, when the Rangers will return and host the Winnipeg Jets.
---
Since the Rangers had played less than twenty-four hours prior to puck drop on Saturday night at the Saddledome, and with a late arriving flight into Calgary to boot; the Rangers didn't have a morning skate.
Come 8PM EST, Gerard Gallant held his daily "TURK TALK," where we received one piece of expected news and an update in regards to his new and successful power-play units.
The expected news was that "THE HALAKNESS MONSTER," Jaroslav Halak, would get the nod in net.
The other news was that Vladimir Tarasenko and Filip Chytil were going to be flip-flopped on the power-play, where Tarasenko would be reunited with his linemates on the first power-play unit, while Chytil would be reunited with his buddies on the second man-advantage team.
I thought this was a wise decision from "THE TURK." After allowing Tarasenko to get his feet wet, Gallant promoted his newest star to the first unit – where he belongs.
Plus, allowing the the pair of southpaws to play with their linemates made sense too.
Here was Saturday's pregame "TURK TALK":
---
Here was the line-up from late Saturday night, the same line-up Gallant has been using all week:
FIRST LINE: Kreider/Mika/Tarasenko
SECOND LINE: Panarin/Trocheck/Vesey
THIRD LINE: Lafreniere/Chytil/Kakko
FOURTH LINE: Goodrow/Leschyshyn/Gauthier
Defensively, we saw:
FIRST PAIR: Lindgren/Fox
SECOND PAIR: Miller/Trouba
THIRD PAIR: Mikkola/Schneider
STARTING GOALIE: THE HALAKNESS MONSTER
BACK-UP: CZAR IGOR
PRESS BOX: Harpur and Kravtsov
---
BOX SCORE time.
The following graphics and information come from ESPN.com:
SCORING:
PENALTIES:
TEAM STATS: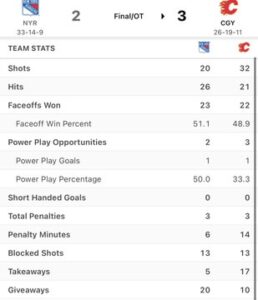 GOALIES:
| | | | | | | | | | | |
| --- | --- | --- | --- | --- | --- | --- | --- | --- | --- | --- |
| SA | GA | SV | SV% | ESSV | PPSV | SHSV | SOSA | SOS | TOI | PIM |
| 20 | 2 | 18 | .900 | 16 | 1 | 1 | 0 | 0 | 61:26 | 0 |
| | | | | | | | | | | |
| --- | --- | --- | --- | --- | --- | --- | --- | --- | --- | --- |
| SA | GA | SV | SV% | ESSV | PPSV | SHSV | SOSA | SOS | TOI | PIM |
| 32 | 3 | 29 | .906 | 25 | 2 | 2 | 0 | 0 | 61:28 | 0 |
---
At 9:30PM, and after having previously worked on the NHL Network earlier in the day; Mike Rupp was back in-studio with John Giannone.
Once again, I thought that Rupp did a stellar job and it's nice to get a forward's take on these broadcasts.
If there was anything "questionable" said during these thirty minutes, it's when Giannone said, "Lafreniere calmly won last night's game in the shootout."
While Giannone was implying that Lafreniere was calm – I can tell you that no Ranger fan was calm when watching that victory over the Oilers! Lots of fingernails were lost and lots of hairs were grayed!
On Lafreniere himself, Rupp said, "You have to earn your minutes. You have to earn situational minutes too. He's now done that."
Ever since reuniting the Lafreniere/Chytil/Kakko line, where neither of these three ever look to defer to veterans – Lafreniere has done just that – but at the same time, moving forward – I do wonder if he can keep up his production should Gallant need to break up this line for whatever reason – and as he did tonight.
Once Rupp explained the problems in Calgary; Sam Rosen and Joe Micheletti hit the airwaves.
The two, who as mentioned during the last two game reviews – remained in-studio – and where for the third game in a row – it was never explained why they didn't take the trip out to western Canada.
Sam & Joe said what we all thought – "what will these two teams do for an encore?"
Approximately three hours later, we found out – a complete 180!
As opposed to twelve nights ago, when these two teams had the most exciting game of the NHL season thus far; tonight's game was a shade above the level of "snoozer."
Of course, because these buffoons are obsessed with jinxing the team that they are paid to cover; Micheletti then brought up how the Flames haven't won or lost two consecutive games during the past months.
The Flames had lost to Detroit in their last game played, and by the end of the night, this win one/lose one streak continued. I hope Joe was happy.
---
As we approach the GAME REVIEW segment, the following:
I'm just going to breeze through this recap tonight, because as mentioned at the top of this – I don't think you can really analyze this game. All that matters is the point in the standings and Halak's performance.
And heck – who else covers these games as extensively as I do anyway?
Plus, it's already 2AM EST and I am a tad under the weather – and had to survive some shit-storms from "THE KULT OF THE PLAYER WHO SHALL NOT BE NAMED" too!
After all – had #74 returned to the line-up – then the Rangers would have won tonight by a final score of 100-0 via the mercurial Russian's daily performances of no shots on goal!
Equally as silly? To suggest that not only the Rangers go 82-0 on the season – but that every win has to be "perfect" too.
I don't know about you intelligent guys and gals – but I watch games across the league every night – and very rarely, do you ever find a game with no flaws and a lack of imperfections.
However, when you're one of these cretins who think they know more than the head coach – these are the depths you'll go to whenever trying to defend your negative narratives – even with the team entering Saturday night's game on their best winning streak of the season – and with nothing but positivity circling around the club.
Let's roll.
---
FIRST PERIOD:
My daily "Rangers to win by a final score of 4-0" bet was shot to shit just 38 seconds into this game; as Andrew Mangiapane blew by the Trouba and Miller pairing and then beat Halak.
Prior to the goal, Tarasenko turned over the puck, following being hit in the Calgary zone – and that was all she wrote.
1-0, bad guys.
While the defense did Halak no favors; at the same time, I thought Halak could've had this one, as Mangiapane beat the Rangers' goalie with a top-shelf backhander from a tough angle. Then again, backhanders are the toughest shot for a goalie to stop.
Just eight seconds later, Nazem Kadri scored.
2-0, bad guys.
This goal was the direct result of a Fox turnover, as following the miscue, Huberdeau set-up Kadri for the one-timer that the center then banged home.
For the next 59+ minutes? Halak never surrendered another goal.
Instead, he made 29 consecutive saves, where I'd reckon that 75% of them were of those "HIGH DANGER" variety that Vagistat is always droning on about. (I could see this with my own eyes – I didn't need a chart to reach this opinion!)
Sam's response to the early two-goal deficit? This: "that was bad." To his credit, at least he got something right!
Here was my response at the time:
I'm not giving up, but I felt this was a house money game for #NYR , just because of the schedule. They'll come back, just give them time to get their legs under them.

— BlueCollarBlueShirts (@NYCTheMiC) February 19, 2023
---
And that's kind of what happened, as the Rangers did comeback – but I don't know if they ever truly got their legs under them.
The Flames pretty much dominated this period, but the Rangers had their chances too. The first one saw Panarin set-up Trocheck, but the deflection try was then sent wide, with 16:26 remaining.
Following that, Halak came up with a trio of saves, when he prevented Mangiapane on a breakaway, thus denying the home team from going up 3-0 – and then stopped the two rebounds that ensued.
As we hit six minutes played – the Rangers had turned over the puck six times – one for every minute that had elapsed – and where two of them went for goals the other way.
Down to 13:30 remaining, Tarasenko hit the crossbar. This was scoring chance number two.
With 10:09 left on the clock, Trevor Lewis interfered with Halak, as he tripped the goaltender from behind. The Rangers' power-play, which has been hot lately, would get a chance to strike within one.
The power-play had their plug pulled here and didn't register one shot on goal. Again – the Rangers were just gassed and the Flames were able to jump lanes and break up passes.
As Calgary continued to control the game; with 3:20 remaining, they were out-shooting their visitors by a ratio of 2:1, 12-6 overall.
Come 2:20 remaining, Fox hit the post. This was third Rangers' scoring chance where no goal was scored.
The rest of this period was a slog, but fortunately, and again – due to Halak – the Rangers were only down by two as the period expired.
Here's what I said at the time:
2-0, bad guys, after 20. 1P Thoughts:
— Two quick goals allowed, #NYR two <DINGS>
— SOG 13-8, FOs 12-7 CGY; Hits 10-7 NYR
— Rangers' PP wasn't inspiring
— Schedule is a factor, regroup now and come out firing.
— Never Give Up!
LGR !

— BlueCollarBlueShirts (@NYCTheMiC) February 19, 2023
---
SECOND PERIOD:
Following a Mika face-off loss, the second line soon came on and had a decent shift, where at the end of it – Markstrom denied Vesey on a backhander. And that was kind of the story for the Harvard alum, as he had several scoring chances himself – but just couldn't find twine tonight.
At the two minute mark, Halak continued to roll, where he soon came up with a pair of game-turning saves – especially when he stopped Toffoli on what looked to be an automatic rebound.
Speaking of Toffoli, later on, Sam and Joe waxed poetically about the former King and then praised his work from the 2014 Stanley Cup Final.
Seriously, in what world, would any Ranger fan want to be reminded of that?
What's next, Sam and Joe taking turns on an Alec Martinez blow-up doll?
As mentioned all season – these M$GN broadcasts grow more infuriating with each day that passes.
At the four-minute mark of this frame, the turnover stat read, Rangers 11, Flames 4. So not good, but again – they were tired, and the little-rested Rangers, as a result, were sloppy.
Down to 12:16 remaining – Halak – where this time, he stopped Huberdeau and then Kadri's rebound on their odd-man rush.
Come 11:30 left on the clock – the Rangers were only sitting on only one shot on goal.
Here's what I said at the mid-mark of the game/period, and two minutes following it:
2-0, bad guys, at the halfway mark of the game/period – a game that's not exactly as exciting when compared to the first time these two teams played #NYR

— BlueCollarBlueShirts (@NYCTheMiC) February 19, 2023
---
You just feel if #NYR can get one, it will change everything. 8:40 to go

— BlueCollarBlueShirts (@NYCTheMiC) February 19, 2023
---
Both of these predictions would prove true.
With 7:47 remaining, Trocheck took his obligatory/mandatory penalty, when he slashed Dube.
Halak continued to excel, and come the final seconds of the PK, the Rangers had their fourth real scoring chance denied, where this time, a Miller pass to a wide-open Vesey was thwarted.
Once returned to full-strength, it was Trocheck's turn to miss out during the Rangers' fifth scoring chance of the contest.
With 5:35 remaining and on a breakaway – he hit the crossbar – the third time the road team heard that horrendous sound of <DING>.
No less than a minute later, Filip Chytil, who had a rough night tonight – as he was routinely hit and hit hard – had deja vu from 24-hours prior – as with Markstrom planked and prone in the paint – Chytil put the puck on Markstrom's right pad – rather than elevating the puck into the net.
In other words – this was now the sixth real scoring chance that didn't produce a goal. (And there's a reason why I keep bringing this up, so bear with me!)
With 4:00 remaining, this is when GENIUS GALLANT tinkered with his right-wingers, and put Kakko on the first line, Tarasenko on the second line and Vesey on the third line.
The new second line – Panarin/Trocheck/Tarasenko – and just like the game in Carolina, when Gallant demoted #10 from RW1 to RW2 – then scored on their first shift together:
Trocheck finds 9️⃣1️⃣ for his 2nd as a #NYR pic.twitter.com/bFxD359tuM

— Rangers on MSG (@RangersMSGN) February 19, 2023
---
2-1, bad guys, and with 3:07 remaining!
On this goal, Panarin got the puck to his center and Trocheck then found Tarasenko all alone. The newest Ranger then pulled the trigger – and after six previous scoring chances from the team – the seventh one was a charm!
And yep – Gallant has to be batting nearly 1.000 whenever making these in-game line changes too!
Since it's the "RANGERS' WAY" (patent pending); with .5 seconds remaining, Miller was boxed for hooking Jakob Pelletier.
Following a meeting of the empty heads; the officials then put another second on the clock, where the end result was that the Flames would open the final frame on a 1:58 power-play, rather than on a 1:59 power-play.
Despite everything – the Rangers only trailed by one goal following forty minutes of action.
Here's what I said at the time:
2-1, bad guys, after 40. 2P Thoughts:
— Halak has been a beast after that fast Flames' start.
— #NYR are tired but right in it.
— Turk does it again.
— SOG 22-15, FOs 17-14 CGY; Hits 17-16 NYR
— That Miller penalty was BS
— Find a way!
— LGR!

— BlueCollarBlueShirts (@NYCTheMiC) February 19, 2023
---
THIRD PERIOD:
Again, my biggest takeaway one more time – they found a way.
Sadly, the officials found a way too.
This period was mainly all about Halak, who continued his brilliance, when with 42 seconds remaining on the penalty kill, he absolutely robbed Toffoli's one-timer attempt. My live reaction was the following:
HALAK, BIG BALLS GLOVE SAVE ON TOFFOLI'S ONE TIMER! 42 seconds left on the kill, maybe a game changing save come the end of this game too. #NYR

— BlueCollarBlueShirts (@NYCTheMiC) February 19, 2023
---
Like most of my predictions, this one rang true too! (What a conceited thing to say – but I'm just illustrating how the EYE TEST tells all!)
Come the 3:00 mark, Chytil was double-teamed, in what I thought was an interference penalty. No call though.
Much of this period was then spent in the Rangers' zone, but to paraphrase Jan Brady, "Halak, Halak, Halak!"
With the game still in the balance, Halak kept the team's comeback chances alive, as he stopped Mangiapane twice from two feet away. To one-up himself, Halak then stopped Kadri on a Flames' two-vs-one odd-man rush. To continue the impressiveness, with 12:04 remaining, the goalie then blanked Dube on his breakaway try.
Wow!
Down to ten minutes remaining, Halak had amassed 25 saves, while the Rangers only had two shots on goal in the period.
Finally, with 9:10 remaining, the Rangers received a break, when Kadri interfered with Zibanejad.
Immediately into the man-advantage and when looking for the equalizer – Mika missed a vacated net and then whiffed on another one-timer. This was now ten times where the Rangers had a chance to score but came up empty-handed.
Then, with just three seconds remaining, and with the new second power-play unit on the ice; Lafreniere's first power-play goal of his career:
Alexis Lafreniere is rollin and gets #NYR all tied up in the 3rd! pic.twitter.com/QKzUahr9Jw

— Rangers on MSG (@RangersMSGN) February 19, 2023
---
It wasn't easy, but there it was – the tying goal!
2-2, and with 7:12 left to be played.
And wouldn't you know it – Gallant, who had changed the power-play units prior to the game – saw his new bumper, Filip Chytil, pick up the secondary assist, in what really was a goal scored due to Lafreniere's stick-to-it mentality.
In other words, Gallant made two changes to the line-up tonight – and both of them produced goals.
But tell me more about how Gallant doesn't know what he's doing!
With 5:25 remaining, what's that word? Oh yeah – HALAK – as the goalie came up with another monstrous stop.
Two minutes later, Lucic floored Chytil; but upon replay, the collision was accidental.
Of note – despite Chytil taking a beating tonight, as if he were the wife of some NFLers – following the game, during his post-game "TURK TALK," the head coach said that Chytil was fine and wouldn't miss any time.
That sure beats hearing Dr. Gallant's usual diagnosis of "day-to-day," following whenever Chytil takes a hit!
The rest of this period saw the Flames up the ante and attack-attack-attack – but just like the previous 59+ minutes – they couldn't beat Halak.
Overtime would be needed.
Here's what I said at the time:
2-2 after 60. OT will be needed:
— HALAKNESS MONSTER STOLEN POINT!
— Give it up to #NYR – they don't give up!
— 7/8 points on a 4-game roadie – WIN
— SOG 31-19 CGY; Hits 25-21, FOs 23-21 NYR
— Gotta love this team, will never understand the Debbie Downers!
— LGR!

— BlueCollarBlueShirts (@NYCTheMiC) February 19, 2023
---
OVERTIME:
I have already told you what happened in the overtime at the start of this, so the only other thing worth mentioning here is that Chytil, prior to the Flames' power-play, had a chance to win the game – but Markstrom prevented the Czech from scoring what would've been a thriller of a game-winner.
After not putting a Flame in the box after penalizing Kadri; Backlund scored his deflection/screen power-play goal – a shot that Halak had no chance on.
3-2, bad guys, final.
---
Finally, before sharing Gallant's post-game presser with you; I want to say the following, especially after bringing up all of the scoring chances that the Rangers had tonight:
Despite being fatigued, on the road and against a desperate team clawing for a playoff spot – the Rangers had nine real scoring chances that they couldn't convert on – and also hit the iron three times too.
In other words, the Rangers had a dozen chances to score a bounty of goals – while playing at their worst – and under the previously described conditions.
And had one of those puck luck <DINGS> went in – then who knows? But it just goes to show you that they were right there.
And similar to the game against Edmonton – they could've packed it in once down 2-0 – but that's not in the team's DNA.
Along with the seven points attained on this four-game road-trip, where only the eighth-and-final point available was robbed from them by the officials – I consider tonight, and much like every game from 2023, sans two of them – a win. (The only bad games were the home losses to the Canadiens and Bruins – or at least that's my opinion!)
If you encounter anyone griping, bitching and/or moaning & groaning about this loss, then you my friend, have a full-blown idiot on your hands!
Here was the post-game "TURK TALK:"
---
Gallant pretty much said what I wrote tonight – the team was fatigued, they still found a way to get a point, Halak was amazing and they can't wait to get back home
Vincent Trocheck, during his post-game interview, said the same and also brought up how difficult these western Canada loops can be.
In what I consider to be poor scheduling, the Rangers, who will arrive back in New York around day-break Sunday morning, will have the day off. However, they'll be right back at it on Monday night at M$G when they host the Jets.
I don't know, maybe it's just me – but after playing three games in four nights – and following a six-hour international flight to boot – the Rangers only have 24-hours off – and where they'll have to re-adjust to the EST time zone too.
And while it is part of the job – if anyone has ever traveled like this before (I have) – then you know that sometimes, if not all of the time, that you need a day or two to get back into the swing of things.
Instead, the Blueshirts will sleep during some unorthodox hours on Sunday, try to catch up on what's going on at home, and then return to the rink a day later.
None of this stuff is ever mentioned on any analytic chart.
---
Barring Drury making a big splash on Sunday; see ya Monday night following Rangers/Jets.
Of note: M$GN is doing the spotlight camera during that game, where they will focus on Trouba. As previously mentioned, M$GN has done this six times before – where on each occasion – the player spotlighted then has a bad game.
Let's hope the captain can reverse the curse.
Up next for me? Bed – these late night games are killer – especially when you're used to waking up at 4:30AM on weekdays!
LGR!
PLUGS TIME!
---
My first plug of tonight's blog – the mandatory plug for my book, "The New York Rangers Rink of Honor and the Rafters of Madison Square Garden."
As mentioned previously, the book is now available in hardcover, in paperback and in Kindle formats. To purchase a copy of the book, visit this link:
https://www.amazon.com/Rangers-Rafters-Madison-Square-Garden-ebook/dp/B09CM5N2WD
For those still looking for signed paperback versions of the book, I have re-ordered more copies. I now have a few signed copies for sale at $25 a pop (includes shipping price) through me directly. Here is all the information on that:
---
My four-volume set of books, "One Game at a Time – A Season to Remember," is a game-by-game recount of the Rangers 2021-22 campaign.
My second title as an author, "One Game at a Time – A Season to Remember," is now available in eBook, paperback and hardcover formats.
To obtain signed copies, visit: https://bluecollarblueshirts.com/onegamebook/
To purchase all four volumes on Amazon, visit: Amazon.com – "One Game at a Time."
---
The greatest volume-set of books on Rangers' history today!
"Tricks of the Trade – A Century-Long Journey Through Every Trade Made In New York Rangers' History," a four-volume set of books that meticulously covers every trade made in franchise history, is now on sale.
All four volumes of the title can be purchased on Amazon.com and are presented in three different formats – eBook, paperback and hardcover.
To purchase Volume I: Conn Smythe (1926) – Craig Patrick (1986), visit Amazon.com
To purchase Volume II: Phil Esposito (1986) – Neil Smith (2000), visit Amazon.com
To purchase Volume III: Glen Sather (2000-2015), visit Amazon.com
To purchase Volume IV: Jeff Gorton (2015) – Chris Drury (2022), visit Amazon.com
To purchase signed copies of all four volumes, visit https://bluecollarblueshirts.com/tricksofthetrade/
---
Here are my last few blogs, in case you missed them:
---
---
---
If you haven't already, subscribe to this blog for the next update:
---
Don't forget to order my new four-volume set of books, "Tricks of the Trade!"
If you don't order through me, all four volumes are now available on Amazon.com
For more details, check out: https://bluecollarblueshirts.com/tricksofthetrade/
Thanks for reading.
LET'S GO RANGERS!
Sean McCaffrey
BULLSMC@aol.com
@NYCTHEMIC on the Tweeter machine