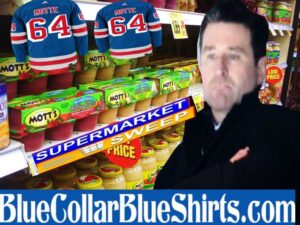 Greetings and salutations everyone and welcome to another blog here on BlueCollarBlueShirts.com. No, I didn't think I'd be writing tonight!
After all, at the end of last night's Rangers/Flames game review blog that was posted on this site, I closed with the following:
"Barring Drury making a big splash on Sunday; see ya Monday night following Rangers/Jets."
While the general manager's acquisition of Tyler Motte isn't exactly a "big splash," or at the very least, not as thunderous of a cannon ball off of the highest diving board as his trade for Vladimir Tarasenko was; at the end of the day, "Motte Part II" is a splash!
I do want to preface everything you're about to read with the following – this was a good trade for Drury's "WIN NOW" club.
Without question, it's easy to argue the particulars of this transaction, and if it took the Rangers out of the running on other potential moves too; but the conclusion remains the same – the Rangers are better today than they were yesterday.
That's all that matters.
Furthermore, hands-down, this is the deepest team/most roster depth of the season.
And this too – it's my gut-feeling that the general manager isn't done just yet either.
Looking ahead to the March 3rd NHL Trade Deadline; I think that once we reach that anticipated date, Sunday's trade will be viewed more as "a sum of its parts," rather than as Drury's final move when assembling his hopeful 2023 Stanley Cup championship roster.
Before breaking down this entire trade and looking at every angle of it too; at this time, let me share with you what the Rangers are officially saying.
---
The Rangers issued the following press release on Sunday, courtesy of https://www.nhl.com/rangers/news/rangers-acquire-tyler-motte/c-341264328?icmp=int_web_nyr_news_rightrail  :
New York Rangers President and General Manager Chris Drury announced today that the team has acquired forward Tyler Motte from the Ottawa Senators in exchange for Julien Gauthier and a conditional seventh-round selection in the 2023 NHL Draft.

Motte, 27, returns for his second stint with the Rangers after playing nine regular season and 15 playoff games with the club during the 2021-22 campaign. Motte scored his first two goals with the Blueshirts in the Second Round series win against the Carolina Hurricanes and became the seventh player in franchise history to score each of his first two goals in a Rangers uniform during the postseason. Among Rangers in the 2022 Stanley Cup Playoffs, Motte ranked second in hits per-60 (min. 5 GP) with a 14.26 clip.
The St. Clair, Michigan native has played in 38 games for the Senators this season, recording three goals and six assists for nine points. On Ottawa, he ranks fourth in hits per-60 (10.27), tied for sixth in blocked shots (43) and fourth in shorthanded time-on-ice per game (2.43).

In 307 NHL games split between the Senators, Rangers, Vancouver Canucks, Columbus Blue Jackets and Chicago Blackhawks, Motte has tallied 38 goals and 33 assists for 71 points. In 2018-19 with Vancouver, Motte recorded career-highs in games played (74), goals (9) and points (16).

Prior to going pro, the 5-10, 192 pound forward played three seasons for the University of Michigan (2013-14 – 2015-16), notching 105 points (50G-55A) in 107 games. In 2015-16, he was named a Hobey Baker Award (top collegiate player) finalist after recording 32 goals and 24 assists for 56 points in 38 games for the Big Ten Champion Wolverines.

Motte was originally selected by the Blackhawks in the fourth round, 121st overall, of the 2013 NHL Entry Draft and was traded to Columbus by Chicago in a deal that included Rangers forward Artemi Panarin.
---
There's a lot to discuss right now, where I think we should look at all of Drury's moves/roster transactions (including the waiver wire), and first starting with the date of September 19th, 2022.
In are: A 2023 first-round pick, a conditional 2025 fourth-round pick, a 2025 fifth-round pick, Ben Harpur, Jake Leschyshyn, Vladimir Tarasenko, Niko Mikkola and Tyler Motte.
Out are: Nils Lundkvist, Dryden Hunt, Ryan Reaves, Sammy Blais, Hunter Skinner, a 2023 first-round pick, Julien Gauthier and a conditional seventh-round pick of the 2023 NHL Entry Draft.
Demoted from New York to Hartford are Zac Jones and Libor Hajek.
(And if you want a detailed recap of every trade ever made in the nearly one hundred years' worth of Rangers' history, I heard there's a four-volume set of books out there that covers this topic. For more, check out: https://bluecollarblueshirts.com/tricksofthetrade/ )
If you were to take a scale, and put a jelly bean, or some other sort of object, on either side of it, when assessing all of these moves from a pro vs con perspective – then I think you'd come to the same conclusion as I have – Drury has been winning his trades – and where really, it's tough to find a trade that he lost.
(And no – I don't want to hear about Pavel Buchnevich here, because as discussed about 876789689 times before – that was a salary-cap driven trade, not a pure HOCKEY trade, where in addition, that deal was also made with the hopes of Kaapo Kakko and the player who shall not be named filling the void. Plus, no one predicted the P.K. Slewban incident either.
Furthermore – who's better right now less than two years removed from that July 2021 Blais/Buchnevich trade – the Rangers or the Blues? Hmmm!)
While "DRURY DETRACTORS" (sadly, there are these low-level of intelligence life forms out there and who all pollute Rangers' social media pages on a daily basis) are currently saying, "THEY SHOULD'VE RE-SIGNED MOTTE IN THE FIRST PLACE. DRURY GAVE UP A PICK AND GAUTHIER TO FIX HIS ORIGINAL MISTAKE!"; lost in all of that junk, is you know, those four words that all NHL fans and their general managers absolutely despise and completely abhor, "the hard salary cap."
In other words, Drury didn't have the cap space available to re-sign Motte, a fourth-line grinder, this summer.
Rather than paying Motte the $1,350,000 that he ultimately received late last off-season from the Ottawa Senators; instead, Drury filled the void by signing Jimmy Vesey to a deal at nearly less than half that amount, when he officially made the Harvard alum a two-time Ranger on October 9th, on a one-year deal with cap hit of $750,000.
I'd say that Vesey, and now just like Motte, in his second stint, has worked out pretty well for the Rangers, no?
While I don't want to go on another rant in regards to "THE PLAYER WHO SHALL NO LONGER BE NAMED," the soon-to-be #74 of the Rangers; had the mercurial Russian performed in the manner that many expected him to – then this deal for Motte wouldn't have been necessary.
Had "Tooth Boy" played in the fashion that many had hoped; instead, Vesey, who was signed to be a fourth-liner in the first-place, would have remained in that role.
Since that didn't happen, and because out of necessity (and post Tarasenko too) – both Vesey and Barclay Goodrow, a pair of Swiss Army Knives, have been regularly featured in Gallant's top-six.
In turn, the Rangers, now loading up for their playoff push, needed to beef-up their biggest weakness, the fourth-line.
The return of Tyler Motte does just that.
Mission accomplished.
---
Prior to Motte's return, the esteemed Larry Brooks, and the Canadian reporters too, all said that the disappointing Ottawa Senators wanted a decent haul in return for Motte, who like Gauthier, is set to become a free agent over the summer.
While Motte will become an unrestricted free agent at the end of the season; Gauthier, from Quebec, will become a restricted free agent, which means that the Senators will get first crack at him.
And who knows, since Quebec isn't too far from Ottawa, this may be the best thing for Gauthier anyway, who always felt like a place-filler, rather than as a regular roster member, for the Rangers.
I don't know if the term "over-pay" is completely accurate; but I do admit that I did raise an eyebrow when I heard that Gauthier, and not just lower-round draft picks and/or Jake Leschyshyn, was included in this deal.
As the story goes – you have to give up something in order to get something whenever making a trade.
Of course, and at the same time – I have no clue what offers Sens' g.m., Pierre Dorion, had on his table, nor (and unlike others) do I profess to have any sort of pipeline or clue on what Drury is thinking either!
Since it's just my belief that Drury knows what he's doing, and he has all of my blind faith until proven otherwise; I'm left to assume that James Dolan's most important employee thought he had to part with Gauthier in order to make this deal go through.
After all, what would the Senators want to do with Leschyshyn anyway?
Furthermore, and without any knowledge of Dorion's day-to-day talks – when you think about it – giving up Gauthier for a more established fourth-line role-player, and who has exhibited a history of succeeding during the playoffs with the Rangers – then in my eyes – this trade is a no-brainer – and a good one for Mr. Drury.
(Holy dashes Batman!)
We all know the book on Gauthier.
Once acquired from the Hurricanes in exchange for Joey Keane (a former heralded right-handed Rangers' d-man prospect, but who would never get out of Hartford and who is now currently playing in the KHL); Gauthier has had more downs than ups.
Without question, Gauthier, who during his Rangers' tenure spent more time in Hartford and in the press box than on the ice, is playing the best hockey of his career – but is losing him, where the trade-off is Motte, really that big of a deal?
My answer? A resounding NO!
Gauthier, who will turn 26-years-old this October – what he is right now may be his ceiling – although I do think the situation in Ottawa should help him.
Simply stated – despite an off-season that many predicted would turn the tables in Ottawa for the better (and I was one of these "Nostradami" too – and how about that pluralization?) – the Senators have failed. As a result, Gauthier should receive more playing time in the capital city, or at the very least, more ice time than his now former days in NYC.
In forty games played this season, Gauthier has scored six goals and racked up nine points – career-highs. Of course, these numbers should be higher than that – but as I often say on this site whenever talking about his 89766967896 breakaway chances – "you know the rest!"
Furthermore, and this is the biggest takeaway, where again, think WIN NOW (and where you also have to consider all of the Rangers who are due for big raises this summer, which in theory, probably weakens the roster next season) – who's a better fit for your fourth line during the playoffs – when the games get mean and you can't be lean – Gauthier or Motte?
While Gauthier showed improvement this season; at the end of the day, the player who 99% of fans wanted out of town this time last year anyway, was expendable.
Plus, with raises and contract negotiations to be had with K'Andre Miller, Alexis Lafreniere and Filip Chytil this summer – it would be tough to squeeze-in Gauthier on the 2023-24 roster too.
In turn, Drury flipped a pending free agent who he may have not been able to afford in the first place for a rental, a rental that should only help everyone's Cup-winning aspirations.
The conditional pick attached to this trade? It's inconsequential.
After all, outside of Henrik Lundqvist, a shot in the dark pick (and who in a way, "Wally Pipp'd" himself and fast-tracked his career following an injury suffered by then Rangers' starter, Kevin Weekes) – can you name any other seventh-round pick of franchise history that went on to make a significant impact with the team?
Here's how CapFriendly.com, a rare party that has benefited from Gary Bettman's ridiculous and penny-pinching hard salary cap system, covered Sunday's swap:
TRADE

To #GoSensGo
F Julien Gauthier
2023 conditional* 7th round pick (NYR)

To #NYR
F Tyler Motte

*Condition: If the NYR advance to the 2nd round of the 2023 playoffs, upgrades to the lower of the two 6th round picks NYR holds (NYR or WPG)https://t.co/j5CrL3CMPy

— CapFriendly (@CapFriendly) February 19, 2023
---
I know that every resident of Rangerstown, USA, and their mothers too, are sharing their "PROPOZED LINEZ" following this trade.
For me, I understand that excitement, but at the same time, I also think whatever you conjure up will be a moot point come March 3rd, because as repeatedly mentioned – I don't think Drury is done yet.
With that caveat and disclaimer out of the way, I think this is what we'll see on Monday night against Winnipeg:
FIRST LINE: Kreider/Mika/Tarasenko
SECOND LINE: Panarin/Trocheck/Vesey
THIRD LINE: Lafreniere/Chytil/Kakko
FOURTH LINE: Motte/Leschyshyn/Goodrow (and where Motte & Goodrow could be flip-flopped)
---
As you can see, it's my opinion that Motte will just replace Gauthier – and that the player who shall not be named will remain a healthy "Scratch-sov!"
And do you want to hear something sick?
Following this trade, do you know what the number one trend on Rangers' Twitter was? (I'm not making this up either – the following person was the top trending name on the NYC sports scene!)
Jake Leschyshyn!
I'm not even going to further explore Leschyshyn's future role with the team, because as mentioned many times before, and even tonight – I doubt you'll see him again following the deadline – and I'll guarantee you won't see him during the playoffs!
Whether Leschyshyn is waived, traded or takes Hajek's old seat in the press box; bottom line – and one more time – "DRURY ISN'T DONE YET!"
I can't tell you if Drury is going to land another fourth-liner (where the position doesn't matter, as Goodrow can slot as the fourth center) or if he's going to make one more big splash for a top-six player (a trickle-down effect which in this scenario, would then return Vesey to the fourth line); but you have to think that the g.m. isn't done wheelin'-and-dealin' yet.
And for all of the talk about Patrick Kane becoming a Ranger, a #88 who picked up a hat trick (so much for that hip-injury nonsense) in the Blackhawks' 5-3 win over Ryan O'Reilly's Maple Leafs on Sunday, and talk that I'm sure you're nauseated with by now?
It's still on the table, but where the odds of this happening have certainly decreased.
That said, I wouldn't rule it out, only because I don't know if you want to enter the postseason with either Vesey or Goodrow in your top-six.
Of course, since I trust both Drury and head coach Gerard Gallant, two hockey men who know more than me; I'll be fine with whatever they do!
---
Ever since the new regime took over, I can't think of any other blogger, podcaster or beat reporter that's been more positive about this team and has supported both Drury & Gallant more than yours truly. Heck – I take criticism from the Debbie Downers of this fan base for being a "Stan" (a silly millennial term for the word fan) of the Blueshirts' brain-trust!
I think a large part, if not all of it, of my fandom for Gallant & Drury is because my views on the game are aligned with theirs.
While yes, PUMP THE BRAKES, I'm not suggesting that my hockey IQ is anywhere at the same level as the head coach and general manager – you know – two guys who actually played at the NHL level as well; I will take my victory lap and say that I do think that I have a better grasp on the team than most paying customers – and the beat too!
After all, whether you've been reading this site from day one, when I first launched it nine years ago, or if you hopped on board once the new regime took over – the evidence is all on this site's archives, and on my Twitter page too – where more times than not – my predictions usually prove true and see the light of day.
In that same vein, if I'm going to throw a party every time whenever one of my prognostications reach fruition, then to be fair, I must call myself out whenever I'm wrong.
Here it goes: "I WAS WRONG!"
But unlike others who rather be proven correct about their negative narratives – I'm happy to be wrong about this!
While many others were suggesting and predicting that the Rangers would bring Tyler Motte back into the fold – I was not one of them.
And heck, despite iron-clad contracts, the salary-cap and everything else in-between; gun to my head, when it came to a former Ranger returning to the Big Apple, Motte wouldn't have even been one of my top three names suggested.
Hell, I thought it was more likelier that you'd see a return of another Senator instead – Derick Brassard!
The candidate who I thought was most likely for a second spin? Justin Braun, where the recent acquisition of Niko Mikkola put an end to that.
One of the reasons why I didn't think that Motte would return is because of what happened during the exit interviews from last season.
(You can read my recap of every 2021-22 Ranger exit interview here: https://bluecollarblueshirts.com/61422/)
I guess to give myself any sort of credit here, I did say at the time, and up-to-the-point when Motte officially became a Senator, that I wanted him to return – and where I thought it should've been one of Drury's biggest priorities.
Of course – the salary cap, the salary cap, the salary cap!
Just to jog your memory, here was Motte's last interview as a Ranger – prior to the one that he'll give on Monday – his first interview as a Blueshirt in a time-span of just over eight months:
---
Let me be clear before proceeding: IN NO WAY, SHAPE OR FORM, am I suggesting that Motte was "mad" or "hated" the Rangers. Heck, he said he enjoyed his time with the organization. And come Monday, I'm sure he'll reiterate that, and where I also expect him to say, if asked, that he had to do what was best for his family during the off-season, when he took the money in Ottawa.
After all – it's not like he owed the Rangers anything, and any talk of a "hometown discount" was invalid.
That said, here's how I covered Motte's June 13th, 2022 exit interview at the time:
"Tyler Motte, who as noted last night, I hope is Drury's first priority; #64 was more business than anyone else on Monday.

Here's Motte: "I enjoyed being here, for sure. It's a great organization."

Motte really wouldn't go any further than that.

It should be noted, that the reason why Vancouver even traded him in the first place was because Motte told them he was looking for the biggest money and term of his career during this off-season.

And despite my own desire of wanting Motte re-signed; he sounded more polite about the Rangers than anything else.

Many people, whether signed for next season or not, all said "we have unfinished business." Motte did not."
---
Once again, and to be clear – I'm not suggesting any sort of conspiracy theory and/or rift.
All I'm saying, is that following the 2022 Stanley Cup Playoffs, every Ranger whose future was in doubt (sans Alexandar Georgiev – the lone Ranger who didn't speak to the media at this time – and where let's face it – his future wasn't in doubt – he was gone – we just didn't know where he'd land), including Ryan Strome, Andrew Copp, Frank Vatrano and others – Motte was the least committal about re-signing.
While everyone else was saying that they wanted to be back, enjoyed their time and had "unfinished business" (everyone besides Motte said "unfinished business"); Motte seemed to be looking ahead to a new destination – where again – hockey is a business – but Motte didn't feel like he had "unfinished business."
Ironically, it will be Motte – not Vatrano, not Strome, not Copp, not any of the others who recently departed the club – who now will have a chance to handle "unfinished business!"
And at this juncture – that's the best piece of the business for the Rangers – and with no disrespect intended for the newest Senator, Julien Gauthier.
---
Like most, "THE TURK" has to be smiling right now.
During Motte's initial stint on Broadway, one that carried through to the 2022 Eastern Conference Final (and which also was marred a bit by a shoulder injury); the head coach always glowingly spoke of Motte – and time-and-time again – praised #64 too.
While Drury is no dummy; I think returning Motte to Gallant's line-up is just the latest example of the synergy, chemistry and bond that the coach and the general manager share.
In other words, for these fools who suggest that Drury is pissed with Gallant's usage of the player who shall not be named – Sunday's trade was the latest example of debunking that junk.
With the long-awaited date of March 3rd now rapidly approaching, and with six games left to be played before finalizing what should be the Rangers' playoff roster – it's full-steam ahead now.
And now knowing Drury's trade tendencies – expect another trade or two to be made during a Rangers' off-day too!
So much for some "R&R," but who would want it any other way?
Rangers vs Jets tomorrow at M$G, where the "get-in" price has skyrocketed to nearly $250. The cheapest seats in the lower bowl are also going for $400+ – but where the next generation of hockey fans will come from is a topic for another time – and one that was previously discussed on this site five years ago too.
See ya tomorrow, where I'm sure Mr. Motte will receive a loud and standing ovation!
LGR!
PLUGS TIME!
---
My first plug of tonight's blog – the mandatory plug for my book, "The New York Rangers Rink of Honor and the Rafters of Madison Square Garden."
As mentioned previously, the book is now available in hardcover, in paperback and in Kindle formats. To purchase a copy of the book, visit this link:
https://www.amazon.com/Rangers-Rafters-Madison-Square-Garden-ebook/dp/B09CM5N2WD
For those still looking for signed paperback versions of the book, I have re-ordered more copies. I now have a few signed copies for sale at $25 a pop (includes shipping price) through me directly. Here is all the information on that:
---
My four-volume set of books, "One Game at a Time – A Season to Remember," is a game-by-game recount of the Rangers 2021-22 campaign.
My second title as an author, "One Game at a Time – A Season to Remember," is now available in eBook, paperback and hardcover formats.
To obtain signed copies, visit: https://bluecollarblueshirts.com/onegamebook/
To purchase all four volumes on Amazon, visit: Amazon.com – "One Game at a Time."
---
The greatest volume-set of books on Rangers' history today!
"Tricks of the Trade – A Century-Long Journey Through Every Trade Made In New York Rangers' History," a four-volume set of books that meticulously covers every trade made in franchise history, is now on sale.
All four volumes of the title can be purchased on Amazon.com and are presented in three different formats – eBook, paperback and hardcover.
To purchase Volume I: Conn Smythe (1926) – Craig Patrick (1986), visit Amazon.com
To purchase Volume II: Phil Esposito (1986) – Neil Smith (2000), visit Amazon.com
To purchase Volume III: Glen Sather (2000-2015), visit Amazon.com
To purchase Volume IV: Jeff Gorton (2015) – Chris Drury (2022), visit Amazon.com
To purchase signed copies of all four volumes, visit https://bluecollarblueshirts.com/tricksofthetrade/
---
Here are my last few blogs, in case you missed them:
---
---
---
If you haven't already, subscribe to this blog for the next update:
---
Don't forget to order my new four-volume set of books, "Tricks of the Trade!"
If you don't order through me, all four volumes are now available on Amazon.com
For more details, check out: https://bluecollarblueshirts.com/tricksofthetrade/
Thanks for reading.
LET'S GO RANGERS!
Sean McCaffrey
BULLSMC@aol.com
@NYCTHEMIC on the Tweeter machine