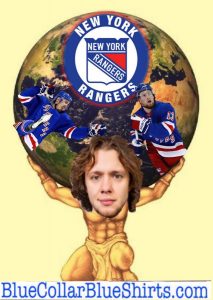 "If you don't change things, things stay the same." – David Quinn, 2/20/21, moments after the Rangers impressive 4-1 victory over the Washington Capitals on Saturday afternoon. In today's game, David Quinn shook up his lines, where he finally put Artemi Panarin on the first line with Mika Zibanejad and Alexis Lafreniere. Both Zibanejad and Lafreniere scored goals in this game, ending their respective scoring droughts.

DQ also said: "We've come so far this season from a defensive standpoint, a structural standpoint. Our first two years here, it was a fire drill so many times in our own end. There's just a much more structured, calm look about us from a defensive standpoint. It gives you a chance." – This quote can be interpreted in multiple ways. Is this DQ talking highly of Jacques Martin? Is this a shot at Lindy Ruff? Is this a shot at former players? Is this praise for the current core of defensemen? However you take it, this much is true – DQ is correct here.
---
Greetings and salutations everyone and welcome to another blog here on BlueCollarBlueShirts.com. What a team-wide victory! The Rangers are now 2-0 without Trouba too! (And that's not a shot at Trouba, this is to say that the Rangers have done a good job at employing the "NEXT MAN UP" mentality. Brendan Smith, Libor Hajek and Anthony Bitetto should all be commended.)
On Saturday afternoon, in one of those slow and sleepy 12:30PM start games, it were the Rangers looking like they got to the coffee pot first, knocking off the Capitals by a final of 4-1. Obviously, this was one of the biggest wins of the season for the Rangers. Of course, as I write these words, I have mopes and dopes on Twitter telling me how this win didn't mean much, as these mooks moan and groan about David Quinn and the Rangers winning a game. I'll get into this a little bit more during this blog, but I think many Ranger fans hate David Quinn so much, that they are rooting for losses in order to serve their own narratives. What's next? Making up a story about David Quinn hanging nooses in the Rangers locker room? (Hello Adam Hermtrans!)
(And I should add this too: despite my public hatred of Lundqvist's contract, which was something I made very well known on this site; I never rooted for the Rangers to lose once during these times. In 2021, I've seen Ranger fans root against their own team, because of their hatred of either Tony DeAngelo or David Quinn. Insanity!)
Everything that needed to go right in this game went right. You got everything you ever wanted to see out of this team in this game. In fact, as I commented on social media during the final minutes of this game, this was the Rangers team that I expected to see when this season first began. And after seeing this game, this is why people should have high expectations for this team. If the Rangers play like this consistently, there is no reason not to think that they can't qualify for the playoffs. After all, if the fat cats showed up in all of those one-goal losses, as they showed up on Saturday; then the Rangers WOULD be in playoff positioning right now.
Similar to last blog, which was the Rangers vs Flyers game review, let's look at the positives and negatives. Let's start with the negatives first, because that's easier to get out of the way. After all, here's your ONLY negative of the game – Igor Shestyorkin somewhat brain-farted at the end of the second period and gave up a crap goal to Dmitri Orlov, with just 39 seconds remaining. That said, that goal came after the Rangers scored two goals in a span of 59 seconds, which put the Rangers up 3-0 at the time.
Really, if you're looking to find anything to be negative about, you're just nit-picking and/or can't ever be happy. Even with the goal Igor allowed, if my goalie is only going to give up one goal a game, I'll take it.
Let's now get into the positives of this game, and I'll try to limit myself somewhat, because if I was to recall every positive moment of this game, this blog would be a million words! And as we all know, these blogs run long enough already!
---
I don't know where to start when talking about the positives from this game. I'm just going to roll. As you read the following positives, just keep in mind this isn't being written in any order of importance. Everything positive from today's game was equal in importance. Here's the list:
— David Quinn, for all the hate he gets from a section of this fan-base, and where many people, including yours truly, questioned if he should be on the hot-seat or not after that loss to the Devils on Tuesday night; well DQ pushed all the right buttons in this game. As DQ himself said after this game, it was time to make a change. That change was uniting Panarin with two players struggling to score, in Mika Zibanejad and Lafreniere. It worked.
— Alexis Lafreniere, the crown jewel of the 2020 NHL Draft, after being bounced around this line-up, where he previously played with the disappointing fat cats of Mika Zibanejad & Chris Kreider, in addition to playing on the third line, flourished by playing with Panarin. Lafreniere scored not only his first regulation goal of the season, but he also picked up his second game winning goal of the season too. That's a step in the right direction, especially after you had some fools already labeling him as a "bust".
— Speaking of Lafreniere's game winning goal? This doesn't stand as a game winning goal if it weren't for the extremely successful Rangers penalty kill, the team's defense and Igor Shestyorkin. This is why this is a team-wide victory. Everyone showed up, including the…
— FAT CATS! The Fat Cats that have been sleeping in their beds all season, woke up and beasted in this game, as if DQ put out a deep bowl of "Fancy Feast" for them. For all the "Casper Kreider" jokes, which have been warranted; well Kreider had one of his best games of the season today. Not only was Kreider successful on the Rangers power-play, Kreider also set up a screen which led to a Ryan Strome goal. Speaking of Strome, let's talk about him now!
— Strome, who had an up-and-down game against Philly, was great tonight. Strome (1G, 1A) had another multi-point game, which in turn, not only helped the Rangers win, but also helped Strome hit some milestones. As a result of this game, Strome now has 100 points as a Ranger. In addition, Strome now also has 100 career goals. Of note, and in a future #CadillacTrivia question, Strome is now the first player in NHL history to have 100 points scored with both the Rangers and Islanders.
— The Rangers defensemen were once again great. Bobby Orr Anthony Bitetto even picked up another assist! Adam Fox, the team's MVP this season, continued his streak of playing the most amount of minutes for the Rangers, logging 24:20 of ice time. Had this game been a one goal game, or had Mika not scored his empty net goal, Fox's minutes may have even been higher. Miller was shutting down the top stars of the Caps, as was Ryan Lindgren, who recorded a team-high four blocked shots. Hajek and Smith continued their strong play as well.
— Special teams. The Rangers tremendous PK went 4-4 today. As a result, the team's PK is now 31-32 in their last nine games played. Those are insane numbers. The Rangers power-play, which has been an issue all season, scored their second consecutive power-play goal in as many games. While the power-play still remains an issue, the power-play looked better than the 1-5 stat printed in today's box score. Only two power-plays looked meh, and another power-play came at the end of the game, where DQ correctly rewarded his bottom six guys with PP time.
— The Russians. Artemi Panarin, once again, was head-and-shoulders among everyone else today. CZAR IGOR had a great game. Buchnevich had a "quiet" two-point game, where Buchnevich really stood out more on defense than offense today, despite the two assists on his ledger.
One more time folks – TEAM-WIDE VICTORY!
---
Before jumping into the game review and everything else, as usual here – the PLUGS segment.
Here are my last few blogs in case you missed them:
---
---
---
---
About 15 minutes or so before puck drop, it was announced that Kaapo Kakko was back on the NHL's COVID-19 list. While we didn't get any detailed information about this, after the game, DQ said that Kakko didn't have any symptoms. As previously discussed on this site, the NHL nor its teams are allowed to talk about why a player is on the COVID-19 list. Either Kakko had a false positive test or was exposed to someone. We just don't know.
What we do know is that Kakko has now been on this list for the second time in as many weeks. I don't know if he's around people with corona or what, but this is something to monitor.
With Kakko out, I saw some overzealous fans saying how this game wouldn't be "exciting" and how the Rangers were doomed without "their best forward." If you think Kaapo Kakko is better than Artemi Panarin, I have some Blockbuster Video stock to sell you. Hell, I think you can make an argument that Colin Blackwell has had a better season than Kakko too.
As I said last blog, I get why fans are on the Kakko train, because after all, we all want to see him do well; but some people have Kakko as the second coming of Wayne Gretzky. That's simply not true.
With Kakko out of the picture, Julien Gauthier was re-inserted into the line-up. Also re-inserted into the line-up was K'Andre Miller, as Miller took his spot back on the roster after missing the last two games. Thankfully, DQ decided to scratch Jack Johnson for this game, rather than scratching Brendan Smith or Libor Hajek. (And really, I think this was expected by everyone, due to the fact that Johnson was rushed back into the line-up against Philly, as a result of Miller not being able to return for that game.)
As far as any other line-up notes, and in another instance of everyone pretty much predicting this, CZAR IGOR was back in net. As I said last blog, I thought Georgiev played against Philly since Philly is weaker than Washington right now and because of the fast turnaround between games, due to this being a 12:30PM game.
For those keeping track of all the changes, here were your defensive pairings and lines for this game:
At this time, let's go to the GAMBLING segment, which just like the Rangers themselves, featured a win!
Here's what I said before the game:
Season over-under record: 6-8-1

For the first time in a while the over-under for a #nyr game is -6 rather than -5.5. Under has hit in 8 of last 10. Igor v Vanecek today, I'm going the UNDER. pic.twitter.com/UheQfnMgkl

— BlueCollarBlueShirts (@NYCTheMiC) February 20, 2021
The under has now hit in the last 9 of 11 games played! Ride this trend! With the win, my record inches closer to .500, as it now stands at 7-8-1. Of note, if there was anything telling about this game, it was that the Vegas odd-makers had the Rangers only as a +120 dog. That tells me that people think the Rangers are turning it around, because really, you would think that they'd be a near +200 dog, based on the way they've recently been playing.
BOX SCORE time.
The following information and graphics come courtesy of ESPN.com:
SCORING:
PENALTIES:
GOALIES:
| | | | | | | | | | | |
| --- | --- | --- | --- | --- | --- | --- | --- | --- | --- | --- |
| SA | GA | SV | SV% | ESSV | PPSV | SHSV | SOSA | SOS | TOI | PIM |
| 23 | 3 | 20 | .870 | 17 | 0 | 3 | 0 | 0 | 58:36 | 0 |
| | | | | | | | | | | |
| --- | --- | --- | --- | --- | --- | --- | --- | --- | --- | --- |
| SA | GA | SV | SV% | ESSV | PPSV | SHSV | SOSA | SOS | TOI | PIM |
| 27 | 1 | 26 | .963 | 21 | 2 | 3 | 0 | 0 | 60:00 | 0 |
TEAM STATS: (Look at the face-offs, as for the second game in a row, the Rangers have improved in this department.)
---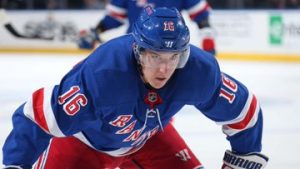 As we begin here, and look at the pregame show; is there some sort of contractual stipulation that states that these guys must say "MONTEFIORE RANGERS GAME NIGHT", even when the games are played at 12:30PM? Is Montefiore going to be pissed off beyond belief if John Giannone says "MONTEFIORE RANGERS GAME DAY"? And yes, this is a minor pet peeve of mine which means absolutely nothing, just like an "EXPECTED" stat from Steve Vagistat.
After this big positive victory for the Rangers today, I really don't want to waste my time with the 7 foot turd with blond highlights during this review. All I'll say is that after he went on and on about his useless stats, it's becoming noticeable that Vally uses the phrase "stolen wins by a goalie", as often as Micheletti says "FABULOUS" or as often as David Quinn says "SWAGGER".
And oh, I guess I should share this tweet from Rangers scribe Rick Carpiniello:
anything that gets him off television … https://t.co/SXM6hF7wu0

— Rick Carpiniello (@RickCarpiniello) February 20, 2021
I'm begging some team, and I don't care if it's midget team made up of midgets, for some team to hire that mental midget Steve Valliquete as their coach. Someone save us!
Let's get into the game review/recap!
---
Before getting into puck drop, I wanted to share with you this observation that my dad, who gave us the term "Father Fink" for this site, made to me after this game:
Jacob Trouba is making $8M this season. Here are the salaries of the six Rangers defensemen from this game:
— Brendan Smith: $4,350,000
— Adam Fox: $925,000
— Ryan Lindgren: $925,000
— K'Andre Miller: $925,000
— Libor Hajek: $833,333
— Anthony Bitetto: $737,500
Combined, these six defensemen make $8,695,833. In other words, Trouba makes $695,833 less than all six of these players.
I'm not knocking Trouba in any way, I'm just bringing this fact to your attention. And just think, if Johnson played instead of Smith, that's $3M less.
Let's talk truth here. We've known for some time now that Trouba is grossly is overpaid, while Fox & Lindgren are extremely underpaid. That can't be disputed.
Just some food for thought. Perhaps this is also a case of "Father Knows Best" too!
---
Mika would lose the opening face-off of today's game, but after this loss, he wouldn't lose many more.
Adam Fox, who's been aggressive with the puck all season, got off the first Rangers shot of the game, which was then saved by Vanecek. After a Buchnevich turnover on a failed hook-up with Kreider; Bitetto & Hajek, who have been a successful pairing so far, shut down the Capitals on their possession.
On the next Rangers possession, Fox went for another shot, giving him two shot attempts in the first 2:15 of this game. You like to see it! It was also at this point in the game where Sam Rosen and Joe Micheletti went into their "Mika Zibanejad has to get going" spiel. They are not wrong.
In a game that was slow starting and didn't have much life yet, K'Andre Miller picked up where he left off, shutting down the top stars of the opponent. In his first noticeable defensive play of many, Miller casually took TJ Oshie off the puck, as if Miller has been doing this for years.
7:03 into the period, Libor Hajek was boxed after high-sticking Garnet Hathaway. In turn, the Rangers would kill their first of four penalties assessed against them. The most noticeable play during this Capitals power-play was when Igor stopped Ovechkin from his office. Igor also did this during the Rangers win over the Capitals at MSG, as Igor has figured out what many haven't.
With 8:05 remaining in the first period, Richard Panik (Dick Panic) was sent to the penalty box after getting careless with Ryan Strome. This Rangers power-play was awful. After a minute of passing the puck around, Strome made a blind drop pass to nowhere, sending the puck out of the zone. With the PP2 unit now on the ice, there were four Rangers behind Igor's net, which tells you what you really need to know about these two minutes of power-play time.
After not getting a shot on goal during this power-play and with Panik out of the box, with 5:55 to go in the period, the Rangers got another a power-play, a back-to-back power-play, when Lars Eller hooked Julien Gauthier. Of note, Gauthier, who returned to the line-up today due to the Kakko Kovid stuff, drew two penalties in this game. That's two more penalties than Kreider has drawn all season. However, while Kreider still remains without drawing a penalty this season, you'll take that trade-off if this keeps happening:
Chris Kreider off the rebound and the @NYRangers are up in Washington pic.twitter.com/IhfV2UUve8

— Rangers on MSG (@RangersMSGN) February 20, 2021
With 5:03 left in the first period, Chris Kreider drew first blood, scoring a perfectly designed and executed power-play goal! 1-0 GOOD GUYS!
On the goal, you couldn't have done it any better. This is what the power-play needs to do all the time. Kreider screened Vanecek, as the Rangers dished the puck. Strome fed Panarin for a one-timer, and on the rebound, Kreider slammed home the rebound. Simple as that. Bada-bing, bada-boom, you noticed Kreider in the room! It should be mentioned here, that not only did Panarin get his linemates going today, he also got Kreider and the Rangers power-play going too. The Breadman continues to deliver!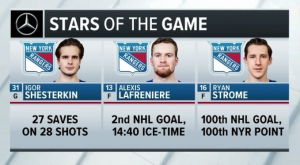 With a tad over three minutes to go, CZAR IGOR made a big save on Tom Wilson. Right after, Mika tried to set-up Panarin, but Panarin, in a rare instance, especially after having 16 shot attempts and 8 shots on goal last game, went just wide. On the other end, CZAR IGOR would make a save after a heavy shot from Chara and then Colin Blackwell forced a Capitals turnover. Man, has Blackwell been one of the biggest surprises of the season.
K'Andre Miller, you know, "THE PRAYING MANTIS", for good measure, closed out the period by shutting down the struggling Kuznetsov.
After twenty minutes, 1-0, GOOD GUYS. For the Rangers, this was a good road period as any, where the Rangers were the better team overall. The Rangers were even winning the battle at the dot, at a tune of 10-7. More importantly, the Rangers were better on their power-play, a power-play which had been plaguing them all season.
---
After our "SECOND PERIOD, WHAT DO YOU LOOK FOR HERE JOE?" comment from Sam Rosen; we had our first puck dropped of the second period, a face-off which Zibanejad won. Of note on Sam Rosen, he was much better today and didn't have any errors. It feels like everything worked out for the Rangers today. (Seriously, I was somewhat expecting Rosen to scream, "THE GREAT 8, ALEX OCHOA", after that Nolan Ryan/Nolan Patrick snafu from last game!)
Miller continued to stand out defensively, as early into the period, Miller laid a big hit on Oshie. Right after this, PDG took a shot on goal, where Blackwell then got the puck on the rebound and went for a "NHL '94" wraparound attempt. Blackwell was 1 degree off on this shot, as the puck went horizontal with the goal line, but never crossed it. This easily could've been 2-0 here, had Vanecek made contact with the puck, as he was behind it. Good try though.
Similar to Miller, Kevin Rooney was also tremendous defensively in this game, breaking up an odd-man rush from the Capitals. He'd later break up several Capital cross-ice passes too.
As the game progressed, Jakub Vrana, who led the Caps in the SOG department with 5, would have a shot of his swallowed up by Igor. Igor had Vrana figured out all game.
In a strong shift from the Strome line, Buchnevich would get two chances at Vanecek, but Vanecek came up with a pair of big saves. As mentioned earlier, this was a huge game for Strome, as he showed he could have some success without Panarin flanking him.
At the 8:25 mark of the period, Gauthier tripped Vrana, sending the Rangers PK back to work. This was another excellent effort from the Rangers PK, as Zibanejad was winning face-offs and Fox was clearing pucks. The Rangers PK just dominated the Caps PP here.
With both goalies playing well at this point, Vanecek stopped Miller. At the 13:25 mark, Hathaway tripped Gauthier, sending out the Rangers power-play. This power-play was pretty bad, with Nick Dowd of the Capitals having the best chance at scoring, as he found iron while short-handed. Of course, Mika was also stopped during all of this, as usual.
With a line of Gauthier/Rooney/PDG on the ice, they kept the puck in the Capitals D-zone, forcing the Caps to ice the puck. While the story after this game is the top six showing up, it shouldn't be forgotten how well the bottom six forwards played as well.
As we got into the final minutes of the period, and with the Rangers leading 1-0, the Rangers would score a pair of goals within a span of 59 seconds:
.@artemiypanarin LOVES that gorgeous @Alexlaff13 goal pic.twitter.com/tccqeXuyCk

— Rangers on MSG (@RangersMSGN) February 20, 2021
2-0 GOOD GUYS, as Alexis Lafreniere finally scores his first regulation goal of his career. Of course, who else but his favorite player, in Artemi Panarin, to set it up? I guess you can call this a "French Bread" goal? How about a baguette? Har-har-har!
With 2:16 remaining in the period, Lafreniere got behind the Capitals defense. At the same time, Panarin had the puck and you were screaming at your TV for him to pass it immediately. Instead, Panarin held up for a second or two, waited for the Caps to chase him, looked away from Lafreniere and then dished the puck for this great goal for Lafreniere.
Once again, the Breadman delivers, setting up what would be the game winning goal. Even better for Lafreniere, he got this game winning goal. DQ will have to have his head checked if he doesn't go back to this new first line on Wednesday.
59 seconds later, with the new second line on the ice, Ryan Strome hit his 100 career goal milestone:
Ryan Strome's 100th point as a @NYRangers is one to remember 🤯 pic.twitter.com/wHt86lAzTl

— Rangers on MSG (@RangersMSGN) February 20, 2021
3-0, GOOD GUYS!
I've said this a lot over the years, but really, in most cases, screens are more important than secondary assists. Really, for all of those stat geeks and nerds out there, they should track screens for goals.
On this goal, Strome's new linemate, in Chris Kreider, screened Vanecek and Vanecek didn't even see Strome's shot from the blue line coming. It's great to see Strome shoot and it's even better to see Kreider set up this screen, as this goal doesn't happen without it.
As everyone was celebrating, as there were a lot of good things going on, with 38.2 seconds remaining, Orlov blew by Mika Zibanejad, and was able to get a puck past CZAR IGOR, despite Anthony Bitetto (who assisted on the Lafreniere goal) diving in front of Orlov. 3-1, Rangers.
On this Caps goal, Igor should've had it. I think he brain-farted with the Rangers up 3-0 and with all the excitement of this team having a rare three goal lead. In fact, this was the second three goal lead the Rangers have had this season.
Despite this lapse, after two periods, the Rangers remained up 3-1. All that was left to do was close out.
---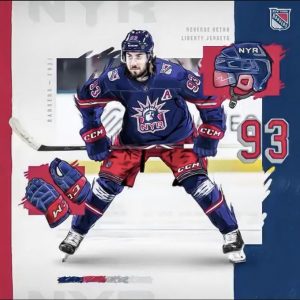 36 seconds into the period, Tom Wilson hit Strome high, sending the Rangers back on the power-play and looking to regain their three goal lead. While the Rangers wouldn't score on this power-play, it was a solid looking power-play, as Strome, Mika and Buchnevich would be denied. It was much better than the power-play prior to this one.
For some reason, Micheletti decided to say that Igor didn't have to do much of anything in this game, despite closing in on 20 saves and making some hard saves during these Capital shot attempts. If a former Rangers goalie was in net, we'd be hearing about how he was carrying the Rangers. Just sayin'!
After Igor stopped Vrana again, with 15:18 remaining in regulation, Brendan Smith was boxed after hitting John Carlson high. The Rangers PK were back at it, were once again, they were phenomenal. In fact, the PK was so smothering, that both Carlson and Ovechkin sailed pucks into the netting near Igor. The PK would also block two shots here and kill off this Caps PP with ease.
With under 10 minutes to go, Dillon went for a slapshot, which was akin to a Mika slapshot from this season, where the puck went high and wide and ricocheted around the boards and out of the zone. Free clear for the Rangers.
As we hit 7:13 remaining, Orlov went for the same move that worked for him on the goal he scored in the second period. This time, Igor said "NYET NYET".
As we hit the FOXWOODS FINAL FIVE mark, Vanecek robbed Rooney of putting this game out of reach. With 4:06 remaining, Dick Panic drew Bitetto for holding. The Capitals power-play would get a chance to make this a one-goal game.
With 3:20 to go in the game, the Capitals pulled Vanecek. The Caps now had a 6 x 4 attack, but the Rangers could ice the puck at will. Yours truly, like many, were rooting Mika to get the empty net goal here. In fact, this is what I said on Twitter, with 2:33 to go and after the Caps called a timeout:
27 seconds left on the PP. 2:33 left in the game. Timeout Caps. I just want the Mika ENG #NYR

— BlueCollarBlueShirts (@NYCTheMiC) February 20, 2021
21 seconds later, after a strong defensive play from Buchnevich, where he forced a turnover and got the puck out of the zone, Mika finally scored his second goal of the season:
MIKA ZIBANEJAD SCORES ON THE EMPTY NET!

Buchnevich pulls the monkey off his back too 😂😂 pic.twitter.com/wywPt73Kbi

— Rangers on MSG (@RangersMSGN) February 20, 2021
4-1, GOOD GUYS. The monkey is now off the back of Mika Zibanejad, as the video description suggests!
On the goal, this was fluky as hell, as Mika muscled a puck while being swarmed and hit by the Capitals. Despite being on the boards near center ice, somehow, this puck was accurate and found the back of the net. Go figure, Mika can't score on point-blank shots all season, but this is what goes in. And needless to say, we all hope this goal is the catalyst for the return of the Zibanejad from last season.
With 78 seconds to go, Dick Panic returned to the box, this time for roughing Brendan Smith. This is where DQ then let his bottom six guys and third pair defensemen get power-play time. Every player in the world will tell you that they appreciate this move from their coach. While the Rangers didn't get a power-play goal here, this was a true "MORAL" victory for these players. Even better, this was a "REAL" victory for the Rangers.
4-1 your final. If I had any instant hot take after this game, it's this – it's a shame that Sunday's night game against the Caps was postponed. You'd love to see the Rangers come right back and try to sweep the Caps, especially after a big win like this. Instead, the Rangers are now off for three days and could perhaps cool down.
---
Enjoy this win Ranger fans. It still amazes me how fans are saying, "the Rangers won, but…" Father Fink that! Be happy, this was a big time showing for the boys in blue!
This win and a game like this, is why I said at the start of this season that I thought this team should be a playoff team. There's no reason for this team not to play like this every game. Sure, you're going to have some stinkers during the course of a season, but if the Rangers can consistently play like this and continue to get stronger as the season continues, they should be right in the mix of things. What an 180 from just a few days ago.
After that loss to the Devils, I thought had the Rangers lost to the Flyers and Caps, then you could start questioning DQ. Since that time, the Rangers knocked off these two teams, two teams who are at the top of the division. While there is a lot of stuff to be happy and excited about right now, and you can look at different players on the roster while doing so; make no mistake, these two wins were huge for David Quinn. After all, after that Devils game, you had both Larry Brooks and Rick Carpiniello, the two senior NYR reporters on the beat, questioning DQ's status. That helped incite the flames for the "FIRE DQ" camp. Now, DQ smells like roses; at least until the next Rangers loss!
As said earlier, the Rangers are now off for three days, before returning to Philadelphia on Wednesday night. For the next 72+ hours, Ranger fans can keep their head held up high again. It's just a shame the Rangers will be off for a bit, because you really want to see this momentum continue. And who knows, come Wednesday in Philly, there's a chance that you might get both Filip Chytil and Kaapo Kakko back too. That will leave the question – what do you do with the line-up, especially after the way every player on this team executed in this victory? I mean, while Gauthier will most likely get scratched if Kakko returns, what center are you scratching? Both Rooney & Blackwell have played well.
If you haven't already, subscribe to this blog for the next update:
---
All in all, as a night owl, I'm glad I woke up early for this game!
I'm sure I'll be back with a blog or two between now and Wednesday night. At least the tone and vibe around this team are both positive. It would've sucked had the Rangers lost these last two games where then all we'd be talking about is David Quinn. Instead there are plenty of good things to talk about. That said, it's only one game and you're only as good as your last game played.
Until then, and as always here, thanks for reading and…
LET'S GO RANGERS!
Sean McCaffrey
BULLSMC@aol.com
@NYCTHEMIC on Tweeter
Follow the BlueCollarBlueShirts.com Facebook Group by clicking this link: https://www.facebook.com/groups/1564026407193056/