"Losing can wear on you. I don't care how we needed to do it. I don't care how pretty it looked. I don't care how it came to fruition. We needed two points, and we got two points." – David Quinn, on 2/18, moments after the Rangers 3-2 shoot-out victory over the Flyers.
For all the crap and double-speak that has come out of Quinn's mouth lately, this quote truly sums up this game. Yes, there are still a million reasons to still be concerned, but the Rangers really needed something positive to happen for them. I'll even add this – if the Rangers were good this year and if the top stars were producing, you'd look at this game as a good team finding a way to win. However, due to the way this season is going, this does feel like a bad team escaping with a win.

With that said, since I say it when they lose, so I should say it when they win – this is a production and results based business. While this victory was ugly and perhaps a bit tainted, a win is a win. And let's face it, outside of Mika Zibanejad needing a goal, no one on the Rangers needed anything more than David Quinn needing a win tonight; especially after that terrible post-game interview from Tuesday night.
While I don't think Jeff Gorton and/or John Davidson are looking to fire DQ, had the Rangers got pummeled tonight and then got pummeled in Washington, then maybe they start to question things. Of course, because of the way the Rangers won tonight, the "FIRE DQ" camp still has their campfire still burning. I can understand why. It's not like the team turned any corners tonight. The Rangers just happened to win a game after a skills contest.
There's also this quote tonight, a quote that's less meaningful than DQ's quote:
"Shot towards the net. Buchnevich is taken down! A penalty call on Nolan Ryan for hooking!" – Sam Rosen, when describing a penalty assessed to Nolan Patrick during the overtime period of this game. Not for nothing, but Nolan Ryan once played in New York and he also played for the Rangers during his career! That said, Nolan Patrick plays for Philly.
Obviously, this clip is much funnier since the Rangers won this game. In fact, I have watched this clip where Rosen shrieked out "NOLAN RYAN" about 50 times already:
Nolan Ryan plays hockey? pic.twitter.com/ODkkyc6yg8

— Gershon Rabinowitz (@GershOnline) February 19, 2021
As I've been saying for the last few years on this site, as Sam Rosen valiantly battles dementia and senility – bless Rosen's heart. While Kenny Albert will one day take over for Rosen and do a much better job, the day Sam Rosen retires, I'm going to miss all of this unintentional comedy! "OH JOE!"
---
Greetings and salutations everyone and welcome to another blog here on BlueCollarBlueShirts.com. Finally.
On Thursday night in the city of cheese-steaks, the Rangers, who needed a shoot-out, in order to snap their four game losing streak; knocked off the Flyers, by a final score of 3-2. As David Quinn said in the quote that's at the top of this blog, the Rangers needed two points and they got their two points.
There are a bunch of different ways to attack this game. If you're an optimist, you're rah-rah and relieved right now. If you're a pessimist, all of the same stuff that has plagued the Rangers throughout this season was prevalent throughout this game too. I find myself somewhere in the middle. After all, one shot this way and one less save from Georgiev and this blog would have a different tone right now. At the same time, I'm just happy they won.
When you break it all down, here are your positives after tonight's game:
— Artemi Panarin, returning to the line-up after two games off with a foot injury, was an absolute stud tonight. Panarin led both teams in the shots on goal department, with eight. However, and more impressively, Panarin finished with a whopping 16 shot attempts in this game, with several of these attempts hitting iron. And to pile on the good feelings, Panarin didn't do the cross-ice pass to nowhere stuff at all. In fact, one of his cross-ice passes led to a Rangers goal. Of all the Ranger fat cats, and as discussed on last night's blog, Panarin is the only one earning his money this season.
— The Rangers bottom six forwards, when compared to the overall production and compete level of the top six forwards, once again out-played the Rangers money guys. It were guys like Colin Blackwell, Brendan Lemieux and Kevin Rooney standing out, rather than the overpaid bum duo of Mika Zibanejad and Chris Kreider.
— The Rangers defense, savaged by injuries, had a tremendous game, limiting the Flyers to 22 shot attempts. (And that includes a five minute overtime.) Put it this way, on opening night, Tony DeAngelo, Jacob Trouba and K'Andre Miller were in the line-up. Here, in the first game of the second quarter of the season, the Rangers only had 50% of their starting defense from opening night in the line-up tonight, in Adam Fox, Ryan Lindgren and yes, Jack Johnson. With DeAngelo gone & Trouba and Miller injured, Anthony Bitetto & Libor Hajek were promoted to the second pair tonight and played out of their minds. Brendan Smith, who I thought should've been in the opening line-up instead of Jack Johnson, had another tremendous game, even scoring a goal in this contest! (Of note, Smith now has as many goals as Mika Zibanejad has this season and in less than half the playing time.)
— The Rangers special teams were better than they have been. While the Rangers penalty kill has been tremendous lately, where prior to this game, the PK had only given up one goal in their last 23 attempts; once again, the NYR PK stood tall, going 5-5 tonight. However, the Rangers power-play, which was 2-31 in the last ten games played, picked up a rare PPG tonight. The NYR PP wound up finishing this game 1-5. While that's not truly impressive, for this team, it somewhat is. And hell, as I've been saying during all of these one-goal losses, a PPG here and a PPG there, and maybe the Rangers aren't the worst team in the division. A PPG in this game went a long way and it helped the Rangers win.
— Lastly, when trying to talk about positivity here, Alexandar Georgiev, coming off a string of losses, including two games where he was burnt in overtime and was 0-6 while facing breakaways, snapped both of those trends tonight. Georgiev had a great game tonight, where unless you don't like him for some reason, you couldn't blame him for either goal he allowed in this game. In fact, he was making those "extra saves" all game. In tonight's game, not only did Georgiev stand tall after overtime, he also made a breakaway save. This game and win was much needed for him as well. As I said last night, Georgiev needs to be better and this was a great showing for him.
That concludes some of the optimism. Let's now take a look at the other side of the coin.
---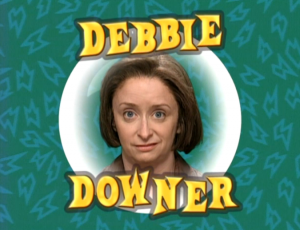 While Panarin and the blue collar Rangers helped propel the Rangers tonight, a lot of the same stuff that has been apparent during this brutal season was also on display during this game:
— The Rangers power-play, despite their one goal, should've scored at least on two of the other power-plays they had. In fact, due to a bone-headed penalty from Chris Kreider, Kreider negated a two minute 5 vs 3 Rangers power-play in this game. The other fat cat on this team, in Mika Zibanejad, continued his "No Score Tour" tonight and looked listless and lifeless for the majority of this game. He needs a haircut and a shrink, pronto!
— The Flyers pretty much fielded an AHL team in this contest. While the Flyers had some of their starters in the line-up tonight, they were also missing some of their top stars. In tonight's game, the Flyers were without forwards Claude Giroux, Travis Konecny, Scott Laughton, Oskar Lindblom, Jakub Voracek and defenseman Justin Braun. The Flyers power-play went 0-5 tonight. Had the Flyers had a full boat, it's hard to imagine that the Flyers power-play would've came up empty-handed. Let's also not forget that the Flyers haven't played since Super Bowl Sunday either.
— Of course, while the Rangers were missing Jacob Trouba and K'Andre Miller, it's not like these two are goal scorers. In fact, Bitetto and Hajek were amazing tonight. There was never one point in this game that these two made you miss the Trouba/Miller pairing. Forward-wise, while missing the production of Kreider & Mika from last season; physically, the Rangers were only missing Filip Chytil, a Filip Chytil who has missed the last ten games. The Flyers were more depleted than the Rangers were tonight and the Rangers still almost found a new way to lose.
— This win, while needed for the Rangers, wasn't anything to sing home about. Mika & Kreider continue to play horrible, where it got so bad that DQ pulled Mika from the Rangers power-play at one point in this game and then sent out Kaapo Kakko as his first shooter during the shoot-out. (Usually Mika or Panarin kick off the shoot-out for the Rangers.)
— The Rangers continue to take horrible penalties, as they took four offensive zone penalties in this game, with Kreider taking one himself. Kreider continues to lead the team in PIM, with 19 PIM, while not drawing one penalty himself this season. Not good.
— Another fat cat, in Ryan Strome, who was tremendously better at the dot in this game than he has been, continues to take bad penalties himself and still can't bury a puck whenever a goalie partially vacates his own goal. He had the prototypical "two-face" game tonight.
My biggest takeaway tonight? While the Rangers definitely needed some good vibes, and this win will temporarily instill such vibes; I'm not impressed. Do it on Saturday against Washington. Do it again next Wednesday night against a healthy Flyers team. My concern here is that this team is still in "one step forward, two steps backwards" mode, with this game being "one step forward".
---
On last night's blog, I told you how Adam Fox led the Rangers in the time on ice department, and how Jacob Trouba, who is second on the Rangers in TOI, wasn't even close. In tonight's game, with all of the penalties called in this game, and in addition to the Rangers missing both Miller and Trouba tonight, Fox played a whopping 30:17 in this win. Ryan Lindgren, who played the second most amount of minutes for the Rangers tonight, played 23:39. In other words, Fox played nearly seven more minutes than any other Ranger. That's insane. While Fox deserves all the ice time in the world, you do have to wonder if he's going to get burnt out a bit, especially with Trouba now out for 4-6 weeks.
Speaking of last night's blog, and before moving on to everything else – the PLUGS segment! I'd also like to thank everyone for all the feedback to the "Progress/Regress Report". Seemed like many of you guys liked that one.
Anyway, here are my last few blogs in case you missed them:
---
---
---
---
There's a lot to get into tonight. Before getting into this game, I have a Ron Duguay "Up in the Blue Seats" podcast review and recap for you. For those not interested in the recap, scroll on down until you see the picture of Colin Blackwell. (I hope you read the podcast recap anyway, because there are a lot of good points made by Larry Brooks, Mollie Walker and Ron Duguay during it.) After that, I'll get into everything regarding this win over the Flyers. Get your favorite beverage ready and let's roll.
(Of note, reader Timmy F. told me that he spent 30 minutes on the toilet the other day, when reading my NYR/NJD recap! Jim S., of "The BSU Show", also told me something similar! That said, it's always been my modus-operandi here to give you something on this site that you can't find anywhere else.)
---
For those wanting to listen to episode #44 of "Up in the Blue Seats", click the link below:
Episode 44: Is Coach Quinn on the Hot Seat? feat. Zac Jones – Up In The Blue Seats: A NY Rangers Hockey Podcast from NY Post Sports | Podcast on Spotify https://t.co/l2n325fOhP

— Ron Duguay (@RonDuguay10) February 18, 2021
Of note, this podcast was recorded before this Rangers 3-2 win over the Flyers.
Mollie Walker kicks off the show by saying, "is David Quinn on the hot seat?" Walker then previews everything else we'll hear here, during episode 44, including an interview with Rangers prospect/2019 draft pick Zac Jones.
After two ads (the show now even has Cadillac as an advertiser. I know I don't run any ads on this site, but if Cadillac were offering to pony up the big bucks to me, I'd run their ads too!) we then got the familiar drum roll music to open up the program. As usual, Jake Brown then asks us to rate and review the show. Done and done! Brown, like Walker just did, previews what's on tap.
Ron Duguay gets right into it, first by talking about the two games that the Rangers had with the Bruins. Duguay then jumps right into the loss against the Devils. Duguay then says that Rangers prospect Zac Jones is the featured interview for this episode. It's also mentioned how Mollie Walker attended the University of Massachusetts, just like Jones is currently doing.
Duguay asks Walker about that horrendous loss to the Devils and says that the Devils had more passion than the Rangers did in that game. Walker says that game was one of the most deflating losses of the season. (To me, it was the absolute most deflating loss of the season.)
Walker recaps all of the Devils corona issues and how they were shut down for over two weeks before that game with the Rangers. Walker says there were minimal bright spots for the Rangers, naming some of the bottom six forwards on the Rangers as said bright spots.
Walker then talks about the post-game interviews that Zibanejad and Kreider had. Walker says she's never seen both of these players sounding so depressed before. Walker says Quinn called out the team's effort. Duguay thought Kreider would have a good game, because Kreider got involved right away with his fight. However, Duguay says the Rangers and Kreider never followed through.
Duguay wonders how much of this losing is on the players and how much of this losing is on DQ. Duguay says whenever his teams were on a losing streak, there would be a severe tone in the locker room. Duguay said during these times, players would step up and call for the losing to end and how they would do anything to win. Duguay wonders if the Rangers are skating with a chip on their shoulder or not. Duguay says there are not enough guys on this roster that have that mentality. Duguay says that Lemieux is one of those types, but there aren't many others like Lemieux on this current Rangers roster.
Walker feels that the Rangers have no identity. Walker, who also covers the Islanders, says the Islanders have an identity. Walker says she talks to Trotz all the time and feels the Islanders know who they are. Walker says the Rangers lack of identity is on the shoulders of Rangers management. (If you want, I guess you could link all of this to not having a captain either.)
Duguay says that when he was with the Rangers, Phil Esposito was the team's leader. Duguay says Espo liked to have fun, but if things were off, Espo would let you know and the mood would change. Duguay then said, after Phil Esposito retired and in Duguay's later years with the Rangers, guys like Barry Beck, Nick Fotiu, Chris Kotsy, Boxcar Hospodar and others, also had that same pissed off mentality like Espo once had, during such said losing streaks.
Duguay says of the current Rangers, only Lemieux has a "game face" on when things are bad. Duguay says a lot of this losing is on the coaches. Duguay calls out Kreider for not being physical enough. Duguay says DQ should have a one-on-one with guys like Kreider and Trouba. Duguay says the fat cats (my phrase, not his) aren't performing.
Walker thinks a lot of this losing falls on Kreider. Walker says Kreider says all the right things, and gives examples of some of the stuff he's said. (Like I always say – actions speak louder than words.)
Walker mentions that the media isn't in the locker room right now and they don't know what happens behind closed doors. Walker feels that Lemieux doesn't have that veteran status yet to call out the locker room. Good point.
Producer Jake Brown jumps in with the Twitter question of the show. A fan asks the co-hosts if the Kreider contract extension/new deal was a mistake. Duguay says you couldn't let Kreider go and had to pay him the going rate. Duguay feels that the Rangers need to give Kreider better teammates and feels the Rangers should build around him a bit. Duguay doesn't think Kreider has anyone on his line that plays mad. Duguay would like to see Lemieux play on the same line as Kreider. Walker thinks it was vital for the Rangers to keep Kreider. Walker brings up how the Rangers are young and how they needed some veterans on the club. Walker says Zibanejad is quiet, while Kreider is more of the vocal leader of the team.
Walker then adds that she feels that Kreider wants to spend his entire career with the Rangers, which is why he asked for six years. Walker feels that the Rangers wanted to keep Kreider too. Walker feels Kreider is a leader, even if it doesn't look that way on the ice right now.
Jake Brown asks Walker & Duguay if DQ is on the hot seat and then airs a listener's phone call asking that very question.
Duguay says he disagrees with the caller, because the caller said that the Devils aren't a good team. Duguay feels the Devils are a good and up-and-coming team. Duguay gives the Devils a ton of credit for coming out hot. Duguay says he's pleased with the way DQ has developed players, but feels this season has been different. Duguay feels DQ is hurting because he didn't have a full camp and preseason games, in an attempt to get his roster ready.
As far as all of the losing goes, Duguay thinks this is more on the players, citing his previous points about players not playing angry and/or with a chip on their shoulder. Duguay doesn't think things are as bad as they appear. Duguay says he's giving DQ a pass and doesn't think that DQ is on the hot seat. Duguay thinks the roster needs more grit, whether it's through a trade or elsewhere.
Walker agrees with Duguay, bringing up how DQ was brought in here to develop players. Walker feels DQ has done that so far. Walker and Duguay feel that DQ is learning his job on-the-fly as well, especially when it comes to managing veteran players. (That explains the DeAngelo situation.)
Brown then wishes fellow producer Sarah McCrory a happy 26th birthday and then introduces Larry Brooks to the show.
Before Larry joins the program, it's mentioned twice that he's in the Hockey Hall of Fame. Perhaps this was mentioned as a reminder for some of Larry's idiotic peers who are trashing him right now. (Previously covered on this site, check the archives.)
Walker asks Brooks about DQ's job status and how Brooks blamed DQ for the loss against the Devils. Brooks says whenever a team is losing, they don't look like that they are having a fun time and how they will be tight. Brooks says you could see life in the Devils in their win over the Rangers. DQ feels the Rangers look like they aren't having any fun at all. Brooks thinks that DQ needs to lower the temperature around the team. That said, Brooks says that's a tough task, especially when your veterans aren't doing anything.
Brooks says that DQ likes to ride his top horses. Brooks says that makes sense when your stars are shining. Brooks says he's not sure if DQ should be playing Mika as much as he does. Brooks says there is only so much time to go around in the game and every time that Mika is out there, it takes away minutes from the guys who are actually producing during a game. (The bottom six forwards.) Brooks says there needs to be a more of a balance.
Brooks feels the Rangers will really miss Jacob Trouba, especially as the Rangers start playing the best teams in the division more frequently. Brooks feels that DeAngelo still isn't an option.
Duguay reiterates that he doesn't think that DQ is on the hot seat. Brooks feels the same. Brooks says the Rangers are trying to win and develop at the same time. Brooks says that while they want to make the playoffs, DQ won't be fired if they miss the playoffs this year. Brooks says DQ wants to win and all of this losing is eating him up. Brooks once again calls out the players. Brooks says that DQ didn't come off that great with his post-game comments from Tuesday night.
Walker mentions how Brooks thought that the Rangers would make the playoffs this year. Brooks and Walker laugh. Brooks says he never saw the Rangers top stars failing to produce. Brooks also thought Lafreniere would make an impact too. Brooks says the failure from the Ranger top stars was impossible to predict. Brooks says the Islanders have surprised him, as he didn't expect them to score much but they are. Brooks says only Adam Fox is standing out and playing to expectations. (I 100% agree with Larry on all of this, as I said in my season preview blog.)
Brooks and Duguay then rave about Blackwell and Rooney. Brooks brings up how Rooney was taking all the third period face-offs at the end of that Rangers/Devils game. Brooks says what we all say – when Rooney & Blackwell are outperforming the top stars, that's all you need to know about this Rangers team. Brooks then tells a funny anecdote about Bobby Holik, when saying if you leave the rink after every game saying how Rooney, Blackwell and PDG are your best forwards, while that may be good for them, that's not good for the Rangers. Let me put this in BOLD PRINT – this was a great story to explain the Rangers in this 2021 season.
This then wraps up the Larry Brooks portion of the show. Of note, the column Brooks wrote, featuring his exclusive interview with Tony DeAngelo, was not discussed.
To close out the show, Rangers prospect Zac Jones joins the show.
Walker brings up right away how she used to cover the UMass hockey team when she attended college there. Walker says Jones is currently in his sophomore year at UMass. Walker talks about the current state of UMass hockey and asks Jones about this crazy season. Jones says everything is weird around the world right now and how he usually finds out their schedule about the same time when the media does. Jones says his coaches have had the team ready for every game this season.
Walker assumes that Jones is living on campus, in order to attend practice. Jones tells her she's right and how the UMass campus is a ghost town right now. Walker and Jones then talk about the current COVID-19 protocols at UMass and around the NCAA scene.
Duguay talks about his days playing major junior hockey in Ontario. Duguay asks Jones on his feelings about his development and trying to play at higher levels. Jones said his parents wanted him to go to college and how he grew up watching college hockey too. Jones said he always wanted to play college hockey over playing major junior hockey in Canada.
Jones says he's not ready to play pro hockey yet and will be returning to UMass for his junior year. Jones said he's aware that he needs to grow more and wouldn't have a problem if he had to spend all four years at UMass before signing with the Rangers. Jones at least sounds confident about his career path and what he wants.
Walker then does some rapid-fire with Jones, asking him about Amherst, Mass and going to UMass. Unless you're from Amherst or went to UMass, you won't know what these two are talking about during all of this. That said, we did find out that Walker and Jones enjoy truffle fries. Some people will enjoy this line of questioning. This was somewhat entertaining, but I felt like a 65 year old when "American Pie" came out while listening to this! As I near the age of 40 (holy mid-life crisis Batman) I feel like I have to work harder to stay "current" and with the times.
This then wraps up the show.
---
Overall, another solid episode of "Up in the Blue Seats". If there was anything that stuck out to me, that considering all the feedback that Brooks got to his DeAngelo article, I was surprised that wasn't brought up, especially in light of the Jacob Trouba injury. Regardless, this podcast was a great way to spend 40 or so minutes. As mentioned previously, of all the reporters who do podcasts these days, "Up in the Blue Seats" remains my favorite. I really think that Duguay & Walker are starting to click now too.
Okay, are you ready to talk about tonight's Rangers/Flyers game? Let's go.
---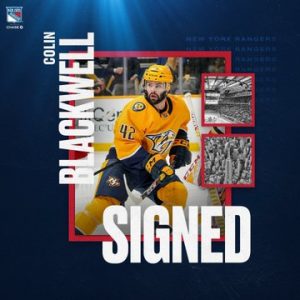 I recapped most of the news in last night's blog, so refer to that blog for more on Trouba.
Originally, the Rangers thought K'Andre Miller would be ready for this game tonight. However, he wasn't. Instead, Jack Johnson made his return to the line-up tonight, a Johnson who just a day ago, was deemed "not ready" by DQ. In other words, while Johnson took a horrendous penalty tonight, I guess you also have to give him a pass too, as he helped the team out by dressing, despite not being 100%. (I know it's cool to shit on Jack Johnson for some Ranger fans, but this fact shouldn't be ignored – he wasn't ready and he played anyway. And really outside of the penalty he took, he was serviceable and not catastrophic at all.)
Here's how the Rangers broke the news on social media:
One more note on Gauthier, if I may? Had the Rangers lost this game, you'd be hearing a lot more about his scratching after this tilt. Heck, you'd be hearing a lot more things had the Rangers lost this game!
For whatever reason, I saw some fans have a mental breakdown when Georgiev was announced as the starting goalie. To me, it made sense, just because the Rangers will now have a fast turnaround against Washington on Saturday, due to the 12:30PM start time. In addition, with the Flyers all banged-up and corona'd up tonight, it made sense to give Georgiev the weaker team and then have Igor 100% ready to go against Washington. Igor is not going to play every game folks!
As far as tonight's line-up, here's what we had:
We're almost at the game review portion of the blog, two more segments to go! First up, the GAMBLING segment:
Season over-under record: 6-7-1

Jack Johnson in? Oh man. I want to stay positive but have to be realistic. This feels like a 6-2 Flyers win. With a -5.5 line, I'm taking the over. #nyr pic.twitter.com/YJkQ5H7Vin

— BlueCollarBlueShirts (@NYCTheMiC) February 18, 2021
As you can see, I wasn't very optimistic about the Rangers going into this game, even with all the roster issues that the Flyers currently have. With a 3-2 final, I'm now two games under .500 and with a 6-8-1 record. I used to be so much better at this, when I just picked the over whenever Henrik Lundqvist started and picked the under when Georgiev started. (One season, I finished 26 games over .500!)
Box score time.
The following information and graphics come courtesy of ESPN.com:
SCORING:
PENALTIES:
TEAM STATS: (Notice the improvement at the dot tonight, where Strome went 15-8 in this contest, after being demolished last game.)
---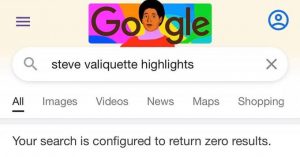 Even though I know I'm going to see this seven foot douchebag at the top of every Rangers broadcast, I'm at the point that whenever Vally comes on my screen at 6:30PM, my stomach just turns. I really want to know who he is related to. There's just no other reason to explain why he has a job there, unless he has nude pictures and is blackmailing someone high up. (And for new readers here, I do think Vally is a nice guy away from hockey. I do know he's a solid father and a family man. I just don't like him as a solo act on these broadcasts.)
To open up the pregame show, Vally said that "Panarin is a good add for the Rangers." What hard hitting analysis. I heard Messier was a good captain too. After letting us know that Panarin is a good hockey player, Vally used his "Finnish/Finish" joke, for about the 7678678678969678th time in the last two years, when talking about Kaapo Kakko. That joke was barely funny the first time. If I wanted entertainment, I'd go back and watch that game against Dallas, where Vally didn't make the "EXTRA SAVE" and gave up 10 goals. I wonder what were the expected stats in that game?
No joke, after yammering on about nothing, Vally said "the Rangers need to shoot for the piles." I'm sure Vally has done that in his personal life during a stay at the "Pines Motor Lodge", and with bloody results to boot.
After wasting more of our time, John Giannone, who has been drinking the Kool-Aid of Vally these days, spent a whole segment with the seven foot hair dye wonder, where they both said how face-offs aren't important. Of course, it are Vally's made up stats from his company that are important; stats that include "Expected Goals during the third Thursday of a "Year of the Dog" during a Chinese New Year." To Giannone's credit, Vally said veterans are better than younger players at face-offs. Giannone then said how it's the Ranger young guys who have better face-off percentages this season, without realizing he just debunked the crap that spewed out of the five-hole that sits on the shoulders of Vally.
Vally continued to stress the point that goalies "need to make extra saves". That's rich coming from a guy who gave up 10 goals in one game and had a horrible numbers in his 46 game legendary career, a career that Vally brought up throughout the broadcast, as if he were Ken Dryden.
Ugh, I'm going on too much about this. Long story short – Vally is useless as a used diaper. His fake news stats are as meaningful of the contents of a used diaper too.
---
Before the puck dropped, I said this on Twitter:
Flyers haven't played in 11 days. You just know Hayes will do something tonight. #NYR

— BlueCollarBlueShirts (@NYCTheMiC) February 19, 2021
59 seconds into the game, Nicolas Aube-Kubel was credited with a goal. 1-0 bad guys, just like that. Of course, Hayes was credited with an assist.
I say the word credited here, because after a mad dash towards Georgiev, Fox kicked in a loose puck past Georgiev, when trying to break up the orange and black attack. To get on Fox here would be ridiculous, as this happens to defensemen all the time and it's not like Fox has a history of this. It was just one of those unforunate plays, where this time, it went against the Rangers. (Of note, Toronto "horned-in", in an attempt to take a second look and to see if there was any goalie interference on this scoring play. There wasn't and the goal correctly stood.)
In the early minutes of this game, it felt like a repeat of the Devils game, as the Flyers were all over the Rangers. The Flyers, who were out-shot by the Rangers in the first period, selected their shots carefully, as Georgiev would pretty much stand on his head for the rest of the game. Hart, who faced more shots, didn't really seem to be tested as much as Georgiev was in this first period.
2:47 into the game, and in his first shift back, Jack Johnson tripped Nolan Ryan Nolan Patrick. Down 1-0, the Rangers PK had to go to work. Where's the "swagger"? (Of note: DQ once again said the word "swagger" during his post-game interview. The man needs a theasaurus.)
The Rangers would get their kill here, as Georgiev made a huge save with his pad while being screened. Had this game went 2-0 here, it could've got ugly.
After the kill, Georgiev came up huge again, making a save on Farabee during a Flyers two-on-one rush. The Rangers defense didn't look too hot here.
6:12 into this game, the Flyers were dominating, as the Rangers only had one shot on goal. After a whistle, the Rangers offense got going a bit, where Hart juggled some pucks when stopping Panarin and Lindgren. Hart looked a little jerky here, but would eventually settle in as the game progressed.
After Georgiev made a clean save on Nicolas Aube-Kubel's shot from the slot, at around the 10 minute mark, Hart stopped Hajek. The Flyers then iced the puck.
With Panarin's line back on the ice, they would go on to have their best Rangers shift of the game at this point, as they controlled the puck and created a lot of offense. At the 11:04 mark, Strome tripped Travis Sanheim, while the Rangers were in the offensive zone. This would be the first of four NYR offensive zone penalties. Had the Rangers lost this game, this would've been a huge topic tonight.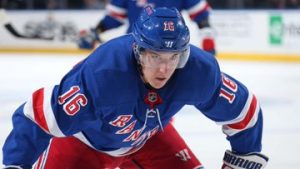 In case you don't get the "jelly bean scale" reference, I am directly lifting this from one of the best TV shows of all-time, in "Boy Meets World":
This Flyers PP was definitely hurt by all of their roster issues. During this power-play, the Flyers had five lefty shots on the ice. Without a righty on the ice, the Flyers couldn't rip two one-timers, after two Ranger turnovers. Instead, the Flyers had to adjust and then get a shot off, which allowed Georgiev to get ready.
During this PP, Michael Raffl went on a breakaway, where Georgiev came up with his best save of the game. This was Georgiev's first save made on a breakaway this season. That has to help his confidence.
With five minutes to go in the period and with the NYR PK now 2-2, Hart robbed Rooney on a wrap-around attempt. Right after, Hart then made a glove save on Panarin. As mentioned earlier, you could really see that Panarin put a focus on shooting tonight, rather than making these cross-ice passes to nowhere.
With 2:08 remaining, we had a potential turning point of the game.
During one shift, Andy Andreoff high-sticked Lemieux in the face. During this same play, Robert Haag held PDG. In turn, the Rangers had a 5 x 3 power-play, which was essentially a power-play to close out the period. Enter Chris Kreider.
35 seconds into this Rangers two-man advantage power-play, Kreider hooked Sean Couturier, while in the Rangers offensive zone. Think about this. The Flyers had three skaters on the ice while the Rangers had five skaters on the ice. Somehow, Kreider hooks a Flyer during all of this. As my friend Garrett G would say, "what a dick."
I mean, how do you take a penalty in your own offensive zone with a two-man advantage? Kreider leads this team in PIM and I feel half of the penalties assessed to him are while in the offensive zone of the Rangers. This guy is supposed to be team leader? This was the guy calling out the team in his last post-game interview? This is the guy who said everyone has to be better? And I really don't want to be dumping on Kreider, but yeah – he absolutely sucked ass tonight.
With Kreider now boxed, this turned into a 4 x 3 NYR PP. Fox would hit a post during this, while Mika did his usual thing where he skates around and doesn't score. Hart would then make a glove save on Fox, with 12 seconds left on the Rangers PP. After the Rangers PP failed as usual, we had a few seconds left and then got the horn to signal the end of the first period.
After twenty minutes, Flyers 1 – NYR 0. In addition, the Flyers would then open the second period with 27 seconds of PP time, due to the idiocy of Fat Cat Casper Kreider.
---
I should mention this too while it's on my mind – the Rangers didn't release a picture of a player in the "Broadway Hat" after this win. I wonder if they even bothered to bring the hat with them on this road-trip!
After our "SECOND PERIOD, WHAT DO YOU LOOK FOR HERE JOE", comment from Sam "Nolan Ryan" Rosen, the Rangers would go on to kill another Flyers power-play, bringing the Rangers PK to 3-3 at this point in the game. Right after this PK, Strome made a cross-ice pass to nowhere for a turnover.
1:28 into the period, Hayes was boxed for tripping Kevin Rooney. Have I mentioned how Kreider hasn't drawn one penalty this season?
During this power-play, I said this:
Bitetto and Blackwell getting PP time. Hart stops Bitetto after a good SOG. #NYR

— BlueCollarBlueShirts (@NYCTheMiC) February 19, 2021
Seconds after saying that, this happened:
I love everything Colin Blackwell does pic.twitter.com/M0o3emdWN9

— Rangers on MSG (@RangersMSGN) February 19, 2021
1-1, a goal for the good guys, with just four seconds left on the power-play!
On the goal, Bitetto fed Buchnevich for a blast from the point and Colin "F'N" Blackwell deflected the puck past Hart. Blackwell now has three goals this season. I'll save you my rant about how Blackwell has more goals than most of the fat cats, Lafreniere and Kakko.
And heck, I guess you can add Buchnevich to the "Killer B's" tonight, as it was his shot that set this all up. That said, he wasn't as good in this game as Panarin, Smith, Bitetto or Blackwell were tonight.
And how about this stat from Kevin D., who said this after the Blackwell goal – the Rangers have 5 goals in last 13 1/2 periods: Blackwell (2), Rooney, Gauthier & Buchnevich. Smith would later add a goal in the third period, meaning that the Rangers now have 6 goals in their last 14 periods of play. Where's Mika? Where's Kreider? Bueller?
After the goal, Georgiev would stop Hayes and kept this game tied. Blackwell continued to stand out, where you have to think that MSG will be selling #43 jerseys when they re-open later this month.
During another uninspiring shift from Mika Zibanejad, Sam and Joe spent a minute or so talking about how much Mika stinks these days. Of course, Sam and Joe are like all of us – they don't want to talk this way, but you can only talk about what you see and the truth.
With 12:46 remaining in the period, it was now Kakko's turn to take an offensive zone penalty, as Kakko hooked Ivan Provorov. I'll talk about this later during the shoot-out, but this penalty was forgotten after this game, as people celebrated Kakko as if he were the second coming of Jesus Christ. I wonder if Kakko can walk on the tears of Mika and Kreider?
The Rangers PK proved to be successful here, as they were now 4-4 at this point. As we hit the half-way mark of the game, I commented that I thought Hajek & Bitetto really stood out. They would finish the second half of the game as strong as they played in the first half.
With 8:28 remaining in the period, Robert Haag high-sticked Brendan Smith. In this one game alone, Smith now has a better season than both Kreider and Mika. (I keep bringing up the fat cats, just to show you that while the Rangers did win tonight, I don't think the team has turned a corner at all.)
It was during this power-play that DQ acknowledged that Mika was playing like shit and gave Blackwell time with the PP1 unit. This time, the Rangers PP didn't score.
With 4:43 left in the period, Brett Howden would find himself all alone and a foot away from Carter Hart. Somehow, he went wide with his shot. I don't think you could even do that if you tried.
After a long Flyers possession, with 3:19 to go, Ivan Provorov slashed Buchnevich, as Buchnevich had a breakaway towards Hart. Buchnevich got the shot off anyway, but Hart made the save. However, the Rangers were rewarded with a penalty shot here, where Hart then stopped Buchnevich again.
After a face-off, Strome, in a rare instance for him, decided to shoot the puck rather than making another cross-ice to nowhere. While Hart made the save, it was just nice to see Strome shoot. Of course, since he did something positive, he followed this up with something negative, as he took another offensive zone penalty with only 90 seconds remaining in the period. Again, had the Rangers lost this game and had the Flyers had a full squad to capitalize on these four Ranger offensive zone penalties, there would be a lot of fires burning around Rangerstown, USA right now.
After a Georgiev save on JVR, the clock wound down, where for the second period in a row, the Flyers had a wrap-around power-play.
1-1 after forty minutes. Of note, Vally didn't tell us if the Rangers had an 86% chance or not to win this game. I guess he's done with those bullshit stats after being embarrassed last game.
---
The Rangers would kill the 30 seconds of Flyers PP time to open the period.
After another save made by Georgiev, this time on JVR, you could see Georgiev was in the zone. Seriously, he could've had another shutout tonight.
During a whistle, we got a shot of the bench where DQ looked frustrated with Lemieux. It's always TDA and Lemieux that gets DQ's ire, not Mika and Kreider.
In more of good Strome/bad Strome, Hart stopped Strome from his doorstep. Georgiev would then make a save and then Hart would make a save on Panarin, as both goalies were tested here.
At the 8:21 mark of the period, this happened:
Lovin the @artemiypanarin pass 👀 pic.twitter.com/jZHroKDQWJ

— Rangers on MSG (@RangersMSGN) February 19, 2021
2-1, GOOD GUYS, as it felt like this was the first Rangers lead since the Truman administration.
On the goal, Strome who got an assist here, got the puck on net. Again, more good Strome/bad Strome here. Panarin then grabbed the rebound and in his one cross-ice pass of the game, got the puck to Brendan Smith. To Smith's credit, while the net was wide open, the pass almost bypassed his stick, but Smith stayed with the play, reached for the puck and got the easy goal. This was a hard-working goal and very huge. I'm happy for Smith too, because he just does everything asked of him and he got rewarded here.
And when you talk about Panarin, he is heating up again, where he's starting to resemble the player from last season. Of course, this is only one game. Panarin needs to keep doing it again and again and again, just like he did last season, when he was nominated for the Hart Trophy.
As we hit ten minutes to go, this is when I made my "Killer B's" reference on social media. I also have to throw in Georgiev here too, because he was solid throughout. Maybe we can use the word "Bulgarian", when trying to add Georgiev to the "Killer B's!"
If Smith drawing penalties and scoring goals wasn't enough for you, Smith then stopped Kevin Hayes from a potential breakaway/getting all alone in front of Georgiev.
From this point, it was all about clock watching. The FOXWOODS FINAL five mark hit. We then got under three minutes left. With 2:31 left, the Flyers pulled Carter Hart for the extra attacker. I was hoping Mika would get an ENG here, as he needs something to get himself going right now. Of course, that's not what happened.
With 74 seconds remaining, Lindgren, who was belly-down on the ice, in order to stop Kevin Hayes, then saw Farabee skate by and push a loose puck past Georgiev. 2-2, just like that. Had the Flyers won this game, this would've been a new way for the Rangers to lose, as they blew a lead here with just seconds left on the clock.
Of note, who got his second assist of the game? This guy:
Now at 2-2, I was sick. This just felt like torture, as if I were Kristin Bell in season one of "The Good Place". As the clock hit triple zeroes, and with Georgiev already being 0-2 in OT this season, you kinda felt like you knew how this would end. Thankfully, it didn't end that way!
DQ didn't start Mika in the OT period. Instead, we had Strome, Panarin and Fox. Strome would lose the face-off to start OT. After a Georgiev save on Farabee that kept this game alive, the Ranger skaters had a nice long shift, even if it didn't produce a goal. With Zibanejad and Kreider now on the ice, Zibanejad promptly turned the puck over. Georgiev would deny the Flyers again. Then right after, Kreider tried to feed Zibanejad, but Zibanejad was off-side. When it rains it pours.
With 2:28 to go in the OT, we had the "Nolan Ryan" penalty.
During these two minutes of PP time, the Rangers had something like 7678678968968796796789 chances to score. After Panarin hit iron, Mika would throw a puck into the glass, clearing the puck for the Flyers. On the next Rangers rush, Hart would stop Mika and then Mika would whiff on a puck. I've never seen a player have a drop-off like this.
At the end of the five minute overtime, we remained tied. Shoot-out time.
---
In the shoot-out, Georgiev would stop Hayes. Kakko would then score. In the second round, Sean Couturier would beat Georgiev, followed by Panarin beating Hart. At this point, all we needed was one more save by Georgiev, and he did just that, as Georgiev held off JVR. 2-1 in the shoot-out, 3-2 victory for the Rangers!
Of note, as said on previous blogs throughout this site's history, I don't know why the home team often decides to shoot first in the shoot-out. If I were a coach, I'd have a "last licks" mentality.
After the goal, Kakko had this entertaining post-game interview:
Kaapo Kakko has a very simple philosophy when it comes to the shootout 😀 pic.twitter.com/uhWuN3sZCO

— Rangers on MSG (@RangersMSGN) February 19, 2021
Not for nothing, but the K.I.S.S. theory always works!
And listen, I know everyone wants Kakko and Lafreniere to light it up. I do too. However, I saw fans reacting to this Kakko shoot-out goal as if this were a Game 7 OT GWG. I even saw one fan suggest that he'd rather see Kakko & Lafreniere score in 5-4 NYR losses than see the Rangers win games. Again, I get that everyone wants Kakko & Lafreniere to get going and score goals, because after all, I'm in that same boat too. However, I don't care how they do it, I just want the Rangers to win. I'll take a goal from Bitetto, Smith and Blackwell every night, if that means the Rangers go 82-0! (Or 56-0 in this corona season.)
When it comes to Kakko, he has to score in regulation. Simple as that. After all, the same people that were over-celebrating this goal, are also the same people who always say how much they hate shoot-outs.
When it comes to Lafreniere, I barely noticed him tonight. 15 games down, 0 regulation goals. He had only 1 SOG tonight. Refer to last night's blog for more on him.
You know who I noticed tonight and who really sounded like veteran team leader after the game? This guy:
"We needed that, we really needed that"

Brendan Smith credits the Rangers' resiliency tonight, even after they surrendered a game-tying goal late in the 3rd period pic.twitter.com/Mb546uP7g8

— Rangers Videos (@SNYRangers) February 19, 2021
The above video is only a clip of Smith's interview, an interview that ran for about two minutes on the M$G Networks during the post-game show. As of this writing, MSG and NYR haven't uploaded the full interview. By the time you read these words, that interview will most likely be online. You should go out of your way to seek it out, as Smith was jacked up after the win. During the interview, Smith also gave heavy praise to Bitetto and Johnson and was very complimentary of the whole team in general.
Of note, after weeks of listening to Kreider and Mika cry and say the same old shit, neither one of these two fat cats were interviewed tonight. Instead, it was Smith, Kakko and Panarin doing interviews with the media. That's just an FYI for ya!
---
I know this blog was mega-long tonight, so I'll wrap it up here, despite having more to say. I think I pretty much nailed what needed to be said tonight anyway.
My "long-story-short" reaction: do it again on Saturday.
If you haven't already, subscribe to this blog for the next update:
---
Up next, a rare 12:30PM game with the Capitals. I despise these afternoon games. As a night owl, hopefully the Rangers make it worth my time to go to bed early on Friday night!
Until then, and as always here, thanks for reading and…
LET'S GO RANGERS!
Sean McCaffrey
BULLSMC@aol.com
@NYCTHEMIC on Tweeter
Follow the BlueCollarBlueShirts.com Facebook Group by clicking this link: https://www.facebook.com/groups/1564026407193056/