"I did the move I usually do. He read it. It didn't go in. It's a hard question to answer. It leads to more speculation. I'm just trying to keep it as simple as possible and not overthink those chances." – Mika Zibanejad, on 2/24, moments after the Rangers 4-3 loss to the Flyers. This quote is Mika's response regarding one of his two breakaway failures tonight. Maybe he should start thinking about scoring. After all, I'm sure he'll be thinking of scoring goals next season, in his contract year.

"The effort was there, no question. It ends up being a special teams battle. I liked our process and our game at 5-on-5. It's some of the other stuff that we've just got to clean up. It gives us a better chance if we stay at 5-on-5 more often." – Chris Kreider, also on 2/24, a Chris Kreider who actually scored two power-play goals in this game. Kreider ultimately finished this game with a hat trick, a hat trick that can't be celebrated with extreme jubilation, due to the Rangers loss.
---
Greetings and salutations everyone and welcome to another blog here on BlueCollarBlueShirts.com. What can you do?
Riding a two-game win streak and having three days off in-between their last game and this game tonight, a 72 hour off period which also included the Artemi Panarin story; the Rangers headed to Philadelphia, where the Rangers lost another one goal game, this time by a final of 4-3. For me, it's tough to feign any real anger about this loss. I'm not upset. I'm not disappointed. My mood right now is kind of "aw shucks." If there's anything that bothers me, it's just the fact that "KREIDER'S HAT-TRICK PROPELS RANGERS TO VICTORY" isn't tonight's headline. Instead, we're back to talking about Zibanejad's failures.
Make no bones about it – the Rangers should've and could've won this game tonight. They had a ton of chances to do so. However, for a young team missing their best player in Artemi Panarin, one of their best forwards in Kaapo Kakko, both of their second pair defensemen in Jacob Trouba & K'Andre Miller, in addition to their third line center still out in Filip Chytil; well to me, it's tough to go bonkers about a one goal loss to a Stanley Cup contender. And if you want, you can also throw Tony DeAngelo's name into the mix too, as the Rangers are still paying Tony DeAngelo not to play hockey and haven't received parts in return for him yet.
After tonight's game and before starting this very blog you're reading now, I perused around Rangers Twitter and Ranger fan Facebook groups. The ignorance I saw in both of these places blindsided and baffled me. Maybe it's me, but after this game, I had a much differing opinion than the opinions I saw out of many Ranger fans. And while I try to respect everyone's opinion equally, some of the stuff I saw was downright crazy. Let me now explain why, as I make my case.
No joke, as I read what some fans had to say after this 4-3 loss, some of these people were blaming David Quinn, Libor Hajek, Anthony Bitetto, Brendan Smith and Jack Johnson. While I'll admit the defensemen weren't as good as they have been, you had Smith and Johnson as your second pair defensemen. That's a far cry from the regular second pairing of Miller and Trouba. Needless to say, there's just a major disparity of talent among these two pairings and this wasn't anything DQ could avoid tonight.  After all, it's not like DQ wanted Smith and Johnson over Trouba and Miller!
While the topic of David Quinn and how he doles out his minutes remains a constant topic of conversation in Rangerstown, USA; as mentioned during last night's blog, DQ told everyone these were unprecedented times and how he'd have to shuffle his line-up all game. It's not like DQ had all his weapons to work with. In addition with the way some of these fat cats have been playing recently, DQ pretty much entered this gun fight with a plastic knife. And even with that flimsy knife in his hand, his team almost edged out the Flyers.
Before moving on into everything else, since I just mentioned last night's blog, let me get the PLUGS segment out of the way here. After that, I'll get into everything else and much more. After all, last night's blog covered more of the Panarin stuff and all of the Rangers news heading into tonight's tilt with the Flyers.
Here are my most recent manifestos, in case you missed them:
---
---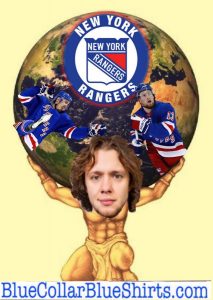 ---
---
---
If you're just looking for the quick and dirty, when trying to explain tonight's loss, it's simple – Mika Zibanejad can't score a goal. Seriously, his shooting percentage rivals the blood alcohol concentration (BAC) of a "two beer queer". And please, save me your -ism's and ist's – the phrase "two beer queer", since it rhymes, has been around forever. Of note, nothing will "cancel" me! I'm here for the long haul!
No joke, just five days ago, former baseball player Johnny Damon was popped for a DUI charge, as Damon was caught driving around with a BAC of .20. I think Damon's BAC was higher than Zibanejad's shooting percentage this season. Hell, as I write these words, my own BAC level is higher than Zibanejad's shooting percentage!
And when talking about BAC levels and celebrities, Billy Joel, you know, the guy who has a banner in the rafters of M$G, while guys like Frank Boucher, Ching Johnson, the Cook Brothers, Emile Francis, Lester Patrick and others remain ignored; well I'm sure that Billy Joel's BAC, from his most recent DWI, also triples Zibanejad's shooting percentage this season!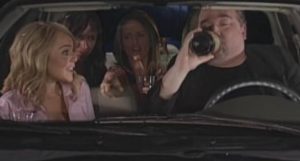 An anti drinking and driving PSA on this blog! What's next, a Zibanejad goal?
(And I don't pretend to be a paragon of virtue here. If you're over the age of 30, there's probably a good chance you were over the legal limit and drove at least once in your life. I can admit that I did so once when I was 18. (I did take the precaution and had someone follow me, but that doesn't make it any better.) For you guys who have done so, nothing probably happened and you got home safe. I've just heard too many horror stories over the years to do so myself after doing so once 20+ years ago. Plus, a DWI would hurt both my personal and professional life. Back in the day, until the formation of M.A.D.D., people used to drink and drive all the time. It was just the way things were then. Now, here in 2021, if you're getting whacked and driving, you're a douchebag, especially since Uber is cheap. If you can afford to gas up your car and/or afford drinks, you can afford an Uber.)
What were we talking about again? Oh yeah, this Rangers loss!
While other fans are quick to play the blame game with DQ and the defense, I'm giving all of these guys a pass tonight. To me, here were your biggest offenders, when trying to describe this loss:
— Mika Zibanejad, despite his two assists, just can't score. I've made jokes and one-liners about Zibanejad all season. I'm out of material. He's been that bad. Yes, Zibanejad has been great defensively and on the penalty kill, but for all the talk about "he'll snap out of it"; well that now seems as likely as me scoring a goal for the Rangers this season. And if you ever saw me play hockey, you'll know how dire and drastic that is! (If my dad is reading this, he's probably roaring with laughter, while recalling the days of my horrible hockey career and team. He usually reminds me about how bad my team was at least once a month and I don't blame him! And I haven't played organized hockey in 20+ years! The poor parents who had to suffer through those games!)
— Pavel Buchnevich refuses to shoot. Down one goal and with eight seconds remaining, for the fourth time this season, rather than shooting the puck with just seconds left on the clock, Buchnevich once again did his usual act where he sends the puck cross ice, which always results in a turnover. During most of these plays, Buchnevich tries to will/thread a puck against the opponent's defense. It NEVER works, but hell, Buchnevich will keep on doing this.
— CZAR IGOR, for as much as I am a fan of his and have been hyping him up on this site for over four years now, has been inconsistent. If you look at EVERY game that Igor has played all season, it's the same story – Igor makes a bunch of phenomenal and breath-taking saves, but he's always good for one or two bad goals allowed per game. That's what happened tonight. Had Igor made that "EXTRA SAVE" or really, didn't give up a crap goal for a 60 minute stretch, maybe the Rangers win this game. At the very least, they would get a point out of it.
— Good Strome/Bad Strome was back tonight. For all of the good stuff Strome does, there's always points in the game where Strome plays terrible. Arguably, this was Strome's worst game of the season, as he was just brutal. Whether it were the turnovers, not shooting or giving the Flyers odd-man rushes; Strome's game was severely lacking tonight. And like Igor, I say this as a big fan of Strome. If there's any point here I want to stress here, it's this – I take no joy in losses or seeing guys not playing well. I root for everyone on this team to have great games.
— In a team-wide problem, with the exception of Chris Kreider tonight, everyone takes these 76786869 MPH slap shots from two feet away, where in 100% of all cases, the Rangers shoot wide, the puck ricochets around the boards and it's a turnover. Not only do the Rangers shoot themselves out of scoring chances with these ridiculous shots, these failures lead to goals for the other team. If I was David Quinn, and as the team heads home tonight, I would ask the pilot of the team's plane to say "PUCK ON PADS, PUCK ON PADS, PUCK ON PADS", throughout the flight's duration.
— Lastly, Johnny Brodzinski was horrible tonight. However, I can't really get on him, because he was a last second call-up and just isn't ready. However, if Panarin and Kakko can't go on Friday, if I were the Rangers, I'd either look at another forward to call-up or put Brendan Smith on the fourth line.
So yeah, I'm not going to join the majority and cry about DQ and the defense tonight. And as you read every word on this blog tonight, keep in mind that the Rangers didn't have a full roster here. That said, even without a full boat, the Rangers almost capsized the Flyers tonight.
---
I have written about Artemi Panarin extensively during the last two nights here on this site. I can't lie to you – I'm already sick of this story, I don't care about Russian politics and I just want this story to be put to bed. In other words, I want Panarin back ASAP. However, this is a huge story, so I feel obligated to keep on talking about it, at least until we reach a conclusion.
As I did during the last two blogs on this site, I'm using Russian hockey reporter Slava Malamud and his tweets to explain the latest details of this story. He speaks Russian and knows what goes on in Russia. I don't. The following information all comes from @SlavaMalamud on Twitter: (what an original handle!)
Here is an update on the Panarin situation, from a former KHL player who claims he has spoken with Mikhail Anisin (the player who, as alleged by Nazarov, broke up Panarin's fight with the young woman).
Below is a short summary…https://t.co/X0HEzNbNMs

— Slava Malamud (@SlavaMalamud) February 24, 2021
1) The player speaking is Roman Lyuduchin, who was not Panarin's teammate at the time. He relays his conversation with Anisin, everything that follows is allegedly Anisin's testimony.

2) There was indeed an incident with drunk Vityaz players in Riga following a game in 2011.

3) There was indeed an altercation with one of the local girls who, Anisin allegedly claims were there to pick up players. The altercation was, Anisin claims, entirely verbal. Nobody was punched and there was no criminal case opened at any point.

4) Nazarov, says Lyuduchin, is lying, probably as a revenge for Panarin's politics.

5) At Vityaz, Panarin was Nazarov's favorite (he was indeed given a lot more playing time than is customary for players his age), but when Nazarov landed in Severstal, refused to follow him there.

6) Nazarov, says Lyuduchin, has been angry at Panarin ever since.

7) Lyuduchin says Panarin, whom he calls a decent person, wasn't greatly loved by Vityaz teammates (possibly due to being the coach's favorite), and they once stuck him with a restaurant bill he couldn't afford.

8) Lyuduchin says "the amount of cotton wool in (Nazarov's) head has lately exceeded all limits." Cotton wool is a slang term for excessive, mindless pro-Putin brand of patriotism.

Everything relayed by Lyuduchin is 100% consistent with the kind of person I know Panarin to be and with Nazarov's history of provocative statements I am intimately familiar with. Back when Nazarov first started sounding off in my newspaper, this was his exact MO.

Nazarov (with big contributions from my disgraced ex-colleague Igor Larin) would take a factual situation, embellish it greatly with invective and colorful, completely imaginary, details and present it as a morality tale.

Misrepresenting a verbal altercation into a brutal beating is definitely something Nazarov is capable of. Phrases like "laid her out with one powerful punch" are highly recognizable Larin narrative style.

---
As Wednesday continued, more ex-teammates of Panarin came out, saying that this incident never happened. More importantly, there has not been one woman/female to come out as the alleged victim. There are no police reports. There is no video footage. It's really boiled down to a one-sided "he said" story.
As I said when this story first broke on this site, if this story is true, then what? Are the Rangers really going to cut Panarin over an incident that happened ten years ago, an incident which happened in a different country?
While no one is supporting the idea of men beating women, I do want to say this – 100/100 times, these stories are always worse when you see the video footage. Whether it was the Ray Rice ordeal or some other athlete mixed-up in a crime like this, video proof really shows you how horrific these crimes are. It's one thing to read words and descriptions, it's another to see the act play out on video.
Without video evidence or some sort of testimonial from an alleged victim, in addition to Nazarov's questionable reputation, this will eventually all blow over. All we can hope is that this story blows over sooner than later.
I'll continue to provide updates on this story, a story that I can't wait to see end, during future updates on this site.
---
I ran down both team's line-ups last night, so refer to that blog for the full 411.
The only change made prior to tonight's game, was that K'Andre Miller was added to the NHL's COVID-19 list. Replacing Miller tonight was Jack Johnson.
I know I've said it on several blogs already, but COME ON DOWN FANS AND ENJOY THE WORLD'S MOST COVID INFESTED ARENA!
Obviously, while I'm being an asshole with that previous sentence, my point still remains the same. With now three Rangers on the COVID-19 list (Kakko, Chytil and now Miller) and with league-wide restrictions being suggested to players; M$G and other arenas are telling the fans to come back to these games, where fans aren't being tested at the high standards of the media or the players. As said last night, I feel that re-opening the arenas is one huge lab rat experiment. It's up to each individual fan to decide if they want to be a guinea pig or not. I'm all for personal freedoms and doing what you want as long as it's legal, but all of this stuff feels like pure hypocrisy to me.
Just like the Kakko and Chytil situations, we don't know if Miller has COVID-19 or was just exposed to it. We do know that this second stint of Kakko being on the NHL's COVID-19 list is more serious than the first time around.
Also worth mentioning here? In New York, especially in Nassau County where I live, a new COVID-19 strain has been found. As I said last night, as a commuter to NYC, I have no interest on boarding a LIRR train if I don't have to. I'm happy to booze at home and write these blogs for you!
I saw some fans suggest that Miller lives with Kakko, hence Miller's current status. I am of the belief that this is not true. Furthermore, with Kakko already on the list, if Miller is indeed splitting a place with Kakko, I'm sure that the Rangers would've put Miller up in a hotel and get him away from Kakko.
In other words, I highly doubt that Miller's current designation on the NHL's COVID-19 list has anything to do with Kakko. After all, for whatever you want to say about James Dolan, cheapness is NOT one of his traits. The man will spend every extra penny imaginable, in order to support his team. That's why free agents choose the Rangers and their five-star treatment of players over signing with the Islanders; an Islanders organization that provides as much ritz and glamour to their players as a night out at the Pines Motor Inn.
---
Two more segments and then we'll get into this game review/recap. Up first, the GAMBLING segment:
Season over-under record: 7-8-1

-5.5 is the right line for this game. #nyr are a mess but Igor is playing well. I'm going with the UNDER. pic.twitter.com/4Z7xa6bTFU

— BlueCollarBlueShirts (@NYCTheMiC) February 24, 2021
Well, I got the "NYR are a mess" part right. With seven total goals scored tonight, my over-under record worsens to 7-9-1 on the season. I loved the Kreider hat trick, but I did not enjoy CZAR IGOR giving up a four-spot tonight.
BOX SCORE time.
All of the following information and graphics comes courtesy of ESPN.com:
SCORING:
PENALTIES:
GOALIES:
| | | | | | | | | | | |
| --- | --- | --- | --- | --- | --- | --- | --- | --- | --- | --- |
| SA | GA | SV | SV% | ESSV | PPSV | SHSV | SOSA | SOS | TOI | PIM |
| 39 | 4 | 35 | .897 | 20 | 4 | 11 | 0 | 0 | 58:08 | 0 |
| | | | | | | | | | | |
| --- | --- | --- | --- | --- | --- | --- | --- | --- | --- | --- |
| SA | GA | SV | SV% | ESSV | PPSV | SHSV | SOSA | SOS | TOI | PIM |
| 27 | 3 | 24 | .889 | 16 | 2 | 6 | 0 | 0 | 59:45 | 0 |
TEAM STATS: (Of note: the Rangers face-off issues returned. Mika Zibanejad was the worst offender, winning only two of fourteen face-offs in this game. That's pathetic.)
---
On Tuesday, more than 24 hours before puck drop tonight, I said the following on Twitter:
While I got the Kreider hat trick that I wanted, I didn't get a Rangers blow-out victory. Even worse, with the team needing him to score goals more than ever before, Mika continued his legacy, as he tries to set the world record for most shots on goal without a goal. (And yes, I know he had that fluke ENG last game, but that don't count.)
Oh, and for your consideration, the Rangers have now played 17 games. Mika doesn't have one 5 vs 5 even-strength goal yet. (Mika has one PPG and one ENG this season.) It's hard to imagine him salvaging his season, with less than 40 games left on the schedule.
Seriously, it's at the point where I don't know if Mika would've scored against Steve Valiquette in that game where Vally gave up ten goals. Hell, I don't know if Mika could even score on Vally now, especially whenever Vally does one of his role-playing segments in the studio; you know, those segments where John Gianonne cackles like a hyena throughout.
And I'll say this, for as callous as this may sound, especially after the guy picked up a hat-trick, but really – where was this Chris Kreider all season? It took him until these last few games, to realize that he should crash the net more often? While I'm not expecting a hat trick every night, I'm looking for consistency. If Kreider treated every game like this game, the team might have a winning record and a playoff berth right now. I mean really, after tonight, would it surprise you if Kreider didn't score again until around St. Patrick's Day? (Also of note, because this is a thing now, even if this didn't matter in tonight's game; but Kreider has still yet to draw a penalty this season. Just an FYI for you.)
---
With this being an NBCSN game, we got a night off from the circus and the 7678967867869676796 DRAFTKINGS and FANDUEL ads that routinely plague the MSG Network. It was nice to see ex-Ranger Dominic Moore on the broadcast, even if he did have to talk about the LA Kings!
The only bad thing about tonight's broadcast was a minor gripe, at least for me personally. Rather than getting Kenny Albert and Pierre McGuire, who I thought were excellent together in the first Rangers broadcast on NBCSN this season, we got Brendan Burke and Keith Jones tonight. While they were fine, needless to say, Burke is an Islander guy and Jones is a Flyers guy. I rather a Rangers guy like Albert and someone who just lives, breathes and shits hockey like McGuire.
With that said, we also didn't get Sam Rosen tonight. He'll have to redeem himself later on this season for that NOLAN RYAN call.
As far as the pregame show went, Dominic Moore said Mika Zibanejad is the biggest mystery in New York. Talk about an understatement! Bob McKenzie, who looked like that he wanted to say that the Artemi Panarin story was complete bullshit, gave us an update, where he pretty much made out Andrei Nazarov as being a liar. Also of note, McKenzie pretty much said word-for-word what I said on last night's blog, regarding Lundqvist's status with the Capitals.
Lastly, before getting into the game recap, here's exhibit number 7896786967896967896896 of me being a jinx:
#NYR key to the game – keep Hayes off the score sheet.

— BlueCollarBlueShirts (@NYCTheMiC) February 24, 2021
Of course, Kevin Hayes would go on to score the game winning goal of this game. Ugh.
---
The first few minutes of this game were dominated by the Flyers. After Mika lost his first face-off of the game, the Flyers marched right down to CZAR IGOR, where Nolan "Ryan" Patrick set up Ivan Provorov for what should've been an easy 1-0 goal. Luckily, this play didn't go for a goal. Immediately after, the Flyers had another chance which was denied. Then, in the same opening minute of this game, Shestyorkin would stop the returning Claude Giroux, while all alone in front of CZAR IGOR. This would be Shestyorkin's first of eight saves on Giroux tonight. (Giroux, who didn't score a goal in this game, picked up right where he left off, finishing tonight's contest with three assists.)
In one of the Rangers rare chances in the first period, Strome put a shot on net, which Kreider tried to deflect. Elliott would make the save here, but he did juggle the puck a bit. In hindsight, this play foreshadowed what was to come, as Kreider would crash the net all game. Moving forward, Kreider needs to keep doing this. I want more #KREIDERDIDIT social media postings from my buddy TR Nick A.!
Worth noting here, unlike Sam Rosen and Joe Micheletti, Burke and Jones brought up all the Ranger issues and missing players, including Tony DeAngelo.
After making a big save on Myers, Igor gave up a juicy rebound, which Mika Zibanejad got to first, as he got the puck out of the zone. As I've been saying all season, for as bad as Mika has been offensively, he routinely makes great defensive plays, especially on the PK.
With Johnny Brodzinski in the line-up, it was weird to see a Ranger wearing #76 on the ice again. That said, that number must be cursed, as Brodzinski had a game that all but ensured his future in Hartford. He's just not ready and it showed, as he was a mess all game.
Brodzinski's inexperience and perhaps being overwhelmed a bit here too, appeared just five minutes into the game. During a long Flyers shift, the Rangers fourth line couldn't get the puck nor get the Flyers out of their zone. Eventually, during a Flyers possession in the Rangers zone which featured two shift changes, PDG would get the puck out of the zone. However, with all of the Rangers gassed and rushing to get off the ice, the Rangers took a too many men penalty at the 5:31 mark of the game.
As previously said on this site, David Quinn said to blame him whenever these penalties happen. I always make mention of this whenever these penalties, which occur far too often, take place. That said, for this game, I'm giving him a pass here for two reasons. One, the Rangers line-up was all mix-mashed tonight. Two, the Rangers were coming off a long shift here, hence the confusion and why this penalty occurred.
Serving the Rangers penalty here was Alexis Lafreniere. I should mention this too. I saw many fans crying about Lafreniere's 14:56 minutes of ice time, but when you give the other team 8 power-plays, what do you expect?
During this Rangers PK, Igor would make three saves, denying Hayes, Gostisbehere and Giroux. At this point, the Rangers PK was now 32-33 in their last 9+ games played. Also, Igor was lights out. Of course, right after looking lights out on this PK, Igor gave up a crap goal once the teams returned to even strength
At the 7:48 mark of the period, Erik Gustafsson scored from a bad angle. Again, if this happened rarely, you would blow it off. However, and again, let me stress that I was the first Rangers fan to sing Igor's praises; all of these crap goals allowed are now becoming a trend. It's why Igor is still searching for the first shut-out of his NHL career. 1-0 bad guys.
With 10:32 remaining in the first period, Sean Couturier was boxed for holding Mika Zibanejad. The Rangers were to go on the power-play.
In the fastest power-play goal scored by the Rangers this season, (I know that doesn't say much) just four seconds into the power-play, we had this amazing goal:
And just like that, we're TIED!#NYR | #WNH

📺: NBCSN
💻: https://t.co/An92eVw0gB pic.twitter.com/69cnELoMli

— NHLonNBCSports (@NHLonNBCSports) February 25, 2021
1-1!
On the goal, Ryan Strome wins the face-off, Fox gets the puck, feeds Mika for a one-timer, Mika blasts the shot and Kreider scoops up the rebound and puts it home! And that 7 foot turd on the M$G Networks says that face-offs aren't important! What a dick! (Hi Double G.!)
Really, this was a set play, that only happened because Strome won the face-off. Mika did the right thing and Kreider finished it. At this point in the game, I thought the Rangers had a shot here and was happy to see Mika get his assist.
For the Rangers, this was their third straight game with a power-play goal. However, they wouldn't win this game as they did in the previous two. Even more concerning after tonight, is this stat: in the Panarin era, the Rangers are 0-4 whenever Panarin misses a game.
With the game now tied, Igor, as he would continue to do all game, got "gully" a bit, and would come way out of his net to stop a Flyers attack and get the puck out of his zone. To his credit, Igor was 4-4 during these types of plays, where he wasn't burnt once.
After a bad turnover from Johnson, Smith would try to help his partner out, but the Flyers would maintain the puck. Eventually, Strome would get the puck out of Igor's zone.
With 5:47 remaining in the period, Johnny "Hartford" Brodzinski blatantly slashed Gostisbehere in front of an official. This would put the Flyers on their second power-play of the game.
During this Rangers PK, Mika would get his first of two short-handed breakaway attempts, attempts where it feels like he converted at a 90% success rate last season. As you know, Mika would be stopped here, as he did his backhand shot to nowhere. I think the goalies have this move sniffed out like a drug sniffing dog in Colombia.
Just over a minute into the Flyers power-play, and after Mika failed the Rangers again, the Flyers got the puck, which led to Erik Gustafsson smashing a shot from near the blue line. The puck then took a Flyers bounce, with the puck going to Gostisbehere, who easily disposed of Shestyorkin. 2-1 bad guys, with 4:29 remaining in the first period. Not good.
With 3:40 remaining in the period, Nicolas Aube-Kubel held Libor Hajek, giving the Rangers their second power-play of the game. This was a good power-play, and a power-play that should've produced a goal.
During this power-play the following four things happened:
— Mika Zibanejad made a perfect pass to Blackwell, a Colin Blackwell who was all alone in front of a wide open net. Somehow, as if Elliot's pads had magnets on them, Blackwell pushed the puck right into Elliott, ignoring all of the wide open space in front of him. This 100% should've been a goal.
— Mika had a shot on goal. You know the rest.
— Strome hit iron.
— Buchnevich went wide from two feet away.
So while this power-play didn't produce, the Rangers had four great chances here but couldn't finish.
With under a minute to go, the Flyers saw blood in the water. Igor would have to stop Giroux and Hayes again during this.
At the end of one period, we remained at 2-1, Flyers. In addition the Flyers led the SOG department by a tally of 15-9. The Flyers also had already doubled-up the Rangers at the dot, to a tune of 15-7 as well. Not good.
---
Unfortunately, as we started off the second period, Brendan Burke didn't say, "SECOND PERIOD, WHAT DO YOU LOOK FOR HERE JONESY?"
This second period was wild, where defense was optional and where we had a parade to the penalty box.
After Mika lost another face-off to open a period, the Rangers would eventually get the puck, where Blackwell perfectly fed Strome. Elliott made the denial here, preserving the Flyers one goal lead. At this point in the game, both Blackwell and Strome could've had a goal each.
As the period progressed Johnny "DANCES WITH HARTFORD WOLVES" Brodzinksi made another awful turnover. Igor covered up for him, by stopping Couturier. However, on the play, Smith hooked Couturier, giving the Flyers their third power-play of the game.
At the 4:05 mark of the period, the Flyers power-play converted again, after Farabee made a perfect cross-ice pass through three Rangers, which found the stick of JVR in Igor's paint. Bang. 3-1, just like that. Nothing Igor could do on this one. This goal doesn't happen if Brodzinski doesn't cough up the puck to Couturier.
After another face-off loss, just seconds after JVR's goal, Gauthier high-sticked Hagg. Once again, the orange and black went on their power-play attack.
If there is anything apparent here, it is that the Rangers deeply missed K'Andre Miller on the PK tonight. Had Miller and his long stick (har-har-har) been on the ice during that JVR attempt, I think Miller would've broken it up.
With 1:38 remaining on this power-play, this time Pavel Buchnevich went to the sin bin, after taking a delay of game penalty for hoisting the puck over the glass. Already down two goals, the Rangers PK would be forced to kill 1:38's worth of a Flyers 5 x 3 power-play. To their credit, the Rangers did just that.
During this 1:38 of action, a 1:38 that felt like forever, the Rangers would get a break as the Flyers cleared the puck for the Rangers after a hand pass from Couturier. Igor would make a huge stop on JVR and then Giroux would shoot wide. Johnson would block a huge shot while Strome deflected another shot. Fox would then break up a Flyers two-on-one chance, thus finally thwarting this Flyers power-play.
With 12:29 to go in the period, Lafreniere drew Bunnaman for an interference call. About 30 or so seconds later, Kreider once again picked up a PPG, as you can see here:
The Night of the Power Play Goal. 🎬#NYR back within ONE! 🚨

📺: NBCSN
💻: https://t.co/An92eVw0gB pic.twitter.com/2VW8B2c5mU

— NHLonNBCSports (@NHLonNBCSports) February 25, 2021
3-2, as the Rangers made this a one-goal game again.
Once again, Mika Zibanejad finds Kreider for a PPG! All three of Kreider's goals tonight were scored in the paint, which shows you that this dude needs to crash the net and screen the goalie on every freaking shift.
It was also at this point in the game where I started wondering about the headlines I could use for tonight's blog. I really thought the Rangers were going to win this game and I was really hoping to write a blog praising the fat cats. And let's face it, and I'll put this in bold print since this is true –  if the Rangers won tonight, we would be raving about Mika's two assists rather than talking about his zero goals.
The Rangers would have a bunch of chances to tie this game after Kreider's second PPG. Lafreniere and Smith were all over Elliott, but Elliott came up big. Right after this, Ryan Strome had the absolute worst shift of his career. Here's the recap:
— Strome receives the puck, and while all alone, instead of shooting, turned over the puck with a pass to nowhere.
— After the Strome turnover, the Flyers would then go on a three vs two odd-man rush, which Lindgren broke up and saved Strome's ass.
— Strome would get the puck again, where he turned the puck over again! The Flyers then went on a two vs zero break, only for Adam Fox to catch up, where Fox broke up this Flyers scoring opportunity.
In other words, in the span of 30 seconds, Strome could've scored a goal, but his two turnovers led to two prime chances for the Flyers. Luckily for Strome and the Rangers, the Flyers didn't do so. Thank you Fox and Lindgren!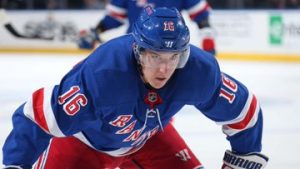 With 8:10 remaining in the period, the Rangers top four players were Kreider, Mika, Lindgren and Fox. Once again, had the Rangers won, we are celebrating Chris Kreider and talking about Mika getting on the score sheet again. Losing has a funny way of killing positive headlines.
After Mika was stopped again, Brett Howden would get the puck, where despite being inches away from Elliott, slammed the puck wide, resulting in a turnover and an eventual save, after a Flyers odd-man rush, for Shestyorkin on the other end.
On the next Rangers possession, Lemieux would shoot wide too. This was another turnover, where Giroux just missed, after Lemieux's bomb to the boards.
With the Rangers shooting wide and then chasing the Flyers on the other end of the ice, the Flyers finally made the Rangers pay, when Kevin Hayes scored on a shot that Igor should've had. Hayes kind of slowly made his way to Igor, took a shot from a horrible angle, and somehow picked a spot that Igor left open. This is not the "Blame Igor" blog, but yeah, he did let up two goals that he probably shouldn't have, especially when you consider the great saves he did make in this game.
4-2 bad guys, with 5:23 remaining in the second period.
A minute later, Lindgren took the Rangers second delay of game penalty, after tossing a puck over the glass. Both of these NYR delay of game penalties were unnecessary.
The Flyers would have the puck for 70 seconds here, before Howden was able to force a clear. The Rangers would eventually get their kill.
Now with 1:31 remaining, Carsen Twarynski boarded Lindgren. This was a nasty hit that other refs may have called a five minute major on. Instead, it was just a normal two minute boarding call against the Flyers.
During this power-play, Zibanejad would get one-on-one with Elliott. You know the rest.
After two periods, the score remained 4-2 Flyers. The Flyers were up 29-19 in SOG and were destroying the Rangers at the dot, 26-15.
---
With 29 seconds remaining on the Rangers power-play, the Flyers would get the kill here, as we started off the third period.
Lafreniere, who had a scoring chance early, would make a blind drop pass to Buchnevich, which went nowhere. These guys were down two goals, and outside of Kreider, everyone decided to fancy pass themselves out of scoring chances.
After a big hit by Smith on Morin, Smith put a SOG. Morin looked for some retribution, but the refs broke it up before any fisticuffs could go down.
3:27 into the period, Kreider got his hat-trick:
HAT TRICK CHRIS KREIDER! 🎩🎩🎩 #NYR

NBC Sports | @Enterprise NHL Hat Trick Challenge pic.twitter.com/xV8K19t7Ld

— NHLonNBCSports (@NHLonNBCSports) February 25, 2021
4-3!
On the goal, Blackwell stays with the puck, muscles his way down the ice and feeds Kreider for the easy goal. With over 16 minutes to go, I really thought the Rangers were going to rally back. Alas, it wasn't meant to be.
With Fox getting two cracks at Elliott, the Rangers started to swarm, but to Elliott's credit, he absolutely robbed Fox from tying this game.
After a bad Hajek turnover, CZAR IGOR would make a breakaway save on Raffl. With 10:45 to go, Farabee was boxed for hooking Blackwell. The Rangers power-play, a power-play that has never looked better this season, were back to work.
The Flyers would get their kill here, as this Rangers power-play was their worst power-play of the game. Immediately after killing this Rangers power-play, Farabee would go on a breakaway, where yet again, Igor made a huge save on a Flyers breakaway opportunity. Again, Igor made all these huge saves, but the crap goals allowed hurt him.
For some reason, despite Kreider being hot, the bottom six kept getting their minutes, despite all these turnovers and gaffes. With the Rangers fourth line on the ice, Giroux would hit a post.
Giroux would then go on another breakaway, where with 5:38 remaining, Bitetto hooked Giroux as Giroux made his way to Igor. While the Rangers PK would do their job here, they burned two minutes off of the clock, while late in the game and needing a goal.
Oh, during this Rangers PK, once again Mika had a short-handed breakaway scoring chance. Backhand flip and you know the rest. Yawn.
With two minutes remaining in regulation, CZAR IGOR left the ice as Mika shot wide again. Raffl would get the puck, where on two different chances, he missed the Rangers empty net.
With eight seconds to go, Buchnevich decided not to shoot, opting to employ his patented cross-ice pass to nowhere move. Disgusting.
With four seconds left, the Rangers had too many men on the ice again. At this point in the game, and with Buchnevich already having blown a chance to score, this too many men on the ice penalty didn't matter.
4-3 Flyers, your final from cheesesteak city.
---
After the loss, DQ basically used the word "sloppy" a lot, when describing this loss. He also praised the team's effort. And let me reiterate this point here – if you're one of the members of the "FIRE DQ" crew, give it a rest for one night. The Rangers had a lot going against them in this game and they still almost won anyway. I'd even say that this loss "looked better" than the win the Rangers had over this team a week ago. That said, I'm also against the principle of "moral victories" too. I just take this loss for what it is.
In addition, while I don't want to go down the hypothetical road, you'd have to think that if Panarin played in this game, the Rangers would've at least earned a point in the standings tonight; if not win and get the two points out-right. After all, look at Giroux, who made his return in this game, a Giroux who picked up three assists.
To me, I can't get on this team for losing tonight, even if I'm hanging some blame on Mika here. That said, the Flyers were down five starters tonight too. The Rangers could've won this game, but penalties and failing at scoring doomed them.
It should be mentioned, that with this hat trick, of Kreider's three career hat tricks, two have been recorded against his former head coaches. Kreider's most famous hat trick took place back in 2013, in a game where his nemesis John Tortorella was behind Vancouver's bench, in Tortorella's first game back at M$G since being fired by Glen Sather and Henrik Lundqvist.
As far as the line-up goes, that remains to be determined moving forward, due to three players on the COVID-19 list. That said, I wouldn't expect Brodzinski back at all.
If you haven't already, subscribe to this blog for the next update:
---
Up next, the Rangers host the Bruins on Friday night, in a game where fans will be in the arena. This may not be the best game for the Rangers to welcome fans back to. I will do cartwheels if the Rangers find a way to beat the Bruins on Friday night.
I might be back tomorrow, recapping Ron Duguay's "Up in the Blue Seats" podcast and talking about whatever other news that's going on in Rangerstown, USA.
Until then, and as always here, thanks for reading and…
LET'S GO RANGERS!
Sean McCaffrey
BULLSMC@aol.com
@NYCTHEMIC on Tweeter
Follow the BlueCollarBlueShirts.com Facebook Group by clicking this link: https://www.facebook.com/groups/1564026407193056/