"I'm not paying attention to the opponent when we are evaluating our team, I'm just disappointed in some of the things that went on from our end tonight, a drop off in a lot of areas. Just not good enough." – David Quinn, on 2/16/21, moments after the Rangers fourth straight loss of this current losing streak. Of note, after the Rangers loss on Friday night against Boston, David Quinn practically threw a parade for Brad Marchand, where it seemed like DQ was volunteering to be Marchand's cuckold.
"They flat out wanted it more. It's unacceptable. I know I sound like a broken record at this point." – Chris Kreider, also on 2/16/21, who had one shot on goal in this game, barely screened Devils goalie Mackenzie Blackwood and didn't make one power move to the net all game.

"We are lacking desperation." – Mika Zibanejad, again on 2/16/21, after the Rangers 5-2 loss to the Devils and in another game where "Mental Mika" continued his "No Score Tour". (Coming to an arena near you!)
---
Greetings and salutations everyone and welcome to another blog here on BlueCollarBlueShirts.com. Absolutely Father Finkin' pathetic! Inexcusable! Unacceptable!
On Tuesday night, after having three days off, the Rangers hosted the New Jersey Devils, a Devils team that has been severely ravaged by COVID-19. Prior to tonight's game, the Devils hadn't played a game at all this month, with their last game taking place on 1/31 – which was a 5-3 victory over the Sabres for the red and black attack.
Going into this game, the Devils first game in 16 days; the Devils, who are also in the middle of a rebuild themselves, were missing two of their top centers and one of their top pair defensemen. As a result, the Devils had to skate some AHL talent tonight. Despite the coronavirus, despite the injuries and despite all the time off, on Tuesday night at M$G, the Devils, with familiar face Lindy Ruff behind their bench, stuck a pitchfork right up the ass of David Quinn and his fat cat Rangers, knocking off the Blueshirts by a final of 5-2. It's hard to envision things getting any worse for the Rangers, but here we are.
Without question, this was the worst loss of the season. This was worse than the 4-0 home opener loss to the Islanders. This was worse than being shut-out three times this season. The Rangers are now a pathetic 4-7-3 this season. Despite some heart-breakers along the way here, due to the team being 1-4-3 in one-goal games this season; nothing and I mean NOTHING, was worse than this loss to the Devils.
I'll get more into the walking wounded Rangers as I get further into this blog, but yes, the Rangers were missing Artemi Panarin and K'Andre Miller tonight. However, all great hockey (and teams in other sports) always have the "NEXT MAN UP" mentality. Instead, behind "Mental Mika", the Rangers were more embarrassing tonight than a bride who sharted in her white dress. (What a visual, especially for any bridesmaid who has had to stand behind a bride-to-be and carry the rear of a bride's dress.) In this game, not only did the Rangers shart themselves, the Devils picked up the dress of the soft Blueshirts and took their dignity away, as if the Devils were trying to replicate the Gimp scene from "Pulp Fiction".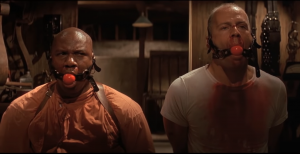 I have always said on this site that I hate using the "MUST-WIN" phrase, unless it's mathematically applicable. After all, even with the odds of a scenario of the Rangers ripping off a win streak being worse odds than me or you winning the power-ball and Mega Millions on the same day; as of 2/16/21, the Rangers haven't been eliminated from the playoffs. Of course, missing the playoffs this season is now looking like the inevitable.
At 4-7-3 and possessing the worst winning percentage in the Mass Mutual, My Shiney Hiney, Bluechew, Sam Rosen's Toupee, Geico, Granny Panties East Division; the Rangers don't look good at all, as we are now at the 25% mark of the season. This team has derailed. Heck, you can even say that the Rangers train hasn't even left the station.
I don't care what anyone's expectations were. This was a game that the Rangers simply couldn't ill-afford to lose. The Rangers had every advantage in the world going into this game, but by the time the final horn went off, the Rangers, once again, still found themselves looking like the remnants of the bottom of a porto-potty.
Kreider, in his post-game interview tonight, alluded to what I've been saying the whole way on this site during this season – the team has been nothing but one step forward and two HUGE steps back. Just when you think the team is turning a corner, the team runs face-first into a wall.
---
To make another tip of the hat to the art of defecation; this game, and the post-game interviews that followed it, were the SAME OLD SHIT. It drives me nuts.
For whatever reason, this team just can't get it going. I understand that you had a bunch of players who had career years last year, in guys like Zibanejad, Panarin, Kreider, Strome, DeAngelo and others; but the fat cats aren't even coming close to sniffing the numbers they hit last year. I can understand slight regression. I don't understand everyone falling off a cliff. While Panarin didn't play in this game, do you think it would've mattered? If Panarin played, maybe the Rangers only lose 5-3? 5-4?
Again, this is all broken record stuff. The fat cats do nothing, while the bottom six and young guns carry the team. Colin Blackwell, who has played in six games this season, as compared to the fourteen games Zibanejad has played in this season; scored his second goal of the season tonight. That's twice as many goals as Zibanejad has and in less than half the time. When Kevin Rooney is the fifth best goal scorer on the team, (and nothing against him) you know you have problems. Hell, Filip Chytil, who is still out and has only played in five games this season, also has twice as many goals as Zibanejad. And let's not forget about Jacob Trouba, the $8M man, who is sitting on a goose egg in the goal scoring department this season. Yet, some jackals will lead you to believe that Tony DeAngelo is a problem child and was hurting this team.
---
I don't want to do another long-winded diatribe on Tony DeAngelo; but really, I'll take Tony DeAngelo, his potty mouth, his bad-temper and his "I HATE LOSING" attitude, over any of the stuff I've seen out of the fat cats this season. I'll take Tony DeAngelo on my team than David Quinn as my head coach too.
While I'm not on the "FIRE DQ" bandwagon, I also wouldn't miss DQ if he were fired. And as my buddy Al "SMD" D. always says – "if DQ were to be fired, would any other team in the league be jumping to hire him?" I think that is a great point by Mr. Al D. (For those wondering, I no longer include reader/fans last names, unless asked, due to Google searches and stuff of that ilk.)
As stated previously, the Rangers are currently resigned to losing. They are accepting of losing. Losing doesn't seem to bother them. Once you get to that point, the coach may have lost the team. In addition, you can say all you want and say it until the cows come home, about how you were expecting a development year out of the Rangers this season. That's fine, but are the young guns that are presently carrying the team. If the Rangers got any ounce of production out of their fat cats, (Panarin is the exception) it's most likely that the team would have a winning record right now.
I know I said it before, but really, it's the story of the season – DEVELOPMENT has not been an issue. After all, Kaapo Kakko, Adam Fox, Ryan Lindgren and K'Andre Miller (and not necessarily in that order) have been the best Rangers this season. If you look further down the list, guys like Brendan Lemieux, Kevin Rooney, Colin Blackwell, Anthony Bitetto, Libor Hajek and Philipp Di Giuseppe have been solid too.
This isn't a case of the young talent trying to catch up to the caviar eating talent. When you look at the Rangers futility this season, you're talking Mika Zibanejad, Chris Kreider and Jacob Trouba. You're also talking David Quinn, who perhaps has created a bad environment with his acceptance of losing and with the DeAngelo incident, an incident which puts people on eggshells. (In a previous interview, Kaapo Kakko said as much, when talking about playing in fear of being benched. Had DQ not pulled his power-move on DeAngelo, the Georgiev incident would've never happened. Credit: Steve Voogel for providing me with that transcript of that Kakko interview.)
Say what you want about DeAngelo, (who I've been championing a return of on this site) but if I were a player, I'd rather go to war with that guy than any of these other fat cats. That dude HATES HATES HATES losing. I don't get the same vibe from these other fat cats, who all seem happy to just lick their paws and meow in every post-game interview. Hell, the fat cats look DECLAWED!
And if you really look at this team and the way DQ disciplines his players, it's always Lemieux and DeAngelo who were always punished for having some snarl and for getting pissed off. Conversely, Jacob Trouba, Mika Zibanejad and Chris Kreider have taken 786786789678969 stupid penalties combined this season, including offensive zone penalties, and the playing time of these fat cats are never in any sort of peril. They should wear a ski mask to the bank when they cash their checks.
---
If you can't tell already, I am furious about this Rangers loss. In fact, I was so enraged after this loss, that I didn't start doing this blog until two hours after the game, as I wanted to calm down a bit and take a nap. (I didn't want to write from a state of negative emotion.) However, the anger still lives on and as I always say, writing these blogs is my way of venting! I'm happy to share my venting with you!
Speaking of these blogs, it's now time for the PLUGS segment. (For you regular readers, keep on scrolling until you see the picture of David Quinn below!)
Here are my last few blogs in case you missed them:
---
---
---
---
---
Let's get all the news and notes out of the way first, as I attempt to simmer down, and then get into this disgusting and pathetic loss.
First up, on Monday, the Rangers returned to practice where the following was announced:
David Quinn announced that CZAR IGOR is now his number one goalie and would be taking this start against the Devils. Of course, that grand proclamation of rotating goalies has now been thrown out the window, like most of the junk David Quinn says. In fact, how many times does David Quinn use the word "SWAGGER" during his meetings with the media? It's at the point where DQ says the word "swagger" as much as Micheletti says the word "FABULOUS", or as many times as Sam Rosen calls out the wrong last name of a player.
Speaking of Rosen, we all love Sam Rosen and he's been an institution for this team for so long. However, especially after listening to Rosen call this game tonight, Rosen has to have some form of dementia and/or senility. It's like listening to your grandfather tell stories at the nursing home, as he sits in a diaper and takes a Valiquette inside of that diaper. No joke, Rosen couldn't keep track of Colin Blackwell and Mackenzie Blackwood all night. There were even times where Rosen would scream Blackwood or Blackwell when talking about Brett Howden, Pavel Buchnevich, Miles Wood and about 10 other players. We love ya Sam, but it's time to accept reality and let Kenny Albert become the next voice of Rangers hockey. Rosen is, and will always be, a legendary Hall of Famer, but I rather see him bow out gracefully, than sound like a confused old man trying to figure out an Amazon Firestick during every game. "Oh Joe, how do I get NETFLIX on this thing, Joe!?!?"
When it comes to CZAR IGOR, who as I said a few blogs ago, is starting to have a season that resembles Jacob DeGrom; I had no problem with him starting tonight. It was the right move, but once again, the Rangers offense did Igor no favors and unlike the past few games, the defense in front of him fell apart too. That said, Igor wasn't as good as he's recently been in this particular game.
In other news, at around noon on Tuesday, the Rangers announced the following:
While not having the team's best player, and one of the team's top three defensemen in the line-up, I still believe that the Rangers should've had won this game. After all, the Rangers are paying a lot of money to their fat cats. As I said in the NYR/Bruins game recap blog, when a guy like Panarin goes down, it's up to Kreider, Mika and Trouba to step up. Fat chance of that tonight. Plus, with the Devils having all of their issues, this should've been a perfect game for the Rangers to get a bounce back victory in. Instead, watching this game, especially in the third period, it felt like watching the stock market crash of 1929. Fortunately, unlike the people who suffered through the Great Depression nearly 100 years ago; at least we don't have prohibition laws in effect, because this team will make you hit the bottle. <HIC, BURP, HIC!> I'm one of them!
With the injuries to Miller and Panarin, we had this line-up tonight:
A few more news and notes, before getting into the game recap portion of this blog.
---
Speaking of Rangers defensemen, remember that Neal Pionk guy? You know, the guy the Rangers traded to land Jake "The Mistake" Trouba? How about this article from Sportsnet: https://www.sportsnet.ca/nhl/article/pionk-flies-radar-jets-amazing-play-drawing-attention/
If I've said it once, I've said it a thousand times – if there's any black mark on Jeff Gorton's resume as GM of the New York Rangers, it are the contracts and his assessment of defensemen. For every Adam Fox, K'Andre Miller and Ryan Lindgren; there's also a Brendan Smith, Brady Skjei, Kevin Shattenkirk and now Jacob Trouba. (You can also throw Tony DeAngelo into this too.)
We also have some scheduling changes to talk about.
As of right now, the Rangers next game, which is scheduled for 2/18, and in Philadelphia against the Flyers, is still on. As talked about previously, Philly has had their own issues with the coronavirus. However, the Rangers schedule for this weekend, which was supposed to feature a pair of back-to-back games in Washington, and both with 7PM start times, has been altered.
You can read about all of the recent NHL schedule changes here: https://media.nhl.com/public/news/14667
However, since this is a site that covers the Rangers, I'm only going to talk about the Rangers schedule changes, which are:
— Rangers at Capitals, originally scheduled for 7 p.m. on Saturday February 20th, is now scheduled for 12:30 p.m. Of note, I absolutely hate these early afternoon games, especially as someone who is a night owl.

— Rangers at Capitals, originally scheduled for February 21st, is now scheduled for March 20th at 7 p.m. Flyers at Rangers, originally scheduled for February 14th, will be announced at later date.
Of note, since I've been talking about this for the last week, as of right now, the Flyers vs Bruins game at Lake Tahoe is still on. However, with these schedule changes, the Rangers are now free to play in that game, (scheduled for Sunday 2/21) should the Flyers be unable to. If the Rangers fill-in for the Flyers here, I'll have a new blog update about that.
---
Prior to tonight's game, the Rangers and M$G released a FAQ and what to expect if you want to attend Ranger games this year. To read up on all of the protocol, check out this link: https://www.msg.com/reopening-faq?cmp=web_nyr_msg-reopen-faq_DL
Again, the hypocrisy here is outstanding. As the NHL tightens league-wide protocols, and tells their players to limit their travels to only from their homes to games and to practices; the league is now telling fans to come on down. Lots of mixed messages here.
While we all root for the Rangers, even if there weren't any COVID-19 protocols, would you really want to spend a ton of money to see this output every night? We'll see how this plays out, but if the Rangers continue to lose and if they aren't able to reach 10% capacity, this may not bode well for Mr. Quinn. As the great Costa L. says on "The Blueshirt Underground Show" – it's all about the money!
Also of note, not mentioned in the FAQ provided by the Rangers? The bathroom situation. While the arena will only be at 10% capacity, will you have to take a number, as if you were at a bakery, to secure your place in line, in order to piss out a $20 beer? Fun times ahead! (Don't forget your $5 official NYR beer koozy either!)
GAMBLING SEGMENT time. Here's what I said before the game:
Season over/under record: 6-6-1

Under has hit in 8 of the last 9 #nyr games. Rangers PP stinks. Rangers are also without their best player (Panarin) and a top 3 defenseman (Miller). Despite the low line of -5.5, gotta play the trend – I'm taking the UNDER. pic.twitter.com/ArIKzsBRcd

— BlueCollarBlueShirts (@NYCTheMiC) February 16, 2021
Just like the Rangers, I lose tonight too. My record now drops to 6-7-1 on the season. Five goals allowed to the effin' Devils! Of note, with this game included, the under has hit in the last eight of ten games played.
Finally, as we hit our last segment before the game recap/review portion of the blog – the BOX SCORE segment!
The following information and graphics come courtesy of ESPN.com.
SCORING:
PENALTIES:
GOALIES:
| | | | | | | | | | | |
| --- | --- | --- | --- | --- | --- | --- | --- | --- | --- | --- |
| SA | GA | SV | SV% | ESSV | PPSV | SHSV | SOSA | SOS | TOI | PIM |
| 36 | 4 | 32 | .889 | 32 | 0 | 0 | 0 | 0 | 57:22 | 0 |
| | | | | | | | | | | |
| --- | --- | --- | --- | --- | --- | --- | --- | --- | --- | --- |
| SA | GA | SV | SV% | ESSV | PPSV | SHSV | SOSA | SOS | TOI | PIM |
| 39 | 2 | 37 | .949 | 35 | 2 | 0 | 0 | 0 | 60:00 | 0 |
---
TEAM STATS:
---
The MSG broadcast was almost as bad as the Rangers were tonight. After John Giannone ripped off some bad jokes, as if he was trying to pay homage to Henny Youngman; Steve Vagistat just massacred this pregame show, with all of his useless charts, made-up stats and other crap that had nothing to do with this game. By the end of the game, Vally realized he was a complete asshole, and started talking about stuff on the ice, rather than the stuff on a spreadsheet.
I mean really, tell me how any of these stats help you when watching a game:
None of these stats include coming at the start of a shift, end of shift, back to back games, guys who are hot, guys who are slumping, etc #nyr pic.twitter.com/kboMJvqLkq

— BlueCollarBlueShirts (@NYCTheMiC) February 16, 2021
It's very easy to make up information and stories. Just ask Adam Herman! However, none of Vally's stats ever have any intangibles or variables included in them. Some guys are playing three games in four nights. You have road games, shift changes, injuries, bad ice, crappy officiating and about a million other things that influence a game, yet Vally is presenting his unnecessary bullshit as the end all, be all. It's all nonsense and just a way for Vally to promote his CSA company, something which Vally admitted to on this broadcast.
While I don't wish Vally to get the coronavirus, I wouldn't mind if he was on the COVID-19 list, meaning he was out due to precautions. We all need a break from this ding-bat. If that doesn't happen, I hope NBC starts airing more games from the Rangers.
No joke, during the second intermission of this game, and with the SCORE TIED at 2-2, Vally said the Rangers had an 86% chance to win this game. I'm not making this up – this doofus really said that. What happened next? The Devils scored the next three goals of the game and made quick work of the Rangers. Vally was forced to eat his words and own up to his falsehoods after the game. Too bad he won't disappear for his lies, like Adam Herman.
Here's a stat – Vally's analysis is 100% trash and this broadcast has suffered ever since MSGN moved on from Ron Duguay. And oh, NOT ONE PERSON cares about stories from Vally's legendary 46 game career, as he shared more stories from that career about 90 seconds into this broadcast. Disgusting.
---
After Sam and Joe told us how excited they were about the Devils being back, the weights of the players, the ages of the players, the sperm count of players and everything else; we finally had puck drop, where Mika Zibanejad promptly got beat by Michael McLeod.
Just to show you how much the bottom six have outplayed the top six, how about these REAL stats, which are the face-off stats:
— Mika Zibanejad, 9 wins, 11 losses
— Ryan Strome, 2 wins, 10 losses
— Colin Blackwell, 3 wins, 0 losses
— Kevin Rooney, 11 wins, 2 losses
Things got so out of hand tonight, that David Quinn was forced to put Kevin Rooney at the dot during the latter stages of the third period, in steed of Ryan Strome. Rooney would take the face-off, win it, and then skate to the bench so the more offensively minded Ryan Strome could come on. Needless to say, NOT GOOD!
---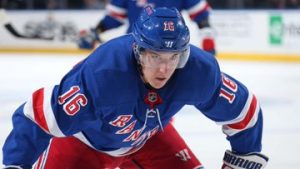 Mackenzie Blackwood, taking the net for the Devils, and after making 47 saves in his last game against the Rangers; once again out-played CZAR IGOR and knocked off the Rangers. With Colin Blackwell in the line-up, Sam & Joe couldn't keep track of Blackwood and Blackwell all game, where you just laughed at the follies of Sam & Joe throughout the broadcast. I'll also give them this out – it's tough to broadcast a hockey game, as everything moves so fast and a lot of these names aren't that easy off the tongue.
29 seconds into the game, Michael McLeod laid a legal, but hard hit on Mika Zibanejad. Perhaps hearing all the criticism of him being Casper Kreider last game, Chris Kreider immediately skated to McLeod and dropped the gloves. This was more of a grabbing and pulling cloth contest than a fight, but it was nice to see Kreider try to jump-start the team. After this "fight" (you know it wasn't much of a fight when I don't share the clip of it) Kreider would go on to put one shot on net for the rest of the game. (Kreider did get an assist later on, but it was more of an assist "credited" to him, rather than Kreider making some sort of an amazing pass.)
And really, I was hoping this Kreider "fight" would inspire the team, but I should know by now to not have those expectations. Foolish me.
The Devils, who have been waiting to play for 16 days now, came flying out the gate in the first period, as they gave CZAR IGOR a workout. During back-to-back NJD possessions, Igor made a save, gave up a juicy rebound, but was able to hold the Devils off the board both times during this point in the game. Igor would then continue his brilliance, as he made a save on Johnsson following a Devils odd-man rush. This was the save of the game at this point.
If there was anything noticeable at the onset of this game, whether it was due to the absence of K'Andre Miller or not; the Rangers defense wasn't as tight and as structured as it had been during these last few games. The Devils were in "KOBE" mode in this first period, shooting the puck from all angles, as Igor had to scramble all around. Igor, with some help from Ryan Lindgren, would then stop Palmieri from his doorstep.
For fans looking for the silver lining, eight minutes into the period, it was the Rangers goalie, and not the opposing goalie, that was lights out and the MVP of the game. Unfortunately, that statement wouldn't remain true by the time this game was over.
As has been the case recently, Sam and Joe were praising the opposition, this time in Devil players, like Miles Wood, repeatedly. It felt like Sam & Joe were calling this game on behalf of the Devils.
Once we hit the ten minute mark of the period, Blackwood stopped the returning Brendan Smith, who at this point, had the best NYR SOG of the game.
Igor, who continued to show off his puck-handling skills in this game, as he gains more confidence; would routinely make passes to center ice when he could. After one great pass, the Rangers turned over the puck, where Igor was forced to stop Johnsson again. On the Rangers possession following this save, Howden would be robbed by Blackwood.
Adam Fox, in one of his rare miscues, then made a cross-ice pass to nowhere, which forced Igor, yet again, to come up with another big save. On the face-off that followed, Bratt would get off two quick shots, as the Devils were out-shooting the Rangers something like 15-5.
Once Igor recorded his 15th save of the period, the Devils adrenaline came down a bit, as they would go shot-less for about a 4-5 minute period of time. Up next was Blackwood's turn, as he denied a Strome-to-Kakko one-timer from the slot and then absolutely stoned Anthony Bitetto. Rosen's response? "GREAT PACE!", as the word "pace" was said about 20 times tonight by Mr. Rosen.
With Kakko now bumped up to the first line, (Blackwell on the first line didn't last long, and the Rangers are lucky they didn't get called for another "too many men on the ice" penalty here, as DQ kept shuffling his lines all game long. That makes you ask – "how are you supposed to create any chemistry?" And yes, I know that's a run-on sentence, but it's late and I'm half into this bottle of Proper 12 right now!) Kakko would have a monster game.
Kakko was arguably the best NYR forward tonight, and from both an offensive and defensive standpoint. That said, Kakko was drafted to be scorer, even if his forced turnover rate is impressive. Like the rest of them, Kakko is having issues with putting pucks past the opposing goaltender.
The Devils, perhaps petering out a bit, started to make the long and lazy homerun passes that the Rangers like to do, which 9/10 times, results in a turnover.
After the Devils hadn't had a shot in a while, CZAR IGOR flashed the cow, making a huge glove save on Jack Hughes, in Igor's final save of the period.
With 44.2 seconds left in the period, Chris Kreider threw a puck over the glass, which resulted in a delay of game penalty. While all of these delay of game penalties are accidental, this was truly accidental, as the puck just took a bad bounce as Kreider was trying to whip the puck off of the glass and out of the zone.
The Rangers would kill the first half of this Devils power-play off.
After twenty minutes, we remained at 0-0, as the Rangers were scoreless again. Shots on goal were 16-9, in favor of the corona Devils. Previously, the Rangers have been limiting the opposition to six SOG a period. Really, with the way this game went, it's so frustrating, because how can the Rangers play these one goal games with the first place Bruins and then get completely outclassed by this crappy Devils team? INEXCUSABLE.
---
After our "SECOND PERIOD, WHAT DO YOU LOOK FOR HERE JOE?" question from old man Sam, the Rangers PK came out to start the period. The PK looked FABULOUS here, as at this point in the game, they generated the best Ranger chances at Blackwood. Howden would be denied by Blackwood. Mika Zibanejad, who is trying to set an NHL record for most shots on net without a goal, would be stopped twice. It's amazing how Mika has gone from hero to zero this season. I can't recall a goal scorer dropping off like this in some time, and that includes Rick Nash.
In addition, for all the people who talked shit about Rick Nash, Nash was never as snake-bitten or as bad as Mika Zibanejad is right now. (Nash never took the bad penalties that Zibanejad frequently takes.)
Of note, as a result of this kill, the Rangers PK was now 22-22 in their last six games played. That streak would soon be broken.
In a flip-flop of the first period, the Rangers were the hotter team during the beginning of this second period. PDG would be stopped from Blackwood's doorstep. Gauthier would get a good shot on net, where Lemieux sent the rebound just high. Not even four minutes into the period, the Rangers were out-shooting the Devils, 6-0, and that was with the Devils 1:16 of PP time included.
Micheletti, who is usually on point when it comes to names and places, said that Kenny Albert was calling this game for the Rangers tonight. Of course, while we all wished that, Albert was filling in for the Devils broadcast tonight, as the Devils play-by-play man, in Steve C., was on the COVID list. Maybe Steve can say hi to another Steve for me!
As the Rangers attack continued, Blackwood would deny a Buchnevich one-timer. Then, while in the Devils zone, at the 6:37 mark of the period, Mika Zibanejad took a STUPID penalty, when he blatantly elbowed Nathan Bastian right in the face. The Devils would get another power-play here, and really, with the Rangers having the momentum and just buzzing here, this was a horrendous penalty to take, especially when you consider it was during a Rangers attack.
On the Devils power-play, the Devils just passed the puck around for a solid minute. At the exact one minute mark of the power-play, Pavel Zacha blasted a puck and cleanly beat CZAR IGOR. It's tough to blame goalies for PPG's allowed, but I thought Igor should've had this one. Truth be told, I don't even think he saw it coming. 1-0 bad guys.
It should be reiterated here, that not only is Mika not scoring goals, he's now taking bad penalties, a bad penalty here that set up a Devils PPG.
After another Zibanejad shot which padded Blackwood's save total, Chris Kreider started taking face-offs, where he impressively finished 4-1 at the dot. At least Kreider has that going for him. At this point, and with the Rangers losing every game imaginable, would it be the worst thing if CK20 was the number 1 center for one game? After all, he does win face-offs!
With the Devils looking a bit better at this point in the game, I had another reverse jinx moment on Twitter:
I hate this feeling – whenever the Rangers get in a hole, you just feel like that the game is over. If Devils make this 2-0, you know this game is over. #NYR

— BlueCollarBlueShirts (@NYCTheMiC) February 17, 2021
Not even 20 seconds after tweeting that out, this happened:
Blackwell better than Blackwood. WHAT A SHOT! pic.twitter.com/IBWHRxeFg5

— Rangers on MSG (@RangersMSGN) February 17, 2021
1-1, a GOAL FOR THE GOOD GUYS, as Blackwell snapped a team-wide 100+ minute scoreless drought.
On the goal, Blackwell makes a play on the defensive end, skated all the way up the ice and finished off on a shot after a great drop pass from Brett Howden. Bottom six goal!
After the Rangers took possession of the puck on the face-off following Blackwell's snipe, Blackwood would leave the net and get out of position. With part of the net empty, Mika Zibanejad somehow found the center of Blackwood's chest with his shot. Incredible. I've never seen anything like this.
Of note, to the credit of Sam and Joe, they outright called each other out and laughed about how they couldn't keep track of Blackwell and Blackwood. At least they are honest. I give them that.
With 3:55 to go in the second period, Blackwood would make a great save after a shot from Kreider, the lone shot Kreider took all game.
After Trouba hit the crossbar, the Devils went to the Rangers end, where Will Butcher flung a puck while near the boards to the right of CZAR IGOR. The puck bounced off Trouba and went into Igor's net. 2-1 bad guys, with 2:46 remaining in the second period. This was a fluke/puck-luck goal, but this is a lesson for the Rangers – GOOD THINGS HAPPEN WHEN YOU SHOOT THE PUCK.
While this was unfortunate and in no way Trouba's fault, if you're keeping track, it was Mika's penalty that led to a Devils PPG and Trouba scoring on his own goalie, when explaining these two goals from the Devils. For Trouba, it was another one of those bang-bang plays, where he could've made the game 2-1, in favor of the Rangers, rather than 2-1, in favor of the Devils. Just saying.
With this game looking like a Rangers loss, Pavel Buchnevich temporarily instilled faith in Ranger fans, when he blasted a puck that bounced between Blackwood's glove and the left side of his body, as the puck went into the net. 2-2, with only 32 seconds left to go in the period! This was a huge momentum goal, in the event that you believe in "momentum".
While this rare goal was nice, Buchnevich's stone cold reaction was better:
Buch happy after that goal

Laf with the unsuccessful attempt at a 🙂 pic.twitter.com/EJYqJWcdYR

— Rangers on MSG (@RangersMSGN) February 17, 2021
Deep-down, Buchnevich had to be happy about scoring his first goal in a month, but he didn't show it.
After two periods, the score was tied at 2-2 and the SOG stat was also tied, at 25 shots a piece. It was during this intermission where Vally made up another bullshit stat that the Rangers had a 86% chance to win this game. As usual, he couldn't have been more wrong.
---
As the third period started, we were told that Trouba was out for the rest of the game, due to an upper body injury. I didn't see what happened, nor did the MSGN give us a replay to show us what happened. As of this writing, there's no update on Trouba, where presumably, we'll find out more tomorrow about his status at around 1PM. And if Trouba is to miss any significant amount of time? I would think it would be time for Gorton to swallow his ego and make a call to a one Mr. DeAngelo of southern New Jersey.
I want to say this – despite the Rangers being down to five defensemen in this period; roster-wise, the Devils were still worse, regarding the talent in this game. In addition, it's not like Trouba scores goals. While he does block shots, you can't blame Trouba's absence here for the three goals that the Devils would score in this period. NO EXCUSES!
After an attempted shake-and-bake from Strome and Kakko that was denied, Igor would then make a save, where he thought he had the puck, despite the puck being loose. Thankfully, Igor stopped the Devils rebound too.
In exhibit number 7867896796789678967896789, regarding the Rangers pass-first, shoot-second mentality, Mika decided not to shoot. Instead, he dished the puck to Fox, where Fox was stunned, and then shot the puck a second too late. In that one second, Blackwood shifted to his left and stopped Fox. Scoring goals is all about timing my friends!
With 12:39 to go in regulation and despite some hairy Devils possessions, the Devils bailed out the Rangers multiple times, due to their affinity for making blind drop passes, where the puck routinely went outside of the blue line.
Kakko, who finished this game with five shots on goal, but it felt like he had ten, continued to play strong. Micheletti and Rosen fawned over Kakko all game and all of that praise was deserved.
PK Subban, the once former stud of this league, and who was barely noticeable at this point in the game, then flung a shot from the point which was blocked. Of course, as soon as I was thinking about Subban stinking out the joint, a reverse jinx would occur for me. My bad.
After Blackwell was robbed of goal #2 and after a missed connection from Zibanejad to Buchnevich; at the 10:43 mark of the period, Subban blasted a puck from the point, where it then hit the stick of Jesper Bratt and then made contact with the stick of Yegor Sharangovich. This double deflection led to a Devils goal. 3-2, bad guys. This flukish, yet smart goal, would be the game winner.
Right after this goal, Igor would have to make a save on another Devils odd-man rush, to preserve this one-goal margin.
With less than six minutes remaining, Nicholas "WHO" Merkley, who wouldn't have even been playing in this game had the Devils been able to dress a full NHL roster; then beat CZAR IGOR cleanly. 4-2 bad guys. The wheels were off. The game was lost. Save me the "it's a rebuild" bullshit. Losing to this Devils team was an open-handed slap to the face of every Rangers fan in Rangerstown, USA.
It's tough to blame CZAR IGOR solely for this loss, but once again, he was outplayed by Blackwood. The Devils did have two fluky goals, but they also scored two goals that Igor should've stopped. And I say that as one of the biggest fans of CZAR IGOR out there. Heck, I coined that nickname!
As we got under the FOXWOODS FINAL FIVE territory, I said this on social media: "I can hear DQ and Kreider's post-game interviews already, "We didn't have enough swagger, we have to learn from this, we'll look at tape tomorrow, we'll be ready next game, I saw some good things tonight, blah blah blah.""
As predicted, that's exactly what happened, although DQ also said this after the game, regarding the team's effort tonight:
"It will be addressed at practice and before practice and after practice and before we play Philly."
"Oooooh, I'm so scared now, ya piece of shit!" (Quote credit: Jack Tors of the "Jerky Boys". Hi Joe C. & Jim S., if you're still here! I know this blog is extremely long!)
Quinn needs a new record to spin, because all of his crap is now played out. I want results, not tough talk.
With 3:14 to go, DQ called a timeout, in preparation of his pulling of Igor and employing a 6 vs 5 extra skater attack. If you thought the Rangers were going to score during all of this, I got a bridge to sell you.
After a few chances that went nowhere, the Devils were just happy to ice the puck, win a face-off and rinse, wash, repeat.
With twenty seconds left, Mikhail Maltsev sailed a puck into the Rangers empty net. 5-2 bad guys, your final. It really feels like it can't get any worse than this, but sadly, I can see Philly ripping into the ass cheeks of the Rangers on Thursday, providing that game is played. Maybe Mika can get a cheesesteak while there, because it's not like he's doing much else. I heard Tony Luke's is lovely this time of year. And really, wouldn't it be fitting for Alain Vigneault and Kevin Hayes to add to the Rangers misery? Who knows, perhaps another loss to this ex-Rangers brethren could force a change behind the Rangers bench.
And let's be clear, even if I'm someone who's not in the "FIRE DQ" camp – this team is not progressing at all. They are regressing, where there is seemingly no light at the end of the tunnel. We all know how optimistic I was going into this season, but this team has now beaten nearly all of the good vibes out of me. I'm not exaggerating at all tonight – this loss was excruciatingly bad. If you're explaining this loss with the "R" word, as in "rebuild", you're ignoring the truth. This was a game, HANDS DOWN, that the Rangers should've and needed to win.
---
Since I started this blog late, it's 4AM as I type this and the MSG Networks have now uploaded DQ's post-game interview. Take a gander for yourself:
No joke, during my various travels going to work and entering NYC; I have seen homeless junkies at Penn Station, with heroin needles hanging out of their arms, while passed out on the steps that lead you to the streets of NYC. These people seem to have a better outlook on life than DQ seems to have about his team right now. At least that's the feeling I got after listening to DQ's post-game interview.
One of my biggest personal contentions about firing David Quinn, is that if the Rangers do so, it feels like it will be a major step backward. I'm not saying that DQ is the savior here or anything like that, but if the Rangers fire DQ, to me, it would be akin to pushing the reset button, as this team tries to learn a new system on-the-fly, and a new system where the team will have something like 24 games in the month of March. (That means limited practices.)
If you're going to dump DQ, outside of Jacques Martin taking over for the rest of the season, who are you going to try to nab? Gerard Gallant, who is rumored to sign with Seattle? If anything, it might be best to play the string out, and hope that John Tortorella moves on from Columbus. I'm admittedly a huge Torts fan, and I'd love to see him tame these fat cats. Of note, JD has had success with Torts before.
If there is anything that gets my nerve these days, it's these same old shit interviews from Kreider and Zibanejad. Actions speak louder than words. I'm sick of their excuses, tears and belly-aching. Score a Father Finkin' goal already and STFU.
At the 25% mark of this season, do you know what we've learned? We've learned why the Rangers didn't name a captain this season. And thankfully, I'm now glad they didn't, because had they named a captain, we'd have the excuses of "the 'C' is wearing <insert player here> down." At this point, I'm all for playing this schedule out and then looking at Fox or Lindgren to succeed McDonagh as the next captain in franchise history. I've had enough of the fat cats.
I'll say this – if all things go according to plan, meaning that the Flyers play the Bruins this Sunday; the Rangers now have two games coming up, with the Flyers on Thursday and the Capitals on Saturday. After the Capitals game, it's another three days off for the Rangers. If the Rangers lose these next two games and with a period of three days off, I can see DQ being thanked for his services, as the Rangers kick him to the curb.
Again, save me the rebuild talk. The Rangers are already three years into this and have a lot of money invested into their fat cats. You can not, and I repeat CAN NOT, accept a losing culture. Right now, I think the team is at that point. That's on DQ.
---
For those looking for more on the Rangers, "The Blueshirt Underground Show" returned this past Monday night. You can watch their two hour show here:
---
If you haven't already, subscribe to this blog for the next update:
---
Unless David Quinn is fired and/or Tony DeAngelo is brought back on Wednesday, I'll be back here on Thursday night.
I've also been told by some of you to plug the comments section of this blog, as I never do so. Feel free to sound off on this game in the comments section, which you can find by scrolling down below.
In addition, and I'm not making this up, I had some of you asking me about starting a Patreon or something like that. I don't want to be forced to fill a quota for Patreon or feel obligated to do something. I don't run ads, spyware or any other junk on this site for a reason, because I think it's silly to make you click through 78678677896786789 links and close 7867869698 boxes, just to read one fan's opinions on the Rangers. However, if you guys are willing to donate to my beer and whisky fund, maybe I can throw a paypal button at the end of these blogs. That said, I feel that's a bit tacky too.
Let me know how you guys, the regular readers, feel about that suggestion. I sometimes just feel uncomfortable asking for anything, because I'm just a fan. (To this day, I'm still blown out of my mind, that reader Marc G. hooked up my father and I, with dead center ice seats for a Rangers game during Thanksgiving Eve of 2019. That is not forgotten and will always be appreciated. And that's no joke!)
Until then, and as always here, thanks for reading and…
LET'S GO RANGERS!
Sean McCaffrey
BULLSMC@aol.com
@NYCTHEMIC on Tweeter
Follow the BlueCollarBlueShirts.com Facebook Group by clicking this link: https://www.facebook.com/groups/1564026407193056/