"Brace yourself for maybe some lines changing quickly because we are trying to figure out what is the best matches we can have. If you were able to sit in the meetings to decide what our lineup was going to look like, we probably changed it 10-11 times. None of this is 100%, locked in stone." – David Quinn, during his Zoom call with the media, which took place after Rangers practice on Tuesday 2/23. Not only will the Rangers be without Artemi Panarin on Wednesday night against Philadelphia, DQ confirmed that Kaapo Kakko will be missing his second consecutive game as well.
"I jokingly said to Lexy (Alexis Lafreniere) that he's seen more, for lack of a better term – drama and just generally wild, unorthodox things happening in the first two months of the season than I've experienced over the last decade or so. I guess that's just the state of the world. It's been strange." – Chris Kreider, also on 2/23, when talking about this roller-coaster season worthy of an Emmy for "Best Drama".
---
Greetings and salutations everyone and welcome to another blog here on BlueCollarBlueShirts.com. "Look Ma – no drama today!"
Over 24 hours after Andrei Nazarov seemingly went into business for himself, the dust is starting to clear, and as originally thought, Nazarov 100% made up this story about Artemi Panarin. For all intents and purposes, Nazarov pretty much pulled this "story" out of thin air. As friend of the blog @yells__ said on Twitter, "Andrei Nazarov is Russian for Adam Herman":
Last night, I gave you all the facts, information, quotes, allegations and my opinions regarding this Nazarov/Panarin story. In tonight's blog, I have all the latest updates for you on this story. And really, that's what all of this is – a "story"; a story which belongs in the fiction section of some Russian book store in Brighton Beach, NY.
After giving you the update and all the latest news on Panarin, I'll also have some other Rangers news and notes for you, as the Rangers get ready to play Philadelphia on Wednesday night. In addition, we're only a few days away from the Rangers opening up in front of fans again too! And hey, remember that Henrik Lunqvist fella? He looks like he's planning a return as well.
However, before getting into everything, here are my last few blogs, including the blog on Panarin, in case you missed them:
---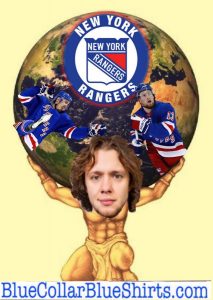 ---
---
---
As you'd expect, no members of the American or Canadian media have been able to contact Andrei Nazarov. When it comes to the Russian media, there hasn't been any retraction printed, nor has anyone backed Nazarov's lies up. This all truly feels like a "National Enquirer" story, as the outlet that ran this story to begin with is a tabloid, just like those trashy magazines you see at a supermarket check-out aisle. You know, the magazines with headlines such as, "KIM KARDASHIAN FINDS ALIENS LIVING IN HER BIG BUTTHOLE; KANYE WEST HAS AN AFFAIR WITH ONE OF THE ALIENS!" "BRUCE JENNER BECOMES A WOMAN; KRIS JENNER IS A CONTROLLING BITCH!" (Oh wait, scratch that second one, that may be a real headline! And for all I know, that first headline could be real too!)
Previously, while Panarin's Ranger teammates, David Quinn and the NYR front office have all stood united behind Artemi Panarin; on Tuesday, some of Panarin's ex-teammates also backed up Panarin and refuted Nazarov's claims.
Former KHL and AHL player, Jon Mirasty, who played with Panarin during the time of this made-up incident, first came to Panarin's defense on Facebook, where he posted the following:
After Mirasty went public with his defense of Panarin, Mollie Walker of the New York Post contacted Mirasty and several other players that played with Panarin. In her article, Walker says she talked to four different players who were with Panarin in 2011, where all four denied that this incident happened. You can read her article here: https://nypost.com/2021/02/23/artemi-panarin-assault-allegations-dont-add-up-ex-teammates/
In addition, with Nazarov's story seemingly on the ropes, no woman has come out, claiming to be the victim in this story from Nazarov. It is still thought that Nazarov made up this story independently and that this wasn't the brainchild of Vladimir Putin or anyone else involved with the Russian government. Simply put, it seems like Nazarov made this up, as a way to get a pat on the back from Putin. It looks like this move has backfired for Nazarov, and rightfully so.
Slava Malamud, a reporter who covers Russian hockey, and whose tweets I shared with you last night, added more information today, from his Twitter account @SalvaMalamud. Malamud said the following on Twitter on Tuesday:
To summize Nazarov's accusations, as they stand today:

1) Consider the source (history of wild lies and unhinged behavior)

2) Consider the motivation (admits to politically charged revenge)

3) No corroborating testimony

4) Denials from Panarin's former teammates

5) Major inconsistency on timing (Vityaz's travel schedule was different from what Nazarov claims)

6) Strange and hard to believe details (the euro wasn't even Latvia's currency until 2014)

7) Changing story (rape attempt? not a rape attempt?)

Also, the player Nazarov mentions as the upstanding citizen who only drank apple juice is Mikhail Anisin. Who, let me just say, is one of the most notoriously heavy drinkers in the modern KHL history.

So, kinda hard to believe for now.
But wait there's more!
---
Malamud would then share a story written by a Russian colleague of his. Here's that tweet with the link to the story:
My long-time colleague @Boogaard_2 strongly denounces Nazarov's story, calling it "a lie from beginning to end. It's like saying that aliens are coaching Avangard Omsk. Nazarov has lost his mind."https://t.co/hIcTBtF4Qs

— Slava Malamud (@SlavaMalamud) February 23, 2021
Malamud also added some notes to this story, saying:
Shevchenko (whom I know since 2008, when we both survived on Quizno's sandwiches while covering the Worlds in Quebec) also says that Nazarov's story is likely the handiwork of Igor Larin, another former colleague whom I have mentioned without naming in yesterday's thread.

Shevchenko also says his newspaper (my former employer) got the text of this story a week ago but didn't publish it, doubting its veracity. It was then picked up by a tabloid. Here is a key part. Shevchenko says that the original also claimed that Panarin tried to rape the girl.

The story that came out omits the rape allegation entirely, which suggests Nazarov (or Larin) edited it to make it more believable. "I can say right now", concludes Shevchenko, "that the Russian club that hires Nazarov will be the stupidest one."
As you can tell, as Nazarov spins his yarn and tries to sell his nonsense to anyone who will listen to him, his story has already fallen apart and has been torn down by many around the hockey world.
As far as when does Panarin come back, there is no concrete information about that. There is this though, from Boomer Esiason of WFAN:
Boomer saying Panarin ask for a 2 weeks leave. #NYR https://t.co/1yTQijYC02 pic.twitter.com/Od33v2FFmK

— David 🔹 (@DaveyUpper) February 23, 2021
Boomer, who does have contacts with the Rangers and is usually correct whenever breaking news regarding the Rangers, says that Panarin asked for two weeks off. However, as Boomer also said, Panarin could be back sooner. Of course, Panarin could also return later, because really, with everything we've seen this season, who knows what happens next?
What we do know is this – these allegations have not been proven true. As the seconds, minutes and hours pass by, this story looks to be a complete crock of shit. There is no one backing up Nazarov's story. Everyone who has spoken up about this story has defended Panarin.
To reiterate what I said last night, in regards to why Panarin is taking some time off; there are obviously bigger things than hockey going on here. While sometimes it's good to go to work, in an attempt to get your mind off real-life issues, for Panarin, he may not be mentally ready to play right now. Panarin needs to get that peace of mind, knowing that he and his family are okay and not under some sort of attack from the Russian government.
What should also be mentioned is that these are the details that we DO know. Who knows what's not being reported for public consumption? While this idea could be out there, for all we know, Panarin and/or his family received death threats. Information like that is stuff you wouldn't want to make public. And while this story is most likely made up, maybe Nazarov has something that he could be blackmailing and/or threatening Panarin with. Again, we just don't know the stuff that's NOT being reported here, as I'd imagine there's more to this story as well.
Lastly on these false allegations, I had some people asking me about this, despite yours truly saying last night I have no clue about this, so I'll say it one more time here – I don't know how the Russian legal system works. Here in America, it seems like Panarin would have a slam-dunk case for a defamation of character/slander/libel lawsuit against Nazarov. In Russia, I don't know what their rules/laws are, the success of those types of cases or how they work.
For argument's sake, let's say Russia's courts and legal systems are like America's. (They are not.) For Panarin to bring Nazarov to trial, Panarin would have to show up to a Russian court. Entering Russia right now may not be the best move for Panarin. It's probably in Panarin's best interest to stay quiet, let the reporters and media do their job and prove that Nazarov is lying. Once Nazarov is 100% proven to be a liar, he'll never get a job in hockey again and even worse for him personally, he will embarrass his idol in Vladimir Putin.
I think Panarin will be back soon enough. Of course the Rangers need him back sooner than later, especially with games against Philly and Boston coming up. It should be noted that the Rangers haven't beaten the Bruins in over two years, as the Bruins have knocked off the Rangers in the last six meetings between these two Original Six teams. After the Flyers game on Wednesday night, the Rangers next two games will be against these Bruins of Boston.
Speaking of the Flyers, let's talk about what we know now for this game.
---
After Rangers practice on Tuesday, DQ was pretty much as honest as he could be, during his Zoom call with the media. The Rangers, as an organization and as mentioned previously on this site, have done a good job of sharing all of these calls with us via their YouTube page. Here's Quinn's interview from Tuesday:
I thought DQ did a great job of answering every question and being transparent about everything. He knows this all sucks. We all know this sucks. However, and as I've been saying before DQ started saying it, (at least publicly) the Rangers just need to have that "NEXT MAN UP" mentality. While no one can replace Panarin, nor do what Panarin does either for that matter; these guys have to do what they do well and do it 100% of each shift they take.
As a result of what Quinn said, here's what we know about the Rangers line-up for Wednesday night:
— CZAR IGOR is starting in net. I don't think I'll hear one person being upset about that. It's the right call. Need I say more?
— Kaapo Kakko is still out with his COVID-19 issues. Again, teams and coaches aren't allowed to disclose detailed information about players on the NHL's COVID-19 list. That said, this doesn't look good. At the very least, this current issue with Kakko and COVID-19 seems worse than Kakko's first stint on the NHL COVID-19 list.
— Filip Chytil is still out and is not ready to return yet.
With Jacob Trouba and Artemi Panarin out, and as DQ said himself, we could see some line shuffling if things don't start out too hot in this game with Philly. If there is anything that's 100%, it's that Igor will start and that I don't think we'll see any changes with the defensemen.
Here's what the line-up looks like, at least for right now:
FIRST LINE: Lafreniere/Zibanejad/Buchnevich (Again, the Rangers will really miss Panarin here, especially after how Panarin got Lafreniere going on Saturday.)
SECOND LINE: Kreider/Strome/Blackwell (This seems to make the most sense to me, under current conditions.)
THIRD LINE: Lemieux/Howden/Gauthier (I may have went with PDG here, but again, this is all subject to change.)
FOURTH LINE: Di Giuseppe/Rooney/Brodzinksi (As talked about last night, Brodzinksi was the player most likely to be called-up to the main roster.)
Defensively, everything looks the same since the Trouba injury:
FIRST PAIR: Lindgren/Fox
SECOND PAIR: Miller/Smith
THIRD PAIR: Bitetto/Hajek
Worth mentioning here, is that similar to Ryan Strome, Brendan Smith is now getting more face time with the media. As I've been saying for some time, ever since the debacle with Vinni Lettieri in Hartford, Smith has turned it around, where he's been a solid veteran presence. Whether it was Smith helping Kakko adjust to the league, being a jack-of-all trades for DQ or doing whatever he can to light a spark for this team, Smith has been commendable.
---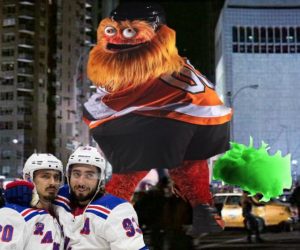 The Flyers, who made their return to the NHL after eleven days off due to COVID-19, returned last Thursday night, on 2/18, where the Rangers escaped with a 3-2 shoot-out victory. After their loss to the Rangers, the Flyers flew out to Lake Tahoe, where they got pummeled by the Boston Bruins, losing the outdoor game by a final of 7-3.
In other words, heading into Wednesday night's primetime game on NBCSN, the Rangers are a on two-game winning streak, while the Flyers are on a two-game losing streak. However, the script has changed a bit, as it looks like the Rangers will have more talent sidelined than the Flyers had sidelined last Thursday.
When the Rangers beat the Flyers last Thursday, the Flyers, who were also playing their first game in eleven days, were without forwards Claude Giroux, Travis Konecny, Scott Laughton, Oskar Lindblom, Jakub Voracek and defenseman Justin Braun.
Going into Wednesday night's game, head coach Alain Vigneault told the media that Claude Giroux is a game-time decision, as Giroux practiced on Tuesday. AV also told the media that veteran goaltender Brian Elliott will get the net tomorrow, as the Rangers will avoid Carter Hart, who has been streaky this season.
With only Giroux looking ready to come back, the Flyers lines currently look like this:
(Note: the following comes from https://www.nhl.com/flyers/news/practice-report-the-captain-returns/c-321728470)
FIRST LINE: Van Riemsdyk – Couturier – Farabee
SECOND LINE: Giroux – Hayes – Patrick
THIRD LINE: Raffl – Bunnaman -Aube-Kubel
FOURTH LINE: Twarynski – Andreoff – Sushko
FIRST PAIR: Gostisbehere – Provorov
SECOND PAIR: Sanheim – Myers
THIRD PAIR: Hägg-Gustafsson
While obviously, that second line looks devastating, especially with Nolan "RYAN" Patrick playing with Hayes and perhaps a returning Giroux; it should be noted that the Flyers are still without Travis Konecny, Scott Laughton, Oskar Lindblom, Jakub Voracek and Justin Braun.
For the Rangers, despite all of their issues, some self-inflicted, some out of their own control; this is a winnable game and really that's what DQ needs to preach to his guys. Of course, playing Boston twice after this sucks, but for right now, it's one game at a time and the Rangers need to step up to this challenge.
Speaking of Boston…
---
On 2/10/21, I talked about MSG re-opening at a 10% capacity. You can read that blog and all of my thoughts about MSG re-opening here: https://bluecollarblueshirts.com/21021/
As talked about on that blog, while maybe my feelings will change after I see this lab rat experiment, for right now, I don't have any plans to attend a Rangers game this season. While I'm all for personal freedoms and anyone doing what they want, (as long as it's legal) for me, I find all of this hypocritical. Every day, the NHL stresses to their players to limit travel and contact. Every day, more players are on the NHL's COVID-19 list. In response, the Rangers are telling fans to come back to M$G.
What really shocked me today, was my conversation with Kyle Jimenez, who is a ticket representative of Madison Square Garden. I was wondering if MSG were making fans sign liability waivers, in the event someone contracts the virus and then tries to sue MSG for getting sick while at a game. According to Mr. Jimenez, there will be no such waiver or anything that needs to be signed by Ranger fans. All Ranger fans have to do is produce a negative test which was conducted within 72 hours and say that they are healthy. That's all.
And once again, those 72 hour test results are as worthless as a story out of the mouth of Nazarov and/or Herman. After all, you can get get the virus the second after you complete you coronavirus test. Had MSG been doing rapid results tests, I'd feel better about that.
In addition, isn't it funny how the media has to do rapid-tests prior to entry, but when it comes to the herd, you know, the cattle in blue gear, they/we aren't held to those same high standards? I feel like a real pecking order or class system has been established here, where the health of the fans isn't as high of a priority as the health of the players and the media. Maybe that's just me. As humans, I don't know why there are different standards to enter the same place. That's my only point here.
By running this site and writing these blogs, I have made friends, sources and contacts, where I really enjoy hearing how other fans think and view the team. After all, what I think isn't the end all, be all. I enjoy getting different opinions from everyone. That's also why I plug other Ranger fans endeavors on this site, whether it be blogs like the one Derek Felix does or the podcasts/YouTube shows that "The Blueshirt Underground" does. I enjoy getting different takes and I would assume you guys do so too; hence you reading these very words right now.
To follow up on a poll I previously ran, where the majority of fans told me they have no interest in returning to games just yet; as you'd expect, older fans are least likely to return while younger fans are more likely to return. I don't want to betray anyone's confidence here, but after Friday night, I can tell you that one face you're used to seeing at MSG won't be there.
I think for people who are approaching middle-age or on the fence of being middle-aged, like yours truly; all have found out, while living through this pandemic, that it's easier to stay in than go out. Beer and booze is cheap at home. There are no bathroom lines. And of course, if the team loses, you're not miserable on the train ride back! Personally speaking, I have adjusted well to this new hermit way of life, where I don't miss going out five nights a week like I used to. I've also saved a ton of money by living like this too! BUBBLE BOY!
Speaking of travel, in some of my talks with fellow fans, I have found that the majority of fans who live on Long Island, Staten Island, New Jersey and Connecticut aren't interested in returning to games just yet. I have found that people who live in NYC, especially for people who live in Manhattan, the majority of those people are interested in returning. After all, if something doesn't feel right, they can return to their home within minutes, unlike the fans who have to commute in and out of New York City.
Ironically, despite how expensive Ranger tickets are and how the M$G experience can be, in all of my talks with fans, whether they be old, young, rich, poor, white, black, straight, gay, pro-Trump, pro-Biden, or whatever other trait or demographic you want to talk about here, the topic of MONEY hasn't come up. It's everything else that's discussed, such as health, safety, having to produce a test result, the commute, etc. I also had a few fans tell me that they don't want to see the Rangers get their ass kicked by Boston too, noting how the Rangers are missing a ton of talent right now, while Boston, who has already won the last six straight meetings, are one of the hottest teams in all of the NHL.
While talking about the price of Ranger tickets, the prices on the secondary market are outrageous. However, there are plenty of tickets available. It should be interesting to see if the prices of these ducats drastically plummet on game day. And really, I hope that's what happens. Serves these scalpers right. I hope they take a hit!
Another thing to mention here, the Rangers game on Sunday, also against Boston, has a 12:00PM start time. Usually, these Sunday matinee games are "KIDS DAY" games, where the Rangers promote these games to families who can afford a $1000+ day at M$G. Now, with this pandemic, I wonder how many parents will want their kids putting themselves at risk, not only by going to M$G, but by traveling to and from M$G.
Of course, because everything off-the-ice interests me, I'll keep a close eye on all of this and report back my findings to you!
One more story on the Rangers alumni and I'm out!
---
On Tuesday 2/23, Henrik Lundqvist returned to the ice for the first time since his open-heart surgery. You can read NHL.com's full story about this here: https://www.nhl.com/news/henrik-lundqvist-skates-for-first-time-since-having-open-heart-surgery/c-321723856
During his media interview on Tuesday, Chris Kreider was asked about Lundqvist's return to the ice, where Kreider expressed that he was happy for Lundqvist and was ecstatic to hear some good news.
Who knows if Henrik Lundqvist is gearing for a return during this 2021 season or not? When the story on Lundqvist's health issues first broke, I said that it wouldn't shock me if Lundqvist tried to attempt a comeback this season, despite Lundqvist saying that he wouldn't play this season. After all, life is short and time is limited. For a guy who turns 39 years old next week, there won't be many chances left for him to add the one thing that would guarantee him a spot into the Hockey Hall of Fame.
However, similar to his final season with the Rangers, if Lundqvist does try to make a comeback with the Capitals this season, he may find himself third on the depth chart.
Ilya Samsonov, who entered the season as the Capitals starting goaltender, has only played two games this season. He's been out due to COVID-19. In his steed, Vitek Vanecek, who going into this season was supposed to be the Capitals third-string goalie, has been remarkable. Backing up Vanecek is long time Senators goalie Craig Anderson, who like Henrik Lundqvist, is a "dinosaur chasing a Cup".
In Washington, with Samsonov nearing a return, it's being debated if Vanecek should be the new number one goaltender, with Samsonov being relegated to back-up duty. Either way, the Capitals have someone in Vanecek right now. In addition, they haven't missed former goaltender Braden Holtby at all.
If Lundqvist does attempt to make a return, where does he fit it in? While it would be very easy to say toodles to Anderson, it's tough to see Lundqvist knocking either Samsonov or Vanecek off of their respective perches. That said, with the way this season is going, and with COVID-19 still a factor, it couldn't hurt the Caps to have Lundqvist on their roster, even if he's their third string goalie. And even if COVID-19 doesn't effect Samonsov or Vanecek moving forward, should either struggle, Lundqvist wouldn't be a bad "Plan B" to have.
Either way, despite my personal hatred of Lundqvist's contract when he was with the Rangers being publicly well known, I do hope he gets the chance to play again. No athlete should ever have their career robbed by injuries or a health condition. In addition, no athlete should have their career robbed because of their thoughts on politics either, but I think we've talked enough about politics this week!
---
If you haven't already, subscribe to this blog for the next update:
---
Back at it tomorrow, with a Rangers vs Flyers recap/review. By doing this blog tonight, I can get right into it tomorrow night, as I covered all the latest news on this blog.
Until then, and as always here, thanks for reading and…
LET'S GO RANGERS!
Sean McCaffrey
BULLSMC@aol.com
@NYCTHEMIC on Tweeter
Follow the BlueCollarBlueShirts.com Facebook Group by clicking this link: https://www.facebook.com/groups/1564026407193056/