Greetings and salutations everyone and welcome to another blog here on BlueCollarBlueShirts.com. The Rangers would've won 100-0 tonight had the player who shall not be named skated, and had Jake Leschyshyn been scratched too, am I right?
Ha!
And yes – laughter is the best medicine – especially after a loss.
---
If you read the past two blog entries that were posted on this site, then you're already aware of what I said prior to tonight's 4-1 loss at "The World's Most Expensive Arena."
To refresh your memory, I said that I thought the schedule did the Blueshirts no favors.
Following their three games in four nights in western Canada; the Rangers returned to the Big Apple as the sun rose over Manhattan on early Sunday morning. As the players tried to catch up on what they've missed out on at home, and attempted to adjust to the Eastern Standard Time Zone too – boom – they were right back at it on Monday night.
In other words, this was the Rangers' fourth game in six nights – where prior to tonight's game – the team had switched time zones and flew over 3,000 miles.
Despite the Jets' 4-1 victory on Monday night – you could never accuse the Rangers of being "jet-lagged." In fact, quite the opposite took place inside of the arena where the cheapest ducats were going for a smooth $250+.
Rather than coming out as flat as a bottle of 1990s Crystal Pepsi; instead, the Rangers came out firing on all cylinders, where by the end of tonight's tilt, the team had recorded a season-high 51 shots on goal.
Sadly, Hellebuyck matched the Rangers and then recorded a season-high fifty saves.
And despite Sieve Vagistat accusing the Rangers of shooting soft and meaningless shots (more on this below); there was this post-game tweet from Mike Kelly of the NHL Network – someone, who unlike the seven-foot blithering idiot – who actually knows what he's talking about:
That's awesome. He faced 51 shots and stopped 50.
Ya, but what about quality?
30 shots against from the slot & he stopped 29 of them…..both league-highs this season . https://t.co/UwK5ozRMpB

— Mike Kelly (@MikeKellyNHL) February 21, 2023
---
I know that the term "goalied" sounds cringe and "douchey;" but for all intents and purposes – that's what happened tonight.
Silver lining? If the Rangers had to get "goalied" tonight; then I'm glad it was by a former Vezina winner, and a 2023 candidate for the award, Connor Hellebuyck – rather than seeing another third-string/AHL goaltender having the spirit of Georges Vezina carrying him throughout the best game of his career – and as we saw a lot of during the early games from this 2022-23 campaign.
And as opposed to what I've been saying during the past two weeks, such words following big Ranger wins – where I wish the team had a day or two off to bask in their glory – it's a shame the team will now be off for the next 72 hours, prior to their Thursday night showdown in Motown against the streaking Detroit Red Wings.
While perhaps another trade (cough, Patrick Kane, cough) would divert some attention; if that's not the case, then all you will hear about for the next three days are the present struggles of CZAR IGOR Shestyorkin.
---
While I rarely watch the M$GN post-game shows anyway, and I'll never watch them whenever Sieve Vagistat is there by his lonesome; I was told by several of you guys and gals, that for the first time this season, the Clear-Sighted Asshole brought up what I've been saying all season – CZAR IGOR's new sire at home may be negatively impacting his routine and performances.
(It only took Vagistat five months to come up with this idea. EYE-TEST people like myself, and as usual, were way ahead of the bozo in the cheap suit!)
And let me be "clear-sighted" with you myself – I'm not saying that players shouldn't have kids – and that hockey must be their life 24/7/365. They are entitled to personal lives too.
(I will tell you though, that Derek Jeter, the legendary Hall of Fame Yankee, has said many times throughout both his career and into retirement, that he waited to have kids once done as a ballplayer, as he wanted no distractions. Again – I'm not judging/criticizing anyone – I'm just giving you all of the facts and you can do what you want with them.)
My message to you here, and as I've been saying for many months now?
It's just my belief, that with a new kid at home, especially during starts at 33rd & 7th (Igor's numbers at home are horrible, where if he was able to play the way he does on the road at M$G, then he'd be able to defend his '22 Vezina trophy this season), has thrown him off.
And since the worst crop of Ranger beat reporters in all of franchise history never ask CZAR IGOR about any of this – all we're left to do is to speculate about this – and where I'm aware that this speculation may be an "invasion of privacy," but at the same time, somewhat warranted too.
That said, and while I doubt these birdbrain beat reporters would've asked him about this tonight (after all – they've only had 100 or so chances to do so previously); CZAR IGOR never gave them a chance, as following one of his worst games of the season – he said NYET NYET to interview requests.
---
On Sunday night, Shawn S. and Roc, the two co-hosts of the "Two Guys, One Cup" Rangers' themed podcast, debated about CZAR IGOR vs Henrik Lundqvist. (The link to the show is located in the PLUGS section.)
Truthfully, I think it's just too early to have that debate.
After all – CZAR IGOR has only played in one complete 82-game schedule during his career – and then won the Vezina Trophy following it. (But if CZAR IGOR can win the Stanley Cup this year, which would make him the second goalie of franchise history to win both trophies – then we can have that debate!) (Dave Kerr, in 1940, won both pieces of hardware.)
Since Ranger fans love misery as much as Sam Rosen loves a Hughes' brother; throughout tonight's game, I saw many Lundqvist vs Shestyorkin comparisons.
I thought the conversations regarding their cap-hits, and much like Vagistat's analysis tonight (or really – on any night), was moronic.
I don't want to go down this tired path again, but real quick, at his peak, Lundqvist was taking up 13.22% of the Rangers' salary cap. Currently, CZAR IGOR, fresh off of his Vezina win, takes up 6.9% of the cap – nearly 50% less of what his predecessor's cap-hit was.
So to talk about CZAR IGOR's contract, and how it impacts the Rangers' cap this season, is just a moot point to me.
What I do think is a valid talking point is the following:
I really can't recall Henrik Lundqvist ever blowing off the media.
While I do know that it happened once or twice during his fifteen years, one of those times is when he emotionally broke down following the trade of Mats Zuccarello to Dallas – and where #30 was talking to the media anyway!
For all of the many stinkers and clunkers that Lundqvist had during his later years (and we all know that I've talked about all of them on this site!); he was always there – and never shied away from the media.
Tonight was about the fourth or fifth time that CZAR IGOR had blown off the media in two years.
While again, the state of the Ranger beat reporters has never been worse – they do have a job to do too – even if sans Larry Brooks – they all do it poorly.
I can't say that I'm a fan of the negative narratives surrounding Shestyorkin; but at the same time – IT IS A STORY. That much can't be ignored.
He should tell his side. Since he doesn't, in my eyes, it only makes him look worse – and again – will only lead to more speculation.
And for the 98767896896896789678968th time on this site – I say that as the biggest fan (non-family member) of CZAR IGOR in the world!
And oh yeah, this too – if you're one of these people tagging me on Twitter, saying "CZAR IGOR SUCKS" or "CZAR IGOR IS TRASH" – I won't block you – but I will mute you. And after that? Maybe I'll allow you to buy me a beer at the parade in June!
---
Despite some of the gloom-and-doom that's currently being paraded throughout the streets of Rangerstown, USA; I thought the Blueshirts played well tonight.
Throughout sixty minutes, and as you'll soon see in the TEAM STATS graphic posted below, Gallant's Gang dominated every facet of this game, except for two areas – special teams and goaltending – and where the goaltending was the only reason why the Jets' penalty kill finished a perfect four of four.
Aside from CZAR IGOR's refusal to speak to the media, there was only one other thing that I didn't like – and not because of what the Rangers did.
Once again, the officials were horrible tonight.
While I don't think a five-minute major penalty assessed to the Jets would've produced a Rangers' power-play goal on this night anyway; early into the third period, former Ranger, Morgan Barron, steamrolled towards the returning Tyler Motte – and then blasted him with a vicious cross check to the face. (Video included during the GAME REVIEW segment.)
If yours truly, or you, the reader, did such a thing in the streets – then we'd both be arrested for assault with a deadly weapon.
While I don't think that I'm "soft" (sans my "Pilsner Dough-Boy" inspired beer belly!); I was disgusted when watching this infraction.
Despite Motte being mauled, during a play where he could've been seriously injured in; the refs called a two minute minor on "The Barron" for "interference!"
So much for player safety.
And yes, had a Ranger done this to a Jet – I would be saying the same thing right now.
This play was flat-out disgusting and for the officials to allow Barron to remain in the game was pure blasphemy.
And again – I'm not saying this play would've impacted the final score. I was just appalled that Motte was allowed to be mauled.
Then again, Gary Bettman is on record – "concussions and CTE aren't real!"
Following this criminal act on the ice; Motte, true to form – never missed a shift.
HOCKEY PLAYER – but I'm not exaggerating – had Barron done to us what he did to Motte – then we'd be eating apple sauce out of a straw right now – and for the next few months to boot.
Speaking of Motte, at this time, let's now get into the pregame news and notes.
---
In case you missed it, I covered the Julien Gauthier for Tyler Motte trade last night here: https://bluecollarblueshirts.com/21923/
A day following the trade, Monday, the Rangers reconvened for a morning skate, prior to tonight's game.
As everyone expected, head coach Gerard Gallant returned Motte to his fourth line, with Gauthier now in Ottawa.
Following the light practice, both Motte and Gallant spoke to the media.
Here's what "Apple Sauce" had to say:
---
As talked about last night, what I thought Motte would say is what he said on Monday.
Motte said he was happy to be back, praised the organization and said that in this business, you never close any doors.
Funny enough, Motte brought up those two words that I also mentioned last night, "unfinished business."
In what got me a little pumped up myself, Motte said he was so"amped" about the trade (HOW AMPED WAS HE?), that he got to the rink "a little too early" and then talked about the excitement that was racing through him.
The former-now-returned Ranger also said that in a way, it felt like he never left.
While there were some new faces and introductions to be made; for the most part, everything else was still the same, including the staff, the roster, medical personnel, etc.
My biggest takeaway from Motte's first interview as a Ranger in eight months – he's all-in and ecstatic about being back.
Following Motte's interview, we then had our daily "TURK TALK."
Here's your favorite coach and mine from Monday morning:
---
I know I use this phrase a lot, but what's one more time; "as you'd expect," Gallant praised his g.m. and the return of Motte.
Gallant, who raved about Motte during his first go in New York, continued to gush over his fourth-liner.
"The Turk" said that Motte is a natural fourth-liner, knows his role, is an asset on both sides of the puck and will only help his team.
The only thing Gallant didn't say? How the salary cap prevented the Rangers from re-signing Motte during the off-season!
When the elementary Ranger beat reporters finished their line of simplistic questioning, a few Winnipeg reporters asked the head coach all about Jacob Trouba and why he was made team captain.
I thought this part of the interview was the best, as Gallant spoke highly of "The Great Eight," and said that he, nor Drury, had anything to do with it. Instead, collectively, the players, all as a group, wanted Trouba to be their captain.
While this was already known, it was nice to hear Gallant say it on record.
Gallant also said that Trouba has displayed immense leadership skills throughout his tenure and also referenced "THE HELMET TOSS" heard 'round the world as just one example.
As far as playing the Jets, it was the same – "they work hard, they play hard" and yadda-yadda-yadda.
---
Here was Gallant's newest line up:
FIRST LINE: Kreider/Mika/Vesey
SECOND LINE: Panarin/Trocheck/Tarasenko
THIRD LINE: Lafreniere/Chytil/Kakko
FOURTH LINE: Motte/Leschyshyn/Goodrow
Defensively, we saw:
FIRST PAIR: Lindgren/Fox
SECOND PAIR: Miller/Trouba
THIRD PAIR: Mikkola/Schneider
STARTING GOALIE: CZAR IGOR
BACK-UP: THE HALAKNESS MONSTER
PRESS BOX: Harpur and The player who shall not be named
---
BOX SCORE time.
The following graphics and information come from ESPN.com:
SCORING:
PENALTIES:
TEAM STATS:
GOALIES:
| | | | | | | | | | | |
| --- | --- | --- | --- | --- | --- | --- | --- | --- | --- | --- |
| SA | GA | SV | SV% | ESSV | PPSV | SHSV | SOSA | SOS | TOI | PIM |
| 51 | 1 | 50 | .980 | 40 | 10 | 0 | 0 | 0 | 60:00 | 0 |
| | | | | | | | | | | |
| --- | --- | --- | --- | --- | --- | --- | --- | --- | --- | --- |
| SA | GA | SV | SV% | ESSV | PPSV | SHSV | SOSA | SOS | TOI | PIM |
| 21 | 4 | 17 | .810 | 16 | 1 | 0 | 0 | 0 | 59:48 | 0 |
---
Come 6:30PM, I tuned into the M$GN broadcast, and once I saw that the worst Rangers' goalie of this century was by himself, I turned off the channel.
A half-hour later, I returned to the M$GN, where we were immediately reminded that tonight was "JACOB TROUBA SPOTLIGHT NIGHT JOE!"
And had the Rangers not worn their TROUBA SPOTLIGHT PRIDE jerseys during warm-ups – then imagine the hellfire and brimstone that would be hailing down right now! Mollie & Wince would be pissed!
After all, pregame warm-up jerseys is something that Ms. Walker does "give a shit" about!
As brought up several nights ago on this site, when this Trouba spotlight broadcast was first announced; none of the previous six Rangers have had a good game whenever spotlighted. I also believe the Rangers are 0-6 during these broadcasts too.
Much like the reverse retro cash grab Liberty jerseys – it's time to shit-can this feature. It's bad luck – and almost as bad of a jinx as the senile old coot in the booth, Sam Rosen.
While I'll have more on Rosen's never-ending hexes & vexes for you; I am wondering – does M$GN have a hair stylist on the payroll?
For whatever reason, Rosen's combover/toupee was all over the place tonight, as if he were Dorothy Gale battling a Twister in Kansas.
Perhaps the black magic lovin' Rosen can just give Mother Nature the win – and shave his head.
At least a STONE COLD SAM ROSEN would be entertaining – because this version of the Hall of Famer is anything but.
On Tyler Motte, only Jumpin' Joe Micheletti brought up the Rangers' salary cap issues from last off-season.
Right after that, Sam & Joe got on their knees and preached about the almighty greatness of Kyle Connor.
You know what happened next.
GAME REVIEW time.
---
FIRST PERIOD:
It wasn't all bad…
In a rarity, the third line began the game, and rarer than that – Chytil won the game's opening face-off. Overall, the Czech won five of eleven draws (45.5%) – which feels like a career-high for him.
Not even fifteen seconds into the game, Sam immediately paid homage to the dog "Beethoven," and then slobbered over former Ranger, Neal Pionk.
While tonight was Trouba night, among the two defensemen traded for each other in 2019 – it was only the Blueshirt alum who picked up a point in the box score.
At the 31 second mark (how ironic), CZAR IGOR came up with his first save of the game. Once doing so, and in what we're seeing a lot of lately – Chytil & Lafreniere raced down the ice on a two-vs-one odd-man rush – but once there – couldn't find twine.
And really, that was the story all night – the Rangers had what felt like 789678689696 odd-man rushes – but could never get the puck past "The Hucklebuck."
Since it will get redundant if I individually mention every single one of Hellebuyck's fifty saves tonight, I'll just group them together.
In the first four minutes, Panarin, Miller and Trocheck were stopped.
During his first shift of the game, the Jets were attacking CZAR IGOR, but Tyler Motte made a hell of a hit at the blue line to bump the road team off of the puck – and forced a turnover in the process.
Up next saw Lafreniere set-up a TROUBA BOMB, and following the save, Kakko got the rebound – but didn't shoot the puck right back at the Hucklebuck.
Instead, the Finn turned over the puck, the Jets marched right into the Rangers' zone, and at the 4:37 mark, K'Andre Miller took his second delay of game penalty (puck over the glass) in as many games played.
Even if you didn't watch this game, you have to know what happened next.
As the Jets' power-play was setting up, Sam Rosen pretty much said the equivalent of the following:
"OH JOE, THE JETS POWER-PLAY SUCKS JOE! THREE OF THEIR LAST FORTY JOE! THIS WINNIPEG POWER-PLAY IS A DISGRACE TO HOCKEY, SHOULD BE SHOT BEHIND A BARN AND EVERY PARENT OF THESE PLAYERS SHOULD DISOWN THEIR KIDS JOE!"
No less than two seconds after spitting that out – boom – Josh Morrissey beat CZAR IGOR with a long distance shot from the blue line.
1-0, bad guys.
I am starting to despise Sam Rosen – the anti rabbit's foot of Rangers' hockey.
And yep, one of these days, I'll have to make a picture of him as "MUSH" from "Bronx Tale!"
Ugh!
Up next, more Hucklebuck, as Leschyshyn was prevented from scoring his first goal as a Ranger, followed by no goals from Chytil & Trouba too.
Down to 11:21 remaining, we had a "mini" fight, as both Trocheck and Sam Gagner went at it. In a quick battle, Trocheck landed more punches, but the officials broke this up before either man could fall to the ice.
Sam's response? A diatribe on the states of all things Manitoba hockey and the NHL's Central Division.
It was also around this time when Micheletti brought up Julien Gauthier, where he relayed to us that he talked to newest member of the Rangers' alumni on Sunday.
As opposed to Sammy Blais, who told Micheletti to "thank the fans for me;" instead, Gauthier told Joe that he was excited about getting a chance in Ottawa – and for all of the reasons that I talked about last night.
Following Schneider being denied; at around the half-way mark of the period, CZAR IGOR came up with his best save yet – a denial on Mark Scheifele. Two minutes later, MIKA SELKE prevented Connor from making this 2-0, bad guys, as the Swedish DJ broke up a centering pass – where had it connected – it would've left the Jet all alone and from one foot away from Shestyorkin.
As Sam said for the 386748378378478374878th time on this broadcast, "OH JOE, JACOB TROUBA IS THE CAPTAIN OF THE RANGERS JOE, HAVE YOU SEEN MY METAMUCIL JOE? CONSTIPATION JOE!;" with 6:10 remaining, the Rangers had a 4 x 3 odd-man rush, but a Jet skater, rather than the goalie, blocked Schneider's shot.
Thirty seconds later, Hellebuyck robbed Kreider for the first time. Two more robberies would later ensue.
Down to 5:32 remaining, Barron high-sticked Adam Fox. As opposed to what Barron would later do – this penalty was accidental – but an infraction nonetheless.
The Hucklebuck came up with four saves during this Rangers' man-advantage – two on Mika, one on Trocheck and another on Miller.
It was also at this time where Trocheck almost scored, but following a rebound afforded to MILLER TIME; DeMelo blocked the center's try at Hellebuyck's vacated net.
And really, that's just what type of night it was.
To give you a picture here (although via black-and-white text); when Barron left the box with 3:32 remaining, Hellebuyck had already recorded nineteen saves.
Four seconds later, the Jets, now on a 3 x 2 odd-man rush (a Jack in the Box odd-man rush to boot), scored.
In other words, the Rangers had many chances on their power-play, but all it took were four seconds once expired to give up a goal the other way.
2-0, bad guys.
This is one CZAR IGOR should've had.
Igor couldn't control a shot from Sam's favorite player on this night, Kyle Connor, and boom, just like that, Scheifele easily punched in the rebound.
Now down by two, Hellebuyck then came up with a pair of saves on Vesey and Fox.
With 47.8 seconds remaining, Chytil drew DeMelo for slashing.
By the end of the Rangers' second power-play, they remained without a goal.
Here's what I said at the time:
2-0, bad guys, after 20. 1P Thoughts:
— #NYR open 2P on a 1:13 PP
— NYR better team, but Jets had the better goalie
— SOG 20-9, FOs 14-12 NYR: Hits 11-0 WPG
— They'll comeback, Hellebuyck will break
— Another DOG penalty a killer
— LGR

— BlueCollarBlueShirts (@NYCTheMiC) February 21, 2023
---
SECOND PERIOD:
On a night where the puck wouldn't go in, at least we had one good thing to take place during this black mark on broadcasting.
During the intermission, the useless and feckless Sieve Vagistat was going on-and-on, where he accused the Rangers of taking weak shots and then said that Hellebuyck wasn't doing much – despite you know, the goalie having twenty saves at the time – one per minute.
(And "empty calorie" shots or not – 20 saves is 20 saves. I don't know how you can degrade a goalie for doing his job.)
Since the moron with the bad CVS hair-dye job wasn't done spewing the crap from his second five-hole (his mouth); he then told us that his homemade arts & crafts, charts & graphs, told him that the Rangers' power-play had to listen to what his fake news data told him.
Not brought up in Vagistat's coaching tips based off of his own self-serving junk? The following:
— Not every team is the same
— Goaltenders
— Travel/schedules
— Each team possesses a different roster
— Injuries
— Fatigue
— Power-play time (abbreviated power-plays, as this current Rangers' power-play was, full two-minute power-plays, 5 x 3's, five minute majors, etc)
And I'll stop here as I think you now get the gist of this.
While Vagistat's power-play bullshit was just that – bullshit – it was his besmirching of Hellebuyck's performance that would soon tick off THE FABULOUS JOE MICHELETTI, and as I'll bring up as we move along.
---
Once failing on the remaining 1:13 left on their power-play; Chytil was floored – again.
A few minutes later, and with M$GN showing us Rangers' trainer, Jim Ramsey, attending to Chytil at the bench; Rosen, in all of his infinite greatness, remarked, "I WONDER WHAT HAPPENED TO CHYTIL JOE?"
Maybe if Sam wasn't reading off every Jets' stat known to man – then he would've seen what had happened.
For what it's worth, Chytil, who has been getting roughed up a lot lately, never missed a shift. At least there's that, as his scoring touch has cooled off during the past few games.
Right after this, this is when Sam and Joe basically called Vagistat a freakin' idiot, and called bullshit on Vagistat's slanderous comments in regards to Hellebuyck.
While Vagistat said that Hellebuyck didn't have to do anything; Sam and Joe felt the complete opposite. And for once – Sam was actually right about something! (Buy a lotto ticket!)
(And when I'm spending this much time on "The Three Stooges" of the M$GN – it kind of tells you what this game was too! I'm just trying to entertain you – but everything I'm writing here did happen!)
At the 3:10 mark of this middle period; the Jets were attacking but Schneider broke it up. As #4 got the puck to #77, as Mikkola was behind Igor's net – Dubios hooked him.
It was nice to see the Rangers' newest d-man draw a penalty tonight (an o-zone penalty too), rather than taking one himself for once!
This power-play was mostly the Panarin Show, but that show only opened for Hellebuyck, who continued his heroics in net. Even a Breadman blast off of Hellebuyck's mask couldn't phase the Jets' keeper.
Down to 13:56 remaining – a Jets goal that you could see coming the whole way – which is not exactly high confidence in regards to CZAR IGOR these days.
Following a Chytil turnover in the Rangers' zone, Appleton got the puck to Connor – and boom – he cleanly beat Igor on a shot that we've seen the '22 Vezina winner stop 6786786786786786786 times before.
3-0, bad guys.
Again – despite the Rangers being the better team at even-strength, between power-play failures and Hellebuyck – they were the ones down by a field goal where it mattered – the scoreboard.
At least Micheletti and Rosen continued to call Vagistat an idiot during this!
Down to 12:25 remaining, Hellebuyck robbed Tarasenko. On the other end, Schneider, who really had a great game but that fact may get lost in this loss, broke up a PLD wrap-around try. If he hadn't, then it would've been 4-0 at the half-way mark of the game/period.
Following Schneider's play, Micheletti remarked, "The owner of Clear-Sighted Analytics should be fired from his own company."
Truer words were never spoken before on this broadcast.
Come 9:00 remaining, the following:
TROCHECK hits the net!! pic.twitter.com/qtSHc4eb29

— Rangers on MSG (@RangersMSGN) February 21, 2023
---
3-1, bad guys – and on a goal that Fox should've been awarded a secondary assist on!
On this score, Fox dispy-doodled to the net, was stopped, and on the rebound – Tarasenko got the puck and set-up Trocheck for the no-brainer.
Sadly, this was the only Rangers' score of the game – and had Trocheck been able to assist on a goal – he would've had a Gordie Howe Hat Trick too.
It just wasn't meant to be – but it's not like the Rangers weren't trying either.
Up next, odd-man rushes and clean saves made on Mika, Fox, Kreider, Miller, Chytil, Trocheck and Trouba.
Seriously – if you bet the over totals on individual Ranger shot on goals – then you would've cleaned up tonight.
Down to 4:30 remaining, and as Micheletti continued to rip Vagistat a new five-hole (and had Micheletti actually said the word "Vagistat" on-air, then I would've petitioned for the FABULOUS ONE to win every Emmy, Oscar and Pulitzer Prize in the world); Blake Wheeler blatantly interfered with Goodrow.
No call – despite one official watching this happen in front of his own two peepers.
Micheletti was irate about this, and as he should've been – but on this night – I'm not sure if another power-play would have mattered – especially after watching four of them during this game.
Following more saves and robberies from "The Hucklebuck;" with 1:38 remaining, CZAR IGOR stopped Connor's breakaway attempt. This was really the only true highlight from the Rangers' goalie on this night.
3-1, bad guys, after forty minutes of action.
Here's what I said at the time:
3-1, bad guys, after 40. 2P Thoughts:#NYR have been the superior team – WPG's special teams and goalie just been better.
— Loving Micheletti trashing Vagistat!
— SOG 32-13, Hits 16-13 NYR; FOs 23-18 WPG
— Feels like a game of never ending odd-man rushes
— Comeback time!

— BlueCollarBlueShirts (@NYCTheMiC) February 21, 2023
---
THIRD PERIOD:
Following one of the most brain-dead intermission segments of the season twenty minutes prior; Vagistat was not heard from here.
Instead, we heard from a real Ranger, a former captain to boot, the excellent Dave Maloney. The former blue-liner told us that that Blueshirts needed the next power-play of the game – and that's what would eventually transpire.
There's no reason to prolong the misery. Hellebuyck made nineteen saves in this period – but I guess Vagistat still thinks that the Jets' goalie had an easy night.
However, I do want to share with you the Barron penalty – where again – receiving a five-minute power-play isn't my issue here – player safety is:
"Interference" pic.twitter.com/q6QXLZadUE

— McFadden (@McFaddenPC) February 21, 2023
---
If the Department of NHL Player Safety has no response to this play tomorrow, then they may as well fold shop.
And shame on the officials for getting this all wrong too.
This penalty took place at the 6:51 mark of the period, and despite a power-play that did everything right; by the end of it, Hellebuyck finished with ten short-handed saves in total – but why would Vagistat care about that?
As far as anything else worth mentioning, two things:
— Gallant tinkered with his d-pairs, as he put Fox & Miller together – and not to demote anyone – but in an attempt to generate offense.
— However, this was a rare in-game coaching move that didn't work for "The Turk" (so he's now batting .999 instead of 1.000!); because with 4:31 remaining in this 3-1, bad guys, game – Scheifele got past Miller and backhanded the puck past Igor. All Fox could do was watch from three feet away.
4-1, bad guys – 4-1, bad guys, final.
One last time – this is not a loss that I'd be concerned about – nor would I be concerned about any regular season loss like this.
They put 51 shots on goal. The opposing goalie just had a night.
Here's your favorite coach and mine, "THE TURK," who pretty much said the same thing:
---
If there's anything to note from Gallant's post-game presser, then it's that he defended CZAR IGOR – despite it being woefully apparent that Shestyorkin is currently in the middle of the biggest slump of his career.
However, what do you want Gallant to say? He ALWAYS defends his players.
The players themselves, including Trouba, Trocheck and Goodrow, brought up the four games in six nights and how Hellebuyck just had a hell of a night.
---
I believe the Rangers are off on Tuesday (but Chris Drury won't be!) and where they'll practice on Wednesday, prior to boarding their flight to the lovely city of Detroit, Michigan.
As opposed to these last two games (Calgary & Winnipeg) – there won't be any excuses to be made come Thursday.
Expect the surging Wings to play their Original Six rivals tough – especially since the Rangers blew them out in the Pizza Arena last time, 8-2.
I'd also expect the Rangers to win too!
---
I can tell you that I'll next write on Wednesday, following Rangers' practice; but the last two times I did that – Drury made a major trade! (I'll leave Tuesday night open on my schedule!)
In other words, I'll see ya when I see ya and don't fret about this one game of eighty-two.
LGR!
PLUGS TIME!
---
On Sunday night, our pals over at "2 Guys, 1 Cup" returned with a new episode. To check it out, click the link below:
Episode 72 is up!

Motte is back, how is Tarasenko settling in, is Igor Elite?, does this team have more talent than 92-94? And much more! #NYR https://t.co/CSF4LXzNO0

— 2 Guys 1 Cup Podcast (@2G1CRangers) February 20, 2023
---
On Tuesday night (2/21), our buddies over at "The Blueshirt Underground Show" will return with a new episode at 7PM. To check it out, click the play button below:
---
My first plug of tonight's blog – the mandatory plug for my book, "The New York Rangers Rink of Honor and the Rafters of Madison Square Garden."
As mentioned previously, the book is now available in hardcover, in paperback and in Kindle formats. To purchase a copy of the book, visit this link:
https://www.amazon.com/Rangers-Rafters-Madison-Square-Garden-ebook/dp/B09CM5N2WD
For those still looking for signed paperback versions of the book, I have re-ordered more copies. I now have a few signed copies for sale at $25 a pop (includes shipping price) through me directly. Here is all the information on that:
---
My four-volume set of books, "One Game at a Time – A Season to Remember," is a game-by-game recount of the Rangers 2021-22 campaign.
My second title as an author, "One Game at a Time – A Season to Remember," is now available in eBook, paperback and hardcover formats.
To obtain signed copies, visit: https://bluecollarblueshirts.com/onegamebook/
To purchase all four volumes on Amazon, visit: Amazon.com – "One Game at a Time."
---
The greatest volume-set of books on Rangers' history today!
"Tricks of the Trade – A Century-Long Journey Through Every Trade Made In New York Rangers' History," a four-volume set of books that meticulously covers every trade made in franchise history, is now on sale.
All four volumes of the title can be purchased on Amazon.com and are presented in three different formats – eBook, paperback and hardcover.
To purchase Volume I: Conn Smythe (1926) – Craig Patrick (1986), visit Amazon.com
To purchase Volume II: Phil Esposito (1986) – Neil Smith (2000), visit Amazon.com
To purchase Volume III: Glen Sather (2000-2015), visit Amazon.com
To purchase Volume IV: Jeff Gorton (2015) – Chris Drury (2022), visit Amazon.com
To purchase signed copies of all four volumes, visit https://bluecollarblueshirts.com/tricksofthetrade/
---
Here are my last few blogs, in case you missed them: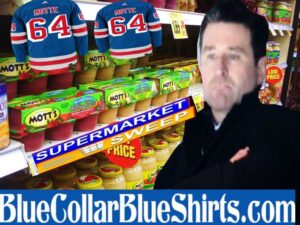 ---
---
---
If you haven't already, subscribe to this blog for the next update:
---
Don't forget to order my new four-volume set of books, "Tricks of the Trade!"
If you don't order through me, all four volumes are now available on Amazon.com
For more details, check out: https://bluecollarblueshirts.com/tricksofthetrade/
Thanks for reading.
LET'S GO RANGERS!
Sean McCaffrey
BULLSMC@aol.com
@NYCTHEMIC on the Tweeter machine