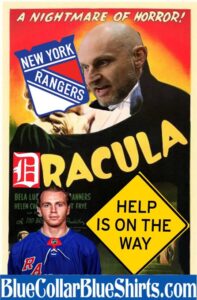 Greetings and salutations everyone and welcome to another blog here on BlueCollarBlueShirts.com. Is Patrick Kane a New York Ranger yet?
And this too – if you're reading these very words – then you my friend, are a diehard and hardcore fan of the Blueshirts!
Not only did you watch this sloppy affair – but you're seeking out a recap of this fiasco too!
Yours truly? I must be touched in the head myself, as I prepare to talk about everything that took place on Thursday night – both on and off of the ice!
(Holy Elaine Benes Batman! What's with all of the exclamation marks?!?! Where's Jake Jarmel when you need him?)
---
On most nights prior to writing one of these GAME REVIEW blogs, I never look at the post-game reactions from others – just because I don't want my opinions influenced by anyone else. (Once publishing these blogs? That's when I take a look to see what others had to say.)
Tonight was one of those rare nights where I did take a glance at my Twitter feed after the game; where to both my surprise and disdain – I saw many Ranger fans go into "gloom-and-doom" mode, following the Red Wings' 4-1 defeat of our favorite team.
Let me be clear – was this loss a horrendous way to spend over three hours? Sure – I won't argue against that. But the end of the world, the sky is falling, this team is finished, stuff? Hardly. In fact, the complete opposite.
As your resident glass half-full Rangers' optimist, take this thought out for a spin: the Rangers have been so good this season (HOW GOOD ARE THEY?), that they can now afford to have a dud every now-and-again.
While you don't want to see a string of these types of performances on the regular; for one night of 82? It is what it is.
And while this may be an excuse too (and it is) – perhaps the Rangers were a little bit too preoccupied with what lies ahead – #88, Patrick Kane, soon-to-be formerly of the Chicago Blackhawks.
---
It has to be mentioned that the Rangers are now on a three-game losing streak – their first three-game losing streak of 2023. The last time the Rangers dropped three games in a row was all the way back in November of '22 – and that's when Jordan Binnington soon helped to turn the Blueshirts' season around.
As opposed to tonight's loss, which I thought was an all-out stinker; it's not my belief that the two Ranger defeats that preceded this one were that horrible.
As talked about at the time (just check the PLUGS segment for the full GAME REVIEWS); I thought the loss to Calgary had more to do with fatigue and the schedule more than anything else. And heck, the Rangers still found a way to come out of that tilt with a point in the standings – and if it weren't for shoddy officiating – who knows – maybe they would've went a perfect 4-4 (eight points) on their final PST road-trip of the season.
When it comes to Monday's loss to the Jets; once again, I thought the schedule played a factor, and of course, Winnipeg goaltender, Connor Hellebuyck, had his best game of the season too (50 saves).
Thursday night's loss to the Wings?
There's no way you can blame the schedule for this one, nor can you praise any sort of super-human effort from the Wings' goalie either, the former Blue, Ville Husso.
On this night, the Rangers just came out flat. This loss was completely self-inflicted.
As mentioned a few times on this site prior to tonight's game – I did believe that the Wings had a bone to pick with their Original Six rivals. After all, teams don't forget their worst loss of the season and this Detroit squad wanted to extract revenge on New York, following their 8-2 humiliation from several months ago.
But as I even said on the Twitter machine minutes before puck drop tonight (I'll share the evidence with you below); – win-or-lose tonight – that was never going to be the top story in Rangerstown, USA. In fact, going into this game, during the game and now, hours removed from the game – the entire contest felt inconsequential.
Dominating all headlines and thoughts among the Blueshirt faithful, were of course, those two words of "Patrick Kane."
At this time, let's get into all of the pregame news and notes – as there's a lot to discuss.
---
In case you missed it, I covered the latest chapter in the Saga of Patrick Kane last night here: https://bluecollarblueshirts.com/22223/
About an hour after writing and publishing that blog on this site, Larry Brooks, of the New York Post, reported that Chris Drury isn't out on Kane – where in addition – and this is the most important part of his article – should all the stars align – the Rangers will then have their latest shiny superstar themselves.
Come Thursday afternoon, perhaps the two biggest NHL insiders in all of the league today, Jeff Marek & Elliotte Friedman, of Sportsnet's "32 Thoughts" podcast," echoed Brooks' report.
As they say – only time will tell – and where we're now only a week away from the March 3rd NHL Trade Deadline.
---
While the whole hockey world was up-in-arms about Kane; on Thursday morning, the Rangers held their pregame skate at the Pizza Palace in Detroit.
The biggest news from the morning skate was that CZAR IGOR took extra repetitions, and as a result, would not start come the evening.
Again – I'm not there, I'm not an NHL head coach, nor am I Benoit Allaire either. However, I was surprised, NOT DISAPPOINTED OR CRITICAL, in regards to "THE HALAKNESS MONSTER" receiving the nod in net.
For whatever CZAR IGOR is currently going through – I just thought he should've played, in an attempt to play his way out of this "slump."
(And to be clear – I'm not blaming Halak for tonight's loss. It didn't matter who was in net on Thursday.)
Who knows, with a matinee to be played in Washington on Saturday, followed by an evening game at M$G on Sunday between the Rangers and the Kings – maybe CZAR IGOR will receive double-duty?
Whatever Gallant, Allaire and company decide – I'll be fine with. After all, how can you argue with their results?
Following the practice, Gallant held his daily "TURK TALK." Here it is:
---
The head coach, and as always, didn't say anything too out of the ordinary; but he did allude to the rumors surrounding Patrick Kane. However, once acknowledging such speculation in a hush-hush/wink-wink fashion; "THE TURK" then said he can only focus and worry about his team – and how he always allows his general manager to do his job.
While I'm sure, and in fact know, that Chris Drury consults with his head coach prior to making roster moves; I don't think that Gallant will have any problems if his g.m. nets him Patrick Kane without solicitation either!
When it comes to Halak getting the nod in net, Gallant reiterated what he's been saying since first arriving to New York – he lets Benoit Allaire call the shots.
And for the record – all of this took place prior to 6:30PM.
Come that time? The following:
As you were wondering when Kane would arrive; at 6:30PM EST, the Rangers announced that both Vitali Kravtsov (we don't have to use "the player who shall not be named" label here – because this is a news story!) and Jake Leschyshyn were healthy scratches, "due to roster management reasons" – code for "we're finding a third team to make this Kane trade happen!"
While "Scratchsov" taking a seat in the press box wasn't news; Leschyshyn, and not Ben Harpur, joining him upstairs was.
I did get a kick out of watching this unfold in real-time, and for all of the reasons as previously discussed on this site.
For whatever reason, these millennials, birdbrain beat reporters and chart bois will always get on the 12th forward and the 7th defenseman of the club. Often ignored, are you know, the players paid the big bucks to perform.
While these morons were still crying about Leschyshyn, morons who must exclusively play checkers too; Rangers' general manager, Chris Drury, was playing chess at a Grand Master level.
It's not official yet (at least not at the time of this writing) – but Drury is getting ready to bring Kane to NYC.
WIN NOW!
(And can you imagine if tonight's roster moves weren't for Kane, but rather for a fourth-liner? Oh man!)
Furthermore, Drury also showed some of his hand here – as we now know that both Leschysyhn, who never amounted to much anyway, and Kravtsov, who amounted to even less, will be included whenever this future three-way trade is made.
While I'm sure there will be a few draft picks involved, and maybe one or two players out of Hartford too; at the very least – we now know the two Ranger roster members who are due to become "Blueshirt Alumni."
Since Drury told Gallant to "bubble-wrap" the often-injured Kravtsov, and Leschyshyn too; the head coach was then forced to dress a line-up of eleven forwards and seven defensemen.
That said – don't blame the unorthodox line-up for the loss.
However, the facts are the facts – the Rangers are now 0-1 without Leschyshyn in the line-up! THE HORROR! OH THE HUMANITY!
(And if you can't tell that I'm joking right now – then this site isn't for you!)
Long story short – I expect to be writing about a trade very soon – perhaps once hitting the publish button on tonight's manifesto!
---
Here was the Rangers' line-up in Hockeytown, USA – the first time Gallant used a 11F/7D line-up this season:
FIRST LINE: Kreider/Mika/Vesey
SECOND LINE: Panarin/Trocheck/Tarasenko
THIRD LINE: Lafreniere/Chytil/Kakko
FOURTH LINE: Motte/Goodrow (During the final stages of the third period, Harpur got a whirl with this duo.)
Defensively, we saw:
FIRST PAIR: Lindgren/Fox
SECOND PAIR: Miller/Trouba
THIRD PAIR: Mikkola/Schneider
SPARE: Ben Harpur
STARTING GOALIE: THE HALAKNESS MONSTER
BACK-UP: CZAR IGOR
PRESS BOX: Jake Leschyshyn and The player who shall not be named
---
BOX SCORE time.
The following graphics and information come from ESPN.com:
SCORING:
PENALTIES:
TEAM STATS:
GOALIES:
| | | | | | | | | | | |
| --- | --- | --- | --- | --- | --- | --- | --- | --- | --- | --- |
| SA | GA | SV | SV% | ESSV | PPSV | SHSV | SOSA | SOS | TOI | PIM |
| 31 | 1 | 30 | .968 | 23 | 5 | 2 | 0 | 0 | 60:00 | 0 |
| | | | | | | | | | | |
| --- | --- | --- | --- | --- | --- | --- | --- | --- | --- | --- |
| SA | GA | SV | SV% | ESSV | PPSV | SHSV | SOSA | SOS | TOI | PIM |
| 23 | 4 | 19 | .826 | 15 | 3 | 1 | 0 | 0 | 60:00 | 0 |
---
Come 6:30PM, and knowing that Mike Rupp wasn't in-studio; I turned on the M$GN, where I hoped to see Henrik Lundqvist back.
Unfortunately, that wasn't the case. Instead, the Clear-Sighted Asshole was there by his lonesome – and that was it for me – at least temporarily.
As I usually do whenever seeing Vagistat there by himself, I instantly turned on the NHL Network, where I first learned of the Kravtsov and Leschyshyn scratches. Once confirming the news by checking out the official Twitter account of the team; I returned to the M$GN, just to see what they'd have to say.
What did I return to? This self-serving stain on broadcasting talking about his homemade arts & crafts, charts & graphs, and his even more idiotic "EXPECTED" stats.
Once seeing that the roster wouldn't be discussed, as Vagistat's made-up charts took center stage; I then flipped back to the NHLN for real coverage – and featuring real NHLers too – including Kevin Weekes and Mike Rupp himself.
Once the clock struck 7PM, I returned to the M$GN one last time, where I was greeted by both Sam Rosen and Joe Micheletti, and where Senile Sammy immediately went on a rant about Gordie Howe.
I mean I get it, Howe is the first player you think about when you think about the Wings – but with everything going on at the time – #9 was the last thing on my mind – #88 was.
What was humorous during this time, and really, throughout the whole broadcast too – Sam and Joe would never say "Patrick Kane."
However, they did give us a lengthy diatribe on the state of Detroit hockey, what the Red Wings could do at the deadline, and for good measure – then discussed the future of Dylan Larkin too.
Let's now get into the GAME REVIEW – where in a rarity – I'll try to keep it short, because one, there's not much to really talk about and two, I feel this blog will be dated by the time I post it! Or so I hope!
---
FIRST PERIOD:
To illustrate what I said earlier, here's what I said prior to puck drop (time stamp don't lie!):
Let's face it – win or lose – this game isn't that important right now lol #NYR

— BlueCollarBlueShirts (@NYCTheMiC) February 23, 2023
---
And yep Part I: While I would've much rather a win tonight – it's just my belief that the team were distracted and preoccupied.
And yep Part II: While this is my story and I'm sticking to it – this is not an excuse either. The Rangers played bad, it happens, end of story.
---
As Sam and Joe brought up the scratches while saying everything under the sun but the two words of "Patrick Kane;" Zibanejad, six of sixteen at the circles tonight (37.5% – not good), lost the first face-off of the game.
However, by the 27 second mark, Vesey logged the Rangers first of 31 shots on goal.
Once again, I thought that Vesey had another strong showing – but he wasn't able to bury the puck. Wait until he returns to the fourth line!
Thirty seconds later, Halak matched Husso with a solid save himself, as both goaltenders had now prevented their opponents from scoring early.
(This was arguably Halak's best save of the game too, as Copp, from behind Halak's net, found a wide-open Perron. Despite not seeing the puck being passed – "THE HALAKNESS MONSTER" did his job anyway.)
At just the 2:33 mark of the game, Filip Hronek was boxed for a delay of game penalty – even if it was his teammate, Oskar Sundqvist, who put the puck over the glass. At least the final result was correct – a Rangers' power-play.
Following our first of many lengthy delays, as this game felt as long as watching all three "Godfather" movies – or reading one of these blogs! – a referee, who sounded piss-drunk, tried to coherently explain the call – where the word "tried" needs to be emphasized.
Despite several chances from Mika and Panarin – by the end of these two minutes – the Rangers' power-play was 0-1.
The Blueshirts' man-advantage teams, very poor prior to the Tarasenko trade, heated-up once receiving their St. Louis import. That hasn't been the case during these past three games. That's a trend that needs to cease to exist.
In what was aggravating and infuriating, although expected; whenever the Wings had the puck, Rosen's voice hit a new octave level, as he shrieked like a teenage boy seeing a pair of tits for the first time.
Fortunately, Halak came up with a few saves during this time, including on back-to-back odd-man rushes.
With 14:37 remaining, Tyler Motte blocked a shot high, where I'm not 100% sure if the rubber hit his neck or face. Either way, a scary play – and where it feels like the now two-time Ranger has no luck at all.
After all, following his shoulder injury from last season; in his first game back on Monday night, Morgan Barron was allowed to assault him without punishment. Tonight, he ate this puck high – and fortunately – while Motte took the rest of the period off, by the time the second period rolled around – Motte was back on the ice.
HOCKEY PLAYER – and where this is true too – an injury here would've been somewhat catastrophic – for salary cap reasons.
Should the Rangers land Kane; they'll need to stay healthy – or else they'll run the risk of using 11F/7D or 13F/5D line-ups. (Once the playoffs commence – they, along with the other fifteen teams competing for the silver – won't have to worry about the cap.)
Come 13:15 remaining – Panarin made a pair of consecutive turnovers – but unlike what we've previously seen this season – he followed up on all of them, didn't give up, and soon forced a turnover himself. That wouldn't be the case later on during this particular tilt – as the return of his patented cross ice passes to nowhere plagued the offense. That's another bad habit that needs to go the way of the dodo.
As we approached the half-way mark of the period, this much was evident – the third line has cooled off – and much like the power-play – has been the case for a while.
For whatever reason and despite numerous chances – this line is getting too fancy and now looking to pass rather than looking to shoot.
It was also around this time where Sam & Joe promoted some clothing line from some guy that I never heard of before prior to last season – a guy named "Staple" – and whose brand/logo features a flying rat.
This street pigeon logo, which was promoted last season by the Rangers, now features K'Andre Miller as its latest model.
Ever since posing with the diseased creature – Miller's play has regressed.
While I wouldn't go too overboard when criticizing any player that played tonight, nor the team itself – it's true – Miller hasn't been too hot lately. Two of the goals that Detroit scored tonight were largely because of Miller's ineffective play.
My suggestion? Shove Staple's pigeon up his five-hole and tell him to get lost.
Now with 8:30 remaining, Fox stunted a Wings' two-vs-one odd-man rush, one that soon turned into a three-vs-two odd-man rush – one that Trocheck broke up. Rosen's expert analysis, as if someone was pulling a string from his back? "GOOD PACE JOE!"
Now nearing six minutes left on the clock, the third line had another good shift – but no SOG either.
This is when Rosen decided to tell us all about the Los Angeles Kings' upcoming road schedule, and to make sure that we were aware – then told us how the Rangers, Islanders and Devils compromise the local teams of the area.
Down to 4:27 remaining, and because this is always the case; an ex-Ranger, on this night, Andrew Copp, scored.
1-0, bad guys.
On this goal, Rasmussen and ROBOCOPP streaked to the net – and boom – Copp, even with Mika draped on him, buried the puck past Halak on a shot that the goalie had no shot on.
Come 3:00 remaining – Rasmussen, who just dominated and was all over the place tonight (in a good way for the home team), laid a big hit on Adam Fox. Remember that for later.
Following one last no shots on goal shift from the third line during this period; we remained at 1-0, bad guys.
Here's what I said at the time:
1-0, bad guys, after 20. 1P Thoughts:
— Is Kane a #NYR yet?
— SOG 10-7 NYR, Hits 6-all, FOs 10-8 Wings
— PP has cooled off a bit, ditto 3rd line
— Rangers put up a touchdown in the 3P last time these two played
— Halak looks good
— Another comeback on the way
— LGR

— BlueCollarBlueShirts (@NYCTheMiC) February 24, 2023
---
SECOND PERIOD:
Following the good news of Motte's return; Tarasenko had two chances to score, but pucks sent his way just missed.
About three minutes in, this is when the M$GN kept on showing us shots of the Wings' bench boss for the remainder of this wretched broadcast – Derek Lalonde – a head coach that looks he was birthed in a lab using the DNA of Bela Lugosi, Danny Devito, Gru, Uncle Fester and Boris Karloff:
Since I know that someone without a sense of humor will find this blog, and then call me all of the -isms and -ists, for having the AUDACITY to talk about someone else's appearance, something they can't control; here's a picture of me, where you can now make jokes about the way I look too:
It's sad that I have to say this – but NO – I don't really believe that Lalonde's biggest weaknesses as a head coach are silver, crosses and garlic.
And this too – I don't know how aspiring stand-up comedians do it.
Everyone (at least on social media) is looking to be offended all of the time, where even comedians with name-brand value, are no longer exempt from the mental twits who compromise the "don't look at me, I only point my finger at you," cancel culture.
This sad "qualifying statement" aside and now back to the game; we then spent what felt like an eternity waiting for the match to resume, as the officials debated an icing call.
On one side, was Dracula Lalonde, on the other side was "The Turk;" where in another life, the Rangers' head coach would've made one hell of a UFC fighter. At the very least, and based on the way he cuts promos on the dopes in stripes – he'd be great for the pro wrestling world.
The man who hates the sun won this call, where really, nothing came out of it.
I only bring this up because following the stoppage that soon resulted; the officials skated over to "The Turk" and pleaded their case to him one more time. The M$GN cameras then caught the Rangers' head coach saying, "It's over. Let's move on. It's over."
In my eyes, this was the head coach heeding his own advice – as previously this season – he told Zibanejad, following a bad call, "it's over, go to the locker room."
And that took place following a Rangers' win too!
Down to 13:52 remaining, Trocheck scored the equalizer:
Vinny Trocheck picks a pocket and snaps home the game tying goal 🤌 pic.twitter.com/ha6wP9EZ1m

— Rangers on MSG (@RangersMSGN) February 24, 2023
---
1-1.
Sadly, and is often the case – Sam Rosen became the story following Trocheck's goal.
Despite it being clear as day that Nonna Trocheck's bambino, Vincenzo from Pittsburgh, stripped a Wing off of the puck at center ice – and then marched right to Husso and buried the puck past him – Rosen belted out:
"ARTEMI PANARIN FORCES A TURNOVER IN THE NEUTRAL ZONE JOE. JOE, PANARIN IS GOING TO THE NET JOE. PANARIN SCORES! AND IT'S A POWER-PLAY GOAL!"
(Okay – he didn't really say the power-play goal line, but he did confuse Trocheck for Panarin – a Panarin that wasn't even on the ice at the time.)
If I had the time, or if I cared anymore about this; then I would've shown you the original play call. However, what's the point?
I just bring this up, because right away, the Rangers' social media accounts used the replay of the goal – as they didn't want to embarrass Rosen, via his live call, any further.
One more time – I know he loves the team – but it's time for him to retire. Put him in the studio if he wants to hang around, because with each passing day, he's destroying his Hall of Fame legacy, and even worse – a new generation of fans will only remember this version of him.
And if this was a one-time thing, rather than a daily occurrence – then I'd say that Rosen was as off as the Rangers were.
I take no joy in relaying to you that isn't the case.
---
And this my friends, is where everything started to unravel.
Sans the team sticking up for each other during the final frame – the rest of this game was a slow grind – and not that good either.
Let's blow through the rest of this.
Just 2:12 following Trocheck's tying tally; Filip Zadina, a lotto pick from the 2018 NHL Entry Draft that's actually working out, scored.
2-1, bad guys.
On this goal, and was the case throughout the night, the Rangers had a shift where they did everything but score. Seconds later, the puck found its way past Halak.
After a long shift from the first line, Motte hopped on and couldn't clear a puck. That was all she wrote, as Zadina then sniped the rubber past Mr. H. Monster.
Down to 10:15 remaining, Lindgren cross-checked Rasmussen, where again, the Wings' center was the game's best and most impactful player.
However, the referees decided to review this infraction, as despite signalling a two-minute minor, they reviewed this penalty as if it were a five-minute major – the ONLY time when you can review a penalty.
This review took so long that by the end of it – I was hoping that Patrick Kane wasn't already retired.
The Rangers' penalty kill survived, and where they had a few chances themselves. However, no goals either way – but it wasn't for a lack of trying.
Down to 6:00 on the clock, Tarasenko had a pair of chances to score, following rebounds afforded to Lindgren and Trouba, but was just a half-step shy of cashing in.
Then, with 2:42 to go, Lindgren (very noticeable offensively tonight – even if the scoreboard doesn't reflect that truth), set-up Fox for a perfect one-timer from one foot away from Husso. Sadly, Husso then made a perfect save himself, as it took a full extension of his left pad to prevent what would've been another tying goal.
And right after that, where the Rangers did everything but score – boom – with 1:58 remaining, the Wings caught the Rangers during a bad defensive transition – and Rasmussen, who looked like he was playing for a $10M contract tonight – scored.
This was another goal that was sort of on Miller, as following a Halak save on Perron, #79 brain-farted, Rosen-Style, and there was Rasmussen, all alone in front of an empty net, for the easiest goal of his life.
3-1, bad guys – a deflating late goal if there ever was one – especially with the Rangers' offense motoring – but with no goals to show for it.
Right after the goal, a piece of glass by the Rangers' bench broke.
Rather than saying, "hey, this is going to take an hour or two to fix, so let's go to the locker room and once repaired; we'll then put 21:34 on the clock and play out the remainder of the game;" instead we waited a solid half-hour for the ice crew to do their job.
The only good thing as a result of this delay? Micheletti, to his credit, told some funny Gordie Howe stories.
3-1, bad guys, after forty minutes.
Here's what I said at the time:
3-1, bad guys, after 40. 2P thoughts:
— Maybe #NYR are preoccupied with something else right now.
— Very sloppy, but they've had chances.
— SOG 23-15 NYR; Hits 15-8, FOs 22-17 Wings
— I don't know if "boring" is the right word, but this game hasn't been inspiring.
— LGR

— BlueCollarBlueShirts (@NYCTheMiC) February 24, 2023
---
THIRD PERIOD:
Despite the two goals allowed during the second period – this final frame was arguably worse.
Here's the only stuff worth mentioning:
— Miller was demoted to the third pair, while Mikkola was promoted to the first.
— Husso robbed Mika during the Swedish DJ's backhanded try from a foot out.
— The Rangers took a lovely too many men on the ice penalty with 16:48 remaining.
— On the penalty kill, Fox led a 3 x 1 odd-man rush – and over-passed – and didn't put a SOG.
— Right after this failure – boom – and with thirty ticks left on the Wings' power-play – Hronek ripped a puck from the slot past Halak – and where the goalie was screened in the process.
— 4-1, bad guys – and where it wasn't likely that a comeback was happening.
— Down to 8:16 remaining; Rasmussen crushed Panarin to the boards to the right of Halak. Immediately, as within a nanosecond, Fox jumped Rasmussen and got the better of him. Following Fox were Lindgren, Tarasenko and Chytil.
— Fighting and physicality aren't really in Fox's wheelhouse – but despite down by three – the future 2023 Norris Trophy was right there to defend his teammate.
— And some people accuse this team of being soft!
— Two minutes later, and following another failed Rangers' power-play; Trocheck, who can defend himself, was hit from behind by Jake Walman.
— And oh, before proceeding, this is what I said prior to the game on Thursday:
I see this a lot but who has pushed #nyr around this season? Trouba, Lindgren, Trocheck, Motte, Goodrow and Vesey got the toughness covered. Even Lafreniere ain't afraid to get dirty. https://t.co/MZz0riHLyu

— BlueCollarBlueShirts (@NYCTheMiC) February 23, 2023
---
— The end result of Walman's hit? Another one of my predictions/takes taking place on the ice – as Lafreniere immediately dropped the gloves with the Wings' d-man – and pummeled him too – dirty boxing style! (And where a few rabbit punches and elbows may have been thrown as well!)
— So while the Rangers didn't give their best, nor play it – at least they never gave up. They stuck up for each other. I can appreciate that.
— 4-1, bad guys, final.
---
Here's my favorite coach and yours, "THE TURK," following his team's off-night:
---
Again – Gallant said what you'd expect him to say – he wasn't happy with the loss, the team has to play better, there were too many defensive lapses and the Wings played great.
What he wasn't asked was, "what's up with Kravtsov and Leschyshyn?"
I mean, you'd think one reporter would ask him about it.
To be fair, he was asked about the 11F/7D line-up, where he responded, "Not an issue at all, not one bit."
---
As far as anything else, and as brought up earlier – I thought Vagistat's post-game analysis, and much like his days as an NHL goalie, was the drizzling shits.
Maybe it's just me, who is not a fan of his work anyway (and let me stress for the 90678678679696th time – I know he's a good guy in real life, a strong family man and very fan-friendly – as long as you agree with him); but I really thought he was selling fear to impressionable fans.
It was one bad game – and where no team goes 82-0 and plays flawless all season.
Was this loss disappointing in the moment or in a vacuum? Of course – but to ignore everything else we've seen since the early days of December is ridiculous and ludicrous – at least in my eyes.
And with the thoughts of Patrick Kane racing through their minds, a player I hope to write 10,000 words about on Friday night – I can understand if the team wasn't all there.
A loss like this during a playoff game? Then I'll worry.
Until then, bring on the Capitals and Kings.
For the love of all things holy to hockey – I hope to be back tomorrow night.
If not, see ya following the Rangers vs Capitals matinee from D.C.
LGR!
PLUGS TIME!
---
My first plug of tonight's blog – the mandatory plug for my book, "The New York Rangers Rink of Honor and the Rafters of Madison Square Garden."
As mentioned previously, the book is now available in hardcover, in paperback and in Kindle formats. To purchase a copy of the book, visit this link:
https://www.amazon.com/Rangers-Rafters-Madison-Square-Garden-ebook/dp/B09CM5N2WD
For those still looking for signed paperback versions of the book, I have re-ordered more copies. I now have a few signed copies for sale at $25 a pop (includes shipping price) through me directly. Here is all the information on that:
---
My four-volume set of books, "One Game at a Time – A Season to Remember," is a game-by-game recount of the Rangers 2021-22 campaign.
My second title as an author, "One Game at a Time – A Season to Remember," is now available in eBook, paperback and hardcover formats.
To obtain signed copies, visit: https://bluecollarblueshirts.com/onegamebook/
To purchase all four volumes on Amazon, visit: Amazon.com – "One Game at a Time."
---
The greatest volume-set of books on Rangers' history today!
"Tricks of the Trade – A Century-Long Journey Through Every Trade Made In New York Rangers' History," a four-volume set of books that meticulously covers every trade made in franchise history, is now on sale.
All four volumes of the title can be purchased on Amazon.com and are presented in three different formats – eBook, paperback and hardcover.
To purchase Volume I: Conn Smythe (1926) – Craig Patrick (1986), visit Amazon.com
To purchase Volume II: Phil Esposito (1986) – Neil Smith (2000), visit Amazon.com
To purchase Volume III: Glen Sather (2000-2015), visit Amazon.com
To purchase Volume IV: Jeff Gorton (2015) – Chris Drury (2022), visit Amazon.com
To purchase signed copies of all four volumes, visit https://bluecollarblueshirts.com/tricksofthetrade/
---
Here are my last few blogs, in case you missed them:
---
---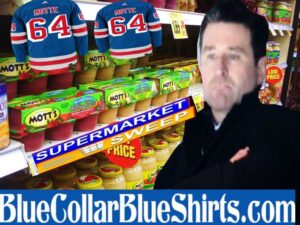 ---
If you haven't already, subscribe to this blog for the next update:
---
Don't forget to order my new four-volume set of books, "Tricks of the Trade!"
If you don't order through me, all four volumes are now available on Amazon.com
For more details, check out: https://bluecollarblueshirts.com/tricksofthetrade/
Thanks for reading.
LET'S GO RANGERS!
Sean McCaffrey
BULLSMC@aol.com
@NYCTHEMIC on the Tweeter machine