Greetings and salutations everyone and welcome to another blog here on BlueCollarBlueShirts.com. Just to think – and no less than 24-hours ago – I actually had people telling me, "THE RANGERS ARE DONE!"
But hey, who doesn't love some late February overreactions!
Heck, tonight's celebration blog may be an "overreaction" too!
And this as well – following tonight's 5-2 impressive victory over the Kings – the Rangers are now 1-0 post "The Player Who Shall Not Be Named Era!"
But please, for the "TURK TRUTHERS" – tell me how Gerard Gallant "DOZN'T NOSE WUT HE'S DOIN," and how "KRISS DROORY IS ROONING THE RANGERZ!"
Akin to both a flat earth truther and a guest of the "Maury Povich Show" – "I have determined the Rangers' demise as a lie!"
My final victory lap? This: how do you feel about the Rangers going for Patrick Kane now?
My point? The following:
The Rangers sure looked like they knew how to play defense tonight – despite playing the majority of tonight's tilt with only four d-men in tow – where even more impressive than that – the Blueshirts were also without their top two LD men, K'Andre Miller & Ryan Lindgren.
Perhaps better than all of that?
CZAR IGOR IS BACK!
---
Truth be told, Sunday's contest had a lot of similarities from the previous four games that the Rangers had played – and where you already know that the Blueshirts had lost their past four matches when entering tonight's game.
The familiar script began right away, as the Rangers squandered an early power-play opportunity, thus preventing them of scoring the game's first goal – as previously, their opponent had scored first during the past six games.
However, the Rangers, behind their 2022 Vezina Trophy winning goalie, CZAR IGOR, would reverse course – as #31, now with his hair cut and no hair-band to be found either (superstitious much?), wouldn't allow the Kings to get on the board following the multiple miscues of their man-advantage units.
Once returned to full-strength, the two teams of the 2014 Stanley Cup Final had a defensive battle, where not many shots on goal were to be had.
However, on the Rangers' third shot on goal of the game, which took place with only six minutes remaining, there was Alexis Lafreniere, from a tough angle, putting a puck past Jonathan Quick.
1-0, GOOD GUYS – as finally – the Rangers had ended their six-game allowing the other team to score first streak.
But of course, since nothing is ever easy; just 2:37 later, K'Andre Miller took one of the dumbest and most disgusting penalties imaginable, when during a scrum, he hocked a loogie right into the face of Drew Doughty. (More on this stupid match penalty, and possible suspension, during the GAME REVIEW.)
The Rangers, already without the "day-to-day" Ryan Lindgren, and with Braden Schneider being "bubble-wrapped" too (more on this below as well); were then forced to finish this game with only four defensemen on the ice – with a five-minute penalty to kill – and where the penalty kill hasn't exactly been the team's biggest strength as of late.
During a penalty kill that extended into the middle period; the Rangers limited the Kings to two lousy shots on goal during their flawless performance.
The Rangers weren't done.
So often this season, whenever we see the Rangers fail on a power-play – BOOM – the other team scores.
That negative trend was bucked tonight – and better than that – the Rangers soon found themselves on the right end of this.
Once killing Miller's five-minute major, there was Vincent Trocheck, who rapidly scored a pair of goals within a time-span of 1:35. 2-0, GOOD GUYS and then 3-0, GOOD GUYS!
Only a questionable goal scored during a Kings' power-play, late into this second period, marred this frame. 3-1, GOOD GUYS!
However, just prior to Viktor Arvidsson's power-play tally, there was Mika Zibanejad, the best penalty killer on the team, who sacrificed himself (and don't lose sight of the fact that the Rangers were up by three goals at the time); when he stepped right in front of a Drew Doughty slap-shot.
The Swedish Jesus, now prone on the ice and with his right ankle writhing in agony, had to be assisted to the locker room by both team captain Jacob Trouba, and long-time Rangers' trainer, Jim Ramsey.
And oh, did I mention yet, that the recalled Ryan Carpenter, who only played thirteen seconds tonight (he served Miller's penalty – and once done – skated right back to the Rangers' bench), and just like Schneider, was "bubble-wrapped" too?
As Gallant's ranks were being depleted; collectively, every resident of Rangerstown, USA took a deep breath and feared the worst, as #93 painfully hobbled to the tunnel.
Come the third period, Willis "Mika" Reed was back; and following early goals traded by Matt Roy and Artemi Panarin; DJ Zibanejad spun his 18th power-play goal of the season, his 31st score overall, en route to the 5-2 rout of the Kings!
There is a lot to praise and rave about tonight – finally!
And I'm going to enjoy every second of recapping this one too!
Let's get into all of it; but up first, and as always, the pregame news & notes!
---
Since the Rangers "played," or did whatever that was on Saturday; there was no morning skate on Sunday.
At 3:00PM, two hours prior to puck drop, Gallant held a short "TURK TALK" with the media, a chat that ran less than forty seconds:
---
Aside from announcing CZAR IGOR as his starter, the first time the 2022 Vezina Trophy winner would play on back-to-back days since the Rangers' road-trip in Dallas and Arizona from earlier this season (and when the team was struggling too); here's how the rest of the "TURK TALK" went:
Turk: "Lindgren is day-to-day."
Reporter 1: What's the status of Lindgren?
Reporter 2: But isn't Lindgren dead?
Reporter 3: The cap? Kane? Lindgren?
Turk: "Day-to-day, are you f'n deaf?"
---
While the above wasn't the transcript verbatim – it may as very well have been!
Long story short – Ryan Lindgren remains "day-to-day" and wasn't available for today's game – and no matter how many times Gallant was asked about double-nickel – the answer remained the same!
Of course, Lindgren's status impacts all of the KANE-A-MANIA runnin' wild through the streets of Rangerstown, USA.
At this point, it's believed that that the Rangers and the Blackhawks have their deal in place – and where it's also assumed that Vancouver will be the third team included – where who knows – maybe they'll get their draft pick, that they traded on Saturday, back in exchange for taking 25% of Kane's contract.
In theory, had Lindgren had gone on the injured reserve, then the Kane deal could have finally happened – especially since Jake Leschyshyn, waived on Saturday, cleared the wire on Sunday.
However, that's not what happened.
In a response to Leschyshyn clearing at 2PM on Sunday; in turn, the Rangers recalled Ryan Carpenter from Hartford – where Leschyshyn was assigned to.
Once again – however – that's not what the Rangers' originally intended to do.
Let's get into all of the salary cap junk now.
---
I don't want to get too long-winded on this subject – even though we all know these intentions never go as planned!
For regular readers, especially long-time readers who are fully aware of my previous disdain for Henrik Lundqvist's old contract – I HATE THE SALARY CAP.
HATE HATE HATE it.
As originally said on this site during the reign of "THE KING;" by design, the NHL forces their fans to worry more about player cap-hits than anything else, rather than you know – talking about the stuff on the ice.
Currently, the NHL is also breeding a new generation of fans, where there's no such thing as loyalty any more – that is – except for the almighty cap-hit.
In a way, the days of rooting for your favorite player, talking the back of a trading card, and growing up with players to only play for one franchise are long gone. Replaced by those glorious days are fans worrying about every last cent that these players earn. How is that good for anyone involved?
"Yea, my favorite player scored a goal tonight, but at $7.5M per – he didn't really have a good game. And Sieve Vagistat told me his "EXPECTED STATS" aren't that great either!"
I'll save you from another one of my rants on ANALytics – but think about it – when was the last time you were at a game where the person next to you was talking about "EXPECTED STATS?" All of this filth is ruining the game.
---
While I don't want to play my "GREATEST HITS" here; simply put – the NHL is the top hockey league in the world – but every day, teams are forced to forgo "player safety" – and in turn – dress inferior & incomplete line-ups – all because of Gary Bettman's stroke-of-genius hard-cap system.
As mentioned a few blogs ago – let's also not forget that the NHL has received significant increases to their revenue, via the non-stop gambling ads, the digital ads on the boards, the multi-billion dollar TV contracts, the reverse retro jerseys cash grab, the skyrocketing costs of tickets, etc.
However, and carrying the pathetic Arizona Coyotes is part of it – NHL g.m.'s have to worry about what amounts to pennies to the "Common Joe" – rather than doing what's best for their teams.
And while I understand that the NBA, NFL and MLB generate more money than the NHL – what does it say when the premier hockey league of the world is waging wars over players who make $800,000 or less – and trying to squeeze every last cent – while the other leagues (especially the NBA & MLB) are signing reserve players to contracts worth eight figures!
---
During tonight's game, Gallant was forced to use only 11 forwards and 5 defensemen. And despite Miller saying "SPIT HAPPENS;" the head coach was then forced to only use four blue-liners.
Due to the NHL's current contract bargaining agreement, NHL teams are required to dress eighteen skaters.
In addition, if you have the money under your salary cap, then you have to recall a player too, where you can't use the injury/emergency/reserve exemption either.
Following the Kravtsov trade, and the waiving of Leschyshyn too, as Drury opens up money/cap space for Patrick Kane; on Sunday, the Rangers did have the money/cap space on their books to call-up a player.
While I know that all of this is getting too lost in the weeds; it does make you wonder why the Rangers just didn't dress Ryan Lindgren tonight and then have him sit there and watch.
Instead, the Rangers recalled Ryan Carpenter, where he, along with Schneider, took in the game from the bench – and temporarily dented Drury's available cap-space too.
In other words, the general manager, the head coach and the team themselves, all jumped through hoops on Sunday, in order to bring in Patrick Kane later this week.
The reason why Carpenter and Schneider didn't play was because the Rangers didn't want to run the risk of either one of them receiving an injury on Sunday.
Had either been hurt, it would've foiled Drury's master plan, as the "cap gymnast" continues to clear every hurdle imaginable in order to make Kane a Ranger a reality.
Come Monday, you will read that Carpenter was waived while Schneider, due to his sophomore status (and lack of games played, thus not being required to clear waivers), was assigned to Hartford.
(UPDATE ON SCHNEIDER AT THE END OF THIS BLOG.)
With the Rangers idle until Wednesday, while Carpenter will most likely remain in Hartford; Schneider won't report, as this transaction is just a "paper transaction."
When the Rangers return on Wednesday against Philly; Schneider will be back – and because of the minimal cap savings that were saved by getting Schneider off of the main roster for 48-hours – Schneider will have a new teammate too – Patrick Kane.
If there was anything else learnt on Sunday, then it was that when the Kane deal happens – a member of the team's present varsity roster won't be included. Instead, major draft capital, and perhaps a player or two from Hartford too, will be – and with all eyes on Zac Jones.
---
Last but not least; following the game, "THE TURK" pretty much explained all of this in the best way that he could, where he also added that both Schneider and Carpenter were aware of what was going to happen next.
While Carpenter won't factor into the Rangers' playoff run; Schneider will.
And yep – communication is key – and I'm glad that the Rangers didn't leave these two in the dark.
In turn, give a tip of your cap to B-SCHNEIDS, as he's being a team-player as the Rangers battle against the salary cap.
Carpenter also deserves some respect – as despite his desire of wanting to work his way back onto the main roster – he knew that tonight wasn't the night for his audition.
And heck – since the Rangers are off on Monday, following their back-to-back set from this weekend – while Schneider's wallet takes a ding – I'd also expect to see him at Rangers' practice on Tuesday. It's not like he's banned from the facility!
In closing, I just wasted twenty minutes of my time writing and proof-reading this salary cap nonsense.
I go back to what I said at the top of this segment – "I HATE, HATE, HATE THE SALARY CAP!"
---
Here was the Rangers' line-up from Sunday – a line-up that you'll never see again – and where as mentioned above – this black & white text doesn't tell the whole story either:
FIRST LINE: Kreider/Mika/Tarasenko
SECOND LINE: Panarin/Trocheck/Goodrow
THIRD LINE: Lafreniere/Chytil/Kakko
FOURTH LINE: Vesey/Carpenter/Motte
Defensively, we saw:
FIRST PAIR: Mikkola/Fox
SECOND PAIR: Miller/Trouba
THIRD PAIR: Harpur/Schneider
STARTING GOALIE: CZAR IGOR
BACK-UP: THE HALAKNESS MONSTER
PRESS BOX: Not a soul
DAY-TO-DAY: Ryan Lindgren
---
BOX SCORE time.
The following graphics and information come from ESPN.com:
SCORING:
PENALTIES:
TEAM STATS:
GOALIES:
| | | | | | | | | | | |
| --- | --- | --- | --- | --- | --- | --- | --- | --- | --- | --- |
| SA | GA | SV | SV% | ESSV | PPSV | SHSV | SOSA | SOS | TOI | PIM |
| 14 | 2 | 12 | .857 | 10 | 2 | 0 | 0 | 0 | 36:23 | 0 |
| 7 | 3 | 4 | .571 | 4 | 0 | 0 | 0 | 0 | 23:37 | 0 |
| | | | | | | | | | | |
| --- | --- | --- | --- | --- | --- | --- | --- | --- | --- | --- |
| SA | GA | SV | SV% | ESSV | PPSV | SHSV | SOSA | SOS | TOI | PIM |
| 28 | 2 | 26 | .929 | 22 | 4 | 0 | 0 | 0 | 60:00 | 0 |
---
Come 4:30PM, I tuned into the M$GN – where I immediately got a rash when I saw that Sieve Vagistat was there.
I'm not even making this up, here's what Vagistat said during his first ten seconds of air-time, ten seconds where I was scrambling to find my remote, "JOHNNY, BENOIT ALLAIRE TOLD ME WHEN I WAS PLAYING WITH LUNDQVIST…"
<CLICK>
I then turned on the Islanders vs Jets game, where ultimately, that wasn't much better either. (Isles won 4-0 – and of course by that final score too!)
At around 4:55PM I returned to the M$GN, where I was hoping to hear that Drury traded Sam Rosen's toupee for salary cap space. Instead, there was the seven-foot jackass, who somehow, made me miss P.K. Slewban from yesterday, and who went on-and-on about his homemade arts & crafts, charts & graphs – and where he must've said the word "EXPECTED" no less than 1,000 times.
I'd "EXPECT" a better analyst on Ranger broadcasts, but much like Vagistat's spreadsheets – what I "EXPECT" isn't reality.
Sad.
Come 5PM, Sam Rosen & Joe Micheletti entered our homes, where this is how their first five-minutes of face-time were spent:
— Sam lamented about the Rangers and told us how much they stunk. Joe said don't worry.
— A nice ninety second verbal fellatio was performed on the Kings' Kevin Fiala.
— A sixty second "Ode to Anze Kopitar."
— They then closed by saying Happy Birthday to both Jacob Trouba (29) and Barclay Goodrow (30).
And as Robert Deniro once said at the end of "Casino," "and that was that."
---
FIRST PERIOD:
Prior to the game, we had a National Anthem performed by some kids who call themselves "Wanmore."
Here's how Sam covered all of this:
"OH JOE, IT'S NEXT-GEN NIGHT JOE! THE KIDS ARE HERE JOE! BUT THEY ARE ONLY ALLOWED IN IF THEIR PARENTS PAY THE $250+ GET-IN PRICE JOE! PAY UP JOE! OH JOE, WANMORE JOE! I WANT MORE RANGER GOALS MYSELF JOE! HAVE YOU SEEN MY METAMUCIL JOE? AND IT'S A POWER-PLAY GOAL FOR BRUCE DRIVER JOE!"
Okay – maybe he didn't say all of that – but that's what it sounded like to me!
---
With CZAR IGOR and Jonathan Quick in nets; Gallant opted to use his third line to start, where Filip Chytil soon lost his first draw of the game. The Czech center remains terrible at the dots, as he finished one of seven tonight (14.3%).
Just 36 seconds in, and as Sam & Joe did their best to refrain from saying "Patrick Kane;" CZAR IGOR made his first save of the contest – a shot from Kopitar – and from one foot away to boot.
Nearly ninety seconds later, Quick made a good save himself, a pad denial on Vincent Trocheck. That would be the only time where the future Hall of Fame goalie would stop NONNA TROCHECK'S BAMBINO, VINCENZO FROM PITTSBURGH, tonight.
(And yes – Quick is a future HOFer. With Luongo now in – every great goalie from his generation should be in, including Quick, Lundqvist, Fleury, Crawford and a bevy of others.)
The two goalies remained impeccable, as Quick soon made a stick save on Lafreniere, while on the other end, CZAR IGOR made a pair of tough saves on Kempe and Kopitar with 16:20 remaining.
At the time, #31 had already amassed five stops – and where sans one of them – none of them were easy.
Down to 15:17 remaining, Kreider drew his first of two penalties, and where each penalty drawn was similar, as both infractions committed by the road team took place as CK20 was hanging around the Kings' net.
With Durzi off for tripping, the two Ranger power-play units had their chances, but between shooting wide and blocked shots – finished these two minutes without a shot on goal.
As the period approached the half-way mark, I want to share with you what I said in real-time, just to prove to you that I don't have some sort of hard-on for Miller – and as many throughout this fan base do – including my good friend of 25 years now, Ricky O.:
Miller looks tenacious out there – and in "prove it" mode #NYR

— BlueCollarBlueShirts (@NYCTheMiC) February 26, 2023
---
In hindsight, I guess Miller was tenacious!
Come 9:01 remaining, we had our first whistle since the penalty called on Durzi, as both teams were pretty much in "dump-and-chase" mode.
Once returned from the commercial break, this is when Micheletti brought up all of the salary cap junk and explained why Schneider & Carpenter were stapled to the bench.
(Joe didn't really explain it that well, but I don't blame him, because one, it's confusing, and two, he only has a finite amount of time to do so. As mentioned earlier, it took me twenty minutes to explain all of it. There's no way he could cover everything in just thirty seconds.)
As Joe did his best when explaining the NHL's Mickey Mouse cap-rules; down to 6:00 remaining, a curse was lifted – the Rangers scored the first goal of a game!
Here's a pure third-line goal:
ohhh yes, LAFFFY gets the Rangers going!! pic.twitter.com/3O0LKCu9bM

— Rangers on MSG (@RangersMSGN) February 26, 2023
---
1-0, GOOD GUYS!
On this goal, the third line, forechecking at the time, saw Chytil force a turnover. Once the puck was dished to Kakko, the Finn found his lotto pick peer, Lafreniere, wide-open. From a tough angle, the 2020 first-overall pick shot the rubber right at Quick, the goalie misplayed it and then kicked it into his own net.
While Lafreniere most certainly received a good bounce; at the same time – "GOOD THINGS HAPPEN WHEN YOU SHOOT THE PUCK!"
Since it's the "Rangers' Way" (trademark pending); right after scoring, the Kings had a hell of a chance to score themselves – but this negative trend was put to bed tonight – as CZAR IGOR came up with a big stop.
A goal allowed here would've been crushing.
Down to 3:23 remaining, "SPIT GATE!"
---
Right before M$GN cut to commercial, the Rangers forced a turnover in the Kings' zone. The silver-and-black then blocked a glorious scoring chance, as Miller ripped a shot from the high slot.
With the puck out of play, the two teams had a full-out scrum – one that M$GN left – as instead, Lundqvist telling us to gamble our life savings on this game was more important.
Again, I wonder if Lundqvist tells his impressionable kids, "WE'RE ALL CAESARS!"
At the time, you just thought, "whatever, it's a scrum, I've seen a million of them."
Once the three minutes of telling us to rob grandma of her life savings and bet all of it on the game; we returned to the officials, who at the time, were watching a video review.
During a review that took nearly ten-minutes in real-time to complete; Rosen was completely baffled over what they were reviewing – where in this case – Rosen's daily bouts with confusion was warranted.
Micheletti echoed his buddy, as he too, and just like all of us at the time – had no clue what the officials were looking at, that on the surface, looked to be just another scrum.
All Sam & Joe could figure out were that the officials were reviewing whatever Miller did during the scrum.
During this – and keep this in mind – M$GN kept showing us replays of the scrum, and isolated on Miller – yet no infraction was to be found.
Finally, the officials put their headsets down and told us what they were looking at for the past ten minutes – Miller spit right in the face of Drew Doughty, and in turn, was booted from the game for a match penalty.
The second the officials "spit" out their ruling; M$GN, NOW, AND ONLY ONCE THIS PENALTY WAS CONFIRMED, immediately had the replay for us:
Miller match penalty for spitting at Doughty. This wasn't done maliciously and more self-consciously and bad timing. #NYR pic.twitter.com/Mn0mWSNwDJ

— David 🏒 (@DaveyUpper) February 26, 2023
---
It's my opinion that the M$GN production crew (and to be clear – not Sam & Joe) knew what happened – but didn't want to share it until the call was confirmed. After all, besides Sam Rosen, who doesn't love some "home cookin'?"
I don't want to go too long on this (I love how I always say that and then do the complete opposite); but yep – this was a top story from tonight's game – and from around the league too.
Make no bones about it – Miller hocked a loogie right in Doughty's face – and may have caught some of Doughty's mouth too. This is what's scientifically described as a "pussy move."
Ranger fan or not a Ranger fan – this was inexcusable. It's the act of a coward – or to be more accurate – the act of a rat – aka – Brad Marchand.
Furthermore, this act of spitting defies "the code" too.
Of course, in a response, the race-baiting fans of this fan base immediately put their vegan soy milk down, put their "ADAM HERMAN 3:16 SAYS I JUST MADE UP A FAKE STORY ABOUT TONY DEANGELO" shirt on, asked the LGBTQ community if it was okay to temporarily shelf their fake outrage over "PRIDE NIGHT" – and then called Drew Doughty a racist.
Let me be clear with you – and as mentioned during the "DeAngelo Days" (I'm not rehashing all of that tonight – just check out the archives of this site or Volume IV of my new "Tricks of the Trade" book) – I do not care about where a player comes from, his skin color, his religion, or any other personal trait and/or defining character description.
As long as a player doesn't beat women, isn't a terrorist and isn't a pedophile – then simply put – I DO NOT CARE.
To each their own I say – whatever these players believe and/or do – well it's none of my business – as long as it isn't a real crime. (For example, if a guy got busted for holding pot, a crime in the days of the past, then I wouldn't care about that at all.)
What I did care about, was all of the flat-out false accusations, where Ranger fans (and many of these people tagged me on Twitter with their bullshit), proudly opined & stated, "DREW DOUGHTY MUST'VE CALLED MILLER THE N-WORD."
I mean, that's where your head immediately goes to?
And just like how Adam Herman once marginalized Miller for being black; that's how I felt these reactions were too.
To me, and just like anyone else – Miller is a hockey player. That's all I care about. The fact that he's black – whatever – and just like his white teammates – I don't care – JUST WIN!
If there's a silver lining here (and we all know about my glass half-full outlook), then it's the following:
In a different period of time – NOBODY WOULD HAVE MADE EXCUSES FOR MILLER.
Fast-forward to today, white people, mainly liberals, were not only quick to defend Miller – but had no problems when assassinating Doughty's reputation too.
I understand that CANCEL CULTURE doesn't care about facts – and will try to take down anyone for any conceived transgression – before moving on to their next target.
However, how ignorant and stupid can you be?
Had Doughty said anything racial towards Miller – not only would have the refs heard it (especially with everyone mic'd up) – but the Rangers would've heard it too.
And had Doughty said what these morons accused him of – then there would've been a full line-brawl too.
Furthermore, just look at Miller's reaction. He wasn't pissed. Had Doughty used a racial slur, then I think you would've seen Miller go into BEAST MODE – and I'm sure that his BFF and mentor, Jacob Trouba – then would've entered BEAST MODE too.
In reality, what happened next was that the officials explained to Gallant what had happened.
Gallant, after mouthing the words, "stupid f***" (where I don't know if these words were intended for Miller or for the referee who broke the bad news to him); the head coach took this all in stride.
Put it this way – we've seen "THE TURK" get hot and explode on these bozos in stripes before. That didn't happen here – where again – had Doughty said a racial slur – then Gallant would've been fuming.
I just hope that the people who were so quick to call Doughty "a racist;" that in turn, these idiotic folk were just as quick when posting their apologies and admitting the errors of their ways.
Sadly – I already know that's not the case.
Why be responsible for our own actions?
---
Black or white, gay or straight, Russian Orthodox or Christian – it don't matter – what Miller did was low and disgusting. He deserved to be kicked out of the game.
And had this taken place during the height of the COVID-19 pandemic?
Then I'm sure that Miller would have received a lengthy suspension too.
(It remains to be seen if Miller will be suspended, as previous "spitters" have received anywhere from 1-5 game suspensions in recent years.)
And for anyone defending Miller, defenders who aren't using the "Doughty is a racist" false narratives?
What would've your reaction been, had the roles been reversed, and where someone spit in the face of a Ranger?
I already know what some of the reactions would've been had a white player spit in Miller's face – Adam Herman, the fiction-writer, would be calling for that player to be exiled to Siberia – where funny enough – that's where Vitali Kravtsov will reside next season!
Furthermore, everyone, including fans of Marchand, went bonkers when he licked Callahan's face five years back.
If you were one of these people who were pissed over the actions from "The Rat;" then how can you defend Miller here?
---
Long story short – Miller messed up.
That said – nobody is perfect – including yours truly. We all make mistakes. Shit, or in this case, "spit," happens.
To jump-ahead, following the game, Gallant said that Miller felt bad about it and that this was an accident.
Sure, because whenever I'm at work, I always accidentally spit in someone's face! (See ya soon "EDDIE WHISTLES!")
Following Gallant's comments, the Rangers' beat rallied around Miller and said that it was an accident and how #79 apologized to Doughty.
I'm glad that Miller apologized – although I think the "accident" excuse is just that – an excuse.
Just man-up.
You got pissed, you're 6'7″ and refuse to fight anyone – and since you won't drop the gloves – you dropped saliva in Doughty's face.
Miller's apology will be accepted.
The roles reversed? That apology would be torn down by the same people who called Doughty a racist.
Me personally? I just gave you all of my opinions. I'm over it.
Plus, I hate any member of the 2014 Kings anyway.
But yeah – this was a bitch thing to do – but what's done is done.
We move on and learn from our mistakes.
We'll just see how long it takes the Rangers to move on from this, because there's a good chance that Miller will be suspended come Monday – but then again – with the way the four Ranger d-men played tonight – that may not be an issue – especially against a crappy Flyers team on Wednesday!
---
Man, I'm going super long tonight – but hey – the Rangers have the next two days off – and there won't be a Kane trade made on Monday! Plus, I like to enjoy these wins and take my time – especially since I'm off tomorrow!
To reset; with Miller gone and Gallant not wanting to risk injuring Schneider, thus potentially derailing Drury's plans – Trouba, Fox, Mikkola and Harpur then went the rest of the way – and with over 43 minutes left to be played.
For a Rangers' defense and penalty kill that hasn't been very good during the past three games – these four players were OUTSTANDING.
Screw the analytics and the crap that Vagistat serves up.
Try these REAL STATS on for size:
Jacob Trouba: 29:01 TOI, 0 plus/minus
Ben Harpur (who played with Trouba following Miller's dismissal): 28:04 TOI, 0 plus/minus
Adam Fox: 25:57 TOI, 2 assists, +3
Niko Mikkola: 25:34 TOI, +3
Four warriors my friends!
What happened next?
These four d-men, along with their forwards and two saves from CZAR IGOR to boot; killed off LA's five-minute power-play.
Like a proud father seeing the birth of his child – I'm beaming ear-to-ear – and couldn't be more proud.
We remained 1-0, GOOD GUYS, after one period – and with 1:37 left on the kill.
Here's what I said at the time:
1-0, GOOD GUYS, after 20. 1P Thoughts:
— This crazy week continues.
— Miller, "Spit Happens Brah"
— SOG 10-3 LA; Hits 8-3, FOs 5-2 #nyr
— Have I ever mentioned how much I hate the salary cap?
— Kane can't get here soon enough, lots of jumping thru hoops now.
— Good PK

— BlueCollarBlueShirts (@NYCTheMiC) February 26, 2023
---
SECOND PERIOD:
Following the Rangers' successful PK, the Garden Faithful, who were remarkable and loud all night, roared in appreciation.
They were soon rewarded with two goals from Vinny "THE POST CAN SUCK MY CANNOLI" Trocheck:
TROCHECK..watch closely or you might miss it👀

Rangers up 2-0 pic.twitter.com/MYjKG0PB1X

— Rangers on MSG (@RangersMSGN) February 26, 2023
---
2-0, GOOD GUYS, as finally, it were the Rangers who scored following a game-changing penalty kill.
On this goal, a puck-luck score (but they all count the same); Trocheck attempted a pass but the puck hit Roy instead – and then deflected right past Quick.
I'll take it.
Trocheck's third goal? A no-doubt-about-it tally:
MAKE THAT 2 FOR TROCHECK!!!

back-to-back goals pic.twitter.com/upeCiGrxkp

— Rangers on MSG (@RangersMSGN) February 26, 2023
---
3-0, GOOD GUYS!
With 16:23 remaining, Trocheck, following his shot from the slot – ended Jonathan Quick's night.
While it's not my problem – I didn't think that Quick looked bad at all. Two of the goals allowed were lucky and his defense did him no favors on the third.
Put it this way – had Igor given up this trio of tallies – I wouldn't be blaming him.
Up next, and for a large duration of the period – defense, defense, defense!
I really liked this, because with the four blue-liners knowing they'd be on fumes during the final frame (but with two off-days to follow – and don't forget that) – they clamped down and protected CZAR IGOR – a goalie that who we all know entered this game while on the biggest slump of his career.
TEAM.
At around the half-way mark of the game/period, we were shown that Henrik Lundqvist was in-attendance, where on this night, the celebrity by his side was the guy from "Taken."
Three things – One, it sucked that Lundqvist wasn't in-studio. Two, his enthusiasm for the team is apparent. He's there on his off-nights. Three, and this easily could've not been the case – Lundqvist harbors no resentment as the Rangers succeed. It would be very easy to say, "shit, why didn't I have an offensive powerhouse in front of me – and they are getting Kane later this week?" Instead, the team's ambassador is now their most famous cheerleader.
And I know I've said this before, and have had private conversations with some of you readers too – but yes – it does feel like a weight has been lifted from my shoulders (maybe that's where my optimistic attitude originates from) – where I can now praise one of the greatest players of franchise history – rather than bitching and moaning about the money that he makes.
But I already told you how much I hate the salary cap!
---
For the next several minutes, Copley, now in net for Quick, and CZAR IGOR, exchanged saves, where on two separate occasions – the Kings' back-up prevented NONNA TROCHECK's BAMBINO from scoring a natural hat trick.
I also want to mention this – a point that my "DEAR OLD DAD" made to me – with the Rangers now up by three, and with more than a period left to be played – was anyone else surprised that a King didn't try to pick a fight with Trouba?
While I doubt that Trouba would have received a match penalty like his partner did; it would have brought the Rangers' defense down to three rearguards.
Just food for thought.
---
Down to 5:30 remaining, CZAR IGOR, who was most certainly feeling it tonight, started connecting on his homerun passes again. As mentioned during his slump – these passes were going for turnovers – and really, that has been the case ever since the All-Star Break.
Not tonight.
With 3:08 left to be played, Sam and Joe pulled down their pants and pounded their puds to the groupies of Kevin Fiala. Why these two had to praise a traveling fan base is beyond me.
Also at this time, Mikkola was boxed for holding "Lizzo," who similar to the singer, did nothing in this game.
As we approached one minute remaining on the kill; this is when Zibanejad blocked Doughty's thunderous slap shot.
White-on-white violence, am I right?
With Zibanejad hurting and prone to the ice, M$G belted out "MIKA! MIKA! MIKA!"
He'd be back – but with the score at 3-1, following Arvidsson's questionable high-sticking goal – a replay that the officials spent one second on.
In other words – a spitting penalty is a ten-minute review – a goal review only takes one second.
Here's what I said at the end of the period:
3-1, GOOD GUYS, after 40. 2P Thoughts:
— Mikkola takes way too many penalties, but I get being gassed under these conditions.
— Igor's pissed after the BS GA, ruined his shutout – and my 4-0 bet!
— SOG 18-14, FO's 12-11 LAK; Hits 12-5 #NYR
— Keep it up, impressive!
LGR!

— BlueCollarBlueShirts (@NYCTheMiC) February 26, 2023
---
THIRD PERIOD:
Yeah, yeah, yeah – I know. Not every game is exciting. This one? The complete opposite.
I mean what more can you want?
This game, and really, these past seven days of Rangers' hockey, feels like a Netflix mini-series – where "come" the end of it – and just like an Asian Massage Parlor – there will be a happy ending!
But we'll talk about Patrick Kane later this week.
---
As the period began, Mika was sighted on the bench. The astute M$G crowd wasted no time in serenading their favorite center with rip-roaring chants of "MIKA! MIKA! MIKA!"
Just 64 seconds later, those chants were replaced with the familiar sounds of "IGOR! IGOR! IGOR!," as #31 came up with another game-changing save.
However, at the 1:27 mark, Roy brought the Kings within one.
3-2, good guys.
On this play, Trocheck was feeling the hat-trick, but his shot missed and ricocheted around the boards. With Panarin too deep; the Kings went on an odd-man rush and finished off Igor at the end of it.
What did I tell you about the Rangers' stomping on every negative trend tonight?
This time, it were the Rangers who would score before the Garden public address announcer could read off the Kings' goal:
Want some BREAD????

Rangers lead 4-2 pic.twitter.com/nuWzNe3fFv

— Rangers on MSG (@RangersMSGN) February 27, 2023
---
4-2, GOOD GUYS!
Prior and up-to-the goal, Micheletti was riding Panarin for his defensive lapse, as if he were a drunken frat boy trying to ride a mechanical bull with a can of PBR in his hand.
On Panarin's initial shot, Copley made the save, but he also fell to the ice and started flopping like a fish out of water. "The Breadman" then filled the basket on the rebound – and just as important – regained the Rangers' two-goal lead.
Following the goal, and since it's the "Rangers' Way;" with 17:18 to go, the Kings had another another odd-man rush, but CZAR IGOR said "Nyet Nyet."
Now with 16:10 remaining, Kreider drew his second penalty.
Here's what I said at the time:
M$G will explode if Mika scores here #NYR

— BlueCollarBlueShirts (@NYCTheMiC) February 27, 2023
---
Ninety seconds later, and like the end of a Disney movie, this:
MIKA MIKA MIKAAA!!!

Rangers up 5-2 pic.twitter.com/Xp1fj0ID1r

— Rangers on MSG (@RangersMSGN) February 27, 2023
---
5-2, GOOD GUYS – and where you could feel the electricity of M$G pouring off of your television screen. I know that I did.
From here-on-out, the Garden would not stop celebrating their favorite team.
Outside of chanting the names of all four Rangers' d-men; the Garden soon chanted "HEN-RIK" once shown on the scoreboard and then alternated between chants of "MIKA!" and "IGOR!"
I just bring this up because I really loved the passion – as the once quiet as a library M$G has now become as loud as an in its prime Studio 54 – where on this night – DNA was also swapped as it once was in Ron Duguay's most famous haunt – but I already brought up the Miller incident!
We can skip to the end, as following two more Ranger penalty kills, where they also drew penalties themselves on (and how about that – the PK was amazing tonight) – the Blueshirts will now enjoy their next two days off, following their 5-2 victory over the Kings.
Once the final horn went off, Trouba (3rd), Fox (2nd) and Trocheck (1st) were named as the three stars of the game.
But don't get it twisted, anyone could've received a star tonight, including every Rangers' d-man, Mika, and of course, CZAR IGOR, who snapped his schneid.
Here's your favorite coach and mine, Gerard Gallant, following the win:
---
Gallant joked that his g.m. didn't give him much notice in regards to his request of stapling both Schneider and Carpenter to the bench.
And as you'd imagine – "THE TURK" also raved about Trouba, Harpur, Mikkola and Fox.
When it comes to Miller, Gallant said that he didn't see the spit heard 'round the world and that his fifth d-man was apologetic about what happened.
On Zibanejad and the blocked shot, Gallant praised #93 and said what we all felt at the time – "oh no!"
As far as anything else – CZAR IGOR wasn't available to the media – AFTER a big win. I think that's important to bring up, following all of the headlines from last week.
But wait K-Mart shoppers, we're not done yet.
---
The Rangers didn't wait until Monday, as late Sunday night, the Schneider paper-transaction took place.
Come 2PM on Monday, expect to hear that Carpenter has been waived.
In other news, the trade of Timo Meier to the Devils has also been completed.
You can get the full information about this deal here: https://www.nhl.com/devils/news/meier-prospects-pick-acquired-by-devils-in-trade-with-sharks–release/c-341548510
Whether you want to consider this Devils' trade as a response to Drury's trade for Tarasenko, or the upcoming one for Kane, it don't matter.
What matters is that the Devils are much better today than they were yesterday – a "Battle of the Hudson" rival who the Rangers will most likely meet during the first-round of the 2023 Stanley Cup Playoffs.
I know I talked about this last week, and in my space during Stan Fischler's "TheHockeyNews.com" too – but yeah – it sucks – there are going to be some super-teams, powerhouses, from the East, who will be eliminated during the first-round of the postseason – while inferior and less talented teams in the West, advance to the second-round.
Should the playoff format return to a traditional 1 through 8 seeding system?
Obviously, as a Ranger fan, that would be great right now – but as a hockey fan – I kind of like the current format.
There's a reason why the NHL playoffs are the best in sports – no round is easy – and certainly, when compared to the boring NBA format – the first-round of the Stanley Cup Playoffs is exciting.
Again – I know this current format doesn't benefit the Rangers – but there have been so many memorable moments during these recent first-rounds.
Whether it be Columbus pulling off the biggest upset in league history, when they swept the Lightning in 2019, the Rangers winning an overtime thriller during Game 7 last year, or something else – these defining moments would never take place under a traditional 1-8 format.
Bottom line – to win the Stanley Cup, especially as a team residing in the EST – you're going to have to beat some excellent teams.
And for Chris Drury?
What he's currently doing, and what he will do come Wednesday, when Patrick Kane becomes a Ranger – could be his legacy, akin to Neil Smith in 1994 – or it could be him doing what many Ranger g.m.'s before him did – bring a shiny new toy to New York and fail.
Here's an "EXPECTED" stat for you – I'm rooting for the former.
---
Final thoughts: I wonder if Kane will fly to New York on Monday?
We all know it's a lock to happen, and why not get a jump start on finding a home now?
While I'm not sure if he can technically attend a Rangers' practice on Tuesday; there's no law against him meeting his new teammates either.
Sorry (not sorry) about going so long tonight – these are exciting times – where at the end of it – this team will only be judged on what they do during the 2023 Stanley Cup Playoffs.
Sunday's win was a good step in the right direction.
I'll most likely be back on Tuesday – unless the Rangers make Kane happen on Monday.
Of note: as I write these words, Nashville's Tanner Jeannot, a tough-guy/grit type, and who at one point, was rumored to be on the Rangers' radar, was traded to Tampa Bay on Sunday night.
For all the talk about the Rangers vs Devils?
The Lightning and Leafs are going to have one hell of a series themselves – where should Toronto, and as they always do, lose in the first-round – then it's "SEE YA" time for the Ontario brain-trust.
For me? I close with three letters – L!G!R!
PLUGS TIME! (And if you like what I wrote tonight, then you'll love my books! Contribute to my beer fund and buy one today!)
---
My first plug of tonight's blog – the mandatory plug for my book, "The New York Rangers Rink of Honor and the Rafters of Madison Square Garden."
As mentioned previously, the book is now available in hardcover, in paperback and in Kindle formats. To purchase a copy of the book, visit this link:
https://www.amazon.com/Rangers-Rafters-Madison-Square-Garden-ebook/dp/B09CM5N2WD
For those still looking for signed paperback versions of the book, I have re-ordered more copies. I now have a few signed copies for sale at $25 a pop (includes shipping price) through me directly. Here is all the information on that:
---
My four-volume set of books, "One Game at a Time – A Season to Remember," is a game-by-game recount of the Rangers 2021-22 campaign.
My second title as an author, "One Game at a Time – A Season to Remember," is now available in eBook, paperback and hardcover formats.
To obtain signed copies, visit: https://bluecollarblueshirts.com/onegamebook/
To purchase all four volumes on Amazon, visit: Amazon.com – "One Game at a Time."
---
The greatest volume-set of books on Rangers' history today!
"Tricks of the Trade – A Century-Long Journey Through Every Trade Made In New York Rangers' History," a four-volume set of books that meticulously covers every trade made in franchise history, is now on sale.
All four volumes of the title can be purchased on Amazon.com and are presented in three different formats – eBook, paperback and hardcover.
To purchase Volume I: Conn Smythe (1926) – Craig Patrick (1986), visit Amazon.com
To purchase Volume II: Phil Esposito (1986) – Neil Smith (2000), visit Amazon.com
To purchase Volume III: Glen Sather (2000-2015), visit Amazon.com
To purchase Volume IV: Jeff Gorton (2015) – Chris Drury (2022), visit Amazon.com
To purchase signed copies of all four volumes, visit https://bluecollarblueshirts.com/tricksofthetrade/
---
Here are my last few blogs, in case you missed them:
---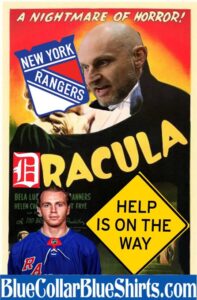 ---
---
If you haven't already, subscribe to this blog for the next update:
---
Don't forget to order my new four-volume set of books, "Tricks of the Trade!"
If you don't order through me, all four volumes are now available on Amazon.com
For more details, check out: https://bluecollarblueshirts.com/tricksofthetrade/
Thanks for reading.
LET'S GO RANGERS!
Sean McCaffrey
BULLSMC@aol.com
@NYCTHEMIC on the Tweeter machine