Greetings and salutations everyone and welcome to another blog here on BlueCollarBlueShirts.com. John Davidson's famous two-word catchphrase sums up tonight's game the best – "OH BABY!"
And this too – due to a late puck drop (7:30PM), an overtime period, and lengthy delays throughout tonight's 5-4 Rangers' defeat of the Flames – tonight's game didn't end until 10:30PM EST. I only bring all of this up for one reason – my damn daily 5AM train!
In other words, I wish this game was played on a Friday or Saturday night – as there's a lot to discuss!
(OF NOTE: Due to my real-life work schedule and time restraints, I didn't have a chance to proof-read tonight's manifesto. However, I think you'll get by!)
No joke, for a game that didn't end until the 1:37 mark of overtime, following Alexis Lafreniere's game winning goal – tonight's tilt at Madison $quare Garden packed in as much drama and story-lines as all five seasons of "Breaking Bad!"
Long story short – this game had it all.
Whether you're a fan of pretty goals, greasy goals, special team goals, hits, fights, scrums, passing, a flair for the dramatics – you name it, it was there – this game had something for everyone.
And for the New York Rangers, who had the previous nine nights off – rust? WHAT RUST?
Instead of the word rust, and to use another 1980s WWF reference (no one makes more wrestling and "Seinfeld" references as much I do), and as tonight's blog header photo does – as Road Warrior Hawk, from the Legion of Doom once said, "OOOOOOOOH WHATTTTTTAAAAA RUSH!"
---
The Rangers, 8-2-2 in January, and as previously discussed on this site – could've swept the month had their power-play had success – kicked off February with another win on Monday night.
Instead of an individual or two carrying the team to victory, and that's what looked to be the case following forty minutes of action (Chyil and Halak); by the time Lafreniere said "GAME OVER," this latest Blueshirts' triumph could only be deemed as a team-wide win.
Between Sammy Blais and Jacob Trouba hitting anything that moved, a power-play that actually scored, a 3-3 penalty kill, strong play from the role-players and some FAT CAT points too – the Rangers had hell of a roller-coaster ride.
And as Chytil, Miller, Schneider and Kakko continue to have career-best seasons – please, for the morons in the back – tell me more about how "GALLANT DOZN'T NOSE WHAT HE'S DOING!"
Not only did the head coach get huge points and goals from the Lafreniere/Chytil/Kakko line; but Gallant's decision to re-insert both Will Cuylle and Blais into the line-up pay dividends. Ditto the decision to start Jaroslav Halak, where despite the four goals allowed – he was good enough – and where one of the four tallies shouldn't have counted to begin with.
Vitali Kravtsov who?
---
Up 3-2 entering the third period, this much was true – a loss tonight would've been a major heart-breaker.
While a defeat wouldn't have been the end of the world; it would've been disappointing – because the Rangers played so well, where keep in mind, the team had been idle for nearly two weeks.
There was so much positivity displayed throughout the game, but as is often the case, the senile old man in the broadcast booth, who allegedly is paid by the Rangers' M$GN, had to ruin all of that.
Sam Rosen, who vacations in New Orleans during the summer, once again applied his black voodoo magic, curses, hexes and vexes at the start of the third period, when he said, "OH JOE, THE FLAMES DON'T HAVE ONE COMEBACK WIN DURING THE THIRD PERIOD THIS SEASON JOE!"
Prior to this comment, Rosen, again, paid by the Rangers, spent most of the broadcast pounding his pud and proudly praised Flames' bench boss, Darryl Sutter. No one seemed more happy about the Rangers' 2014 Stanley Cup Final loss to Sutter's Kings than Rosen himself – a fact he routinely brought up again-and-again and for whatever reason.
Following Rosen's latest "reverse curse," the Flames then scored two goals, one via a kick that was allowed to stand, which then allowed the visitors to turn their one-goal deficit into a one-goal lead.
As you just wanted to strangle Rosen at the time; Zibanejad soon tied the game at four goals a piece.
Rosen then reminded us again that the Flames are without a third period comeback victory this season.
Down to 2:41 remaining, Vincent Trocheck took a boneheaded and blatant tripping penalty.
As you were just waiting for the inevitable, the Rangers' penalty kill, led by two strong plays from Jimmy Vesey, survived.
Come the overtime, and with the score still tied at 4-4; the Rangers had numerous opportunities to throw water on the Flames – but continued to miss on every chance.
As you bit your fingernails to the nubs, following another Craigslist "MISSED CONNECTION," this time on behalf of Lafreniere & DJ Mika; the 2020 first-overall pick remained with the play and scored his biggest goal of the season.
5-4, GOOD GUYS.
Rather than lamenting on what could've been, and praising a "moral victory" rather than an actual two points in the standings; instead, the Rangers won and we can all beat our chests, King Kong style!
And while I'm known to exaggerate at times on this site; this is not an exaggeration – THIS WAS THE MOST EXCITING AND ENTERTAINING ROLLERCOASTER THRILL-RIDE OF THE SEASON!
One more time JD – "OH BABY!"
---
Time is most certainly an issue tonight, so let's roll.
Up first, the pregame news and notes, followed by a lengthy GAME REVIEW – as again – A LOT went down tonight.
---
Following eight days of "R & R," that is, for everyone not named Adam Fox, Igor Shestyorkin and Artemi Panarin; the Rangers reconvened at their practice facility in Tarrytown, NY at 2PM Sunday afternoon.
While the practice itself wasn't really "newsworthy;" the fact that the Rangers were carrying a full boat was.
As we are now under a month away from the 2023 NHL Trade Deadline (March 3rd); that a-word we've been talking about all season, "accrue," is more pertinent than ever before.
For general manager Chris Drury, Sammy Blais' two-week conditioning stint in Hartford had expired. In other words, the g.m. had two options in regards to #91. Drury could've either outright waived Blais, and run the risk of losing Blais to another team, or do what Drury actually did – bring Blais back into the fold.
And after scoring four goals during his five games played in the AHL, as Blais' time in Hartford was both well-spent and the goal of getting him going was accomplished; it's easy to see why Drury made the decision that he made.
Since Will Cuylle was recalled to the team too, not only was one big result the fact that the Rangers were back to a 23-man roster; but the competition for a spot on the roster had leveled-up too – and for as temporary as that may be.
As mentioned a few blogs back, the Islanders acquisition, and then extension, of former Vancouver captain, Bo Horvat, has upped the ante a bit around the league.
Whether the news from "little brother" fast-tracks what Drury and company will do prior to March 3rd remains to be seen. Until then, you'll keep hearing all about Patrick Kane, Vladimir Tarasenko and new contender, Timo Meier, as it's heavily thought that the Rangers will land one of the three, when addressing their issues at the RW2 position.
At the practice, and with Cuylle and Blais back, Vitali Kravtsov returned to his status as a spare forward. A day later, Monday, during the Rangers' morning skate, Julien Gauthier joined Kravtsov as one of Gallant's healthy scratches.
After all, with the way Blais had performed in Hartford, it made sense for Gallant to give his struggling forward a chance to capitalize on his recent stretch of success, albeit, in the AHL.
And as all the trade rumors float around, like a Chinese Spy Balloon – none of these speculations and mongering will be shot down until Drury makes his move.
Currently, it's believed that a package consisting of Vitali Kravtsov, Zac Jones and one of the team's 2023 first-round picks will be sent the other way, whenever Drury pulls the trigger.
Furthermore, and as repeatedly mentioned on this site – I also expect the g.m. to land a player or two that's on nobody's radar right now. (See: Vatrano, Frank.)
Again, only time will tell.
Following the practice, Gallant held his first post-bye week "TURK TALK" – and with only 32 regular season games left to be played:
---
Gallant, when asked about the Rangers carrying a 23-man roster, said that wasn't a question for him, and alluded to the fact that the question was something for Drury, and not the head coach, to answer. However, Gallant did reiterate what he always says, and brought up that he wants his young players to force him into tough decisions and to earn their spot in the line-up.
The head coach also raved about Blais' time in Hartford, while also saying that he liked what he saw from Cuylle during the young forward's first two games as a Ranger.
In comments that didn't really get much play from the beat reporters; Gallant said that the Rangers' abysmal powerless play wasn't that concerning for him, as instead, he only cares about wins and losses. I get where "THE TURK" is coming from, but most of the Ranger losses from this season can be directly traced back to the team's woes whenever on the man-advantage.
Gallant, and as he usually does, also praised the quality of players on his power-play and said that all power-plays run hot-and-cold. Gallant didn't bring up that the Rangers' power-play has been icier rather than on a heater this season; but again, brought up the team's winning ways and where they rank in the division.
---
A day later, Monday, and eight hours prior to puck drop; Gallant spoke to the media one last time.
Here's Monday morning's "TURK TALK":
---
Gallant opened his presser by announcing that Jaroslav Halak, and not CZAR IGOR, would get the start in net.
Again, this made sense to me – after all, CZAR IGOR had just spent the weekend in Florida. Plus, Halak has been playing well as of late, and really, or at least for me – goaltending isn't really an issue – the power-play is.
Furthermore, in "THE HALAKNESS MONSTER'S" last five starts; the back-up goalie went 5-0-0, with a .938 save percentage and a 1.80 goals allowed average.
While Blais had skated as a fourth line spare on Sunday; this is when Gallant revealed that #91 would be back in his line-up – and at the expense of Gauthier.
Of course, since there's a heavy faction of both fans and beat reporters that spend all their time focusing on fourth line forwards, while also burying their heads in the sand about Panarin's season (complete details here: https://bluecollarblueshirts.com/13123/); this news was met with rage.
Despite Blais and Kravtsov having different roles on the team; for these people, they felt that Kravtsov was once again getting the shaft from the head coach, in favor of another "grit" player.
However you feel about the situation, the following can't be debated: if not now for Blais, then when?
Blais, who is arguably on his last legs as a Ranger, did what was asked of him and succeeded in doing so. There was no reason to cool him down.
In addition, with one of the worst teams on the schedule up next on Wednesday, the Canucks; it may be better off for Kravtsov to get that game anyway – assuming he's not traded by then!
One player that's completely fell to the wayside, where no one is talking about the fact that he hasn't played during the past twenty games? Libor Hajek, where for the life of me, I don't know why the team re-signed him during this past summer.
Unlike Kravtsov, I do feel bad for Hajek. He's done all the right things. He's had the right attitude. However, while the Rangers have tried to get Kravtsov going, repeatedly at that this season – there's just no spot on the team for Hajek right now.
While the "KULT OF KRAVTSOV" laments about the Russian; it's the Czech defenseman that needs a fresh start more than anybody else.
---
Here was the line-up from Monday night, the Rangers' first game in nine days:
FIRST LINE: Panarin/Mika/Vesey
SECOND LINE: Kreider/Trocheck/Goodrow
THIRD LINE: Lafreniere/Chytil/Kakko
FOURTH LINE: Cuylle/Leschyshyn/Blais
Defensively, everything remained the same:
FIRST PAIR: Lindgren/Fox
SECOND PAIR: Miller/Trouba
THIRD PAIR: Harpur/Schneider
STARTING GOALIE: THE HALAKNESS MONSTER
BACK-UP: CZAR IGOR
PRESS BOX: Hajek, Kravtsov and Gauthier
---
BOX SCORE time.
The following graphics and information come from ESPN.com:
SCORING:
PENALTIES:
TEAM STATS: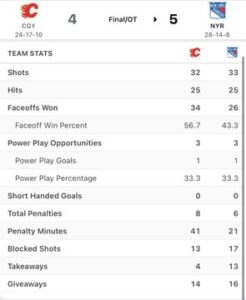 GOALIES:
| | | | | | | | | | | |
| --- | --- | --- | --- | --- | --- | --- | --- | --- | --- | --- |
| SA | GA | SV | SV% | ESSV | PPSV | SHSV | SOSA | SOS | TOI | PIM |
| 33 | 5 | 28 | .848 | 21 | 6 | 1 | 0 | 0 | 61:20 | 10 |
| | | | | | | | | | | |
| --- | --- | --- | --- | --- | --- | --- | --- | --- | --- | --- |
| SA | GA | SV | SV% | ESSV | PPSV | SHSV | SOSA | SOS | TOI | PIM |
| 32 | 4 | 28 | .875 | 21 | 5 | 2 | 0 | 0 | 61:37 | 0 |
---
Before getting into "The King" and his Seven-Foot Jackass of a Court Jester; a personal story.
Back on January 12th, I told you about my encounters with a homeless gentleman, that my friend, EDDIE WHISTLES, and I, have nicknamed as "SCRATCHY."
You can read the whole story here: https://bluecollarblueshirts.com/11223/ – as I don't have the time tonight to write it all again, nor the time to give you all of the qualifying statements either. It's all there for you in this link.
Since that night (Miller's last second tying goal); despite my daily travels in-and-out of Penn Station – I haven't seen SCRATCHY since.
Admittedly, I was getting nervous about SCRATCHY – and for the obvious reasons – his drug use and the fact that we had zero degree temperatures over the weekend.
Low-and-behold, on Monday afternoon, as I was making my way into Penn Station – there he was – SCRATCHY, looking healthier than ever, shuffling around his familiar stomping grounds.
Two seconds after seeing the Rangers' good luck charm; EDDIE WHISTLES and I immediately bet big money on tonight's game.
While it was hairier than SCRATCHY at times; at the end of the night, SCRATCHY, the anti Sam Rosen, proved true again.
The Rangers are now 7-0 this season whenever I spot SCRATCHY on game day.
Let's see the books in Vegas give you this hard-hitting information!
---
What wasn't hard-hitting was the M$GN pregame show.
While Henrik Lundqvist remains one of the best NHL analysts in the game; his partner, Sieve Vagistat continues to pollute these thirty minutes with his never-ending junk and made-up stats.
Lundqvist, on the nine-day break, said, "Keep it simple. It's been eight days off. You can feel the break. Your timing will be off. I still think a lot of these guys will need a period or two to get going. Keep it simple!"
Vagistat then followed-up with a meaningless story from his crappy career.
And do you notice that only Vagistat brings up his career in every other comment that makes? The real NHLers don't need to do this. Only ones looking for validation do.
On Halak, Lundqvist said he was impressed by his turnaround, but in my eyes – what turnaround?
After all, Halak's earlier issues from this season was more about the team not scoring goals for him (and playing shoddy defense too) more than anything else. Or so I say!
As Vagistat continued to spew his shit from the five-hole on his face – where he brought up his career again and plugged his useless analytics company; Lundqvist was forced to remain silent.
Too bad Lundqvist's home network, M$GN, doesn't take a page out of the TNT playbook – as Lundqvist's national employer, TNT, knows how to feature "The King" better than M$GN.
Following Vagistat telling us how he thought that Markstrom could shut down the Rangers tonight (why this had to be said is beyond me); Lundqvist said the following about the returning Sammy Blais:
"When you're a third/fourth line guy, it's easy to lose confidence. [Playing in the AHL] can help and build confidence by getting those minutes and remind you of what you bring to the table."
While Vagistat was wrong again; Lundqvist was proven correct, again. Funny how that works.
EYE TEST > ANALYTICS, ALWAYS!
As Vagistat continued the errors of his ways, as the made-up charts always fail the fool with the $1.99 CVS hair-dye job; "THE SWEDISH NOSTRADAMUS" said the following:
"Filip Chyil now feels like he belongs. The coach relies on him."
Do I have to go on any further? Vagistat sucks!
However, one last parting comment.
As Vagistat continued to drone on about his arts & crafts and charts & graphs, stuff that had nothing to do with this game, nor factored in either; Lundqvist, in his final comments, said, "just keep it simple."
Unfortunately, Lundqvist didn't say the last "s" of the K.I.S.S. theory, "stupid," which is how Vagistat always sounds on these broadcasts.
And no joke – the next time you see Vagistat bore you with his nonsense – just watch how Lundqvist's eyes roll to the back of his head as if he was a 1990s "The Undertaker."
Following Sam & Joe's heavy praise of the Flames, where not only were we reminded of 2014 again – but the fact that Matt Tkachuk was traded eight months ago too; we then had a new commercial featuring the great "DANCIN' LARRY" – where unlike the buffoons on the Chase Bridges – his loyalty to the Blueshirts is never in question.
GAME REVIEW time.
---
FIRST PERIOD:
As the first line began the game, so did the second-pair, Trouba and Miller, too. 45 seconds later, the Flames almost scored a backdoor goal, but the tap-in try went wide.
At the 1:54 mark, the Rangers' first-round pick line went to work. Markstrom denied Lafreniere – and if the Flames' goalie didn't dead the puck – then Chytil would've cashed in the loose change.
Come the 2:30 mark, the new fourth line came on, where funny enough, both Cuylle & Blais were on it – two players who are kind of playing for the same roster spot in Gallant's line-up.
As they did in Hartford during the Wolfpack's last five games – these two had success. Their center, Jake Leschyshyn? Not so much, where I'm not sure how much longer the player from Vegas has left. Nothing against him or anything like that – but he hasn't been a factor during his brief audition on Broadway – yet.
As Sam and Joe pulled out their peckers and stroked themselves when talking about the 2014 Kings and the Flames' off-season; Panarin made his first turnover of the game at the 4:30 mark.
Then, with 14:23 remaining, Sam and Joe had to actually talk about the game in front of them, as this happened:
CHYTIL! CHYTIL! CHYTIL!!

rangers lead 1-0 pic.twitter.com/7EiWhGMiQw

— Rangers on MSG (@RangersMSGN) February 7, 2023
---
1-0, GOOD GUYS!
What a hell of a goal – as everyone on the ice contributed to it.
Following a save from Halak, Fox found a wide-open Kakko. The Finn then deftly got the puck up ice to Chytil. Lafreniere, along for the ride, joined Chytil on a two-vs-one odd-man rush. With attention being paid to #13, #72 went to the hole and BOOM – the Czech put the Rangers on the board, following his seventeenth goal of the season.
Again – what mastery displayed by the Rangers on this scoring play.
As Sam and Joe used this goal to talk about Erik Karlsson – and no – EK65 should not win the Norris – Fox should – and I hate how the trophy has been reduced to who has the most points; with 12:45 remaining, and since its tradition – Ben Harpur took a tripping penalty.
I can't think of another team in the league that takes as many penalties as the Rangers do after scoring.
The Rangers' penalty kill survived these two minutes, where Halak made four saves in all, including a point-blank save on Mangiapane from the slot.
As we hit the halfway point of the period; Halak made another huge denial, where following it, Markstrom made one himself, preventing us from seeing another MILLER TIME moment.
Unfortunately, following Markstrom's save, and with 9:25 to go; Blake Coleman scored a flukish goal.
Prior to this goal, Vagistat had went on-and-on about how the Flames give up a lot of broken play goals. In this case, the Rangers gave up one here.
As Lindgren broke up a Mangiapane breakaway; the puck took a bounce to Coleman and he was able to wedge it through Halak's five-hole, as all Fox could do was watch.
In a display of leadership, the '23 All-Star was caught on camera apologizing to Halak for the broken play/fluke goal.
1-1.
While you could never question the Rangers' drive, effort or will tonight, nor were there any rust issues either; the defense was kind of loose at points.
After a strong shift from Gallant's fourth line; Halak then made a big save on Anderson. On the other end, and with 7:10 to go, Kreider caught a piece of Markstrom's shoulder, but the puck took a bounce in favor of the Flames.
Down to 6:03 remaining, our first of two TROO TROO TRAIN hits – and fights:
Trouba with a clean hit against Dube. Chris Tanev drop the gloves with Trouba after the hit. #NYR to the Power Play. (Hit plus fight and replay) pic.twitter.com/6o5T0pPoWj

— David 🏒 (@DaveyUpper) February 7, 2023
---
It's a tired story, but yes, most of us hate the fact that Trouba, and others like him, have to defend themselves after these clean hits.
My suggestion? If a player is forced to defend himself via fighting following a clean hit; then don't give him a five-minute major. Let the other player take the five-minute major, rather than a two-minute instigator minor.
Should the NHL ever do that – then real quick – all of these "defending my teammate" fights will cease to exist.
And while I totally understand sticking up for the valor of your teammate; these fights are getting out of hand a bit – and I say that as a fan of the art of pugilism.
All of these penalties just delay the game too – and if any player can drop the gloves with anyone – then it can become a tactical strategy as well.
After all, Trouba had to defend himself twice tonight and in turn, the Rangers' lost their second-pair defenseman for ten minutes. The Flames lost Tanev for five minutes here, and later on, Dillon Dube for a five-spot.
Simply stated: this two trade-offs favored the Flames.
The NHL will have to address this during the off-season – or better than that – before the playoffs commence.
---
For what it's worth, while the officials would later err big-time tonight; the stripes called these two plays right – a pair of power-plays for the Rangers – as on each occasion, the offending Flame received a two-minute minor.
Of course, the Rangers' power-play didn't do nothing with their first man-advantage of the evening. In fact, Halak came up with the biggest save during these two minutes, when he denied Dube on a two-vs-one attack.
End result? The Rangers' power-play was 0-1 – and the PP1 unit were now two of their last thirty-one.
Once returned to full-strength, and with the fourth line on the ice, the following:
Sammy Blais hits Lucic hard at center ice, sparking multiple fights and a lot of chaos#NYR | #Flames pic.twitter.com/YETVFeG1tK

— Hockey Daily 365 l NHL Highlights (@HockeyDaily365) February 7, 2023
---
This CLEAN HIT, the fights that resulted out of it & two officials hitting the ice too, led to a lengthy delay.
It took ten minutes for the officials to figure it all out, but it was determined that Blais' hit was clean and that he wouldn't be penalized. Cuylle and Weegar received five-minute majors here, as the newest Ranger now has two fights in his three-game NHL career!
You think Kravtsov would've thrown down?
Now on their second power-play of the period, the Rangers finished 0-2, and yep – the PP1 unit was now two of their last thirty-two.
And while I remain an ardent supporter of "THE TURK," and I understand why sometimes he lies to the media (he has admitted this before) – the power-play does need work – even if they did later score tonight.
As we hit 25 seconds remaining, a Vesey to Lindgren play was snuffed out, where had it connected, #55 would've been all alone with Markstrom.
1-1 after twenty minutes.
Here's what I said at the time:
1-1 after 1. 1P Thoughts:
— Entertaining period.
— #NYR PP 0-2, Panarin, who hasn't picked up a point in 6 of his last 9, is heading towards 7 of 10.
— SOG 12-10 CGY; Hits 12-10 NYR, FOs 11-all
— I know GG doesn't want to shake up the PP, but it's time. PP1 2 of last 32!

— BlueCollarBlueShirts (@NYCTheMiC) February 7, 2023
---
SECOND PERIOD:
Holy shit, what a twenty minutes of hockey!
Following the Flames winning the first draw of the period, I said the following in real-time:
Despite the entertainment and energy; Halak remains as #NYR 's best player, no offense intended towards Chytil…. and scratch that, as I'm typing this, Chytil scores a breakaway goal with 17:58 remaining. 2-1, GOOD GUYS, 2 goals for Chytil, 18th goal for #72!!!!!!! LGR!

— BlueCollarBlueShirts (@NYCTheMiC) February 7, 2023
---
Here's Chytil's 18th goal of the season:
Filda loves to light the lamp, confirmed 🚨 #NYR pic.twitter.com/evweKnFxcF

— Rangers on MSG (@RangersMSGN) February 7, 2023
---
2-1, GOOD GUYS, as Chytil, once again, this time solo on a breakaway, beat Markstrom one-on-one.
Following the goal, a first – loud chants of "CHY-TIL, CHY-TIL, CHY-TIL!" from the Garden Faithful.
These chants were so loud, that you barely heard a shot from Kadri hit the post, as that's what happened with 16:30 remaining.
Twenty seconds later, Backlund hit the iron too, where this <DING>, aka "Ode to Trocheck," was audible – loud at that.
At the 5:00 mark, this much was true – and would remain true too:
The NHL All Star game was a horrible event to introduce a new fan too – this Rangers game tonight – the complete opposite. What a thriller thus far. #NYR

— BlueCollarBlueShirts (@NYCTheMiC) February 7, 2023
---
No joke, from this point on, it felt like every other third Flames' possession forced Halak into coming up with a monster save.
Down to 12:50 to go; Harpur turned over the puck in front of Halak, but who else but Chytil to bail out his defenseman – and then get the puck out of the zone!
A minute later, and during a game that never "settled down" for one moment; the Flames were out-shooting the Rangers 8-1 – and that doesn't include the two chips of the iron either. However, Chytil's one shot was good enough. So was Halak.
As we approached the half-way mark of the game/period; Vesey wheeled-and-dealed himself to Markstrom, only to have his backhanded shot robbed by the Swede in net.
A tad over two minutes later, and now with 7:50 to go; Markstrom prevented Chytil from the hat trick.
Come 5:17 remaining, a pivotal penalty that would have more people talking right now had the Rangers lost this game:
Panarin in GG hot seat. Flames scored on this PP #NYR pic.twitter.com/IJZFyes2ws

— David 🏒 (@DaveyUpper) February 7, 2023
---
As you can see, during this play, Panarin jumped on the ice too early, thus taking one of those lovely too many men on the ice penalties.
In a word, Gallant was IRATE about this.
The head coach barked at his highest-paid player, "YOU TOOK IT, YOU SERVE IT!"
My reaction at the time? The following:
If the Flames score on this PP, then I can see Gallant stapling Panarin to the bench. #NYR

— BlueCollarBlueShirts (@NYCTheMiC) February 7, 2023
---
Tyler Toffoli, another ex-King, then scored on a power-play shot that Halak had no chance on, and with 3:35 to go.
Panarin wouldn't see the ice again – until the Flames took a penalty at the end of the period.
With 56 seconds remaining, "THE TROO TROO TRAIN PART TWO." Take a look:
Trouba absolutely distorted Kadri, then Dube jumps Trouba and gets beat up. #NYR (Full hit plus fight and replay) pic.twitter.com/rtQxhHLIFP

— David 🏒 (@DaveyUpper) February 7, 2023
---
Trouba absolutely rocked Kadri with this monstrous, yet legal, hit. Dube, in his infinite idiocy, then challenged Trouba – and had his world rocked worse than Kadri's!
Again, Trouba was forced to defend himself, where this time, Dube had the jump on him – but Trouba kicked the shit out of him anyway.
And just like the first time this happened – the Rangers received a power-play here – where another adage finally proved true, "third time is a charm."
Here's Zibanejad putting the Rangers ahead with only fourteen seconds remaining:
Mika Zibanejad – It's A Power Play Goal! #NYR takes the lead for the 3rd time tonight! pic.twitter.com/gulEVUxhrs

— Rangers on MSG (@RangersMSGN) February 7, 2023
---
3-2, GOOD GUYS!
Needless to say, while this was both a huge goal for Zibanejad and the Rangers – no one needed this point in the box score more than Artie Panarin, who picked up the secondary assist here.
Who knows what would've happened had the Rangers not scored here and then lost this game; but I do wonder if Gallant would've finally punished Panarin once and for all for all of his stupid turnovers and penalties.
However – that's not a topic of discussion tonight – as Panarin redeemed himself here – and then got a huge monkey off of his back on the final Rangers' goal of regulation.
We remained 3-2, GOOD GUYS, after an exhilarating forty minutes of action.
Here's what I said at the time:
3-2, GOOD GUYS, after 40. 2P Thoughts:
— Wow, catch your breath.
— What rust? This feels like a playoff game.
— SOG 24-20, FOs 21-18 CGY; Hits 20-16 #NYR
— Lack of PPGs have cost NYR games all season – their one in this game is the difference
— A win will be ecstasy.

— BlueCollarBlueShirts (@NYCTheMiC) February 7, 2023
---
THIRD PERIOD:
This period can best be described as, "SAM ROSEN'S FAT MOUTH!"
Since I have to be up in nearly three hours as I write this; let's blow through this period, as this was the worst twenty minutes of the game for the Rangers – and you can thank Rosen's never-ending bouts of insanity and senility for that!
Following Rosen reciting all of his reverse curses, and for whatever reason, Micheletti started to praise Bo Horvat and the Islanders too; here's what I said in real-time, as I just my live tweets as evidence of Rosen's nonsense:
Oh no, Sam is doing the reverse curse shit – Flames haven't had a third period comeback this season… as he says this, Kreider refuses to shoot while wide open, 14:35 to go #NYR

— BlueCollarBlueShirts (@NYCTheMiC) February 7, 2023
---
I shit you not, just 75 seconds later, Mangiapane tied the game.
3-3.
With 13:20 remaining, the Flames' left-winger obviously kicked in a puck, following a pass from Noah Hanifin.
The officials took all day reviewing this goal, but despite Mangiapane's try-out as the kicker of the Dallas Cowboys; the goal was held-up.
Micheletti was absolutely furious about this – so I was glad to hear that.
However, while this goal should've been overturned; it should be stated that the Miller and Trouba pairing allowed this easy tap-in opportunity to transpire too.
Just 2:03 later, and with 11:19 remaining; "The Prophecy of Sam Rosen" rang true, as Mike Stone fired a rocket past Halak – a goal allowed that wouldn't blame the goaltender on.
Miller & Trouba were on for this goal too – but in my eyes – this was more about Stone's shot that would've won him the "HARDEST SHOT" award at the '23 NHL Skills Competition – and not the Ranger blueliners.
4-3, bad guys. Thanks Sam!
Following a Panarin shot from three feet away that went wide with ten minutes remaining, and then a Markstrom save on Lafreniere with 8:30 to go – Kreider then shot wide.
As you had your head down and bracing for Rosen to ruin your night; with 7:05 to go, Zibanejad tied it:
OH, IT'S A TIE GAME!!

JUST SPRINKLE SOME MIKA MAGIC pic.twitter.com/QyTotsVNYD

— Rangers on MSG (@RangersMSGN) February 7, 2023
---
Mika Magic, Swedish Jesus, Mika Virus, DJ Mika, Mika Selke – whatever the moniker, it don't matter – 4-4, as Zibanejad took a perfect pass from Panarin and roofed it past Markstrom.
This was the play where Panarin earned his money – and perhaps earned himself a temporary reprieve from "THE WRATH OF TURK" too.
Following the goal, I was hoping for someone, and for the love of the hockey gods, to turn Rosen's mic off.
Thirty seconds following #93's equalizer; Lafreniere almost put the Rangers ahead, but his shot was denied. Chytil was right there for the rebound, but the puck took a bad bounce.
Now with 2:41 left in regulation – Trocheck took his unwarranted and unneeded penalty.
The Rangers caught another break here, as the Flames hit the post for the third time.
Vesey was the star of this PK, as he forced two turnovers and got two pucks out. Goodrow also did this once, while Lindgren also came up with a big shot block.
Following the PK going 3-3; with just seconds remaining, Chytil and Kreider had a two-vs-one odd-man rush.
For whatever reason, Chytil decided not to shoot this puck – and his forced pass to Kreider led to a turnover.
I'm just assuming here – but had Kakko or Lafreniere been his flank – then I think Chytil would've shot this puck – rather than deferring to a veteran.
We remained at 4-4 after a thrilling and nerve-wracking sixty minutes.
Here's what I said at the time:
4-4 after 60. 3P Thoughts:
— While the Mangiapane goal shouldn't have counted; both teams earned this point.
— SOG 32-28, FOs 33-25 CGY, Hits 25-all
— #NYR PK HUGE
— This will be a tough loss if Sam's jinx proves true, Rangers have been so exciting tonight.
— Start FOX!

— BlueCollarBlueShirts (@NYCTheMiC) February 7, 2023
---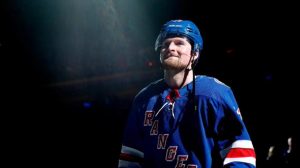 OVERTIME:
Let's state the obvious – this had all the makings of another crushing overtime loss.
For whatever reason, Chytil started the overtime. I mean, I understand that he was playing well, but he's the team's worst faceoff center.
Put it this way, Chyil, who again, is the team's worst center at the dots, was so bad at the circles tonight (HOW BAD WAS HE?) that he finished 1 of 11 tonight – a game-low 11.1%.
While I understand the desire to get Chytil on the ice; I would've started Trocheck, then hopefully, after #16 won the draw – then make the change and get Chytil out there.
Up next, over ninety seconds of heart-stopping hockey.
The Rangers first trio, Chytil/Fox/Panarin, did everything but score. As Markstrom was flopping all over the place like a fish out of water, all three Rangers missed the net.
As the Flames recovered the puck, and this play may get lost in the jubilation following the win; Halak made a huge save on Kadri.
This save then led to this:
Alexis Lafreniere wins it for The Rangers in OT and Markstrom needs a new twig!! #NYR pic.twitter.com/pkVAg3JWil

— Rangers on MSG (@RangersMSGN) February 7, 2023
---
5-4, GOOD GUYS! Lafreniere sends the Garden home happy!
On this goal, Lafreniere set-up Zibanejad, but Mika's attempt at a hat trick was denied. However, Lafreniere stuck with the play – and bada-bing-bada-boom – the Rangers erupted the room!
And one last time, as I can't stress this enough – while this wasn't a MUST WIN game or anything like that – winning a game like this will do wonders for the team.
Here's the head coach after the big two points attained:
---
My favorite "TURKISM" from Gallant's latest "TURK TALK?"
When Gallant, when asked about the physicality from this game, said, "I don't know, maybe the team was pissed off about the break being over!"
And as my friend Howie W. remarked, "so much for East vs West games having no passion and nothing on the line!"
---
Similar to the TROO TROO TRAIN that was heard all game, I have a train to catch in two hours myself!
Bed time for me – and where I may be back tomorrow if something big breaks.
Until then, LETS GO RANGERS, which brings us to…
PLUGS TIME!
---
My first plug of tonight's blog – the mandatory plug for my book, "The New York Rangers Rink of Honor and the Rafters of Madison Square Garden."
As mentioned previously, the book is now available in hardcover, in paperback and in Kindle formats. To purchase a copy of the book, visit this link:
https://www.amazon.com/Rangers-Rafters-Madison-Square-Garden-ebook/dp/B09CM5N2WD
For those still looking for signed paperback versions of the book, I have re-ordered more copies. I now have a few signed copies for sale at $25 a pop (includes shipping price) through me directly. Here is all the information on that:
---
My four-volume set of books, "One Game at a Time – A Season to Remember," is a game-by-game recount of the Rangers 2021-22 campaign.
My second title as an author, "One Game at a Time – A Season to Remember," is now available in eBook, paperback and hardcover formats.
To obtain signed copies, visit: https://bluecollarblueshirts.com/onegamebook/
To purchase all four volumes on Amazon, visit: Amazon.com – "One Game at a Time."
---
The greatest volume-set of books on Rangers' history today!
"Tricks of the Trade – A Century-Long Journey Through Every Trade Made In New York Rangers' History," a four-volume set of books that meticulously covers every trade made in franchise history, is now on sale.
All four volumes of the title can be purchased on Amazon.com and are presented in three different formats – eBook, paperback and hardcover.
To purchase Volume I: Conn Smythe (1926) – Craig Patrick (1986), visit Amazon.com
To purchase Volume II: Phil Esposito (1986) – Neil Smith (2000), visit Amazon.com
To purchase Volume III: Glen Sather (2000-2015), visit Amazon.com
To purchase Volume IV: Jeff Gorton (2015) – Chris Drury (2022), visit Amazon.com
To purchase signed copies of all four volumes, visit https://bluecollarblueshirts.com/tricksofthetrade/
---
Here are my last few blogs, in case you missed them:
---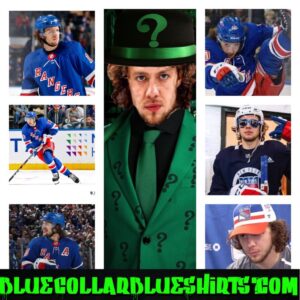 ---
---
If you haven't already, subscribe to this blog for the next update:
---
Don't forget to order my new four-volume set of books, "Tricks of the Trade!"
If you don't order through me, all four volumes are now available on Amazon.com
For more details, check out: https://bluecollarblueshirts.com/tricksofthetrade/
Thanks for reading.
LET'S GO RANGERS!
Sean McCaffrey
BULLSMC@aol.com
@NYCTHEMIC on the Tweeter machine