Greetings and salutations everyone and welcome to another blog here on BlueCollarBlueShirts.com. At least they won!
(OF NOTE: Due to my real-life work schedule and time restraints, I didn't have a chance to proof-read tonight's manifesto. However, I think you'll get by! Thanks for bearing with me, as I know that grammatical errors lessens the impact of what you read.)
While I don't think that anyone was expecting the Rangers to come out as fast and as furious as they did on Monday night; just 48 hours removed from that thriller over the Flames, the Rangers "found-a-way" and knocked off the Vancouver Canucks by a final score of 4-3.
There are three ways to look at the Rangers most recent victory:
The "glass half-full" perspective? The Rangers won, the second defensive pair combined for five assists, Chytil should've had two goals, the BFF duo of Mika Zibanejad and Chris Kreider picked up a goal each and the penalty kill remained flawless.
The "glass half-empty" perspective? The Rangers once again played down to their level of competition, blew every two-goal lead imaginable, CZAR IGOR had another horrid night on M$G ice, the powerless play remains without ignition and Artemi Panarin was pretty much a non-factor against one of the worst teams of the league.
The "even-keel" perspective? If you look at all the scores from around the league every night, then you'll notice that more times than not, in this "ANY GIVEN SUNDAY" league, that there are a ton of one-goal differentials. The Rangers, just as they were on Monday night, were on the right end of this one.
In addition, the officials weighed-in and pretty much determined that this would be a one-goal game, as they allowed one Vancouver icing to go uncalled, while not awarding a goal to Filip Chytil as he was tripped when streaking towards the 'Nucks empty net.
It's my opinion that you have to look at this game as a sum of the parts. The Rangers are now 10-2-2 in their last fourteen games played, getting contributions from different players on different nights, and finding new ways to win.
Furthermore, through 51 games played, and with games in-hand on the teams that are chasing them, the Rangers, currently in third-place in the Metro, have opened a six-point lead over the first wild card, the Washington Capitals. Perhaps equally as important, if not more important, is the fact that the Blueshirts are also seven-points ahead of the playoff cutline, as the outside-looking-in Islanders have 59 points – in 54 games played.
While it's easy to moan-and-groan over the sixty minute showing from Wednesday night, and wonder why the Rangers didn't just blowout the Canucks as they should have done; instead, I'm focused on all of these games played since the calendar flipped, rather than worrying about one game of 82 – where need I remind you – the Rangers won tonight.
After all, this 2022-23 Rangers team have lost to a lot of the bad teams during the early weeks of the season. In other words, I'm happy about the two points gained tonight and will now look ahead to Friday night, when the Rangers host the Krakheads.
---
It's 11:30PM as I write these words, so I gotta blaze through this blog as fast as possible – although I guarantee you this – you won't find a more detailed recap out there than this one!
Following tonight's GAME REVIEW, as a bonus, I've included my latest for Stan Fischler, a column that I believe will appear on TheHockeyNews.com website on Friday.
Let's roll.
Up first, the pregame news and notes.
---
On Monday night, I said the game between the Rangers and Flames was the most exciting and entertaining game of the season, with one caveat – I haven't seen every single NHL contest this season. (Full GAME REVIEW here: https://bluecollarblueshirts.com/2623/ )
Apparently, people who have watched more of the NHL than I have this season agreed. (After all – these people get paid to do so – even though I've probably watched 250+ games during this 2022-23 campaign);
The two most prominent NHL reporters today, "32 Thoughts" co-hosts Jeff Marek and Elliotte Friedman, were also blown away and echoed what we all felt following that roller-coaster at M$G from Monday night.
I bring this up for two reasons. One, it just tells you how the Rangers have put the league on notice.
Two, a personal story.
Following my lovely 5AM train to work on Tuesday morning, where I entered the workplace running on less than three hours of sleep; needless to say – I couldn't wait to get home on Tuesday afternoon.
Since I was feeling a bit groggy; it took me a little longer to arrive at Penn Station, as usually, my daily walk from the Flat Iron District to my LIRR track takes eighteen minutes. It took me twenty-five minutes on Tuesday, which meant that I had some time to burn, as I missed the train I usually take home.
As you all know, Penn Station is a desolate wasteland, devoid of the many bars and quick bites that used to fill up the main concourse. Rather than looking for "SCRATCHY," and trying to shoo off the hundreds of aggressive homeless people demanding you part with the money in your wallet; instead, I decided to take a walk to the Rangers' team store, where I hoped to purchase a 2022-23 Yearbook.
(I have nearly every Rangers' Yearbook going back to the mid-1940s as I collect these things.)
Once going through the metal detector (yes – you have to go through a metal detector just to visit the team store), I was told by the M$G employees that the Yearbooks won't be ready until April. Usually, the Yearbooks come out mid-season, but for whatever reason, not this season.
However, my trip wasn't entirely a waste, as one of the employees said I could have Monday night's program for free. I asked if this was standard practice, and the employee told me that they usually throw them out the next day, so if it was ever my desire – I could just visit the team store the day after every home game and get every single one.
While I won't be doing that; for you guys and gals, who may be interested, there you go! Of course, you have to be in NYC in order to acquire this $6 program; but if you're looking to kill time before boarding your train home – why not get some free reading material?
Plus – it's not very often when you can get something on the arm from the Rangers – so you have to take what you can get!
---
As I was acquiring my free program and then boarding my train home; the Rangers had already reconvened in Tarrytown, NY for practice.
Not much took place at the practice, and as you'd expect – head coach Gerard Gallant kept the same line-up in tact from Monday night.
As I got through the tunnel and into Woodside; Gallant had already conducted Tuesday's "TURK TALK." Here it is:
---
Gallant didn't really say much on Tuesday, or at the very least, not much of note.
Outside of praising Trouba's clean hits, Blais' return and his overall satisfaction with his team; nothing out of the ordinary was said.
To me, it was what wasn't asked that was the story – where this falls on the shoulders of the clueless birdbrain beat reporters – and not on "THE TURK" himself.
As recapped and shown on Monday night; Gallant got incensed with Artemi Panarin, following "The Breadman" taking a too many men on the ice penalty.
In the first two interviews that Gallant gave to the media since Monday night's win – not one "accredited" reporter asked the head coach about this.
And as mentioned on Monday – had the Rangers lost that game to the Flames – then I think this would've been a bigger story, rather than being swept under an already lumpy rug.
I guess Mollie Walker "doesn't give a shit" about this either!
---
A day later, Wednesday, game day; Gallant held his pregame "TURK TALK." Here it is:
---
Once again, "THE TURK" didn't say much, but similar to Adam West's 1966 "BATMAN" series – left us with a cliffhanger.
After stating that he'd be deploying the same-line up from Monday night, sans the one obvious switch, CZAR IGOR in net; Gallant was asked about Libor Hajek, as the Czech defenseman has now hit twenty straight games spent in the press box.
Gallant replied, "I don't want to talk about this today. Ask me about this tomorrow. I'll answer this question then."
We'll find out the answer to this most pressing question, "same Bat Time, same Bat Channel" on Thursday.
---
Here was the line-up from Wednesday night:
FIRST LINE: Panarin/Mika/Vesey
SECOND LINE: Kreider/Trocheck/Goodrow
THIRD LINE: Lafreniere/Chytil/Kakko
FOURTH LINE: Cuylle/Leschyshyn/Blais
Defensively, everything remained the same:
FIRST PAIR: Lindgren/Fox
SECOND PAIR: Miller/Trouba
THIRD PAIR: Harpur/Schneider
STARTING GOALIE: CZAR IGOR
BACK-UP: THE HALAKNESS MONSTER
PRESS BOX: Hajek, Kravtsov and Gauthier
---
BOX SCORE time.
The following graphics and information come from ESPN.com:
SCORING:
PENALTIES:
TEAM STATS:
GOALIES:
| | | | | | | | | | | |
| --- | --- | --- | --- | --- | --- | --- | --- | --- | --- | --- |
| SA | GA | SV | SV% | ESSV | PPSV | SHSV | SOSA | SOS | TOI | PIM |
| 21 | 4 | 17 | .810 | 14 | 3 | 0 | 0 | 0 | 58:42 | 0 |
| | | | | | | | | | | |
| --- | --- | --- | --- | --- | --- | --- | --- | --- | --- | --- |
| SA | GA | SV | SV% | ESSV | PPSV | SHSV | SOSA | SOS | TOI | PIM |
| 25 | 3 | 22 | .880 | 22 | 0 | 0 | 0 | 0 | 59:21 | 0 |
---
Tonight's broadcast was the M$GN "Black Experience Night," where both the Rangers and the network did their transparent act of acknowledging Black History month.
Maybe I'm going overboard by using the word "acknowledging," but like any of these theme nights – once it's over with – you never hear from these guests and people again.
But at least the Rangers wore their "Black History Month" jerseys – which was a life-or-death act for some people, following the false advertising from "PRIDE NIGHT."
Just like any other theme night (and if you recall – I said a few weeks ago that I'm surprised the Rangers don't have 41 theme nights on their schedule – because the only color that matters to the Blueshirts is green – as in money); Sam and Joe, and as they always do, really hammed it up.
At one point, I was surprised that they didn't come out dressed in Nation of Islam garb.
"OH JOE, LOUIS FARRAKHAN TOLD ME TO REPLACE MY KIPPA WITH A KUFI JOE!"
"SAM, THE BLACK EXPERIENCE IS ABSOLUTELY FABULOUS!"
(And Part I: the only reason why I have Farrakhan, yarmulkes and kufis on my mind is because I just watched "You People," currently streaming on Netflix. If you don't know what the movie is about, it's about a Jewish guy marrying a black gal.)
(And Part II: as noted a few blogs back, I still don't know why M$GN and/or the Rangers elected to use the word "experience." Is being black, white, Christian, Jewish, gay, straight, or whatever else, really an "experience" – or is it your way of life and who you are? Just poor wording in my opinion; as the word "experience" makes me think of a theme park ride rather than anything else. That's all.)
No matter the theme night, one thing remains true – Sieve Vagistat is the worst ANALyst in hockey.
Since time is an issue as I write this, let's quickly recap Vagistat's thirty minutes of futility, as no joke – HE HIT EVERY SINGLE ONE OF HIS USUAL TALKING POINTS, such as:
— "I know Benoit Allaire."
— "I talk to Henrik off-air."
— "East-West Passing stats."
— Three plugs for his worthless analytical company.
One more time – "REPLACE THE 'V' WITH A 'C' AND HIRE RYAN CALLAHAN!"
---
For whatever reason, M$GN still hasn't picked up on what TNT does with Lundqvist. While the national broadcaster features and showcases "The King;" the regional network does not, as it's way too much Vagistat – the worst Rangers' back-up goalie of this century.
Here's the top stuff that Lundqvist said on-air tonight:
On the importance of the Broadway Hat, which Trouba was awarded on Monday night: "Sometimes it's obvious who will win it. Other nights, it goes to a guy who did a lot of stuff that doesn't show up on the score sheet. Trouba deserved first star but didn't get it."
On Trouba himself: "Personally, I have so much respect for his game. I respect him big time. It takes a lot of commitment to play that way."
Sadly, Lundqvist could've said more, but instead we were doused with non-stop "Vagislime."
---
Following what I thought brought the transparency; a CZAR IGOR interview conducted by some guy named Kazeem, who hasn't been on the network once this season prior to this appearance (let's see if "Kaz's" interview was a one-and-done thing – and if it isn't – then I'll take this "transparency" comment back); Sam and Joe finally came on-air – and when I say "came" – I'm not referring to Rosen rooting for the Canucks all night.
Rosen and MLK – Micheletti Luther King – told us that the Rangers had donated $10,000 to the Black Girls Hockey club. Really, only $10K?
Not for nothing, but I think you can probably scrounge up more than $10,000 by just pilfering through James Dolan's couch.
Furthermore, $10,000 these days isn't enough for a pair of Ranger season tickets!
Maybe it's me, but I thought the donation, while at least it was something, was kind of small.
I'm under the assumption that the Black Girls Hockey club is in need of funds. I know that hockey equipment is very expensive, and the cost of getting rink time is even costlier than that. I just don't know how far $10,000 really goes – especially in NYC – where it currently costs $20 for a coffee to go along with your breakfast bacon egg and cheese sandwich.
That all said, Tunisha Singleton (she was also interviewed during the first intermission), the recipient of the check, was extremely grateful:
📣Black Girl Hockey Club is awarded the Community Hero Award by the @NYRangers @TheGarden & they've donated $10,000 to @BlackGirlHockey!🥹🥰🥳 This is a huge statement coming from an Original 6 team 🙏🏾Thank u for supporting Black women in and around hockey!! ✊🏾#BlackHistoryMonth pic.twitter.com/SzKJKCWORr

— Tunisha Singleton PhD (@TSingletonSays) February 9, 2023
---
Finally, while on the topic of BLACK HISTORY MONTH; the greatest black Ranger in my opinion? Tony McKegney.
K'Andre Miller may change my opinion one day.
Tonight was another example of Miller (first star, three assists, one big hit) challenging McKegney for that distinction.
GAME REVIEW time.
---
FIRST PERIOD:
One last time – I have to rush through this a bit, as due to the late start and all of the pregame ceremonies, this game didn't start until 8:17PM and didn't end until 10:45PM.
In a game featuring a 2022 Vezina winner, CZAR IGOR, and a back-up goalie with a 4.00+ GAA & under .900 save percentage, Spencer "Don't Call Me Julie" Martin; neither goalie looked that hot tonight.
For CZAR IGOR, and whether it's the new sire at home or not, continues to play his worst games on M$G ice.
In another point that I've repeatedly brought up all season – if #31's home numbers were on par with his numbers from the road – then he'd repeat as the Vezina winner in 2023. Barring something incredible happening during the stretch – there will be a new Vezina winner come June.
And this too – how hard is it to record a shutout these days? Maybe I say this after watching the Islanders (who of course, won their last game by a final of 4-0 – the agony!); but every other night, it feels like Igor's BFF, Ilya Sorokin, is shutting out his opponent. CZAR IGOR shutouts feel far and in-between.
Following Rosen running off every reverse curse stat imaginable; Vincent Trocheck won his first faceoff. He'd later go on to win fourteen more, finishing the night 15 of 20, good for a game-high winning percentage of 75%.
And while we can get into this more over the weekend – as I know my buddy, Roc, from "2 Guys, 1 Cup" always likes to do – but outside of the faceoff victories – a Trocheck goal these days (especially on the power-play) feels as rare as a CZAR IGOR shutout.
Ugh!
This was the best Rangers' period of the game – but that doesn't say much either – as most of this game felt like a slow descent into quicksand.
At the 4:22 mark, Lindgren drew Dakota Joshua for high-sticking – the first of two penalties committed by the road team while in the Rangers' d-zone.
Right away, Sam and Joe predicted a Rangers' power-play goal, told us how bad the Vancouver penalty kill was (worst in the league) and how the Blueshirts will now take the lead.
After spewing all of that; Fox set-up Mika, Mika hit the post, Mika set up Panarin, Panarin rifled the puck to the boards, the Rangers watched the puck ricochet out of the zone, and by the end of it – the Rangers first power-play unit was now 3 of their last 33 – 11%!
However, just 29 seconds after the power-play had expired; this happened:
Trocheck with the head fake and Kreider puts it in the empty net #NYR pic.twitter.com/qM8Nj3xCcu

— Rangers on MSG (@RangersMSGN) February 9, 2023
---
1-0, GOOD GUYS, Chris Kreider's 250th goal of his career!
This was an excellent tally, all-around, and as set-up by Miller.
The Rangers, who do have an affinity for breakout passes off of the boards, scored another goal following one of these displays of brilliance.
Miller banked a puck off of the boards, and this long bank stretch pass found Trocheck. Trocheck, motoring to the net, made a no-look pass to his open winger, C. James Kreider, and boom – #20 scored his 21st goal of the season.
While this goal looked "easy," let's face it – we've seen these plays get mangled before. That's why I was extremely elated to see this puck find Martin's open twine.
For whatever reason, right after the goal, Rosen recited the Riley Stillman family tree.
No joke – this version of Rosen would have been rooting for Pavel Bure to score on his penalty shot from 1994. That's how bad the once lovable announcer has become. His overstuffed praise for the other team and all of his black voodoo magic is completely intolerable.
It's time for Rosen's kids to tell him to retire – this way – fans can reminiscence and miss him – rather than shake their heads for three hours.
As Rosen declared his undying love for another family tree, and gushed over Quinn Hughes and his brother Jack; this happened with 11:29 remaining:
That's 7 goals in 5 games for the flame thrower Filip Chytil 🔥🔥🔥 pic.twitter.com/BcJ7wNBQtD

— Rangers on MSG (@RangersMSGN) February 9, 2023
---
2-0, GOOD GUYS, as Filip Chytil continues the biggest heater of his career.
Unlike Miller's first secondary assist, this one wasn't as huge; as instead, this goal was purely set-up by Kaapo Kakko.
The Finn, behind the goal line and to the right of Spencer, found his Czech center and boom – #72 put a backhander right into the net.
And whatever you want to call this Lafreniere/Chytil/Kakko line (I refuse to refer to it as "The Kids Line," and for reasons as previously stated on this site) – this much is true – they are firing on all cylinders right now.
Rosen's response to this goal? The following and where I stress to you – I'M NOT MAKING THIS UP:
"OH JOE, THE VANCOUVER CANUCKS MADE A COMEBACK IN THEIR LAST GAME AGAINST THE DEVILS JOE. THEY CAN COMEBACK AGAIN TONIGHT."
While the Rangers did win this game wire-to-wire; this match wasn't over until the final horn went off.
Up 2-0 and in a game that had all the makings of a blowout; the opposite happened.
Between the Rangers taking their foot off of the gas and Rosen pushing pins in his Rangers' doll; this game flipped.
Down to 9:42 remaining, Trocheck hooked former Ranger, JT Miller – an iffy penalty call if I ever saw one.
(Of note: unlike games from the past, Rosen didn't say tonight, "OH JOE, K'ANDRE MILLER AND J.T. MILER JOE, NO RELATION JOE!" And I'll admit it – I was waiting for it!)
For as bad as the Rangers' man-up units have been, the opposite is true about about the team's man-down units.
During these two minutes, the Blueshirts didn't afford the Canucks a shot on goal.
Come 5:30 remaining, Vancouver had their best even-strength attack of the game thus far; but CZAR IGOR made a pair of saves to keep the road team blanked.
Following a Canucks icing and for whatever reason, the senile Rosen started babbling about Tyler Myers and reminded us for the 987686696th time that his half-brother, Quentin Grimes, plays for the Knicks. No one finds this more fascinating as Rosen does.
Jimmy Vesey, who has really exhibited his quick hands as of late; once again drove to the net only to be stopped once there.
As Rosen continued to do his Vancouver rain goal dance in the booth; with 2:24 remaining, this prophecy was met in the form of a Conor Garland goal.
2-1, good guys.
This was a complete defensive brain fart from the Rangers' third pair and fourth line. Hughes, Rosen's hero, skated by nearly all five Ranger skaters and found Garland wide-open for a shot.
You can argue if CZAR IGOR should've made this save or not (we've seen him make these saves 8976786669 times before – which is why maybe we also expect these saves too); but in my eyes, this was more about the team's defensive lapse than the goaltender himself.
This goal allowed was another example of something we've seen a lot of this season – all it takes is one defensive lapse – and boom – the tone & momentum of the game 180's.
We remained at 2-1 at the period's conclusion.
Here's what I said at the time:
2-1, GOOD GUYS, after 20. 1P Thoughts:
— Almost a flawless period. One brainfart goes into their net.
— Sam Rosen has never been worse.
— SOG 7-5, Hits 10-8, FOs 9-8, all #NYR
— Gotta score on the power-play
— Joe is right – NYR took their foot off the gas a bit.
LGR

— BlueCollarBlueShirts (@NYCTheMiC) February 9, 2023
---
SECOND PERIOD:
You have to know what happened here. Right away, Rosen again read off every reverse curse stat imaginable – the Rangers are a good second period team, the Canucks should be tarred-and-feathered for being the worst second period team in the league and etc.
By the end of these twenty minutes, each team scored one goal a piece.
The Canucks brought it early, as former Ranger, Phil Di Giuseppe, who seemed hellbent on scoring tonight, was denied.
Come 16:45 remaining, CZAR IGOR gave up a juicy rebound, but thankfully Trouba was there to swat the loose change into the other end.
And let me bring this up now in case I forget to say it later – while Trouba & Miller shined offensively in the box score – they were also solid defensively.
At the five-minute mark, the 'Nucks were out-shooting the Rangers 7-2.
However, come 13:37 remaining – a puck luck goal – where as we all know – the Rangers couldn't score any of these at the start of the season:
Guess which line does it again?! 3-1 #NYR pic.twitter.com/FLmcbheK0N

— Rangers on MSG (@RangersMSGN) February 9, 2023
---
3-1, GOOD GUYS!
Officially, Alexis Lafreniere was credited with the goal here – his second consecutive goal that perhaps was fluky. (His overtime winner was the end result of Markstrom vacating his net – but hey – he did finish!)
In my eyes, I never saw Lafreniere's blade touch the puck; as following Trouba's shot from long distance, the puck deflected off a Canuck and past Martin.
That said, Lafreniere was correctly positioned and right there to score had the puck not reached its destination.
So while Lafreniere gets his eighth goal of the season here; to me, this was all Trouba – where wouldn't you know it – these bombs are now exploding where intended!
Two minutes following this goal; Fox and Vesey almost made it 4-1. Had this try went in – I think it would've been game over. However, the Rangers allowed the Canucks to hang around, played with fire, and in the end – had to sweat this win out.
Down to 10:55 remaining, Panarin, who is now without a point in his last seven of eleven games played; missed a net on a breakaway. Officially, the team's best shoot-out scorer is 0-10 on breakaways this season.
And no – "that ISN'T amazing Suzyn!"
In a no call that didn't seem that big at the time; down to 6:30 left on the clock, Kakko was tripped while entering the Canucks' zone. The refs swallowed their whistle.
For whatever reason, with 5:00 remaining, Sam and Joe started talking about J.T. Miller's daughter and informed us that she "has an edge." Again, I'm not making this up. Apparently, she gets very violent with her Barbie dolls.
As Sam and Joe laughed and fondled each other a bit; the Canucks brought themselves within one again with 3:52 remaining.
3-2, good guys.
This was a horrid goal to allow.
J.T. Miller, who the bumbling duo in the booth were just praising; forechecked. Despite going one-vs-three; the former Ranger forced a turnover from the corner to the right of Igor and then found a streaking Vasily Podkolzin for the goal.
And this shouldn't surprise you – this was Podkolzin's first goal of the season – RANGERS TRADITION!
For as bad as Lindgren's turnover was here – this shot had to be stopped. The Rangers just have a knack for giving up "first's" all season.
And oh, this is what I said at the time:
#NYR are going to need another goal to win this

— BlueCollarBlueShirts (@NYCTheMiC) February 9, 2023
---
I know this may shock you, as no one is a bigger fan of CZAR IGOR than me (let's not forget who first beat this drum, all the way back in the early months of 2017); but rather than winning the 1-0 and 2-1 games; of late, he's been winning the 4-3, 5-4 games.
I remain firm, yet fair!
Down to 3:15 remaining; Luke Schenn interfered with Panarin but hurt himself in the process. While Schenn would return for the third period, this penalty was then served by Garland.
End result? Against the league's worst penalty kill, the Rangers went 0-2, while the PP1 unit were now 3 of their last 34.
We remained at 3-2 as the second period ended.
Here's what I said at the time:
3-2, GOOD GUYS, after 40. 2P Thoughts:
— The PP is a major issue.
— I knew this game would be a letdown (how could it match Monday), but #NYR can't afford to lose this.
— SOG 15-13, Hits 16-13, FOs 19-15, all NYR
— They always play down to the level of competition
LGR!

— BlueCollarBlueShirts (@NYCTheMiC) February 9, 2023
---
THIRD PERIOD:
These twenty minutes were excruciating, as you were just waiting for the Vancouver equalizer. Thankfully, that never occurred.
Following Hughes taking a puck to the nose (he left for stitches and then later returned); Rosen, despite the Rangers' Miller having three-points to his ledger, raved about the Miller in the visitor's jersey instead. This was then followed by Michelletti's "Ode to Boudreau," now formerly the head coach of the 'Nucks.
Three minutes into the period, each team had recorded fourteen shots on goal each. At the time, this felt similar to the loss to Montreal, as for whatever reason, the Rangers struggle to blow-away bad teams.
Ben Harpur (-1) tonight, was benched for a bit during the second period (I assume for turnover issues), but played throughout this final frame.
Most of this period saw each team struggle to put shots on goal, as again, this was mainly a slog of a period.
Let's bullet-point the rest of this:
— Down to 12:05 remaining, Trocheck accidentally tripped Kreider. Sam and Joe sold this leg injury like he was "Tonya Harding'd," but Kreider told Jim Ramsey, "I'm good," and continued to play.
— In a cute attempt, Panarin hit Schenn. He then bounced off of Schenn as if he was a Russian rubber ball.
— Fox and Vesey continued to get GOOD LOOKS, but tonight just wasn't their night.
— During our final salute to BLACK HISTORY MONTH, Sam & Joe actually sung the praises of EMERSON "F'N" ETEM – and if you don't know the genesis of this nickname – just go back and read my blogs from the 2015-16 season! A "Poor Man's Carl Hagelin" my ass!
— Under nine minutes to go, and admittedly on a tough-angled shot, Panarin hit the crossbar.
— With 7:23 remaining, Igor made his third save of the period. Eight seconds later, Miller laid a thunderous, "don't mess around with me son" hit on Ethan Bear, which sent the Canuck on his rear-end. Bear then tried to goad Miller into a fight, but in a one-goal game, #79 wasn't going to be baited into a stupid penalty.
— As Vancouver was pressing the offense and had control of the puck; you were dreading the inevitable.
— However, with 3:55 to go, Trouba, ONCE AGAIN, dialed up a shot from the blue line – and BOOM – Zibanejad – unlike Lafreniere before him – got a piece of it as the puck was heading towards the net for the deflection goal.
— 4-2, GOOD GUYS.
— Just eleven seconds later, Petterson scored.
— 4-3, good guys.
— This goal was controversial and set-off Gallant too; as the Canucks had seemingly iced the puck here. One official had his arm raised, signalling the stoppage while the other official blew him off – after Pettersson scored.
— Of all three goals afforded – this is the one you can 100% pin on the Rangers' net-minder.
— Down to 53 seconds remaining, and following a Rick Tocchet timeout; Martin took his seat on the bench.
— In what should've been GAME OVER; with 38 seconds remaining, Filip Chytil, ON A BREAKAWAY TOWARDS THE EMPTY NET, was tripped by Brock "He's no Lesnar" Boeser.
— As we saw in the win over Philly – this should've been awarded as goal for Chytil – AS THE NHL RULEBOOK STATES.
— Instead, the officials gave Boeser a tripping penalty, where the following things came out of it:
Chytil was robbed of his 20th goal of the season.
Anyone who bet the puck line (to win by two goals or more) got screwed.
The Rangers power-play officially finished 0-3.
The Rangers PP1 unit are now 3 of their last 35.
It wasn't a masterpiece, but as the final horn went off, Rangers 4 – Canucks 3 – and two huge points in the standings.
Here's Gallant after the game:
---
The head coach, in his two minutes, pretty much said a concise version of what I wrote tonight, where he repeated several times – "this was a tough game."
Gallant, on the bonehead officials (my words, not his), said "I have no idea."
---
All in all, a win is a win and that's really all I care about after this game.
Before closing out, here's what I promised at the top of this blog – my latest assignment for Stan Fischler and "The Hockey News."
---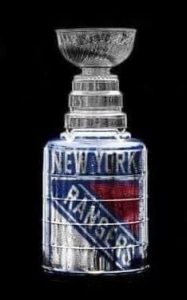 WHAT RANGERS MUST DO TO WIN CUP IN JUNE 2023
By The Maven's estimation, the Broadway Blueshirts have been underestimated as a Cup-winner this year. They are getting closer and Rangers-savant Sean McCaffrey explains what Chris Drury must do to make it happen.
---
The Rangers, just like the fifteen other teams that will be competing for the Stanley Cup this Spring, have as good of a shot as any of winning the holy chalice of hockey – with one exception – the Toronto Maple Leafs – who already have their first-round exit circled on their calendars.
During any Stanley Cup Playoff tournament – a lot has to go right in order to be the final team left standing.
While each Stanley Cup winner possesses deep rosters, shines on special teams and gets the extra save or two; you also need some luck and breaks along the way. And then there is the salary cap too – but that's a different animal for another time.
In the case of the Rangers – they have the talent to go all the way – but they'll need luck as well. For the Rangers to receive the most luck possible, then they'll need their highest-paid player, the $11.6M Artemi Panarin, to earn his "dough" when it matters most.
While Panarin currently leads the team in points (mainly due to multi-point games during blowouts); he's also been held scoreless in nearly 40% of his games played this season. Come the playoffs, where defense is stressed, the ice becomes smaller and the hitting gets harder; the Rangers will need "The Breadman" to bake.
For general manager Chris Drury, he has several options to consider prior to the March 3rd NHL Trade Deadline.
Presently, the former Rangers' captain now in the big chair has one of the best defenses in the league, led by 2021 Norris Trophy winner Adam Fox, Ryan Lindgren, Jacob Trouba and K'Andre Miller. The pitch-in work and production from the team's third pair, Braden Schneider and Ben Harpur, has been encouraging too. And let's not forget about Igor Shesterkin either – the reigning Vezina Trophy winner.
Since injuries can derail any playoff contender, it's thought that the g.m. will add a depth defenseman on a cheap and expiring contract. Reunions with perhaps Marc Staal and Justin Braun could be had. The Rangers other in-house options, Libor Hajek, Zac Jones and Matthew Robertson, don't seem likely. Plus, as NHL g.m.'s have shown us over the years – veteran depth defensemen are key.
The Rangers biggest need, and as known throughout the hockey world, is at right wing. Due to Panarin's struggles at the left wing, where Panarin is now skating with Mika Zibanejad and Jimmy Vesey; head coach Gerard Gallant has been forced to shuffle his line-up a bit.
While the first-round pick line, Alexis Lafreniere, Filip Chytil and Kaapo Kaako, have shone in recent games; "The Turk" now has a line of Chris Kreider, Vincent Trocheck and Barclay Goodrow, a true check line, but where more scoring is desired.
The Rangers' fourth line has been a never-ending rotation, where in fifty games played this season, the head coach has used nearly forty different combinations. Should the Rangers pony up the cash, and make a big splash at right wing – then it would allow Goodrow to shift to the bottom six where he thrives best.
Of course, Patrick Kane, the three-time Stanley Cup champion, has been linked to the Rangers – where #88 out of Chicago, now on the last year of his no-move contract, can choose where he goes – should he desire to leave The Windy City. Due to his history with Panarin, as the two made magic together during "The Breadman's" first two years of his NHL career; perhaps the Rangers will have their 2014 version of Martin St. Louis come March 3rd.
Away from Kane, other right wing options, who are also set to become unrestricted free agents this summer, include Timo Meier (San Jose) and Vladimir Tarasenko.
As far as what Drury sends the other way, assets and players such as Vitali Kravtsov, Zac Jones and one of the Rangers' 2023 first-round picks should do the job.
Whatever Drury decides, I do believe that a big name right-winger is the apple of the g.m.'s eye. The Rangers simply need one more scoring threat, and loading up on depth players and entering the playoffs as is wouldn't be the best option.
That said, I also expect Drury to add depth/role-players at the deadline – where just like last season, Drury's first as g.m. – I envision the Rangers landing players who aren't on anybody's radar right now.
Need an example? See Vatrano, Frank, of the Anaheim Ducks, where wouldn't you know it – a Broadway return of "The Rifle" wouldn't be the worst thing in the world either – providing that Drury's counterpart, "The Little Ball of Hate," Pat Verbeek, would be willing to assume some of Vatrano's cap hit.
Another consideration for Drury, and just like every other g.m. of the league, is hockey's version of an "arms' race."
While no playoff series is a walk in the park; the Rangers quest for the Cup is tougher than their Western Conference counterparts, as the top of the crop reside in the East. In other words – I see Drury adding a player, not only to help his team – but to avoid that player helping an opponent.
And with one of the Rangers' biggest rivals, the New Jersey Devils, shaping up to be the #2 vs #3 seed first-round match-up of the Metro – Drury can't afford to be idle – he has to be proactive too.
---
It's nearly 1:30AM now! It's BED TIME for me, but for you, it's now…
PLUGS TIME!
---
On Tuesday, February 7th, our pals over at "The Blueshirt Underground Show" returned with an all new episode. To check it out, click the play button below:
---
Our other friends, over at "2 Guys, 1 Cup," also returned on Tuesday with a new episode. To check it out, click the link below:
Episode 70 is up!

Lots of deadline talk, can we move a NMC/NTC player this off-season? Should the Rangers aim for a big gun, or add complimentary pieces like last year. #NYR https://t.co/CSF4LXzNO0

— 2 Guys 1 Cup Podcast (@2G1CRangers) February 8, 2023
---
My first plug of tonight's blog – the mandatory plug for my book, "The New York Rangers Rink of Honor and the Rafters of Madison Square Garden."
As mentioned previously, the book is now available in hardcover, in paperback and in Kindle formats. To purchase a copy of the book, visit this link:
https://www.amazon.com/Rangers-Rafters-Madison-Square-Garden-ebook/dp/B09CM5N2WD
For those still looking for signed paperback versions of the book, I have re-ordered more copies. I now have a few signed copies for sale at $25 a pop (includes shipping price) through me directly. Here is all the information on that:
---
My four-volume set of books, "One Game at a Time – A Season to Remember," is a game-by-game recount of the Rangers 2021-22 campaign.
My second title as an author, "One Game at a Time – A Season to Remember," is now available in eBook, paperback and hardcover formats.
To obtain signed copies, visit: https://bluecollarblueshirts.com/onegamebook/
To purchase all four volumes on Amazon, visit: Amazon.com – "One Game at a Time."
---
The greatest volume-set of books on Rangers' history today!
"Tricks of the Trade – A Century-Long Journey Through Every Trade Made In New York Rangers' History," a four-volume set of books that meticulously covers every trade made in franchise history, is now on sale.
All four volumes of the title can be purchased on Amazon.com and are presented in three different formats – eBook, paperback and hardcover.
To purchase Volume I: Conn Smythe (1926) – Craig Patrick (1986), visit Amazon.com
To purchase Volume II: Phil Esposito (1986) – Neil Smith (2000), visit Amazon.com
To purchase Volume III: Glen Sather (2000-2015), visit Amazon.com
To purchase Volume IV: Jeff Gorton (2015) – Chris Drury (2022), visit Amazon.com
To purchase signed copies of all four volumes, visit https://bluecollarblueshirts.com/tricksofthetrade/
---
Here are my last few blogs, in case you missed them:
---
---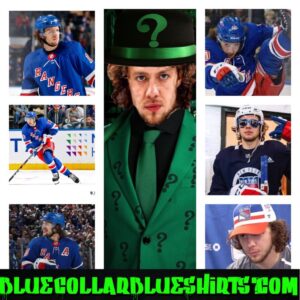 ---
If you haven't already, subscribe to this blog for the next update:
---
Don't forget to order my new four-volume set of books, "Tricks of the Trade!"
If you don't order through me, all four volumes are now available on Amazon.com
For more details, check out: https://bluecollarblueshirts.com/tricksofthetrade/
Thanks for reading.
LET'S GO RANGERS!
Sean McCaffrey
BULLSMC@aol.com
@NYCTHEMIC on the Tweeter machine