Greetings and salutations everyone and welcome to another blog here on BlueCollarBlueShirts.com. Thankfully, the Blueshirts are back in action this Monday night.
Leave it to the NHL, and their television rights partner, ESPN, to completely mangle what should've been an exciting two days in Sunrise, Florida. Instead, the annual NHL All-Star weekend was as pleasing as nails on a chalkboard.
With blistering temperatures in the Northeast, where on Saturday afternoon, here in New York, the thermometer dropped to zero degrees; I opted to park my behind on my couch this weekend, rather than braving the cold outdoors.
Maybe I should've risked the frostbite, and the medical bills incurred afterwards; as anything, whether it be an outdoor prostate exam in Central Park, changing the oil in my car or something else as equally laborious, would've been more entertaining than what the NHL presented to their fans this weekend.
Before getting into the meat-and-potatoes of tonight's recap of the NHL's All Star Weekend, I should give you this disclaimer – more times than not – I am a fan of this weekend – or at the very least – was a fan.
These past six hours of television presented by the NHL and ESPN may have been the worst thing for the league since the 2004 lockout.
And for those fans who wish for the relationship between the NHL and the world-wide leader in sports to dissolve?
That makes no business sense for the league, as despite everything, including piss-poor television ratings that we'll soon discuss – ESPN, due to their reach, gives the NHL more exposure than any other network.
While admittedly, the NHL All Star Game has been bastardized over the years, and now reduced to a trio of three-vs-three gimmick games, a gimmick long past its expiration date; the night that precedes it, the Skills Competition, is usually fun and entertaining.
Not this year.
I'm not adverse to change, which is why I like how the NHL has presented new themes and events at these annual Skills Competition events. In fact, I really enjoyed what the NHL did last year in Las Vegas.
Of course, sometimes the latter word of the phrase "trial and error" applies too.
Needless to say – the swampy city of Sunrise, Florida isn't Las Vegas, Nevada. And as someone who has been to both cities to watch the Rangers play, and as you'd expect – the two cities are truly night-and-day in comparison.
I don't think I have to tell you what Las Vegas offers, but for the people who have had the luck of never having to step foot in Sunrise, in short – there's nothing to do there.
More important than that? There are no fans there either.
Similar to the old Nassau Coliseum in Long Island, and the barn in Kanata, Ontario too (home of the Senators); "The FLA Live Arena," formerly known as the "BB&T Center," sits by its lonesome on a desolate highway, devoid of life.
As opposed to the other many arenas throughout the league, whether it be Madison $quare Garden in New York, the Scotia Bank Arena in Toronto, the Bell Centre in Montreal, the Amalie Arena in Tampa or elsewhere; there is nothing to do either before or after an event held at the newly rebranded FLA Live Arena.
There are no bars, no restaurants, and really – no signs of life anywhere – including inside of the arena.
Need an example? Here's how empty the building was on Friday night, during the Skills Competition:
I don't think I'm breaking any news here, but ESPN has a problem with the word "fun." In my opinion, this event would've been better off presented by the light-hearted crew over at the TNT Network.
While ESPN tried their best; the broadcast on Friday night was an all-out mess – and this was very apparent just one minute into it.
Maybe it's because of my former life in the pro wrestling business; but I do believe that many people are aware of this too – whenever shooting an event for television – whether it be sports or something else – if the audience figure/people in-attendance is paltry – THEN YOU DON'T SHOWCASE THAT FOR EVERYONE TO SEE.
Perception is reality, and by showing all of the empty seats – you're telling your television viewers that the event isn't worth your time.
No joke, within the first minute of the broadcast, and as we'd see all night – ESPN kept showing us all of the empty seats in Sunrise.
While this might not mean much to the "Average Joe;" for a league whose top story this week was in regards to their plummeting national television ratings – highlighting the lack of interest in this event served the NHL, nor ESPN either, any positive purpose.
And how bad are the NHL's television ratings on ESPN and TNT right now? (HOW BAD ARE THEY?) The WNBA is within striking distance. And no – I'm not making this up.
According to the Sports Business Journal, who did all of this research, the NHL is averaging 373,000 viewers on ESPN and TNT this season. The WNBA, which doesn't exactly cater to the largest audience imaginable, averaged 352,000 viewers last season.
Granted, and as opposed to the other major sports leagues – the NHL doesn't live-and-thrive off of their television ratings. The bulk of their profits come at the gate – where despite the skyrocketing costs for tickets this season – an all-time high – most buildings throughout the league are sold-out, or close to it, every night. The WNBA? Not so much.
Furthermore, 31 of the 32 NHL teams are self-sufficient/profitable (the Arizona Coyotes are the exception here); and don't need subsidies or hand-outs.
The WNBA, now over 25-years in existence, has never turned a profit once and relies on the NBA, which has forked out over $2B to "little sister," to survive.
Even with all of that said; when you see a hockey league, now long past the century-mark and who has television numbers that rival an often joke among the sports world, the WNBA – well suffice to say – that's not good.
In addition, while the NHL All Star Weekend doesn't really cater to hardcore fans, as it's more for kids and casuals; what does it say when your showcase of the elite can't even draw a half-way sold-out house, never-mind a full sell-out?
This weekend, designed to promote the league to more eyeballs – didn't accomplish that goal. Instead, it ran off potential new viewers.
For a league that often promotes "HOCKEY IS FOR EVERYONE;" based on this weekend, the NHL may need to adopt a new slogan, "HOCKEY IS FOR A FEW PEOPLE – Just look at our All-Star crowds and television ratings!"
And of course – come playoff time – all of this stuff will go out the window – as no one, and I mean no one, has a better playoffs than the NHL.
---
In a word, Friday night, the Skills Competition, was a "mess."
After repeatedly showing us that not many cared to be there; ESPN had all of their crew in the house, where the personalities were robotic and the jokes were forced.
Following Steve Levy, Mark Messier and Chris Chelios palling around with a bunch of NHL Mascots (how riveting); P.K. Subban, who emceed the event, greeted the crowd. He also did a segment with Connor McDavid and Nate MacKinnon, and the former #76 then stated how he only wanted to address these players by their nicknames – "McJesus" and "Lil' Mac."
What, no outrage for the sacrilegious "McJesus" moniker? Funny how that works!
And speaking of nicknames, Subban's nickname, "SLEWBAN," was never brought up.
While I know that Subban has done a ton of charity work, especially in Montreal; you'd think he was the second coming of Mother Theresa by the way ESPN presents him. (Yep, I'll never get over what he did to Sammy Blais!)
As ESPN continued to show us an arena that looked like a "Spirit of Halloween" store in February, where ironically, the fans dressed up as empty seats too; I wondered if the NHL will ever employ "seat fillers" for these events?
Again, for a "Television Extravaganza" – well, I've seen more people in-attendance at my nieces' soccer games.
In both a new and unneeded twist, and whether this was the design of the league or by ESPN; for the first time ever – events were staggered throughout the broadcast.
In other words, the NHL and ESPN bucked tradition and rather than presenting each event in their entirety; instead, we saw the first-round of an event, and then returned for the "thrilling conclusion" later on during the broadcast.
Our first event was the "Fastest Skater" competition, where following ESPN's high praise of Cale Makar; this happened:
A few things about this particular event, and really, all of these "skills competitions" in general:
— Unlike previous years, the field of participants were small.
— The NHL advertised several different players for different events, where come time for the events – everything was shaken up. This was kind of important, because there were sports books taking action on the live competitions.
And yep – I was one of the degenerates who actually bet on these skills competitions, but before you take me kicking-and-screaming to Gamblers Anonymous – hear me out.
DraftKings was running some promo where if you deposited $5, then you'd get $200 in free bets – eight bet credits worth $25 a piece.
Since there weren't that many competitors when compared to previous years, nor any true overwhelming favorite for these events either – if you were to bet every player in any one event (only the accuracy event had a field of eight players or more) – then you were guaranteed to make a profit off of your $5 investment.
And that's what I did, as I wound up clearing $400 on the event (I would've made $600 – but more on the accuracy competition to come), including this $200 win here:
As mentioned, all of these events were scattered and presented in a haphazard fashion.
Before giving you the rest of my thoughts and opinions on the broadcast and the night; here were all of the winners from Friday:
Fastest Skater: Andrei Svechnikov (Hurricanes) – 13.699 seconds (LIVE)
Pitch 'n Puck: Nick Suzuki (Canadiens) (PRETAPE)
Tendy Tandem: Central Division (Juuse Saros and Connor Hellebuyck) (LIVE)
Splash Shot: Cale Makar and Mikko Rantanen (Avalanche)  (PRETAPE)
Hardest Shot: Elias Pettersson (Canucks) – 103.2 mph (LIVE)
Accuracy Shooting: Brock Nelson (Islanders) (LIVE)
Breakaway Challenge: Alex Ovechkin, Sergei Ovechkin and Sidney Crosby (LIVE)
---
Rather than writing about these events in the confusing order in which they were presented; instead, let's take a look at each competition, one-by-one.
Andrei Svechnikov won the fastest skater competition, which is where we saw our first bit of false advertising, as a previous multi-time winner of this event, Connor McDavid, didn't participate. Neither did Kirill Kaprizov, who was also advertised for this event.
Following Makar falling down, and Chandler Stephenson & a previous winner of this competition, Dylan Larkin, being eliminated in the first-round; Svechnikov, in the final round, then bested Kevin Fiala by half a second to win.
Of all the events, this was the least offensive.
---
The new "Tendy Tandem" event, in one word, was an "abortion." Or at the very least – this event should be aborted from next year's schedule.
In what best can be described as "confusing chaos;" no one – not the players, not the token women that were included for whatever reason, not ESPN, and most importantly, not the fans either – had one clue what was going on here.
Following several repetitions of the event, the baffling rules of whatever this event was designed to accomplish finally became apparent; but again, for a league and a weekend that wanted to draw casuals – this was akin of trying to solve one of Matt Damon's chalkboard equations from "Good Will Hunting."
No joke – I've seen and read about divorces that were less messier than this event.
Trying to recap all of this is both a futile and fool's task; so I won't do that here.
The only real takeaway from this event, outside of Saros and Hellebuyck being named the winners nearly 45 minutes later; was that you had one goalie shooting at an empty net, while the other goalie from the division had to make a breakaway save afterwards.
For whatever reason, it was Ilya Sorokin, and not CZAR IGOR, who was shooting at the empty net.
The lesser Russian goalie of New York missed the empty net on all five tries.
Ironically, CZAR IGOR, who hasn't fared that well on breakaways/shootouts this season; stopped all three NHLers he faced, while another shot went wide.
The one goal Shestyorkin allowed was to Sarah Nurse, where it felt like this goal was allowed on purpose – similar to the one that Ovechkin's young son, Sergei, would later score on Roberto Luongo during the "Breakaway Challenge."
And while it might sound like I'm marginalizing the women who competed during this (and for whatever reason – but let's face it – we know why) – so did ESPN – as they never introduced any of them.
Had these women sat in the empty seats, then perhaps they would've received more face-time!
Also of note, Panarin was part of this too – and on a breakaway – shot right into the pads of Andrei Vasilevskiy. At least he put a shot on goal!
One last time, leave it to the NHL to present an event that's so confusing that no one knows what the heck was going on.
---
Similar to last season, the NHL held two competitions earlier in the day, and then ran them, via a pretape, on the broadcast.
In other words, if you paid to attend this – then you watched about an hour of the event on the scoreboard.
The first event presented was the "Splash Shot," which was basically a six-shot "Dunk Tank."
This was actually entertaining and good for television; but not so much for the 3,000 people in-attendance.
Fox and Shestyorkin defeated the Tkachuk brothers in the first-round, but were then bested in the finals by Cale Makar and Mikko Rantanen.
However, the Rangers' pair weren't exactly treating this event as if it were the Stanley Cup; as a barefooted CZAR IGOR, with his goalie stick in tow, took the shots in the final round. At the end, Fox wound up being dunked, but this was entertaining enough.
While this event was environment-exclusive; I wouldn't mind seeing it return whenever the league returns to a warm weather city. The "Tendy Tandem" event? Not so much.
The second pretaped event was a complete snoozefest, as Nick Suzuki beat Jason Robertson, Johnny Gaudreau and Clayton Keller in a "Happy Gilmore" inspired hockey/golf hybrid event. You know, an Adam Sandler movie that none of these players were alive for when it was first released back in 1996.
If the NHL is going to use movies from the past as inspirations for these competitions; then maybe we can have something "SLAP SHOT" related in the future.
Whether it be a drinking contest, fights officiated by the Hanson brothers, or something else from Paul Newman's classic – anything (besides the "Tendy Tandem") would be better than this event – an event that put you to sleep as if you were watching Bob Ross paint.
---
While I can't stand P.K. Slewban due to my Ranger fandom; I somewhat give a pass to Emily Kaplan, who asked some of the dumbest questions that you'll ever hear, as if she was competing in a "NYR Beat Reporter" event.
Of course, it's tough to slam Kaplan here. After all – it's not like she had much to work with.
However, I did roll my eyes when she was asking Jason Robertson about back-checking and playing defense during the All-Star Game, and other must-know hard-hitting questions, such as, "do you want to win?"
She also asked a player about being "tandemed."
"OH JOE!"
---
Rather than trying to treat the weekend as if it had anything to do with hockey; instead, better questions would've been in regards to what the weekend means to them, who they were excited to see, etc.
I mean really – defense in an All-Star Game?
Another farce was the "Accuracy" competition – and no – not because an Islander won it – as Brock Nelson did.
In the first-round, Connor McDavid went a perfect 4-4 in less than ten seconds.
Come the semi-finals, McDavid went 4-4 again, but since Nazem Kadri, who he was competing with head-to-head, hit four of five before "McJesus" could hit his fourth target; the other side of the "Battle of Alberta" moved on.
Both players hit their targets within a dozen seconds.
In the other semifinal, Nelson bested Artemi Panarin, where it took each player over twenty seconds to finish the round.
In other words, the two players with the best times and accuracy percentages didn't move on – just one of the four did.
Nelson then beat Kadri in the finals, where it should be mentioned that this was the last thing that aired – three hours of my life that I'll never get back.
---
In one of the most depressing renditions since its inception in 1990; we had a field of five players competing in this year's "Hardest Shot" competition.
Needless to say, this wasn't Al Iafrate and Al MacInnis.
In a rarity, a forward won this event, as Elias Pettersson defeated 2018 winner, Alex Ovechkin and three defensemen too – Seth Jones, Rasmus Dahlin and Josh Morrissey.
This event, along with the "Accuracy" competition, are the longest-tenured and most anticipated events of this weekend. Both were extremely disappointing and watered-down this year. Sad.
And you may be reading this and saying, "come on, it wasn't that bad and boring."
Someone who agrees with me? The new poster-boy of the NHL, and the face of the video game, Trevor Zegras, who tweeted the following out, in-between bouts of his eyes closing:
😴

— Trevor Zegras (@tzegras11) February 4, 2023
---
"The Breakaway Challenge," mercifully, our final event left to discuss, was played out in front of judges – where all of them admitted to never watching hockey before. On brand, on brand!
Since Ovechkin's kid was there, Roberto Luongo, who was the celebrity house goalie for this competition (due to his history in Florida), allowed the young tyke to score – and just like how Shestyorkin allowed Nurse to score!
The judges all gave the kid a ten, and in turn, "The Great Eight" and "Sid No Longer the Kid" won whatever this event was supposed to be.
Whether it was Brent Burns in the past, Ovechkin here, and countless others – putting your kid on the ice always guarantees you a win!
Of course, it also gave "Ovechkin Haters" some ammo (don't forget – "Hockey is For Everyone" unless you're different from me!) – because after all – young Sergi MUST BE a Putin supporter too!
These people will never change their stripes, so at least they have that going for them.
Overall, I felt worse about my life after watching Friday's night affair – and I'm not too proud about even wasting my time recapping it. I guess I just needed to vent!
But at least I didn't spend the rest of my Friday night writing about it (I watched "That '90s Show" instead).
After all, here is what I said near 10PM and with the event soon to conclude:
I was 50/50 about writing a blog about this #NHLallstar skills competition, but this broadcast has sucked the life out of me

— BlueCollarBlueShirts (@NYCTheMiC) February 4, 2023
---
Originally, I planned on recapping the three NHL All Star games from Saturday. Then I remembered how bad they are. That trend continued this year.
In other words – sorry – I can't just bring myself to recap the horror and the painstaking feeling of numbness.
As noted previously, and six times before at that on this site – these 3 x 3 gimmick games aren't hockey.
It was fun during the John Scott year, but even then – it was because of Scott sticking it to the league – and not because of the actual product on the ice.
Furthermore, everyone with a podium, whether it be a blog, a podcast, a social media account, whatever; all echo these sentiments. There's just no reason for me to be redundant and bore you with a complete take-down of the annual crime committed against hockey from Saturday afternoon.
I understand that the NHL needs this weekend, despite low ticket sales and poor television ratings – so I'm not advocating for the game to go the way of the dodo bird.
However, this much is true – the format needs another revision – something that the NHL has been open to, and numerous times at that, over the years.
Whether it's East vs West, North America vs the World, or perhaps for this generation – "EVERY GAMBLING SPONSOR THAT WE HAVE PRESENTS A FANTASY LOTTO DRAFT" game; whatever the case – anything would be better than these menage-a-trois' – where in this case – the only people being screwed here are the fans.
If there's anything that truly surprised me from Saturday – it was the start time.
While I understand that many NHL teams return on Sunday for practice, ahead of their games to be played on Monday night; the NFL is off this weekend. There's no college football either.
The NHL could've had valuable real estate, a prime-time affair, on Saturday night. Instead, they hosted this event in the middle of the day, where despite the weather situation in New York; across the country, many people have stuff to do in the daytime hours – whether it be work, family events, taking their kids to their sport contests, etc.
Then again, we go back to those two words whenever describing an NHL marketing idea, "ON BRAND."
Seriously, they need a wrestling promoter in their office.
---
Should you care about the box scores of the three games played from Saturday; then go visit NHL.com.
The Central Division beat the Pacific Division 6-4.
The Atlantic Division beat the Metropolitan Division 10-6.
In the final, the Atlantic proved victorious, knocking off the Central 7-5.
All of these games were a chore to watch.
As far as the Rangers go, Panarin assisted on all three of Johnny Gaudreau's hat trick goals, but finished with a +/- stat of zero.
Fox, the lone Metro d-man all-star, played with Ovechkin and Crosby and picked up an assist himself.
CZAR IGOR gave up four goals and made five saves in his ten minutes of work. Of course, goaltending and defense in these games are optional.
If there was anything to note from #31's performance, then it was when the Rangers' goalie tried going up ice with the puck, only to turn it over. Too bad, as it would've been fun to watch him try to shoot at Linus Ullmark.
All in all, the weekend was a complete travesty and a stain on both the NHL and ESPN.
With the weekend in a more traditional city next year, Toronto – and hopefully TNT along for the ride too – the 2024 All-Star Game should significantly be better than what we witnessed in 2023.
After all – it couldn't be much worse than this.
Some quick Rangers' news and notes before closing out.
---
On Saturday, it was reported that Sammy Blais had been returned to the Rangers. What happens next is up for debate, especially since it's thought that Will Cuylle, who won't play in the AHL All-Star Game despite his selection, will also be with the varsity club at Sunday's practice.
In five games with the 'Pack, Blais, who has yet to score a goal as a Ranger, scored four goals for Hartford.
While again, who knows what happens next; at the very least, Blais' stay in the AHL was positive and produced results.
Now, can he do it in the NHL?
---
The Rangers, fresh off of their break, are due back to practice on Sunday. I'd expect Fox, Panarin and Shestyorkin to have the day off or to be tabbed with "maintenance days."
If anything monumental takes place at the practice, and really, I'm not expecting much; then I'll return tomorrow night.
If not, then I'll see you on Monday night, following the Rangers/Flames game at M$G.
PLUGS TIME!
---
On Wednesday, 2/1, our pals at "The Blueshirt Underground Show" returned with a new episode. To check it out, click the play button below:
---
My first plug of tonight's blog – the mandatory plug for my book, "The New York Rangers Rink of Honor and the Rafters of Madison Square Garden."
As mentioned previously, the book is now available in hardcover, in paperback and in Kindle formats. To purchase a copy of the book, visit this link:
https://www.amazon.com/Rangers-Rafters-Madison-Square-Garden-ebook/dp/B09CM5N2WD
For those still looking for signed paperback versions of the book, I have re-ordered more copies. I now have a few signed copies for sale at $25 a pop (includes shipping price) through me directly. Here is all the information on that:
---
My four-volume set of books, "One Game at a Time – A Season to Remember," is a game-by-game recount of the Rangers 2021-22 campaign.
My second title as an author, "One Game at a Time – A Season to Remember," is now available in eBook, paperback and hardcover formats.
To obtain signed copies, visit: https://bluecollarblueshirts.com/onegamebook/
To purchase all four volumes on Amazon, visit: Amazon.com – "One Game at a Time."
---
The greatest volume-set of books on Rangers' history today!
"Tricks of the Trade – A Century-Long Journey Through Every Trade Made In New York Rangers' History," a four-volume set of books that meticulously covers every trade made in franchise history, is now on sale.
All four volumes of the title can be purchased on Amazon.com and are presented in three different formats – eBook, paperback and hardcover.
To purchase Volume I: Conn Smythe (1926) – Craig Patrick (1986), visit Amazon.com
To purchase Volume II: Phil Esposito (1986) – Neil Smith (2000), visit Amazon.com
To purchase Volume III: Glen Sather (2000-2015), visit Amazon.com
To purchase Volume IV: Jeff Gorton (2015) – Chris Drury (2022), visit Amazon.com
To purchase signed copies of all four volumes, visit https://bluecollarblueshirts.com/tricksofthetrade/
---
Here are my last few blogs, in case you missed them: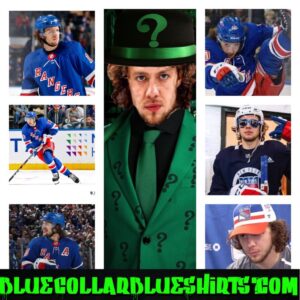 ---
---
---
---
If you haven't already, subscribe to this blog for the next update:
---
Don't forget to order my new four-volume set of books, "Tricks of the Trade!"
If you don't order through me, all four volumes are now available on Amazon.com
For more details, check out: https://bluecollarblueshirts.com/tricksofthetrade/
Thanks for reading.
LET'S GO RANGERS!
Sean McCaffrey
BULLSMC@aol.com
@NYCTHEMIC on the Tweeter machine