Greetings and salutations everyone and welcome to another blog here on BlueCollarBlueShirts.com. Any news?
And oh – Kevin Durant who?
This too – Bo Horvat who?
Less than four weeks away from the 2023 NHL Trade Deadline, Rangers' general manager, Chris Drury, took sole possession of the back pages all for himself, when the man in the big chair on 33rd & 7th acquired Vladimir Tarasenko, now formerly of the St. Louis Blues.
Prior to the trade, Tarasenko, who was not happy with the way that the team's medical staff had addressed his shoulder injury, had requested a ticket out of Missouri.
Despite wanting to move on, Tarasenko had maintained a positive attitude and never let the situation become hostile and/or nasty. In turn, Blues' g.m., Doug Armstrong, accommodated Tarasenko's request to New York.
Needless to say – not only was this a monster of a trade for both Drury and the Rangers; but for the general manager himself – this deal is the biggest splash of his short tenure thus far – where funny enough, and in no less than two years – there's already been a lot of roster turnover.
Furthermore, there are countless of news items to come out of this trade too – and as you'd expect – we'll explore all of them tonight.
Before getting into the meat-and-potatoes of this trade, and every other move from Thursday as well; I must repeat one of the oldest adages whenever a big trade is made – and something I recently said following the Islanders' deal with the Canucks, when they landed Vancouver captain Bo Horvat:
"Whoever received the best player won the trade."
Hands-down, and no matter what happens between now and the Summer, and perhaps beyond that too – Chris Drury and the Rangers won this trade – especially when you consider what they parted with – and what they didn't part with too.
At the very least – you can't say that Drury isn't trying. He's going all in.
Prior to examining every nook-and-cranny of Thursday's major acquisition; let's first recap all of the Rangers' news from the day – stuff which took place before the news of Tarasenko's arrival to the Big Apple.
Up first, Will Cuylle.
---
Just a little after noon, the Rangers announced that Cuylle was returned to the Hartford Wolfpack. Without knowledge of what was coming ahead – I felt bad for Cuylle. And in a way – I still do.
After all, Cuylle, who now has three more games of Rangers' experience than both Vladimir Tarasenko and Niko Mikkola (the other player included in Drury's deal with the Blues), had to miss out on the AHL All-Star Game on Monday night; as instead, he was skating with the varsity club during the Rangers' thriller over the Flames.
While the AHL All-Star Game isn't exactly a make-or-break event for anyone's career; for Cuylle, I'm sure he would have appreciated the experience. Then again, I'm sure he appreciates the bump in pay more, as his daily NHL checks dwarf his AHL game day salaries.
And while I wouldn't exactly consider Cuylle a "victim," due to the salary cap – someone had to go to Hartford, and since the young man doesn't have to clear waivers – he became the odd-man out. You can thank Gary Bettman's math, and the downright pathetic paltry salary cap figure for that!
(More on the cap to come – but really, you have Kevin Durant and the ungodly money that he makes, being dealt at 1AM EST, while NHL g.m.'s across the league try to figure out how to add a $800,000 player to their ranks!)
Following the news of Cuylle's return to the 'Pack; at the time, you just went about your day and thought, "the Rangers are just trying to accrue more salary cap space for the deadline."
Little did we know, and like a baby refusing to stay in the womb any longer – the deadline came a month early.
At around 1:40PM, Frank Seravalli reported that a deal between the Rangers and Blues was imminent, where Tarasenko was the big name going the other way. As far as any other details – nothing was known at the time.
As the New York Ranger beat "reporters" (sans Larry Brooks), who look like middle-schoolers when compared to the Canadian or National reporters, rapidly pressed the refresh button on the Twitter accounts of Seravalli, Elliotte Friedman, Jeff Marek, Darren Dreger, Kevin Weekes and others like them – and then pretended like they had any clue what was going on (no joke, one of the Rangers' millennial birdbrain beat reporters said that he was "gathering information" at this time – code for "I'm waiting for Friedman to do my job for me") – other news had come in.
The Rangers had finally given up on Libor Hajek.
If you recall, during last night's blog (you can read it here: https://bluecollarblueshirts.com/2823/ ), I brought up how Rangers' head coach, Gerard Gallant, was asked about his Czech defenseman, as Hajek had been made a healthy scratch during the Blueshirts' last 21 consecutive games played – a direct result following the addition of Ben Harpur.
In a response, Gallant, who I guess was under the assumption that the team would practice on Wednesday (the players wound up having the day off – even if the general manager was busy at work in his office!), said, "ask me about Hajek tomorrow."
In other words – Gallant was obviously in the loop with his general manager and knew that all of these moves, including Tarasenko, were coming.
Also in the loop? Artemi Panarin, who we'll soon get into.
---
For Libor Hajek, the last true link of the Ryan McDonagh trade from February of 2018 (for complete details, check out Tricks of the Trade ), it's been time – and for some time now.
Often placed in the press box by Gallant last season; following his failed opportunity to win over his coach this season – Hajek, along with Zac Jones, took a backseat following the October 27th arrival of Harpur.
As recapped on this site previously – Gallant stated that he tried to give both Hajek and Jones every chance possible, but neither defenseman had earned the gig.
Since Harpur, who dwarfs both of his fellow rearguards in size – a physical trait that Gallant favors – also played well during his audition – it was he who had finally wrestled the Rangers' third left defenseman position all to himself.
Ironically, and as we'll soon get into – Harpur, despite signing a new contract extension – will now fill the role that Hajek has left.
Hajek, who just turned 25-years-old on February 4th, is set to become a restricted free agent this summer – and really – just has no spot on this team.
While we can explore the futures of both K'Andre Miller and Ryan Lindgren at a later date; this much is certain – Hajek wasn't bumping either of these two left-handed defensemen from Gallant's line-up.
(And as a general statement – I don't care about the Rangers' 2023-24 salary cap right now. I know that many others are up-in-arms over what goes down during the summer months, but for me – my eyes remain on the prize – the 2023 Stanley Cup. We can worry about next season's salary cap once this season is over.)
For a team that's been in WIN NOW mode ever since the arrival of the new regime, and where that mantra was exhibited once again today – there was just no way that Hajek, who had already made ass grooves in his chair in the press box during the regular season – was going to play during the playoffs either.
While we won't know the immediate fate of Hajek until 2PM Friday, where he will either have been claimed by one of the other 31 NHL teams or will have been assigned to Hartford; I think it's safe to assume that we've seen the last of Hajek as a Ranger.
And for Hajek, moving on is the best thing for him.
As said at the time, and as I'll say again here – I still don't know why Drury re-signed him over this past summer in the first place.
Following the official news of Cuylle's demotion, and the waiving of Hajek; at around 2PM Thursday it became official – Vladimir Tarasenko was trading in his Blue Note for a Blue Shirt.
---
As mentioned at the top of this – there is so much to talk about right now.
At this time, allow me to first share with you what the Rangers said themselves – and then attack every detail and piece of minutiae, one-by-one.
The following press release was issued by the Rangers at around 1:50PM, where prior to this news being made official – the rumors of what was being sent to St. Louis were all over the place:
New York Rangers President and General Manager Chris Drury announced today that the team has acquired forward Vladimir Tarasenko and defenseman Niko Mikkola in exchange for a conditional first-round pick in the 2023 NHL Entry Draft, a conditional fourth-round pick in the 2024 NHL Entry Draft, Sammy Blais, and Hunter Skinner.

Tarasenko, 31, has skated in 38 games for the St. Louis Blues this season, tallying 10 goals and 19 assists for 29 points. From the beginning of the season until December 27, Tarasenko's 29 points and 19 assists ranked third on the Blues, and his 10 goals ranked tied for third on the team.

The Yaroslavl, Russia native has played 11 seasons in the NHL (2012-13 – 2022-23), all with the Blues, where he's collected 262 goals and 291 assists for 553 points in 644 games. Last season, Tarasenko notched career-highs in assists (48) and points (82). In his career, he has scored 30-plus goals on six different occasions, with his career-high total coming in 2015-16 (40). Since 2014-15, Tarasenko is one of three skaters in the NHL (others: Alex Ovechkin, Auston Matthews) to post 33-plus goals in six or more different seasons.
The 6-1, 228 pound winger departs St. Louis with the fifth most goals and points in franchise history, seventh most assists, sixth most power play goals (65), and third most game-winning goals (44).

Tarasenko has played in 90 postseason games with the Blues, recording 41 goals and 19 assists for 60 points. In 2019, Tarasenko helped guide the team to its first ever Stanley Cup with 17 points (11G-6A) in 26 playoff games. Since 2012-13, Tarasenko's 41 playoff goals are tied for the fifth most in the NHL and his 13 power play goals in that span are tied for the ninth most. Tarasenko was originally drafted by the Blues in the first round, 16th overall, of the 2010 NHL Entry Draft.

Mikkola, 26, has notched three assists/points and a plus-2 rating in 50 games with St. Louis this season. He ranks third on the team in hits with 96, third in blocked shots with 68 and has the second most shorthanded time on ice on the club (92:34)

The Kiiminki, Finland native has played parts of four seasons in the NHL, all with the Blues (2019-20 – 2022-23), where he's collected four goals and 16 assists for 20 points in 139 games. Last season, he posted career-highs in games played (54), goals (3), assists (10) and points (13). In addition, Mikkola has added two assists/points in 16 playoff games with the Blues over two seasons.

The 6-4, 209-pound defenseman has represented Finland at a variety of international tournaments, including the World Junior Championship and World Championship, where he won a gold medal in 2019 alongside Kaapo Kakko.

Mikkola was originally selected by the Blues in the fifth round, 127th overall, of the 2015 NHL Entry Draft.
---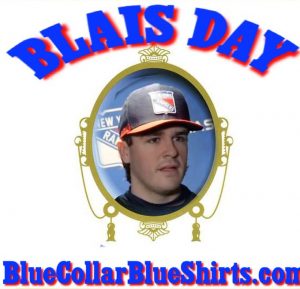 Let's take a look at the past – then get into the Rangers' present & future.
I've already written so many words about Sammy Blais during the past month, where I'll ask you that if you haven't read them already, then check out the archives of this site.
In short, and as we all know – and say it with me in the Jan Brady voice – "P.K. Slewban, P.K. Slewban, P.K. Slewban!"
Following Slewban derailing his career; Blais could never get back on track.
While Blais will always be linked to Pavel Buchnevich, who ironically, is now his teammate; due to Slewban, #91 had his legs cut from under him.
Blais, who won a Stanley Cup in St. Louis (with Tarasenko), returns to the Blues, as Blais' cap-hit of $1.525M made this trade possible.
I know that many of these idiotic millennial fans knock Blais left-and-right, and daily at that (and just like they do with Chris Drury – where wouldn't you know it – these same people were singing the praises of the general manager today); but if you couldn't understand reality, and the way the that salary cap works – then you'd never understand that Buchnevich for Blais wasn't a hockey trade – it was a salary cap trade.
Plus, shipping Buchnevich to St. Louis was also a way to open more ice time for players like Alexis Lafreniere, Kaapo Kakko and Vitali Kravtsov – where funny enough, it was always assumed that the latter would become a cheaper version of Buchnevich. Instead – I was surprised that Kravtsov wasn't included in this trade too!
I wrote several weeks back, when Blais was sent to Hartford on a conditioning assignment, that no matter what happened between that point in time and the summer – that I didn't envision #91 on the roster come the 2023-24 season.
Today, and with talks of a possible extension being bantered around – the Rangers may have a #91 on their roster once the 2023-24 campaign begins, in the form of Tarasenko himself.
(Again, I'm not doing 2023-24 salary cap stuff tonight, but it's being reported that while this trade looks to be rental – an extension isn't being 100% ruled out either.)
For Blais, nothing went right for him after being Slewban'd. He did get his chances once recovered from his injury, but he could never regain his game that Drury saw in him back in July of 2021, when first acquiring him.
Who knows how long Blais' second stint in St. Louis will last – and if he'll even be in the NHL next season either.
That's why I can't stand Slewban's smug smile whenever featured on ESPN's broadcasts.
For Sammy Blais, good luck moving forward. It just wasn't meant to be.
Another old adage? "Shit happens."
---
Hunter Skinner, who has one of the most marketable names should he ever reach the NHL level, was the Rangers fourth-round pick (112th overall) of the 2019 NHL Entry Draft.
The native of Wyandotte, Michigan will celebrate his 22nd birthday on April 29th.
As a right-handed defenseman, Skinner, who has split time in both the ECHL and AHL this season, really has no future with the Rangers, due to the long-term contracts that both Adam Fox and Jacob Trouba are playing on – in addition to the ascension of Braden Schneider – who most likely will receive a long-term deal himself.
Including Skinner in this trade was a no-brainer. Ditto the conditional draft picks – the price of doing business in order for St. Louis to assume 50% of Tarasenko's annual salary cap hit of $7,500,000 – and making this trade cap-compliant.
The fourth-round draft pick of the 2024 draft will become a third-round pick should the Rangers make the playoffs this year. In other words, the Blues will get the Rangers' third-round pick of the 2024 NHL Entry Draft.
In addition, the Blues will receive the lesser choice of the Rangers two first-round picks of the 2023 NHL Entry Draft, where for a team in WIN NOW mode, as the Rangers are, is no big deal.
After all, not only do the Blueshirts have their own first-round pick, they also have the Stars' first-round pick too, which was acquired in the Nils Lundkvist trade.
Currently, the Stars are the best team of the Western Conference, while the Rangers have high hopes during this year's playoffs themselves. In other words, barring complete meltdowns from both teams, whatever first-round pick St. Louis receives will be in the late twenties, and fingers crossed, the 32nd pick, following the Rangers' Cup victory!
And for a Rangers' franchise that has had more misses than hits come draft time – getting an accomplished Stanley Cup champion for a late first-rounder is definitely worth it.
Lastly, while on the topic of these departures, I think it's the players that weren't included in this trade – Zac Jones and Vitali Kravtsov – is what makes Drury an even bigger winner.
To a lesser extent, where I'm using the word "lesser" because I don't think these assets were ever on the table to begin with – keeping both Brennan Othmman and Will Cuylle in the organization is a bonus too.
While perhaps Jones, Kravtsov or both of them will be dealt between now and the deadline; by not trading them here, Drury still has these assets to play around with, should that be his desire.
Of course, the salary cap will restrain Drury a bit (following whatever happens with Hajek on Friday, the Rangers will have approximately $1,600,000 left in cap space); but in the now – the general manager didn't part with anything valuable when making this deal for a perennial All-Star and Stanley Cup champion.
Let's now take a look at who the Rangers received on Thursday.
---
A Finnish defensive defenseman; Mikkola was drafted by the Blues in 2015, but made his debut during the 2019-20 season – after the Blues had won the Stanley Cup.
Chris Drury, who held a ZOOM call following the trade (why the Rangers don't use their own network to air these things I'll never know), said that he expects Mikkola to make his debut tomorrow night against Seattle.
In other words, it's being stated that Mikkola will take Harpur's spot in the line-up, as Harpur will now take over Hajek's seat in the press box.
From first glance, it feels like Mikkola, who is currently earning $1,900,000 this season, is not only a slight upgrade above Harpur, but a better upgrade than last year's depth-defenseman acquisition, Justin Braun, too.
Having friends in St. Louis, I was met with a reaction that can best be described as "meh," when talking about Mikkola being traded to New York.
From the people who have been watching Mikkola game-in and game-out; just like other role/depth players throughout the league, he's more reliable than not, but also prone to mistakes.
Mikkola, just like both Tarasenko and Blais, will become an unrestricted free agent this summer.
And last but not least, the crown jewel of the trade, Tarasenko himself.
---
Off puck drop, as there's a lot to get into – this trade is a WIN. This is not up for debate.
While the Rangers have been linked to Patrick Kane seemingly for the last year-and-a-half; by the end of it, that rumor, like a Chinese Spy Balloon, was shot down as a result of this trade.
I've written so much about what the Rangers needed to do by the deadline (including just last night), so you can check out all of my previous blogs for all of my thoughts. But like everyone else, you guys and gals included, we all knew that the Rangers biggest weakness was at the right wing position.
That weakness was erased on Thursday.
As talked about on this site, even as recent as last night, I never was high on Timo Meier, nor really fed into those rumors either. That's also why I never really went balls-to-the-wall when discussing him, as many of the Ranger beat reporters and fans did.
There were a few reasons why I never thought Meier made sense for the Rangers, including:
— He doesn't have a championship pedigree, and as displayed a lot throughout his tenure – Drury values championship experience.
—Meier is set to make big money next season – money the Rangers can ill-afford. While who knows if it will happen, I thought that Tarasenko (and Kane too, if he was the choice), had an outside shot of being extended if things went well.
—The Sharks were asking for too much, where again, for a rental, giving up a package of your best assets didn't make sense.
In the case of Patrick Kane, ESPN's Emily Kaplan reported that Chicago also wanted a huge package in return – for a player that has to approve any trade made in the first place. Kaplan also reported that the Rangers were worried about Kane's alleged hip injury.
Furthermore, Tarasenko earns significantly less than Kane, so the Rangers didn't have to play cap gymnastics to acquire him, as they would have had to do had they landed #88 out of the Windy City.
In a way, all of the Patrick Kane talk was pretty much a carbon copy replica of all of the J.T. Miller trade talk from last season.
At the end of the day, the Rangers did find a right-winger and a friend of Panarin to add to the team.
It just wasn't Patrick Kane. Instead, it was Vladimir Tarasenko.
---
In the latest connection between the Blues and the Rangers, where a lot of bouncing around took place during the 1970s – the Rangers now have a player that they could've had over a decade ago.
As you probably already know – the Blueshirts could've drafted Tarasenko with their tenth overall pick of the 2010 NHL Entry Draft. Instead, Senile Sather went with Dylan McIlrath – and we all know how that turned out.
While Sather's scouts failed him in 2010; Tarasenko, who went 16th overall, did not fail the Blues.
Tarasenko, who began his NHL career during the truncated 2012-13 season (thanks Bettman for another lockout!); immediately won the NHL Rookie of the Month award in January of 2013 – his first month in the NHL.
Not only was Tarasenko an impressive rookie; he was a pretty good judge of talent himself.
Once arriving in St. Louis, Tarasenko told the organization all about his undrafted friend from Russia, Artemi Panarin.
The Blues didn't listen, as they blew off their young player's pitch of a pal.
Instead, Chicago gave Panarin a chance and rather than making magic with Tarasenko in St. Louis; "The Breadman" baked with Patrick Kane as a Blackhawk.
(For more on Panarin's beginnings, and really, why today's trade was made specifically for him, check out: https://bluecollarblueshirts.com/13123/ )
Here's how then Blues head coach, Ken Hitchcock, recounted this story in 2016 – right before Panarin was named as the Calder Trophy winner:
"Instead of giving [Tarasenko] $8 million, we should have hired him as a scout. They're best buds. They played in the world juniors together, they played on lines together. We talked about [Panarin] and everybody said, 'He's a pretty small guy.'"
Today, Tarasenko and Panarin, who will flank Mika Zibanejad for the first time together this Friday night against Seattle – are not small at all. This first line trio is now expected to lift the Rangers to the promised land – and win the Stanley Cup for the Big Apple before the drought turns thirty years old.
While the Rangers should've had Tarasenko in their ranks thirteen years ago; at least they got him now.
The 31-year-old, in a way, is the Rangers' 2014 version of Martin St. Louis – although there are some slight differences – differences that in theory, benefit these 2023 Rangers.
For starters, when the Rangers landed MSL in exchange for Ryan Callahan in their infamous captain-for-captain swap from March 5th, 2014; not only was #26 approaching his 39th birthday – but since the deal was made right before the deadline – he only had 19 games with the team prior to the commencement of the playoffs.
In comparison, Tarasenko, eight years younger than MSL was when he first joined the Rangers, will have 31 regular season games to play with his new team, as the club prepares for the postseason.
And don't overlook how important the extra regular season games are.
When MSL arrived, he only scored one goal in nineteen games played. It wasn't until the Rangers saw the Penguins during the second-round of the playoffs where he finally got going – and where yes – the death of his mother motivated both him and the team too.
While MSL saw some familiar faces once in Gotham (Brad Richards); for Tarasenko, having a friend in Panarin, much like how Jacob Trouba had all of his buddies here last season, is crucial. It will make the transition easier, especially for a player who's only known one NHL city throughout his career.
And if Panarin can't return to his Hart Trophy form now – then he never will.
However, I think he will become the player that we all became enamored with during his first season in New York, the 2019-20 campaign.
---
Similar to what I said about Kane, when the naysayers brought up his lack of production this season; I feel equally as such in regards to Tarasenko – including in regards to his career-low plus/minus stat of -18.
It's tough to have an amazing season on a bad team. It's even harder to have a strong plus/minus stat when you have struggling goaltenders in net.
And as mentioned many times this season – following the Rangers' 6-4 defeat of the Blues, a win that turned the Rangers season around – Jordan Binnington hasn't been that hot this year.
While Tarasenko's friendship with Panarin should help get him acclimated; it also helps that one of the Rangers' biggest stars, CZAR IGOR, is Russian himself. In a league where nationalities are stressed more than anywhere else – it only helps to have your fellow countryman in your locker room.
All around Rangerstown, USA, I've seen nothing but positivity and glowing reviews of this trade – that's how well Drury did here.
However, if Tarasenko is a practicing member of the Russian Orthodox Church – then all bets are off – as you know what those section of fans will do – cry – like always – and as they were crying about Drury right before this trade too!
---
While we will 100% know Friday night; I think that moving forward, and I say this as someone who hates doing the "PROPOZED LINEZ" stuff, we'll see these trios against Seattle:
Panarin/Mika/Tarasenko
Lafreniere/Chytil/Kakko
Kreider/Trocheck/Goodrow
Vesey/Leschyshyn/Gauthier
---
When you look at this line-up, while the scoring should go up; I don't see this as the finalized post trade-deadline line-up either. Losing both Blais and Cuylle leaves the Rangers with less physicality – but I see that problem being quickly shored up.
Furthermore – Tarasenko should force Gallant into making a change that he's never wanted to make – to his first power-play unit – a quintet that's currently three of their last thirty-four.
Needless to say, Tarasenko needs to be on the PP1 unit – and where I expect Trocheck to be relegated to the second unit as corresponding move.
At first glance, with Tarasenko now included, the Rangers biggest weakness is at fourth line center.
Unless Goodrow goes down and assumes the role (which would then push Vesey up to the third line); I think Drury will try to add one more accomplished forward before trying to win sixteen games in the Spring.
Long story short – I don't see Kravtsov, nor Leschyshyn, playing any meaningful minutes once the regular season turns into the postseason.
In any event, and the most important fact – the addition of Tarasenko not only makes the first-line a high-powered offense; but it creates a trickle-down depth to the line-up too.
As opposing teams now prepare for the 10/93/91 line – it should allow the second and third lines to create more offense as well.
---
Following the trade, Chris Drury held a ZOOM press conference exclusive to reporters only, where one more time – why the Rangers don't share this stuff with their fans, either on their YouTube channel or on the M$G Network, is inexcusable, pathetic, a lost opportunity, a disservice and stupid.
According to Tom Gulitti of NHL.com, Drury said the following:
— Artemi Panarin was asked about Tarasenko prior to making the deal. However, Drury, and as he always does, stayed tight-lipped about the conversation, and said, "I'll keep that between me and him."
— And so much for Arthur Staple's report when he suggested that Drury was mad and wanted to trade Panarin!
— On Tarasenko himself, Drury said, "He's an elite goal scorer, an elite talent and has scored a lot of goals in this league, including scoring a lot of playoff goals and we're excited to add him to the group, and I think he'll fit in nicely."
— On adding Mikkola, the g.m. stated, "Yeah, he was a big piece of it. As we as we pushed along on the deal, this was a piece that I really wanted in there and to have him in there now and not wait on it. He's a real good shutdown defenseman. Obviously, he's got size (6-foot-4, 209 pounds) and reach, like K'Andre (Miller) does. A lot of good reports on him. We've done our homework and feel good about adding him to our [defense] corps."
— On whatever the line-up will be, Drury, and as he always does, said it will be up to Gallant.
— On making future moves, Drury said he wasn't done yet, and said verbatim, "Everyone is dealing with the salary cap and different ways to try and get deals done, and we're open to exploring different ways to figure out the next move for sure."
— Of course, because Mollie "I Don't Give a Shit" Walker can't help herself, she asked Drury about Kravtsov, where again, the g.m. said all roster/playing time decisions were for "The Turk" to decide. The Rangers land another big name player and the first question she asks is in regards to Kravtsov. Never change, never change! Basic!
---
I didn't plan on writing anything tonight – but man-oh-man – I'm glad I had a reason to!
As predicted in this space following the Isles' deal for Horvat – I thought that trade would fast-track Drury and the Rangers into landing their own prize – similar to the arms race between George Steinbrenner and the Red Sox during the heyday of that feud.
Like most of you –  I can't wait for tomorrow night.
While I think you have to lower expectations a bit, as it's going to be tough for Tarasenko, currently experiencing a life-changing whirlwind, to walk right in and take over; come the playoffs – this may be the year – and yes – I know that I say that a lot!
Arguably, this team is even deeper than last season and crazier than that – perhaps more talented than the 2015 squad that won the Presidents' Trophy too.
Plus, and as Drury stated – he's not done yet. Reinforcements are on their way.
Drop the puck.
See ya after the game tomorrow night, in what's now the most anticipated contest of the season at this juncture.
PLUGS TIME!
---
My first plug of tonight's blog – the mandatory plug for my book, "The New York Rangers Rink of Honor and the Rafters of Madison Square Garden."
As mentioned previously, the book is now available in hardcover, in paperback and in Kindle formats. To purchase a copy of the book, visit this link:
https://www.amazon.com/Rangers-Rafters-Madison-Square-Garden-ebook/dp/B09CM5N2WD
For those still looking for signed paperback versions of the book, I have re-ordered more copies. I now have a few signed copies for sale at $25 a pop (includes shipping price) through me directly. Here is all the information on that:
---
My four-volume set of books, "One Game at a Time – A Season to Remember," is a game-by-game recount of the Rangers 2021-22 campaign.
My second title as an author, "One Game at a Time – A Season to Remember," is now available in eBook, paperback and hardcover formats.
To obtain signed copies, visit: https://bluecollarblueshirts.com/onegamebook/
To purchase all four volumes on Amazon, visit: Amazon.com – "One Game at a Time."
---
The greatest volume-set of books on Rangers' history today!
"Tricks of the Trade – A Century-Long Journey Through Every Trade Made In New York Rangers' History," a four-volume set of books that meticulously covers every trade made in franchise history, is now on sale.
All four volumes of the title can be purchased on Amazon.com and are presented in three different formats – eBook, paperback and hardcover.
To purchase Volume I: Conn Smythe (1926) – Craig Patrick (1986), visit Amazon.com
To purchase Volume II: Phil Esposito (1986) – Neil Smith (2000), visit Amazon.com
To purchase Volume III: Glen Sather (2000-2015), visit Amazon.com
To purchase Volume IV: Jeff Gorton (2015) – Chris Drury (2022), visit Amazon.com
To purchase signed copies of all four volumes, visit https://bluecollarblueshirts.com/tricksofthetrade/
---
Here are my last few blogs, in case you missed them:
---
---
---
If you haven't already, subscribe to this blog for the next update:
---
Don't forget to order my new four-volume set of books, "Tricks of the Trade!"
If you don't order through me, all four volumes are now available on Amazon.com
For more details, check out: https://bluecollarblueshirts.com/tricksofthetrade/
Thanks for reading.
LET'S GO RANGERS!
Sean McCaffrey
BULLSMC@aol.com
@NYCTHEMIC on the Tweeter machine