"I think they are very committed, feel they have an opportunity to make the playoffs and they need to play well throughout the final stretch. I think there is some belief that they can play like they did last year in the second half of the year where they went on quite a roll. Obviously, the Philadelphia game there is a lot to be happy about, the first game against Washington they felt they deserved better and wanted to make sure they won tonight." – Acting head coach Kris Knoblauch, on 3/20/21, moments after the Rangers 3-1 victory over the Washington Capitals. If you notice, Knoblauch talks about the Rangers as if he is an outsider, repeatedly using the word "they", while referring to the Rangers.
---
"Probably mismanagement of the bench and not realizing the situation. I know we had a lot of D-Zone faceoffs and also match ups against their team, where they had the last change and I did want to keep him away from their top line. Other than that I wish I would have played him more, but it was just last change, a lot of D-Zone faceoffs for us and unfortunately he missed out on some shifts." – Knoblauch, again on 3/20/21, when talking about the lack of minutes Lafreniere received tonight. Lafreniere received 7:53 of ice time overall, with only Lemieux playing less. (4:27). I'll get more into ice time as we mosey on along.
---
"I was really worried about the confidence, it could have easily been 'oh, here we go again,' but the guys were positive, especially the leaders were talking and just wanted to finish this one out. I don't think there was panic at all." – Knoblauch, one more time on 3/20/21. Knoblauch wasn't the only one saying "here we go again" after Carslon tied it, that's for damn sure!
---
Greetings and salutations everyone and welcome to another blog here on BlueCollarBlueShirts.com. Well that was much better!
Following that heartbreaking 2-1 loss, which took place to these same Capitals of Washington just 24 hours prior; on the evening of Saturday March 20th, the first day of Spring, the Rangers showed some spring in their legs themselves, knocking off the Capitals by a final of 3-1. As I noted last night and on previous blogs, even despite the loss from Friday night; for whatever reason, the Rangers usually measure up well against the Capitals. Just like their 3-1 win tonight, as a result of that victory, the Rangers are now also 3-1 against the Capitals in the season series, and with four games remaining.
We all know the deal already. The Rangers are often infuriating and frustrating to watch. The Rangers are able to pick up huge wins over teams like the Capitals and the Bruins, but come Monday night against a bad Buffalo Sabres team, a Sabres squad that's also having a historically horrific season; would it shock anyone if the Rangers lost that game?
Up front here, while I'm happy about the fact that the Rangers won tonight, I still can't get the loss from Friday night out of my brain. I'm also thinking about those two recent losses to Pittsburgh, losses which I think ended the Rangers playoff hopes. While I'm still rooting for the Rangers to make the playoffs, and now hoping to see them go on a nice run, (especially with the Rangers playing the down-and-out Sabres three times in the next two weeks) I just feel that the Rangers have already pissed too many chances and points away.
(And if you get anything out of what I'm saying here, I'm rooting for this team to win games and make the playoffs. I don't care if Kakko's farts smell nice, if Lafreniere has found a poutine restaurant in NYC and/or if the incoming Kravtsov has strong cross-ice strides. I rather see this group get playoff experience. For all the talk about the young Ranger forwards and their development; what should also be said is that this young defensive core deserves a crack at the Cup. And hey, if they draw Washington in the first round, then who knows?)
I understand what this team is, the rebuild and all of that other stuff; but as the Rangers are now 1-1 in the second half of the season, this just feels like another "one step forward, two steps back" type of game. If the Rangers lose their next two out of three games, well I wouldn't be flabbergasted. However, if the Rangers can go on their first four game win-streak of the season, as up next, the Rangers will play the struggling Sabres once and the struggling Flyers twice next week; then my jaw will drop.
And if the Rangers can use this win over Washington to propel themselves over the Sabres and Flyers? After those three games, the Rangers then have another two-game set with this Washington team that they have the number of, followed by two more games with Buffalo.
In other words, if you're still clinging on to playoff hopes, now is the time for the Rangers to make up lost ground. And furthermore, in an effort to make myself clear here, I'm not suggesting that the Rangers start trading away parts to make a playoff run, should they go on their best win streak of the season. All I'm saying here, is that I rather see this team and this core make a playoff push, rather than seeing pictures of Jeff Gorton holding Steve McDonald's badge at the NHL Draft Lottery again.
---
I know the tone of this blog sounds down right now, but as I said, I'm still recovering from Friday's night loss and thinking what could've been. And really, tonight's game almost played out exactly the same way as the game from Friday. If it wasn't for Mika Zibanejad making a FABULOUS defensive play, which as a result of his forced turnover on Brenden Dillon, led to the game winning goal tonight and with 2:32 remaining in regulation; you'd be seeing "DEJA VU" headlines all over the place. Thankfully, due to Mika's goal, after blowing a 1-0 lead in the third period as they did on Friday, the Rangers let Mika's goal hang on as the game winner.
And oh, while I'll get into the MSGN stuff in just a bit, in exhibit number 76784689379468394 of why my eye test pregame analysis blows away whatever chart Steve Valiquette is humping, I said this prior to the game:
Mika needs a goal tonight for this team to win. #NYR

— BlueCollarBlueShirts (@NYCTheMiC) March 20, 2021
How did the Rangers win this game tonight? Behind Mika's game winning goal. Just sayin'!
I mean really, you can come up with whatever foo-foo chart you want, full of fake news stats such as "EXPECTED FATIGUE GOALS ALLOWED" and "HIGH DANGER CHANCES SHOTS ALLOWED ON AN EVEN-NUMBERED DAY DURING THE SPRING", but at the end of the day, the eye-test will always trump all. No chart can capture, nor factor in, the human element. Even Valiquette was forced to admit as much on the post-game show, where he said "No one had the Rangers winning this game." Instead, Mika scores and that's that – eye tests will always be more important than bullshit fake news charts! And in addition, I've shown you stuff all season long, where my pregame predictions proved true. I can't say the same about Vally's charts.
While on the topic of Vally, earlier in the day, and on the Twitter machine, friend of the blog Joe N. challenged Vally on all of his made-up charts. Rather than debating civilly, Vally tucked his pecker between the cheeks of his five-hole and responded like this:
I'll have more on Vally during the MSGN segment of tonight's blog.
Before going into our daily routine and into each regular segment, I just want to say a few more words about this game. Instead of talking about a failed former Rangers goaltender like Valiquette, let's talk about the current Ranger goaltenders, who have had more success in their careers than Vally ever did in his.
Keith Kinkaid was once again stellar in net. As Kinkaid looks/continues to have a career resurgence; of the two healthy Ranger goaltenders, Kinkaid had the much better game against the Capitals than Georgiev did. If you need an example of this, just go back and watch the final ten minutes of each game. In Friday night's loss, and while there was some bad puck luck involved, Georgiev was out of position on two plays and that was that. In today's win, Kinkaid was a monster. If it weren't for Kinkaid making seven saves in the final minutes of this game, Mika wouldn't go on to score the game winning goal tonight. I'm sure Mika will get most headlines tonight, but really, Kinkaid was the top Ranger of the game, at least in my opinion.
CZAR IGOR is due back shortly, where as previously talked about, I think that once he is back, he should just go 10-12 games straight. He's missed enough time. It's now time to see if he can play a brutal stretch of games. While the Rangers may not make the playoffs this year; eventually they will and if you're using two goalies in the playoffs, that means you have a problem. It's time to put Igor to the test and to build up his stamina. I don't think I'll get much push-back on this opinion.
As far as who backs up Igor, it has to be Georgiev. While you could always carry all three goalies, it makes more sense to send Kinkaid back to Hartford, a Hartford Wolfpack team that's now lost nine games in a row. The goaltending there has been a mess without him and they need someone like Kinkaid in net to help change the vibes there.
Of note, the Hartford Wolfpack losing streak started when Kinkaid came up to New York, as neither Adam Huska or Tyler Wall have been any good in net. In addition, to send Georgiev to Hartford, he'd have to clear waivers and it would be very likely that some team would pick him up.
It's been suggested that the Rangers want CZAR IGOR to have a full practice before returning. With the team off tomorrow, as a result of this back-to-back set; the Rangers will have a morning skate on Monday before their game that evening with the Sabres. With the Sabres just absolutely sucking right now, full practice or no full practice, if Igor is ready, he should start that game. Returning against a horrific team should make things easier for him – at least in theory! After all, you never know with these Rangers!
While Kinkaid should get the first star out of every Rangers fan tonight, I just don't see him as the back-up once Igor is able to go.
---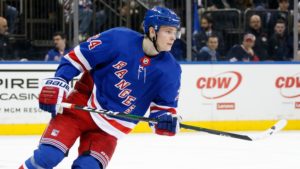 As talked about on past blogs, I really never get too hung up on ice time. I think for the fans that do, they often forget about penalties and how some guys don't play on the power-play and/or on the penalty kill. Of course, the one exception here is Adam Fox, who played a whopping 28:00 tonight, as a result of being the best defenseman on the team, a defenseman who is on both PP1 and PK1 units. In addition, if the Rangers win, I think it's hard to be upset about TOI too.
In tonight's game, I thought Kakko had a game that illustrated his whole season. On multiple opportunities, Kakko would get chances while all alone with the goaltender, and on all of them, he didn't get a SOG. I'll have more about this in the game review segment.
I know everyone wants Kakko and Lafreniere to get clicking, but at least for Kakko, if he's going to keep on struggling, (he's now nearly up to 20 games without a goal) I'd rather see the more offensively-oriented Julien Gauthier get a chance. And while it's likely that PDG and Blackwell will lose minutes once Vitali Kravtsov joins the team, I wouldn't have an issue with Kravtsov getting Kakko's minutes either.
And oh – with the way Oliver Wahlstrom has played for the Islanders, the same Wahlstrom that the Rangers passed up on when chose Kravtsov over Wahlstrom; Kravtsov better come in hot, or else you'll never hear the end of it – from both Islander and Ranger fans alike.
I also want to say this. NO ONE, and I mean NO ONE, can second-guess Jeff Gorton for drafting Kakko and Lafreniere. ANYONE who knows anything about these prospects had Kakko at number 2 in 2019 and Lafreniere as number 1 in 2020. Conversely, during the 2018 NHL Draft, it was debated that Wahlstrom was the better prospect, among he and Kravtsov. Just throwing this out there!
(I'm also on record – I wanted Wahlstrom, only because he's American. As an American, it's easier to root for him and I thought it would be easier for him to develop since he's used to the North American game. That said, I hope Kravtsov comes out hotter than a knife going through melted butter.)
Let's run through our usual segments here and then get into the game review/recap.
Up first, the PLUGS segment! Here are my last few blogs in case you missed them:
---
---
---
Since the Rangers played 24 hours prior to this game, there was no practice today, which in turn, means we don't have much news here. At this time, let's take a look at the news the Rangers tweeted out before tonight's game and in reverse order.
Jack Johnson went under the knife, having a surgery to fix his sports hernia. He's now done for the season, as it's thought that he will make a full recovery sometime this summer. In other words, the Jack Johnson era in New York is now over, as there's no chance in hell the Rangers will be bringing him back next season.
I've wasted so much time talking about Johnson on this site, that all I'll say now is to check out the archives of this site for more. I do want to say this though – Johnson, who did step up for the Rangers when other Rangers defensemen were either out with injuries or on the NHL's COVID-19 list; well he must've been playing in some extreme agony. I think that fact will be swept under the rug a bit, so I just wanted to credit Johnson for playing while hurt.
In closing on Johnson's Rangers career, it pretty much went down the way as everyone predicted. It was a low risk/high reward signing for the Rangers and it didn't pan out. When it comes to the black marks on Gorton's tenure as GM, overall, I find this signing to be a very minor black mark. If anything, you can argue that Gorton was trying to make his new defensive coach, in Jacques Martin, feel comfortable. Signing Johnson was an attempt to instill confidence in Martin. The best of luck to Johnson moving forward.
---
I talked about the goalies earlier on this blog, so at this time, let's go to the GAMBLING segment, where I'm now on a three game winning streak! (Just like the Rangers should be, ugh!)
Here's what I said before the game:
Season over-under record: 12-15-2.
Kinkaid v Samsonov today. With a line of -6, I feel this game will push either way. I'm going with the UNDER. To protect that bet, I'm buying up to -6.5. #nyr pic.twitter.com/lH5UKAqrNl

— BlueCollarBlueShirts (@NYCTheMiC) March 20, 2021

With a 3-1 final score, I didn't even have to protect my bet and risk the extra juice by buying up to -6.5! The under comfortably hit in this game, and as a result, my record creeps closer to .500 at 13-15-2. WINNING!
BOX SCORE segment time!
The following information and graphics come courtesy of the new world-wide leader in NHL coverage, in ESPN.com:
SCORING:
PENALTIES: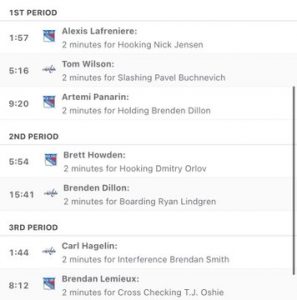 GOALIES:
| | | | | | | | | | | |
| --- | --- | --- | --- | --- | --- | --- | --- | --- | --- | --- |
| SA | GA | SV | SV% | ESSV | PPSV | SHSV | SOSA | SOS | TOI | PIM |
| 24 | 2 | 22 | .917 | 18 | 0 | 4 | 0 | 0 | 58:24 | 0 |
| | | | | | | | | | | |
| --- | --- | --- | --- | --- | --- | --- | --- | --- | --- | --- |
| SA | GA | SV | SV% | ESSV | PPSV | SHSV | SOSA | SOS | TOI | PIM |
| 29 | 1 | 28 | .966 | 23 | 1 | 4 | 0 | 0 | 60:00 | 0 |
TEAM STATS:
---
For your consideration, after a poor and inconsistent start to his career, where he was benched/scratched by both Alain Vigneault and David Quinn; Pavel Buchnevich is currently enjoying the best season of his career, and a Pavel Buchnevich who is now in his fifth season as he approaches the age of 26. I bring this up, because of all the reaction I've seen regarding the poor seasons that Kakko and Lafreniere are having now. I don't want to recap everything previously said, so really, just check the report card that's linked in the PLUGS segment.
What am I getting at here? Patience is a virtue. Of course, to be fair, Buchnevich was drafted 75th overall in the 2013 NHL draft, as opposed to Kakko being drafted second overall in 2019 and Lafreniere being drafted first overall in 2020. In other words, expectation levels are different. If it takes Kakko and Lafreniere five years to get going, no one is going to be having parades over that. That said, despite his hype, both AV & DQ did bench Buchnevich at various points in his career. Maybe Kakko and Lafreniere need a taste of that too?
I say all of this, because after another disappointing game out of the dynamic duo, I saw a lot of "BUST" postings on social media. To me, and as said 78967868689 times before on this site, that's all poppycock to me. However, if there was ever a game where we are now seeing a player fully developed and entering his prime, it is Pavel Buchnevich this season, despite a slow start. (And really, everyone on the Rangers had a slow start, which is pretty much the result of this weird season.)
While I have previously discussed the idea of Buchnevich perhaps being trade bait at the deadline; Buchnevich is motoring right now. Even with many players on this team possessing the same skill-set, it might be in the Rangers best interest to re-sign Buchnevich and hope that he can become a veteran leader once this team becomes a perennial playoff contender again.
For fans losing patience with Kakko and Lafreniere, (and I understand why) hopefully Buchnevich's tale can help lessen your current frustration levels. Once again this season, Buchnevich scored a huge goal in tonight's game, which helped the Rangers win this game.
Before getting into the nuts and bolts & play-by-play of this game, as usual, let's take a look at the jackals at the MSG Networks.
---
Truth be told, this wasn't one of Vally's worst performances of the season. In a rare instance during this season, it were Sam Rosen and Joe Micheletti that irked me more. Just as I described in detail last night, for whatever reason, Sam and Joe were waving pom-poms for the other team during the entire broadcast.
No joke, outside of the fact that these two were pretty much trying to will Ovechkin into tying the game up; Sam and Joe also started promoting Tom Wilson as a good guy. It was like Wilson hired Sam and Joe to do PR for him. Maybe Sam and Joe can open up their own PR firm. Andrew Cuomo and DeShaun Watson could use their help!
To Vally's credit, on the pregame show, he said what I said – I didn't think Tom Wilson was going to go crazy tonight. Coming off his seven game suspension, where he lost six figures in salary, which I believe was north of $300K; I didn't think Wilson was going to do anything to risk anymore financial losses. Vally pretty much said this out-right. Later on, this would prove to be true, as Brendan Smith tried to goad Wilson into dropping the gloves, where instead of taking Smith on, Wilson skated away.
Again, since I bury him so much on these blogs, I do have to point out when the blind and hair-dyed seven foot squirrel finds a nut. Vally raved about Lindgren, where really, how can anyone not? Vally then started making up stats about rebounds, where he said rebounds haven't been much of an issue for Georgiev this season. How he said this, and with a straight face, after last night's game, well I have no explanation for you.
While on Georgiev and Kinkaid, Vally mentioned how when he was a back-up goalie (he can not go a minute on these broadcasts without talking about his legendary 46 game NHL career) he would root for the starting goalie to do bad, because if the goalie above him played bad, that meant that Vally would get starts. And really, I can't get on Vally for this one, because every back-up player or any player looking for more time feels this way. It's just human nature. Vally also mentioned that he had a sports shrink during his playing days, a phone number that I think he should forward to Zibanejad!
In what was beyond crazy to say on the broadcast, Vally said there were many people trying to kick Ryan Strome out of the league for not playing well. WHO SAID THIS TO HIM? The virginal basement boys/echo chamber that Vally won't block on Twitter? And again, this is why the analytical shit bothers me. Strome has been great all season and was great last year too. If any chart, graph or hieroglyphic suggests otherwise, it just tells you how worthless all of that crap is.
Vally, who will always ignore the eye-test whenever possible, then started rambling on about some chart he made in his Arts and Crafts class for the mentally challenged, and how that chart said that Strome was good. You needed a chart to see that Strome has been great for the Rangers? I told you this from day one!
Even better, and as I'll get into at the end of this blog, it was Ryan Strome being completely unselfish at the end of this game. Not only is Strome producing, he's a real leader and a great teammate to boot! I wonder which chart measures team morale, team chemistry and team bonding? My eye-test tells me that Strome was aces in all three of these departments.
After Vally and Giannone wrapped up, we went to Sam and Joe, who may as well have been wearing Washington Capital cheerleader outfits. "THAT SKIRT BRINGS OUT YOUR FABULOUS EYES SAM!"
---
Let me be clear here, because I'm not trying to "shame" or "accuse" anyone of anything. In addition, I don't care what anyone does in their personal lives, as long as it's not criminal. Lastly, I know for a fact that Micheletti is straight and a great family man. What I'm about to say here is all designed to make you laugh. I mean no ill-will to Mr. Micheletti or to any homosexual.
That said, Joe Micheletti's usage of the word "FABULOUS", on these broadcasts, has now hit an insane level. I don't even think a 50 year resident of San Francisco, who lives with his "close friend", says the word "FABULOUS" as much as Micheletti does.
I know I've done these rants on Micheletti and FABULOUS in the past, but while this game didn't go down the deja vu path, Micheletti saying FABULOUS 6786866786786867896 times did. Everything is FABULOUS. Saves are FABULOUS. Shots on goal are FABULOUS. Sam Rosen's toupee is FABULOUS. K'Andre Miller bleeding and getting stitched up is FABULOUS. Micheletti's COVID-19 anal swab test is FABULOUS. FABULOUS! FABULOUS! FABULOUS!
I'm begging anyone who knows Micheletti, to please get him a thesaurus. I'd also like to know where he picked up this word. I watch a ton of sports, and I've never heard any broadcaster use the word "FABULOUS". Think about it – when was the last time you heard John Sterling say, "Gardner at the plate. He swings and he connects! FABULOUS! That ball is traveling far, far, far and it's over the wall, a FABULOUS home run for 'THE GARTY PARTY!' Isn't that FABULOUSLY AMAZING SUZYN?"
Seriously, every time Micheletti says FABULOUS, he sounds like an elderly Hollywood type from the Joan Crawford era, while at some party, sucking down stiff and dirty martinis. I can hear him in my head right now – "Oh Bettie Davis, you were just FABULOUS in 'Baby Jane.' Just absolutely FABULOUS."
That said, the Rangers rebounding from last night and winning this game was FABULOUS!
Game review/recap time.
---
Ryan Strome would win the opening face-off. Ultimately, Strome would finish with 9 wins and 9 losses at the dot, which is good for him. (Zibanejad would finish with 8 wins and 16 losses, in comparison. That said, Zibanejad won one face-off that led to a goal. I bring up face-offs on these blogs a lot, ever since Vally said they don't matter. What a tool.)
While not exactly like Friday's game, the Rangers were able to keep the Caps off the board in the first period. In addition, the Rangers got a ton of chances to score goals throughout the game, and until Mika scored his goal with 2:33 remaining in the game, the Rangers failed to do so repeatedly.
Right away, after Strome's win at the dot, Panarin would feed Buchnevich perfectly. Samsonov made a solid save. Then, with the third/"Kid" line taking the ice, 1:57 into the game, Lafreniere got boxed for hooking Jensen. While this was a penalty on Lafreniere, ignored here was the fact that Jensen held Lafreniere right afterwards. Rather than off-setting calls, the Capitals got a power-play here. Another example of poor officiating this season.
Kinkaid would see a lot of action and right away. On this Capitals power-play, Kinkaid made three saves within 40 seconds, before Zibanejad could eventually clear the puck. After the Rangers killed off the Caps power-play, Samsonov denied Blackwell on a stuff-in attempt. Despite Kinkaid making four big saves prior to this Blackwell chance, Sam and Joe threw confetti over Samsonov making this save. The way Beavis and Micheletti-head rave about the other team can get nauseating.
5:16 into the period, another Sam and Joe favorite, this time in the returning Tom Wilson; was boxed, after slashing Buchnevich near center ice. The Rangers would have a great power-play here, but as I always say – this is a results and production business and the Rangers didn't get results or production here.
The Rangers PP1 unit would spend the entire two minutes in the Caps zone. Panarin had a wide-open look at Samsonov, but rather than shooting, he spied Kreider all alone and to the left of Samsonov. Panarin made a perfect pass but Kreider couldn't manage it. Had Kreider even put a stick on this pass, it would've been an early PPG for the Rangers. After Mika shot wide, the Caps finally got their kill.
As we neared the half-way mark of the period, Hajek would slam Wilson into the boards and cleanly. While Wilson was on the ice, Brendan Smith started going after him, in an attempt to goad Wilson. Smith even said, "you wanna fight?" Wilson skated away and for the reasons I mentioned previously.
With 10:40 to go in the period, Panarin turned over the puck to that nasty little man Brenden Dillon. Dillon would've had a breakaway chance here, but rather than giving him that chance, Panarin held him at center ice, thus putting the Caps on their second power-play of the game.
The Rangers PK was solid here, and as usual with their full boat dressed. The Caps also helped the Rangers out by shooting wide. Strome would also force a turnover and kill 15 seconds by taking the puck deep into the Caps zone. Prior to the Rangers PK ending, Trouba and Kreider would get an odd-man rush, but like a desperate Craigslist ad, they had a "missed connection". While you can't get on anyone for not scoring a short-handed goal, needless to say, this was just one of many examples of the Rangers not capitalizing. (No pun intended.)
With just five minutes and change remaining in the period, the Capitals put the pressure on, with a huge swarm in front of Kinkaid's net. Jacob Trouba would come in and would get rid of a loose puck, a loose puck that looked like it was about to pass by the goal line. Crisis averted.
With 3:35 remaining, the Caps were out-shooting the Rangers 9-3. However, goals win games and it doesn't matter how many shots you take!
After a Capitals icing, Zibanejad would win the offensive zone face-off, get the puck to Adam Fox and Fox made a hell of a pass, to set up Pavel Buchnevich:
14 points in the last 10 games for Pavel Buchnevich.

WHAT A PASS FROM @foxyclean pic.twitter.com/BsViORTbqE

— Rangers on MSG (@RangersMSGN) March 20, 2021
1-0, GOOD GUYS, with 2:11 remaining in the first period.
I have to say this. I recently saw a poll from writers on NHL.com that didn't include Adam Fox as a Norris Trophy candidate. While I admit that I haven't watched as much of the league this season as I usually do, with really all of my non-Rangers focus on the seven other teams in this "Mass Mutual, My Shiney Hiney, Micheletti's FABULOUS Blue Chew, Caldor's East Division"; but with that said, I don't see how Fox is omitted from this poll. Fox does everything. If Fox continues to play like this, it will be a travesty if he doesn't get Norris consideration.
After the goal, for some reason, Sam and Joe started talking about what cars the refs drive and where they drive to. It's amazing what these guys talk about during these games.
As we got into the final seconds of the first period, Panarin tried to set-up Trouba for a one-timer, but Trouba's shot was blocked.
After twenty minutes, just like the game from Friday, we remained 1-0, in favor of the Rangers. However, unlike Friday night, despite the score, the Capitals looked to be the better team. After all, at this point in the game, the Caps were winning the SOG, face-offs, hits and blocked shots categories.
---
After our customary remark of "SECOND PERIOD, WHAT DO YOU LOOK FOR HERE JOE?", <a FABULOUS power-play goal Sam!> the Caps would win the first face-off of the period. After a Rangers turnover on their first possession of the period, Fox hustled back, where he deflected a sure-fire shot from Ovechkin. Norris!
It was also during this point in time where Sam and Joe spent a copious amount of time blowing Tom Wilson. With all that hot air, these two could've pumped up an inflatable swimming pool.
Similar to last game, and in another example of this game looking like deja vu; a Rangers defenseman bled, where this time, it was K'Andre Miller being the victim. An errant puck deflected off of Howden's skate and caught Miller in the left side of his face, in his cheek/nostril area. Just like Lindgren from the game prior, Miller would go to the locker room for repairs and would return after missing two or three shifts. Hockey Player!
With the second line on the ice, Panarin made a great pass to Strome. With Blackwell trailing, Strome made a blind drop pass to Blackwell, only for Samsonov to make other solid save. On the next Caps chance, Brendan Smith, who has been playing solid all season, so much so, that I think the Rangers should bring him back if Smith is willing to take less money; broke up a Caps odd-man rush, this time by diving in front of old friend Carl Hagelin.
With 14:06 remaining in the period, Brett Howden, while in the offensive zone, hooked Orlov. This was a clear as day penalty for the officials to call and not a good penalty to take either.
This was a scary Caps power-play for the Rangers, as the Caps had a ton of chances here, including Ovi finding iron. Strome, as he'd later do in this game, helped out Howden, making the final clear of this Rangers PK. This would be the third of four power-plays that the Rangers PK killed tonight. If only the Rangers power-play was just an iota as successful as their PK.
Kaapo Kakko, who did get 2 SOG in this game, would then have a perfect opportunity to score. He'd have two chances here, but for whatever reason, Kakko decided making a fancy pass to nowhere was a better option than shooting. I don't get it. And really, it's not like Kakko is playing with veterans on his line and would have an urge to defer.
As we hit the half-way mark of the game/period, Kinkaid would stop Hathaway, as Kinkaid continued to roll. Of the Double K's, Kinkaid was much better than Kakko. And when it comes to Double K's, and as I'll talk about at the end of this blog, Kris Knoblauch's Rangers look better than DQ's Rangers.
With the game now under ten minutes left in the period, the Rangers first line would flub an odd-man rush, where after seeing this and the Kakko play, you had Bill Chadwick and "SHOOT THE PUCK" ringing in your head. Thankfully, on the next Rangers possession, the second line would challenge Samsonov, with Samsonov denying Panarin. It was also at this time that we found out that Rosen's granddaughter turned 10 years old today. Happy birthday Lucy. For her birthday, in the future, I hope she gets more time with her grandfather during the hockey season. I also hope that she had a FABULOUS cake today.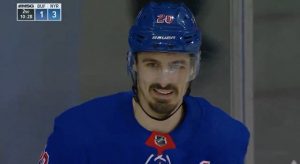 After Samonsov stopped Kreider and Panarin, with 4:19 to go in the period, Dillon cheap-shotted Lindgren from behind, thus earning him a boarding call. The Rangers terrible power-play would go back to work.
Samsonov would deny Mika here, making a big diving save. This Rangers power-play wasn't as good as their previous one, and as a result, the Caps got an easy kill.
As we got to the end of the period, Kakko would find himself, all alone and in the slot, with Samsonov. Rather than taking a quick snap shot or trying to snipe one past Samsonov, Kakko started jukin' and jivin', as if he was hanging out with a 1978 Ron Duguay in Studio 54. This led to a turnover and no SOG. Shoot the puck!
As the period ended, here were your stats:
SOG: 17-15 Caps
Hits: 21-6 Caps
Faceoffs 24-17 Caps
PP 0-2, PK 3-3
With the score still 1-0, and in favor of the Rangers; probably like you did, I just had that feeling of "oh no, not again" all over me. Quite frankly, I knew that the Caps were going to tie it and I thought that Caps would win it too. The Rangers, especially Kakko and the powerplay, blew so many chances to extend their lead. The Rangers let the Caps hang around again. Fortunately, while the Rangers would blow the lead, they'd get it back and go on to win. Had they not, this blog would be completely miserable tonight.
---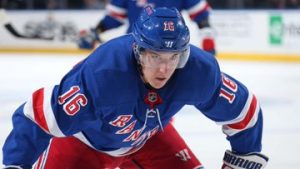 Of note, during intermission, I saw many fans whine about Kakko's TOI. Again I ask you, what has he done to deserve it? What many forget here, is that the coach has to answer to 19 other players on the bench too.
As the third period began, just like last game, Sam and Joe went into reverse jinx mode, where it seemed like they were on their hands and knees, praying to the hockey gods for Ovechkin to score. Thankfully, these two bozos weren't able to will this into existence.
Honestly, most of this period I was just watching the clock and hoping for the best. Like last game, the Rangers once again got another early power-play in this period, this time when Smith drew Hagelin for interference.
This was another bad looking power-play, as the Capitals got three clears in 50 seconds. Mika would have a chance, but would lose the puck right as he was going to Samsonov. For good measure, as the power-play expired, Trouba shot wide, a puck which Samsonov gloved.
With the Rangers blowing another power-play, and in something we've seen 78567585668578567858 times before; now back at even-strength and with momentum, the Capitals spent 90 seconds in the Rangers zone. This looked like a 5 vs 3 power-play. With several Rangers on the ice for over two minutes, John Carlson backhanded a shot past Kinkaid. There was nothing Kinkaid could do here. 1-1.
This goal came with 14:05 remaining in regulation. All I could think to myself was "at least they didn't make us wait until 6:42 remaining to blow it." And yes, I thought the game was over at this point, because even after this goal, the Caps look like they were injected with JOLT Cola, as they were buzzing all over the place. To Kinkaid's credit, he wouldn't break.
With 11:48 remaining, you could feel it coming, as Lemieux was boxed for cross-checking TJ Oshie. I for sure, thought that Ovi was going to score a PPG here. I'd be lying to you if I said I thought that the Rangers were going to win the game at this point.
In fact, prior to this power-play commencing, I said the following on Twitter:
Be honest – does any #NYR fan think the Rangers will pull this out?

— BlueCollarBlueShirts (@NYCTheMiC) March 21, 2021
Everyone responded the same – NO. However, and thankfully, the Rangers would prove us all wrong. In some hairiness, including a play where Lindgren had his stick broken and no forward gave him their stick; the Rangers would get out of this with the game tied. The Rangers PK once again came up huge.
The next five minutes saw each goalie make a handful of saves, while each team blocked shots. The pace of this game crawled a bit, as everyone was cautious and weren't going to give up anything good.
As we got under the four minute mark, Kinkaid carried the Rangers. In a span of twenty or so seconds, Kinkaid made four huge saves, including two on Ovi. Had one of these shots went in, you know how this would've played out.
With the Caps still buzzing, this happened with 2:32 remaining in regulation:
MIKA ZIBANEJAD IS CLUTCH. FILTHY TOP SHELF 🤯 pic.twitter.com/hqIBQ2apRT

— Rangers on MSG (@RangersMSGN) March 21, 2021
2-1, GOOD GUYS!
On this play, the Rangers fought off the Caps in their own end and got the puck out of the zone. Brenden Dillon could never get a firm handle on the puck and when he was about to, Mika bumped him off the puck, went right to Samsonov and roofed it. WOW!
Some Ranger fans are calling this Mika goal as the best Rangers goal of the season. To me, the Fox coast-to-coast goal was the best goal of the season, but really, it doesn't matter – there's no right answer here. It's all a matter of personal preference.
What I will say, is that I thought this goal was the best thing Mika has done all season. Yes, I know he had the hat-trick two games prior, but you could argue those were "A-ROD" goals, as all three of those goals came when the game was already a blowout.
Here, this was all Mika. This wasn't an odd-man rush or someone setting him up on a breakaway. This was 100% Mika doing this all on his own, from making a great defensive play, to getting the puck and by finishing. As far as an individual effort goes, you won't find one better. And really, for all the shit we've all given Mika this season, this was great to see. I was happy for him. This is what we expect. Man oh man, do I hope Mika gets rolling now, especially with the upcoming schedule being what it is.
---
With 90 seconds remaining, Samsonov was pulled. The Rangers would get two chances to put this game away. Kreider could've shot at an empty net, but was too unselfish here, passing the puck to a Buchnevich who just fell down. Had the Caps marched back and scored, everyone would've been going nuts. Thankfully, with 28 seconds remaining, and in a play where being unselfish was okay, due to no one being as close as they were to Kreider when he dished the puck, this happened:
Brett Howden gets his goal!

Ryan Strome is such a team player man 💙♥️ pic.twitter.com/2jxhuXkWBZ

— Rangers on MSG (@RangersMSGN) March 21, 2021
3-1, GOOD GUYS!
Strome could've easily took the goal for himself, but being a good teammate, he settled for the assist and helped Howden get his first goal of the season. It should also be mentioned, that prior to this goal, the Rangers were blocking shots and clogging lanes, which is why Howden was on the ice during this crucial moment of time to begin with. In addition, Buchnevich, due to getting the puck, got an assist here, giving him a two-point game, along with linemate Mika Zibanejad as well. Another good night for the Rangers top line. That's what everyone wants to see.
As the final horn went off, Rangers 3 – Caps 1. The Rangers bounce back and show off some versatility. Of course, with this season being up-and-down every game, I don't know if this win will be the start of anything big, or just the same old shit moving forward. While you want to celebrate every win, as someone who wants to see the team make the playoffs – I just can't get the inconsistency issues off of my mind.
Lastly, while continuing to sound glass half-empty here; Kakko and Lafreniere, who everyone wants to see get going, looked bad today. Had they been a major factor in this win, you'd feel better about the team's progression. And of course, it's Keith Kinkaid playing well – which while good for him, means nothing for the Rangers long-term or even short-term future. I know, I'm totally taking the wind out of the sails of this win right now, sorry! Again, I'm still trying to recover from Friday's loss! I'll be over it come Monday!
If you haven't already, subscribe to this blog for the next update:
---
Up next, the Rangers host the shitty Sabres on Monday night, where really, if the Rangers lose that, they may as well pack it in.
As far as DQ goes, I've heard it suggested that he may not be able to return until Thursday. While we don't know this for 100%, I think it's safe to assume he has COVID-19.
The "FIRE DQ" crew is going to have a field day soon. The Rangers are now 2-1 under Knoblauch, where they created franchise history in one win; and in their one loss, played one hell of a game against the best team in the division. Assuming the Rangers take care of business with Buffalo, that would put the Rangers at 3-1 under Knoblauch.
And really, for as polite and "aw shucks" as Knoblauch has been, since temporarily taking over; the team is playing better. Even someone like me, who's been accused of being a "FILTHY DQ APOLOGIST", can see that. I believe that even if he won't say it, Knoblauch deserves credit too.
The Rangers are off tomorrow and aren't practicing either. Barring another DeAngelo or Panarin situation, I'll be back Monday night.
Stay FABULOUS my friends.
Until then, and as always here, thanks for reading and…
LET'S GO RANGERS!
Sean McCaffrey
BULLSMC@aol.com
@NYCTHEMIC on Tweeter