"I think guys were feeling very confident after the Philadelphia game, enjoying hockey scoring some goals, everyone feels better and they just wanted to carry that on and they knew they were going to have to have a solid effort because Washington is a good hockey team and been playing extremely well. I think they were really committed to winning this game." – Acting Rangers head coach Kris Knoblauch, on 3/19/21, moments after the Rangers brutal 2-1 loss to the Capitals. Knoblauch is just here until DQ can return and was very polite in his post-game interview after this heartbreaker.
---
"I've got a lot of respect for Ryan, he plays so hard. I think he is very valuable to the D group, Foxy and Lindy have a lot of chemistry together, you can really notice how well they move the puck together, I think that is something that has really taken off with Lindy since we had him in Hartford. He was good at moving the puck and making the next play, he was always known as a solid defender and competitor, but right now his all around game is really taking off and I think a lot of it has to do with his chemistry with Foxy, smart hockey player." – Knoblauch again on 3/19/21, while speaking of Ryan Lindgren, who prior to the two goals allowed, had a monster of a game.
---
"I think the first goal, it's just an issue of sorting out who is first man back and responsibilities. Just a little slow to react and allows the puck to get to the point too easily and as goal scorers, they find ways to score goals and usually it's around the net. I think it was a small mistake, but ultimately you can't keep them off the scoresheet every time." – Knoblauch, one more time on 3/19/21, talking about Ovechkin's game tying goal.
---
Greetings and salutations everyone and welcome to another blog here on BlueCollarBlueShirts.com. Well that was depressing.
In the Rangers first game of the second half of the season, the "Find-A-New-Way-To-Lose" Rangers returned, dropping a 2-1 decision to the top team of the division and the second best team in all of the NHL, in the Alex Ovechkin led Washington Capitals. (Only the defending Stanley Cup champions, in the Tampa Bay Lightning, are above the Washington Capitals in the standings. Both teams have 44 points, but Tampa has 21 wins in 29 games played, as opposed to Washington's 20 wins in 30 games played.) Needless to say, this loss hurt.
For over 53 consecutive minutes, starting when the first puck was dropped in this game, the Rangers just imposed their will over the Capitals. With just ten minutes remaining in the game, the Capitals only had 12 shots on goal. Prior to the pair of goals that Ovechkin would later score, the Rangers played a defensive masterpiece. And let's keep in mind where the Capitals are in the standings and where the Rangers are too. That's why, had the Rangers held on, this game would've been a huge statement. Instead, the statement here is – "same old shit".
Like many of you, I was getting giddy as we got under ten minutes remaining. As usual, the Rangers had the number of the Capitals, a team that the Rangers usually match up well with. And really, despite the loss, once again, the Rangers matched up well with the Capitals here tonight. If you're trying to find a silver lining here, at least it was Ovechkin beating the Rangers with two goals, as opposed to some random fourth liner. That said, that doesn't make this loss any easier to accept.
All season long, more times than not, the Rangers try to one-up themselves, when it comes to trying to find a new way to lose. Tonight, it was Alexandar Georgiev, who got the best defensive effort out of the Rangers all season, yet in crunch time, was out of position on both Ovechkin goals. Sure, maybe a Rangers defensemen could've cleared Ovechkin from near the crease. Sure, maybe a Rangers skater could've swooped a loose puck away. And, yes, sure maybe the first goal had some "puck-luck" behind it. However, we can only talk about what happened, and what we saw was Alex Ovechkin scoring two goals after two plays where Georgiev was way out of position.
If a picture can speak a thousand words, here's the only graphic you need to see, when describing and explaining this loss: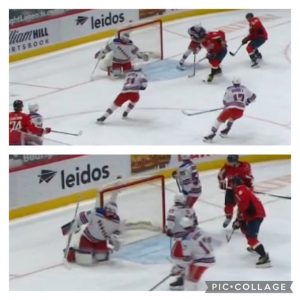 On both of Ovechkin's goals, Georgiev was way out of position, as the majority of his body was over to the right side of his post. Ovechkin, who as you may have heard, is pretty good at this hockey thing, and as a result, scored two of the easiest goals of his life. That said, this loss can't only be about Georgiev either.
What pains me when writing about this game, is this should've been a blog about celebration. This was a game where the "FIRE DQ" crew should've been throwing confetti over. This recap/review should be about Ryan Lindgren's monster game. This blog should be about the excellent Rangers defensive effort. The vibe here should be about the Rangers downing the Caps and looking to sweep this two-game set tomorrow night. Instead, because of the loss, we're forced to look at the reason why the Rangers choked away this game.
Mika Zibanejad, often a target among Rangerstown, USA this season, due to his lack of production; reverted back to his old self after his six-point game from Wednesday night. Defensively, the Rangers held the Caps off of the board for the majority of this game. In addition, the Rangers only gave up 18 shots on goal this game – which is a season low. (Or a season "best" if you look at it that way.) However, the Rangers had 33 shots on goal tonight and only got one past Capitals goalie Vitek Vanecek, a Vanecek who just had an amazing game.
I shouldn't be talking about Mika Zibanejad's scoring woes at all tonight. However, with only one goal scored by the Rangers today, a power-play goal from Artemi Panarin, we have to talk about him. After that six-point second period from a game ago, Zibanejad was held off of the board again, despite his abundance of numerous chances in this game.
The two first round draft picks, in Kaapo Kakko and Alexis Lafreniere, were once again scoreless tonight, with Lafreniere looking much worse than Kakko. Lafreniere didn't even get a shot on goal. At least Kakko put three shots on Vanecek. Ryan Strome, for as good as he has been this season, led the Rangers with five shots on goal, but even with some "GOOD LOOKS" tonight, couldn't finish.
Of course, Georgiev will take the bulk of the blame for tonight's loss, and as he should; but really, 99/100 times, one goal for isn't going to beat one of the best teams in all of the NHL. And as you'd expect, leaving Ovechkin wide-open in front of the net twice, in the final stages of the game, isn't a recipe for success either.
---
At this point of the season, I'm used to the Rangers losing and creating disappointment on a daily basis, but losses like this doesn't make it any easier. You could argue this was the most heartbreaking loss of the season, and to me, it really was. The Rangers had this game in the bag the whole way. They just couldn't close out. If anything, this game personified the adage of "good teams find a way to win, bad teams find a way to lose". That's what happened tonight.
I can't stress this enough before continuing and trying to motor through tonight's recap – the Rangers were dominant for over 53 minutes and once Ovechkin scored his first goal, you said "oh no, not again" and you knew the Rangers were done. The final 6:42 of this game was a disaster. Not only would Ovechkin go on to score the game winner, the Rangers, when down by a goal and looking to pull Georgiev; couldn't even touch the puck until there were about 45 seconds remaining in regulation, thus limiting their chances in finding their first extra attacker goal of the season. Like us, they were just shell-shocked and a tremendous effort was sadly flushed down the toilet.
Last night, I returned with a "2021 New York Rangers Mid-Season Report Card" blog. A lot of what I said there was on display in tonight's game. To read that blog, check out the link below. In addition, as I do this PLUGS segment here, I've also included my recap of the Rangers 9-0 win over Philly for two reasons. One, I hope looking back at that game gets the bad taste out of your mouth from this game. Two, a lot of what I said there applied to this game as well.
In any event, here are those two blogs:
---
---
I recapped all of the news in last night's blog. As talked about there, after the Rangers best game of the season on Wednesday night, there was no way the line-up was going to change for tonight's game.
As a refresher, here was your line-up during tonight's 2-1 loss:
If there was any winner tonight, it was me. Let's go to the GAMBLING segment.
Here's what I said before the game:
Season over-under record: 11-15-2

Georgiev v Vanecek tonight. The line has jumped by one full goal to -6.5 & that's the highest line of the #nyr season so far. I'm just going to play the numbers and take the UNDER. I'll go Rangers 4-2 as well! pic.twitter.com/Ni7UYDgxey

— BlueCollarBlueShirts (@NYCTheMiC) March 19, 2021
While I didn't get the final score right, I did hit on my UNDER bet. My record now improves to 12-15-2 on the season. Of note, I couldn't believe how high this line was. Whether it's hockey or baseball, very rarely do you see a team follow up a high scoring game with another blow-out. I thought the Rangers would revert back to their defensive styling and that's what we got in this game. In addition, my prediction of the Capitals "only" scoring two goals was right too. Ugh.
Box score time.
The following information and graphics come courtesy of the new world-wide leader in NHL coverage, in ESPN.com:
SCORING:
PENALTIES:
GOALIES:
| | | | | | | | | | | |
| --- | --- | --- | --- | --- | --- | --- | --- | --- | --- | --- |
| SA | GA | SV | SV% | ESSV | PPSV | SHSV | SOSA | SOS | TOI | PIM |
| 33 | 1 | 32 | .970 | 29 | 0 | 3 | 0 | 0 | 60:00 | 0 |
| | | | | | | | | | | |
| --- | --- | --- | --- | --- | --- | --- | --- | --- | --- | --- |
| SA | GA | SV | SV% | ESSV | PPSV | SHSV | SOSA | SOS | TOI | PIM |
| 18 | 2 | 16 | .889 | 16 | 0 | 0 | 0 | 0 | 59:13 | 0 |
TEAM STATS:
---
The MSGN pregame show remains a horror. After Giannone flubbed over one of the 76786789689696786 advertisers he has to plug during every broadcast, Vally mentioned going "backdoor" twice. Giannone also brought up how Mika matched his goal production from this season in the win over Philly; but didn't bring up how Mika also matched his 1 PPG, 1 SHG and 1 ESG in that game as well.
Giannone, like a kid in a candy store, then promoted a segment where Vally would talk about analytics. As if he doesn't do that enough already. I'd rather be in a cramped elevator with DQ-19 and his coaching staff, than ever seeing Vally on my TV talking about "EXPECTED" stats again.
As an old-school soul, (young NYR fans on Twitter hate me because of this, but I revel in it!) and a person who really only drinks beer and whisky, just as the hockey gods intended; is there anything more cringe, than watching a seven foot douchebag with a bad hair dye job, talking garbage foo-foo stats, while having a sea of flavored alcoholic seltzer beverages behind him? Where have you gone Foster Hewitt? Where have you gone Bill Chadwick? Where have you gone Fred Shero? Where has Sam Rosen's mind gone over the last few years?
Yes, I know I sound like a grandfather waving his fist at the sun right now. I'll take that heat. I'll even double-down and say this – "In my day, we drank rot-gut whiskey and Schaefer's beer! We didn't drink these seltzer drinks with umbrellas in them or this water-flavored Bud Light bullshit! And hell, our first line center also was able to score goals and on a consistent basis too!" (Retire Frank Boucher's #7 jersey, I beg of you!)
To be nice and to be fair here, I do know that Vally is a beer drinker. I don't know if he's dabbled into the land of flavored seltzers yet, but I do know that he once was a Labatt Blue guy. At least he has that going for him! (And if you're new here, I don't "hate" Vally. I just don't like him as a solo act. When he first started with MSGN, he was solid with his analysis. Over time, he's turned into a walking chart, since it benefits his financial interests. I know he's a nice guy in real life, I'm just not a fan of his work today. And admittedly, I often get on Vally on these blogs, in a poor attempt to provide humor. At least I think I'm funny!)
Two more things on Vagistat and I'll wrap this up.
The guy can not, and I mean can not, go one minute on these broadcasts without mentioning his legendary 46 game NHL career. With the recent appearances of Ryan Callahan in-studio, it's only gotten worse. During tonight's broadcast, Vally once again pretended he was in the trenches during some of the Rangers playoff runs from the last decade. Vally commenting on previous Ranger playoff runs, is akin to asking whoever took the lunch orders on the set of "The Godfather", about the success that movie had. It would be like me giving you a work-out program. (I do recommend the 12 ounce curl system!) One more – it would be like Joe Micheletti recommending a thesaurus! (FABULOUS!)
In a new development, Vally keeps mentioning little kids on these broadcasts. While I'm being an asshole and trying to be funny here by bringing this up, because despite my disdain for Vally on these broadcasts, there's no way that I think that Vally is one of those sickos; to compare Georgiev's game to a little kid is outrageous, especially considering Vally's own career when compared to Georgiev's.
As I've said numerous times on this site, if this broadcast wanted a real goalie who has been through the wars and had a successful career, MSGN would give Mike Richter a ring, a Richter who has done some media stuff lately. And if Richter is too big/doesn't need this job, they should've went after Kevin Weekes. As mentioned previously, it's probably too late to go for Weekes now, as he most likely will be in some team's front-office in the near-future. Heck, even Glenn Healy, who has been on these broadcasts before, has had success around the league while in the studio.
And yes, I'm cranky and salty about this loss, which in turn, increases my hatred of hearing Vally's nonsensical bullshit after these games!
Let me now try to breeze through this game, and as fast as humanly possible, at least for me!
---
One more time before really cracking the knuckles here – the Rangers played a tremendous defensive game tonight. Their defensive play made Joe Micheletti say "FABULOUS" 8678976786786796 different times. And really, had the 1-0 score held, this may have been a more impressive win than the win over Philly, just because of the competition and the effort the Rangers gave. In addition, I also think that win over Philly was an anomaly, meaning that all the stars were in alignment, as the Rangers had their best game of the season while the Flyers had one of their worst games in all of franchise history. Had the Rangers followed up that 9-0 pounding over the Flyers with a 1-0 shut-out of the Caps tonight; not only would the feeling of this blog be different, but we would all be talking about the Rangers following up. (We also would be ignoring the fact that the Rangers only scored one goal too, as we would be saying the Rangers successful game-plan was to use defense tonight.)
The first ten minutes of this period flew by like a Kenyan running a 40 yard dash. There were barely any whistles. The Capitals would get the first four shots on goal of this game, but after that, would be held without a SOG for nearly 17 minutes.
After Strome put too much juice on a pass to Blackwell, the Vanecek show would eventually begin. Ryan Lindgren, whose name will pop up a lot throughout this blog, and in every recount of this game that's out there; started off his night by breaking up a Caps rush and forcing a turnover. On the next Caps possession, Georgiev would stop Kuznetsov. Right after this, Mika Zibanejad would take one of his shots, and you know the rest. (Yes I'm bringing back "you know the rest" after tonight's game!)
Georgiev, who was solid before going haywire in the final 6:42 of this game, would then make a great save on a backhanded spinorama shot off of the stick of TJ Oshie. As we surpassed the first five minutes of the period, Kakko and Lafreniere, who wouldn't be criticized had the Rangers won this game, showed us that they are nowhere close to getting it going. I will say, I'm seeing more and more Ranger fans jumping on these two and I think all of that criticism and commentary is warranted; outside of affixing the "bust" label on this duo. (Way too early for that.)
During two back-to-back possessions, Kakko would go offside, denying a Rangers odd-man rush. On the next possession, Lafreniere, while on an odd-man rush with Kakko, whizzed a puck above Kakko's skates and Kakko couldn't get a hold of this bad pass. Scoring opportunity denied. After this, Jacob Trouba, who Sam Rosen said was having a great season (I don't know what he's watching) added to his league-leading total of most shots off of the boards and glass.
As we got past the ten minute mark, Vanecek made one of his better saves of the game, denying a Strome-to-Smith one-timer. With the Strome line still on the ice, they displayed some passing wizardry, only for Blackwell to get crushed by Orlov. That said, we'd see a bigger hit in this game!
Kakko, who was really only noticeable in this first period, would get his first of three shots on Vanecek. Vanecek stopped them all, which made Micheletti shriek out FABULOUS a few times, as if someone was using a cold steel pipe when giving him a COVID-19 anal swab test.
Brett "The Golden Jet" Howden would later test Vanecek, where once again, Vanecek proved true. Sam and Joe continued to praise the Capitals, where you had to see if you had the right feed of this game on.
As we got under five minutes to go in the period, Georgiev fumbled a puck while trying to play it. I think it was Derek F. of NewYorkPuck.com who said it first, but whoever it was, the following is true: ever since that DeAngelo incident, Georgiev's puck-handling skills have entered Henrik Lundqvist territory. I don't recall Georgiev ever struggling while playing the puck like this before, prior to these recent stretch of games. While this play didn't bite Georgiev in the ass here, his inability to play the puck cleanly has been glaring.
---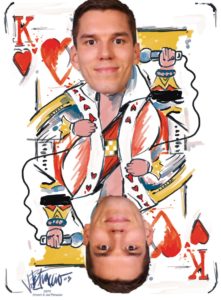 With 4:39 to go in a clean game prior to this point, Backstrom would trip Brett "The Great One" Howden, giving the Rangers their first power-play of the game. During this power-play, old friend Carlos Hagelin would shine on the Caps PK. After getting the puck back into the Caps zone, Kreider just missed while all alone with Vanecek. However, after a shot from Adam Fox which found iron, the Rangers regrouped, with Ryan Strome setting up his buddy Artemi Panarin:
🍞Breadman alert🍞

Panarin makes it 1-0 pic.twitter.com/n6kmePObxi

— Rangers on MSG (@RangersMSGN) March 19, 2021
1-0, GOOD GUYS, with 3:18 to go in the first period! And as the game continued and made its way into the latter stages of the third period, I really thought this was going to hold up as the game winning goal. I really wanted to do a huge thing on Panarin and Navalny taking down Ovechkin and Putin, but alas, that wasn't meant to be. What could've been. Ugh.
It should be mentioned that Fox got an assist here and how Ryan Strome continues to create goals, even if he does miss on a lot of wide-open opportunities.
With 2:28 remaining, Chytil went to the sin bin after hooking Ovechkin. Talk about a superstar game out of Ovechkin tonight. However, Ovechkin would be held off the board here, as once again, the Rangers penalty kill did a masterful job. Trouba made a great play on Oshie, denying Oshie of a GOOD LOOK. The Caps heralded power-play didn't even get a SOG on here, as the Rangers clogged lanes, made hits and fought for every loose puck.
At the end of twenty minutes, we remained Rangers 1 – Caps 0. The SOG here were Rangers 8 – Caps 5, as again, and I know I keep hammering this point home all blog, the Rangers played a terrific defensive game.
---
After our second period comment of "SECOND PERIOD, WHAT DO YOU LOOK FOR HERE JOE?", <a goal from Kakko Sam!> it should be mentioned, that after four periods of play, the Rangers had a goal differential of +10 under Knoblauch. Not too shabby.
This period started off funky, as just five seconds into the period, after the face-off, a puck deflected into the Rangers bench, where it caught Lindgren near the right nostril. He'd have to go to the locker room to get stitched up/for repairs, but as you'd expect, he'd be back in this game, while only missing two shifts in all.
If there's anything guaranteed in life, it's this – Death, Taxes, Bad Flyers Goaltending, Joe Micheletti saying "FABULOUS" and Ryan Lindgren Bleeding.
The Rangers continued to impress defensively, where really, there wasn't much doing. The Rangers denied Oshie from scoring on 3-4 opportunities. During this period, Sam said he wanted to give "DQ a good show". I think after this game, DQ went to bed with the word "FABULOUS" ringing throughout his head.
In a play that looks much worse with hindsight, Trouba would put a SOG and Vanecek vacated his net after the save. Unfortunately, there was no Ranger to slam home the rebound. On the next Caps possession, Georgiev made a save on Jensen on a shot from near the blue line. Previously, these type of shots have given Georgiev headaches this season.
With Lindgren back on the ice and with 13 minutes and change remaining, the Fox/Lindgren pairing had a good shift with the Rangers third/Kid line. After a shift change, Fox would break up a chance from Kuznetsov, which then set off Lemieux, as he streaked to the net. No goal though.
As we continued on, Georgiev would find Chara barrelling at him during a breakaway. Kreider and Miller would catch up at the last second, forcing Chara to shoot high and wide.
In another play that looks much worse with hindsight, after Panarin forced a turnover, he found Strome wide-open, as Panarin looked to return the favor from the first period. However, Vanecek made a huge save here, and I mean huge, denying both Strome and Panarin of having a two-point game.
With under nine minutes to go, we had what could be considered as the turning point of the game a bit:
Ryan Lindgren with a 𝘽𝙄𝙂 hit on Ovi. 😳#NHLonSN pic.twitter.com/6gUabcqcTh

— Sportsnet (@Sportsnet) March 20, 2021
Lindgren absolutely crushed Ovechkin here, but as you know by now, Ovechkin would get the last laugh – twice.
Once the puck froze after this hit, we had a TV timeout. Upon returning, we saw Brenden Dillon trying to go after Lindgren, but it would be Brendan Lemieux getting right into Dillon's face. DESPITE DILLON STARTING EVERYTHING AFTER A CLEAN HIT, Lemieux would join Dillon at the penalty box.
Sam Rosen, to his credit, was absolutely livid here and he had every right to be. For the second time in three games, the other team gets pissed off about a clean hit (last time it was Brendan Smith being jumped by two loser Flyers) and a Ranger is forced to defend himself. Why is the Ranger getting a penalty here too? For defending himself? To me, this was some of the best work out of Rosen and Micheletti all season, as they explained in-detail what I'm saying here.
The Rangers should've got a power-play here. Instead, we had two minutes of four on four foreplay.
After a good shift from Trouba, and in both zones, Lindgren, looking for the dagger and his first goal of the season (and had he scored here, this would've been tremendous and some poetic justice) shot wide. It was also at this point in the game, where I thought with Tom Wilson returning tomorrow after his seven game suspension, that we'd get a Lindgren/Wilson fight in Saturday's game. With the Caps winning this game, Wilson may not want to sully up his fists.
Lindgren, who was all over the ice in this game, and in a good way, would then miss out on a scoring chance with Blackwell.
With the game getting chippy and with Hajek without a stick, a loose puck went toward Lafreniere. With the Caps charging, Lafreniere skated away. That was a bad look in my opinion. The Rangers would ultimately get the puck out of the zone, but in a 1-0 game and with a player missing a stick and considering the fact Lafreniere isn't scoring; well he should've raced to that puck.
After another frozen puck, Chara and Lemieux started jaw-jacking. I would've loved to see that fight, even if Lemieux would've been the underdog.
As we got under a minute to go in the period, Buchnevich erred during a first line odd-man rush. Again, this play stings with the benefit of hindsight.
After two periods, we remained 1-0, in favor of the GOOD GUYS. The Capitals only had 11 SOG at this point in time.
---
Of course, there's no such thing as "jinxes". Superstitions aren't real either, even if many of us practice them. However, there is a "CODE". If a pitcher has a no-hitter going late in a game, you don't say it. If a goalie has a shut-out going in a game, you don't say it.
As the second period concluded, Rosen had diarrhea of the mouth, talking about how Georgiev had a shut-out going, was on a stretch of five periods of shut-out hockey and was looking to get his second shut-out. In other words, maybe we should be blaming Rosen for this loss. I mean really, Rosen is a HOFer and has been around hockey forever, and he just pulled out his pecker and absolutely shoved it up the five-hole of Georgiev here with all of this talk. It's one thing for an unbiased broadcaster to talk facts and even then, many of them won't talk about a shut-out or a no-hitter. It's another thing for the voice of this franchise for over 30+ years to go out of his way to absolutely jinx the goaltender!
And yes, I know I'm reaching here, but as I said, I'm cranky and salty!
---
While on the topic of jinxes, maybe I should take my own advice, as I said this after the second period:
9-0 is tough to top, but winning a game like this and if this score can hold, well that would be nearly as equally impressive. IT would show that #NYR can be versatile and win the tough games.

— BlueCollarBlueShirts (@NYCTheMiC) March 20, 2021
At least I didn't say the word "shut-out"!
Speaking of Rosen, once coming back from commercials, Rosen let out a huge "AAAAAAAAAAAAHHHHHH", as if he just fired off some knuckle babies.
Prior to Mika winning the first face-off of this period, Rosen mentioned that Buchnevich and Ovechkin were having a nice "Russian chit-chat". I wonder if they talked about Putin?
As mentioned, the Rangers had multiple offensive chances to win this game. 31 seconds into the period, Dillon hooked Zibanejad.
Vanecek would make all three of his short-handed saves, in this game, during this Caps PK. Vanecek would stop Fox from his door-step, denied Strome of another goal and for good measure, stopped Mika "and you know the rest" Zibanejad. Instead of getting the insurance goal, the Rangers allowed the Caps to hang in there, which truth be told, is all because of Vanecek.
---
After Georgiev made one of his better saves of the game, a save on Orlov while screened; Kreider streaked down the ice, where his stick broke while shooting. Again, another play, where with hindsight, cost the Rangers.
4:30 into the period, the Rangers were out-shooting the Caps by a 7-1 margin. As we got to ten minutes remaining in regulation, the Caps were still stuck on one SOG.
With 9:14 to go, Richard Panik (Dick Panic) held Hajek's stick. The Rangers once again received a power-play. And just to quickly recap, the Rangers were up 1-0 and with under ten minutes to go. A PPG here would've sealed the deal.
On this power-play, the Rangers wouldn't get one shot on goal. While this was a case of the other team being paid to play hockey too, with the game on the line, the Caps pressed on while the Rangers couldn't put them away.
In something you've seen 746782642583 times before during a hockey game, the Capitals successful PK gave the Caps momentum. A half minute after their kill, the Caps put a puck near Georgiev, but the puck took a Capitals bounce and Ovechkin easily scored with 6:42 remaining in the game. While this wasn't a fluke goal, because after all, Georgiev was way out of position and Ovechkin was in perfect position to make this happen; this was a bad bounce for both the Rangers and Georgiev. In addition, there's a reason why Ovechkin is arguably the greatest player of his generation.
After Sam and Joe blew kisses to Ovechkin, Vanecek would deny Panarin.
As we got into FOXWOODS FINAL FIVE territory, Buchnevich would find himself wide open. Rather than shooting, he dished the puck to Mika and you know the rest.
With 3:33 to go, Ovechkin, on the same exact play as his first goal, scored again. This was on Georgiev again, but yeah, no one cleared Ovechkin from the net either. Of note, despite having a tremendous game, the Lindgren and Fox pair were on the ice for both goals allowed. Off the top of my head here, this may be the first time this season where these two finished up a game with +/- of negative two. I know for a fact, that this was the first game of the season, where the two were on the ice for every single goal of the game allowed. Also while on Fox here, he played a team-high 26:05 tonight.
At 2-1 bad guys, this game was done. The wheels were off.
With 2:20 to go, Strome just fell down. The Capitals would get the puck, where they'd possess it until there were 47 seconds remaining. The Rangers, still looking for their first extra attacker goal of the season, wouldn't do anything. As the game seemed to be over, the refs gave the Rangers one last chance, calling an icing on the Caps. With 1.4 seconds to go, the Rangers did diddly with the offensive zone face-off and that was that. 2-1, bad guys. A great effort and an amazing game just up in smoke, and during a span of just over three minutes. This one is a gut-punch.
---
I'm really sickened by this loss, so I leave you with this. This was a good game for DQ and Keith Kinkaid. If Igor can't go tomorrow, I'd expect Kinkaid to get the nod in net.
If you haven't already, subscribe to this blog for the next update:
---
This loss sucked.
As far as the line-up tomorrow, who knows? Maybe Gauthier gets a chance to return. When it comes to the goaltender, Igor is practicing with the team and it was hinted by Knoblauch that he may be ready to return. As they say – we'll see.
I'll be back tomorrow night, recapping the next game of this miserable season.
Until then, and as always here, thanks for reading and…
LET'S GO RANGERS!
Sean McCaffrey
BULLSMC@aol.com
@NYCTHEMIC on Tweeter