Greetings and salutations everyone and welcome to another blog here on BlueCollarBlueShirts.com. Remember when the Rangers struggled tremendously with the Penguins during the past two seasons?
On Tuesday night, at the appropriately named "PPG Arena," the Rangers defeated the Penguins by a final score of 3-2. Despite some hairiness during the final two minutes and thirty-two seconds (which we'll get into during the GAME REVIEW); this was a dominating victory for the Rangers.
Tonight's game marked the third of four meetings between these two long-time rivals, where following this win, the Rangers now lead the season series 2-1. The fourth and final game will be played on April 7th (Kurt Cobain Day) at M$G.
As you may expect, currently, there is a ton of giddiness in the streets of Rangerstown, USA, where I don't even know where to begin. However, let me give you some quick 411 as an appetizer.
— Back in the NHL days of old, playoff series were determined by total goals, rather than by wins and losses.
During this 2021-22 season series between these two rivals, rivals who may see each other during the first round of the 2022 Stanley Cup Playoffs – the Rangers now lead the diseased ice birds in the total goals department, by a tally of 8-3. I know this means nothing at the end of the day, but it is a fact worth sharing!
— With the win, the Rangers took over sole possession of second-place in the standings. The Blueshirts currently have 91 points accrued in 67 games; while the Penguins, who are nipping at their heels, have 90 points in 68 games played.
In addition, following Carolina's 4-3 overtime loss to the Tampa Bay Lightning on Tuesday; the Hurricanes, first-place in the division, now have 96 points in 67 games played.
— For your consideration: the 2014-15 New York Rangers, who won the Presidents' Trophy that season, set franchise records in both wins (53) and points (113).
(And yes, it's a franchise record only because of the era, as previous teams didn't have the loser's point. Instead, they had the tie. In addition, the length of the schedule has increased over time too.)
With fifteen games remaining during this 2021-22 campaign, with 43 wins, these Rangers are now ten wins away from tying the franchise's single-season win record. They are also only 22 points away from tying the single-season points record too. A good run during these final fifteen games and these 2021-22 Rangers will make franchise history.
Not too bad for Gerard Gallant and Chris Drury, two men who the analytical community buried during the off-season and two men who have been accused of "THEY DON'T KNOW WHAT THEY ARE DOING!" Also not too shabby for a team that's "rebuilding" either!
LGR!
---
Tonight's tilt felt repetitive, and in a good way – the Rangers came from behind again (for the 23rd time this season – a franchise record) – and as we've seen a lot of lately – the top stars performed to expectations.
In a phrase that I've used a lot this season – "THEY NEVER GIVE UP!"
And when it comes to the "Tree of Trouba," which I've "rechristened" into "Trouba'z Treehouse" for comedic effect tonight; once again, "The Great Eight" and his buddies shone bright.
(And since I like to credit everyone for their own ideas, "The Blueshirt Underground Show," who you'll see plugged later tonight, is going with the "Tribe of Trouba." Either cornball tagline works for me!)
---
Over the course of Rangers' history (and really, all of NHL history too); following the NHL Trade Deadline, there is usually a transition process as new players get acclimated to their new surroundings. We've seen none of that from Frankie Vatrano, Andrew Copp and Tyler Motte – three of Trouba's buddies who have walked onto this team and have played so well – so well in fact, that it feels like they've been here all season.
Chemistry issues? What chemistry issues?
For the life of me, and maybe the 1993-94 Rangers are the exception (and even then, that's only because they won the Stanley Cup. Additionally, there was a lot of familiarity between the former Blackhawks and Oilers who joined that Rangers team); I can't think of another NHL Trade Deadline, in all of franchise history, where new faces acquired at the deadline have worked their way so seamlessly onto the roster.
Now that's AMAZING SUZYN!
Not even two weeks after the NHL Trade Deadline, it feels like Vatrano and Copp are both good for a multi-point game on any given night. That's crazy, but true!
Tyler Motte, a fourth line grinder, has fit onto this roster like a glove. (Just not OJ's glove – another 1994 reference! That's three 1994 references now if you're counting, where the Kurt Cobain one was the first! The more you know!)
Even the great Martin St. Louis, the Class of 2018 Hockey Hall of Famer, had a tough time getting himself situated to New York when he first arrived here during the back-end of the 2013-14 season.
I can't stress this enough – what Vatrano, Copp and Motte have done is just incredible.
It would've been very easy for these guys to have issues out of the gate, as they all tried to gel with their new teammates and adapt to their new environment. However, we've seen none of that at all. What we've seen is the complete opposite of that!
It truly feels like they've been part of the program from day one, which is a credit to Gerard Gallant himself – who following the NHL Trade Deadline, said that he didn't expect any issues from the "growing pains" realm.
Yes, the players are performing. You can't take anything away from them. However, both Gallant and Drury deserve a tip of the cap too – they've been hitting it at out of the park all season.
(And who told you from day one, that both Gallant and Drury would have a ton of success? Hmmm! "BUT MAH CHARTS SAY!")
---
There's a ton of stuff I have for you tonight – a bevy of ad-free information for your one click!
I'll start off with the trade that the Rangers made on Monday. After that, Rich Murphy will check in with more information on the Wolfpack. Following Murphy's report, I'll have all of the latest Rangers news and notes for you, including stuff on the "Garden of Dreams," and of course, the main event itself – the GAME REVIEW.
Let's roll, as after all, we'll do this all again tomorrow night, when the Rangers defeat the Red Wings!
---
Following the Rangers overtime win over Buffalo from Sunday night; on Monday the team took a break from the ice and traveled to Pittsburgh for the last time this (regular) season.
While general manager Chris Drury's team were packing their bags; he was busy himself.
At around 1:30PM Monday afternoon, the Rangers announced a trade with the Carolina Hurricanes.
Here's the full press release, courtesy of https://www.nhl.com/rangers/news/rangers-acquire-maxim-letunov/c-332356812?icmp=int_web_nyr_news_rightrail :
New York Rangers President and General Manager Chris Drury announced today that the team has acquired forward Maxim Letunov from the Carolina Hurricanes in exchange for Tarmo Reunanen.

Letunov, 26, has skated in 60 games with the Chicago Wolves of the American Hockey League (AHL) this season, registering a career-high 13 goals along with 10 assists and 23 points. Among Wolves skaters, he ranks seventh in goals and ninth in points.

The Moscow, Russia native has played in three NHL games, all with the San Jose Sharks, where he notched one goal.
In 199 AHL games split between the Wolves and San Jose Barracuda, the 6-4, 180-pounder has tallied 49 goals and 57 assists for 106 points. He has scored 10-plus goals in all four seasons in the AHL and set career-highs in assists (28) and points (40) in 2019-20 with the Barracuda.

Prior to turning pro, Letunov played three seasons with the University of Connecticut Huskies (Hockey East), collecting 95 points (35G-60A) in 105 games. In 2017-18, he was named to the Hockey East Second All-Star Team. After his freshman year in 2015-16, he was named to the Hockey East All-Rookie Team and Second All-Star Team.

Letunov was originally selected by the St. Louis Blues in the second round, 52nd overall, of the 2014 NHL Entry Draft.
---
And just to show you the other side of the coin, here's what the Carolina Hurricanes said about the trade, courtesy of https://www.nhl.com/hurricanes/news/canes-acquire-reunanen-from-rangers/c-332358932 :
RALEIGH, NC – Don Waddell, President and General Manager of the National Hockey League's Carolina Hurricanes, today announced that the team has acquired defenseman Tarmo Reunanen from the New York Rangers in exchange for forward Maxim Letunov.
"Tarmo skates very well, and we feel he will add to the depth in our organization," said Waddell. Reunanen, 24, has registered 17 points (2g, 15a) in 40 AHL games with the Hartford Wolf Pack in 2021-22 and ranks second in assists and points among Wolf Pack defensemen.

The 6'0″, 185-pound blueliner was selected to the AHL's Atlantic Division All-Star Team last season after recording 17 points (4g, 13a) in 21 games. The Aanekoski, Finland, native has also skated in 151 career Liiga games with TPS, Lukko and HPK from 2016-21, posting 50 points (12g, 38a). Reunanen represented Finland at numerous international tournaments, including the 2014 World Under-17 Hockey Challenge and 2015 Ivan Hlinka Memorial Tournament. He was drafted by the Rangers in the fourth round, 98th overall, of the 2016 NHL Draft.

Letunov, 26, has tallied 23 points (13g, 10a) in 60 AHL games with Chicago this season. He has registered 106 points (49g, 57a) in 199 career AHL games with the Wolves and the San Jose Barracuda. The 6'4″, 185-pound forward has skated in three career NHL games with the San Jose Sharks, scoring one goal. Letunov played three seasons of NCAA hockey at UConn from 2015-18, recording 95 points (35g, 60a). He also recorded 107 points (44g, 63a) in 118 USHL games with Youngstown from 2013-15. The Moscow, Russia, native was selected by the St. Louis Blues in the second round, 52nd overall, of the 2014 NHL Draft.

---
When I first heard about this trade my first thought was, "damn, there goes all of my Fleetwood Mac "Rhiannon" jokes."
One last time:
Reunanen rings like a bell through the night
And wouldn't you love to love him?
Will you ever win?
Will you ever win?
(Reunanen)
(Reunanen)
(Reunanen)
Taken by taken by the sky
(Ah-ah)
Taken by taken by the sky
(Ah-ah)
Taken by taken by the sky
(Ah-ah)
My second thought was this:
Just two years and two months ago, the Rangers gave up on defenseman Joey Keane, and in exchange, tried to help out their forward group out in the form of Julien Gauthier.
Today, it looks like the Rangers have won that trade.
Prior to the 2022 NHL Trade Deadline, Gauthier was a semi-regular in the Rangers line-up, while Keane only played for the Canes whenever their roster was hammered by COVID.
While Gauthier has had a terrible season; at least he played for the Rangers, while Keane has taken a backseat in Carolina.
When it comes to this trade, and specifically, Tarmo Reunanen; it was tough to see where the Finnish defenseman would ever slot in with the Rangers.
I don't watch much of Hartford (Rich Murphy does, and you'll read more from him after this segment), but during his limited games with the Rangers, Reunanen never did much to stand out. Yes, he had a few nice games along the way, but obviously, the Rangers have better options.
I can't tell you a thing about Maxim Letunov, outside of what was in the press release.
At the end of the day, this is pretty much an AHLer for AHLer trade, where I don't envision any significant impact ever coming from it.
For those who may not be aware, while the NHL Trade Deadline has expired, teams can still make deals. However, any player acquired after the deadline can't appear on a team's postseason roster.
Needless to say – the Rangers wouldn't have been looking for Letunov in a month's time anyway. They have enough forward depth right now.
In any event, the best of luck to Rhiannon and Letunov.
And while on the topic of the AHL, let's check in with Hartford Wolfpack correspondent, Rich Murphy, with another edition of "The Other Side of the Glass."
---
"The Other Side of the Glass"
The Forwards
Ty Ronning – every Wolfpack game I've attended seems to have a "Scrappy Doo" type, the little cartoon character we all saw on Saturday mornings (well, at least I saw, as I date myself), who would go around causing terror yelling "PUPPY POWER!"
The 'Pack always seem to have a small stature player with a "PUPPY POWER" attitude which creates terror on opposing defenses. Whether it be PJ Stock (altho his "scrappiness" tended to be with his agitation of his fists, rather than his ability to score), Mike Healey, "My Cousin Vinni" Lettieri, and now recently, Ty Ronning, they all tend to be fan favorites who spark the line-up.
These players tend to be "tweeners" between the AHL and NHL. Of the names listed above, Healy had the most success in San Jose.
Ronning has not had the best of luck cracking into Wolfpack lineups until last season.
This season, with the Wolfpack possessing a plethora of right wingers, he started the season at left wing before settling into a top line RW position, especially now with Morgan Barron now in Winnipeg and Tim Gettinger (usually on LW) injured.
Lauri Pajuniemi, slated to be more talented and a better RW than Ronning, was then supplanted to second line.
Since his rookie season, the seventh round pick has found that he doesn't have to do it all to become a solid player. However, is he the right spark to keep the 'Pack in the playoff hunt?
Overall, I give him a grade of a B.
Ronning can be a spark, and he has shown that he can move the puck well against top checking lines too; but in order to make his line effective, he needs to find the next cross-ice pass like he did with Gettinger.
Ronning's contract is up this season. Will they give him another bridge? The jury is still out. I keep waiting for him to break-out beyond what his dad (Cliff) did. I've yet to see it, but I do like that he and his dad talk, and that he has a good mentality to stop being his own GM in his head. To me, he can be both a leader and a contributor if head coach Kris Knoblauch pushes him to.
End of the day – I think Ty wants to be the guy.
Alex Whelan – the Ramsey, NJ native, and Quinnipiac University alum pick-up too, fared well at rookie camp.
The unsigned pick-up, who bounced between ECHL (Maine) and Hartford two seasons prior; is now a steadfast staple in the Hartford lineup as a middle six forward.
He has improved, considering that he was a fourth line fixture earlier this season. Whelan has been good at both wing and center. He also does well on the PK.
In my opinion, I think he'll continue to be an AHL fill-in next season. Is he someone the Rangers will sign? No. Is he worth it for the 'Pack to keep him in their bottom 6? Yes.
I'd like to see him do more, but I'm unsure if he has the leadership to do so. Overall Grade: B-/C+.
I struggled with this grade. Do I grade him on a curve? He spent the first half of the season on the fourth line. He has the potential to be better on the third line, but I think he tops out at the AHL level – unless he shows us a gear we have yet to see. It's just hard to judge when using two COVID-impacted seasons as a sample size.
Mike O'Leary – he's listed as a left wing, but more times than not he centers the third line. He impressed many fans at rookie camp. Akin to Whelan, his tenure has only been during COVID time.
Both Whelan and O'Leary's goal scoring shining moments came as the taxi squad was in play and when the 'Pack was finally finding some stability with them in place. However, since then, both Mike and Alex tend to be searching if they are going to be around next season; rather than finishing this 2021-22 campaign.
Both men can be strong bottom six forwards if they focus on their roles on the team, rather than focusing on what will happen after the season. I know that's hard to do, but it's something they will have to do at their young ages.
To me, Alex has more potential than Mike to stay, but as it goes – I've been wrong before.
I'm giving a grade of a C+ for Mike. I'm still on the fence with Alex. They need to get back to the game, as there are still 14 games left.
Tanner Fritz – my feelings for Fritzy have not been hidden. I shuddered when the 'Pack first picked-up this journeyman.
Having previously played in Bridgeport (the Islanders AHL team), I hated that the only role he had was as an agitator – and not as a player. He was a bottom six forward in B'port. When the 'Pack first picked him up, I didn't understand the need.
He started the season much as I expected – half-assed and half-heartedly. He'd give up on plays and didn't seem engaged on the ice. As the unofficial center ice communicator in Hartford, this got my ire going.  Nothing like making $80k a year for skating around half-heartedly. After all- we already have Terry Koharski to ref that way.  We don't need players to be like him.
All of a sudden, Fritz started scoring. He soon became a solid top six forward. With Barron regularly being called up and then sent down often – we needed a player to step up. Fritz was that person.
In talking with bloggers and other season ticket holders we all joked that apparently my calling Fritz out was the fire that he needed. He ended-up as the second-best scorer on the team.
Then COVID hit.
Brodzinski was called up to the Rangers. In turn, Fritz needed to become the leader of the 'Pack – a role where struggles to be the leader AND play the game that he wants. Is he deserving of a two-year AHL extension with the 'Pack?  Yes, in spite of being the critic that I am – absolutely. However, is he the leader that Hartfordneeds? I'm not so sure.
During the next 14 games I hope that Fritzy finds that he can lead by example and let others lead in the locker room too. My grade for him is a B, only because of what he did and what I hope he does in the next fourteen games – to lead the top two lines by example, rather than trying to lead the team.
Abbott Girdukis – a SPC pick-up who has only played five games for the Pack. (He was a healthy scratch this past weekend). I like this winger. I think he has nice speed and grit as a middle six forward. I would like to see more from him than just his speed, but his ability to get into the corners could be good for the Pack. I give him a grade of a B minus.
Justin Richards – this center, along with Rueschhoff and Khodorenko, was part of the dynamic trio that were to start their ATO in March 2020 – then the AHL shut down.
Richards, supposedly the best of this triad – I just struggle with his small stature, especially with him being part of the top six. I feel this way because he seems to get bounced from the puck by opponents a lot.
In a way, he reminds me of "My Cousin Vinni," except unlike Vinni Lettieri, who after his injury was afraid to go in the corners – Richards doesn't mind going behind the net or to the corners. Like Girdukis, I give him a grade of a B minus.
Austin Rueschhoff started the season bouncing between center and wing on the fourth line. He has since progressed to the third line and as a result, has rewarded the 'Pack with six goals in four games during January.
Since the All-Star break, he has had issues regaining his pace, which to me, may mean that he's streaky.
Austin's 6'7″ frame is better than most lanky players. His puck-handling skills makes him ideal to quell foes like the best Ranger to ever clear waivers, you know – Dylan McIlrath.
(Of note, McIlrath was dormant on Saturday. In addition, you didn't even recognize that he was even on the ice either.)
My grade for Rueschhoff is a B. Let's hope that his six goals in four games were not a blip – but aspirations for greater things to come.
Tim Gettinger – a recent injury has kept him out of the lineup. The Wolfpack need him to be leader.
Similar to Ronning, I'm unsure if they will offer Gettinger a bridge deal. Unlike Ronning, he has seen play with the Rangers, so his chances look better than Ronning's. With that said, this also could've been a means to showcase Tim for trade value. I'm also pretty sure that Kravtsov, Gettinger, and Hajek were all waved in front of Winnipeg before the Jets settled on Barron.  Grade for Gettinger:  B.
I will be back later this week with a look at the defensemen.
RM.
---
On Tuesday morning, the Rangers, now in Pittsburgh, had an early pregame skate. The biggest news from the practice was that Ryan Strome was there – but not on the ice.
Strome, who was injured during the win against Buffalo, is currently traveling with the team during this two-day road-trip.
Following the practice, Gallant said that Strome was day-to-day and said there was a possibility that his second line centerman could suit up against Detroit.
With Strome unavailable, Gallant returned Reaves into his line-up, while promoting Hunt to the second line.
I thought this was a wise decision.
Obviously, Gallant wasn't going to mess around with his first line. I didn't think he should've messed around with his third line either, because after all, both Lafreniere and Chytil have been playing better (from a scoring perspective), ever since they were first teamed-up with Barclay Goodrow.
In other words – just like the first line, I wouldn't tinker with the third line. That's why I liked Gallant's decisions, a head coach who I have agreed with about 99.9% of the time this season!
(And had Gallant shaken it all up – I would've been fine with that too. Who am I to question Gallant the Great?)
Here was the Tuesday morning edition of "Turk Talk":
---
Away from the Strome update, Gallant said that Ryan Reaves would be returning to the line-up, where "The Grim Reaver" returned to his spot on the fourth line.
Gallant also said that he didn't expect any other changes, which meant that his defensive pairs were going to stay the same – which they did.
When I first heard this (and again, let me remind you that I never doubt Gallant); I thought maybe Justin Braun should have received a shot – only because of the fact that he's played the Penguins a bunch of times over the past few seasons.
I should also mention that I thought Braun should've played for Nemeth, and not for Schneider. In the end, no worries – Gallant, like a 1998 Brittney Spears – "did it again."
As far as anything else, Gallant confirmed what we all knew already – CZAR IGOR in net.
---
Here's what "The Turk" went with for this "Carl Hagelin Tribute Cup" game:
FIRST LINE: Kreider/Zibanejad/Vatrano
SECOND LINE: Panarin/Copp/Hunt
THIRD LINE: Lafreniere/Chytil/Goodrow
FOURTH LINE: Motte/Brodzinski/Reaves
Defensively, we had this:
FIRST D-PAIR: Lindgren/Fox
SECOND D-PAIR: Miller/Trouba
THIRD D-PAIR: Nemeth/Schneider
And in net, CZAR IGOR
---
BOX SCORE time.
The following information and graphics come from the new world-wide leader in NHL coverage, ESPN.com:
SCORING:
PENALTIES:
TEAM STATS:
GOALIES:
| | | | | | | | | | | |
| --- | --- | --- | --- | --- | --- | --- | --- | --- | --- | --- |
| SA | GA | SV | SV% | ESSV | PPSV | SHSV | SOSA | SOS | TOI | PIM |
| 26 | 3 | 23 | .885 | 19 | 2 | 2 | 0 | 0 | 57:25 | 0 |
| | | | | | | | | | | |
| --- | --- | --- | --- | --- | --- | --- | --- | --- | --- | --- |
| SA | GA | SV | SV% | ESSV | PPSV | SHSV | SOSA | SOS | TOI | PIM |
| 24 | 2 | 22 | .917 | 19 | 0 | 3 | 0 | 0 | 60:00 | 0 |
THREE STARS:
---
Tonight's M$GN broadcast was a "Garden of Dreams" fundraiser.
In other words, and as I always do whenever these charity drives are taking place – no Valiquette jokes tonight.
I won't give you my spiel here, but while I often use Vagistat for comedic effect on these blogs – at the end of the day, he is a good guy. It's just his never-ending self-serving analytics that irritate me like a rash on my five-hole.
That said, I'll get this out of the way and then move on:
I won't do my "Greatest Hits" here, and repeat what I've written in the past – but yeah, while I don't care if I win anything during my bi-annual $100 donation to the Garden of Dreams; I did win a signed Mats Zuccarello stick about 7-8 seasons ago. In fact, it's located about two feet away from where I write these manifestos!
Going into the game, I said on social media that if the Rangers won and/or CZAR IGOR recorded a shut-out, I'd make another $100 donation, especially since I bet on both of those things to happen. A tribute to the Garden of Dreams, on behalf of the "gambling gods," was one that I was willing to make!
Unlike my buddy/fellow blogger Derek "NO FLEX," who welches on his bets (he promised yours truly, and several of my buddies, that he'd eat a shoe if CZAR IGOR posted a 4-0 shutout against Columbus; Igor did just that and all of us are still waiting for "NO FLEX" to take a chunk out of a Reebok Pump parmesan sandwich); I don't welch:
I share my donation with you, not to brag or to look for an "Atta boy," but only to say this:
If anyone from the Rangers and/or the Garden of Dreams is reading this (and I know several employees who do) – should my name be drawn from the hat – PLEASE DON'T GIVE ME THE STEVE VALIQUETTE SIGNED "VAGISTICK!"
I'm not asking for anything, but should I be so lucky to win; there's only one prize I want – a signed puck from Joe Micheletti, with the inscription of "FABULOUS" on it. I'd even settle for a signed puck from Sam Rosen, with the phrase, "IT'S A SAVE, OH WAIT, THAT PUCK WENT IN JOE" on it.
Back to the broadcast.
---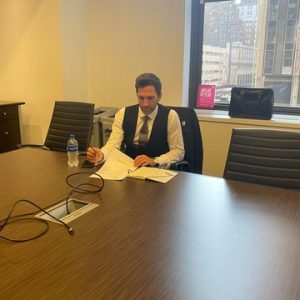 Most of the pregame show (and broadcast too) was centered around the Garden of Dreams fundraiser, which most certainly was better than watching that "spotlight" isolation camera from the Rangers/Sabres game.
What I really enjoyed, is that during this charity drive, and all of them in general – none of it ever comes off as phony or fake.
At one point, after M$GN rolled out a video package of some of the people who Lundqvist has helped over the years; the man with his #30 in the rafters of M$G looked more choked up than he was during his own jersey retirement night.
Similar to the recently deceased Rod Gilbert, and Adam Graves after him – Lundqvist is following in the footsteps of these two Ranger legends.
There was also a video package on Chris Kreider. Just like Adam Graves, who downplays what he does and never looks for attention (that's not to say that Gilbert did or Lundqvist does, it's just to say that Graves does a ton and 99% of it is never publicized) – Kreider doesn't want his work publicized either. He does a lot of charity work and most of it is held under wraps.
If there was anyone who I thought should've made big donation tonight, it was JB Smoove. After all, his face only appears on this network about 23 hours a day, and 24 hours on a non-game night. I'm sure he's made a ton of cash off of the M$GN and those never-ending Caesers ads.
(By the end of the night, M$GN and the Rangers were closing-in on $150K in donations.)
Following the pregame show, we went to Sam and Joe in-arena, where we were subjected to the Penguins honoring Ben Roethlisberger.
Not mentioned by anyone on the broadcast? The irony that the Penguins were honoring an alleged rapist during "Women's Empowerment Month."
"OH JOE, WOMEN'S EMPOWERMENT MONTH JOE! THERE IS EXTRA SECURITY NEAR THE WOMEN'S BATHROOMS WITH #7 IN THE HOUSE JOE!"
I think I made my point. Let's get into the GAME REVIEW.
---
For the third time this season, we saw CZAR IGOR and Tristan Jarry in the nets, where by the end of it, #31 in white was declared the victor.
Crybaby Cindy took the first draw of the game, and cleanly at that, against Mika Zibanejad. Just like the last few games – this faceoff win for the opponent would be one of the biggest highlights for the Rangers' opponent during the first period.
Fifty seconds in, Jacob Trouba, who played this game like his life depended on it, as he was a man on a mission on this night; recorded the first shot on goal. He'd soon record three of the first four Ranger SOG in this contest. He'd later tie Motte for most hits, with four in total. And as we'll soon get into, if there was ever a thing called a "tertiary assist," Trouba would've had two of them too.
Filip Chytil and K'Andre Miller, who both have been playing their best hockey of the season as of late, where in the case of #72, the trade deadline most certainly helped him out (Lafreniere and Goodrow on his line); each made a stellar defensive play, where on both plays, these men negated a Penguins scoring threat – including #79 rubbing out a Pens' two vs one odd-man rush.
Artemi Panarin, with his new center Andrew Copp (for at least this game); almost found #18 for an early goal, but Mike "Don't call me Carrie" Matheson broke it up.
Five minutes in, Trouba had his third shot on goal of the game, where Jarry made the save on this thunderous shot. One of these days, Trouba should enter the NHL All-Star "Hardest Shot" competition, because I don't think anyone has a harder shot than him on the team today.
In a period where the Penguins would ice the puck NINE times during these twenty minutes (tenth one must've been free); the black-and-mellow-yellow attack, on their heels for most of the period, first started icing the puck at a tremendous rate with eight minutes down.
This strategy somewhat worked out, as the Rangers had trouble at the dot. In turn, the Penguins, who couldn't keep up with the Rangers, just kept icing the puck, without fear of retribution and/or losing a d-zone faceoff.
The Penguins soon went on a seven minute stretch without a SOG, as the Rangers controlled possession of the puck. And when the Penguins had the puck, they had trouble maintaining it, including during a play where "Rakell Rakell The Musical" turned over the puck after a sloppy attempt of a pass to Kris Letang.
At around the half-way mark of the period, Jarry struggled on a shot from Copp, but the Penguins goaltender was able to make the stop.
Right after, Danton "Hiney" Heinen streaked towards Igor with 9:50 to go. What originally looked like a FABULOUS save at the time for the '22 Vezina winner; upon replay, was later revealed as a puck that hit the bottom of the post. But hey, Igor is so good that he forced Mr. Hiney to crack and to go wide!
With 8:33 to go, Jarry made his best save of the game, when he stopped Vatrano from three feet away, following a perfect pass from Zibanejad. At the time, the SOG stat read as 8-1, and in favor of the visitors.
A few seconds later, Igor made his best save of the period, where he stopped Rust on a breakaway.
As Trouba wouldn't allow the Penguins to march towards Igor, as #8 was on these bums like white-on-rice; the new Rangers' third line came within a second away of having an odd-man rush.
In another one of those fluke plays that has prevented CZAR IGOR from racking up the shutouts; with 5:36 to go, "OLD FRIEND JOE" Brian Boyle scored the first goal of the game on the screened goaltender, following a perfectly-timed deflection, after a shot off of the blade of Brian Dumoulin.
1-0 bad guys.
This was truly unfortunate, because prior to this puck-luck goal; the Rangers had been dominating the game.
The Rangers, as we've seen so many times before, didn't let this derail them.
With 3:20 to go, Trouba almost tied it, after sending a scorcher off of the post. The puck hit the post so loud that even Sam Rosen heard it.
As we got to the end of the period, and after the Penguins iced the puck for the ninth time – we remained 1-0, bad guys.
Despite the score (and yep, the only thing that matters), this was a good road period for the Rangers. They'd have an even better one during the next period.
---
For your consideration, in stats compiled prior to tonight's game:
Julien Gauthier, 46 games played, 473 minutes, 3 goals and a shooting percentage of 4.7%.
Frank Vatrano, 6 games played, 94 minutes, 4 goals and a shooting percentage of 28.6%.
All of Vatrano's numbers would increase after this game.
Just sayin'.
---
Zibanejad beat Crosby at the dot to begin the second period, where the Penguins looked a bit better than how they looked during the first period.
Forty seconds in, Lindgren broke up a Penguins chance. Once the d-pairs changed, Trouba then blocked a Kapanen backhander – the toughest shot for a goalie to stop.
After promoting those EXCLUSIVE and LIMITED Henrik Lundqvist bobbleheads, where I feel that the M$GN will be promoting them forever, including when Lundqvist becomes a grandfather; the Penguins continued to ice the puck repeatedly.
During this time (the first six minutes of the period), Jarry stopped Mika, Kreider and Panarin.
Around the seven minute mark, the Penguins had their best shift of the game, where they spent nearly a minute in the Rangers zone. Following a Trouba hit on "Rakell Rakell The Musical: One Man's Journey from Anaheim to Pittsburgh;" Miller finally thwarted the threat with one of his patented alley-oop puck lifts.
With 11:35 remaining, Fox found Lafreniere wide-open, but the first overall pick of the 2020 NHL Draft heartily ripped a shot wide. Of note, Lafreniere's point streak of six consecutive games was snapped tonight. He'll start a new one tomorrow!
As we hit 10:15 to go, the Penguins only had one shot on goal, as the Rangers defense wasn't giving up much. However, it was also at this time where Lindgren was nailed for a holding call on Jake Guentzel – a legit, as opposed to a phantom call, penalty.
The Rangers penalty kill proved to be superior once again, following clears from the law firm of Trouba, Copp and Motte.
Igor would also make two saves to end the Penguins man-advantage. Once the PK concluded, Schneider, who had a tremendous outing himself, so tremendous that it's going to be tough for Gallant to spell him for Braun; broke up a Rodrigues breakaway.
With 6:28 to go, this happened:
Frank is on 🔥🔥🔥 pic.twitter.com/dCW66VfAdO

— Rangers on MSG (@RangersMSGN) March 30, 2022
---
1-1, as Vatrano tied the game after a picture-perfect backhanded feed from #93.
While this reads in the box score as a pure first line goal, as Kreider was credited with a secondary assist; both the third line and Trouba deserved credit too.
Prior to the goal, the third line had a long attack in the Pens' zone, so long, that they were able to change during it for the first line. While this was going on, Trouba made a hit and then fought for a puck, which kept the pressure in-tact and the puck pinned in the zone.
Once the first line got on, they capitalized on a tired-out Pens' defense, and Vatrano, who has been lighting lamps since he first got here, did so again.
Team-wide goal!
---
As we hit five minutes remaining, the SOG were 16-10, in favor of the Rangers; as the home-team were stifled.
My prayers to the hockey gods seemed like they were answered – Pittsburgh blew their load against the Red Wings (11-2 final) and couldn't carry that momentum over in this game; a game where I forgot to mention earlier that Malkin was playing in. (Malkin didn't play in the 5-1 Rangers' drubbing of Pittsburgh from this past Friday night.)
With 3:50 to go, CZAR IGOR made a home-run pass to Kreider, a CK20 who was at the Pens' blue line. While Kreider learned from the mistake he made against the Devils during the last game when New York and Pittsburgh went head-to-head; he made that same mistake tonight.
Rather than shooting the puck while wide-open, he was unselfish and tried to set-up Mika. The end result? No SOG.
As said last Tuesday – I get it. These guys are already paid. It's easier to be unselfish when you're not stat-chasing during a contract year. And with the way the first line has been playing, to waste time going on-and-on about one of these unselfish plays is foolish. It happens. In the end – the good easily outweighs the bad.
As the period started to wind down, a period that was mostly all Rangers; with 2:56 to go, this happened:
What a pass! What a goal!!

Schneider finds the back of the net pic.twitter.com/txto6Ky4UD

— Rangers on MSG (@RangersMSGN) March 30, 2022
---
2-1, GOOD GUYS, as "The Breadman" found "B-Schneids" for the go-ahead goal.
What a rip for #45, a Braden Schneider, who as mentioned in the past, looks like he's been playing at the NHL level for years. Need I remind you – he's only twenty years old.
And while Schneider has been great before, this was arguably his best game of the season. Yeah, the goal was most certainly nice, but he was immaculate defensively too.
Just as good? Another assist for Andrew Copp. Oh baby!
Also just as good? Trouba kicked this scoring play off, as he forced a turnover on Hiney Heinen, got the puck to Copp, and bada-bing-bada-boom, Schneider was starring in the room!
A minute after the goal, Crosby had a chance to tie it, but he whiffed on a one-timer so bad, so bad that a few hats in the first few rows went flying into the Mario Lemieux banner that hangs from the ceiling.
As a restless Pittsburgh crowd expressed their frustration with their home team; with seconds to go, Igor stopped Teddy Blueger.
At the end of the period, there was a scrum/altercation between Lindgren, Guentzel and Matheson. Instead of off-setting penalties, the Rangers got a break here when the officials determined that all three men needed a two-minute stay in the sin bin to open up the third period. This would work out for the Rangers.
2-1, GOOD GUYS, after forty. All that was left to do was close out!
---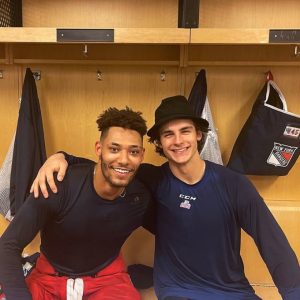 The Rangers kicked off the final frame on a power-play. 26 seconds in, Jarry stopped Mika from the office. About thirty seconds later, the Rangers went offside.
Rather than going to his PP2 unit, Gallant, as he's done so many times before, went into "ride or die" mode with his PP1 unit, where at the end of it, it was Kreids registering another power-play goal, where the now newly minted "CK45" leads the league in the PPG department (23).
Here's Kreider scoring the insurance goal:
KREIDER!! PPG!!! pic.twitter.com/iQtS1uxxt7

— Rangers on MSG (@RangersMSGN) March 30, 2022
---
3-1, GOOD GUYS, just 66 seconds (hi Mario!) into the third period.
This all started with Copp dominating a faceoff, which then led to Fox and Panarin assisting on Kreider's clean-up-in-front-of-the-net PPG. In other words, this goal doesn't happen without "RoboCopp!"
The Rangers kept motoring after this goal, but at the 5:02 mark, Goodrow was caught blatantly tripping Rust at the boards to the right of CZAR IGOR.
This was no matter for the Rangers, as the penalty kill proved true yet again. This also meant that the Rangers were now 3-3 on special teams, for a success rate of a nice 100%.
Following the kill, with 10:50 to go, Jarry made a big save on Reaves, a save that kept the Penguins alive. This save was big at the time, and only grew bigger with 9:56 to go, when Copp tripped Chad Ruhwedel.
On this trip, an accidental one at that, Ruhwedel was sent violently into the boards. This looked bad, but it seems like Ruhwedel is okay. Following the penalty, Copp immediately apologized to Ruhwedel, in a good act of sportsmanship.
Just seconds into the Penguins power-play, Crosby ripped a shot past a screened CZAR IGOR. 3-2, good guys, and with 9:23 remaining.
With 8:08 to go, the Rangers got a break when Carrie Matheson hit iron.
The Penguins, out for the equalizer, came close, but Fox made a pair of defensive plays, Chytil forced a turnover and Mika got a few pucks out of the zone.
The final 2:32 of this game were a chain-smoking, fingernail biting, ass-clenching and a white knuckle affair. At one point, I forgot to breathe. I still feel light-headed as I write these words.
As the scoreboard read 3-2, and following a Rangers icing; Pens' bench boss Mike Sullivan pulled Jarry. Up next was pure chaos.
The Rangers had what felt like 786786896787888967896789689 chances to put this game away with an empty net goal (in reality, there were "only" four extremely great chances), but the ENG never came. Instead, this happened:
— Malkin prevented a Kreider empty-netter
— Kreider hit a post
— Mika missed an empty net
— Goodrow hit a post when wide-open
During all of this, CZAR IGOR was stopping everything, including two shots from Guentzel, with the second save taking place with 4.5 seconds remaining in regulation.
Following a Pens' timeout, the black-and-yellow won a faceoff in the Rangers' zone, and as the triple zeroes were set to flash on the scoreboard, the Penguins sent a puck about a foot wide of a screened CZAR IGOR.
Whew.
3-2, GOOD GUYS, your final!
---
You know what I appreciated about this game, and really, these past few games ever since the deadline? This:
It's not just the CZAR IGOR show anymore.
Listen, no one is a bigger fan of CZAR IGOR than me, and I don't think I have to whip out my resume about this for the 7867896786689678th time on this site; but it's great to see the Rangers, as a team, pick up these wins – rather than relying on Igor to make 789678686789678967896 saves per game.
Recently, every game, there's a new player and/or hero to spotlight.
Just look at all of my silly photoshops from this season. More times than not, CZAR IGOR is featured. That hasn't been the case lately, which is not me being detrimental of him – it's me being able to showcase others, who like Igor, are doing the heavy lifting.
For team that has high hopes come the playoffs – the Rangers are clicking better than they ever have.
Forget the loss to the Devils.
In a span of under two weeks, the Rangers have beat the Penguins twice, knocked off the two-time Cup champs (Tampa), and shut-out first-place Carolina with their back-up goalie.
So much for the "THEY CAN'T BEAT ANYONE GOOD" bullshit.
That said, the Rangers have had issues with bottom-feeders, an issue they'll look to rectify in Detroit on Wednesday night.
LGR!
PLUGS time!
---
On Monday night, "The Blueshirt Underground Show" returned with a new episode. To watch it, click the play button below:
---
On Tuesday night, following this Rangers victory, "2 Guys, 1 Cup" returned with a new episode, including with a review of this game. To listen, click the link below:
Shawn and Roc are back with a post game reaction to the Rangers 3-2 victory over the Penguins. Chris Drury trade deadline report card, what happens to Kaapo Kakko when he is healthy enough to play, some Alexei Cherepanov thoughts #NYR https://t.co/CSF4LXzNO0

— 2 Guys 1 Cup Podcast (@2G1CRangers) March 30, 2022
---
My first plug of tonight's blog – the mandatory plug for my book, "The New York Rangers Rink of Honor and the Rafters of Madison Square Garden".
As mentioned previously, the book is now available in hardcover, in paperback and in Kindle formats. To purchase a copy of the book, visit this link:
https://www.amazon.com/Rangers-Rafters-Madison-Square-Garden-ebook/dp/B09CM5N2WD
For those still looking for signed paperback versions of the book, I have re-ordered more copies. I now have a few signed copies for sale at $25 a pop (includes shipping price) through me directly. Here is all the information on that:
---
Here are my last few blogs, in case you missed them:
---
---
---
If you haven't already, subscribe to this blog for the next update:
---
Up next: the Rangers travel to Detroit for an Original Six tilt. Of note: this game airs on the TNT Network.
Also of note: good luck to reader Brenda, as she's going for back surgery on Wednesday morning. Enjoy your octopus gown!
As always here, thanks for reading and…
LET'S GO RANGERS!
Sean McCaffrey
BULLSMC@aol.com