Greetings and salutations everyone and welcome to another blog here on BlueCollarBlueShirts.com. The Find-A-Way Rangers do it again. Ya gotta love it!
In a game where goaltender Alexandar Georgiev was at his worst; on Wednesday night, on national television (TNT), the Rangers once again found a way to pull it out, and in turn, defeated the Detroit Red Wings in overtime, by a final score of 5-4.
For the Rangers, this win over Steve Yzerman's team was huge.
Sure, the Blueshirts' original six rival are suffering through some tough times right now. However, a loss to the spoked wheel would've been even tougher. Without a shadow of a doubt, it would've been a hard pill to swallow had the Rangers given up two points in the standings to this down-and-out Detroit Red Wings team.
Before getting into everything, let's a take a look at what this win and two points in the standings meant:
— The Rangers swept their final back-to-back road-trip of the season, as a result of their win over Pittsburgh on Tuesday and with this win over the Wings on Wednesday.
— This victory was the Rangers' 24th comeback win of the season, as the team extended their single-season franchise record for most comeback wins on this night. Who knows how many more of these types of wins will come? In my eyes, I don't think this team will finish with "only" 24 comeback wins. More are on the way!
— The second-place Blueshirts, now with a record of 44-19-5, which is good for total of 93 points; are not only three points ahead of the ninety-point third-place Pittsburgh Penguins (40-18-10); but they now trail the first-place Carolina Hurricanes (44-15-8) by only three points too.
Two regular season games between the Canes and Rangers remain, where these pair of games will both be held at M$G, which in other words – means that the Rangers control their own fate for first-place.
— The Rangers now have fourteen games remaining on the schedule. Ten of them will be played at M$G.
The four road-games left on the schedule will be played in locations where Ranger fans travel well, including in New Jersey, Philadelphia, Belmont and in Boston. Of these four locales; the games in Jersey and Long Island will be played in front of predominately pro-Ranger crowds. In other words, in a way, you can say that the Rangers have twelve home games remaining!
— As talked about last night; while these 2021-22 Rangers may not win the Presidents' Trophy like the 2014-15 team once did – Gallant's Gang could easily surpass the single-season franchise records that the 2014-15 roster set, in both the wins and points categories.
In addition to what I said last night – this is all not too shabby for both Chris Drury and Gerard Gallant; you know, the two guys who have been accused of "NOT KNOWING WHAT THEY ARE DOING," by the analytical assholes who claim that they support this team.
---
Tonight's blog will be shorter than usual, as I watched this game at the bar, rather than watching it at home like I usually do.
As you may know already, when I watch these games at home, I use Twitter as my "live notebook," and then refer to my social media feed when writing these manifestos. That's how I keep track of every second of every game played!
Rather than blowing farts into my couch when watching a Rangers game at home; instead, I went to the bar with my "old man," where we were delighted when the eldest Ranger on the team, Ryan Reaves, opened up the scoring just three minutes and change into the first period. However, the Rangers lead would be short-lived; but by the end of it, Andrew Copp, who I talked about extensively last night, would put the Wings away for good in overtime.
If I had one immediate takeaway following this 5-4 overtime win, it's something that I've said all season – "THEY NEVER GIVE UP."
Despite Alexandar Georgiev looking like a beer-league goalie on this night, a beer-league goalie who perhaps was extremely intoxicated (somewhat similar to myself as I write these words, and "PARDON ME JOE" for any typos and grammatical errors as a result of that fact); the Rangers didn't let that bother them.
On a night where you could've blamed the schedule, the back-up goalie, the fact that this team rises up against good teams and struggles against inferior competition – the Rangers tossed all of that out of the window, and once again, found a new way to win.
When the Rangers last played an overtime game (against Buffalo on Sunday), K'Andre Miller was the hero. As stated last blog, it's not just "The CZAR IGOR Show" anymore, as new heroes emerge game-by-game.
And wouldn't you know it, tonight's hero was one of the newest Rangers; as it was Andrew Copp who detained the Wings from a win on this night.
---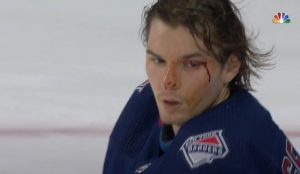 Due to time constraints, Rich Murphy's report on the Hartford Wolfpack defensemen will appear on this site on Friday night, rather than tonight.
When it comes to the latest news that hasn't been covered on this site prior to tonight's game; there wasn't much. After all, the Rangers had just played 24 hours prior, when they defeated the Penguins 3-2 on Tuesday.
The Rangers didn't practice on Wednesday morning. However, come 5:30PM (two hours prior to puck drop), head coach Gerard Gallant met with the media.
During his latest edition of "Turk Talk," the head coach said that Ryan Strome wouldn't be able to return to the line-up as he had originally hoped. However, the head coach relayed that Greg McKegg was going to return to the line-up, while Jonny "HOCKEY" Brodzinksi was going to have the night off.
Gallant, who also confirmed that Alexandar Georgiev was going to start this game (and as expected); also said that his defensive pairings weren't going to change. And really, unless you were going to give Justin Braun a twirl on the left side of the defense (in favor of Patrik Nemeth) – there was no reason to shake-up the defensive pairings at all.
---
Here's what "The Turk" went with for this "Brendan Shanahan Tribute Cup" game:
FIRST LINE: Kreider/Zibanejad/Vatrano
SECOND LINE: Panarin/Copp/Hunt
THIRD LINE: Lafreniere/Chytil/Goodrow
FOURTH LINE: Motte/McKegg/Reaves
Defensively, we had this:
FIRST D-PAIR: Lindgren/Fox
SECOND D-PAIR: Miller/Trouba
THIRD D-PAIR: Nemeth/Schneider
And in net, Alexandar Georgiev
---
BOX SCORE time.
The following information and graphics come from the new world-wide leader in NHL coverage, ESPN.com:
SCORING:
PENALTIES:
TEAM STATS:
GOALIES:
| | | | | | | | | | | |
| --- | --- | --- | --- | --- | --- | --- | --- | --- | --- | --- |
| SA | GA | SV | SV% | ESSV | PPSV | SHSV | SOSA | SOS | TOI | PIM |
| 34 | 5 | 29 | .853 | 25 | 1 | 3 | 0 | 0 | 61:34 | 0 |
| | | | | | | | | | | |
| --- | --- | --- | --- | --- | --- | --- | --- | --- | --- | --- |
| SA | GA | SV | SV% | ESSV | PPSV | SHSV | SOSA | SOS | TOI | PIM |
| 26 | 4 | 22 | .846 | 17 | 1 | 4 | 0 | 0 | 61:34 | 0 |
THREE STARS:
---
With tonight's game being on TNT, there wasn't much of a pregame show tonight.
Since I was poppin' and beltin' tonight, I wasn't paying much attention to the broadcast. However, based on the messages that I received from you guys, I heard that the TNT analysts, specifically Paul Bissonnette, downplayed the Rangers success from this season, even going as far to say that the team is basically all CZAR IGOR – and not much else.
Of course, if you read last night's blog, then you'd know that Bissonette's opinions couldn't have been much further from the truth – even had he tried. To think that the Rangers are just a one-man team is the opinion of a fool.
I won't repeat everything that I wrote last night; but yeah, while CZAR IGOR should win the Vezina – during the past few weeks, it's been a team-wide complete effort, where it's not just #31 doing all of the heavy lifting anymore.
Whether you want to talk about the first line, the new third line, Copp, the defensemen, Gallant, Drury or anyone else; either way, it's not just "The CZAR IGOR Show" night-in and night-out. Everyone is contributing these days.
Wow, can you believe that we're at the GAME REVIEW segment already. I told you this would be a short one! <Hiccup!>
---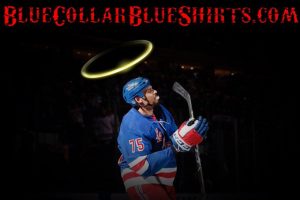 As they have done a lot of lately, the Rangers dictated the pace from the opening face-off.
At the 3:23 mark of the period, and following a great play from Tyler Motte; "THE GRIM REAVER" stuck with a play and was soon rewarded:
THE BIG FELLA RYAN REAVES 🚨 pic.twitter.com/gl8bC3O5eX

— NHLonTNT (@NHL_On_TNT) March 30, 2022
---
1-0, GOOD GUYS, as #75, perhaps an unlikely scorer, struck first. On this goal, Motte kept the puck in the zone, and Reaves, after an initial try, scored on his second shot attempt.
Funny enough, all three of Reaves' goals from this season have taken place on the TNT airwaves. Let's hope that TNT airs the Rangers' playoff games in just a month's time!
The good vibes wouldn't last long.
Despite the Rangers taking a quick 1-0 lead, and preventing the Wings from a SOG within the first six minutes of play; the Wings would soon score three goals on three consecutive shots.
The first three goals that Detroit scored were on Georgiev himself – a BULGARIAN BEAST, who after the game, admitted that he was bailed out by his teammates.
And if you forget about everything else, and just think about Georgiev's performance against Carolina – then you can say that his teammates owed him one. Of course, that's only if you ignore everything else from this season! (Silver lining!)
---
At the 9:59 mark of the period, Michael Rasmussen tied the game, in perhaps one of the softest goals that Georgiev has allowed all season. There's no way to sugar-coat this one – this was a bad goal for Georgiev to give up, as he got a piece of it and the puck then went through his five-hole.
1-1.
I know that many others throughout the streets of Rangerstown, USA are trashing Georgiev right now; but at the same time – #40 knew he screwed up here. I'm not going to waste my time kicking a guy when he's down. He knows he loused this game up and I don't have to pile on here.
Let's talk about something positive instead. (And no, I'm not talking about the unvaccinated Tyler Bertuzzi!)
Around this point in the game, K'Andre Miller and Jacob Trouba, perhaps a bit better than the Fox/Lindgren pairing as of late (a good problem to have); were extremely noticeable. They were hitting everything.
By the end of the game, #8 and #79 finished with four hits each – tops on the team on this night.
Even better, Trouba, who has been playing well long before his friends came to town, and who has only been better since; also led the team in blocked shots, with three in all. Only Braden "Justin Braun who?" Schneider matched Trouba's three blocked shots on this night.
As the period progressed, Adam Fox was tripped twice. No call on either occasion.
However, with 4:34 to go, what was called was a Copp trip on Lucas Raymond. This was a legit penalty, but so were the two trips that the Wings committed on Fox.
The Rangers penalty kill, which has had issues lately; started off strong. Chris Kreider stood tall amongst all.
However, with just three seconds remaining on the penalty kill, Jakub Vrana ripped a puck past Georgiev.
2-1, bad guys.
Yes, this was a Rangers' penalty kill, but even so, Georgiev should've had this one. This wasn't a screened shot, a deflection or a tipped shot – this was just Georgiev being beat, and being beat badly at that.
Leave it to Gallant's new third line to tie it up.
Just eleven seconds after Vrana's goal, the Rangers had an o-zone face-off, which was the result of a Wings' icing. In turn, it was Filip Chytil who tied the game with only 2:26 remaining in the first frame:
---
2-2, as #72 found the equalizer.
On this goal, it was a shame that Alexis Lafreniere didn't get an assist.
On the face-off, Chytil was kicked out of the circle. Lafreniere came in, won a draw, and after Braden Schneider fed the puck to his partner Patrik Nemeth; "Finding Nemo" found Chytil for the deflection/redirect!
While Schneider extended his scoring streak, and while Nemeth got the primary assist here too; don't get it twisted – this play doesn't happen without a #13 o-zone faceoff win.
And as I've been saying ever since Gallant shuffled his lines (Vatrano on the first line, Lafreniere on the third); once again, both of the odd-numbered lines were fantastic tonight. Hell, all four lines were great! It was just the goaltender who looked a tad "pooish" tonight.
With just six seconds remaining in the period, McKegg tripped Pius Suter. I didn't know about this call, but then again – I am a homer.
2-2 after twenty, where once again, the Rangers were the better team – but the scoreboard didn't necessarily reflect that fact.
---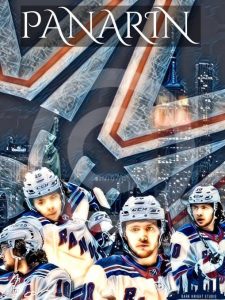 The Red Wings, who started off the middle frame on the power-play; didn't waste much time.
Just 29 seconds into the period, Tyler Bertuzzi put a slap shot past Georgiev.
3-2, bad guys.
It should be noted, while I thought all three of these goals on three consecutive shots were kind of crappy for Georgiev to give up; at the same time, two of the three allowed were when the Rangers were short-handed.
And yep, you can give me all of the "CZAR IGOR WOULD'VE STOPPED THESE THREE SHOTS" stuff, and you'd be right too; but Igor isn't going to play every game.
To waste my time reiterating and repeating my previous points regarding Georgiev vs Igor is a fruitless task. By now, you should all know the deal already. And if you don't, I'll simplify – Georgiev isn't Igor. Case closed.
Following the goal, Panarin would have a chance in front of Wings' netminder Alexander Nedeljkovic, but he spent too much time fooling around, and as a result, turned over the puck.
Defensively, Schneider broke up a scoring chance, while the Miller and Trouba pairing brought the funk and noise after a few hits.
After Motte's helmet was ripped off (no call), Gallant mixed and matched his lines, where Panarin joined Vatrano and Mika. It paid off:
The Breadman delivers 🚨 pic.twitter.com/2SVZ9LWT3Q

— NHLonTNT (@NHL_On_TNT) March 31, 2022
---
3-3, as Panarin beat Nedeljkovic on a one-timer with 7:45 remaining.
Of note, Panarin, who doesn't like to show off his mastery of the English language during media interviews; immediately shouted out to Vatrano, a #77 who fed the bread on this goal, "NICE PASS!"
Needing time to gel? Needing time to create chemistry? Piss on that, as all Vatrano has done is stepped right up. The same goes for Copp. The same also goes for Motte.
With 2:22 to go, Lafreniere drew Gustav Lindstrom for a hooking call. While the 2020 first-overall pick may have not recorded a point tonight; once again, he was great.
The Rangers power-play had a few chances here, but Zibanejad missed on one shot and Panarin mishandled another.
Come the end of the period, we remained at three goals a piece.
Ever the optimist, and a subscriber of being "glass half-full;" even with Georgiev in net, there was no doubt in my mind – the Rangers were winning this game. It just took a little bit longer than I would've imagined!
---
Once again, questionable officiating, especially in regards to what is and what isn't goaltending interference, reared in its ugly head in this game.
Over five minutes into the period, Pius Suter (I may be wrong on the name, as I'm writing this off of the top of my head, rather than looking at notes), collided into Georgiev. Georgiev denied the puck from crossing the goal line. Also denied, the Rangers from receiving a power-play, as this was a clear-as-day interference call.
With the refs pocketing the whistle; following Georgiev's freeze, the Wings' had a face-off in the Rangers' d-zone.
Mika immediately lost the draw, and seconds afterwards, "OLD FRIEND" Marc Staal put a shot on net, Adam Erne grabbed the rebound and it was now 4-3, bad guys, at the 5:56 mark of the period.
Of the four goals allowed by Georgiev tonight, this was the one that you couldn't blame him on, as a piece of the puck caught Adam Fox along the way. Georgiev was also screened at the time.
However, this Detroit go-ahead goal all goes back to the refs not calling a goaltender's interference penalty, and the Rangers were then burnt on the d-zone draw following the no call.
Down 4-3 with fourteen minutes and change to go, the team, as usual, didn't give up.
With 9:34 to go, Lafreniere was boxed for tripping Marc Staal. Of course, the officials called a tripping penalty as the slowest skater on the ice went down, but not a peep after Georgiev ate a collision.
In a case of "puck doesn't lie;" the Rangers killed this penalty off.
With 4:13 to go, the Rangers got a chance to tie the game, as Gustav Lindstrom high-sticked Hunt in the mush. Hunt should've bladed like a pro-wrestler here for the extra two minutes, but the Rangers would soon make the most of their two minute man-advantage.
With just 3:38 remaining, and as if you were wondering if Gallant should've pulled Georgiev for the extra attacker to go 6 vs 4; Kreider made all of that a moot point:
---
4-4, following Kreider's 24th PPG of the season.
CK46 has now tied Jaromir Jagr's single-season franchise record for most PPG's in a season. Up next is the big one – 54 goals during the regular season. Kreider's now eight away from tying that single-season record, and nine away from breaking it.
And yep – I really hope that Kreider breaks Jagr's records.
Not only would that mean more success for the Rangers; but selfishly, I'd rather see a career-Ranger hold these records than #68. (And don't get it twisted – I'm a Jagr fan, but I'd never consider him a career-Ranger. He'll always be a Penguin to me.)
As we got to the end of the period, we remained 4-4.
At the time, I remarked to dear old dad that I was happy with the point, especially with Georgiev's rough night in net. All I cared about was increasing the edge over Pittsburgh and decreasing Carolina's lead.
My dad's response: "they'll get two."
My response a few minutes later? "Father Knows Best!"
---
Come the overtime, the Wings won the opening face-off and soon tested Georgiev. The Bulgarian, when it mattered the most, did his job.
Following a Mika chance that came so close, Gallant rotated his trio and it paid off just 94 seconds (there's that number again…) into the overtime:
NEW KID ON THE BLOCK 🚨

Andrew Copp in overtime for the @NYRangers! pic.twitter.com/t91rrgAHhn

— NHLonTNT (@NHL_On_TNT) March 31, 2022
---
5-4, GOOD GUYS!
5-4, FINAL, as Andrew Copp buried a puck after receiving a phenomenal pass from Panarin!
All they do is win!
And oh yeah – Georgiev owes Copp (and really, everyone else too) a steak dinner after this one!
---
For the Rangers, who entered this game coming off of a big win; followed-up that 3-2 win over Pittsburgh with a hard-working "business-man" effort tonight. It paid off, and the Rangers short work-trip ends with the team notching all four points available.
As stated last night – this is the hottest that the team has ever been.
Everything is clicking. All you can do is hope that this momentum keeps on rolling straight into the playoffs.
I know this was a short recap tonight. My regular style of reviews will return on Friday, when the Rangers host the filth known as the Islanders.
LGR!
PLUGS time!
---
My first plug of tonight's blog – the mandatory plug for my book, "The New York Rangers Rink of Honor and the Rafters of Madison Square Garden".
As mentioned previously, the book is now available in hardcover, in paperback and in Kindle formats. To purchase a copy of the book, visit this link:
https://www.amazon.com/Rangers-Rafters-Madison-Square-Garden-ebook/dp/B09CM5N2WD
For those still looking for signed paperback versions of the book, I have re-ordered more copies. I now have a few signed copies for sale at $25 a pop (includes shipping price) through me directly. Here is all the information on that:
---
Here are my last few blogs, in case you missed them:
---
---
---
If you haven't already, subscribe to this blog for the next update:
---
Up next: the Rangers vs Islanders this Friday night.
Of note, happy birthday to the legendary Stan Fischler, as "The Maven" turns 90 years old today!
As always here, thanks for reading and…
LET'S GO RANGERS!
Sean McCaffrey
BULLSMC@aol.com