"A big problem tonight was our defensemen on these flips, we were way too puck conscious in the neutral zone, not really alert, gave up 3-4 breakaways tonight because we were playing the puck and not keeping a body between the net and the offensive player, basic things. Our mentality has to change in that scenario, it's disappointing because I thought we got off to a really good start and after we killed the penalty in the second, I thought we did a good job toward the end of the second period spending some time in the 0-zone and our tempo back and just really disappointed in our third period. I thought they did a good job shutting it down, but we didn't work hard enough to get inside and earn our ice. If you are going to score goals in this league you have to get inside and you have to earn it. You can't concede that someone is in the middle and you are going to take the path of least resistance and stay on the perimeter, which is what we did. We were way too easy to play against." – David Quinn, on 3/7/21, after the Penguins dominated the Rangers, in their 5-1 win over the Blueshirts.
---
Greetings and salutations everyone and welcome to another blog here on BlueCollarBlueShirts.com. At least Mika Zibanejad finally scored a goal, am I right?
In a game that was partly boring and pretty much a fiasco, at least from a Rangers perspective; the Pittsburgh Penguins took care of business against the New York Rangers on Sunday night, downing the good guys by a final score of 5-1. While I can't say I expected the Rangers to lose this game or to be dominated like this – my fear of the Rangers beasting on bad teams, only to come up short once the schedule turned, came true.
As talked about last blog, the Rangers caught the Sabres and the Devils at the right time. The Sabres and Devils are the two worst teams in the division and two teams who are currently at the lowest point of their respective seasons. After barely eking by Buffalo, the Rangers did do a good job of dismantling the Devils in back-to-back games, where the Rangers put up a touchdown in each game. In tonight's game against Pittsburgh, the Penguins scored three goals in a 61 second span during the first period and behind that field goal, the Pens kicked the Rangers hopes of winning this game right through the uprights.
While I don't discount and/or discredit the Rangers effort in this game, as I never saw a point in this game where I thought the team had given up; this was just the Penguins doing what the Rangers did to the Devils – taking care of business against an inferior team. The Penguins did what they were supposed to do, just as the Rangers did what they were supposed to do against Buffalo and New Jersey.
Of course, I'm not happy to see the Rangers lose and was hoping for a big time win. Then reality happened. I can't really feign outrage and anger here, but I am disappointed a bit. If anything "bothered" me, and I put "bothered" in quotes, because I'm not really that irked; it's just that the Rangers couldn't get anything in the middle in this game, as I'll soon talk about.
If you're a glass half-full person, and want some positivity, you can talk about Mika Zibanejad getting off the shneid, the Rangers excellent penalty kill and of all people, Keith Kinkaid.
While I'll get into Alexandar Georgiev more in-depth during the game recap/review portion of the blog, the fact of the matter is that this wasn't a good game for him. After Mika Zibanejad kicked off the scoring just 78 seconds into the game, once the first period got under four minutes left to play, the Penguins scored three rapid fire goals in a span of 61 seconds.
It's hard to truly place 100% of the blame on Georgiev for all three goals allowed. It's my opinion that the skaters deserve some of the blame here too. After all, Georgiev got beat while screened, on a breakaway and by one of the best players of all-time, in a one Sidney Crosby. That said, Georgiev wasn't making the extra save here either, nor was he anywhere near his best.
I talked about Georgiev last night, where I thought the Rangers six-pack of goals somewhat disguised a so-so game from Georgiev. Maybe Georgiev isn't at 100% right now, after Nick Ritchie sat on Georgiev's head in that game against Boston from a week ago. As talked about then, Georgiev would eventually go under concussion protocol, but as we saw in that game, it's not like those guys are great at their job either.
With Georgiev struggling tonight, DQ pulled Georgiev with 2:36 remaining in the first period. That's out of character for DQ, as aside from injuries, DQ usually makes goalie changes at the start of a period/after intermission. DQ has not only done this throughout his tenure as head coach of the Rangers, but he's also explained his reasons for doing so in the past. (One of the more famous non-pulls from DQ, was from last season. Georgiev was struggling against Montreal, but instead of pulling him for Lundqvist, DQ wanted to wait the period out. Georgiev would improve and the Rangers would go on to beat Montreal, in the "Brendan Lemieux Game", which was perhaps the best regular season victory of the 2019-2020 season.)
The Long Island boy and former New Jersey Devil, in Keith Kinkaid, (I don't want to call him King here, because with those three initials, I'd never hear the end of it) wound up making his Rangers debut tonight. In turn, despite two late goals allowed at the end of this game, Kinkaid was much pretty rock solid in net. There was one point in the game where Kinkaid was 13-13 on shots faced, with more than half of those saves being huge, as Kinkaid made a breakaway save on his first shot faced, made toe/kick saves and continued to stop the Penguins who routinely knocked on his door.
Who knows, after tonight's performance, the Rangers may have their second three-goalie controversy in as many seasons! As it stands right now, CZAR IGOR is back to skating, but his status for Tuesday is uncertain. After tonight, if it comes down to Georgiev vs Kinkaid, you'd have to think that Kinkaid did enough tonight to earn/be rewarded with a start on Tuesday night, against these very same Pittsburgh Penguins.
I'll have more on Kinkaid/Georgiev in the line-up segment of tonight's blog.
---
In a season where the adage of, "we can never have nice things" has been fully on display and on seemingly a daily basis; Mika Zibanejad scored his third goal of the season tonight, his first even-strength goal at that, which at the time, gave the Rangers a quick 1-0 lead. As you know by now, the Penguins would then score the next five goals of the game. Not good.
It's a shame, because instead of a headline of "MIKA JUMP-STARTS RANGERS IN VICTORY", we're talking about another miserable game. While this wasn't an "A-Rod" goal or anything like that, after Mika scored this goal, he was right back to his old act. He wasn't very good on the Rangers power-play. He'd later hit the post while being near Casey DeSmith's paint, after receiving a perfect pass from Pavel Buchnevich. On the same play, Mika would then prevent his own teammate, in Alexis Lafreniere, from slamming home a rebound.
In other words, while it's nice to see Mika flashback to his play from last season on this one lone goal, I'd be hesitant to say that the old Mika is back. I need to see more.
If there's one thing nobody can criticize, it's the Rangers penalty kill, a PK that's now been successful in 50 of their last 53 attempts. As mentioned last night, even that stat is skewed, as in one game against the Flyers, and with the Rangers missing many of their PKer's due to injury; they gave up two PPG's during that contest. In other words, with the team not missing too many of their penalty killers, the Rangers penalty kill has only allowed one measly goal during this epic run. Conversely, while talking about the special teams, the Rangers power-play continues to come up short, where it has cost the team in many one goal games this season. As mentioned repeatedly, the Rangers could have a playoff berth right now, had they been able to convert on their power-play at a better rate.
---
In tonight's blog, I am going to try to change the mood here with two comedy bits, bits that may or may not land. You be the judge. And if you think they stink, blame Shawn S., as he gave me the inspiration for these ideas!
Elsewhere, outside of tonight's game recap/review, I also have an update on Barry Beck for you, where Beck mentions that he talked to JD after the comments Beck made on Friday.
Of course, and as usual, before rocking and rolling here – the PLUGS segment.
Here are my last few blogs, in case you missed them:
---
---
---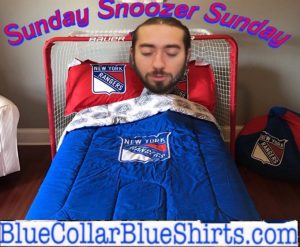 ---
In an update to last night's story, regarding the death of Mark Pavelich and the comments Barry Beck made following that tragic news; Barry Beck once again took to Facebook on Sunday 3/7/21, saying the following:
On Friday night Hong Kong time I received a call from my friend Clint Malarchuk that Mark Pavelich had passed away.

I didn't process it right away and then was overcome with the same feeling I had when my brother informed me that my son had been killed. After a brief conversation with Clint I told him I had to get off the phone.

For the last two years Mark was like a brother to me. I became increasingly protective of him his sister Jean and their family.

We knew he needed help but his evaluation at the psychiatric facility seemed to take forever.
Fortunately with assistance from Glen Healy and the NHL Alumni Association, his legal team and the persistence of Clint Malarchuck Mark was released into the loving care of Melony Butler of the Eagles Nest Landing in Minnesota.

Mark's sister Jean ever present.

Yesterday I wrote an emotional post that stirred some controversy. I understood everything I said and was soon thereafter contacted by NY Rangers President John Davidson.

Years ago John, Mark and I were teammates with the Rangers. John and I discussed the remarks I had made. We both respect each other and agreed that at this time it's best we focus on mourning the death of Mark.

We both hope our discussions will continue in the future.

I'm very proud of Mark and how he battled taking steps forward while being sick. He was a kind gentle soul and will be dearly missed.

Our group The Ranch Teammates for Life is devastated. The Ranch is a vision that Mark believed in as it would address former and current players mental health conditions.

Our group will continue our efforts in it becoming a reality not only for Mark but also for those players fallen before him and their families.

We love and miss Mark Pavelich born to be an American Hero.

---
Whatever feud Beck and JD may have had, now looks to be a thing of the past. That said, by staying quiet and not doing anything while Pavelich was alive – a sympathy statement from the Rangers isn't going to change anything. All you can do is hope that the Rangers, as an organization, learn from this, where unfortunately, Pavelich had to die for the Rangers to realize this.
This is going to be a rough time for Barry Beck. Like the support system he created for Pavelich, I hope Beck can get a support system around him.
Unfortunately for Pavelich and his family, there's no silver lining or happy ending here. For Beck, I hope he can get some peace and serenity, although that's really going to be tough, considering everything he's endured during these past few months. My best to him. I'm not a parent, but I can't imagine what it's like losing a son and one of your closest friends in a span of a few months time. I just hope Beck can live his life in a positive way, but I know that's a tough undertaking right now.
---
With the Rangers playing the day prior to tonight's game, the Rangers didn't practice on Sunday. An hour prior to puck drop, David Quinn met with the media, where he announced the information in the graphic depicted above.
Couple of things here.
Jacob Trouba, who originally was supposed to be out for 4-6 weeks with a broken thumb, was back tonight, just 19 days after his injury. In other words, Trouba returned three weeks ahead of the worst case scenario/diagnosis. I thought Trouba played solid tonight, especially in the first period. You couldn't tell that he was coming off of an injury.
There were a lot of Ranger fans crying about Colin Blackwell being removed from the line-up, using 20-20 hindsight when the game got out of hand. To me, this didn't bother me at all. The Rangers are getting healthy, and in turn, you have to expect DQ to rotate the roster a bit. It should also be mentioned, for as well as Blackwell has played this season, he'll never be the priority and/or focus, like the youth on this team.
For what it's worth, DQ said the following about Blackwell after the game:
"Blackwell's been struggling the last three games. He and I have had a couple of conversations and I thought Di Giuseppe was playing well when we sat him for the game yesterday it was a tough conversation. Blackwell has had a good year so far, but I thought the last three games he was struggling."
With Kakko back, Blackwell and PDG are now back to being fourth line wingers. I'm fine with it, as guys like Kakko, Lafreniere and Gauthier should get ice time during this rebuild. What I don't agree with, is the opinion that "DQ BENCHED BLACKWELL, THAT'S WHY THEY LOST!" That's foolish. A fourth line winger has nothing to do with three goals allowed in 61 seconds. Even if Blackwell played and was at his best tonight, I still think the Rangers lose this game. (Sorry to my buddies in Ricky O. & Al "SMD" D., with my contrary opinion!)
With Trouba back in the line-up, and with PDG back in, here was tonight's line-up:
When it comes to the goaltender for this game, Alexandar Georgiev got the nod. That's what I predicted. After all, Keith Kinkaid hasn't started in an NHL game since November of 2019. With the Rangers streaking and playing a good team, I thought that despite Kinkaid's career history against Pittsburgh, (6-3-2 record) that Georgiev was the right decision. And yes, I say that even knowing about Georgiev's poor track record on the second half of back-to-back games.
I did see some people saying that "KINKAID SHOULD'VE STARTED", as Georgiev was giving up goals left and right, but I just don't see how you could've started Kinkaid. Had the Rangers been playing the Sabres or the Devils tonight, I could've understood the argument to start Kinkaid. However, against a strong Pittsburgh team, I thought Georgiev was the best decision going into this game, even if Kinkaid would stand out as the better goalie tonight.
Of note, no update on Artemi Panarin, which I'll get into at the end of this blog.
GAMBLING SEGMENT TIME.
Here's what I said before the game:
Season over-under record: 9-12-1
For the first time in a while, as a result of #nyr scoring back to back TD's, the line is now up to -6. Both teams played last night, could be fatigue and odd man rushes. I'll jump on the OVER, since that's the new trend. #nyr 5-2! pic.twitter.com/KlfhyS72QN

— BlueCollarBlueShirts (@NYCTheMiC) March 7, 2021
With a 5-1 score, and six total goals scored, I pushed tonight. My record remains three games under .500, at 9-12-2.
Let's now get into the box score of tonight's horrid affair.
The following information and graphics come courtesy of ESPN.com.
SCORING:
PENALTIES:
TEAM STATS: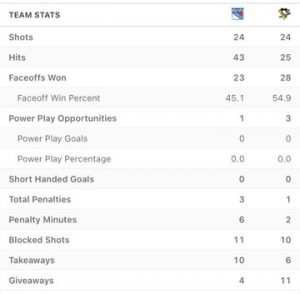 GOALIES:
| | | | | | | | | | | |
| --- | --- | --- | --- | --- | --- | --- | --- | --- | --- | --- |
| SA | GA | SV | SV% | ESSV | PPSV | SHSV | SOSA | SOS | TOI | PIM |
| 6 | 3 | 3 | .500 | 2 | 0 | 1 | 0 | 0 | 17:14 | 0 |
| 18 | 2 | 16 | .889 | 11 | 0 | 5 | 0 | 0 | 42:46 | 0 |
| | | | | | | | | | | |
| --- | --- | --- | --- | --- | --- | --- | --- | --- | --- | --- |
| SA | GA | SV | SV% | ESSV | PPSV | SHSV | SOSA | SOS | TOI | PIM |
| 24 | 1 | 23 | .958 | 22 | 0 | 1 | 0 | 0 | 60:00 | 0 |
---
After Vally finished talking about thumbs, (where I presume one has been up his ass, just like his head) Vally then bombarded us with his useless fake news stats, fake news stats such as "EXPECTED HIGH DANGER CHANCES".
These stats, which may be nice on his computer screen, at the end of the day, just have nothing to do with reality. In addition, none of Vagistat's charts or stats ever equate the human element/factor into them. Knowing that he's using all of this garbage to pump up his own CSA company; well to me, all of this is a disservice to all Ranger fans who endure all of these horrible pregame shows. No matter how you feel about him, Vally has an agenda. He also has a financial interest while pushing all of this nonsense on you.
After all of his trashy made-up stats, Vally then started rambling on about how Georgiev is the second best goalie in the NHL, of the last three years, in regards to lateral movement saves. Funny how we didn't hear this stat last season. Wonder why! (And who gives a "Flying Fink" about lateral move saves? Did this stat help Georgiev tonight?)
I don't want to waste too much time on Vally here, as I got something nice for you at the end of this blog. Let's get into the game.
---
The Ryan Strome line started tonight's game. Just like last game, Strome lost all three opening face-offs of each period.
Just 78 seconds into the game, this happened:
Ohhh, we love to see it! #NYR pic.twitter.com/GZN1jk5Fg2

— Rangers on MSG (@RangersMSGN) March 8, 2021
1-0, GOOD GUYS, a rare goal out of Mika Zibanejad!
On the goal, Jacob Trouba, who as mentioned, showed no signs of rust or injury tonight; (Trouba also played 21:32, which was only second to Adam Fox who played 23:04) made a play behind his own net, got the puck up ice to Pavel Buchnevich and Buchnevich got the puck to Mika. With Lafreniere flanking Mika, Mika took it all the way to the hopper himself, beating DeSmith, to put the Rangers up 1-0 early.
Two things here. Last night, I said "if Mika can't score against NJD, what makes you think he'll score against Pittsburgh or Boston?" Reader Zap responded with, "REVERSE JINX!" So I'll say this here – there's no way Mika Zibanejad scores a hat trick on Tuesday.
The other thing here is that this would be the final Rangers goal of the game, despite there being over 58 minutes remaining in regulation.
---
Right after this goal, where Mika was shown on the bench beaming ear-to-ear afterwards, the Rangers continued the pressure. On Mika's next shift, Trouba and Mika almost hooked up again for another goal, but Mika just missed. This would be the way the rest of this game went. No joke, about three minutes into this game, Mika could've had two goals and Trouba could've had two assists. However, as they say, "coulda, woulda, shoulda."
Six minutes into the period, DeSmith would make a save on the now more offensively oriented Ryan Lindgren. Trouba, as he'd do throughout the game, would make quick passes in the Rangers d-zone, thus eliminating any pressure from the Penguins. Then, once again, Trouba would stand out, after a great shift with Miller while the Howden line was trying to create offense.
With 10:45 remaining in a period that was all Rangers at this time, (at one point in this period, the Rangers were up in the SOG category 9-1) Sidney Crosby was penalized for tripping Chris Kreider while the Penguins were in the Rangers defensive zone. Crosby immediately started crying to the referees, where ironically, Crosby was the one accusing someone of diving.
This is where the game first started to turn.
Once again, the Rangers power-play was horrible here. Georgiev continued his act where he bumbles pucks behind his own net rather than letting his defensemen to play them cleanly. DeSmith would make one save on a harmless shot from Kakko and that would be it. The Rangers blew a chance to expand their lead.
With just under 6:30 to go in the period, Malkin went flying into Georgiev's net, where at this point in the game, was a rare thing that went towards Georgiev, as the Penguins were sitting on one SOG. Of course, that would soon change.
Just as we approached six minutes remaining in a period that the Rangers were dominating, everything would crumble.
With 5:49 remaining, Ryan Lindgren would be called for interference on Crosby. This was a horrible call, as Crosby was fiddling around with Lindgren too. However, since Crosby is a superstar, and had already cried like a bitch to the officials, he got this call. Of note, later on in the game, during a more blatant interference offense, Letang wouldn't be called when he did the same thing to Kevin Rooney. Of course, Rooney isn't a superstar and superstars will always get calls, especially when they turn on the water-works like Crosby always does.
The Rangers PK here was fantastic. Everyone was clearing pucks, such as Zibanejad, Trouba, Buchnevich and Rooney. However, two seconds after the Rangers got their kill, John Marino took what seemed to be a harmless shot from the circle to right of Georgiev; but with a player partially screening Georgiev, the puck sailed to the right of Georgiev and into the net. 1-1.
This is a tough one. Georgiev was partially screened, but he was also out of position too. He probably should've had this one, as the shot seemed pretty routine.
The Marino goal came with 3:37 remaining in a period, that prior to this, was all Rangers. 39 seconds after the Marino goal, K'Andre Miller would fall down at center ice, which allowed Kasperi Kapenen to go on a breakaway. Georgiev, who started this season 0-6 on breakaways, but who made stops on his last three breakaways faced; would easily get beat by Kapanen here. 2-1 bad guys, just like that.
It gets worse.
22 seconds after the Penguins took the lead, Sidney Crosby, who over a month ago, kicked off the Tony DeAngelo exile from New York after Georgiev flubbed a puck that DeAngelo could've easily had/cleared; beat Georgiev again, on a shot that Georgiev should have had. 3-1, bad guys and three goals allowed to the Penguins, in just 61 seconds worth of game time.
To quickly recap, the last time Georgiev saw Crosby, Crosby beat him for an OT GWG, which started off the DeAngelo fireworks. Tonight, Crosby beats Georgiev again, ending Georgiev's night for the second game in a row. If it isn't Crosby scoring goals off of the back of Lundqvist's head, it's now this, as Crosby has easily dissected Georgiev in all of their meetings from this season.
After this poor goal allowed, even if it was scored by one of the greatest NHL players of all-time, DQ called a time-out and swapped out Georgiev for Keith Kinkaid.
It should be made clear here – THAT NONE OF THIS HAPPENS IF IT WASN'T FOR THE BULLSHIT CALL AGAINST RYAN LINDGREN. Crosby got his call, and while the Pens didn't get a PPG, they scored two seconds after their power-play had expired. Plus, losing Lindgren in the box, for any amount of time, doesn't do the Rangers any sort of good.
Prior to the Penguins barrage of goals, and as mentioned, the Rangers were up in SOG by a tally of 9-1. By the time the period ended, the SOG were 10-6 Rangers, as after a hot start by NYR, DeSmith would only have to make a stick save on K'Andre Miller, after having a long time of being inactive.
Also of note, after Crosby's goal, the Penguins wouldn't get another SOG for the remainder of the period. However, with three goals off of six shots against Georgiev, that would be all the Penguins needed.
---
After our usual "SECOND PERIOD, WHAT DO YOU LOOK FOR HERE JOE?" comment from Sam Rosen, <how about a save Sam?> the remainder of this game was a bore and a chore to watch.
Don't get it twisted. This wasn't bad hockey or anything like that – it just wasn't exciting. Both teams clamped down defensively and didn't allow much.
With Kinkaid still not facing his first shot yet, Mika, perhaps desperate, tried a Hail Mary pass to Buchnevich that went for an icing. And really, from this period on, this game was bogged down by so many icing and off-side calls, that this game felt like a drag.
As the Rangers continued their offensive woes, and not having a SOG for about 8 minutes of game time; Lindgren would check to see if DeSmith was still alive, as DeSmith made a save 3:32 into the period, as if he was calmly catching a butterfly into his hands.
After just watching for about five minutes, Kinkaid would be called on, as he made a FABULOUS breakaway save on Jake Guentzel. This breakaway was the result of a DeSmith save on Kreider and Letang getting the puck up ice. What a way to make your first save as a Ranger.
When you're looking for Ranger highlights, this second period belonged to Keith Kinkaid, who finished this period 12-12, including making five short-handed saves.
Prior to two consecutive Ranger penalties, Howden would fart on a shot while all alone in front of DeSmith. Of course, Ranger fans on social media killed Howden for this, while ignoring all his PK work and how he's the best face-off man on the team. I just don't know what expectations some fans have for Howden. He's a fourth line checking center, nothing more, nothing less. And yes, the Rangers gave up way too much for him and do give him a ton of chances as a result.
Of course, turnovers from Kakko and Lafreniere were ignored by these same folk.
At the half-way mark of the period and game, Kreider blatantly held Rust. However, instead of a holding call, the Rangers were called for one of those lovely too many men on the ice penalties, penalties that DQ has previously said are on him. He didn't have nothing to say about that penalty during his post-game interview. Also of note, at this point in the period, the Rangers had one SOG, which is not exactly a great thing when down by two goals.
During this PK, Kinkaid would rob Guentzel twice. Then, with four seconds remaining during this PK, Zibanejad slashed Evan Rodrigues as Rodrigues was heading into Kinkaid's paint. I thought this was a good penalty to take, despite giving the Penguins four seconds of a 5 x 3 PP. After all, this penalty probably prevented a goal.
As the Rangers killed the four seconds of the 5 x 3 PP, Kinkaid would do what Georgiev couldn't – stop Crosby. Eventually, the Rangers PK got their third kill of the game, where this time, it was the goalie that kept the PK successful.
The Rangers, who did show some life after these two kills, would blow a chance of making this a one goal game. After two strong back-to-back defensive plays from Libor Hajek, Buchnevich would find Mika all alone with DeSmith, where Mika promptly put the puck on the iron rather than into the vast and vacated net. To make matters worse, Mika also interfered with Lafreniere from scoring a rebound goal. This would be the best Rangers chance of making this a game.
With the score at 3-1 and in a period that was like molasses; after forty minutes of action, the Pens were still up 3-1. Kinkaid was the Rangers star of the period. Of note, the Rangers only had five SOG during the period, as the Penguins wouldn't allow anything. You barely saw any Ranger get to center ice, screen the goalie or get into the slot. The Penguins kept the Rangers to the perimeter, as if there was an electrified force-field in between the circles.
---
The third period was just brutal to watch, as you could tell this game was over. The Rangers just couldn't do anything offensively, where really, you gotta tip your hat to the Penguins. The Penguins had the Rangers played perfectly.
There's really nothing to say about this period, as it was all dump and chase and with the Rangers rarely testing DeSmith.
Micheletti would blame the schedule, saying that the Rangers were playing a back-to-back game. Of course, the Penguins were doing the same thing and that wasn't mentioned. And really, it wasn't the effort that's in question tonight. The Penguins were just better.
Kinkaid would continue to make more saves, but with 6:03 remaining, the Penguins would have what felt like their 67856755675th odd-man rush of the game, where this time, on a two-on-one, Malkin beat Kinkaid. There was nothing Kinkaid could do here. 4-1, bad guys.
With 3:13 remaining, the Penguins would get another odd-man rush, where this time, after Aston-Reese batted the puck towards Kinkaid, the puck went to the side of the net. No problem here, as Reese, pretty much untouched, grabbed the puck and tucked it next to the post to the right of Kinkaid. 5-1, bad guys. That would be your final score, in a game that 100% changed after the Lindgren penalty. That said, if one penalty is going to swing a game, maybe the Rangers aren't good enough to compete against the teams that don't play in Buffalo or Newark.
---
In an attempt to get the bad taste out of your mouth, I have two silly bits here, but bits that may have merit!
In a follow-up to what I said last night, in regards to Artemi Panarin, (check out last night's blog) Panarin is still not with the team and there is no update on when he will be back. Again, refer to last night's blog, as I'm not going to repeat everything I previously said there tonight.
Panarin has now missed eight games and there hasn't been a peep out of him. At the very least, I feel there should be some sort of statement made, regarding what Panarin is up to. If Panarin is going to practice/skate by himself, while being paid his full salary; perhaps to give us some entertainment and in lieu of playing hockey, maybe Panarin & Tony DeAngelo can recreate that "Pines Barren" scene from "The Sopranos", where Chris & Paulie Walnuts were lost in the woods while hiding out from the Russian that they may or may have not whacked!
Come on, you wouldn't laugh while watching Panarin and DeAngelo, as they are holed up in some ice cold van, as they worry about Nazarov or "Iron" Alexandar Georgiev chasing them down?
After all, the Rangers are paying over $16M a season right now, for both DeAngelo and Panarin to not play hockey at the current moment. While of course, both situations are different; both situations are rooted in politics and both situations started with opinions over a President.
And for the 786786786789678th time here on this site – I don't care how players lean politically. In addition, I do have sympathy and understand what happened with Panarin, but what else can he do? I get that we don't know the full story, but since we know for a fact that he's practicing and skating, what's the difference in skating/practicing by yourself and with skating/playing games with the team? I know some will say "it's a matter of time thing", but how much time needs to pass, especially with the Rangers pretty much entering a "do-or-die" time part of the schedule and with their playoff hopes on the line?
After all, if Panarin continues to miss games, especially with all these games against the upper-echelon teams in the division; by the time he comes back, he could be returning to a team that's just playing out the string and eager to bust out their golf clubs.
Yes, some things are bigger than hockey, but if you can practice, you can play. I also think about guys like Brett Favre or Martin St. Louis, who dealt with the death of a parent, yet continued to play and played well. I also think of a guy like Phil Esposito, who said he missed out on the birth of his children, as he didn't want to let his teammates down and miss any games, regular season games at that!
While I get that the times are different and that Panarin's situation is different, what can he really do from his home in Connecticut? If he's not going to play right now, and if the Rangers are going to continue to pay DeAngelo & Panarin to not play, the Rangers may as well give us something fun to watch from out of these two. Sign me up for a new short on the MSG Networks, as DeAngelo & Panarin eat ketchup packets in the frozen wilderness!
One more bit here, as I attempt to make you laugh.
---
This site/blog is my medium to talk about the Rangers and all things related. However, while some criticize me for using the phrase "in my opinion" too much on this site, as I always want to stress that I'm not some over-seer of all things Rangers and that my opinion is just as valid and as meaningful as yours; the bottom line is that outside of the news stories I give to you, everything here on this site is opinion. The only difference between me and you, is that I just happen to block out 2-3 hours to write about the Rangers after every game.
That said, whether it be through the comments section, emails, Twitter, Facebook, the Pony Express, Braille, my local bar (Hello YOFFREY!) or whatever other channel we communicate on, I always enjoy different opinions and civil debate. I'm not saying I'm right all the time. I respect anyone for having an opinion that's different than mine, as long as it's not too ridiculous, such as, "FIRE DQ AND MAKE HENRICK LUNDQUISS THE COACH!" (I always find it amusing how the biggest Lundqvist fans can't even spell his name right!)
I talk about the Rangers with many different people, including my buddy Shawn S. (@Shawn2186 on Twitter.) While we agree on many things, one thing we majorly disagree on is the topic of Steve Valiquette as a broadcaster. Shawn S. thinks he's great. By now, you know how I feel! However, just because Shawn S. disagrees with me, unlike others you may encounter in the land of social media, I am okay with this. If we all agreed on everything, it would be boring.
After tonight's game, for the third time this season, MSGN were plugging some show where you can watch Steve Valiquette and John Giannone converse with each other while driving Cadillacs. Obviously, this is a sponsored-content type of program.
When I saw this commercial, I said you'd have to be insane and committed if you wanted to watch this. Shawn S., who knows how much I despise Vally as a solo act analyst, replied with "Your first fair criticism of Vally. Would you rather watch that or a 65 year old Duguay in purple velvet jackets trying to pick up girls at a bar?" My answer – I much rather see Duguay trying to pick up chicks in a bar!
During the commercial to plug this Vally/Giannone project, we were "treated" to a conversation between the duo, where they were talking about interior decorating. I'm not making this up. On Ron Duguay's podcast, he's talking about how he hooked up with A-list celebrities during his time with the Rangers, in names such as Farrah Fawcett, Cher and others. I mean really, do you want to hear Vally and Giannone talk about antiquing, duvets, floral prints and how to get wine stains out of your carpet? I much rather hear about how Duguay once talked himself into Fawcett's bed!
This conversation between Shawn and I had me thinking. I would pay to see a show called "THE MSG GOLDEN BOYS", starring Ron Duguay, Sam Rosen, Joe Micheletti and Al Trautwig. In an idea that I think would get ratings and create revenue, where a scripted format may work best, (although a reality show would work too) we would follow the trials and tribulations of this quartet, as they try to bag chicks all over NYC. (And for my female readers, I hope you know that all of this is done with comedic intentions, as I try to make everyone laugh after this loss.)
I can see it now.
With Ron Duguay playing a character that comes off like an aged Zack Morris from "Saved by the Bell" and with Al Trautwig as his Screech; Duguay, and as a Lothario akin to Sam Malone from "Cheers", goes around bar-to-bar and club-to-club, looking to fulfill his male desires. Along for the ride are Sam Rosen and Joe Micheletti, two married pals who try to help Duguay out.
I mean, this stuff writes itself!
Just picture a scene where Sam Rosen tries to set Duguay up. However, instead of natural woman, Rosen, who can't call a play right these days, accidentally sets Duguay up with a transgender male. "PARDON ME RON!" <Ding> "SAVE BY LUNDQVIST!" "Oh Joe, the pipe on her Joe!"
In another scene, you could have Ron trying to seal the deal with some temptress, only for Joe Micheletti to unintentionally cock block Ron. "OH RON, THOSE CANS ON THAT TROLLOP ARE FABULOUS! THE JUNK IN HER TRUNK IS ABSOLUTELY FABULOUS. JUST FABULOUS RON! I HOPE YOU CAN DEFLECT ONE INTO HER FIVE-HOLE!" The woman then throws a drink in Ron's face, Ron gives Joe the old Ralph Kramden "TO THE MOON WITH YOU JOE, TO THE MOON" and hilarity ensues.
Maybe I have given you too much here. I have to patent this idea before I go further! And yes, this is my way of getting over tonight's loss! That said – come on, what would you rather watch, Vally & Giannone and their Martha Stewart talk or this? FABULOUS!
---
If my comedy bombed tonight, on Monday night, the BSU guys, who are always funny, will try to get a laugh out of you. You can watch their show live, which takes place at 7PM, by clicking this link at that time: "The Blueshirt Underground Show".
And if you're still reading this, my old college friend, (boy, did we mess that up!) in a one Joe D. aka "El Shoes" – Jack Johnson will get his revenge on your Penguins one day!
If you haven't already, subscribe to this blog for the next update:
---
Tough loss, but a loss that showed us that the Rangers really need Panarin back if they really want to make a playoff push, especially with 13 straight games against teams above them in the standings.
I'll be back Tuesday night. Programming note: the Rangers and Penguins start an hour earlier than usual, with a 6PM puck drop.
Until then, and as always here, thanks for reading and…
LET'S GO RANGERS!
Sean McCaffrey
BULLSMC@aol.com
@NYCTHEMIC on Tweeter
Follow the BlueCollarBlueShirts.com Facebook Group by clicking this link: https://www.facebook.com/groups/1564026407193056/