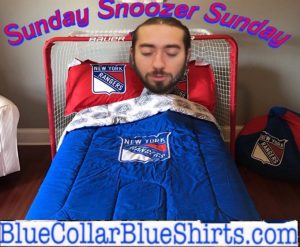 "They were just the better team, they really were." – DQ, on 2/28, moments after the Rangers 4-1 loss to the Boston Bruins.
"ZzzzZzzzZzzz" – Me, after watching Mika Zibanejad and others sleepwalk through this game. This game felt like hockey's version of Ambien.
---
Greetings and salutations everyone and welcome to another blog here on BlueCollarBlueShirts.com. Did you guys wake up from your nap yet? I know the Rangers didn't on Sunday.
In a drama-filled season, a season that's largely been "one step forward, two steps backwards"; the "find-a-new-way-to-lose-Rangers" did just that on Sunday afternoon, as the Boston Bruins easily disposed of the Blueshirts, by a final score of 4-1. While the Bruins are a great team, the Rangers just showed no energy in this one.
Truth be told, I'm not punching walls or throwing remotes after this loss. While I expected a stronger effort and hoped for a better result; the fact of the matter is this game pretty much played out in a way that a non-Rangers fan would expect. I guess it were my stupid feelings of optimism that blew up on me today. Of course, for the pessimistic "glass half-empty" folk; I guess this game played out the way they thought it would play out too.
As has been the case after the few and rare big wins the Rangers have had this season, the Rangers followed up their most recent big win, which was over these same Bruins of Boston, with another stinker. If it weren't for the way these same Rangers dominated these same Bruins less than 48 hours prior to this game, I think most fans would be more accepting of this loss right now. Instead, it's another loss and another "we have to play better" type of game.
If you put what happened on Friday night to the side, outside of the fact that Boston got pummeled in two consecutive games; this game pretty much went down as it looked like it would go down on paper. Of course, games are played on the ice and not on paper, but the Rangers just seemed resigned to throwing in the towel today.
Going into this game, the Boston Bruins, the best team in the division and a Stanley Cup contender, were on a rare two game losing streak, where they gave up 13 combined goals in their last six periods played. Up next for them, were a patsy team like the Rangers, a Rangers team who have been in-and-out of last place in the standings all season.
Making things easier for a Bruins team looking to right their ship, they were taking on a Rangers team without their best player in Artemi Panarin. The Rangers are still missing one of their top six forwards in Kaapo Kakko and are still without their third line center in Filip Chytil. And for the cherry on top, the Rangers remain without 33.3% of their starting defensemen from opening night, in both Jacob Trouba and Tony DeAngelo. (Yes, DeAngelo has been gone for some time now, but my point here is that the Rangers are still paying him not to play hockey. They haven't replaced DeAngelo with any part/player yet, as DeAngelo is still cashing checks signed by Mr. Dolan.)
And oh, let's also not forget that whoever is in that #93 Rangers jersey right now; well that person isn't the same guy who was wearing that jersey last season. Not only is Mika Zibanejad nearing a record for most consecutive shots on goal without an even-strength goal; Zibanejad is now starting to enter "Jeff Skinner Territory", as a player who possesses one of the worst contracts in all of the NHL today. No joke, I think you have a better chance of seeing Adam Herman and Tony DeAngelo doing belly-shots together off of Shannon Hogan these days, than seeing Mika Zibanejad score a goal.
---
Depending on your fandom and your opinions on this team, it feels like during and after every loss, a lot of the feedback is the same -"FIRE DQ!" and "MIKA SUCKS!" However, to DQ's credit, he's had some highlights this season. You can't say the same about Mika, at least not from an offensive stand-point.
While I wouldn't call myself a "David Quinn apologist"; as you know by now, I'm not part of the "FIRE DQ" crew either. I'm neutral on DQ. However, I have been very critical of Mika Zibanejad this season. How can any fan not be?
I think the situations of DQ and Mika are different. We know that DQ was brought in here for this rebuild. There are going to be growing pains. In addition, with a young team devoid of any leadership whatsoever, DQ has somewhat become the face and voice of this team. After all, before and after every game, DQ is always the first interview. It wasn't always like that with past coaches and that includes the outspoken John Tortorella.
While I know Mark Messier is in a class of his own, in recent years, win or lose, guys like Ryan McDonagh, Henrik Lundqvist, Marc Staal, Derek Stepan, Ryan Callahan and Martin St. Louis would be the "go-to" guy. Their words carried the most meaning. They were the faces and voices of this team. In this season, it's really been DQ, despite the media trying to push Kreider, Mika and Trouba as leaders.
What I'm trying to get at here, is that when the Rangers come out looking like the way they played on Sunday, there is no real team leader to rally up the troops. There is no true leader on this team to give someone a kick in the ass. And if you're outspoken with this coach, especially as a young player, you'll find yourself exiled like Tony DeAngelo.
For better or for worse, this is DQ's team. Compounding matters, is that if the Rangers don't respond, it's not like DQ is getting any help from his alternate captains. Far too often, the Rangers have lacked motivation and when things get bad, very rarely do they mount a comeback during this DQ era.
In the same vein here, there's only so much DQ can do. He's not on the ice. He can scream and shout all he wants, but he's not shooting wide. He's not turning over the puck. The players have to show up too. And when Mika Zibanejad, who is supposed to be one of those guys, is still sitting on zero even strength goals 19 games into the season; well I would blame Mika more than I'd blame DQ, when talking about the Rangers losing record.
---
In what's now a bad trend for the Rangers this season, far too often, it are the bottom six forwards outplaying the top six forwards. When I continue to see games like this, including this one today, it reminds me of what Larry Brooks recently said on Ron Duguay's "Up in the Blue Seats" podcast. To summarize here (you can find the full recap of what Brooks said in the archives of this site) Brooks basically told a story from his days of covering the Devils. The Devils had a season where all the bottom six guys were producing, but the top six were not. While that's great personally and individually for those bottom six players, if that's the way your season plays out, you're not going to have much success.
Yes, Chris Kreider has turned it on recently, but we all know he's had his issues with consistency. Mika has been horrible this season. When you look at this Rangers roster and this game today, once again it was Colin Blackwell (who has been promoted to the second line, due to all the injuries/COVID/politics) showing up. Also showing up in today's game was the line of PDG/Howden/Gauthier. You barely noticed Mika, Kreider, Lafreniere, Strome or Buchnevich in this game; at least not in a positive light.
As talked about on recent blogs, and going back to DQ and Mika here, I have felt that many in the "I Hate DQ Fan Club" will never give DQ credit after wins, but will blame him after every loss. With the Rangers losing today, I saw a lot of that on social media. I don't agree with it.
What I really think is the story, and as I've been talking about all season, it's that when the Rangers win, it sweeps all of Mika's struggles and troubles under the rug. When the Rangers lose, especially with Panarin out and with the Rangers needing more out of their top guys, Mika's issues really stand out, like a fat blistering pimple on the nose of a teenager.
While you can argue that with Panarin out, Kreider is the top guy on this team now, that despite Kreider's tenure and big moments; it was in fact Mika Zibanejad who was the hottest player in the NHL just a year ago. To Kreider's credit, he's played well recently. We just haven't seen anything out of Mika this season, and he's been hurting the team all season long.
I'll get more into Mika as I get into the game review and in my closing thoughts. At this point, I just want to rush through this game, finish this particular blog, and just like the Rangers did on Sunday – take a nap. After all, there is new episode of "The Walking Dead" on TV tonight, which ironically, sums up the Rangers performance in this game.
---
Before getting into everything, as usual here – the PLUGS segment. I'd recommend re-reading Friday night's blog if you want to get the bad taste of today's game out of your mouth!
Here are my most recent blogs, in case you missed them:
---
---
---
---
In an update on the secondary market, perhaps due to the great win from Friday night, the ticket scalpers had a better day on Sunday than they did on Friday. That said, most tickets were sold at a loss. At 10AM, two hours before game time, you could've attended this game for a tad over $50:
Ninety minutes later, at 11:30am, which was thirty minutes before puck drop, the secondary market looked like this: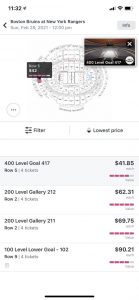 As predicted originally on this site, I think the scalpers will take a beating this season. After this loss today, and with many people working from home and not wanting to get these 72 hour PCR tests, it should be interesting to see what the market looks like on Tuesday night.
After Tuesday, the Rangers go on the road for six straight games. After 3/2 against Buffalo, the Rangers won't be back at M$G until the Ides of March (3/15), where they'll then host the Flyers. As of right now, tickets aren't on sale for that 3/15 game yet. It should be interesting to see if people and/or scalpers try to gobble up tickets for the secondary market, as they did with these first three games.
---
As far as news after Friday night's game and prior to puck drop today, there wasn't much. On Saturday, with the Rangers having an off-day, DQ announced that he'd be riding his hot hand and would start Georgiev for this game. While I said I'd do the same thing during Friday night's blog, I was surprised a bit. However, I thought it was the right move. Ride the hot hand.
DQ also announced, that due to the team having off, (which meant no practice) that Filip Chytil wouldn't be ready for this game. DQ would ultimately go with the same line-up from Friday's win in this Sunday game with Boston. And really, with everything still remaining the same in regards to Kaapo, Panarin, Trouba and Chytil, that's what I thought would happen anyway. As mentioned 7566795567 times on this site, DQ always goes with the same line-up after big wins.
GAMBLING SEGMENT TIME!
Here's what I said before the game:
Season over – under record: 8-9-1.
#NYR kick their ass again. I'm taking the over. pic.twitter.com/aIkeCnrmP8

— BlueCollarBlueShirts (@NYCTheMiC) February 28, 2021
With five total goals scored in this game against a line of -5.5, my record drops to 8-10-1, as I continue my battle to get over .500 this season. While I thought the Bruins would come out better and respond after their loss, I didn't expect the Rangers to score only one paltry goal in this contest.
We're almost up to the game recap/review portion of this blog, a blog which will be the shortest game recap/review blog of the season. However, before getting there, and as usual, the BOX SCORE segment.
The following graphics and information come courtesy of ESPN.com:
SCORING:
PENALTIES:
GOALIES:
| | | | | | | | | | | |
| --- | --- | --- | --- | --- | --- | --- | --- | --- | --- | --- |
| SA | GA | SV | SV% | ESSV | PPSV | SHSV | SOSA | SOS | TOI | PIM |
| 21 | 1 | 20 | .952 | 17 | 0 | 3 | 0 | 0 | 60:00 | 0 |
| | | | | | | | | | | |
| --- | --- | --- | --- | --- | --- | --- | --- | --- | --- | --- |
| SA | GA | SV | SV% | ESSV | PPSV | SHSV | SOSA | SOS | TOI | PIM |
| 33 | 2 | 31 | .939 | 31 | 0 | 0 | 0 | 0 | 45:25 | 0 |
| 2 | 1 | 1 | .500 | 1 | 0 | 0 | 0 | 0 | 13:19 | 0 |
TEAM STATS: (Of note, unlike last game, the Rangers lost every key and pertinent stat in this game. In addition, the Rangers only put 21 shots on goal, which I believe is a season low.)
---
Since this was an NBC game, and with a puck drop of 12PM, there was no pregame show today. Instead, we had 30 minutes of Joel Osteen taking money out of the wallets of his marks. I will say, I found Osteen's EXPECTED PRAYER STATS better than Valiquette's nonsense! "OH JOE, FOR $1000, JESUS WILL GET ME A NEW TOUPEE JOE!" "FABULOUS SAM, ABSOLUTELY FABULOUS!"
---
Prior to the game, I tweeted out jokingly – "what happens first, Tony DeAngelo scoring a goal this season or Mika Zibanejad scoring an even strength goal?" While I was joking, I'm not so sure if I'm off here. After all, both Mika and TDA have zero even strength goals this season, which equals the same amount of even strength goals that Pavel Brendl, Jamie Lundmark, Manny Maholtra, Stan Neckar, Rumun Ndur, Bobby Holik, Wade Redden, Hugh Jessiman and Joe Micheletti have this season.
On the Boston end of things, they changed their line-up a bit, with ex-NYR Greg McKegg and Steve Kampfer being dressed for this game. McKegg showed some life in this game, but needless to say, he didn't get a video tribute from M$G today.
With the Ryan Strome line starting the game (DQ has done this a few times this season) Strome, like Mika usually does, lost the opening face-off. At the dot today, Strome won 4 of 13 and Mika won 6 of 14. That's not going to cut it. Third line center Brett Howden won only 1 face-off of the 6 he took in this game. Kevin Rooney, who has been one of the better Rangers at the dot this season, had another good game, finishing with 10 wins out of 14 draws. In other words, the fourth line center on this team came one face-off win shy of matching the combined face-off wins of the top three centermen on this team. NOT GOOD.
While there were several themes throughout the broadcast of this game, such as all the Boston/NYR ties and relationships; another theme, somewhat related, was how the Bruins targeted Ryan Lindgren all game. The Bruins finished with 43 hits today, where it felt like at least half of them were on Ryan Lindgren. That tells you that the Bruins consider Lindgren to be a major presence and contributor to the Rangers success. It also tells you that Lindgren has very quickly become a noticeable player in this league.
Right away, during the Bruins first possession, Lindgren broke up a Pastrnak scoring opportunity. Immediately after, Bergeron laid a big hit on Lindgren. In other words, even Boston's top players, "The Perfection Line", were gunning for Lindgren too.
In the opening minutes, this game felt somewhat like Friday's game, as neither team were putting on pucks on net and were focusing on being tight defensively.
In what would be another trend, the Rangers bottom six were better offensively than the top six, as in the first five minutes of the game, JOHNNY BROADWAY and the Smith/Miller pairing had the best chance at trying to get one past Rask.
After Georgiev made a save on Bucktooth McKegg, 5:25 into the game, Strome was boxed for cross-checking Sean Kuraly. The Bruins power-play would go to work.
During this power-play, and after McAvoy hit the post, Nick Ritchie, who has gotten a reputation of being dirty, crashed the net, where he fell and pretty much pulled a Yokozuna "BONZAI" to the back of Georgiev's head:
Georgiev is shaken up after after Nick Ritchie falls on his head. pic.twitter.com/QbL9UW1Cvw

— Conor Ryan (@ConorRyan_93) February 28, 2021
To me, this wasn't dirty at all. Both Lindgren and Zibanejad were all over Ritchie and Ritchie fell on Georgiev. Right after this, Lindgren challenged Ritchie to a fight, where both players shoved each other and the refs intervened. However, due to Ritchie instigating all of this, he got an extra two minutes here, which quickly negated the Bruins power-play.
This was also somewhat the turning point in the game. When Georgiev got up, he took his mask off, where his face was all cut-up and bloody, as if he just had a bad showing in a UFC fight or tried to play tonsil hockey with a rottweiler. Rangers trainer Jim Ramsey would then help fix and repair Georgiev up.
This is where it gets muddled and where hindsight also kicks in.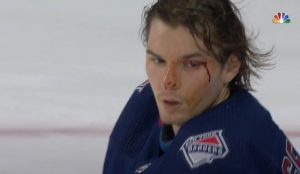 Georgiev definitely was dazed, or at the very least, shaken up. For whatever reason, the concussion spotters, who have previously interfered in games during lesser incidents; like the Rangers themselves in this game, took a nap on this.
With the teams four on four, at the 6:41 mark, Charlie Coyle would make a move on Miller, burn Miller and then beat Georgiev. 1-0, bad guys.
Right after this goal, the concussion spotters intervened, now saying that they wanted to take a look at Georgiev. Why, because he gave up a goal? 100%, if the concussion spotters were to get involved, it should've been right after the Ritchie play happened. You could even argue that DQ should've pulled Georgiev and had Ramsey give him a real once over or asked the concussion spotters to assess Georgiev.
I will say, while I've seen others blame DQ for not pulling Georgiev here, (immediate reaction to the goal allowed) if the concussion spotters didn't interfere and if Ramsey said it was okay, DQ has to be under the assumption that Georgiev is okay too. I'm sure Georgiev told DQ as much.
To me, I 100% blame the concussion spotters. They waited until something negative on the ice happened before saying, "maybe we should take a look at him."
After this Coyle goal, Georgiev would go to the locker room. CZAR IGOR would then enter the net in relief.
After the goalie change, on the next face-off, Pastrnak high-sticked Lafreniere. As a result, the Rangers would get forty seconds of a 4 x 3 power-play. On the Rangers best chance of this power-play, Buchnevich would shoot wide from dead center ice, while being two feet away.
With only 10 seconds of a 5 x 3 power-play, Mika would do his thing, where he shoots, has his shot blocked and it goes for a turnover. No joke, I rather see Anthony Bitetto as the team's #1 center and on the power-play than Mika. As a result of Mika's constant failures, the Bruins would get their kill.
As we approached the ten minute mark, Rask stopped Ranger household names such as Johnny Brodzinski and Jack Johnson.
After a TV timeout, Albert and Brian Boucher started talking about the crowd, mentioning Dancin' Larry and the Potvin Sucks whistle. I mention the crowd here, because unlike Friday night, I didn't hear the crowd ONCE in this game. Of course, the game dictates how the crowd reacts, but really, these weekend 12:00PM games are always dead. Hockey isn't football, where you have tailgating and stuff like that, at least not at M$G. The M$G crowd is always best at night, when fans have a few hours to get sauced up in the surrounding bars and get rowdy. Plus, these 12PM games are historically "Kids Day" games, so you're not going to have people chanting "FATHER FINK YOU" at random players all game.
With Igor in net, the Rangers did a good job of limiting the Bruins from shooting. Igor would make his first save on his first shot faced after being on the ice for about six or seven minutes.
The Bruins, as they'd do all game, would continue to block shots, stifle the Rangers offense and wouldn't let the Rangers get going at all.
As the period entered the five minutes remaining mark, the PDG/Howden/Gauthier line stood out.
With 1:46 remaining, Connor Clifton blasted a puck from the point, and while four players were screening Igor, scumbag Trent Frederic deflected a puck past Igor. 2-0, bad guys. This would ultimately wind up being the game winning goal, which in turn, puts a loss on Igor's win-loss record, despite Georgiev returning to the game at the start of the second period.
After the goal, we saw that Georgiev was okay, although the damage by the Bruins was done. While I thought this game would be bloody, I didn't realize "Sunday Bloody Sunday" would apply to a goaltender.
In the final seconds of the period, Blackwell got a good backhanded shot off, with Kreider just missing the rebound. After twenty minutes, we remained 2-0.
During the intermission, Anson Carter made a great point about Georgiev, saying that Georgiev had his bucket on and was ready to go back in. Carter said if Georgiev was sitting there stunned and with his mask off, then perhaps then you'd let Igor finish the game. However, as Carter accurately predicted, Georgiev would return for the second period/the game.
---
As the second period started, we didn't get a "SECOND PERIOD, WHAT DO YOU LOOK FOR HERE BRIAN?" out of Kenny Albert.
Strome would lose the first face-off of this period, but the Rangers would rebound, only to botch a rare odd-man rush for them in this game.
In a rare good thing, Georgiev would make five saves in the first 2:30 of this period, including a breakaway save on Studnicka and the Frederic rebound that followed. Of note, Georgiev has made his last two breakaway saves, after starting the season 0-6. I guess whatever he's doing with Benoit Allaire is working.
It should be said, had the Bruins scored on that breakaway, the "FIRE DQ" crowd would've went nuts and would've questioned DQ for allowing Georgiev to re-enter the contest.
In a period that dragged on and on and was devoid of any life, the Rangers would only have one shot on goal (Gauthier) during the first 8+ minutes of this period.
After another Mika SOG (you know the rest), Lindgren would put a puck on net, which Rask played cleanly. Had he juggled it, Rooney was right there for a potential rebound goal.
At the half-way mark of the period, Georgiev denied Pastrnak. However, the Bruins clogged the Rangers, like a brick in a toilet bowl. They just couldn't get anything going. Even-strength wise, the Rangers only had one possession of thirty seconds or more in this game.
With Georgiev playing well since returning, with 9:40 to go, the Bruins won an offensive zone face-off (you know, face-offs that Vally says doesn't matter) and McAvoy blasted a puck right past Georgiev. 3-0, bad guys, and really, this is where you knew this game was over. The Rangers just looked disinterested and looked like the weaker team, as they are, throughout this game.
After another strong shift from the Howden line, the first line hopped back on the ice, where they looked like second class citizens compared to Boston's top line.
After a long stretch of non-stop icings and off-side calls, Rask would make a save on Miller. It had felt like 10 minutes had passed by, in-between Ranger shots on goal.
In a game that was as exciting as watching paint dry or listening to Vally talk about his nerd stats, we remained 3-0 after 40 minutes. I can't stress this enough – this game was a chore to watch. In fact, if you were trying to get someone into hockey, and showed them this game, it would be very easy to see why that person wouldn't be interested in watching another hockey game again. For NBC, this was a bad product to showcase nationally.
---
The third period was more or less the same as the first two. A minute into the period, Georgiev would make three saves with the Perfection Line on the ice. Blackwell, one of the lone guys on the top six who showed up today, would have a shot denied by Rask. Of the 21 SOG the Rangers had in this game, Blackwell had five of them, meaning he nearly had 25% of all Ranger SOG today. Nothing against Blackwell, but as alluded to earlier on this blog, this is not a recipe for team-wide success.
Chris Kreider couldn't get it going at all in this game. With the Rangers offense not being able to sustain any sort of pressure at all, he couldn't get in front of the net and screen Rask. Then, when Kreider did get a chance to shoot, he went wide like the rest of them.
At the half-way mark of the period, the Rangers offense was pretty much dump, chase, change, have a shot blocked/shoot wide/turnover and rinse, wash, repeat.
However, with 9:13 remaining, Colin Blackwell got the Rangers on the board, after ripping a shot over the right shoulder of Rask. 3-1, bad guys.
After the goal, Blackwell laid a hit on McKegg, which sent McKegg to the ice. In turn, McKegg viciously slashed Blackwell, in retaliation. Both Blackwell and McKegg would get two minute minors here, which meant we would then have two minutes of 4 x 4.
Also, since Blackwell scored here, Igor was now on the hook for the loss. Had the Rangers been shut-out or lost 4-2, Georgiev would've got the loss. I know it's the rule, and sometimes it makes sense, but in a lot of these cases, the relief goaltender gets a loss put on their record due to his team's lack of scoring.
Worth mentioning? Lafreniere and Miller picked up assists here. At least that's something good to talk about.
With six minutes remaining and the teams back to full strength, an errant pass went by Kreider as he was streaking to the net.
With 3:51 remaining, the Rangers had a chance to make it interesting, as Craig Smith received an unsportsmanlike penalty after getting into it with Rooney.
On the face-off, Fox would get the puck, blast it on net and Kreider just missed a chance to scoop up the rebound.
With three minutes to go, DQ pulled Georgiev for the extra attacker. Mika did his thing, which you know by now, includes shooting wide and having every shot imaginable blocked. What a dud.
As the Rangers power-play was set to expire, Charlie Coyle fired a puck from his own end, a puck which found its way into the back of the Rangers empty net. This was a short-handed goal. 4-1 bad guys.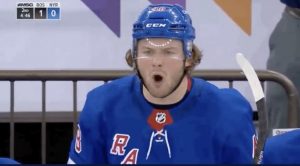 As the final horn went off, which sealed the deal for the Bruins 4-1 victory; Brendan Lemieux then skated to Nick Ritchie, where the two had a fight. There was no winner here, as both players got their shots off and the refs broke it up before either player could get the KO.
To me, this was stupid. I understand why Lemieux went after Ritchie, as it was his reaction to the play on Georgiev from the first period. However, if you're going to try to jump-start your team with a fight, do it during the game, not when it's over. What's the point of this fight? What if Lemieux broke a hand here? Show this energy and passion during the game, not after your team laid a turd for 60 minutes.
No joke, if I had paid money and attended this game, I would be asking for a refund. Hell, in this new world, maybe all you have to do is say you tested positive for the virus, and you'll get that refund!
4-1, in favor of the Bruins, as all of the good vibes from Friday night are now erased, and as the Rangers continue to sink and stink in the standings.
---
In post-game news, Georgiev said he was okay and didn't blame the Ritchie play for the immediate goal he allowed after it:
Of note, Mika Zibanejad and Chris Kreider didn't meet with the press. I guess they are only around after wins these days. Brendan Smith, as mentioned during the last few blogs on the site, did talk to the media, as he emerges as one of the rare voices of this locker room.
As I've said before, it's time to get Mika a shrink. I won't go into the whole coronavirus thing again, because I've done so many times before. However, for all of these fans who ask the NYR beat reporters to get on DQ and Mika about COVID-19, I'd like to see this question asked – "Mika, are you seeing a psychiatrist?"
In other news, I would expect Filip Chytil to be back in the line-up on Tuesday, as he will get another practice under his belt on Monday. As I said last blog, if Chytil can return to the level where he was at prior to his injury and illness, it will be time to put Chytil on the first line and tell Mika to have fun with PDG and Gauthier.
While you can't say Mika isn't trying or is lazy or anything like that; the bottom line here is that he's not helping the team. He's been a detriment. Of course, once Panarin gets back (no update on his status) I would expect DQ to put Panarin and Mika back together, in an attempt to get Mika going. However, there has to be a point in time where DQ has to do what's best for the Rangers and not what's best for the player formerly known as an elite center in this league.
And after all – moving forward, and in this rebuild, what would you prefer to see for the future? Chytil getting hot with Panarin or using Panarin to pick up Mika? This also should be said too – Mika shouldn't need Panarin to get going. Mika is supposed to carry his own line and help increase production around him, as Panarin does for his linemates.
If you haven't already, subscribe to this blog for the next update:
---
Boring game today. I know I went shorter than usual here, but like watching this game, I had no inspiration while writing this blog. I don't mind if the Rangers lose, but when they come out as sleepy as they did today, it's hard to be excited.
See ya Tuesday night.
Until then, and as always here, thanks for reading and…
LET'S GO RANGERS!
Sean McCaffrey
BULLSMC@aol.com
@NYCTHEMIC on Tweeter
Follow the BlueCollarBlueShirts.com Facebook Group by clicking this link: https://www.facebook.com/groups/1564026407193056/