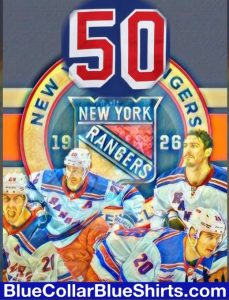 Greetings and salutations everyone and welcome to another blog here on BlueCollarBlueShirts.com. Perhaps as soon as tomorrow, when the Rangers (should and will) knock off the woeful Flyers – you'll forget about this 4-2 loss to the Carolina Hurricanes. What you won't forget, not only now, but in the years to come too, is this – Chris Kreider's 50th goal of the season.
On Tuesday night, at the "World's Most Expensive Arena," the two top teams of the Metropolitan Division did battle, where come 9:35PM EST, the Canes had defeated the Rangers by a final score of 4-2.
Sure, you would've much rather seen the Rangers win this game, and as a result, boost their odds at finishing as the top team of the division – but at the end of the day, take solace in the fact that these 2021-22 Rangers are even in the position to shake off this loss.
While these games aren't exactly "house money" yet; not until Pittsburgh, now five-points shy of the Rangers for second-place in the division, are out of the running – at the same time, the Rangers can afford a loss like the one they endured tonight.
Once the calendar flips to May, no one will remember this loss. What everyone will remember is that Chris Kreider, a life-long Ranger, is now a 50-goal scorer in the top league of professional hockey today. That's our lede story tonight.
---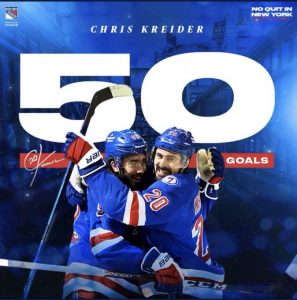 When it comes to the game itself (a game that I will get into thoroughly during the GAME REVIEW segment), it was what it was.
The two top teams of the division, teams that also feature the best two goalies of the division too, if not the entire league; played an evenly matched first forty minutes of hockey.
The Canes, just 62 seconds into the third period, would eventually pull ahead 3-1 – where it should also be mentioned that the Rangers power-play went 0-4 tonight. That's why I wouldn't go "bat guano" over this loss, because after all – do you really expect the Rangers power-play to go 0-4 on most nights?
Simply stated – "bat guano happens."
Down by two goals and with around two minutes remaining in regulation; head coach Gerard Gallant pulled CZAR IGOR for the extra attacker. Following a Canes' icing which took place with 1:44 to go, six seconds later, this happened:
#50 for Kreider

Still need 1 more! pic.twitter.com/KBuvqWH4ZQ

— x- Rangers on MSG (@RangersMSGN) April 13, 2022
---
For the game, the Rangers had cut the deficit to one goal, but obviously, Kreider's 50th meant more – even if he couldn't celebrate it. Once again, and as he always displays – it's all about the team winning – and not individual accomplishments.
Kreider said as much during his post-game interview:
---
For Kreider, and just like us fans – it's all about the Stanley Cup.
In addition, as a veteran leader, Kreider is not going to let his historic milestone overshadow the team. And what a historic milestone goal it was!
In case you didn't know already; prior to Kreider's goal from tonight, only three Rangers in franchise history have scored fifty or more goals in a single-season. That encompasses a time-span of 95 years.
Sure, it's tough to compare Kreider to every Ranger legend of the past, Hall of Fame legends who didn't play in 82-game seasons, nor played in a league with a three-vs-three overtime neither; but at the end of the day – you can only play in the era that you're in. This is a special night, and no one can take it away from Kreider.
For Chris Kreider, he now joins a "Mount Rushmore" group, a special quartet which includes Vic Hadfield (50 goals during the 1971-72 season), Adam Graves (52 goals during the 1993-94 season), and the franchise leader in most goals scored during a single season, Jaromir Jagr (54 goals during the 2005-06 season).
With eight games remaining, and for a Chris Kreider whose longest goal-drought from this season is only three games; he now needs only five goals to surpass Jagr for the franchise record. I'd say that's most certainly doable, especially with less-than-stellar competition ahead, including the Flyers, Red Wings, Jets, Islanders and Canadiens.
Want more? How about this from Rangers' broadcaster Kenny Albert, the best play-by-play man in the business, who came up with following information, material which feels akin to those old Lincoln/JFK conspiracies:
Chris Kreider 4th @NYRangers to score 50…
—50 yrs since Hadfield scored 50, Jagr now 50 yrs old
—Hadfield born in 1940, Graves said "no more 1940"
—Graves turned 54 today, Jagr scored 54
—Jagr born in '72, Hadfield scored 50 in '72
—Kreider born in '91, Graves joined NYR in '91

— Kenny Albert (@KennyAlbert) April 13, 2022
---
Of course, for Kreider and company, it would've been better had the Rangers won this game. I think that goes without saying.
Since they lost, Kreider wasn't able to celebrate. However, for the fans, including yours truly – I think we should all be happy about this.
Let's face it – it's not very often when you see a current Ranger flirt with a historical and monumental franchise record.
As far as the game/loss itself, you can sum it up in two words – "special teams."
In a game featuring the immovable object (Carolina's top-ranked penalty kill) against the unstoppable force (the Rangers second-best power-play of the league); the Canes' man-down unit were able to stifle the Rangers. Aside from that, this game was a see-saw battle, where during the first forty minutes, it were the Rangers who sat high more times than not. It were the final twenty minutes that decided it.
If there was a turning point in the game, outside of the special teams; it was at the 13:38 mark of the second period, when Andrei Svechnikov scored a fluke goal from behind the goal line, a puck which bounced off of CZAR IGOR's left skate and into the net.
And to be fair – maybe this wasn't truly a "fluke" goal, as Svechnikov is as talented as anyone. However, it's not like CZAR IGOR was beaten cleanly – it was just a classic case of "wrong place, wrong time."
There should've also been a penalty call preceding Svechnikov's tally, which I'll explain during the GAME REVIEW.
Once Svechnikov scored, a goal which had tied the game, the Canes started to up the ante.
Two Carolina goals scored during the first 6:42 of the final frame would put them ahead once and for all, but Kreider did make it interesting at the end.
I know the fan base has mixed reactions after the loss; but for me, and like the head coach himself, I go back to "one game at a time."
While the Rangers' failure on the power-play is a story on this night; perhaps lost in the 0-4 showing is that for the first time this season, the Rangers held their own with one of the biggest favorites to win the Stanley Cup in 2022.
The first time these two teams played, the Rangers lost a fiasco of a game, where by the end of it, "OLD FRIEND JOE" Tony DeAngelo dominated his former team.
The Rangers won the second go-around, but it was easily the biggest "STOLEN WIN" of the season, as a result of Alexander Georgiev having the best game of his career, where he seemingly recorded 879678676796789679869 saves in the Blueshirts' 2-0 victory.
Now, as we inch closer to the playoffs, the Rangers essentially lost a one-goal game (Carolina's fourth goal was an empty netter), and they showed that they could hang with one of the league's elite.
Again, I don't envision the power-play having many 0-fer nights during the post-season tournament – at least not 0-4 games.
And should the Rangers win the fourth and final regular season match-up between these two heavyweights – perhaps on that night of April 26th, just like Carolina today – the Rangers will find themselves atop of the Metropolitan Division standings.
At this time, let's get into the news, interviews, and of course, the main event – the GAME REVIEW.
---
Real quick, before getting into everything else.
If you aren't aware about all of my stuff pertaining to Frank Boucher already, I'd suggest you check my book out, which is linked at the end of this blog. You can also check out the Frank Boucher tab at this site for more, which you can do so by clicking this link: https://bluecollarblueshirts.com/retire-frank-bouchers-7/
Long story short, and to get to the point without a 78967867867896896 paragraph introduction (where I'm sure all of you regular readers know about my friendship with the Boucher family by now); in 2020, I resurrected the "Frank Boucher Fan Trophy." For more, visit this link: https://bluecollarblueshirts.com/4220/
Beginning with the 1951-52 season, and running until the 2009-10 season, the official fan club of the New York Rangers used to annually award the "Frank Boucher Fan Trophy," a team-exclusive award that went to the most popular Ranger of that season.
Unlike the "Steven McDonald Extra Effort Award," which honors hard work, among other things – the Frank Boucher Fan Trophy is strictly a popularity contest.
In other words, while there have been players to win both awards and there is cross-over; there are less candidates for the Steven McDonald Extra Effort Award than there are for the Frank Boucher Fan Trophy.
For example, as I write these words on April 12th, 2022; I think you can argue for Ryan Reaves, Ryan Lindgren and Barclay Goodrow for the Steven McDonald Extra Effort Award. However, to consider any one of these three players as the "most popular" Ranger on this 2021-22 club would be erroneous – or so I say.
During the past two seasons, I was a one-man crew, and just awarded the trophy to who I thought was the most popular Ranger. (Artemi Panarin in 2020, Adam Fox in 2021.) Furthermore, in my "New York Rangers Rink of Honor and the Rafters of Madison Square Garden" book (and on that blog dated from 4/2/20, when I resurrected the trophy), I went back and filled in the gaps from the missing years.
This season, and in the true spirit of the trophy – a popularity contest as decided by the fans – I'm allowing anyone who wants an opinion on this award to chime in.
Prior to writing all of this, I polled fans on social media and by email, and asked them who they thought the most popular Ranger of this 2021-22 season is.
As of right now, I have about 450 votes/opinions. While I haven't broken it all down yet, I think the voting is 53% in favor of Igor Shestyorkin, 46% in favor of Chris Kreider, and 1% in favor of either Mika Zibanejad or Jacob Trouba.
For what it's worth, the original fan club had co-winners in the past. (Every winner is listed on that 4/2/20 link.)
Furthermore, I also named co-winners for the 2017-18 season, where I gave both Mats Zuccarello and Henrik Lundqvist the nod. In other words, if Chris Kreider can catch up in the voting, voting which seems like a two-horse race – I'd have no problem naming co-winners once again.
And since none of this is scientific or the end of the world – if Kreider can come close enough to Igor, I think co-winners would be appropriate too. That's a good problem to have!
To place a vote and/or weigh in – feel free to either email me or say who you think should win in the comments section below.
The winner will be announced at the end of the regular season.
---
Following the playoff berth clinching win over the Ottawa Senators from Saturday night; come Sunday, the Rangers took the day off – and as we all expected and predicted.
On Monday, the team reconvened for a light practice. Not much went down at the practice itself. The only two things worth noting from the skate was that Filip Chytil was back, but only during non-contact situations. The other development was that Patrik Nemeth wasn't there, due to what was listed as "personal reasons."
For what it's worth, both the Rangers and head coach Gerard Gallant would later say that Nemeth's absence had nothing to do with COVID-19. Previously, he had missed games this season because of the virus.
And while I'm completely speculating here, despite not being a fan of "rumor-mongering" – just as I alluded to during Nemeth's previous absences – it could be family related.
Prior to this most recent absence, his wife was in her final stages of pregnancy. Maybe he had to be "Mr. Mom" for the day. Who knows? All we know for a fact is that COVID wasn't a factor in this particular instance.
Following the practice, the Rangers made Jacob Trouba, Kevin Rooney, Kaapo Kakko, and of course, Gerard Gallant too, available to the media.
Here was Monday's edition of "Turk Talk":
---
While the final nine games of the regular season aren't "meaningless" or anything close to that; at the same time, Gallant and his staff can now be more cautious.
What I mean by this, is that had the Rangers had to battle to game 82 of the regular season for a playoff spot, Gallant would've been forced to play his best line-up possible. Now, with the playoff spot clinched, Gallant can rest players and limit minutes, as he and the team gear up for the playoffs.
Gallant pretty much said as much during his seven-minute interview, where of course, he busted out his tried-and-true phrase repeatedly too – "ONE GAME AT A TIME."
When it comes to the line-up, information that Gallant said he'd no longer divulge at this point of the season; Gallant echoed another thing that he's been saying all season – "I will play the best line-up possible."
That remark was in a response to a question concerning his third line. Gallant, non-committal in his answer, said he didn't care if his third line was a young line, a line consisting of Lafreniere/Chytil/Kakko. Gallant also said that he didn't care if Goodrow was on his third line for veteran experience either. All he cares about is putting the best line-up on the ice – where really, that is the best response whenever the pesky media asks him for line-up information.
Gallant, who had previously said that he wouldn't be celebrating until the Rangers win the silver, isn't an idiot either. He's a former player. He knows how big clinching a playoff berth is. After all, that's why he gave his players the day off on Sunday. He's not going to show his excitement to the rest of the league – just like his line-up.
---
During his media interview, Jacob Trouba, one of the leaders of the team, did admit that the team celebrated after clinching the playoffs on Saturday night. Can you blame them? Heck, I don't draw a salary from the Rangers and I know that I was celebrating myself!
Trouba said that you can never take these playoff berths for granted and he (and the team) wanted to enjoy the moment. To me, this is just another example of the great chemistry the team has shown us all season.
In a comment that had the media a tad perturbed, and a comment that I got a kick out of too; Trouba joked that as a result of the pandemic, about how great it is to not have the media in the locker room anymore – one of the few positives to come out of this pandemic, aside from the test results themselves!
Kaapo Kakko and Kevin Rooney, paired together during their face-to-face with the beat reporters, seem to have a new friendship/bond – especially since both players have spent the past few weeks and months together on the injured reserve.
Here is the duo's interview:
---
Rooney talked about defending teammate Justin Braun in the game against the Senators. He also repeated the team's mantra – "one game at a time."
Rooney, a veteran, gave all the right answers and talked about the importance of teamwork and trying to get right back into the swing of things.
Kaako said that he feels stronger than he was before.
If there was any topic that the Finn avoided, it was about the perceived setback that he experienced while out. In a response, Kakko said that he didn't want to talk about it and that he did what the doctors/Rangers medical staff told him to do.
Both players also expressed their elation in being back and being able to prepare for the playoffs.
As far as anything else worth mentioning from Monday, we have one minor story left to address.
---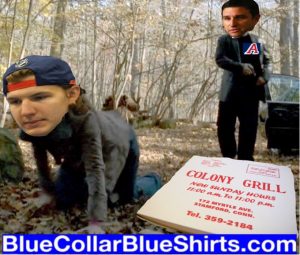 On Monday, over in Russia, Vitali Kravtsov's Traktor were eliminated in the KHL Gagarin Cup Playoffs by Metallurg.
As a result, due to a previously arranged deal by Drury and Kravtsov, the 2018 first round pick can now return to the Rangers and/or the Wolfpack too – should that be the desire of both parties.
I think you know where I stand already – I want no part of Vitali Kravtsov. I may have mentioned this on this site in the past!
I truly hope that Drury gets rid of him during the summer. You can read my previous blogs for more on this, as I don't want to waste too much time talking about this crybaby again. We have bigger and better things to focus on anyway!
Bottom line – Kravtsov was a mistake of the old regime. It doesn't have to be Drury's. Plus, at this point, it looks like it will be tough to salvage the situation.
As far as the current political climate goes, and in the event that Kravtsov wants to leave Russia for America – while he might not be able to find a direct flight, he could always travel to another European country, and then fly out to JFK.
In any event, I don't see Drury seeking out Kravtsov for the 2022 Stanley Cup Playoffs, nor do I see Drury looking for Kravtsov's services for the Hartford Wolfpack neither. I think that ship has sailed, or should I say – I think that flight has been flown! (Twice at that!)
I think that the next time that we are talking about Kravtsov, it will be during the summer, when Drury trades his rights somewhere.
---
Two hours before puck drop, Gallant met with the media. Here's his short interview:
---
Gallant was in a good mood during his 2:45 chat, where while he wouldn't confirm that CZAR IGOR was playing; he pretty much said he was, when he said, "the top two goalies of the league will be playing tonight."
In something that Gallant did confirm, the head coach said that Filip Chytil would be missing the game, but that he should be back soon.
---
Here's what "The Turk" went with for this "Pat Verbeek Tribute" game:
FIRST LINE: Kreider/Zibanejad/Vatrano
SECOND LINE: Panarin/Strome/Copp
THIRD LINE: Lafreniere/Goodrow/Kakko
FOURTH LINE: Hunt/Rooney/Reaves
Defensively, we had this:
FIRST D-PAIR: Lindgren/Fox
SECOND D-PAIR: Miller/Trouba
THIRD D-PAIR: Braun/Schneider
And in net, CZAR IGOR
---
BOX SCORE time.
The following information and graphics come from the new world-wide leader in NHL coverage, ESPN.com:
SCORING:
TEAM STATS:
GOALIES:
| | | | | | | | | | | |
| --- | --- | --- | --- | --- | --- | --- | --- | --- | --- | --- |
| SA | GA | SV | SV% | ESSV | PPSV | SHSV | SOSA | SOS | TOI | PIM |
| 30 | 2 | 28 | .933 | 24 | 0 | 4 | 0 | 0 | 59:44 | 0 |
| | | | | | | | | | | |
| --- | --- | --- | --- | --- | --- | --- | --- | --- | --- | --- |
| SA | GA | SV | SV% | ESSV | PPSV | SHSV | SOSA | SOS | TOI | PIM |
| 24 | 3 | 21 | .875 | 18 | 1 | 2 | 0 | 0 | 58:26 | 0 |
---
On a day full of tragedy (shooting in Brooklyn) and loss (Gilbert Gottfried's passing), at least we had the Chris Kreider goal to help dampen these negative events. (I'm just looking for a silver lining, and not trying to downplay anything.)
We also had a Tony DeAngelo pregame interview take place with the Carolina media – an interview that the M$GN crew flat-out ignored.
The interview garnered "mainstream" Canadian attention, as even TSN picked up on it:
Of course, and as is usually the case with DeAngelo – his quote was taken out of context.
DeAngelo, who has spoken glowingly about his time in New York (and teammates) in the past, and who was asked out-right, "what if the fans boo you?" – he then said that he couldn't care less about a negative reaction. When he said this, he was implying that he wouldn't let any boo-birds impact the way he was going to play.
In this same interview, DeAngelo also talked about the great Rangers' fan base and the people who supported him in New York – but gee, I wonder why – that quote wasn't deemed as headline material!
As you'd suspect, this "I couldn't care less" quote then turned into front page news across the hockey world. Some things never change.
Going into the game, and with the Carolina Rangercanes featuring six members of the Rangers' alumni – many fans wondered if the Rangers would honor these players and how'd they do it.
This is how I felt going into the game (just ignore my pregame 4-0 prediction!):
Prediction, since it's a topic prior to tonight's 4-0 #NYR win (of course) – The Rangers have a video for Smith, Fast & TDA, like they did with Girardi/McDonagh/Miller. Ignoring TDA just brings more talk/unnecessary side story. Easier to include him in a 5 second thing & move on.

— BlueCollarBlueShirts (@NYCTheMiC) April 12, 2022
---
I was half-right.
During the early stages of the first period, the Rangers ran a solo video-tribute/thank you message for Jesper Fast. Following that, the Rangers then ran a separate video where they collectively honored/thanked Brady Skjei, Brendan Smith and Tony DeAngelo.
Granted, none of this stuff means anything, but I thought it was a good idea to include DeAngelo in this (a DeAngelo who did receive boos tonight), only because it's my opinion that you don't want to give the Canes, a team that you could see in the playoffs, any extra motivation and/or bulletin board material.
And now that these silly video tributes are over, it's time to get back to the task at hand – winning the Stanley Cup.
---
Similar to last blog, I don't want to spend time allowing Sieve Vagistat to bring me down. Nothing is going to ruin this "CK50" high, not even "SV46" – an homage to the most magical 46 NHL games ever played.
I will answer you this though – do you know what SV46's EXPERT ANALYSIS was tonight? This: "the Rangers have to make things tough on Frederik Andersen."
I wonder what goalies the Rangers should make life easy on?
---
There were a few recurring themes throughout the broadcast, where Henrik Lundqvist, a former Carolina killer himself, was back. As usual, he was excellent. And of course, the biggest topic throughout the entire broadcast was Kreider's chase for fifty. After tonight, the biggest topic in Rangerstown, USA will be Kreider's quest for goal number 55.
When it comes to anything else worth noting, besides Maloney raving about Copp, Vatrano and Schneider; it was that when it came to the Rangers' alumni in Raleigh, everyone was mentioned – besides Tony DeAngelo. I thought that was funny, because in the past, DeAngelo was talked about a lot and because of his quote from today.
However, just like the Rangers' line-up, M$GN ignored all things pertaining to DeAngelo, and instead, made Jesper Fast their center-piece of the opposition. And to be fair, of the alumni in Carolina, Fast had the best run of the lot – especially with Derek Stepan not around for this tilt.
(Plus: Stepan had been honored before, when he was with the Coyotes.)
Let's now get into this game that you'll forget about on Wednesday night, where I predict that the Rangers, behind Alexandar Georgiev, will thrash the Philadelphia Flyers. (The Flyers got crushed on Tuesday night, dropping a whopping 9-2 decision to the Washington Capitals.)
---
The Rangers' third line, who opened up every period of this game, saw Barclay Goodrow defeating Jordan Staal during the first faceoff of the contest.
Just nineteen seconds later, it was the former #19 in blue himself, Jesper Fast, challenging CZAR IGOR. Igor made the quick save on the Swede and the game continued.
In a period where the Rangers would race out to a SOG advantage of 7-2; at the two minute mark, CZAR IGOR denied new Ranger killer, Vincent Trocheck.
After it was mentioned that Panarin is one multi-point game away from setting the franchise record for most multi-point games by a Ranger during a single-season (this team has been flirting with smashing multiple records all season, including the goaltender himself), Sam and Joe then raved about Fast some more. "OH JOE, HE HAS A KID NOW JOE! HE FINALLY SCORED JOE!"
When it comes to Panarin, you really thought he'd have a huge game tonight. Give credit to Carolina's defense for not allowing the Breadman to bake, as #10 was once again skating circles around the opposition. However, unlike the game against Ottawa, the Canes were able to catch up to him at every last nanosecond possible.
K'Andre the Giant, easily the best Ranger on this night, and where you could argue that this was his best game of the season too (a good argument to have, as Miller has really turned it on lately, which I think is the end result of him being more physically engaging during these affairs); made his first of two keeps at the blue line, which in turn, forced Andersen to stop Reaves at the seven minute mark.
With 12:32 remaining, "OLD FRIEND BRADY SKJEI JOE, HE STILL SKJUCKS JOE," cross-checked Goodrow behind Andersen's net.
The Rangers power-play couldn't get anything going against the league's best PK. Only Frank Vatrano put a SOG during these two minutes, and that shot came with just one second remaining on the Rangers' man-advantage.
In one of his better saves of the game, and as we got under ten minutes remaining; CZAR IGOR sniffed out a Max Domi to Seth Jarvis attempt.
After Panarin put the moves on DeAngelo, Fox turned over the puck, after one of those cross-ice passes to nowhere. Then, with 7:38 remaining, Kakko weakly pushed a puck towards Andersen, where to be fair, the goaltender was then forced to freeze the puck.
As far as the returning Finn goes, once again, he played another ghost of a game, where he didn't register a SOG. At least the Rangers have their playoff berth secured, and in turn – can allow Kakko to do nothing offensively.
As stated/predicted before – between #17 and #24, it was always going to be easier for Kevin Rooney to get going. It's going to take Kakko some time. And if he can't produce during these final games of the season, I don't think that he should be a lock in Gallant's playoff line-up. It's about the team, and not one player.
After the Rangers aired their videos for their alumni (we didn't see them on television, we only saw the aftermath), Sam and Joe reported that DeAngelo got booed. We'd later hear boos for DeAngelo during the game, but while the boos were noticeable and audible – they weren't as bad as the boos that both Slewban and Hochul have received this season.
(There's no way to know this, but I wonder if DeAngelo was booed because of his tenure with the Rangers or because of his quote from Tuesday? Maybe a combination of both.)
Speaking of DeAngelo, with six minutes to go, he broke up a Panarin-to-Strome one-timer attempt. A scrum then ensued, where the two buddies of Strome and DeAngelo backed off of each other.
After CZAR IGOR made a blocker save on "OH JOE, OLD FRIEND BRADY SKJEI JOE, HE WAS DRAFTED BY THE RANGERS JOE," with 5:26 remaining, "JOE PESCI, I MEAN BRETT PESCE JOE" (Rosen actually said this a few seasons' back), hooked Kreider.
Mika got two shots off during this power-play, but Andersen was flawless. The Canes PK proved true once again.
Following the two minutes of 5 vs 4, Vatrano almost had Kreider sprung for a breakaway. We'd see this a lot tonight, as every time the Rangers were about to go on a breakaway and/or on an odd-man rush, Carolina would get back and just in the nick of time.
The final minute of the first period was the most entertaining.
Brendan Smith broke up a Rangers' odd-man rush. Andersen stopped Lafreniere with 33.6 seconds to go. Under ten seconds to go, Lindgren knocked a loose puck sitting in front of CZAR IGOR away and Mika then got the puck to Vatrano. The new #77 in blue was then denied after Andersen made a glove save with five ticks left. Following the faceoff win for the Blueshirts, Andersen made one more save, his fourteenth of the period, when he made a big stop on a Jacob Trouba bomb.
After twenty minutes, we remained scoreless, but this was easily the Rangers' best period against the Canes this season.
---
Just 1:03 into the second period, this happened:
Vatrano ➡️ Zibanejad ➡️ Miller 🙌 pic.twitter.com/0qK1OhmglV

— x- Rangers on MSG (@RangersMSGN) April 13, 2022
---
1-0, GOOD GUYS, as Miller made a play in the defensive end, got the puck up to Vatrano, and a few ticks later, Vatrano got the puck to Mika and #93 then fed the man who started the whole thing off, Miller himself, for an easy backdoor goal.
This was a good looking goal here, arguably Miller's second-best of the season. (I still like that wraparound one against Detroit.)
Following the goal, just 2:21 into the period, Vatrano was boxed himself, after holding Trocheck. During the Canes' 6 x 5 delayed penalty attack, we saw a funny piece of business, as Andersen, approaching the bench while near the center line, played the puck and passed it off. That's some good awareness!
The Rangers' penalty kill did their job here. This is also where DeAngelo received his loudest boos of the night, as just like he was in New York, he's Carolina's power-play quarterback.
Once killing the penalty, Vatrano came ever-so-close to making it 2-0, when he blasted a missile at Andersen. Andersen got a piece of the puck on this shot. Andersen also received a good bounce too, as after getting a piece of the rubber, the puck then bounced off of his post.
"It's a game of inches Suzyn."
As Igor continued to make saves, and as Miller continued one of his best games of the season, when he thwarted a Canes' attack by alley-ooping a puck out of the Rangers' zone; Hunt negated a potential Rangers' icing. Right after, and with 10:45 remaining; Miller forced a Carolina icing himself.
After Kakko went wide (yawn), with 10:11 remaining, Smith was called for roughing Goodrow. The officials could've called anything here, but landed on roughing.
This was a pretty bad Rangers' power-play, as the team didn't register a SOG. They also iced the puck three times, including on two consecutive possessions.
While again, the Rangers' power-play went 0-4 tonight; at the same time, I go back to what I say a lot – the other team is paid to play hockey too. Plus, the Canes have a great PK – so you have to give them credit too.
With 7:45 to go, Brendan Smith once again got involved with Goodrow, where this time, he caught #21 in blue right in the mush with his stick. Goodrow immediately raced off of the ice and went down the tunnel for repairs. He'd be back just two minutes later.
Speaking of two minutes – despite Goodrow bleeding, even if Smith's high stick infraction was unintentional; the refs decided not to call a penalty here. Maybe it wouldn't have mattered on this night, as the Rangers' power-play had their issues, but Smith should've been boxed.
Of course, following the no-call, just less than two minutes later (when Smith should've been in the box), and with 6:22 remaining, Svechnikov scored his previously mentioned goal off of Igor's left skate. 1-1.
Always something fluky.
After Andersen made a save on Lafreniere, we saw Kevin Rooney challenge Brendan Smith to a fight. The former Ranger, who has had head issues this season, declined the scrap. That said, Smith, despite his head injuries from this season, has fought recently. He just wanted no piece of Mr. Rooney here.
Once we hit the final horn of the second period, I said the following on the Tweeter machine:
1-1 after 40. 2P Thoughts:
— Very evenly matched game. Biggest difference is special teams, #NYR PP 0-3.
— Miller's goal was a good one, Svechnikov's was a fluke, but both count the same.
— SOG 21-17 R, Hits 14-10, FO's 26-19
— A defensive mistake will probably end this.

— BlueCollarBlueShirts (@NYCTheMiC) April 13, 2022
---
That last part, the "defensive mistake" part, was pretty much right on the money.
After two periods, 1-1.
---
The third period was the worst twenty minutes that the Rangers played in this game. That, along with the power-play, is what eventually did the home team in.
Just 62 seconds in, after the Canes caught the Rangers on a mistimed line change (a defensive mistake), Seth Jarvis went on a breakaway and beat CZAR IGOR with a backhanded shot. 2-1, bad guys.
Now with the lead, Carolina never relented, as Igor would routinely be tested.
DeAngelo, the heel on this night, had a one-timer blast denied by Igor, but following it, he made two strong plays on Panarin, which held the Breadman scoreless.
After a long Carolina attack in the Rangers' zone, where the good guys couldn't get the puck out of the zone; at the 6:42 mark, Jordan Staal, from about 5-6 feet out and in the slot, cleaned up and threw a puck towards the screened CZAR IGOR. 3-1, bad guys.
With 11:57 remaining, Trouba floored Necas, so at least we had one positive thing to talk about at this point of the third period.
Right after, Trouba's partner, K'Andre Miller, almost scored on what would've been the biggest highlight reel goal of the season had this went in.
Miller razzled-and-dazzled and left DeAngelo in the dust as he went to Andersen. DeAngelo was forced to slash Miller, you know, the guy who "TONY DEANGELO ONCE STOLE A PUCK FROM," which in turn, gave the Rangers a power-play.
(And yep, to be clear – DeAngelo never stole a goal puck from Miller. That work of fiction was made up by Adam Herman, an imbecile, who to his credit, was able to promote his fantasy to the masses, masses who wanted the story to be true. The untruth was so bad, that at the time, then team president John Davidson was forced to publicly refute it and then Herman went into hiding.)
However, that said – had Miller scored this goal, especially with DeAngelo trailing him – M$G would've exploded – and as they should have done.
This was the worst Rangers' power-play of the game, because just 39 seconds later, Strome joined his own "OLD FRIEND" in the adjacent penalty box, after #16 in blue hooked Jordan Staal.
Once we returned to full-strength with 8:39 remaining; Andersen made a big stop on Dryden Hunt.
As we got under the FOXWOODS FINAL FIVE mark, Carolina committed two penalties, as Braun was tripped and Vatrano was tackled – but at this point, I guess the officials wanted to get out of M$G early. Maybe they had dinner reservation at HOOTERS.
With 1:44 to go, and following an Andersen freeze; Gallant called his timeout. Six seconds later, Chris Kreider scored his 50th. Lost in the Kreider jubilation, is the fact that this is the 5th or 6th time this season where a Gallant timeout has produced a power-play goal.
Of note – Copp picked up an assist on this goal, so just like Vatrano, he continued his point-per-game pace.
3-2, bad guys.
With 1:38 remaining, and down by one, you somewhat felt the magic in the air, but it wasn't meant to be.
It also wasn't meant to be for bettors who placed a wager on the -5.5 under; as with just 5.8 seconds remaining, they got a big taste of a bad beat, as "Sebastion Asshole," as our buddy Roc of "Two Guys One Cup" calls him, scored the ENG.
4-2, bad guys, 4-2 bad guys your final.
As the kids say – "whatevs!" Kreider got 50 and that's all I care about!
---
One more time – of course you wanted the win, but this loss doesn't change anything.
Plus, the Rangers will see these Canes one more time, where who knows – win that, and maybe we're talking about first place again.
At the moment, I'm happy with second place and home ice – just as everyone else should be!
PLUGS time!
---
On Monday night, our pals at "The Blueshirt Underground Show" returned. To listen/watch the episode, click the play button below:
---
My first plug of tonight's blog – the mandatory plug for my book, "The New York Rangers Rink of Honor and the Rafters of Madison Square Garden".
As mentioned previously, the book is now available in hardcover, in paperback and in Kindle formats. To purchase a copy of the book, visit this link:
https://www.amazon.com/Rangers-Rafters-Madison-Square-Garden-ebook/dp/B09CM5N2WD
For those still looking for signed paperback versions of the book, I have re-ordered more copies. I now have a few signed copies for sale at $25 a pop (includes shipping price) through me directly. Here is all the information on that:
---
Here are my last few blogs, in case you missed them:
---
---
---
If you haven't already, subscribe to this blog for the next update:
---
Up next: right back at it, as the Rangers travel down I-95 for a game against the lowly Philadelphia Flyers. The Rangers will be looking to avenge their home loss to the orange-and-black from less than two weeks back.
As always here, thanks for reading and…
LET'S GO RANGERS!
Sean McCaffrey
BULLSMC@aol.com