Greetings and salutations everyone and welcome to another blog here on BlueCollarBlueShirts.com. A rare and unscheduled off-day blog today, as several developments took place during Rangers' practice on early Friday afternoon – where unfortunately, not all of these stories are positive.
However, I'll hit you with the following before going into everything from Friday:
After watching this Yankees home opener, I think it's safe to say that Braden Schneider is the best athlete in New York today to wear the #45 on his back! And he's only paid 767896696969% less than Gerrit Cole. What a bargain!
---
The biggest Rangers' announcement of the day was made at 12PM, when the team stated that Tyler Motte had suffered a "significant upper body injury" during last night's game with the Penguins.
As talked about during last night's blog (you can read it here: https://bluecollarblueshirts.com/4722/), Motte received an injury during the third period, after being hit by Anthony Angello.
In case you missed it, here's a replay of the hit/injury:
---
As noted last night, I thought this hit was vicious, yet clean.
After all, we've seen Jacob Trouba lay some thunderous blows this season on opponents with their heads down. We cheered every single time, and we'll still root whenever the "Trouba Train" goes Troo-Troo. Big hits are part of the game.
In addition, and as I also said last night, I was hoping this wouldn't be anything major – but those hopes are now dashed.
I'm not a doctor (you may have heard), but when you see the word "significant" preceding the word "injury" – that's not a good thing.
I have no clue if Tyler Motte, like Sammy Blais before him, will be shut down for the rest of the season or not. Maybe he can come back during the playoffs. There's just no way of knowing right now. However, based on what the team and Gerard Gallant said – it doesn't look good at all.
(Ironically, in a way, Motte was brought to New York to replace Sammy Blais, as both play similar games.)
When it comes to this particular play/injury; in my eyes, it's just one of the risks of playing the game. It sucks, but this stuff happens.
Unlike the P.K. Slewban act of cowardice committed on Sammy Blais – I don't think Angello was being dirty, nor do I think that he made this hit with any sort of malicious intent behind it.
It's just a shame that Tyler Motte fell victim during this hit – but he won't be the first hockey player, nor the last, to miss significant time after an act of legal physicality on the ice.
---
Tyler Motte, #64 with the team, most likely finishes this 2021-22 campaign with nine games played as a Ranger.
While he didn't rack up the points like other recent acquisitions have done, such as Frank Vatrano and Andrew Copp – that wasn't his role either.
Since being acquired from Vancouver for a fourth-round pick of the 2023 NHL Entry Draft; Motte, who turned 27 years old on March 10th, has been a steady fixture of the Rangers' fourth line, where he's played at the left wing position.
Perhaps better than advertised, the native of Port Huron, Michigan has been solid defensively. He's done everything that head coach Gerard Gallant has asked him to do (and he's done it well), including killing penalties. He's also matched up well against the first lines of Ranger opponents.
As talked about ever since Motte first debuted with the Rangers, a debut which took place on March 22nd against the Devils; he's a type of player that every Stanley Cup contender desires. He's an ingredient of a successful "roster stew." While he might not be the meat and bones of the pot; he brings the spice and the nice.
Every team needs reliable role players and Motte, even during his short nine-game run, was most certainly that. Losing him from the roster, and just like the adjective used to describe his injury – is a "significant" loss.
However, for Gallant's Gang, and as the head coach has preached several times this season: "next man up" and "one game at a time."
Speaking of the head coach, let's now talk about him.
---
Following the practice, where we finally saw Kaapo Kakko and Kevin Rooney back on the ice, the head coach held his daily "Turk Talk." This chat was also "significant." Here's Gallant:
---
When it comes to the Motte injury, Gallant said that he thought it was a blow to the head, but once he watched it back on replay, he realized that his player got hit on the shoulder.
While Gallant didn't rule out Motte for the rest of the season, he did say that it didn't look good and that he wasn't happy with the play.
Aside from the Motte injury, Gallant also commented on Kaapo Kakko and Kevin Rooney, where the head coach said that both were a possibility for Saturday night's game against Ottawa. So at least we got some good news today.
Gallant said that he wasn't worried about practice time or lack thereof, as he said that he feels that both men will be ready to play at this stage of the season.
As noted before, both players have been skating on their own for a while, so conditioning isn't an issue. Gallant also said that as long as the medical staff gives him the okay, they'll be in his line-up as soon as possible. In a personal observation – Gallant sounded pretty confident about both men playing tomorrow when saying this.
On the season as a whole, Gallant, while chuckling, said it's been pretty good. I'd concur!
Gallant also reiterated his "one game at a time" catchphrase, where he said that he didn't have any sort of specific milestones (points, wins, etc) that he wanted to hit. His biggest concern was playing good hockey and winning games.
(And as mentioned before on this site – his team could break the franchise records for most wins and points, records which were set by the 2014-15 Presidents' Trophy winning Rangers.)
Gallant, who I guess doesn't read this site, then made fun of the media for their low expectations of his team when going into this 2021-22 campaign. (He laughed when saying this.)
In a poignant quote, when asked about how the season has been going, Gallant said, "I'm happy where we are at, but you can never be satisfied. Things change all the time."
As he always does, Gallant spoke highly of a bottom-feeder team, where this time, he praised Saturday's opponent – the Ottawa Senators.
Gallant was then asked if he'd celebrate once the Rangers officially clinch a playoff berth. (More on this below.)
In his response, Gallant shut that line of questioning down.
While he said that his expectations were to make the playoffs, he also said that he'll only celebrate at the end of the playoffs – should the Rangers win the Stanley Cup. That got me pumped up a bit!
On the state of his goaltenders, Gallant said he is happy and feels great about both of his net-minders. He said that he's never gone into a game hoping for good goaltending – because he knows he'll get it.
On his young players, Gallant said that he feels like they've all taken a step in the right direction and have made progress. He then said that he expects all of these players to continue their development next season.
On Strome's return, Gallant said that he's a big part of the team and he was able to return with no issues.
---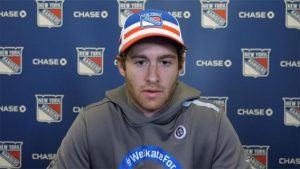 If that wasn't enough for you, regarding the returns of Rooney and Kakko, coupled in with the loss of Motte; it was also announced on Friday that Filip Chytil is "day-to-day."
Of course, "day-to-day" can mean anything.
Several times this season, "day-to-day" has turned into "week-to-week," although there have been some cases where guys only missed a few games. (Ryan Strome would be a recent example.)
For the man nicknamed as "Filip Brittle" by our friends at "The Blueshirt Underground Show," this latest unknown ailment for #72 has me wondering – has Filip Chytil ever played 25 consecutive games in his career? He's like the anti-Phil Kessel!
While I'm sure there has been some stretch where the Czech has played 25 games in a row during his five-year career; it does feel like he gets hurt a lot.
As noted on this site the last few times where Chytil was out – it just feels like a nasty cycle for him.
It feels like he always gets hurt, returns, takes some time to regain his bearings, and just when he shows you a glimpse of what he can do – he gets hurt again.
Here's to hoping that "day-to-day" means just that.
---
With the injuries and returns, Gallant put these lines together during the Rangers' short practice:
FIRST LINE: Kreider/Zibanejad/Vatrano
SECOND LINE: Panarin/Strome/Copp
THIRD LINE: Lafreniere/Goodrow/Kakko
FOURTH LINE: Hunt/Rooney/Reaves
McKegg, Brodzinski and Gauthier also skated together as a "fifth line."
Defensively, everything stayed the same, but as will be the case for the remainder of the season barring injury; we won't know who the third pair will be.
What we do know with certainty is that the third pair will be some sort of combination of Braden Schneider, Patrik Nemeth and Justin Braun – a combination that Libor Hajek won't be able to crack – unless he has a voodoo doll of these guys.
---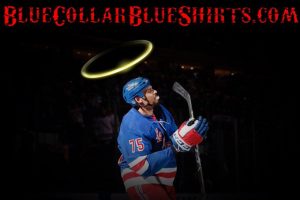 Usually, Gallant's practice lines are what we see come game time.
I wrote a lot about Kakko vs Goodrow last night, where now, all of that stuff is moot – due to the Motte injury.
However, at least on this day, I do feel that I have a grasp on what Gallant thinks. After all, Vatrano and Copp aren't being bumped for Kakko – which is what I thought would happen.
With Chytil out, for ever as long as it is – it makes all the sense in the world to have a veteran like Goodrow center Lafreniere and Kakko.
In a perfect world, this new third line comes out guns blazin'. Perhaps like Lafreniere, Kakko can benefit and get going by playing with the accomplished #21 in the middle.
As far as the latest fourth line goes, I'm a fan of it.
I think it's a wise move to get Reaves back into the line-up.
While I'm a fan of "The Grim Reaver," and think that he's a major deterrent for opponents looking to get wise (some have suggested that the hit on Motte wouldn't have happened had Reaves played last night – a valid idea, but I don't think you can think like that either, especially since the Rangers had several heavy hitters in their line-up without Reaves), I'm fine if Reaves gets every other game off.
That said, I do think he has to play in the playoffs. He's done it before. He's been a contributor for a Stanley Cup Finalist (for Gallant of all people).
At the end of the day, I don't think you want to see Reaves collect too much rust. I think he's also valuable in the locker room (and at this point, I think we can say that for a fact) and that he makes the Rangers better – now more so than ever, especially with Motte done.
---
As far as anything else, Drury's decision to load up on depth players was a wise one – as most of us thought/predicted.
No NHL roster finishes a season 100% healthy, nor does a NHL playoff team remain at full health neither.
Unfortunately, Motte's season is now ruined, but that's why Drury stacked his roster with players who can go when needed. That's why the motto is "Next Man Up."
While most Stanley Cup champions are able to roll out four lines, lines which all do different things; come playoff time, the Rangers will have to be doing what they've been doing all season – get strong goaltending, have amazing success on special teams, and to not allow themselves to get too crazy with the cross ice passes to nowhere.
I believe they will.
---
Lastly, before going home here, there is a big game in Raleigh, North Carolina tonight. It's also a win-win game for the Rangers.
On Friday night, the Carolina Hurricanes host the New York Islanders. Should the Canes defeat the Islanders in regulation, the Rangers will officially clinch a playoff berth.
Should the Islanders win or lose in overtime, the Rangers can clinch a playoff spot with any type of win over the Senators tomorrow. (The magic number right now is two points.)
For me, and for as blasphemous as this may sound – I'm rooting for the Islanders to win. After all, I'm rooting for the Rangers to catch the Canes for first place in the division. An Islander win will increase the Rangers' chances for first place.
Plus – wouldn't you rather see the Rangers clinch a playoff berth on home ice anyway? I rather see the Garden rockin', rather than celebrating a Canes victory over the Belmont Bozos.
PLUGS time!
---
My first plug of tonight's blog – the mandatory plug for my book, "The New York Rangers Rink of Honor and the Rafters of Madison Square Garden".
As mentioned previously, the book is now available in hardcover, in paperback and in Kindle formats. To purchase a copy of the book, visit this link:
https://www.amazon.com/Rangers-Rafters-Madison-Square-Garden-ebook/dp/B09CM5N2WD
For those still looking for signed paperback versions of the book, I have re-ordered more copies. I now have a few signed copies for sale at $25 a pop (includes shipping price) through me directly. Here is all the information on that:
---
Here are my last few blogs, in case you missed them:
---
---
---
---
If you haven't already, subscribe to this blog for the next update:
---
Up next: Rangers vs Senators, in a game that the Blueshirts must not overlook.
Like a lay-up, the Rangers need to take two points against the bottom-feeder team from Canada's capital.
After Ottawa, it's a back-to-back set, where on Tuesday night, the Rangers will play their next "biggest game of the season," when they host the Carolina Hurricanes. 24 hours later, on Wednesday night, the Rangers will look to get revenge on the Flyers in Philadelphia.
As always here, thanks for reading and…
LET'S GO RANGERS!
Sean McCaffrey
BULLSMC@aol.com